Boston High School:

Timmy Parlato
June, 14, 2012
6/14/12
3:26
AM ET
By
Bruce Lerch
| ESPNBoston.com


ALLSTON, Mass. -- One of the great things about high school sports is that you often find a situation in which a parent and a child get to go through a four-year experience together as player and coach.

To able to share in a state championship together? When it comes to Duxbury lacrosse, there can be no Sweet-er feeling.

The Dragons offense seemed to feature a different lead scorer every game during the 2012 campaign. It's almost as if it's scripted that, on any given day, it's going to be so and so's turn to get the goals. While the team certainly doesn't do that, it seemed fitting that leading scorer in Wednesday's Div. 1 title game was senior Sam Sweet.

Growing up as a lacrosse player in Duxbury with the last name Sweet can't be all too easy. Just because of the name on your back, the already high expectations that surround the team on an annual basis get ratcheted up even further when your father is the man who has served as the architect of Massachusetts' true lacrosse dynasty.

Sam Sweet has found a way to set those expectations aside and just play his game, and the senior produced a hat trick as a key component in the Dragons 10-8 victory over Needham at Harvard Stadium. The win gives the Dragons nine Div. 1 state titles since 2002.

"There's a lot of expectations with everyone on this team," Sweet said afterward. "Almost every senior is going to on to play college ball so there's a lot of high expectations for us. We just have to put those aside. We're still in high school. We just try to focus on our goal of winning a state championship."

"Over the last four years, it's been awesome," the Hamilton College-bound senior continued. "I've played with these guys since I was eight years old, growing up with them its been awesome to be here. And to finish it off like this is a perfect way to finish off a senior season."

Sam has been on the sidelines for every Duxbury lacrosse game since he was in the first grade, and by the time he hit middle school, he watched his older brother Derek win a state championship alongside his father and knew that was an experience he wanted to have as well.

Chris Sweet has often ducked questions about Sam, preferring to keep things focused on the team as a whole. But on this night, as the two were able to pose for pictures together on the Harvard Stadium turf with the state championship plaque in hand, Dad couldn't help but wax a little nostalgic about his youngest son.

"I wouldn't trade it for anything," Chris Sweet said. "To be out here with Sam and to get to be with him every day on the field is a fathers dream. It's been hard at times. I have to treat him like the rest of the guys. But as his father, Im extremely proud of him. I'm sad its over but its time for him and his classmates to move on in life."

For the son, the experience of sharing these moments with his father will last a lifetime.

"It's pretty cool. I wouldn't ask for it any other way," Sam Sweet said. "Kids don't always get to spend this much time with their Dad and I've been lucky for that. To do it like this and come out win all these games together, it's really cool. When we're out on the field he treats me like any other player. It's not any harder or easier. But when we get home, he's my Dad."

ITS NEVER EASY
While the Dragons routinely dominate the lacrosse landscape of Massachusetts, the act of actually winning the state title doesn't always happen how one might think. Since 2007, the Dragons have only had one blowout win, a 16-9 triumph of St. John's Prep last year. Duxbury needed overtime to topple Xaverian (2007) and Billerica (2008), then the Prep played them to a one-goal game in 2009.

With the Dragons holding a 10-4 lead after three quarters, it looked like the rout was on. Needham had other ideas though, breaking out a Lee Corso-styled "Not so fast my friend!" over the final 12 minutes.

"I can't even remember the first half. I think we were ahead," said Sweet with a laugh following the game. "We stuck to the gameplan, we did what got us here. Needham battled back in the second half and they made a game of it. They are athletic, they're well coached and they are scrappy. They don't give up. Thats why the score was that close at the end."

The Rockets didn't get the memo that they were just supposed to play dead in the face of the Dragons, and a rare faceoff win led to a Mark Riley goal just 41 seconds into the final frame to kick off a comeback attempt.

Nico Panepinto added his fourth goal of the game just under four minutes later, and a series of penalties left Needham with a 5-on-3 situation and Duxbury's backup goalie in the cage, which they cashed in on as Mikey Panepinto fed James Caruso for a man up goal at 7:13.

Timmy Parlato, a heart-and-soul kind of player if there ever was one, then made it a two-goal game after scooping a ground ball from a deflected Riley shot and burying his own with 5:53 to play.

"In the early stages of the game we got backdoored a little bit, we didn't see some things very well and because of that they got their hands free inside the crease and they were able to finish some really high percentage shots," explained Needham coach Dave Wainwright. "This is a game thats all about momentum. We were able to capture some and we rode it well.On defense we changed up three different times how to go after them and we figured out that we justhaad to go play some man to man and try and take the ball away. We were able to create some turnovers and pressure them and that gave us some opportunities."


February, 28, 2012
2/28/12
5:06
PM ET
Editor's note: On Wednesday, February 22, the Needham High School athletic department and hockey coach Bill Guisti granted access to reporter Scott Barboza and videographer James Walsh to follow the team for their first-round game of the Springfield Cathedral tournament. This is the result.
SOMEWHERE BETWEEN NEEDHAM AND SPRINGFIELD, Mass. -- Needham High hockey seniors, forward Jeff Rosata and goaltender Connor Murray lean against a parked car. They're about to board a bus bound for the Springfield Olympia Center for their first-round game in the Springfield Cathedral Tournament, where they'll play the host Panthers.
"I think we're faster than they are," Rosata says, estimating the tape he's seen on that night's opponent.
On paper, leading into the matchup, the teams figure to be even. The implications of the game are likely to dictate seedings for the upcoming Super 8 hockey tournament. They know the importance of the game.
"I mean, we've made the Super 8, what? The last three of four straight years?" Murray says, with a San Jose Sharks snapback cap tilted slightly upward on his head. "We know we need to keep that going."
Rockets assistant coach Tom Shaughnessy emerges from the open doorway of the bus.
"Time to get going."
-----
Rockets forward Jeff Parsons has a reputation on the team, something that of a human GPS. He sits sidesaddle on an aisle seat in front of teammate Jamie Arnao.
Watching the exits zoom by, somewhere around the Auburn service exit on the Mass Turnpike, Arnao blurts out, "How far away are we?"
The question, seemingly posed to nobody in particular, was directed at Parsons. He sits back in the seat and gazes upward with his eyes, as if consulting a map of Central Mass. painted on the bus ceiling.
"Should be about 50 minutes or so," Parsons rifles back.
[+] Enlarge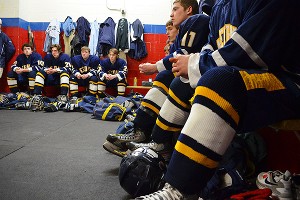 Scott Barboza/ESPN.comThe Rockets listen to the pregame speech of coach Bill Guisti.
Freshman James Fisher brought along a copy of "Dodgeball" for viewing. The P.A. speakers of the bus muzzle the dialogue with a humming. With every bump in the pavement, the T.V. screen flickers with a line of static fuzz rising from bottom to top. Three pairs of seats are occupied in the front of the coach, one with drinks (Gatorade, water), another with an assortment of plastic-wrapped deli sandwiches, the last with trays of potato chips, Fritos, Doritos.
It's like a team sleepover on wheels.
Arnao, a senior forward who also helped the football to a Division 1 Super Bowl appearance in the fall and is a standout on the baseball team, is the team jokester. He's dressed in a pair of aquamarine chino pants, a button-down shirt with a windowpane print and an overcoat.
I ask him whether the not-so-subtly-colored pants are a game-day tradition.
"Yeah, this is usually how I roll," Arnao replied, laughing, as usual.
Seated at the front of the bus, Needham head coach Bill Guisti sifts through papers. Guisti, who owns his own business, used the down time on the trip to go over a couple of pregame adjustments he wants to make with the Rockets' lines. He wants to move blue-liner Timmy Parlato up front. He's hoping Parlato's Brad Marchand-like style of play might unnerve Cathedral's defenders.
He scribbles down notes on a sheet of loose paper, remarks he wants to reinforce before the team takes the ice. The former Mount St. Charles (R.I.) hockey standout spends most of his free time scheming the Rockets to their next win. He takes a couple minutes to check in with his two daughters though.
"I usually don't have this much time to myself," he says.
-----
There's an arcade room in the lobby of the Olympia Center. Arnao saunters past it on his way back from a bathroom break. Headphones on, he's ready to get into his pregame warm-up.
A toddler shouts over to him, "I just put a dollar in, can you play with me?"
Arnao looks around for a moment, then stepping toward the two-person shooter video game installation, he says, "Sure."
"I'm on a 40-man kill streak," the child tells him.
Arnao takes a couple of shots with the plastic gun, he misses his target. The child, less than half Arnao's height, is blowing up everything in sight.
"I gotta' go, I have to get ready," Arnao says.
Walking away, Arnao adds, "That kid is ridiculous."
After a moment of reflection, he wonders aloud, "Where's that kid's mother at?"
-----
In Guisti's pregame message to the team, he cautions the team about the fact that the officiating crew might not give them the benefit of close calls as the visiting team.
By the end of the first period of a 0-0 game, it looks like Guisti is right.
"There's nothing you can do about it, you just have to be smart," he says. "For you seniors, you know what this is all about. This is it."
-----
After two periods, the Rockets struggle to generate many scoring chances in a tight-checked game. It's a playoff atmosphere with both teams vying for the sixth spot on in the upcoming Super 8 tournament.
[+] Enlarge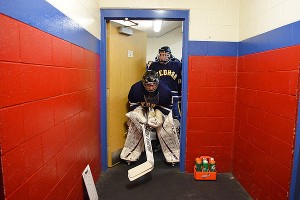 Scott Barboza/ESPN.comNeedham goaltender Connor Murray waits for the cue to take the ice before the Rockets' game against Springfield Cathedral last week.
Murray is playing one of his strongest games of the season; he's bailed out the team time after time. He's slumped back in his seat at the second intermission. Somehow, the Sharks snapback is still on his head in the same position it was all those miles before.
There's no fire-and-brimstone speech from Guisti, just a gentle pleading for the team to take care of the little things. In such a tight game, anything could make the difference.
The team comes together for one final ooh-rah and wait at the door for the signal to move out onto the ice for the third period.
Amidst a chorus "Let's go boys," senior captain D.J. Walsh still hasn't moved from his perch on the bench. Beads of sweat gather on the strands of hair emerging from the brim of his helmet. He's breathing deeply.
It echoes Guisti's message to the team before the game.
"When you guys get back in here between periods, you should be gasping for air that's how hard you've skated out there."
Walsh's plastic facemask is fogged up. He draws a couple deep breaths, stands and follows his team out.
The Rockets lost 1-0.
February, 23, 2012
2/23/12
2:40
AM ET


SPRINGFIELD, Mass. -- On Saturday, No. 6 Springfield Cathedral saw a point slip off their stick in a 5-5 tie with St. John's Prep. The Panthers had once led 5-1 in that game.

With an emphasis on finishing, the Panthers showed a renewed focus on their third-period performance against No. 8 Needham during their host tournament at the Olympia Center on Wednesday.

In a game that figures to have a profound impact on the upcoming Super 8 tournament selection, Cathedral received an early third-period goal from Frank Crinella that would be a difference-maker. Sophomore goaltender John Liquori made 28 saves to earn his second shutout in a 1-0 win over the Rockets.

"After squandering that four-goal lead against St. John's Prep, we knew we needed to learn how to win," said Crinella, a senior captain. "We can't give up leads like that. It just showed character to get that 1-0 victory."

Entering action, both Cathedral (10-5-6) and Needham (16-4-0) had aspirations of earning a top six seed in the Super 8 tourney, meaning they'd avoid a Monday play-in game.

After 45 minutes of action, it was a apparent that both teams belong in the state's elite tournament and not much separates their level of play.

"It was what we had expected, a tight checking game," Panthers head coach Brian Foley said. "I thought both goalies played exceptional. Needham's always a good, well-coached team. It was just a battle."

Not to be outdone, Rockets senior netminder Connor Murray turned away 22 shots, including three big stops on Cathedral's 5-on-3 power play to start the second period.

The game remained scoreless until the first minute of the third when Crinella crashed the net, depositing a rebound of a shot from his little brother, freshman Peter Crinella.

It looked as though Needham might have found the game's first goal in the second period. Rockets senior Timmy Parlato -- who was playing forward, stepping up from his usual defenseman role in an effort to get more punch up front -- broke in on a partial break. Liquori made the save, but it appeared the puck crossed the goal line while the Cathedral netminder was pushed back into the net after a pileup in front.

"They never gave me an explanation as to what happened," Needham head coach Bill Guisti said.

Cathedral advances to play No. 1 Malden Catholic in the championship final tomorrow at 7 p.m. Needham will play Hamden, Conn. in the consolation at 5 p.m.

NO. 1 MC 4, HAMDEN (CT) 3 (OT)
Malden Catholic needed overtime to advance past their Nutmeg State opponent in the early game of the Cathedral tournament.

An early Brendan Collier goal, followed by a pair of strikes from Ryan Fitzgerald had the Lancers (15-1-3) to a 3-1 lead entering the third period.

However, the Green Dragons (10-5-2) came back to tie the game in the third, finding some success on the power play.

While the game goes into the MIAA books as a tie, freshman center Ara Nazarian pushed the Lancers on to the championship game with the overtime winner.
February, 2, 2012
2/02/12
12:43
AM ET
(Highlights courtesy of the Needham Channel)



WELLESLEY, Mass. -- In a matchup of perennial powers of the Bay State League's respective hockey divisions, No. 23 Norwood's 4-3 victory over No. 7 Needham was more than just two old rivals going at it.

In the big picture of things, it meant a whole lot more.

For the Mustangs (11-2-4, 8-0-4), Wednesday's battle at the Babson Skating Center was a valediction, proof positive they will be a very tough out for any potential postseason opponent. The win over the Rockets is a marquee note to an already successful season.

On the other hand, it seems as though a hole might have been punched in the Rockets' Super 8 tournament resume. Coupled with a costly early January loss to No. 16 Braintree – whom the Rockets now trail by a point in the Bay State Carey – Needham has only complicated their once presumed path back to the state's top hockey tournament.

But, in short, it was matter of the Mustangs working their game plan to perfection.

Norwood scored twice within 23 seconds, running to a 2-0 lead less than four minutes in. Goals by Peter Kelly and Mike Murray allowed the Mustangs to settle in and focus on shutting down the Rockets' counter attack.

"We were able to stay with our forecheck, which bottled them up a little bit in that first period," Norwood head coach Bill Clifford said.

Playing against a sticky 1-2-2 front, Needham (12-3-0, 9-2-0) struggled early on to put consistent pressure on Mustangs goaltender Jordan Davis (34 saves).

The Rockets finally cracked Davis midway through the second period, with senior forward Chris Lambert cleaning up a rebound from the low slot.

But Norwood had an answer.

Senior captain Brendan Cathcart (1 G, 1 A) was the beneficiary of Tyler Gover's dogged work behind the net with 1:18 remaining in the second. Gover fought off the checks of Needham's blue-line tandem to shovel a centering pass to Cathcart for the goal. It was part of a three-assist game for Norwood's junior forward.

"This game went a lot like the Braintree game," Needham head coach Bill Guisti said. "We came out a little bit sluggish and they got those two goals. It's like just said to our guys, we can't be spotting these good teams two goals."

Needham freshman forward James Fisher cut the lead to one 12 seconds after Cathcart's tally.

However, Mustangs sophomore forward Mark Powers dealt the Rockets a knockout blow at 1:23 of the third. Swinging beneath the goal line, Powers settled in back of the Rockets' cage, only to hit the brakes and shift back to his left. With Needham netminder Connor Murray buying the deke, Powers shifted back around, depositing the puck in a gaping net with Murray slow to break from the right side post.

Needham made a furious comeback attempt in the final minute with goaltender pulled. Timmy Parlato picking up his second point of the game on his goal with 12.3 seconds remaining.

Despite a couple more good looks at the Norwood cage off the ensuing faceoff, the Mustangs held tight and pocketed their biggest win to date.

"It gave us a little confidence and we hung on," Clifford said of the quick start. "I thought we played a great game, they did a good job around the boards, the forecheck was good, the defensive zone coverage was good.

"They've been working hard all year and it's starting to pay off for them."

DOING IT AGAIN FOR NO. 3
Norwood constantly has another player, another coach on their side, watching from the other side of the glass.

This year would have been Matt Brown's senior season with the Mustangs. And, while Brown's hockey career ended on that fateful night in January 2010, the resilient 17-year-old remains a guiding presence to the program.

"He's with us all the time," Clifford said of Brown. "He comes to games, practices, pasta dinners. The kids are always over his house hanging out, so they have a good bond together."

Brown has provided more than moral support to his teammates on the ice, he's been another set of eyes for Clifford's coaching staff.

"He always tells me exactly what he sees, and he does a good job. He knows the game inside and out. He tells me some things that I miss."
January, 26, 2012
1/26/12
1:40
AM ET
By
James Walsh
| ESPNBoston.com


DEDHAM, Mass -- No. 8 Needham boys' hockey outshot and outskated Xaverian for most of Wednesday night's matchup, and came away with a 3-0 win, the Rockets' 10th of the season.

But the best player on the ice was Xaverian (3-7-1) goalie Dave Michaels. The senior netminder stopped 36 shots in a losing effort, but still earned high praise from his coach.

"Dave was outstanding," Xaverian head coach Dave Spinale. "He was the difference maker, it could have been six or seven nothing, he was fabulous."

The Rockets (10-2) finally were able to put one past Michaels at 4:45 in the second period when Timmy Parlato connected with Lucas Davis to finish off an odd man break for Needham.

"I just got a good awareness where Lucas is," Parlato said. "He just finishes every pass I give him."

In the third period Needham's third line combined for the second goal when freshmen forward Danny Jacobs played a perfect pass to Chris Lambert who one timed the shot home.

"Jeff Rosata, Danny [Jacobs] and Chris [Lambert] were really going all night long, doing a great job in their D-zone and putting a lot of pressure on their defense." said Needham head coach Bill Guisti about his third line.

Davis would add his tenth goal of the season on a late empty netter for a 3-0 final.

Both teams will return to conference play next week, with the Hawks hosting St. John's Prep and Catholic Memorial while the Rockets take on Milton and Norwood in their next two games.


March, 13, 2011
3/13/11
2:03
PM ET
By
Roger Brown
| ESPNBoston.com
NORTH ANDOVER, Mass. –- It wasn't the experience either team envisioned when the Super Eight tournament field was announced.

Sixth-seeded Needham and seventh-seeded Woburn each entered Sunday's third-round game with an 0-2 record in pool play and no chance of advancing to the semifinals. Each team completed the tournament without a victory as well, as the teams skated to a 2-2 tie at Merrimack College's Lawler Arena.

"Very proud of the way our kids played," Woburn coach Jim Duran said. "It's such a difficult game to come back and play when you're not really playing for anything except for pride. There was no bologna out there. It was a good showing by both teams."

Needham was trying to protect a 2-1 lead, but Woburn's John Concannon capped the scoring with 5:28 to play. Because St. John's Prep (2-0) and BC High (2-0) had already secured spots in the semifinals from Group 2, there was no overtime period.

Following the game, Needham coach Bill Giusti suggested it might benefit everyone if the tournament format is changed.

"It's a tough game to play when you have two 0-2 teams," he said. "I think maybe the format should be changed and maybe go to a Hockey East format (best-of-three series) and the winner moves on. Really I don't think there's gonna be any more games or any more time. Not only that, it makes the first and second seeds that much more important.

"I think it's a better way. Unfortunately we've been involved in this game two years in a row. Last year with Winchester 0-2 and us 0-2. No one is in the stands either."

Junior forward Daniel Holland also scored for Woburn, which completed its season with an 18-5-2 record. Junior defenseman Jake Secatore assisted on both Woburn goals.

The Tanners won a play-in game against Springfield Cathedral, and then lost one-goal games against St. John's Prep (4-3 in overtime) and BC High (1-0) before Sunday's contest.

Needham received goals from junior forwards D.J. Walsh and Timmy Parlato. The Rockets completed their season 12-8-5. The Rockets lost to BC High (2-0) and to St. John's Prep (5-1) in its other tournament games.

"A tie was probably just for both of these teams," Guisti said. "Luckily both teams were pretty disciplined."

Woburn opened the scoring when Holland converted a rebound from close range at 4:46 of the second period.

Needham answered quickly. Walsh tied the contest 32 seconds later, and Needham took its first lead when Parlato beat goaltender Cam McGlashing on a shot from the right point at 7:12 of the second. Parlato's goal came with one second left on a Needham power play.

"We talked before the game, not only did we want to play this for the seniors but also we wanted to play it for next year," Duran said. "We showed we can play in the tournament. If we came here and had lost 5-0 they might have said we were just lucky to hang in there against those two teams [BC High and St. John's Prep].

"I think we had a good effort tonight, and I think this gives us a lot of experience for next year. It gives us an idea do of what to expect and what it takes to get to that next level."
December, 29, 2010
12/29/10
2:02
AM ET
By
James Walsh
| ESPNBoston.com
FOXBOROUGH, Mass. -- No. 9 Xaverian and No. 10 Needham have become mini rivals over the last four seasons, and their contest on Tuesday night was just the latest chapter between two of last year's Super 8 entrants.

"It's become a fun rivalry, our guys get up for it and I know they [Needham] get up for it" said Xaverian head coach Dave Spinale.

"It's one we always mark on our schedule to see what our status is, and it's a good way for us to test ourselves."

Needham (2-2-0) opened up a two-goal lead after the first period with goals from J.P. McHale, (assisted by Tom Coleman) and Timmy Parlato (Jeff Rosata).

But Xaverian (3-0-0) came out in the second period with guns blazing.

"We knew that the effort we had in the first, it wasn't are best effort, so flat out we asked the to play with courage." Spinale said referring to his team talk at the first intermission, "We got on them pretty good, pointed out their mistakes, and asked them to play the way they're capable of. We asked for our seniors to step up and our captains to step up."

Just 4:43 into the second period the Hawks cut the lead in half through a goal from senior captain Tommy Jenkins, Jason Salvaggio providing the assist. Xaverian scored again just under four minutes later when they broke out of their defensive zone on a 4 on 1 break away. It was the other co-captain Ryan Hall finishing off the nice move, Billy Hildebrand and Eddie Pratt with the assists.

After the goal things turned physical. Two and a half minutes of hard-hitting and questionable non-calls on both sides lead to a scuffle in front of Needham's net resulting in matching minors and misconducts on both sides.

Jenkins and Jack McClellan went to the box for Xaverian with 7:30 misconducts, 1:30 minute roughing calls and McClellan also receiving 1:30 for a cross check. Needham's Lucas Davis received the same calls as McClellan while Sam Nickles received a 7:30 misconduct and 1:30 for cross checking.

The teams remained at 5 on 5, but Needham's second line was crippled with Nickles and Davis in the penalty box.

Bobby Hall gave the Hawks a 3-2 lead at 11:33. Needham's Connor Murray (11 saves) got his glove to Hall's shot, which was heading into the top corner, but all he could do was tip the puck up and it trickled over the line. Off of the ensuing faceoff Ryan Hall scored his second of the night making it 4-2 just nine seconds later.

Xaverian's fifth and final goal came 59 seconds into the third period, Jenkins scoring his second of the night.

Junior goalie David Michaels had 25 saves in the victory.

1st period
N - JP McHale from Tom Coleman, 5:04
N - Timmy Parlato from Jeff Rosata, 12:34

2nd period
X - Tom Jenkins from Jason Salvaggio, 4:43
X - Ryan Hall from Billy Hildebrand and Eddie Pratt, 8:33
X - Bobby Hall from Eddie Martin, 11:33
X - R. Hall from Salvaggio, 11:42

3rd period
X - Jenkins from R. Hall and Salvaggio, 0:59