Boston High School:

Tom Gibbons
February, 28, 2014
Feb 28
12:56
AM ET
By
Ryan Lanigan
| ESPNBoston.com
HOLDEN, Mass. -- Just because it happens in the regular season, doesn't mean it will carry over to the playoffs.

But that was okay for Franklin, which ditched its slow starts it had seen in the regular season for a very strong one, jumping out to an 11-2 early lead and never looking back on their way to a 56-38 win over Wachusett.

"My assistants were saying yesterday in practice how its been a while since we got out to a good lead early," said Franklin head coach Dean O'Connor. "We came out and shot the ball well early. We knew they'd be in a zone and its important to hit some early so they start coming out on you so you can start getting the ball inside. Getting off to a good start was huge, especially on the road."

Wachusett's zone was no match for Chris Rodgers, who drained 3-pointers in the opening quarter and Dylan Reno and Quenten Harrell each added one apiece. The Panthers jumped out to a commanding 21-8 lead after one.

"We saw them against Brookline and you have to pick your poison with them," said Wachusett head coach Tom Gibbons. "We needed to get off to a good start I thought so them making those shots early, it forced our hand a little bit and we had to change the game plan."

It looked as though Wachusett was going to close the gap, as they twice got the game within two possessions early in the second quarter, but Franklin rattled off 10 straight points to turn a 23-17 lead into a 33-17 lead and Franklin took a 35-20 lead into halftime.

The Panthers really put the game out of reach in the third quarter even though they scored just 12 points. It was their defense that dominated the game from start to finish, limiting Wachusett to just six points in the third quarter, on their way to a 47-26 lead going into the final frame.

"We knew they were good defensively," said Gibbons. "We were not getting any rhythm to say the least. We really struggled in all areas but you have to give them credit. They really get after it defensively and they have nice pieces. They beat us to every loose ball, they beat us on the glass. They're a dangerous team, they could go far."

Though the hot start wasn't something they carried in from the regular season, their strong defense was after giving up just over 55 points a game in the regular season.

"We played well," O'Connor said. "We really pride ourselves on playing good defense. I was really worried about rebounding with their size but I thought we did a good job on that and holding them to one shot. We tried to make it tough to score on us. We played a solid game so I'm happy."

Franklin was held to just nine points in the final quarter (allowing 12 to Wachusett), but all of their points game at crucial times that killed any Wachusett momentum. Tim Prunier hit consecutive three-pointers, beating the shot clock buzzer and the other off an offensive board. Rodgers was able to bury another three too, this one also late in the shot clock.

Rodgers finished with a game-high 16 points but Franklin finished with four players in double figures as Harrell, Prunier and junior Marcus Giese all added 10 points.

"The other guys really stepped for [Franklin]," Gibbons added. "We knew Rodgers was good, we knew he gets the ball to the rim so we tried to provide good help and stop him early, but the other guys stepped up to their credit."

Sophomore Tyler Dion led Wachusett with 11 points while Brad Durkin added nine points and Justin Bowker finished with eight points.

Franklin will now play Worcester South in the D1 Central Semifinals on Sunday at 6:30 at WPI. South upset top-seeded Fitchburg 64-51.
February, 2, 2014
Feb 2
2:00
AM ET
Some quick-hit thoughts from the week's high school basketball action around Massachusetts:

1. Don't look now, but it's looking like that time of year again for Lynn English. Last season, after a 4-4 start, the Bulldogs won 15 of their next 16 games before bowing out in the Division 1 North Final, their first such appearance since the fabled 2009 state final run. When they are fully healthy and in full swing, the Bulldogs' backcourt of Freddy Hogan, Erick Rosario and Stevie Collins is among the state's best, and they've proven as much with two gutsy wins over NEC rivals -– first a 15-point rally over Danvers, then a dramatic victory over Salem to avenge the loss two weeks prior.

The excuse for the early slump last year was that coach Mike Carr's run-and-gun, full-court man-to-man pressure system takes about half a season to get used to. With a year of that system under their belts, that doesn't feel applicable for the recent spell of three losses in four games that ended with the Danvers win. Perhaps it had more to do with the need for more assertion on the boards, a problem that tends to arise as the Bulldogs sometimes surrender the offensive boards in order to prevent a fast break going the other way. The return of Collins from injury should bolster the backcourt, but if the "Runnin' Dawgs" are to replicate last year's success, promising athletic forwards Danny Lukanda and Johnny Hilaire are going to be the key.

2. Went and saw Marshfield host Barnstable on Saturday night, a battle between two unranked teams in our Top 25 poll, and I got the feeling one of these teams –- maybe both -– could steal a game in what should be a wide-open D1 South tournament. Bob Fisher has won everywhere he went, which includes this latest stop at Marshfield, where he always seems to move past the first round. Against Barnstable, the Rams were 11-of-26 from three-point range in a 63-53 win, including a 5-for-7 mark in the first quarter. They get a night like that in D1 South, combined with their speed in transition, and I could see them dealing haymakers to a high seed.

Realistically, Barnstable might be a year away from being a bona fide contender, but first-year coach Chuck Kipnes has this program going in the right direction, and there is plenty to like with this young group. Two underclassmen in particular to keep an eye on are sophomore point guard Izaiah Winston-Brooks, a transplant from Boston, and junior forward Elijah Baptiste, a long and lanky slasher who excels on the wing and has deep range. Winston-Brooks is strong on the ball and vicious driving with his left, and made a few nifty dishes to post players for some sweet assists. I wouldn't be surprised to see Kipnes score an upset on somebody in the South.

3. Seeing Shabazz Napier's jersey retired at Charlestown on Friday night conjured up a lot of memories for what was a brilliant high school career split between the Townies and Lawrence Academy. My favorite memory of Napier is his final game in an LA uniform, the 2010 NEPSAC Class B Final against St. Mark's. The undersized Spartans were getting hammered underneath in the first half by the likes of Nate Lubick and Kalb Tarczewski, with many of LA's stars (including Napier) racking up three first-half fouls. Throughout his career Napier wowed fans with no-look passes and dagger three's, but in this battle he took control of the game in second half by slowing the game to a crawl. Literally, each trip down he would bring the ball over halfcourt and huddle up with the other four players on the floor as he continued dribbling, milking the shot clock for all its worth. The Spartans rallied to win by 10 in that game, still one of my favorite NEPSAC games I've covered in my career.

4. It there is one weakness with No. 1 Springfield Putnam, it is its shooting ability. But then again, that was the Beavers' glaring weakness last year, and they rode that deficiency all the way to a D1 state title. Call me crazy, call me whimsical, but I'm a firm believer that there is a difference between a good shooting team and a timely shooting team. The Beavers certainly aren't a great shooting team, getting most of their baskets off turnovers and fast breaks. But I saw Ty Nichols hit a gutsy three against Nazareth (N.Y.) back in December to force overtime, and apparently he was up to his old tricks against Holyoke this week, hitting a buzzer-beater to rally the Beavers from down five with 1:30 to go. When their feet are held to the fire, the Beavers pride themselves on not being out-toughed or out-played.

5. Continuing with the "defense trumps offense" theme over in girls' basketball, I thought No. 1 Braintree made a statement in sweeping its season series with Newton North, even if the Tigers were without star guard Infiniti Thomas-Waheed. The Tigers have been a tough out for the Wamps the second time around. Defense has never been a question in Braintree, but if you've been following our girls basketball coverage the last two seasons, you know my biggest criticism of the Wamps is their scoring ability. Well, they put up 70 on a pretty talented Newton North team tonight, so I guess that shows how much I know. Don't be surprised if there is a third installment of this growing rivalry in the D1 South tournament, either.

6. Two milestones that deserve some praise: Wachusett's Tom Gibbons, who earned his 200th win in an overtime victory over Fitchburg; and Mahar's Chad Softic, who earned his 100th win in his seventh season at the helm of the Senators' program. Under Gibbons' watch, the Mountaineers have always scheduled tough, and been consistently in the upper echelon within its division. Like his brethren in the famous Gibbons coaching family of Central Mass.,Tom is as genuinely good a human being as you'll come across.

Softic inherited a program at Mahar that was just looking to get off the canvas, and after going 1-19 his first season he brought the Senators hardware in year five, beating heavily-favored Brighton in the 2012 Division 2 State Championship. The Senators basically played six kids that on paper did not hold water to All-State Brighton players Malik James and Nick Simpson; but they ate the Bengals' much-vaunted extended 3-2 zone alive, jumping out to a 17-3 first quarter lead and making it hold up for a four-point victory. To this day, that is one of the best coaching jobs I've seen in my time covering high school sports in Massachusetts.


March, 4, 2013
3/04/13
2:20
AM ET
By
Brendan Hall
| ESPNBoston.com
WORCESTER, Mass. -- Joe Atkinson greeted reporters with a look that was one part ecstatic, one part exhausted.
"I'm dead," the Milford senior laughed. "I hurt my ankle [in the third quarter], but I can't even feel it right now. All adrenaline."
When you're down 18 with the season on the line, before a sweeling crowd in a cauldron like the Harrington Auditorium on the campus of Worcester Polytechnic Institute, you tend to go beyond the threshold. Atkinson understood as much, and was just about drained as he went up to contest a three-point attempt by Wachusett's Zack Berman with 44 seconds to go.
[+] Enlarge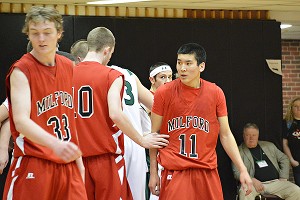 Brendan Hall/ESPNMilford rallied from an 18-point third quarter deficit behind Joe Atkinson, who sealed it with a block in the final minute
Atkinson (11 points) got all ball, and then put in the breakaway layup, for a 45-41 lead. The Scarlet Hawks held on 46-44 to move on to next Sunday's Division 1 Central Final, against St. John's of Shrewsbury, but boy was the outcome hanging by a thread.
"I went crazy. I just knew they were going to shoot it because they had two big men out, so I just went for it," Atkinson said of the block. "After that block, I just got a rush. I felt amazing, it was awesome."
Said Milford head coach Steve Manguso, "Atkinson was unbelievable. That block he made on Berman, making steal after steal, it was an incredible performance."
Michael Tracy came up with a steal for the Hawks with 25 seconds to go, but the ball quickly went the other way after David Mercier (17 points) was called for an offensive foul. The Mountaineers took advantage, with a tip-in from senior forward Alex Cooper (16 points, 10 rebounds) with 12 seconds to go.
Wachusett immediately fouled on the ensuing inbound, putting Atkinson at the line for two. He made the front end, and after he mised the second Cooper smartly tossed the ball off a Milford player out of bounds.
From there, up 46-43, the Hawks decided to foul, putting Berman at the line with five seconds to go. He made the first, and intentionally missed the second, but an ensuing scrum let the ball drift into Milford's end as time expired.
"We had a feeling they were going to foul us up three," Wachusett coach Tom Gibbons said. "So we were hoping Berman could get it and shoot it, and they fouled us right away. Five seconds is a little too short on time in order to have him make the second, so we had him miss and we [hoped to] tip it out fora three actually. But we tipped it too hard -- it's a hard play, but that's what we were trying to do, tip it out and we've got two 3-point shooters right on the line."
Milford trailed by as much as 18 in the third quarter (34-16), and Wachusett's Jesse Maresca hit his stride early. The senior guard had more points in the first half (15) than the entire Milford team, which trailed 27-14 going into the break.
Some schematic adjustments at halftime gave the Hawks some breathing room to work with. A switch in their zone press helped, going from a 2-2-1 to a 2-1-2, matching up out of it and trapping along the sidelines.
The Hawks were also more efficient on the boards, getting great help-side rotation to seal underneath. The Hawks outrebounded the Mountaineers 13-8 in the second half, and held them to 35 percent from the field (7-for-20).
"It was a tale of two halves, I'm real proud of my kids that's for sure," Manguso said. "It was an unbelievable game."
December, 14, 2012
12/14/12
12:40
AM ET
By
Chris Bradley
| ESPNBoston.com


WORCESTER, Mass. -– Behind 15 points and 16 rebounds from senior forward Alex Cooper, Wachusett came up with a victory on the road tonight over No. 21 Doherty, 52-49.

Senior guards Zack Berman and Jesse Maresca -- widely considered the Mountaineers' top go-to threats offensively -- finished with six and 17 points, respectively, but both struggled to consistently get anything going on offense. Stepping up on the offensive end, as well as on the glass, Cooper kept Wachusett going with his intensity, showing off some newly-acquired post moves and skying for offensive rebounds to keep possessions going.

"He got every big rebound when we needed it," Wachusett head coach Tom Gibbons said, "He worked really hard in the summer, he's worked hard on his game. I'm really proud of the way played tonight, he played like a senior. I thought [his play] was the difference in the game, to be honest with you."

Despite beating Worcester North 63-12 earlier this week, Cooper said Gibbons was disappointed with the team's lack of effort on the glass, something Cooper took to heart going into the showdown with Doherty.

"It was definitely something we worked on a lot in practice," Cooper said.

Another difference in the game may have been Doherty's inability to capitalize on Wachusett's mistakes. Doherty finished the game with 20 turnovers, eight of those turnovers coming in the first five minutes of the game. Despite getting to the free throw line more than Wachusett, the Highlanders didn't take advantage, shooting just 9 for 19 from the line.

In addition, Berman missed a lot of the first quarter and the first few minutes of the second quarter because of foul trouble, but sophomore Jeremiah Perez and freshman Tyler Dion were able to step in and do a sufficient job with the Mountaineers' star senior on the bench.

"When we lost Berman, Perez came in and really lit a spark for us," Gibbons said. "He's really explosive, there were some turnovers that were created, but he adjusted and he's going to be just fine."

Berman, one of the best point guards in Central Mass., had nothing but praise for his fellow senior, Cooper.

"Coop played great, he stepped up when the lights were bright," Berman said. "He did a lot of good things for us. He was one of the key reasons why we won that basketball game."

Down nine at halftime, the Highlanders started to claw their way back late in the third quarter going into the middle half of the fourth. Senior guard Jamal Mustapha, who finished with 24 points (including three 3-pointers), led the run, hitting an NBA-range three followed by an acrobatic Eurostep lay-in in transition on the following play to bring Doherty within four points with just over five minutes to go.

Gibbons didn't need to do much to instill confidence into his squad, even when Doherty was feeding of the energy of their home crowd late in the second half. Ultimately, Wachusett was able to slow down the pace of the game, and hit big free throws in the closing minutes to shut the door on the charging Highlanders.

"We just needed to keep our composure and poise," Gibbons said. "We knew they were going to make runs in this building, they're a talented group...Our seniors just said 'relax,' showed some poise, and we were better with their press after that. We tried to slow down the pace a little bit and the seniors responded."

An eye for an eye:There was a little added incentive for the Wachusett seniors in winning this game: Doherty knocked the Mountaineers out of the Central Mass. Division 1 tournament last year in the second round. It's a game the seniors haven't forgotten, and a night that Cooper says motivated him all off-season going into this year.

"This was a revenge win for us from when they got us last year at our place," Cooper said. "We were coming into this game with a grudge, so this [win] felt real good. That date's been circled on my calendar for awhile now, beating them was a good feeling."