Boston High School:

Tom Lopez
November, 3, 2012
11/03/12
1:39
AM ET
By
Shawn Myrick
| ESPNBoston.com


SUDBURY, Mass. -- Three-year starter Christopher Giorgio has seen this Lincoln-Sudbury senior class grow from a few starters to what became a crucial part of a third-straight Dual County League (Large) division championship team last night.

In what has been a close rivalry the past five years, the No. 23 Warriors bested division rival Acton-Boxboro for the fourth straight time and cruised to a postseason berth with a commanding 21-3 victory at Myers Field.

"Starting off we did not have many (sophomore) starters," said Giorgio of his sophomore year. "A lot of [our success] had to doing with starting at a young age and having older kids that taught us leadership skills. We were ready to [defend] it again this year."

All three L-S (8-1, 3-0) touchdowns were scored by senior backs with the first two coming off a pair of two yard rushes by Giorgio at 7:02 and 1:47 respectively in the second quarter.

Junior backup quarterback Ben Colello caught a pitch from senior quarterback Henry Guild, faked the run, and hit a 10-yard pass to teammate senior Marquis Simmons to place the Warriors on the 26-yard line four minutes into the second quarter.

An eight-yard trap rush by senior Malik Layne on the next play put L-S in position for its first score.

"We stay low and keep the legs moving," Giorgio said. "Repetition [and] knowing what the defense's formats and strengths are."

After a 15-yard facemask penalty benefited L-S on its next possession, Guild broke a pair of sweep plays for 13 and 18 yards to set up Giorgio's second touchdown for a 14-0 lead.

A-B took four minutes and 11 plays to move 56 yards and put the ball on the Warriors' 14-yard line during its opening play of the second half. However a total of zero yards on its next three plays, forced the Colonials to let senior Jack Perry kick a 31-yard field goal.

Layne caught the edge on the final play of the third quarter and swept eight yards to bury the Colonials (6-3, 0-2) , with 21-3 touchdown.

"Henry [Guild] did a great job of orchestrating the offense," Warriors head coach Tom Lopez said. "We had pretty good balance on offense [and] we did it against a very good team."

Killer Turnovers
Turnovers and conversion failures stunted the Colonials' offense and set up two Warriors' scores.

Senior linebacker Dario Morando flew by the offensive line and grabbed senior Billy Jackman in the backfield to force a failed fourth and 1 attempt on A-B's 36-yard line at eight minutes in the second quarter to setup the first score.

Warriors senior Nick Deandrade grabbed a fumble off a botched sweep play the Colonials' 47-yard line at 4:03 to prompt the final scoring
drive.

"We moved the ball and then we would make a mistake and go the wrong way," A-B head coach Bill Maver said. "Execution and mistakes. I think that is what hurt us more than anything."

CARROLL'less, but Senior Laden
Malik Layne and Giorgio have stepped up the pass two weeks to fill the role of missing leading rusher and senior Brian Carroll, who is sidelined with a knee injury.

Layne rumbled for 87 yards and a touchdown on 14 carries to lead the Warriors in rushing, while his fellow senior, Giorgio, took 15 carries for 59 yards and two touchdowns.

"I keep telling people, 'We are doing this without Brian Carroll and it is unbelievable,'" said Lopez. "They have great balance and they are physically and mentally tough."

"We dedicate this season to [Carroll]," added Giorgio.

Not So Close This Time Around
The double-digit win last night by L-S is an oddity in a rivalry that has been predominantly a one-score game during the last five years. With A-B grabbing a 15-6 win in 2008, L-S has won four of the last five -- all by one score.

"The last two weeks have been tough," Lopez said. "We have not lost a DCL game in a long time. If we stay healthy, we are looking forward to another shot in the playoffs."

LINCOLN-SUDBURY 21, ACTON-BOXBOROUGH 3
A-B (6-3) 0 – 0 – 3 – 0 – 3
L-S (8-1) 0 – 14 – 0 - 7 – 21

LS – Chris Giorgio 2 run (Chris Roder kick)
LS – Giorgio 2 run (Roder kick)
AB – Jack Perry 31 field goal
LS – Malik Layne 8 run (Roder kick)
December, 3, 2011
12/03/11
11:32
PM ET
By
Bruce Lerch
| ESPNBoston.com



WALTHAM, Mass. -- You hear all the time about how important the high school football team is to the city of Everett, but you can't truly appreciate it until you see what the Crimson Tide players look like following a Super victory.

The rivers of tears streaking down their faces. The emotional hugs and hearty backslaps shared between teammates, friends and brothers. The coaches seeking out players to share in those moments amidst the throng of supporters from the city that have come to take part in celebrating with their players.

Football is Everett. Everett is football.

"It's a culmination of 17 years for me and Jonathan and four years for these seniors and, it might sound corny, but a lot of our kids don't have much," said Crimson Tide coach John DiBiaso, choking back tears and shivering from the cold after being soaked with the postgame Gatorade dump. "What they have here means something special to them. No disrespect to the other team but a lot of our kids don't have much, and the school and this team are their lives. I'm very happy for them."

They may not have much, but they do have a second straight Super Bowl championship. One that they earned against a Lincoln-Sudbury team who were expected to be mere cannon fodder but turned out to be one of the toughest opponents Everett faced all season long. L-S punched at Everett like few teams have this season. But the Tide stood tall, exactly like champions are supposed to do.

When the Warriors threw a punch, Everett took it and threw counter punches. Tom Lopez's L-S squad trailed at the half, 21-6, but kept the highest scoring team in Massachusetts off the scoreboard for the entire third quarter. In the process, they closed out the frame with a nine-play, 64-yard drive that ended with a 14-yard touchdown pass from Matt Cahill to Jack Harris to get to within a single score.

Then, Everett came right back three plays later and watched as Jakarrie Washington took a jet sweep around the right end and slipped down the sideline on great blocks by receivers Jaylen McRae and Jalen Felix. Then, Washington pulled the move of the night, hesitating for a split second for a stutter step in mid-sprint to throw his pursuer off stride, then easily ran the rest of the way for a game-changing 63-yard score.

"I always wanted to play for Everett High and ever since I got here," Washington said. "I did whatever I had to do to start and play. I love this man Jonathan, he's the best quarterback in the state right now and he should be doing better things in college. I have one of the best coaches in Massachusetts. We live in Everett, its mostly a football city, so we just stay lifting and getting ready for every season. We just try to perfect whatever we do."

From the moment Washington crossed the goal line, everything changed in what was a highly competitive battle. Everett forced L-S to punt, a favor which the Warriors returned. However, the Tide forced a fumble which Vondell Langston recovered at the 20. Three plays later, DiBiaso had his second scoring run of the game.

L-S got one more chance with 3:30 to go, but Washington intercepted Cahill on their third play to lock up Everett's ninth Super Bowl title under Coach DiBiaso.

"Its indescribable, its an amazing feeling," Langston said. "It means a lot to me because there's millions and millions of other people out there and how many of them can say they've been to two Super Bowls in a row and won both of them. We've been to three and won two. Not many people can say that."

The most emotional person in sight was Jonathan DiBiaso. The state's single season (44) and career (103) leader for touchdown passes in Massachusetts. His 108 passing yards last night gives him 7,052 for his prolific career. Not to mention his second Super Bowl championship, earned once again with his father guiding him along the way.

"This is great. I've been here my whole life," DiBiaso said while losing the battle with streaming tears and a choked up throat. "I love Everett, I love my teammates, I love my coaches, I love everything about Everett and to go out a champion means everything to me."
November, 29, 2011
11/29/11
11:19
PM ET
By
Mike Scandura
| ESPNBoston.com
TAUNTON, Mass. -- Any resemblance between the Lincoln-Sudbury team in the second half of Tuesday's Eastern Mass. Division IA semifinal game versus Barnstable and the Lincoln-Sudbury team in the first half was pure coincidence.
The Warriors were dead in the water in the first half as the Red Raiders built a 13-0 lead. But Lincoln-Sudbury rallied behind quarterback Matt Cahill and edged Barnstable, 14-13 – with all of the Warriors' points coming in the fourth quarter.
[+] Enlarge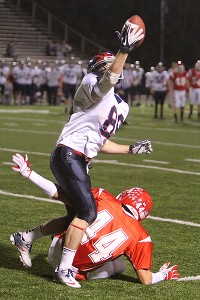 Eric Adler for ESPN.comJack Harris sparked the L-S comeback with several big grabs, including this one-hander.
Barnstable (7-5) was clinging to a 13-7 lead late in the fourth when it went for a first down on fourth-and-two from the Warriors' 6. But the Warriors slammed Hayden Murphy for a three-yard loss.
What transpired next was the stuff of legends as Cahill guided a 71-yard drive which culminated when he threw a 13-yard touchdown pass to Jack Harris with 2:19 remaining.
Will Twyman then kicked the second of his two PATs for what proved to be the winning point.
"Matt Cahill rebounded from a never-mind-the-first half and played a great second half," Warriors coach Tom Lopez said. "He's a great leader."
All Cahill did in the second half was complete 9-of-11 passes for 114 yards and two touchdowns.
Barnstable bolted to a 13-0 lead at halftime thanks to a 28-yard run by quarterback D.J. Crook late in the first quarter and a 30-yard touchdown pass by Crook to James Burke on the first play of the second.
"We thought we were making mistakes and that's why they were successful," Lopez said. "We thought we'd cut down on our mistakes. Having said that, we didn't play very well in the first half."
Lopez felt what was a momentum-shifter occurred in the third quarter.
"I think the key was when they stuffed us on fourth-and-two," Lopez said. "They went three-and-out and that gave us some confidence. All of a sudden the momentum changed."
Good point.
After Barnstable punted, the Warriors (11-1) reeled off a 93-yard drive that ended with Cahill's 11-yard touchdown pass to Harris.
What made the Warriors victory even more impressive was the fact the played all but a few minutes without one of their top players, Brian Carroll.
"We lost Brian Carroll on the second series (with a shoulder injury)," Lopez said. "He's basically been our whole offense. He had eight interceptions on defense and 800 yards rushing on offense.
"He's not in and Dan Cellucci, Greg Roder and Henry Guild all did a great job filling in. I couldn't be more proud of our kids."
LINCOLN-SUDBURY 14, BARNSTABLE 13
L-S (11-1) 0-0-0-14 - 14
Barnstable (7-5) 6-7-0-0 – 13
First quarter
B – D.J. Crook 28 run (kick failed)
Second quarter
B – James Burke 30 pass from Crook (Tom Mullen kick)
Fourth quarter
LS – Jack Harris 11 pass from Matt Cahill (Will Twyman kick)
LS - Harris 13 pass from Cahill (Twyman kick)
November, 5, 2011
11/05/11
1:34
AM ET
By
Corey J. Allen
| ESPNBoston.com



ACTON, Mass. -– Chris Giorgio led Lincoln-Sudbury to a close 21-14 win over league rival Acton-Boxborough last night with 10 carries for 40 yards and two touchdowns. The win keeps the Warriors on the undefeated (thus far) wall and pole position in the Dual County Small race.

"O-line played great today," said Giorgio after the game.

Giorgio scored his first touchdown with a leaping dive late in the first quarter over the bodies of offensive and defensive lineman on the grass as snow still piled up on the sidelines. The second, early in the second quarter, came after a three and out for A-B on the ensuing drive. Although Giorgio put the most points on the board, he still gave props to his teammates for producing their complimentary offense that allowed him to get space for his scores.

"Brian Carroll, Dan Cellucci ran the ball amazing, Henry Guild ran the ball, Jack Harris [caught] the ball well, Matt Cahill threw the ball well. I just ran it in easy," added Giorgio.

Cold as Ice: After last week's storm, the cold stayed in the area and as the game went along, so did the hard hits slow down. For the second week in a row, senior captain Kyle Ashley proved an alarming opponent with seven tackles, protecting the L-S end zone with as much fervor as he and the brethren could muster in near freezing temperatures.

"We knew that this was the game that… had the possibility to take us to the Super Bowl and we got it done and we're going to the playoffs," said Ashley.

Border Line Antagonist: Not only do the regional high schools of Acton-Boxborough and Lincoln-Sudbury exist within the same league but the towns of Acton and Boxborough sit above the towns of Lincoln and Sudbury geographically, so the need to show whose on top is there. According to Colonials coach Bill Maver, and exhibited by players in a close game picking each other up off the ground, the healthy rivalry is fierce during play, but dissipates once the whistle blows the ball dead.

"Tom [Lopez] is a great friend of mine. I want to beat him bad and I am sure he wants to beat me bad too," said Maver laughing. "After the game, we shake hands and we're friends. I think that's what's great about the rivalry."

Thin Edge: Late in the fourth quarter, Acton-Boxboro put together a sustained drive led by Kyle Sweeney with 46 yards on the series (112 on the day), but once they got down to the 20, on third and one, Chris Giorgio and William Twyman stuffed him for a two yard loss, and an incomplete pass to open space on fourth down killed the chance for the Colonials to take a game and slay the dragon. While it will go down in the history books as a win, it was not decisive in the eyes of L-S quarterback Matt Cahill; it was a game down to the last whistle.

"Acton came out and played and unbelievable game, they're an unbelievable team, a real class act," said senior quarterback Matt Cahill. "But at the end of the day, we were the ones on the right side of the score board, and that's a great feeling."

LINCOLN-SUDBURY 21, ACTON-BOXBOROUGH 14
LS (9-0, 3-0) 7 - 7 - 7 - 0 --– 21
AB (5-4, 1-1) 0 - 7 - 7 - 0 –-- 14

First Quarter
L – Chris Giorgio 6 run (William Twyman kick)

Second Quarter
L – Giorgio 3 run (Twyman kick)
A – Kyle Sweeney 6 pass from Ethan Dukes (Jack Perry kick)

Third Quarter
L – Dan Cellucci 33 pass from Matt Cahill (Twyman kick)
A – Billy Jackman 14 run (Perry kick)
October, 29, 2011
10/29/11
1:02
AM ET
By
Corey J. Allen
| ESPNBoston.com


SUDBURY, Mass. -- No. 13 Lincoln-Sudbury shut out Westford Academy in the second half of their 38-14 win.

The Warriors maintained their perfect season thus far (8-0, 2-0 2-0 DCL) as junior running back Christopher Giorgio ran for three touchdowns on the evening.

"First of all I give big credit to the O-linemen today, they made the holes really big and it was easy to run the ball," Giorgio said.

Giorgio and the rest of the offense amassed 280 yards on the ground last night.

Down 14-10 at the half after Westford's Justin Mount scored an 18-yard touchdown run up the gut of the Lincoln-Sudbury defense, Warriors head coach Tom Lopez did not panic because he saw a legitimate reason that his team was down and it was an easy fix – hold onto the ball.

"We gave them a short field two times," Lopez said. "We have to make them march. That was the key as we saw it. I don't think we punted during the day, so our offense was fine, but we can't give them the ball on our side of the field and expect the defense to hold them."

LOPEZ'S KEY DRIVE
Just before the half, the Westford Grey Ghosts (4-4) marched 48 yards to go ahead 14-10 after Brian Carroll fumbled the ball on the L-S 48. Carroll returned the kickoff nearly 60 yards, and despite a block in the back call on the play, the Warriors started on the Westford 47. Lincoln-Sudbury ate nearly five minutes off the clock and used seven of their most effective players on the drive, holding onto the ball and executing the way Lopez had expected them to.

"It changed the momentum of the game. The momentum of the game was definitely with them at 14-10… If they hold us, force us to punt, they control the ball while they have the lead it's a whole different game."

'DOUBLE COVERAGE' HARRIS



On three of L-S four scoring drives of the second half, John Harris caught passes of 18, 45 and 38 yards respectively, to bring his team within striking distance. Although he did not make it into the box score, Harris' catches surely made a world of difference in sealing the win for the Warriors. His teammates call him "Double Coverage" for his ability to snag balls at will and the need for defenses to put more than one player on him to stop his terror in the secondary.

"We're a run-first team… but when we got into spots, third and short, third and long, we have to go to the air, [quarterback] Matt [Cahill]'s able to make reads on the coverage… makes a good call and we can beet them deep."

A LITTLE OLDER, HEALING WOUNDS



The first two games of the season saw senior captain Kyle Ashley on the sidelines due to an elbow injury. As a three-year starter, Lopez noted that the team would miss Ashley. But with the team rolling as they are, Ashley's offseason workout that kept him in shape allowed him to play out the whole game on this cold New England night without any serious issues. With 27 seniors, compared to Westford's 11, the core of the Warriors team, led by Ashley, know how to tough out a cold game and bring home the W.

"We all knew to lead by example and just leave everything on the field because it's our last season and we don't want to lose it."

Westford Academy (4-4) - 7 7 0 0 -- 14
Lincoln-Sudbury (8-0) - 0 10 14 14 -- 38



1st Quarter
W – Alex Eaton 1 run (Alex Locker kick)

2nd Quarter
L – Daniel Cellucci 24 pass from Matthew Cahill (William Twyman kick)
L – Twyman 28 yard field goal
W – Justin Mount 18 run (Locker kick)

3rd Quarter
L – Christopher Giorgio 1 run (Twyman kick)
L – Brian Carroll 9 run (Twyman kick)

4th Quarter
L – Giorgio 6 run (Twyman kick)
L – Giorgio 30 run (Twyman kick)
August, 24, 2011
8/24/11
11:45
PM ET
By
Corey J. Allen
| ESPNBoston.com
Losing is never an easy thing and losing a playoff game is tough. Getting shut out at home in the playoffs could be potentially grueling.

But Lincoln-Sudbury football head coach Tom Lopez, he's a different kind of guy.

"Hopefully we can pick up on some of the positive enthusiasm we ended with last year," said Lopez of his team's 21-0 loss at the hands of the Super Bowl champions Gloucester. "That was to be expected. They were 11-0 coming into the game, we were coming off of a 5-6 season and realistically, they were better than us. I told the guys, if we had played them 10 times we probably would have lost ten times. Usually, I'd say if we play somebody 10 times, we could lose nine and win one, with Gloucester I don't know if we would."

When asked why his team would not have won one of the contests, Lopez did not hesitate - his team was simply outmuscled.

"Basically, the difference between us and Gloucester, was from tight end, to the other tackle," Lopez said. "We weren't tough, and Gloucester was just moving us off the ball. We'd move the ball a little bit, get a five-yard penalty or a holding call and we couldn't make up the penalty. Gloucester would have a 10-yard holding penalty and they'd still make the first down."

The feeling wasn't so settling for returning senior captain Kyle Ashley.

"I had that bitter taste in my mouth from losing to Gloucester, having them doing their fight song on our field after not scoring a point was really disappointing."

Ashley, the team's starting center, will miss the first few weeks of game play because of an elbow injury, but Lopez has a number of players that he is confident can get the ball back to senior quarterback Matthew Cahill.

While the Warriors have a senior-heavy team (30), they also have 22 juniors, but two standout for coach Lopez: Brian Carroll and Chris Giorgio.

"They were sophomores and the only kids that went both ways last year," said Lopez. "This, with a junior class last year of 8 kids who had started as sophomores. Giorgio and Carroll, week in and week out, every down, went both ways."

Lopez said that while the senior class is very talented, Carroll and Giorgio are still exceptional, and they haven't limited their skills to just football.

During the offseason, Giorgio played on the L-S lacrosse team that surprised everyone by making it into the playoffs. While the boys' lacrosse team bowed out to St. John's Prep in the quarterfinals of the D1 tournament, like the football team, the lacrosse squad's run was an improbable one.

Carroll, on the other hand, played for the state championship baseball team. Lopez attributed the winning that swept across the school as a "good cycle", but Carroll sees it as more of a byproduct of the school's coaching staffs and players working together.

"We have a number of athletes that go out for several sports and our athletic department is good about staying on guys, keeping us in shape to make sure that we can be competitive in all sports," Carroll said.

Lopez said that he will still run the Wing-T offense this year, but with his dynamic backers a constant threat out of the backfield and talented skill players lined up outside of the tackles, he will look to open up the field and bet on the house.

"With guys like Carroll, Giorgio, [running back Dan] Cellucci, [receiver John] Harris and Cahill, that a can make people miss in the open field, we are going to make teams play in spaces," added Lopez, who admitted that the Wing-T has been his meat and potatoes for years.

But with the personnel that he's got, it might be time to open up the Warriors offense more regularly. Last year, the Warriors were not expected to win the Dual County Large, so now that they are the team favored to take it, Lopez wants to makes sure that teams do not get comfortable with his sets and that he gives his players the best possible chance to win games with their play .

"If they are going to try and cover the other guys with a linebacker and a strong safety, that's going to be to our advantage. I like the advantage of our kids one on one."
December, 1, 2010
12/01/10
12:37
AM ET
By
Neil Carroll
| ESPNBoston.com
SUDBURY, Mass. -- What one Gloucester running back started, the other finished off. That was the way it went for the Fishermen, as they eased to a 21-0 win over Lincoln-Sudbury in the Division 1A Semi-final on Tuesday night.

Gloucester came out firing in the first half with wing back Gilbert Brown (19 carries, 122 yards, 1TD), and turned in the second to fullback Jordan Shairs (19 carries, 142 yards, touchdown). Both backs worked the Lincoln-Sudbury defensive line for gaps, and accelerated to the second level after they made it through.

"That was the strategy," Shairs said about sharing the workload. "He was running the ball well and the defense would try to stop him, so then I would get the ball…that's the best part of our offense."

To start the game, Brown worked at wingback and ran a lot of jet-sweeps to stretch the defense across the field, while Shairs ran the traps in the middle. In the second half the roles changed -- as Shairs took more belly-handoffs -- but success remained a constant.

The duo worked as well as they have all season, but was thankful of the effort of their offensive line.

The Gloucester offensive line, led by senior co-captain Andrew Mizzoni, neutralized a powerful Lincoln-Sudbury front-seven. With the help of tight ends Chris Unis and Michael Tomaino, the group kept defensive lineman Zach Smerlas in check.

"The line was the biggest thing for us today," Brown said. "I think they deserve the credit because they work their butts off all year in practice and in games, and don't get noticed."

"You have to give the offensive line a lot of credit," Gloucester coach Paul Ingram said about the success on the ground. "They're a tough group of kids."

Lincoln-Sudbury head coach Tom Lopez decided to ditch his Wing-T background and go with a more spread-oriented offense for most of the game. The Warriors had little success running the ball against the Gloucester defense, but did find pockets of hope airing the ball out.

Early in the second quarter L-S showed signs of life on a 13-play drive that started from its own 26-yard line but stalled at the Gloucester 5, after a fourth-down pass fell incomplete.

Warriors' quarterback Matt Cahill completed 11 of 25 passes for 82 yards with an interception in the game. He and wide receiver Jack Harris showed their usual chemistry and narrowly missed hooking up on a 23-yard touchdown pass that would have cut the score to 13-6 in the second. Cahill lofted a perfect fade to Harris, but the Gloucester defense caught up to Harris just as the ball hit his hands and knocked it loose.

Surprisingly, Gloucester looked as fresh in this game, as they did in the season opener. The team had a familiar spark in its step provided from the return of running back Brandon Cusumano. Cusumano had a few rushes sprinkled throughout the game, but hauled in a 25-yard touchdown pass from quarterback Joseph Avila to begin the fourth quarter. The wingback missed most of the year due to injury, but is back in the lineup and looks healthy again.

With the win, Glloucester advances to the Division 1A Super Bowl at Gillette Stadium, where last year they defeated Bridgewater-Raynham, 33-13.

"The team is fired up," Shairs said about reaching Gillette Stadium again. "That's like our home field…We're not just showing up to for the playoffs, we're going in and we're going in to win."

G 7 6 0 8 -- 21
L 0 0 0 0 -- 0

First quarter
G - Brown 5 run (Santo Parisi kick)

Second quarter
G - Shairs 1 run (kick failed)

Fourth quarter
G - Cusumano 25 pass from Avila (Parisi kick)
November, 8, 2010
11/08/10
1:54
PM ET
WARRIORS CAME OUT TO PLAY
Lincoln-Sudbury's success might have come a year earlier than expected.
Pitted against Dual Country League (Large) rival Acton-Boxborough and the Colonials' stout defense, a young Warrior team claimed their own destiny with a 10-7 win on Senior Night in Sudbury.
L-S has only two seniors starting on either side of the ball (Benjamin Forman, Zach Smerlas, Lawrence Stevenson and Ryan Swoyer) and relies heavily on its strong junior class. The Warriors also received key contributions from a couple of sophomores in the victory over A-B. Running back Christopher Georgio punched in the Warriors' lone touchdown of the game. In addition, fellow second-year player Brian Carroll pocketed a key fourth-quarter interception along with a strong contribution in the running game with nine carries for 72 yards.
Clearly, L-S has come a long way in a short period of time.
"I never thought we'd be at this point," Warriors head coach Tom Lopez told Scott Barboza after the game, "especially after that loss to Tewksbury at home."
From that point on, L-S strung together three straight wins before hitting a couple bumps in the road with losses coming at Concord-Carlisle and at home to Reading. The Warriors righted their ship with league wins over Waltham and Westford to put themselves in position for the big matchup with A-B.
L-S still needs to win one game over Boston Latin or on Thanksgiving against Newton South to sew up the DCL crown.
"We just need to keep things rolling," senior running back Marc Pace said. "All we need to do is win."
THANKSGIVING CORNUCOPIA
It's not that far away (heck, you can ever hear Christmas music round some parts) to start thinking about Thanksgiving. And, if all holds true to form, here's a smattering of holiday traditions around Eastern Mass. that could have a greater significance this year:
Walpole at Weymouth: It has no bearing on either team's postseason destiny, but both sides would like nothing better than to disrupt the other side's potential run at a perfect regular-season slate.
St. John's Prep at Xaverian: Provided neither team is upset this weekend, Turkey Day is shaping up to be a winner-takes-all contest for the Catholic Conference.
Dracut at Methuen: This one should be entertaining nonetheless and expect there to be plenty of points on the board when all is said and done. In addition, it could decide which team moves on from the Merricmack Valley Small.
Lowell Catholic at Pope John: The winner of the Catholic Central Small clash could be headed to the Division IV-A playoffs.
Abington at Whitman-Hanson: Worth noting that it is the 100th anniversary of the rivalry.
FOR ALL THE MARBLES … ONCE AGAIN
OK, so we thought the battle of Somerset and Martha's Vineyard was the Eastern Athletic Championship game, but who saw Bishop Feehan getting into the fray this late into the season? Although the Shamrocks are 4-5 overall, they are 3-0 in the EAC, thus staging the league's second in-season Super Bowl Friday in Somerset.
HOLLISTON CAN'T WAIT FOR ITS REMATCH WITH MEDWAY; DITTO MEDWAY, VICE-VERSA
The Medway Mustangs couldn't help but feel overjoyed when the final seconds ticked off on their 28-18 victory over Norton, to send them to Saturday night's Tri-Valley League championship game. So, too, was Holliston, no doubt licking its chops since the Mustangs shocked the region with a 28-16 upset back in early October.
"This is the matchup they've been waiting for since October 1," Holliston coach Todd Kiley told ESPNBoston's Brendan Hall. "We haven't overlooked anybody by any stretch, but you know it's in the back of their minds, they're kids of course. So we're fired up for that. I think they were secretly rooting for Medway today."
BRIDGEWATER-RAYNHAM IS STILL THE CLASS OF THE OLD COLONY
The Trojans' gameplan last Friday night against Barnstable was classic Dan Buron. The B-R coach is known for always having great run blocking out of power formations, and in this particular matchup he used it to set up play action waggles that kept the young Red Raiders defenders on their feet. Quarterback Billy Zolga completed his first seven passes, as the Trojans burst out to a 35-6 halftime lead.
"I thought it was very important (to keep them honest with the pass), because they were creeping up on us," Buron said. "I thought there were two passes in particular -- one to Delullis and one to (Branden) Morin where they had it covered and those kids slid, and Billy was poised and threw a nice ball...I thought Billy showed alot of poise tonight."
Zolga, also starting in the secondary that night to combat the Raiders' talented receiving corps, essentially sealed it in the fourth quarter with a pick-six of a D.J. Crook pass over the middle, essentially wrapping up the Old Colony League title for the second straight year. Even if the Trojans were to lose this week to Taunton, they're in based on head-to-head with Barnstable.
In other words, the road to Gillette still goes through Bridgewater.
HEAD OF THE CLASS
VALVOLINE PEAK PERFORMER OF THE WEEK: ANDREW COKE, ANDOVER
The junior running back was at it once again for the Golden Warriors, carrying the ball 30 times for a season-high 290 yards and all five touchdowns in a 36-20 win over Billerica to improve to 6-3. That gives Coke four 200-yard games on the season, and 1,447 yards in nine games this year, averaging 6.5 yards a carry. In all but two games this season, Coke has run for at least 130 yards.
THE CLASSMATES
Ray Holloway, Sr. RB, East Longmeadow - He was a dominant force for the Spartans in their 27-3 win over Springfield Putnam, rushing for 225 yards and three scores to keep EL undefeated.
Isaiah Jones, Sr. RB, Mahar: Needed only six carries to rack up 200 yards and four touchdowns against Turners Falls.
Mike Mercadante, Sr. RB, Minnechaug - Western Mass.'s leading rusher went off for 232 yards and two scores as the Falcons toppled Agawam, 41-20.
T.J. Norris, Jr. RB, Longmeadow: Led the Lancers to a 39-24 win over Westfield with 16 carries for 235 yards and three touchdowns.
Jaron Spear, Sr. TB, Somerset: Not be outdone by Jones, Spear's line from Friday night: Four touches, 172 yards, four touchdowns.
Mitch Temple, Sr. QB, Weymouth - Threw for 260 yards and three touchdowns in the Wildcats' 42-0 shutout of Wellesley, which clinched them a berth in the Division 1A playoffs.
November, 6, 2010
11/06/10
1:43
AM ET


SUDBURY, Mass. -– There traditionally hasn't been much margin for error in the classics between Dual County League rivals Acton-Boxborough and Lincoln-Sudbury. But it was one of the youngest additions to the age old rivalry that helped the Warriors preserve a 10-7 win over the 24th-ranked Colonials Friday night in Sudbury.

L-S sophomore Brian Carroll pocketed a clutch fourth-quarter interception, along with some key rushes in his nine-carry, 72-yard performance. Coupled with quarterback Matt Cahill's (8 of 11, 128 yards) efficient contributions in the passing game, a rushing touchdown from Chrstopher Giorgio and a fourth-quarter field goal from William Twyman, the young Warriors have shown they've done a lot of growing up in a hurry.

"It shows how far we've come and we're playing real well right now," Carroll said.

And L-S (6-3, 3-0 DCL Large) has just so happened to play themselves into playoff contention in the process.

With the win over A-B (7-2, 2-1), the Warriors control their destiny in the DCL Large with a game in hand over the Colonials and Westford, which each have losses to L-S on their records. In its wins over the Grey Ghosts and A-B in back-to-back weeks, L-S hasn't had a whole lot of wiggle room, winning both games by three-point margins.

The Warriors need only to win one of their remaining games with Boston Latin and Newton South to become DCL Large champions.

With just two seniors starting on either side of the ball, it has made the ride all that much more improbable.

"I couldn't be happier," L-S head coach Tom Lopez said. "I never thought we'd be at this point right now, especially after that first loss to Tewksbury."

The Colonials entered the game have allowed opponents under six point per game on average, led by senior linebacker Eric Apgar (two sacks), but the Warriors were on the board first with Giorgio's 12-yard touchdown with 1:45 to play in the first quarter. The rushing score capped off an impressive four-play drive which started on the L-S 40-yard line. Three big plays of 20-plus yards (a Carroll run, a Cahill pass to John Harris and a Cahill keeper) set up the game's first score.

The Warriors chipped away at the A-B defense, but was unable to knock one into the end zone on a goal-to-go situation midway through the fourth quarter. L-S settled for a field goal try, which Twyman drove through the uprights from 18 yards out.

It would prove to be the game-winner.

The Colonials had moved into Warrior territory on the ensuing drive before Carroll picked off a Mike Morris pass at the L-S 7-yard line.

"I was in deep coverage, but I was just reading the quarterback's eyes," Carroll said. "I made a jump on it and I got there in time."

A-B forced the Warriors three and out and translated the late stop into its lone score. Morris hit Billy Jackman on a 9-yard touchdown pass with 2:05 remaining in the game.

After L-S recovered the Colonials' onside kick attempt, a 33-yard run by Carroll is all the Warriors would need to ice the win.

"We've got to get him the ball more," a smiling Lopez said of Carroll.

Acton-Boxborough 0 0 0 7 -- 7
Lincoln-Sudbury 7 0 0 3 -- 10

First quarter
L-S Christopher Giorgio 12-yard run (Will Twyman kick)

Fourth quarter
L-S Will Twyman 18-yard field goal
A-B Billy Jackman 10-yard pass from Mike Morris (Jack Perry kick)
September, 17, 2010
9/17/10
1:28
AM ET
By
Neil Carroll
| ESPNBoston.com
SUDBURY, Mass. – The difference in the final score was seven points in favor of Lincoln-Sudbury on Friday night, but the game really was decided by six inches.

On a critical fourth down, with one minute and 23 seconds left in the fourth quarter, L-S needed six inches to get a first down and lock up a victory over Marshfield. The Warriors lined up in a tight Wing-T set, and Marc Pace ran the ball off the right side for less than a yard.

The referees brought the chains over for a measurement and awarded L-S with a fresh set of downs to burn off the remaining time on the clock and take a 14-7 win.

"You have to give Lincoln-Sudbury their due," Marshfield head coach Lou Silva said. "They played a lot better than we did and they deserved to win."

The game was a prototypical defensive struggle, but L-S broke through in the fourth quarter.

With 2:13 remaining, the Warriors had the ball on the Marshfield 12-yard line and, surprisingly, went with a fade to the corner of the end zone into double coverage. Quarterback Matt Cahill lofted the ball up and fellow-junior John Harris brought it down one-handed against his chest for the touchdown catch.

The Warrior sideline erupted as the team took the lead for the first time in the game.

"It's indescribable when you catch it like that," Harris said of the play. "It was late in the game and the team really needed it. As an offense, we marched and marched but were stopped, and our defense was stopping them. Our offense made some mistakes, but we stepped up in the end."

Harris finished the night with three catches for 78 yards, including a 58-yard touchdown catch. Cahill passed for 96 yards, completing 6 of 11 attempts with two touchdowns and two interceptions.

For L-S, the offense wasn't pretty. But in the end, got the job done.

"We have an inconsistent offense," said L-S coach Tom Lopez. "We really haven't found ourselves as a team. Part of it's my fault bouncing between two offenses…but we just haven't gelled yet."

Marshfield's offensive unit was just as inconsistent.

The visiting team scored its only touchdown of the night on Michael Williams' 8-yard touchdown run in the second quarter. Williams finished the night with five carries for 58 yards and did not touch the ball in the second half.

Most of Marshfield's offense was piled up by senior running back Tom Pomella. The fullback gained 78 yards on 11 carries for the Rams.

However, the Warriors defense was outstanding. The group was led by junior Tyler Daway at linebacker, and seniors Zach Smerlas and Lawrence Stevenson on the defensive line.

Daway sacked Marshfield's Mark Pomella once in the second quarter on a key fourth down, and then on a third down in the third quarter, as the Rams offense seemed to be putting things together.

"There is no way to describe how it feels as a quarterback to know that if your offense stalls out, as a team, the defense is going to go out there and get the ball back," Cahill said about the defense.
August, 24, 2010
8/24/10
2:32
PM ET
By
Neil Carroll
| ESPNBoston.com
Editor's note: This article is part of ESPNBoston.com High Schools' preseason football capsules.

This preseason at Lincoln-Sudbury Regional High, every sprint, stretch and warm-up routine is accompanied by a chorus of three letters:

D, C and L.

The Warriors have wheezed out those letters during practice to signify their season's-long goal of winning the Dual County League. Last season, the team braved through injuries to several senior running backs, as well as the evolution of then sophomore quarterback Matt Cahill, and still finished with a 5-6 record.

The 6-foot-1, 195-pound quarterback did not have a receiver on the team with a reception entering last season. Now, he has talented tight end Mike Tocci, a revamped backfield and the rest of the junior class supporting him.

"I feel like we've brought back a lot of quality guys and a bunch of talented skill players," Cahill said. "We lost a lot of offensive lineman, but the guys we've seen in the preseason have looked really good."

Offensive tackle Zach Smerlas will try to keep the rush off Cahill in passing situations, as well as move the pile in the Wing-T-based offense. Smerlas is one of less than a handful of senior starters for the Warriors, but he will surely be a handful for opposing coaches. The 6-foot, 270-pound co-captain benches 370 pounds and is one of the best wrestlers in Massachusetts.

L-S head coach Tom Lopez believes that he is taking strides towards being one of "the best defensive tackles in the state", and will continue to draw double-teams on the interior line.

The real test for the Warriors this season is experience. While the team started seven sophomores a year ago, there are 10 seniors on the roster, leaving plenty of holes to be filled by underclassmen.

"I think the first couple weeks there will be a learning curve there," Lopez said. "I think that as soon as the get comfortable with it — and hopefully they will stay healthy – we'll be a pretty good team at the end of the year."

The Warriors will look to match up against defending league champion Acton-Boxborough, as well as Westford and Waltham in a balanced league. Until then, they will still be yelling out the initials: D-C-L.

LINCOLN-SUDBURY AT A GLANCE
2009 Record: 5-6
Coach: Tom Lopez (227-97-5, 32 years)
Players to watch: Zach Smerlas, Sr., RT/NT, 6-0, 270 lbs.; Patrick Mullen, Jr., G/LB, 5-9, 210 lbs.; Mark Vogel, Sr., LT, 5-11, 230 lbs.; Marc Pace, Sr., 5-7, 155 lbs.; Matt Cahill, Jr., 6-1, 195 lbs.; Ricky Antonellis, Jr., LB/FB, 5-10, 175 lbs.;Hassan Reed, Jr., RB/DB
Strengths: Junior Class, Defense, Offensive Line
Weaknesses: Senior Leadership, Inexperience, Size
Outlook: The Warriors need to work on their comfort level throughout the preseason. Most of the returning defensive starters are switching spots from last year in order to cater to the talents of younger players. However, the junior and sophomore classes are very strong. While some of the bigger names will overshadow defensive starters like Ricky Antonellis, Patrick Mullen and Marc Pace, the depth of the team is the key. Smerlas will be the voice of both the offensive and defensive line, and will look to drive coaches in the DCL crazy.