Boston High School:

Tom Mullen
November, 9, 2013
11/09/13
10:43
PM ET
By
John McGuirk
| ESPNBoston.com
EXETER, N.H. -- With less than 10 minutes remaining and down by five points, Phillips Academy-Andover was on the cusp of not only seeing its unbeaten record come to an end, but a potential NEPSAC Division A bowl berth be dismantled.

With a rushing offense that was averaging 245.4 yards-per-game, the Big Blue ground attack was in virtual lock down against a vigilant Phillips Exeter Academy defense. It was at that point when Andover head coach Leon Modeste decided to scrap the spread offense for a more-traditional power attack.

Inserting fullback Michael Moore as a lead blocker for tailback Ryder Stone, the Big Blue began their final possession at their own 11. The newfound strategy started to work as Andover started to make some headway down field. The Big Blue chewed up over eight minutes off the clock and marched 87 yards before Stone ran off-tackle to his left for a 6-yard touchdown with 31 seconds remaining to propel Andover to a gut-wrenching 13-12 victory this afternoon at 85 year-old Phelps Stadium.

It was the 133rd meeting of the nation's longest and, perhaps greatest, prep school rivalry. The Big Blue now holds a 69-54-10 advantage in the series, which began in 1878.

With the win, Andover (8-0) wraps up the NEPSAC Freelance Division and will play in a NEPSAC Division A bowl next Saturday. The opponent, site and time of the game will be determined tomorrow.

It marks the first time the Big Blue will play in a postseason contest since 2007, when it lost to Trinity-Pawling School (N.Y.).

"It's been a while since we beat them and it is really sweet to cap off an undefeated season," said Modeste, whose club had lost the previous five meetings to the Big Red. "We were running the spread but it wasn't working. On that last drive we decided to go to a different set by putting a fullback in, have him clear a path, and just pound the ball.

"Mike [Moore] is a very-inspirational runner for us and they couldn't just key on Ryder [Stone] any longer. It now gave us two options in the backfield to go with. We were able to run some counters and that was a big difference. You'd like to win by four or five touchdowns but that's not going to happen in this rivalry against a great Exeter club. This win will go down in the lore of this wonderful rivalry."

On that game-winning drive, Stone and Moore were beginning to find seams to cut through and, in the process, keep the chains moving. With 51 seconds showing on the clock, Andover faced a fourth-and-4 at the Exeter 15. Senior quarterback Ian Maag hit wide receiver Brandon Michel for a 5-yard reception and keep the Big Blue offense on the field. Two plays later, Stone, a workman-like back from Calgary, Alberta, took a handoff and darted around left end barely getting over the goal line for the winning score.

"I was struggling the whole game," said Stone, a senior who finished with 80 tough yards on 23 carries. "At the end we all came together. We just went though and executed. We didn't have to say anything on that final drive. We just looked at each other and knew it could happen. This group of guys have been great. We have weapons everywhere. There are no weak spots on this team."

The Big Red (6-2, losing their final two games) did mount a mini-rally after getting the ball back. Exeter was trying to get the ball in position to set up a possible game-winning field goal attempt. Reaching the Andover 38, quarterback Vin Sansone, in desperation mode, had his pass picked off by defensive back Alec Tolentino to close the deal for the Big Blue.

Throughout this contest, the Big Blue struggled to live up to its offensive potential. The Big Red defense took on the challenge and executed it brilliantly. Andover finished with just 165 yards, including 94 in the opening half. Likewise, however, the Big Blue's defense was equally instrumental in this triumph. Exeter encountered its share of difficulty trying to gain positive yardage. The Big Red did finish with 206 yards, led by senior running back, and former Brockton High standout, Austin Roberts (68 yards on 19 attempts).

With 1:12 left in the first quarter, Exeter jumped out to a 6-0 lead on Sansone's 2-yard push over the goal line. But back came the Big Blue. Moving the ball 81 yards, with a mix of run and pass, Maag (8-of-17, 46 yards), a Marblehead native, closed out the drive with a 1-yard dive over the goal line. Tom Mullen's PAT put Andover on top, 7-6, with 7:01 remaining before halftime.

Things stayed that way until midway through the third quarter. After the Big Blue went four-and-out on their first possession to begin the second half, the Big Red, behind the hard-running of Roberts, marched 45 yards before Roberts capped the drive off with a 7-yard scamper into the end zone to make it 12-7. Both teams failed to move the ball on its next two possessions before Andover was finally able to convert on its most-productive drive of the season which led to its clinching score.

"Our kids emptied their tanks today," first-year Exeter head coach Rob Morris said. "Sometime you play terribly and you still come out on top and sometimes you play your heart out, everything clicks, but the other team gets the win. Our kids can be proud that they played that way.

"Coming into this game we knew their strength was our strength and that was running the football. We both slugged it out. Unfortunately they just had one more punch than we had."
November, 29, 2011
11/29/11
11:19
PM ET
By
Mike Scandura
| ESPNBoston.com
TAUNTON, Mass. -- Any resemblance between the Lincoln-Sudbury team in the second half of Tuesday's Eastern Mass. Division IA semifinal game versus Barnstable and the Lincoln-Sudbury team in the first half was pure coincidence.
The Warriors were dead in the water in the first half as the Red Raiders built a 13-0 lead. But Lincoln-Sudbury rallied behind quarterback Matt Cahill and edged Barnstable, 14-13 – with all of the Warriors' points coming in the fourth quarter.
[+] Enlarge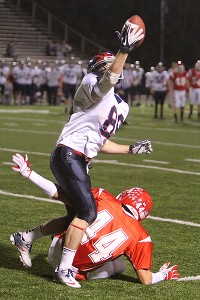 Eric Adler for ESPN.comJack Harris sparked the L-S comeback with several big grabs, including this one-hander.
Barnstable (7-5) was clinging to a 13-7 lead late in the fourth when it went for a first down on fourth-and-two from the Warriors' 6. But the Warriors slammed Hayden Murphy for a three-yard loss.
What transpired next was the stuff of legends as Cahill guided a 71-yard drive which culminated when he threw a 13-yard touchdown pass to Jack Harris with 2:19 remaining.
Will Twyman then kicked the second of his two PATs for what proved to be the winning point.
"Matt Cahill rebounded from a never-mind-the-first half and played a great second half," Warriors coach Tom Lopez said. "He's a great leader."
All Cahill did in the second half was complete 9-of-11 passes for 114 yards and two touchdowns.
Barnstable bolted to a 13-0 lead at halftime thanks to a 28-yard run by quarterback D.J. Crook late in the first quarter and a 30-yard touchdown pass by Crook to James Burke on the first play of the second.
"We thought we were making mistakes and that's why they were successful," Lopez said. "We thought we'd cut down on our mistakes. Having said that, we didn't play very well in the first half."
Lopez felt what was a momentum-shifter occurred in the third quarter.
"I think the key was when they stuffed us on fourth-and-two," Lopez said. "They went three-and-out and that gave us some confidence. All of a sudden the momentum changed."
Good point.
After Barnstable punted, the Warriors (11-1) reeled off a 93-yard drive that ended with Cahill's 11-yard touchdown pass to Harris.
What made the Warriors victory even more impressive was the fact the played all but a few minutes without one of their top players, Brian Carroll.
"We lost Brian Carroll on the second series (with a shoulder injury)," Lopez said. "He's basically been our whole offense. He had eight interceptions on defense and 800 yards rushing on offense.
"He's not in and Dan Cellucci, Greg Roder and Henry Guild all did a great job filling in. I couldn't be more proud of our kids."
LINCOLN-SUDBURY 14, BARNSTABLE 13
L-S (11-1) 0-0-0-14 - 14
Barnstable (7-5) 6-7-0-0 – 13
First quarter
B – D.J. Crook 28 run (kick failed)
Second quarter
B – James Burke 30 pass from Crook (Tom Mullen kick)
Fourth quarter
LS – Jack Harris 11 pass from Matt Cahill (Will Twyman kick)
LS - Harris 13 pass from Cahill (Twyman kick)
November, 5, 2011
11/05/11
1:19
AM ET
By
Brendan Hall
| ESPNBoston.com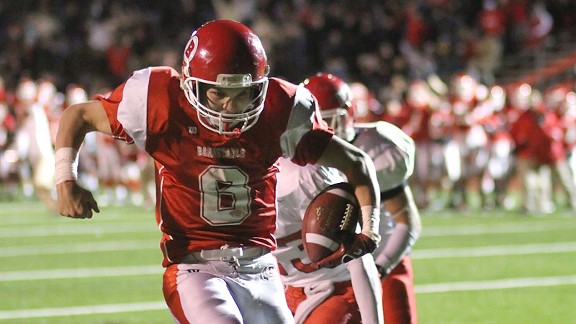 Eric Adler for ESPNBoston.comHayden Murphy's 5-yard touchdown in OT clinched Barnstable's first playoff berth since 2002, and sent the home crowd into euphoria.
HYANNIS, Mass. -- All 16 years and childish looks about him, Hayden Murphy could only offer sheepish grins to the cameras and tape recorders suddenly crowding the two feet in front of his face.
"This is my first interview, I can't talk, I'm sorry," he shrugged. "So much adrenaline."
How else should the floppy-haired slash-back have reacted after etching his name into Barnstable High's history books? The sophomore took a direct snap and darted across the goal line from five yards out, to deliver the host Red Raiders a thrilling 26-20 overtime shocker over No. 3 Bridgewater-Raynham. With the plunge, Murphy handed Barnstable its first outright Old Colony League title -- and postseason berth -- since 2002, and assured the Trojans no post-Thanksgiving football for the first time since 2008.
The call on Murphy's plunge was one that had worked for most of the second half for the Raiders (5-4, 3-0). With the Trojans (6-2, 1-1) respecting the passing attack of head coach Chris Whidden's spread scheme, that often left five or six players in the box. But rather than feed running back Theo France (17 carries, 159 yards, TD) the draw in conventional manners, Whidden called up a "Wildcat" package over a half-dozen times, with junior quarterback Nick Peabody split wide and Murphy -- a wideout, but also the team's third option under center -- taking the direct snap alongside France.
On this play, a designed quarterback counter, Murphy pushed the ball into France's belly as he pushed forward, but tucked it in himself and hauled it up the middle. The bench immediately emptied, and Murphy was mobbed.
"The linemen made me a huge hole, and I just ran right through it," Murphy smiled.
Said head coach Chris Whidden of the Wildcat strategy, "We've been repping it a lot in practice with Hayden, and as effective as it was, we kept going with it. Nick [Peabody] is one of our best blockers on the outside as a receiver, so it gets one of our best ballcarriers the ball, and one of our best blockers on the perimeter. Because either way, they're both going to be on the field, so you don't know what look we're going to give you."
But terrific as it was, the Trojans nearly pulled this one out after Branden Morin punched it in from five yards out with 2:09 left, to knot the game at 20. The Raiders fumbled the handoff at the Trojans' 14, but were able to force a three-and-out and take over at their own 37 with 52 seconds left.
Peabody marched the Raiders into B-R territory with two completions to James Burke, and with six seconds left Tom Mullen came in to attempt a 51-yard field goal. The sophomore's kick had the distance, but came up wide left.
B-R took the ball first in overtime, and on fourth down missed a short field goal attempt to give way to Murphy's heroics.
Concussion for Schlatz:
B-R head coach Dan Buron confirmed that senior captain and running back/linebacker Nick Schlatz went down with a concussion early in the second quarter.
An ESPNBoston preseason and midseason All-State selection, Schlatz scored on the very first play of the game, taking a sweep around the right 73 yards for the Trojans' initial 7-0 lead. He suffered the injury in the Trojans' first offensive series of the second quarter, getting stopped by Barnstable junior linebacker Andrew Ellis trying to convert a third and goal. The very next play, quarterback Brad Delulis rolled to his left and hit Eric Warbek for a two-yard touchdown pass an 13-6 lead, their final lead of the game.
Up to that point, Schlatz had 122 yards on 14 carries. He also picked off Barnstable's Nick Peabody on the Raiders' opening drive.
Fight the power:
Bridgewater kids come out of the womb rolling right, and while Buron sprinkled in some twins and trips looks out of one-back sets, the gameplan didn't deviate from those waggle and power principles that have made B-R one of the most consistent programs over the last two decades.
As usual, the Trojans looked to the stretch the field horizontally, with a convoy of blockers making room downfield. But the Raiders' linebacking corps was on its A-game tonight, between Ellis, Bryan Hardy and Ryan Litchman. After Schlatz's 73-yard scamper to start things off, the Raiders didn't allow another Trojans gain over 20 yards.
"Against Mansfield [last week, a 34-33 overtime loss], we struggled on anything C-gap and out," Whidden said. "So I put a little twist to our three-man front defensively, where Litchman's able to flow free, and I think that makes your blocking schemes a little bit more difficult. Now it's Andrew, Bryan or Ryan, one of the three of them is going to a little more space to roam."
Frenetic France:
One of the criticisms of Barnstable early in the season was that it was a team perceived to abandon the run too quickly when playing from behind.
And while Peabody deserves plenty of praise for the job he's done since taking over for the injured D.J. Crook under center, equal amounts need to be heaped the way of France's, for the balance he's given the Raiders this year out of the backfield. No longer a pass-happy bunch, the Raiders have often gone to France for draws and counters, to keep the defense honest when they leave too many players out of the box.
Witness France's 50-yard touchdown run late in the second quarter, a simple draw play in which he put on the burners once he got to the second level and blew by the safeties.
Raiders' playoff opponent set:
Lincoln-Sudbury beat its archrival Acton-Boxborough tonight, 21-14, to clinch their second straight Division 1A Playoff berth. They will face the Red Raiders, who will be looking for their first Super Bowl championship since beating BC High for the Division 1 title in 1999.
BARNSTABLE 26, BRIDGEWATER-RAYNHAM 20
BR (6-2, 1-1) 7 - 6 - 0 - 7 - 0 --- 20
BA (5-4, 3-0) 6 - 7 - 7 - 0 - 6 --- 26
First Quarter
BR - Nick Schlatz 73 run (Kevin Wadsworth kick) 10:42
Barn - Theo France 4 run (kick failed) 2:57
Second Quarter
BR - Eric Wabrek 2 pass from Brad Delullis (pass failed) 4:51
Barn - Theo France 50 run (Tom Mullen kick) 3:54
Third Quarter
Barn - Tedaro France 9 pass from Nick Peabody (Mullen kick) 6:17
Fourth Quarter
BR - Branden Morin 5 run (Wadsworth kick) 2:09
Overtime
Barn - Hayden Murphy 5 run
October, 29, 2011
10/29/11
2:14
AM ET


MANSFIELD, Mass. – For a time, Mansfield's second-stringers lined up against Barnstable's first-teamers in the fourth quarter of Friday night's game.

Then, what Hornets head coach Mike Redding aptly called "a playoff game with no implications" turned into exactly that after the Red Raiders put up 17 unanswered fourth-quarter points to tie the game 27-27.

In the end, No. 11 Mansfield survived with a 34-33 victory in overtime, running their record to 7-1. It was more of the usual from perhaps the state's most entertaining team.

"Well, we hadn't done overtime yet this season," Redding commented on the Hornets' rash of close shaves this year. "It's always something."

The Hornets held a three-score lead as late as the three minute mark of the fourth quarter.

But Barnstable junior quarterback Nick Peabody engineered two quick touchdown drives, both culminating in passing scores to Tedaro France. After Terrence Mudie's recovery of an on-side kick, the Red Raiders (4-4) moved the ball down the field once more, setting up Tom Mullen's 26-yard field goal, tying the game with 31 seconds remaining.

Peabody kept the momentum rolling into overtime, punching in a 10-yard touchdown on the first play of the extra session. Playing for the win, Peabody rolled right on a bootleg on the ensuing 2-point try, but Mansfield defensive back Matt Barsomian batted down the pass.

"In our minds, they had missed the two PATs early, so we thought they were going for two anyway," Barnstable head coach Chris Whidden said of the decision to go for two. "We thought our best chance to win was to go for two, but they made a play."

Greg Donahue scored on a 5-yard run to tie the score once again and Matt Bukuras chipped in the point-after try for the win.

"The good thing is that we found a way to hang in there and win in the end," Redding said. "The bad is all those little things that let them hang around and come back and haunt you."

TWO TEAMS LOOKING AHEAD
No doubt both sides played their hardest, but both sides realized there's more to the season than the non-league matchup. So Friday's battle could serve well for both teams chances as they face critical league challenges in the coming weeks.

Barnstable, for one, has a penultimate Old Colony League contest with No. 3 Bridgewater-Raynham next week. And Mansfield hopes to close out a Hockomock large division title with two more victories.

"We wanted to get our kids out and gear up for Franklin and North [Attleborough]," Redding said, "but that backfired."

Nonetheless, Barnstable can take with it the confidence of hanging with one of the state's premiere programs year after year while building confidence in Peabody, who's filled in admirably in D.J. Crook's absence. After a slow start in the first half, when Barnstable had just 18 offensive snaps, Peabody was able to move the chains when it counted most.

"He's proved that he's a high quality quarterback," Whidden said of Peabody. "That's one position that we knew, coming into the year, that we had a lot of depth. But we just weren't aware how good he could be and we didn't realize we were going to have to use him."

VIVE LA FRANCE
Whether its Theo France in the running game or Tedaro France streaking down field to snatch a pass, the Red Raider brothers pose matchup problems for opposing defenses.

On Friday night, it was the younger France stealing the show.

"Tedaro's a playmaker and he wants the ball in his hands," Whidden said. "He's proven that he's a kid that we have to find a way to get the ball into his hands. Nick [Peabody] was a receiver before he became our quarterback, so he developed the rapport before he played that position and know it's paid off."

GUTTING IT OUT
Although they had problems containing the Hornets rushing duo of Donahue and Blayne Taylor at times, the Red Raider defense made some significant plays down the stretch that shouldn't be ignored.

Defensive lineman Jason Freih (2 sacks) was a disruptive force throughout and recovered a fumble that set up Barnstable's second touchdown of the fourth quarter.

Barnstable (4-4) 0 3 7 17 6 -- 33
Mansfield (7-1) 6 6 8 7 7 -- 34

1st quarter
M - Greg Donahue 2-yard run (kick failed)

2nd quarter
B - Tom Mullen 25-yard field goal
M - Mike Blackman 11-yard pass from George Busharis (kick failed)

3rd quarter
M - Zach Schafer 22-yard pass from Busharis (Dan Gilmore pass from George Busharis)
B - Hayden Murphy 23-yard run (Mullen kick)

4th quarter
M - Mike Farrell 6-yard run (Matt Bukuras kick)
B - Tedaro France 49-yard pass from Nick Peabody (Mullen kick)
B - Tedaro France 28-yard pass from Peabody (Mullen kick)
B - Mullen 26-yard field goal

OT
B - Peabody 10-yard run (pass failed)
M - Donahue 5-yard run (Matt Bukuras kick)
October, 8, 2011
10/08/11
1:10
AM ET


NEW BEDFORD, Mass. -- It seemed as though the Barnstable defense was not going to let New Bedford running back Marcel DePina beat them by himself. The shifty Whaler back was limited to just 11 yards on 10 carries through the greater portion of three quarters in Friday night's game.

But, with New Bedford trailing 17-15, DePina broke loose in the passing game. His 48-yard connection from Myles Medeiros was a Barry Sanders-like highlight to the Whalers' 31-17 comeback win over the Red Raiders.

"It was a broken play," DePina said of the game-winning score. "My quarterback [Medeiros] got it off and we got good blocking and then I just found the right spots on the field and got to the end zone."

There were a multitude of issues at play as New Bedford (3-2) scored 24 unanswered fourth-quarter points.

First off was a risky maneuver on the behalf of Whalers head coach Dennis Golden. Trailing 17-7, Golden rolled the dice on a fake field goal pass play with the capable Mike Rapoza running on the bootleg left and hitting Nathan Ojuri in the back of the end zone with a 3-yard touchdown pass.

"It came from the fact that they'd blocked the first one," Golden said of the play call. "It was a good opportunity for us."

Next, the Whalers forced the potent Barnstable (3-2) offense three-and-out with quarterback D.J. Crook (13 of 19 for 135 yards) throwing his only pass attempt of the second half. Crook later confirmed to ESPN Boston that he dislocated the thumb of his throwing hand, apparently coming on a carry in the third quarter.

Junior Nick Peabody finished the game at quarterback for Barnstable.

"We didn't know what was wrong with D.J. to start with," Red Raiders head coach Chris Whidden said. "At first we thought there was something wrong with his elbow and then we realized it was his thumb."

New Bedford continued their onslaught behind a highly efficient game from Medeiros, who finished 17 of 26 for 227 yards and one touchdown to go along with 53 rushing yards on six carries.

Medeiros put the icing on the Whalers' victory with a perfectly placed 15-yard touchdown pass to Jaraud Wood, putting up a jump ball that only the rangy receiver could pluck.

SCREEN GAME
The Red Raiders offense was prodigious in the first half and beyond in its screen game. Running back Theo France (11 carries, 81 yards, TD) found big holes underneath on the New Bedford defense with wide receiver Dylan Morris catching everything in sight in the flat.

It looked as though Barnstable had gotten yet another big play with a bubble screen on what would've been a 68-yard touchdown by France to tie the score. However, the play was called back on an illegal block penalty. The Red Raiders had yet another huge play whistled dead two plays later.

After those opportunities fell by the wayside, the Red Raiders were done in.

MOVING FORWARD
This Barnstable-New Bedford series has yielded some classics in recent memory with games in each of the last four years being decided in the fourth quarter, along with a couple on the game's final play.

In the bigger picture, this was a potential season-shifting win for the Whalers. After getting roughed up by Top 10 opponents in Duxbury and Bridgewater-Raynham in the last two weeks, New Bedford was eager to snap a two-game losing skid.

"This gets our wheels turning," junior end Tyler Arena said. "It boosts our morale and maybe next week we keep on rolling."

As for Barnstable, the question surely to follow the Red Raiders in the coming weeks is the health of Crook. While Peabody, a natural wide receiver, showed that they're in capable hands indeed if Crook cannot play, the loss of one of the top quarterbacks in the state would surely hurt.

SHAKE 'N' BAKE
As Golden puts it, DePina can simply do things on a football field many cannot.

"That's what Marcel does best," Golden said, commenting on DePina's 48-yard score. "We don't have anybody who can change directions like him; he can do it with the best of them. We're fortunate he's on our team."

On the play, DePina shook no fewer than three Red Raiders defenders clear out of their boots on the way to rumbling upfield for the game-winning score. He'd also turned in a key 28-yard gain on a screen from Medeiros several plays earlier to set up the score.

While Barnstable, with talented junior linebacker Andrew Ellis, showed that DePina, if contained to running in between the tackles, can be slowed, there's simply nothing a defense can do when he hits the open field. Coupled with the hard-nosed running of Rapoza (9 carries, 60 yards), that makes the Whalers that much more difficult to stop.

Barnstable (3-2) 7 3 7 0 -- 17
New Bedford (3-2) 7 0 0 24 -- 31



1st quarter
Barnstable Theo France 44-yard run (Tom Mullen kick)
New Bedford Mike Rapoza 7-yard run (Mike Rapoza kick)

2nd quarter
Barnstable Tom Mullen 35-yard field goal

3rd quarter
Barnstable Hayden Murphy 29-yard run (Mullen kick)

4th quarter
New Bedford Nathan Ojuri 3-yard pass from Rapoza (Tyler Arena pass from Rapoza)
New Bedford Marcel DePina 48-yard pass from Myles Medeiros (Jaraud Wood pass from Medeiros)
New Bedford Wood 15-yard pass from Medeiros (DePina pass from Medeiros)