Boston High School:

Tom Pomella
September, 17, 2010
9/17/10
1:28
AM ET
By
Neil Carroll
| ESPNBoston.com
SUDBURY, Mass. – The difference in the final score was seven points in favor of Lincoln-Sudbury on Friday night, but the game really was decided by six inches.

On a critical fourth down, with one minute and 23 seconds left in the fourth quarter, L-S needed six inches to get a first down and lock up a victory over Marshfield. The Warriors lined up in a tight Wing-T set, and Marc Pace ran the ball off the right side for less than a yard.

The referees brought the chains over for a measurement and awarded L-S with a fresh set of downs to burn off the remaining time on the clock and take a 14-7 win.

"You have to give Lincoln-Sudbury their due," Marshfield head coach Lou Silva said. "They played a lot better than we did and they deserved to win."

The game was a prototypical defensive struggle, but L-S broke through in the fourth quarter.

With 2:13 remaining, the Warriors had the ball on the Marshfield 12-yard line and, surprisingly, went with a fade to the corner of the end zone into double coverage. Quarterback Matt Cahill lofted the ball up and fellow-junior John Harris brought it down one-handed against his chest for the touchdown catch.

The Warrior sideline erupted as the team took the lead for the first time in the game.

"It's indescribable when you catch it like that," Harris said of the play. "It was late in the game and the team really needed it. As an offense, we marched and marched but were stopped, and our defense was stopping them. Our offense made some mistakes, but we stepped up in the end."

Harris finished the night with three catches for 78 yards, including a 58-yard touchdown catch. Cahill passed for 96 yards, completing 6 of 11 attempts with two touchdowns and two interceptions.

For L-S, the offense wasn't pretty. But in the end, got the job done.

"We have an inconsistent offense," said L-S coach Tom Lopez. "We really haven't found ourselves as a team. Part of it's my fault bouncing between two offenses…but we just haven't gelled yet."

Marshfield's offensive unit was just as inconsistent.

The visiting team scored its only touchdown of the night on Michael Williams' 8-yard touchdown run in the second quarter. Williams finished the night with five carries for 58 yards and did not touch the ball in the second half.

Most of Marshfield's offense was piled up by senior running back Tom Pomella. The fullback gained 78 yards on 11 carries for the Rams.

However, the Warriors defense was outstanding. The group was led by junior Tyler Daway at linebacker, and seniors Zach Smerlas and Lawrence Stevenson on the defensive line.

Daway sacked Marshfield's Mark Pomella once in the second quarter on a key fourth down, and then on a third down in the third quarter, as the Rams offense seemed to be putting things together.

"There is no way to describe how it feels as a quarterback to know that if your offense stalls out, as a team, the defense is going to go out there and get the ball back," Cahill said about the defense.
September, 12, 2010
9/12/10
1:39
AM ET


MARSHFIELD, Mass. – Jonathan Fraser was Mr. Opportunity on Saturday. When the opportunities came knocking in Marshfield's season-opener versus Dracut, Fraser seized upon them.

After falling behind 7-0 to the Middies, it came on a play call that was a variation of the old halfback option pass. Later, it came on a loose ball Fraser scooped up and took 68 yards to put the Rams on top.

In a microcosm, Fraser's contributions were telling of how Marshfield claimed its 33-20 win. The Rams made plays and Dracut was the team shooting itself in the foot.

"We didn't know what to expect tonight," Rams head coach Lou Silva said. "Based on last year and what we had coming back, we really weren't sure. I was really proud of our kids tonight. There were a couple of times they could've folded, but they hung in there."

Marshfield (1-0), the defending Eastern Mass Division IIA champions, lost 24 players from last year's squad and will rely on players like Fraser to make plays this season.

The first chance to do so came on a pass from Charles LaPaglia — the Rams' starting tight end. LaPaglia split out wide and took a swing pass from quarterback Mark Pomella. He then faked the run, pulled back and hit Fraser in stride for a 35-yard touchdown.

"We practiced that play all week," Fraser said. "We knew it was coming. There's a little pressure to think about having the ball in the air all that time, but we nailed it.

"We've run variations of it [in the past], but I didn't think they were expecting for our starting tight end to be able to throw the ball that far."

Fraser made his next big play on the ensuing drive, a 68-yard fumble recovery for a touchdown.

"Our middle linebacker Joe Hastry made a nice strip on the ball and it came right up to me," Fraser said. "It was a like a routine ground ball, then I just had to beat that guy to the end zone."

Marshfield held a 20-7 halftime lead despite accruing just 64 yards of total offense in the first half.

But Dracut (0-1) looked poised for a comeback at the start of the second half. Senior quarterback Matt Silva hooked up with running back Keith Hamel on an 81-yard touchdown on the first play from scrimmage of the third quarter.

Silva accounted for each of the Middies' three touchdowns (two passing, one rushing) while completing 16 of 25 passing attempts for 267 yards. He also registered 16 carries for 72 yards.

But the Rams' bend-but-don't-break defense held just enough to secure the win, creating turnovers at opportune times — such as Fraser's fumble recovery and a fourth-quarter interception by LaPaglia to stall a promising Dracut drive.

"We just wanted to make them work for it," Silva said. "We knew that they were going to move the ball, we just didn't want to give them home runs. But they did have two of them."

Running back Brian Mey, who also had an interception, added two second-half touchdown runs to put the game out of reach.

For Dracut, there were just too many miscues to win.

The Middies muffed a punt return (with a Marshfield recovery by Zackary Pappas), which led to the first Rams' touchdown, and also had a punt blocked (by LaPaglia — what didn't he do?) that set up a drive which yielded a 5-yard Tom Pomella touchdown run.

"We had a punt blocked, we had a muffed punt, there were too many mistakes," said Jason Houston, who was coaching his first game as the Middies' helmsman. "They came back and scored off of those mistakes and if you looked at the scoreboard, it made a difference in a big way."
August, 28, 2010
8/28/10
9:35
PM ET
By
Brendan Hall
| ESPNBoston.com
NORTH ATTLEBOROUGH, Mass. -- So much for easing into things.
This may have been only the third day of full contact permitted by the MIAA, but the three teams gathered for the tri-scrimmage at Beaupre Field this afternoon had no reservations about repeatedly lowering the boom. Between Marshfield, Boston College High, and host North Attleborough, there was plenty of pop coming out of the pads.
BC High was the only team to score on the afternoon, though the low scoring may have had a bit to do with the strict eight-play limit on each offensive drive. And while the Rams and Red Rocketeers came away a few players less (Marshfield with two injuries, the Rocketeers one), it was a mostly satisfying afternoon for all the parties involved.
[+] Enlarge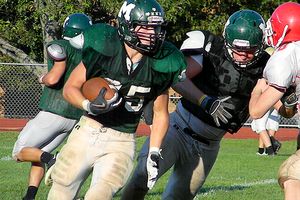 Brendan Hall Marshfield junior Brian May will be one of the Rams' most versatile players in 2010.
A few observations:
--
BC High's defensive line was the unit that stuck out most this afternoon. Not only were they big, but they were physical and more than held their own, even with the absence of Division 1 prospect Obum Obukwelu (groin). In the Eagles' first series against the Rocketeers, North Attleborough struggled to move the ball and was forced to try the air (they ended up completing two passes). This unit, led by senior defensive tackle Gabe Seksay and junior defensive ends Alex Way and Jameson McShea, should be exciting to watch in 2010.
"I think we have a number of guys besides Obum who can play defensively," BC head coach Jon Bartlett said. "We're going to be alot faster defensively, I think, than last year -- up front, but linebackers as well."
Cracked North head coach Don Johnson, "Man, they're big. I wish we could have a couple of those guys."
--
Scary moment at the end of the scrimmage, when defensive tackle Mike Riley went down with a serious injury to his right leg. Two ambulances pulled up on the track, and an IV was even brought out. Initial diagnosis is that the 6-foot-3, 230-pound sophomore broke the lower part of his right leg, near the ankle, and will be out for a while.
"I feel bad, his sophomore year gets taken away by a broken leg," head coach Lou Silva said. "Real nice kid."
--
With just three starters back from last fall's Division 2A Super Bowl champion squad, the Rams have many new faces in new places. But look for fullback/defensive tackle Tom Pomella to make some waves in the Atlantic Coast League. The thick-bodied high school wrestler's low center of gravity allows him to get leverage on guys who might outweigh him at the point of attack, and offensively he'll work in a tailback/fullback role in Silva's multi-dimensional Wing-T offense.
Silva's teams are always fun to watch, even in down years, because of the way he deploys his skill position players at such a variety of different spots in the backfield. One of the more interesting players to watch out of that bunch should be junior speedster Brian May, who lined up at tailback but occasionally took jet-sweep handoffs out of the flanker spot.
"We're going to be relying on him alot," Silva said of May, who also plays linebacker. "He is one of our faster kids. The kid doesn't come off the field, he's just a tough kid. He's got some potential."
--
North Attleborough sputtered a bit in moving the ball downfield, but that may be the byproduct of breaking in so many new lineman. One guy they can count on is senior Bobby Richman -- he wore No. 75 today, but the Rocketeers roster suggests he may occasionally switch jersey numbers and line up in an h-back role -- but there were alot of rotations on the line today.
"We're taking a look at some seniors on the offensive line that we're putting in there to show they can do the job," Johnson said. "We also have some good underclassmen that can play, so that should create some good competition on the line."
--
BC's trenchmen were fairly impressive, but watch out for the linebackers too. There's a bit of a youth movement amongst the four spots -- six kids will generally be in the rotation, although senior Mike Gaffney is a constant -- but it's not as much of a green movement as one might be led to believe.
"We're very young this year, but we like our young players," Bartlett said.