Boston High School:

Tommy McDonald
June, 28, 2013
6/28/13
12:01
PM ET
STARTING ROTATION

RHP – Tommy McDonald, Sr., BC High
The ace and the workhorse of BC's rotation, which saw the Eagles make their first D1 South Final appearance since 2009, McDonald often went late into games to pick up a win. He was 7-0 on the season, with a 1.90 ERA, five complete games and just 10 walks. The Quincy resident will continue his career next year at UMass.

LHP – Ben Bowden, Sr., Lynn English
The state's Gatorade Player of the Year, Bowden is a repeat selection, having also made the starting rotation of the All-State Team in 2012. On the season he was 4-2 with 84 strikeouts in 52 innings, with just 10 walks for an ERA of 0.67. He also recorded a .459 on-base percentage at the plate, with 13 RBI. Bowden will play at Vanderbilt next year.

LHP – Scott Tully, Sr., Reading
Another repeat All-State selection, Tully dominated the Middlesex League en route to winning the Liberty division's MVP. For the season he went 7-1 with 96 strikeouts and an ERA of 0.54. For his career, he has 29 wins and over 400 strikeouts. Tully is headed to Notre Dame next year.

RHP – Evan Flanagan, Sr., Hingham
The Patriot League's Co-MVP saved his best stuff for the playoffs, as the Harbormen won their first Division 2 state title in school history. On the season he was 6-2 with 79 strikeouts in 56 innings, with five complete games, a 1.75 ERA and a WHIP of 0.93. Flanagan will continue his career next year at the University of Rhode Island.

LHP – Mike Gaughan, Sr., Walpole
One of the state's most elusive lefties, Gaughan helped lead the Rebels to the No. 1 overall seed in D1 South. He was 10-2 on the season with 117 strikeouts and a 1.88 ERA, and held opponents to a .180 batting average. Gaughan is headed to Division 2 Rollins College (Fla.) next year.

STARTING NINE

C – Joe Freiday, Jr., Bridgewater-Raynham
One of the state's leaders in runs plated, Freiday finished the year batting .425, with a .573 on-base percentage, 31 RBI and five home runs. He also drew 21 walks and struck out just 10 times. Freiday is fielding interest from an assortment of Division 1 programs.

INF – Nick Bragole, Sr., St. John's Prep
Part of one of the state's most prolific hitting lineups, Bragole put up .403/.532/.758 totals with 21 RBI and six home runs, along with 10 stolen bases, as the Eagles captured the No. 1 seed in D1 North, won 22 straight games and made an appearance in the D1 North final. Bragole is headed to Division 2 St. Anselm College (N.H.) in the fall.

INF – Kenny Michael, Sr., Norwood
Michael catalyzed the Mustangs late in the season when they snatched the Bay State Conference's Herget Division title in the last week of the regular season. He was named the Herget MVP as he hit .429 with 27 RBI and a home run. Michael will continue his career at Division 2 Southern New Hampshire University.

INF – Alex Toomey, Sr., Beverly
Toomey beat out a number of high-profile players to take the MVP in the Northeastern Conference's Large division, and deservedly so. For the season he his .431 with eight doubles, 31 RBI and five home runs, only striking out five times. On the mound, he went 6-2 with a 1.33 ERA and 61 strikeouts in 42.1 innings. Toomey is headed to Salem State University next year.

INF – Brandon Bingel, Sr., St. John's Prep
This year's recipient of the prestigious ESPN Boston Mr. Baseball Award, Bingel was a force in all three phases of the game to take Catholic Conference MVP for the second straight year. He batted .302 with 20 RBI and two home runs, and went 9-0 on the mound with 76 strikeouts in 58.2 innings, walking just 10 batters, for a 0.97 ERA. Bingel will continue his career at Bryant University.

OF – David MacKinnon, Sr., Oliver Ames
MacKinnon took Hockomock League MVP honors after hitting .500 with 16 RBI. One of the best pure athletes of the bunch, MacKinnon is also an All-American soccer player, and will play both sports at the University of Hartford.

OF – Ian Strom, Sr., Hopedale
Strom was a monster on both the mound and at the plate as the Blue Raiders reached the Division 3 State Final. He hit .514 on the year with 21 RBI and 15 stolen bases, and didn't strike out all season. On the mound, he was 9-2 with 107 strikeouts in 67.2 innings, for a 1.45 ERA. Strom will continue his career next season at UMass-Lowell.

OF – Mike Bruemmel, Sr., Bridgewater-Raynham
The Co-MVP of the Old Colony League saved his best stroke for last, carrying a no-hitter into the eighth inning to lead the Trojans to their first Division 1 state title in school history. On the season he batted .341 with a .505 on-base percentage, with 21 RBI and 11 stolen bases. On the mound, he was 6-1 with 69 strikeouts in 41.1 innings, with a 1.82 ERA. Bruemmel is headed to Wheaton College next year.

DH – Malcolm Nachmanoff, Sr., Boston Latin
The Dual County League's MVP of the Large division, Nachmanoff carried a heavy bat, hitting .507 with 26 RBI and five home runs. He also recorded a 1.45 ERA in 53 innings pitched. Nachmanoff is headed to Loomis Chafee (Conn.) next year for a post-graduate season.


BEST OF THE REST

OF – Dan Avery, Sr., Blackstone Valley Tech
Avery excelled both ways for the Beavers, recording .492/.579/.689 totals at the plate with three triples, 26 RBI, 28 runs scored and 18 stolen bases. On the mound, he was 7-2 with a 1.02 ERA and 81 strikeouts in 62 innings, with just eight walks. He will play both football and baseball at Massachusetts Maritime Academy next year.

3B – Ryan Baldwin, Sr., Fairhaven
One of the state's leaders in home runs, Baldwin hit eight and batted in 34 runs, to finish the season with a .500 average and take South Coast Conference MVP honors. Baldwin will continue his career next year at Barry University (Fla.).

2B – Tommy Buonopane, Sr., St. John's Prep
Another key cog to the Eagles' impressive hitting order, Buonopane registered .354/.457/.585 totals with 21 RBI and three home runs, as the Eagles won the Catholic Conference outright. Buonopane is headed to the University of Rhode Island next year.
.354/.457/.585, 21 RBI, 3 HR

2B – Dan Connors, Sr., Danvers
A three-time Northeastern Conference All-Star, Connors captured the Small division's MVP award after hitting .390, as the Falcons were the top seed in Division 2 North and reached the district final. Connors, a career .365 hitter, will enroll at UMass-Amherst in the fall.

LHP – Mac Curran, Sr., Coyle-Cassidy
A repeat selection, Curran was once again a force on the mound, going 5-2 with a 0.98 ERA as the Warriors captured the Eastern Athletic Conference outright. He also batted .402 with a home run. Curran is headed to Niagara University next season to continue his career.

C – Kyle Devin, Sr., Lynn Classical
One of the state's best arms behind the plate, Devin threw out eight of 12 steal attempts and also had 11 pickoffs. He also hit .410 with 16 RBI, five doubles, two triples, a home run and six stolen bases for the Rams. Devin is headed to Stony Brook next season to continue his baseball career.

SS – Isan Diaz, Jr., Springfield Central
One of the top defensive talents outside of Eastern Mass., Diaz showed off quite a bit with his bat as well, plating 19 runs and registering three home runs as the Golden Eagles once again reached the Division 1 West tournament.

RHP – Drew Foster, Sr., Nashoba
One of the steadiest starters in Central Mass., with a 4-1 record and 0.97 ERA, Foster led the Chieftains through a loaded Division 1 Central field to capture their first district title in program history. Foster is headed to Ohio University next year, where he intends to play club hockey.

RHP – Dustin Hunt, Sr., St. John's Prep
Arguably the state's top closer, Hunt embraced the role as the Eagles reeled off 22 straight wins before falling in the D1 North Final. On the season he struck out 31 batters in 27.1 innings, with a 1.54 ERA and a 1.10 WHIP. Hunt, an Andover resident, is headed to Northeastern University next season.

RHP – Thomas Jankins, Sr., Quaboag
Jankins was dangerous on the mound and in the batter's box this season for the Cougars. He hit .473 with 19 RBI and two home runs, and was 5-3 with a 0.53 ERA and 100 strikeouts in 52.1 innings. Jankins will continue his career next season at Quinnipiac University.

OF – Tom Landry, Sr., BC High
Landry registered .348/.378/.493 totals at the plate and added 16 RBI and two home runs for the Eagles, who reached their first D1 South Final since 2009. He also struck out just 11 times and drew four walks. Landry will play for Wheaton College next year.

SS – Steven Lee, Sr., Braintree
Lee manned the middle of the Wamps' order for the last three years, and put up impressive numbers in his senior season. He batted .376 with 26 RBI, one home run, 27 runs scored and 10 stolen bases as Braintree captured its fourth straight Bay State Carey title. He also committed just five errors in the field. Lee is headed to Stonehill College next year.

RHP – David Longstreeth, Soph., Smith Academy
Longstreeth is already over the 300 career strikeout mark, with 21 wins, in his still-blossoming career for Smith. On the season, he went 11-2 with 132 strikeouts in 80.1 innings, as the Falcons reached the Division 3 West Final.

RHP – Mike Lundin, Sr., Silver Lake
Lundin helped lead the Lakers to a Patriot League Fisher division title with his proficiency on the mound, going 7-2 with 86 strikeouts in 65.1 innings with a 0.67 ERA. Lundin will continue his career at Massasoit Community College next season.

OF – Tyler Lyne, Sr., Agawam
Lyne was a catalyst for the Brownies, who won the Valley League and reached the Division 1 West Final. For the season, he registered 16 RBI and two home runs. Lyne will continue his career at Merrimack College next year.

RHP – Donny May, Sr., Coyle-Cassidy
The other overpowering ace for the Warriors' staff, May went unbeaten as they captured the Eastern Athletic Conference outright. He was 11-0 on the year, with a 0.44 ERA and 89 strikeouts, along with a .438 batting average at the plate. May is headed to Fordham University next year.

SS – David Murphy, Sr., Plymouth North
The Atlantic Coast League's MVP helped the Blue Eagles to another league title, hitting .429 with 29 RBI and three home runs. He only struck out twice all year. Murphy will take his talents to Massasoit Community College next year.

SS – Noah Parker, Sr., St. Mary (Westfield)
One of the more underappreciated talents across the state, Parker was the catalyst for the Saints, who reached the Division 3 West quarterfinals. Parker registered 28 hits, 20 RBI and two home runs on the season. He will head to Seton Hall University next season as a preferred walk-on.

OF – Anthony Perriello, Sr., Norwood
A powerful hitter manning the middle of the Mustangs' order, Perriello led the Bay State Conference in batting average (.507) and added 15 RBI and a home run.

RHP – Alex Person, Sr., Xaverian
The Foxborough resident manned the top of the rotation, as the Hawks tried to defend their D1 state title. On the season he struck out 52 batters in 51 innings, going 5-1 with a 2.06 ERA. Person will continue his career at Southern New Hampshire University next year.

C – Matt Phelan, Sr., Northbridge
Phelan was a force at the plate for the Rams, who reached their fourth straight Division 2 Central Final. On the season he hit .484 with 28 RBI and four home runs, and on the mound was 4-1 with a 1.91 ERA. Phelan is headed to St. Anslem in the fall, where he will play football.

RHP – Brendan Ryan, Sr., Newton North
Ryan earned MVP honors in the Bay State Conference's Carey division, after going 7-1 with a 1.64 ERA and six complete games. Ryan also batted .347 with 17 RBI. He will enroll at the University of South Carolina in the fall.

RHP – Endy Sanchez, Jr., Holyoke
Another member of the 100-K club, Sanchez had one of the best strikeout-to-ratios in Western Mass., fanning exactly 100 batters in 62 innings pitched for the Purple Knights.

RHP – Kevin Superko, Sr., Wellesley
Following in the footsteps of his brother Tim, Superko carried on the name holding down the front of the Raiders' rotation. On the season he recorded 67 strikeouts in 49 innings, with a 1.02 WHIP and holding batters to a .184 average. He will do a post-graduate season at Philips Andover next year.

RHP – Ryley Warnock, Sr., North Reading
Warnock was dynamic both on the mound and on the basepath for the Hornets, who captured the top overall seed in D3 North. On the mound he was 10-1 with a 0.44 ERA and 72 strikeouts, and at the plate he was .360 with 17 stolen bases. Warnock will continue his career next year at the University of Rhode Island.

LHP – Cody Younger, Sr., Middleborough
Younger came on in the second half of the season and led the Sachems through a gauntlet en route to the Division 3 state title, their first since 1997. On the mound, he was 4-2 with 53 strikeouts and a 1.90 ERA, and delivered wins over the top two seeds in D3 South. At the plate, he had .415/.482/.507 totals with 27 RBI. Younger will do a post-graduate season at Bridgton Academy (Maine) next year.

RHP – Zach Zona, Sr., St. Peter-Marian
Zona led the top of the Guardians' rotation as they came on late in the regular season to make the Division 1 Central tournament. On the season he was 5-2 with 64 strikeouts in 46.2 innings, with a 1.05 ERA and two no-hitters. Zona will continue his career next season at UMass-Lowell.
June, 1, 2013
6/01/13
12:09
AM ET
By
Stephen Sellner
| ESPNBoston.com
BOSTON — Boston College High pitcher Dan Cobban was thrown onto the mound with the Eagles' first-round matchup with New Bedford at a crossroads.

BC High ace Tommy McDonald had just surrendered a bases-clearing triple to Whalers senior Mike Rapoza in the third inning on Friday, bringing the underdog New Bedford squad within a run, 5-4, in the top of the third. And after Cobban hit Rick Moraes with his first pitch, the Whalers seemed to have the Eagles on the ropes.

But that proved to be Cobban's one and only blemish.

Cobban set down the remaining 17 batters in his 5-2/3 dazzling innings of relief, keeping the New Bedford hitters off balance to record the win, while the BC High bats came to life with a four-run fourth and five-run sixth to top the Whalers, 15-5, at Boston College High School.

The sixth-seeded Eagles will play at No. 3 Silver Lake in Monday's quarterfinals.

BC High coach Norm Walsh said Cobban's performance was similar to his April 26 outing in an extra-inning win against Chelmsford in which Cobban tossed 8-1/3 perfect innings of relief.

"He was totally the difference in the game because he shut them down and they couldn't shut us down," Walsh said.

McDonald struggled through 3.1 innings, allowing six hits while walking five —- one intentional —- and giving up five runs. The senior was working out of jams throughout his outing as New Bedford put runners in scoring position in all four innings he appeared in.

With McDonald struggling to find the zone, Cobban said he went in there to throw strikes.

"Tommy walked more than he usually does, so I figured if I give them strikes, it'll make them hit," Cobban said.

The game was stopped during the bottom of the fourth after the home plate umpire and field umpire had to switch duties after the home plate umpire appeared to show signs of fatigue as a result of Friday's excruciating heat. The players returned to their respective benches for the 15-minute delay before the umpires returned to the field after switching equipment.

Once play resumed, the Eagles put an end to any talk about a potential upset. BC High scored four runs in the fourth -— including a two-RBI single by Tommy Landry -— to take a 9-5 advantage.

Landry drove in two more runs with a triple in the sixth as part of his 2-for-5, 5-RBI day.

Eight of the Eagles' 13 hits came after the delay. Landry said he and teammate Jake Marotta spent the break hitting off the tee to get some more swings in, which he said paid off.

"It kind of gave us some momentum to stop and sit a little bit and we were able to focus up and crush the baseball a little bit," Landry said.

New Bedford coach John Seed said he had never seen an umpire switch like that before in his 31 years of coaching high school baseball.

But Seed was hesitant to point to the delay as a turning point in the game.

"It seems like it took some wind out of our sails, but, I mean, I don't know," Seed said. "Who knows?"

"The health is more important than the game," Seed continued. "BC's a good team. We didn't play our best game today so there's not much you can do."

Sean Webster went 3-for-5 at the dish for BC High, including two triples and a pair of RBIs.

Andrew Jaehnig plated two runs in the third and Webster added an RBI single of his own to push the Eagles lead to 5-1.

But the Whalers responded right back, loading the bases in the top of the fourth before Rapoza drilled a triple off McDonald to left field to clear the bases and cut the deficit to 5-4. Rapoza later scored on a sacrifice fly by J.T. Sylvia to even the score at five.
May, 10, 2013
5/10/13
10:23
PM ET
By
Chris Bradley
| ESPNBoston.com


SHREWSBURY, Mass. –- St. John's coach Charlie Eppinger knew the Pioneers needed a standout performance from star pitcher Ben White, and he got just that, as the Holy Cross-bound righty led St. John's (12-3) to a 5-1 victory over BC High (9-3).

White pitched all seven innings for the Pioneers, giving up just three hits and allowing one earned run. His control was pinpoint, walking no BC High hitters.

"That was the Ben White we're used to seeing," Eppinger said. "He had one rough outing against New Bedford earlier in the year, and has been real solid since. We knew we needed a good effort out of Ben."

The Pioneers drew first blood in the bottom of the second, as senior Micah Cummins singled and later came around to score to make the score 1-0.

BC High answered in the fourth inning though, as senior Ryan Tufts hit an RBI double to bring classmate Jake Marotta around to even the score. After that though, BC High's offense was literally nonexistent.

"For some reason, mentally we just weren't there," BC High coach Norm Walsh said. "We've got to change that, we've got to come out hungry every single game. We got a little complacent."

Walsh also said that his team has been struggling as of late with the approach of opposing pitchers. Generally, Eagles' hitters have been seeing fastball early in the count, and then see mostly off-speed pitches for the rest of their at bat.

"We've been getting pitched backwards, and we're not responding in terms of making our adjustment at the plate," Walsh said. "That needs to change, and that's what we're going to see—not too many teams are going to try to throw the ball by us. We've got to understand that, it's not like we aren't capable of it, because we are. It's all in the approach we have."

St. John's began to develop some momentum in the fourth inning after Walsh took starting pitcher Tommy McDonald out to keep a limit on his pitch count. Freshman Drew Rosen drove in P.J. Browne on a ball hit to right field that resulted in error. Kevin Quinlivan hit a single in the next at bat to get Rosen over to third, and then got caught in a pickle between first and second that ultimately allowed Rosen to score from third.

Eppinger was proud of how many players had a hand in the victory.

"A lot of it is a team effort, the team has really supported him," he said. "We expect so much of Ben, sometimes I think one player thinks they need to do it all. We have 20 players on the roster and we trust all of them."

The Pioneers built the lead further in the sixth inning, as cleanup hitter Jake Byrne smashed a solo home run over the center field fence. After getting hit by a pitch, Cummins came around soon after to score his second run of the game, bringing the score to 5-1.

"The insurance runs are huge, going out 5-1 instead of 3-1 against a lineup like that, you take the wind out of their sails and give yourself some confidence," Eppinger said.

After losing 7-4 to BC High on Monday, the Pioneers' coach said today's victory was just the confidence booster that his relatively young squad needed going into the final stretch of the regular season.

"It's time for us to compete at a state level," Eppinger said. "This gives us a lot of confidence that we can compete with anybody, but we've got to bring our A-game, we're not going to be able to come out and play mediocre baseball and beat a good team."


April, 9, 2013
4/09/13
1:16
AM ET
By
Brendan Hall
| ESPNBoston.com
MALDEN, Mass. -- As far as league openers go, you can't get much better than Ryan Tufts' night.
Beneath the lights Monday night at Maplewood Park, the Virginia Tech-bound third baseman shone his brightest for Boston College High when it mattered most, in the Eagles' Catholic Conference opener against host Malden Catholic. Facing fireballing MC sophomore reliever Austin Batchelor with one out in the top of the seventh, tied 1-1, Tufts sat fastball and didn't have to wait long to get his pitch.
[+] Enlarge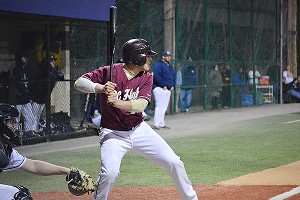 Brendan Hall/ESPNVirginia Tech-bound third baseman Ryan Tufts' sacrifice fly to deep center scored the winning run in the seventh inning for BC High.
Tufts blasted one deep to center, a ball that was eventually dropped but scored Dan Dougherty from third to make it 2-1. The Eagles then sealed it in the final frame with a double play, to improve to 3-0 and 1-0 in the conference.
"He's clutch, he can hit anybody," Eagles coach Norm Walsh said. "In fact, that ball might have been a little up and out of the strike zone, but he's got such talent that he just did the job for us. That was one fantastic baseball game."
Said Tufts of seeing the drop, "I was pumped. Any time you can get an extra baserunner there, it's really big, especially when we're trying push across a few runs."
BC High took the initial 1-0 lead in the top of the second with some smart baserunning from Ryan Tropeano. After reaching first on a fielder's choice and stealing second, the sophomore scampered home after the second baseman dropped the ball trying to tag out Sean Webster trying to steal second.
MC fired back in the bottom of the fifth with a dramatic shot from pinch hitter Paul Garozzo. Facing a full count with two outs and a runner at third -- Cam Lanzilli, who led the inning off with a triple -- Garozzo sliced one just inside the foul line down first base for an RBI triple and tie ball game.
McDonald grins and bears it:
Clearly, there are divided schools of thought amongst MIAA coaches as to how to handle pitchers in the first month of the season, when temperatures are still cold and arms are still getting broken in after a winter with limited live throwing.
Some like to keep starters regimented around 60 to 70 pitches, approaching the subject like a faberge egg; then there are those like Walsh, who let senior righthander Tommy McDonald throw into triple-digits, watched as McDonald took a ball off his left knee trying to bare-hand a comebacker in the final frame, and said, "You can't get mad at him though, because he's just so competitive."
"He wanted to make that play," Walsh said. "I think [second baseman] Jake [Marotta] would have had it, but he's such a competitor. You can't fault him for that."
Said McDonald, "I had the adrenaline running, it didn't even faze me. I'm just glad I stopped the ball from going into centerfield."
McDonald, a UMass commit, threw close to 115 pitches in a complete-game effort, striking out seven and walking none while scattering five hits and allowing the one earned run.
"At this point, he's thrown a bunch of bullpens in the preseason," Walsh said when asked about pitch count. "He's not going to start again for eight or nine days. He was throwing strikes, he was pounding the zone. I talked to [catcher] Luke [Catarius], Luke said he was really throwing the ball well still, so at this point no. He was probably up around 115 or so, and that's reasonable for him. He's our horse."
It's easy to see why the reigns are a little looser on McDonald. The 6-foot-2, 225-pounder demonstrates good command of his fastball, locating it around the zone, and doesn't labor on the mound. He generates much of his power from his legs, and is the kind of type-A personality you want as a starting pitcher -- asked how he'd characterize himself, he laughed, "I'm kind of a jerk out there...I don't want to give anything up."
Asked how he felt after racking up a high pitch count this early, McDonald said he felt fine.
"I was going into this thinking four or five innings, and leaving the rest for the bullpen," he said. "But my adrenaline was going and I felt in mid-season form. I just feel really good right now."
Seamless transition:
Forgive the Eagles if they've been spoiled the previous three seasons with Bobby Melley behind the plate. The UConn freshman catcher was one of the state's most feared hitters a season ago, hitting .370/.557/.685 totals with 13 RBI and drawing 22 walks to earn a spot on ESPN Boston's All-State Team.
But it looks like the equally-bulky Catarius, bound for Princeton University as a linebacker at a burly 6-foot and 230 pounds, will keep everyone comfortable despite his limited varsity experience. Catarius batted .267 a year ago in just 17 plate appearances.
Confidence around Catarius is apparent immediately.
"We didn't lose anything, he [Catarius] picked up right where Melley was coming back from," McDonald said. "Good presence behind the plate, good presence in the dugout, good presence with everything...He knows where I like to throw [and] where, inside, outside. He knows when to go out there, when I'm having a tough time."
Said Walsh, "[Luke] is a really tough, competitive kid. He's the heart and soul. He's got that fire to him."
Velozo battles:
In five complete innings of work, senior lefty Joe Velozo worked his way out of jam after jam on the mound for MC. In the third, he retired the first two batters (K, 6-4) then loaded the bases up, then put out his own flames with some high heat to Tom Russo, getting him swinging up and out of the zone.
The next inning, he evaded trouble again thanks to a 3-2 double play from first baseman Steve Passatempo to Batchelor. Passatempo dove to his left for an unassisted out at first, then fired home to Batchelor, who made a terrific block at the plate for a tag on Tropeano. In his last go-around, the fifth, he struck out the first two batters then allowed batters to reach second and third before ringing up Russo again to end the scoring chance.
Velozo finished with six strikeouts and scattered six hits while walking three. Nick George relieved him in the sixth, followed by Batchelor in the seventh.
"Very little fazes him," MC head coach Pat Driscoll said of Velozo. "I think he likes being in the big pressure situations. He wants to be that guy in that situation, making the pitches and getting his team back in there to hit."
April, 4, 2012
4/04/12
9:20
PM ET
By
Andy Smith
| ESPNBoston.com



ACTON, Mass. -- It was what one could expect from an early-season baseball game: two teams still working out some kinks, while at the same time showing flashes of what each can be when everything comes together for them.

As dark rain clouds rolled over the field, No. 1 BC High was able to record the final out and fend off a potential seventh-inning rally from No. 10 Acton-Boxborough. The Eagles won on the scoreboard, 15-11, but it left the team feeling like it has a ways to go now that the games count.

"Obviously I'm really happy with the offense," said BC High (1-0) coach Norm Walsh. "We weren't swinging the bat well the past few days, so we had a little chat about pitch selection and approach at the plate and I think we re-focused and did what we needed to do offensively.

"We had a couple of defensive lapses, which were uncharacteristic. That was a little bothersome. It's tough to get on my pitchers at this point, but the big thing is we have to throw strikes. In the last couple of innings, we didn't throw strikes. It's not that we don't have the ability to get people out, because we do. When we threw the ball well through the strike zone, we got outs. It was just giving them free base runners that we can't afford to have."

The run production started right from the beginning of the game for BC High. After leadoff hitter Dan Dougherty worked the count full against A-B (0-2) starter Reid Jordan, he belted the payoff pitch over the right field fence to give his team the early lead.

Ryan Tufts, the very next batter, was hit by a pitch. Next, senior catcher Bobby Melley hit a rocket double all the way to the fence, which allowed Tufts to score all the way from first. A-B was already playing from behind before it got a chance to bat.

Jordan left the game after four innings, giving up nine runs. The A-B relief pitchers did not fare much better. The Eagles scored at least one run in each inning besides the last.

Conversely, BC High's Tommy McDonald gave up seven runs, lasting five innings, giving up eight hits and three walks.

Colonials keep it close: It was not all smooth for BC High, however. Over the course of the game, defensive lapses allowed A-B to prolong innings, and ultimately generate runs.

In the third inning, a hit batsman and a single put runners on first and second with one out. A-B's Ryan McDonald hit a grounder at Tufts, who fielded it cleanly on the edge of the grass. Rather than throwing over to first to get the sure out, Tufts turned around and tried to tag out Billy Jackman. He was too late, as Jackman beat him to the bag by several steps. He still threw over to try to get the out at first, but McDonald beat out the throw, thus loading the bases.

That turned into a three-run inning for A-B, making it a 5-4 game.

In the fifth, A-B had the bases loaded and already scored a run. Brendan Phelan hit a line drive at shortstop Jake Marotta, but the ball hit off his glove and into the outfield. What could have ended the inning lead to A-B to two more runs.

"We made mistakes, errors, judgment stuff, stuff that probably could have put four or five more runs on the board for them," said Melley. "We could cut down on that. In close games, we're going to need stuff like that to win ball games."

Walsh credited those mistakes to where his team is in the season, believing they aren't emblematic of the team as a whole.

"I think those are early season jitters," he said. "Over the process here, I don't think that's going to continue by any means. I think we're going to be a very good defensive team."

Melley Mashes: In the fifth, Melley came to bat with a runner on second. The left-handed hitting catcher took the first two pitches, making the count 2-0.

Earlier in the game, he had hit the ball well against Jordan, but this time, he was up against junior Andrew Sweet. In what can only be characterized as a hitters count, Melley got a chest-high fastball and was able to get under it and get a good enough part of the bat on it to muscle it out of the park for a two-run home run. It was an impressive fete of strength for the senior captain.

"I was looking for a fastball, and I was comfortable against (Sweet) and what he was throwing to me," he said. "I saw the fastball, probably about head-level. I really did get under it but I had enough to get it in the wind and get it out of there."