Boston High School:

Tori Constantin
May, 23, 2013
5/23/13
9:23
PM ET
By
Josh Perry
| ESPNBoston.com
HOPKINTON, Mass. -- On paper, it was a marquee match-up. It was a meeting of the champions of the Hockomock League's Kelley-Rex division and the Tri-Valley League, as well as two teams in the Top 25 in the state.

But, on the field, the game was more about two teams closing out busy weeks and long regular seasons with all eyes on potentially deep postseason runs. In the end, King Philip (16-4) had just a little more gas in the tank and a little more depth.

The No. 10 Warriors cruised to a 6-0 victory on the road at No. 16 Hopkinton (17-3) behind six innings of relief from freshman pitcher Kali Magane. The Warriors No. 3 starter struck out eight Hillers while giving up only two hits. At the plate, she also added a pair of hits and drove in a run.

"She hasn't been on the mound in three or four weeks so to come in and perform that way goes to show you how tough she is. She's got a lot of good years ahead of her," Warriors head coach Norm Beauchemin said.

Magane entered the game in the second inning after starter Anna O'Neill, who has been KP's ace all season, complained of tightness in her arm. This was O'Neill's third start of the week and second in as many days (an eight-inning loss to Taunton on Monday and 3-1 win over Coyle on Wednesday) and Beauchemin did not want to take any chances with his top pitcher with the tournament looming.

He remarked with a chuckle, "Anna was a little sore from last night's game. She pitched Monday and she pitched yesterday and said she had a little stiffness. So, with playoffs coming, we can't ruin our horse."

Magane struck out the side in the second inning and the Warriors offense responded in the top of the third.

Lead-off hitter Bre Shaffer began the inning with a walk and shortstop Ashley Hession reached on an error by catcher Erica McBride. With runners at second and third, senior Tori Constantin lined an RBI single to left. Sophomore first baseman Renee Poirier followed with the game's big hit – a three-run homer that was crushed to right center.

Beauchemin marveled, "She's been killing the ball all year. She probably has the most extra-base hits for us. She's a great hitter."

He added with a laugh, "She struck out for probably the fourth time all season tonight. So, she's probably more upset about that than happy about the homerun."

Prior to the game, Hopkinton head coach Dennis Baker Jr. admitted that he was struggling to put together the line-up because of injuries and the fact that the Hillers were playing their fourth game of the week. Hopkinton clinched the TVL title on Wednesday night with a win over Westwood (in conjunction with Bellingham's win over Norton) and Baker gave a rest to several of his starters.

King Philip essentially put the game away in the top of the fourth when Hession doubled home Shaffer and was then brought home by a Magane single. Hannah Engstrom ended the inning with a perfect throw to the plate to nail Constantin trying to score from second. The Warriors took advantage of the 6-0 lead to use some of the substitutes that have not seen playing time in recent weeks.

It was a comfortable road win over a tough opponent for King Philip but, for both the Warriors and the Hillers, all eyes are on next week and the start of state tournament play.
May, 11, 2013
5/11/13
1:49
AM ET
By
Josh Perry
| ESPNBoston.com


PLAINVILLE, Mass. – In a game dominated by the two opposing pitchers, it was fitting that one of them would be the player that ultimately decided the outcome.

King Philip senior Anna O'Neill crushed a 1-0 pitch from North Attleborough's Megan Colleran deep over the fence in straightaway centerfield to give the Warriors a 2-0 walk-off victory on Friday afternoon at the Plainville Athletic League Complex. The win completed a season sweep for KP over North and moves them one step closer to another league title.

"I didn't want to pitch another inning," said O'Neill about her mindset in the final at-bat. "When I hit it, I was just thinking, 'Thank you Anna for ending this game,' because I really wanted to win."

After the celebration, first-year KP head coach Norm Beauchemin tried to direct reporters to his star pitcher and, with a big smile on his face, remarked, "She came up with the big hit…the big time. She's a big-time player."

Going into the seventh, KP had managed only two hits off of Colleran, who struck out six Warriors. Senior second baseman Tori Constantin, who had hit the ball well for outs in her two previous at-bats, drew a lead-off walk (Colleran's first of the game). Renee Poirier failed on two sacrifice attempts before lining a two-strike pitch for a base-hit.

Constantin tried to stretch from first to third on the play but was gunned down on a perfect throw by North centerfielder Sam Moody. In the process, Poirier moved into scoring position with one out. Two pitches later, it did not matter, as O'Neill hit her second homerun of the season off of Colleran.

"Meg is a great pitcher. She's going to UMass [in two years] and to say that I got two good hits against her feels pretty good," said O'Neill.

O'Neill was also dominant on the mound, despite having to rush from Dean College where she and third baseman Shannon Jones were taking an Advanced Placement exam. The game time was pushed back and North coach Bill Wallace allowed extra time for O'Neill to warm-up after she arrived. It may not have been her usual pre-game routine but she showed no ill effects, striking out the first two hitters on her way to a nine strikeout, three-hit shutout.

Prior to the final inning, each team only managed to get a runner into scoring position twice. Poirier led-off the second with a base-hit and made it to second on a passed ball, but was stranded and in the sixth Jones was bunted to second but Colleran induced a comebacker and a grounder to first to end the inning.

"Megan has really hit her groove now. Those are the first runs that she has given up in regulation in three weeks," Wallace said.

Beauchemin spoke about his team's struggle at the plate. He said, "Offensively, everybody struggles against good pitching, plain and simple. Hopefully, we come around and start swinging the bats better against good pitching because we're taking way too long of a swing."

North Attleborough had its first base runner in the fourth inning on a lead-off single by Rose Mooney, who was bunted to second but stranded there. Jill Costello, who also had four assists at shortstop, led-off the sixth with a single and made it to third on a wild pitch before O'Neill struck out Marissa Gifford and Colleran to end the inning.

The Rocketeers have had a difficult week since being moved to no. 2 in the ESPN Boston statewide rankings. North lost to Taunton (the Tigers had also beaten KP previously this season), 1-0, in 11 innings on Monday before the walk-off defeat to the Warriors.

Wallace acknowledged that it was a tough loss, but argued, "We'll be better for it."

He added, "We're playing good defense; we just need to get the bats going. Hey, what are you going to do? We're seeing great pitching, you know."

Prior to the season, there was some talk that the turnover at King Philip (losing eight seniors and head coach Jim Leonard) could make this the year that North Attleborough overtook the Warriors for the league title. Instead, O'Neill's hit continued nearly 10 years without a win for the Rocketeers in the series.

"People have been talking that we're not going to be as good this year as we have in the past, but I think that tonight just proved that we all have it in us and we still have a really good team," O'Neill said.

Beauchemin said that games like this will be big for the Warriors as they prepare for another run at a state title.

"You don't have too many cakewalks [in the Hockomock], which is good because it get s you ready for the playoffs," he explained. "This team here, they're concerned about the playoffs. They want to go deep, so these games hopefully build our character."
April, 18, 2013
4/18/13
3:51
PM ET
By
Josh Perry
| ESPNBoston.com
NORTH ATTLEBOROUGH, Mass. – Heading into the match-up between North Attleborough and King Philip, there was some talk that this might finally be the year that the Rocketeers take the Hockomock League title from the Warriors. Following Wednesday afternoon's game, it is clear that there is still some work to be done to catch KP.

The Warriors scored four runs in the first three innings and got an impressive pitching performance from senior Anna O'Neill (nine strikeouts) to beat North 6-1 and take an early first step towards another Kelley-Rex division title.

"Obviously, that's a good team and anytime you play a good team, you want to come out on top," said King Philip's first-year head coach Norm Beauchemin. "It was an important game for us because you want to be on top of the league. You don't want to be chasing someone; you want them to be chasing you."

The Warriors took the lead on the first batter of the second inning. O'Neill, who drove in a pair of runs in addition to her dominating work in the circle, crushed a 2-2 pitch deep over the fence in straightaway center.

KP broke the game open in the very next inning.

Clean-up hitter Renee Poirier plated Breanna Shaffer with an infield single to make it 2-0. O'Neill followed that with a sacrifice fly on a hard hit line drive to right that brought home Tori Constantin. Casey Hutnyan followed with a single to right that brought home Poirier to make it 4-0.

It was a big inning for the Warriors, but the hardest hit ball off Rocketeers starter Meg Colleran was the line drive out by O'Neill. After the inning ended, North Attleborough head coach Bill Wallace brought his team together and told them that reaching the next level means making those types of plays.

Four runs was enough for O'Neill, who allowed only three base runners (two of them on walks) through the first five innings. Although North started to have better at bats in the later innings, Beauchemin was nonchalant about the effort of his senior.

He explained, "Anna was on. She threw the ball well. If they put the ball in play, hopefully we make the plays."

The Warriors added a pair of runs with two outs in the sixth inning. Shannon Jones lined a base hit to right that tipped off the webbing of North first baseman Allison Paquin's glove. That was followed by a triple down the leftfield line by pinch-hitter Christa Wagner. Wagner scored on a single by Shaffer to make it 6-0.

With six runs against North, KP has scored 30 runs in the three wins that followed its shutout loss to Milford. Beauchemin credited the Warriors' success to a more disciplined approach at the plate.

"We were undisciplined that day and the girls know it," he remarked. "These girls swing the bat well. They actually like to see pitchers like this, top pitchers; it makes for a more interesting game. Everybody's level of play goes up."

North got on the board in the bottom of the sixth. Leadoff hitter Rose Mooney beat out a grounder to third and two batters later advanced to third on a single by Colleran. She came home to score on a grounder up the middle by catcher Meghan Wynn that was bobbled by KP shortstop Ashley Hession but right to Constantin to get the force at second.

Despite the loss, Wallace was proud of how his team battled. North were without middle of the order hitter Jackie Del Bonis, who injured her ankle playing field hockey, and played freshman Mycala Moody at third base for the first time. Also, Colleran made the start despite battling illness.

"We probably had seven or eight 3-2 counts, Marissa Gifford had an 11 or 12-pitch at-bat her first time up, so I thought that was good today," Wallace remarked. "Those are two of the best pitchers in the league and I thought both teams did a good job with their plate approach."

He added, "Just a lot of stuff fell in today. Tip your hat to them and move on."

Both teams step outside the Hockomock League in their next games. King Philip will host Shrewsbury on Friday, while North Attleborough travels to Durfee on Saturday.
April, 9, 2013
4/09/13
11:19
PM ET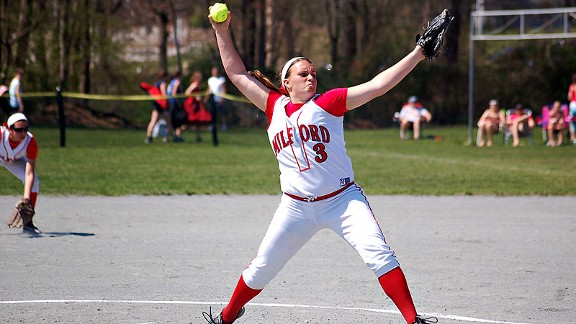 Brendan Hall/ESPNBoston.comReigning ESPN Boston Miss Softball Award winner Shannon Smith hopes to lead Milford to back-to-back Division 1 state titles.
STARTING ROTATION
Megan Colleran, Jr., North Attleborough
Anna O'Neill, Sr., King Philip
Lauren Ramirez, Sr., Dracut
Kendal Roy, Jr., Grafton
Shannon Smith, Sr., Milford
STARTING NINE
Tori Constantin, Sr. 2B, King Philip
Stephanie Cornish, Sr. 3B, Abington
Alexis DeBrosse, Sr. SS, New Bedford
Caroline Fairbanks, Sr. 3B, Milford
Nicole Lundstrom, Sr. C, Dighton-Rehoboth
Bella Picard, Sr. SS, Blackstone Valley Tech
Madi Shaw, Jr. SS, Bridgewater-Raynham
Dakota Smith-Porter, Sr., P/SS, Turners Falls
Reilly Weiners, Sr. C, Agawam
WATCH LIST
Olivia Antczak, Soph. P, Central Catholic
Allie Colleran, Jr. SS/OF, Concord-Carlisle
Megan Cook, Jr. P, Bellingham
Haley Currie, Sr. 3B, Burlington
Sara Dawson, Soph. P, Bridgewater-Raynham
Kaleigh Finigan, Sr. 3B, St. Mary's (Lynn)
Bridget Furlong, Sr. 2B, Malden
Courtney Girouard, Jr. P, Fairhaven
Galen Kerr, Sr. P, Concord-Carlisle
Taylor LeBrun, Soph. C, Milford
Rachel Levine, Sr. CF, Milford
Michaela Mazure, Soph. INF, Burlington
Shannon McLaughlin, Jr. P, Tewksbury
Paige Mulry, Jr. C, Boston Latin
MacKenzie Navarro, Jr. 1B, Taunton
Alicia Reid, Sr. CF, Abington
Kelsey Saucier, Jr. P, Holy Name
Rachael Smith, Jr. P, Winchester
Lauren Tuiskula, Sr. P, Leicester
Jurnee Ware, Sr. P, Hudson
June, 22, 2012
6/22/12
2:21
AM ET
Starting Rotation – First Team
Kiara Amos, Sr., Malden
The Providence College signee led the Golden Tornadoes to their first-ever state finals appearance after claiming the Eastern Mass. title. Amos went 15-1 for Malden, notching 195 strikeouts in 105 innings thrown all while boasting a 0.47 ERA. The right-hander set another first for Malden's program as its first-ever Div. 1 college scholarship player.
Meghan Rico, Sr., King Philip
Rico concluded her high school career as one of the most decorated players in the state, a winner of two state championships and last year's ESPN Boston Miss Softball. The George Washington signee went 17-3 for the Warriors this season, striking out 274 in 142 innings thrown while surrendering just 10 earned runs all season.
Sarah Ropiak, Sr., Acton-Boxborough
Headed to Brown University next year, Ropiak was a three-time Dual County League All-Star and earned MVP honors in the large division this season. The right-hander posted an ERA of 0.69 while leading the Colonials to a Division 1 North final appearance.
Kendal Roy, Soph., Grafton
The second-year sensation lifted the Indians to their first-ever state championship with a win over Abington in the Div. 2 final. Roy went 18-1 with an ERA of 0.72 in 126 innings thrown with 176 strikeouts while allowing just 11 walks.
Shannon Smith, Jr., Milford
The University of Kentucky commit was near unhittable this season while leading the Scarlet Hawks to an undefeated season and the Division 1 state title. This year's ESPN Boston Miss Softball Award recipient was also named Massachusetts Gatorade Player of the Year for the second time (2010, '12) in her career.
Starting Nine – First team
Katie Caruso, Sr. SS, Newton North
Caruso won the Bay State Conference's triple crown, leading the league in batting average (.662), home runs (10) and RBI (47) while also clubbing a conference-best 51 hits. The Bay State MVP was also a standout on the Tigers' hockey team. The four-year starter will continue her playing career next year at Southern New Hampshire University.
Lexi Gifford, Sr. SS, Natick
While Caruso may have been named Bay State Conference MVP, Gifford has been the league's most valuable lead-off hitter during the last four years. The UConn signee hit at a .615 clip while driving in 33 runs for the Red & Blue this season. Gifford was also a true three-sport athlete at Natick, as a four-year letter-winner in soccer, basketball and softball.
Bri Chiusano, Sr. CF, Mansfield
One of the most feared lead-off hitters in the state and a superb slap hitter, the Hockomock League All-Star showed off her power as well with four home runs this season. The Coastal Carolina signee finished second in the Hock in hitting with a .521 batting average.
Olivia Godin, Sr. C, King Philip
The UMass-Amherst signee was a four-year starter for the Warriors, helping guide the program to back-to-back state titles in 2010-11. The backstop hit .299 this season with three home runs and 18 RBI.
Alexis DeBrosse, Jr. SS, New Bedford
Already a three-time New Bedford
Standard-Times
Player of the Year award winner, the three-time Big Three All-Star hit .521 for the Whalers this season. The three-sport athlete also hit five home runs with 26 RBI and a slugging percentage of 1.099.
Julie LeClair, Sr. 3B, Coyle-Cassidy
Comprising one half of the state's best left side of the infield, along with shortstop Patty Borges, the St. Anselm signee led the Warriors to the EAC crown with a league-best .527 average. The three-sport athlete also clubbed a league-leading five home runs along with 32 RBI.
Bella Picard, Jr. SS, Blackstone Valley Tech
The nation's leading hitter resided in Upton this year with the Beavers' shortstop hitting an astounding .877 (57-for 65). The converted soccer player also tied for the state lead in home runs with 10 while driving in 43 runs.
Madi Shaw, Soph. SS, Bridgewater-Raynham
The second-year shortstop powered the Trojans to their first-ever Division 1 South sectional crown. Shaw hit .471 with eight home runs and 34 RBI for the Old Colony League champions.
Reilly Weiners, Jr. C, Agawam
Weiners helped lead the Brownies to the Division 1 West sectional title this season. The backstop led all Div. 1 players in Western Mass. with 35 RBI while knocking out 38 hits on the season, including three home runs.
Bullpen – second team
Megan Colleran, Soph., North Attleborough
Megan Cook, Soph., Bellingham
Mackenzie Coopinger, Sr., Lynn Classical
Audrey Dolloff, Sr., Bridgewater-Raynham
Courtney Girouard, Soph., Fairhaven
Trish Hansen, Sr., Mansfield
Shelby Higgins, Sr., Lowell
Kelly Norton, Sr., Abington
Shannon Orton, Sr., Case
Lauren Ramirez, Jr., Dracut
Jurnee Ware, Sr., Hudson
Bench – second team
Patty Borges, Sr. SS, Coyle-Cassidy
Tori Constantin, Jr. 2B, King Philip
Caroline Fairbanks, Jr. 3B, Milford
Courtney Hoban, Sr. OF, Boston Latin
Emily Hoffman, Sr. C, Malden
Nicole Lundstrom, Jr. C, Dighton-Rehoboth
Michaela Mazure, Fr. INF, Burlington
Kelsey Perron-Sovik, Sr. CF, Fairhaven
Christina Raso, Sr. SS, Burlington
Dakota Smith-Porter, Jr. P/SS, Turners Falls
COACH OF THE YEAR
John Furlong, Malden
April, 13, 2012
4/13/12
1:22
AM ET
NORTH ATTLEBOROUGH, Mass. – Consider it a declaration that the Hockomock League still runs through King Philip.

In the course of the last week, upstart North Attleborough softball knocked off rival Mansfield, before the Hornets then went on to scare the living daylights out of King Philip on their own diamond.

So were the Warriors ripe for an upset? Hardly.

No. 1King Philip's resounding 9-1 victory over No. 12 North on Thursday was a return to the status quo.

"I think we're finally feeling more comfortable at the plate, we're having more quality at-bats," Warriors head coach Jim Leonard said. "We were aggressive against a good pitcher [North's Megan Colleran] and we put the ball in play. We're starting to find our stride offensively."

KP's 11-hit barrage was balanced and saw five players drive in runs, including Meg Carnase, Tori Constantin and Renee Poirier who each had two RBI.

North (3-1) took their cuts against Warriors ace Meghan Rico and came away with seven hits. However, the Red Rocketeers left 10 runners stranded and had bases loaded situations in both the fifth and seventh, but were unable to score.

Kim Hallahan knocked in the Red Rocketeers' lone run in the sixth with an RBI double.

VERSATILITY AND DEPTH SHOWCASED
The Warriors lost one of their top players for the afternoon and perhaps much longer on a pivotal play in the home half of the second.

KP shortstop Alyssa Siegmann charged a smash hit off the bat of North left fielder Erin Melaney. While making a stab at the ground, Siegmann collided with North's runner, who was breaking for third. The potential base hit was wiped out by the umpire's call of interference and Siegmann was shaken up (with what Leonard fears is a separated shoulder), not to mention it ended North's rally with the third out.

The Warriors could rest easy knowing that second baseman Tori Constantin could move over to short while Leonard inserted sophomore Rory Baraiolo at second.

Not only did Baraiolo provide some sharp leather work in the field, she also knocked in a run during the Warriors' two-run fifth.

"It was great that we had two [first-year players] step in and contribute," Leonard said. "[Baraiolo] had an RBI and Renee Poirier, a freshman, had a clutch RBI. I thought was a bit of a turning point."
May, 25, 2011
5/25/11
12:12
AM ET
PLAINVILLE, Mass. – They could've gone all night and there likely wouldn't have been a resolution.

No. 1 King Philip eventually pulled out a 1-0 win over No. 3 Milford Tuesday night in Plainville with two of the state's best softball pitchers going head to head. The Warriors' Meghan Rico and Scarlet Hawks ace Shannon Smith played dueling banjos, placing zero after zero on the board through seven innings.

Milford threatened to score in the top of the eighth, but it was King Philip (19-0) who earned the walk-off win with Tori Constantin laying down a perfect suicide squeeze scoring Hailey Mullen from third, dealing the Scarlet Hawks their first defeat of the season.

"It's always rewarding to see when all the practice you put in leads to really good execution," said Warriors head coach Jim Leonard, who led his team to a win over Milford in last year's Division 1 state title game. "The girls have worked very hard, giving up Sundays and extra time in order to get things done. A team like that, we knew it was going to come down to one play and having them make the right play at the right time."

Rico started the game on fire, retiring the first 10 Milford (15-1) batters in order via the strikeout. The George Washington commit finished the game with 16 strikeouts and allowing just two hits.

However, she had to rely on her defense to get out of a pickle in the eighth inning.

Softball tie-breaker rules place a runner on second base to start each extra-inning frame. After the first batter struck out, the runner advanced to third. With one out, Milford's Sam Bonvino laid down a suicide squeeze attempt, only to see the ball pop straight up. Warriors catcher Olivia Godin snared the ball and fired to third to double up the retreating runner, ending the inning.

"They're great hitters," Rico said of Milford's lineup. "I was really nervous coming into this game, but my defense was strong, our hitting was strong."

KP scratched across the game-winning run thanks to some skillfully executed small ball.

With Mullen on second to start the inning, Godin put down a sacrifice bunt. Constantin followed that with another perfectly placed bunt between Smith and Scarlet Hawks first baseman Caroline Atkinson, who was shading in anticipation of the bunt.

"I knew getting up there that I was going to have to squeeze with Hailey [Mullen] on third," Constantin said. "I just set in my head that I had to get it done no matter what."

It appeared the Warriors might come up with the game-winning run in the bottom of the seventh. With one on and one out, Meg Carnase lined a single over the second base bag into center. KP center fielder Alyssa Siegmann looked as though she might have the legs to score from second base, but when rounding third, she was met by Leonard who was holding up the sign to stay just there.

"We had good hitters coming up and we have a lot of confidence in our hitters," Leonard said, explaining his rationale for not waving Siegmann homeward bound. "You don't want to take the bat out of their hands. You've got runners on second and third with [third baseman Anna] Kelly coming up."

Kelly put a jolt into Smith's 2-2 offering to the opposite field. However, she didn't get quite enough as ball fell into the right fielder's glove, several feet shy of fence.

"She put a few more feet on that ball and it's all over," Leonard added.

Smith took the hard-luck loss after striking out 11, while allowing seven hits and three walks.

KP stranded nine runners on base.
April, 18, 2011
4/18/11
7:36
PM ET
PLAINVILLE, Mass. –- Meghan Rico was cruising right along during Monday's matchup against Central Mass power Shrewsbury.

The King Philip softball pitcher had retired the first 12 Colonial hitters in order to start the game. Then, Rico struck out during her plate appearance in the bottom of the fourth inning and really got mad.

"I know that if I'm not hitting well, I need to pitch well," the junior hurler said.

Not that wasn't dominant through the first four innings, but something else kicked in. Painting the corners of the plate and mixing in a healthy dose of curveballs and screwballs, the top-ranked Warriors' ace bore down and finished the gem she'd started with authority.

Only a hit batsmen to start the seventh inning kept Rico from finishing a perfect game, while spinning a no-hit complete game in a 1-0 win over the 20th-ranked Colonials.

"When you're in these tight games and you need a little something extra, that's when you hope that your pitcher comes through," said King Philip head coach Jim Leonard, who celebrated his 50th birthday with the victory. "[Rico] knows when she needs to bear down a little bit and she's able to that. She's very consistent and she's very composed."

In a stretch from the second through fifth innings, Rico sat down 11 consecutive Shrewsbury (4-1) hitters via the strikeout while finishing with 15 for the outing.

Meanwhile, Colonials pitcher Erica Armenti was nearly as effective, striking out seven and surrendering four hits in a tough-luck decision.

King Philip (5-0) scratched across the lone run of the game in the third inning. Warriors shortstop Jenn Robillard crossed the plate on a double-steal attempt with what would prove to be the game-winning run.

"They did a good job of knocking down a run at the plate," Leonard said. "Then we had a first and third in the third, and that's just a chance that you have to take. That was some heads-up running on Jenn Robillard's part. We work on that a lot and we were able to score the run there. That was the difference.

"You wish it weren't always that way, but you have to take the runs when you can get them."

It looked as though King Philip had broken the scoreless stalemate during the previous inning, when Tori Constantin rounded third toward home on Alyssa Siegmann's single to right. However, Shrewsbury right fielder Jenna Pickett's throw was right on the money and catcher Kaci Panarelli anchored her outstretched left heel in front of the plate, blocking Constantin short of the plate

Still, the single run provided by Robillard's guile on the basepaths was all Rico needed on a special afternoon.

"She likes to paint the black," Warriors catcher Olivia Godin said. "She likes to paint her pitches and work all of her pitches in there. Once we get ahead, we want them to chase. We don't want to play around with any batter, we want to go right after them."

Shrewsbury head coach Phil Chevalier knew what his team was getting into while making the trip to the Plainville Athletic League fields, however, and the path doesn't get any easier this week with defending Division 2 state champion Hudson next on the slate.

"We asked for this game and we wanted to come down here," Chevalier said. "You like to always win, but I'd rather play a tough game like this than fattening up against other teams."