Boston High School:

Toronto Blue Jays
August, 16, 2011
8/16/11
2:01
AM ET
By
Brendan Hall
| ESPNBoston.com
The hours leading up to tonight's midnight deadline for Major League Baseball teams to sign draft picks wasn't as nerve-wracking for Auburn's Tyler Beede as one might think. If anything, the Blue Jays first round pick described today as "kinda boring".

After not hearing from the Jays organization all day, Beede got up off his couch at 10 p.m. and took a walk to St. Joseph's Church in downtown Auburn, where he said a prayer for the families of fellow draft picks Daniel Norris and Kevin Comer, as well as his own (both Norris and Comer ended up signing).

Then at 11:15, he got his first call from the Blue Jays with an offer of $2 million. Beede didn't budge from the $3.5 million asking price he said he'd decided on early in the process. Five minutes before midnight, the Jays called back with their final bullet, a take-it-or-leave-it $2.5 million bonus.

And in what was "one of the hardest decisions I'll ever have to make", Beede stood pat. But there are no regrets.

"I can't lie, obviously money was a factor, and whoever says it isn't is lying," he said. "I obviously value my Vanderbilt education very highly, and I stuck to my guns. I stuck to my number, and it just didn't get to that point. I'm tremendously excited about the opportunity at Vanderbilt. I couldn't be happier, and that's the most important thing in my decision. My family was going to be happy for me if I was happy, and I've got great friends around me to get me through this.

"Some people are not happy; 2.5 million dollars, that's a lot of money for a lot of people, but my situation is different from most 18-year-olds. I've got Vanderbilt to fall back on, it's one of the best baseball schools in the country and one of best schools for academics in the country. I believe going down there will be the best thing for me and my future. I've got three years there, I'll be playing in the SEC and against some of the best players in the country, weekend in and weekend out."

Beede leaves for Nashville on Friday, and moves into his dormitory on Saturday. He confirmed that he hasn't been in any summer classes, instead opting to work out with his long-time strength trainer Eric Cressey at his Hudson-based Cressey Performance facility.

Prior to the draft, Beede sent out a letter to every Major League scout in New England saying he is committed to the Commodores, and asked teams not to contact him. At the time, the move was viewed by some as a ploy to get him to fall to a particular team, though in hindsight that doesn't look to be the case. As for the high figure -- a figure he says he calculated with the aide of his grandfather, a retired insurance adjuster -- Beede says that was made clear early-on as well.

"I thought we made teams well aware, well before the draft," Beede said. "The letter I signed was serious. We really honored that commitment, Vanderbilt is opportunity that's very important to me, and something I'm taking seriously. It was going to take a lot to get me away from that education."

After leading his hometown Auburn High to a state title in 2009, Beede transferred to Lawrence Academy for his final two years of high school, where he drew up to 40 scouts at each of his starts this spring. On a historical perspective, he was often mentioned in the same breath as some of the Bay State's all-time greats, such as Tom Glavine, Jeff Allison and Jeff Reardon. Scouts raved about his three plus-pitches, including a fastball that touches 95 miles per hour, and labeled him as having big league potential in a few short years.

When he is eligible for the draft again in 2014, it's possible he could play himself into a top-ten selection. That, of course, is assuming he stays healthy.

"I know I'm going to get the questions, 'Do you think you're gonna get injured?', or 'Do you wanna be a first-rounder again?', I can tell you that's not in my head at all," Beede said. "I'm just trying to go down and win a World Series for coach [Tim] Corbin, those guys deserve it this year, that's what I'm thinking."
August, 16, 2011
8/16/11
12:45
AM ET
By
Brendan Hall
| ESPNBoston.com
The Toronto Blue Jays and their first-round draft pick, Lawrence Academy righthander Tyler Beede, let Monday night's deadline for signing picks pass, and the high school phenom will be honoring his commitment to Vanderbilt University.

Talks broke down over the asking price on Beede's signing bonus, which was considerably higher than the suggested $1.3 million for his slot. Beede said the club's final offer was $2.5 million, and that he didn't budge from the $3.5 million figure he was looking for.

Beede was the lone first-rounder not to sign.

The 6-foot-4 hard-throwing Auburn resident was taken 21st overall by the Jays last June, after a phenomenal senior season with the Spartans, posting an 8-0 record, 102 strikeouts in 51 innings and a 0.69 ERA, to earn ESPNBoston's inaugural "Mr. Baseball" award. He was the first high schooler from Massachusetts to go in the first round since Peabody High's Jeff Allison was taken 16th overall by the Marlins in 2003.
August, 15, 2011
8/15/11
1:05
PM ET
By
Brendan Hall
| ESPNBoston.com
Blue Jays fifth-round draft pick Andrew Chin, a Newton resident and recent graduate of Buckingham, Browne & Nichols School, will not sign with the club and instead honor his commitment to Boston College, he told ESPNBoston.com this morning.
The crafty lefthander
was one of the more surprising picks of the draft
, having shut it down just five innings into his senior season this spring at BB&N to have Tommy John surgery. Chin said he was offered a $275,000 bonus, along with tuition for BC.
"The money wasn't right," said Chin, who still has until midnight tonight to change his mind. "It wasn't a bad offer, but the amount I'd be giving up if I take the money would outweigh the benefits, so I figured why not just wait couple of years."
Chin, who had the surgery last May, also said he will begin light-tossing in three weeks.
June, 7, 2011
6/07/11
3:30
PM ET
The third and final day of the Major League Baseball Draft has concluded. Here's a rundown of which locals went where:
First Round (Monday)
11. Houston Astros, George Springer, OF, Connecticut (Avon Old Farms), New Britain, Conn.
19. Boston Red Sox,
Matt Barnes
, RHP, Connecticut (Bethel H.S.), Bethel, Conn.
21. Toronto Blue Jays,
Tyler Beede
, RHP, Lawrence Academy, Auburn, Mass.
Second Round (Tuesday)
63. Arizona Diamondbacks, Anthony Meo, RHP, Coastal Carolina (Cranston West H.S.), Cranston, R.I.
64. Baltimore Orioles,
Jason Esposito
, 3B, Vanderbilt (Amity H.S.), Bethany, Conn.
85. Atlanta Braves,
Nick Ahmed
, SS, Connecticut (East Longmeadow H.S.), East Longmeadow, Mass.
Third Round (Tuesday)
118. New York Yankees,
Jordan Cote
, RHP, Winnisquam Regional, Sanbornton, N.H.
Fifth Round (Tuesday)
162. New York Mets,
Jack Leathersich
, LHP, UMass-Lowell (Beverly H.S.), Beverly, Mass.
169. Toronto Blue Jays,
Andrew Chin
, LHP, BB&N, Newton, Mass.
Sixth Round (Tuesday)
182. Pittsburgh Pirates,
Dan Gamache
, 3B, Auburn (Bishop Hendricken H.S.), Exeter, R.I.
Tenth Round (Tuesday)
302. Pittsburgh Pirates, Taylor Lewis, CF, Maine (Montville H.S.), Montville, Conn.
303. Seattle Mariners, Dan Paolini, 2B, Siena (Bunnell H.S.) Stratford, Conn.
317. Detroit Tigers, Curt Casali, C, Vanderbilt (New Canaan H.S.) New Canaan, Conn.
Twelfth Round (Tuesday)
363. Seattle Mariners, Mike Dowd, C, Franklin Pierce (Cardinal Spellman H.S.), East Bridgewater, Mass.
Thirteenth Round (Tuesday)
394. Arizona Diamondbacks, John Pedrotty, LHP, Holy Cross (Portsmouth H.S.), Portsmouth, R.I.
Fifteenth Round (Tuesday)
463. Florida Marlins, Jhimoar Veras, RF, Western Oklahoma State Coll. (Methuen H.S.), Methuen, Mass.
Seventeenth Round (Tuesday)
519. Chicago Cubs, John Andreoli Jr., RF, Connecticut (St. John's of Shrewsbury), Shrewsbury, Mass.
Eighteenth Round (Tuesday)
553. Florida Marlins, Greg Nappo, LHP, Connecticut (Daniel Hand H.S.), Madison, Conn.
563. San Diego Padres, Mike Gallic, LF, Marist (Tolland H.S.), Tolland, Conn.
Twentieth Round (Tuesday)
610. Houston Astros, Matt Duffy, 3B, Tennessee (St. Sebastian's), Milton, Mass.
630. Tampa Bay Rays, Garrett Smith, SS, Boston College (St. John's of Shrewsbury), Sterling, Mass.
23rd Round (Tuesday)
700. Houston Astros, Ruben Sosa, 2B, Oklahoma City University (Lawrence H.S.), Lawrence, Mass.
702. New York Mets, Jeff Diehl, C, Cranston West H.S., Cranston, R.I.
715. Cincinnati Reds,
Sal Romano
, RHP, Southington H.S., Southington, Conn.
24th Round (Tuesday)
747. San Francisco Giants, Keith Bilodeau, RHP, Maine (Bourne H.S.), Bourne, Mass.
25th Round (Tuesday)
763. Florida Marlins, Sean Donatello, RHP, UConn-Avery Point (East Lyme H.S.), Salem, Conn.
780. Tampa Bay Rays, Brooks Belter, RHP, Occidental (The Gunnery Prep), Lakeville, Conn.
28th Round (Tuesday)
862. Boston Red Sox, Brenden Shepherd, RHP, Stonehill (Masconomet Regional) Boxford, Mass.
867. San Francisco Giants, Tyler Mizenko, RHP, Winthrop (Hamden Hall H.S.), Wallingford, Conn.
31st Round (Wednesday)
958. Minnesota Twins, Garrett Jewell, RHP, Southern New Hampshire (Newfound Regional), Alexandria, N.H.
32nd Round (Wednesday)
975. Los Angeles Angels, John Leonard, RHP, Boston College (Hanover H.S.), Hanover, Mass.
35th Round (Wednesday)
1076. Atlanta Braves, Mike Hashem, LHP, Fisher College (North Andover H.S.), North Andover, Mass.
1080. Tampa Bay Rays,
John Magliozzi
, RHP, Dexter School, Milton, Mass.
38th Round (Wednesday)
1163. San Diego Padres,
Pat Connaughton
, RHP, St. John's Prep, Arlington, Mass.
1169. New York Yankees, Joe Maher, RHP, Bedford H.S., Bedford, N.H.
39th Round (Wednesday)
1192. Boston Red Sox, Corey Vogt, RHP, Keene State (Suffield H.S.), Suffield, Conn.
40th Round (Wednesday)
1206. Kansas City Royals, Ben Waldrip, 1B, Jacksonville State (Medford H.S.), Medford, Mass.
42nd Round (Wednesday)
1269. Chicago Cubs, Brad Zapenas, SS, Boston College (Nashua North H.S.), Nashua, N.H.
1290. Tampa Bay Rays, Mike Bourdon, C, U. Tampa (Northwest Catholic H.S.), Simsbury, Conn.
43rd Round (Wednesday)
1303. Florida Marlins, Drew Leenhouts, LHP, Northeastern (Franklin H.S.), Franklin, Mass.
1310. St. Louis Cardinals, Chris Costantino, RHP, Walters State CC (Bishop Hendricken H.S.), Lincoln, R.I.
44th Round (Wednesday)
1349. New York Yankees,
Adam Ravenelle
, RHP, Lincoln-Sudbury H.S., Sudbury, Mass.
45th Round (Wednesday)
1372. Boston Red Sox, Matt Gedman, 2B, UMass (Belmont Hill), Framingham, Mass.
1377. San Francisco Giants, Brian Maloney, LHP, Franklin Pierce (Brockton H.S.), Brockton, Mass.
46th Round (Wednesday)
1389. Chicago Cubs, Scott Weismann, RHP, Clemson (Acton-Boxborough H.S.), Boxborough, Mass.
48th Round (Wednesday)
1443. Seattle Mariners, Max Krakowiak, RHP, Fordham (Staples H.S.), Westport, Conn.
1448. Cleveland Indians, Blaine O'Brien, RHP, Keystone College (Scituate H.S.), Scituate, Mass.
50th Round (Wednesday)
1522. Boston Red Sox,
John Gorman
, RHP, Catholic Memorial, Norwood, Mass.
June, 7, 2011
6/07/11
2:55
PM ET
By
Brendan Hall
| ESPNBoston.com
The work ethic, talent and projectability on BB&N lefty Andrew Chin has never been in question. But when the 6-foot-1, Boston College-bound senior shut it down for the spring after five innings, and underwent Tommy John surgery last month, his stock would have presumably slumped.
A few eyebrows were raised as the Newton resident taken in the fifth round (169th overall) by the Blue Jays. Chin was not paying attention to the draft; as irony would have it, he was just coming out of rehabilitation at Mass. General Hospital when he got the call from regional scout Mike Pesce informing him of the pick.
"It feels actually surprising more than anything. I didn't see this coming," Chin said. "You know, this has been my goal since I was four years old, I've always been dreaming of this moment happening, but I didn't expect it to come at this time because I haven't been pitching. I guess it just shows all the hard work and dedication I put in, all of the offseason training and working before and after practices, I guess all of that led up to this moment."
When healthy, the 6-foot-1, Boston College-bound lefty is know for his deceiving repertoire similar to Chien-Ming Wang's, sinking hitters with off-speed movement. Unfortunately, it'll be at least another three months before he even starts light tossing.
Heading into the spring,
an American League scout gave me the following scouting report
:

"Chin might be the most complete pitcher at this point. Maybe he's not the same type of thrower or class as these other guys -- he tends to be in the upper 80's with his fastball, good in and out, good with the changeup -- but he understands the craft and is willing to work at it. He's a classic left-hander with good feel for how to set hitters up."
Chin is friends off the field with the Jays' first round pick, Tyler Beede of Lawrence Academy, and sent him a congratulatory text message last night after his selection.
"He's probably been bombarded with phone calls," Chin said of Beede. "I'm not expecting a quick response. What I'm feeling, he probably felt probably multiplied by 100, but we haven't had a chance to talk."
June, 7, 2011
6/07/11
1:19
AM ET
By
Brendan Hall
| ESPNBoston.com
HUDSON, Mass. -- One hundred and twenty some-odd faces, old and young, huddled around the 50-inch flatscreen television in the living room of Eric Cressey's house, as his most sought-after high school client sat patiently waiting for his name to be called on the MLB Network's live first round draft telecast.
For years, Tyler Beede honed his craft just a stone's throw from this house in the woody east side of Hudson, at Cressey's renowned training facility, a spacious warehouse-like setting known for developing dozens of minor leaguers and top high school prospects. And now, the Lawrence Academy righthander and Auburn native was seeing the fruits of those vicious training sessions in high-def.
The house went pin-drop silent as the Red Sox announced their selection at No. 19, Matt Barnes from Bethel, Conn. And there was a split-second build-up followed by a chorus of loud sighs as MLB Commissioner Bud Selig went to the podium to announce the Rockies' selection at No. 20: "Tyler...Anderson".
As they waited for the next pick, the show's hosts began talking about this first round as the "year of the pitcher", and Beede's father, Walter, couldn't help but shout his approval from across the room.
"That's right, year of the pitcher, run 'em off the board, baby!" he yelled.
Seconds later, his wishes were granted. The Toronto Blue Jays took young Tyler at No. 21, the crowd broke into euphoria, and father and son embraced in a bear hug as Tyler Beede became the first Massachusetts high schooler since 2003 to get selected in the first round.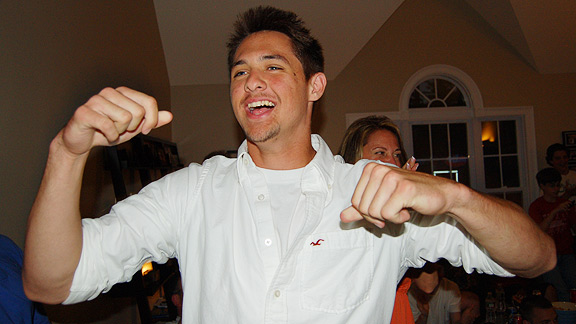 Brendan Hall for ESPN.comLawrence Academy's Tyler Beede was overjoyed to go to the Blue Jays at No. 21 in in the MLB draft.
Mock drafts by various analysts and scouting services had Beede going anywhere from as high as No. 24 overall to the sandwich round in tonight's action, but this pick wasn't a total shock. The Blue Jays and the Rangers had been the two most proactive teams in terms of depth when scouting Beede, while the Red Sox -- who had been to every one of the local boy's games this spring -- were considered to be interested in taking him with their pick at No. 26.
"We knew the Blue Jays were a big possibility drafting us," Beede said. "We knew the odds were higher than most of the other teams before that. There was a lot of communication over the spring, leading up to the draft, so we were holding our breaths as they came to the podium to call my name."
Walter, however, described his emotions hearing his son's name called as "utter surprise...total shock". In his eyes, Toronto did its due diligence very much so, but not with an indication of where they regarded his son on the draft board.
"To be honest with you, the last dialogue we had with the Blue Jays was the day of his [last] game, which was May 25th," he said. "We haven't talked after that at all, not even one sentence, since the 25th. They had a lot of guys there that day, they had six or seven guys that day, but since that time they've been on radio silence. We haven't heard from them."
And now, for the big question. Will the 6-foot-4 fireballer be honoring his commitment to Vanderbilt, or will he chase what could be a seven-figure signing bonus?
"Tonight's not really a decision night," Beede said. "Tonight's a night to enjoy with family and friends, a dream that's come true. I'll make the decision later on in the summer, but for now I'm just enjoying the time. It's going to be a hard decision either way."
Walter said the Vanderbilt commitment is "not something to be taken lightly", and that the family will start discussing a decision at the end of the week, once Tyler's graduation party is over.
Various media outlets, including ESPN, have speculated that in what could be the final year without a rookie wage scale, Beede could demand top-10 money. Walter said that there has been no discussion about any sort of pricetag with major league teams.
"Those things tend to take on a life of their own," he said. "Based on, you know, one guy from Texas says he wants 30 million, another guy says he wants 20 million. So then by law of averages, OK, if this guy wants 30, another guy wants 20, and if Tyler's as good as that guy then maybe he must want this [certain amount].
"That's not been discussed by anybody, it's not something that we've discussed with any major league team. More importantly, it hasn't been discussed with Tyler. This is ultimately Tyler's decision, this is his life. His mother and I, his brother, they're not the ones playing baseball. He's the one that's playing baseball. And I know he has a tremendous respect for [Vanderbilt] Coach [Tim] Corbin, he's known Tyler since the eighth grade. So we'll really have to weigh this heavily during the next two months. I don't anticipate it being anything quick."
Once the selection had been made, Beede's phone blew up with congratulatory calls, the television quickly switched to the Bruins' Stanley Cup Final with Vancouver, and the crowd dispersed into Cressey's backyard where two cakes sat on a round table. One was for Beede, and one was for Lincoln-Sudbury's Adam Ravenelle, a close friend who is expected to be selected on day two of the draft. Ravenelle and L-S assistant coach Matt Blake arrived on the scene fresh from a Division 1 North quarterfinal victory over St. John's Prep.
Then, it was time to make the rounds with reporters, all the while taking calls from friends, teammates, family members and various figures in the Blue Jays front office. He then made his way back into the living room, where an ESPN Boston reporter waited to put him in front of the camera.
Just before Beede's older brother Kyle was about to hit record, Walter tossed his phone across the room to Tyler.
The camera would have to wait for one moment. Roberto Alomar was on the other line.