Boston High School:

Trevor Castrichini
October, 25, 2011
10/25/11
1:45
AM ET
UNEQUAL AT 11 ON 11
It might be even in man power, but Everett's receivers feel they're always at an advantage.
"There's 11 men on both sides, but they can't cover all of us," junior wideout Jalen Felix said after the Crimson Tide's 35-21 win over BC High on Saturday.
Felix had a coming out party as a legitimate big play receiver an Everett touchdown drive in the second quarter. On that drive, Felix made an other-wordly one-handed grab laying on his back with a BC High defender in his back pocket.
Still, the Everett offense isn't a one-man show. Kenny Calaj, Jakarrie Washington and Jaylen McRae all bring different elements to the Crimson Tide passing attack. Not to mention, Vondell Langston is running out of his mind of late (two straight 100-plus yard games).
"If I make a good play, it's because of my teammates," Felix said. "It's not because of me., it's because they did their jobs that I had the opportunity to do mine and vice versa."
ALL EYES OUT WEST
Springfield's Blunt Park bustled with activity on Monday afternoon. Two junior varsity football game were ongoing, the were a soccer game being played at Springfield Central HIgh in the distance, cheerleading practice, along with that of both Central and Springfield Putnam's varsity football practice.
There you could find two of the elite rushers in Massachusetts this year, practicing within about a football field's distance from each other.
Melquawn Pinkney has garnered plenty of headlines with his multiple 300-plus yard games as a legitimate Mr. Football Award contender.
But, last weekend, it was Central's Sacoy Malone who stole the show in another record-setting performance.
Malone fell one touchdown shy of a Western Mass. record with a school-record seven-touchdown performance against Northampton to go along with 301 yards on the ground.
It's just another in the long line of weighty accomplishments compiled by the best the Springfield area has to offer.
"I think the me, Melquawn [Pinkney] and T.J. [Norris of Longmeadow] and what we've done this year, we're out to show that there is talent actually out here," Malone said during an interview for ESPN Boston's Player of the Week segment.
"Hopefully, we show that there's a possibility that you can make it to play in college coming from here."
So far, Malone has college offers from Fordham along with Central Connecticut State. Something tells us there might be more to come.
NEEDHAM SETTING NEW CHARTER
With star quarterback Drew Burnett (broken ankle) done for the year, Needham head coach David Duffy told the media early last week that he would likely use a rotation of three kids under center to fill the role in last Friday's pivotal matchup with Walpole.
Few could have expected a sophomore by the name of Ryan Charter to make such an impact on such a crucial Bay State Conference tilt, albeit on less than a half-hour's notice.
"Honestly, I found out (that I would start about) 20 minutes before the game," Charter told ESPNBoston correspondent following the Rockets' 31-22 win. "A couple kids were telling me, 'You're going to get in the game.' I was, like, 'Alright, that's all I need.' But I didn't know until today."
The numbers Charter put up in his debut (5 of 10 passing, 222 yards, 2 TD) suggests that the X-factor with this Rockets squad falls upon two Rileys.
Mark Riley had touchdown catches of 67 and 74 yards to pace the Rockets early, and showed once again why he is one of the state's premier pass-catching tight ends. Armed with a lacrosse skill set and an athletic frame, the senior takes on an Aaron Hernandez-like role with the team – that is, a tight end by nature, but one that lines up all over the field to create mismatches. Ian Riley, meanwhile, went over the century mark again as the team's primary weapon out of the backfield.
Coupled with guys like Nico Panepinto, Mike Vespa and Dan Pierce, that's a vicious group to deal with.
CONCORD-CARLISLE IS OFFICIALLY A WAGON
Like probably a lot of you, we raised our eyebrows at the final of Concord-Carlisle's vicious romp of Westford two weeks ago: 61-14, and with relative ease. Tyquan Culbreath kicked things off with two long touchdowns on his first three carries, part of a combined 336-yard effort between himself, Tim Badgley and midseason All-State selection George Craan.
But as the old saying goes, you never look as good in your best win, and as bad in your worst loss (or something like that). But we couldn't help but rush to judgment this week, given the Patriots' historic win over long-time Dual County League powerhouse Acton-Boxborough. C-C knocked off A-B in convincing fashion, 35-12, for its first win over the Colonials since 1987.
Patriots head coach Mike Robichaud admits the offense has been ahead of the defense in many games this year -- and the score sheet (39.1 points per game) undoubtedly reflects that. But not to forgotten is the precision of the offensive line and the swarming style of play the defense has demonstrated.
Robichaud and his staff gush about the skills of center Andrew Vander Wilden, an ESPN Boston midseason All-State selection and a horse at 6-foot, 245 pounds. Combined with Tom Gregory, Thomas Kleyn, Trevor Castrichini, and Owen Guattaduaro, the Patriots boast an offensive line on par with some of the state's other top units like Everett, Duxbury, BC High or Auburn. Add 6-foot-6 tight end Henry Bumpus into the mix, and that's quite a chore.
"Henry Bumpus is one of the best blocking tight ends I have ever seen at the high school level," Robichaud told correspondent Ryan Kilian following the A-B win. "He has been doing this for us for three years now. On defense teams cannot run at him at this point. He just does a great job and plays the entire game for us."
Defensively, Bumpus makes his impact felt at the defensive end position, and has been a load to handle.
"I was really proud of our defense," Bumpus told Kilian. "That is a very good offensive football team and we did a good job stepping up tonight. On offense we have five of six returners back on the line and we are really focused on getting back to where we were last year. We are blocking well right now and the backs are hitting the holes well so it is all coming together for us."
IS THE CATHOLIC CONFERENCE WIDE OPEN NOW?
That's the question on everyone's mind in the wake of a devastating season-ending ankle injury to BC High's Preston Cooper -- a Darren Sproles-like fixture for the No. 5 Eagles, the reigning Catholic Conference MVP, an ESPNBoston Mr. Football candidate, and arguably the state's top prospect at tailback.
Nobody will argue the Eagles have one of the state's most competitive schedules in arguably the state's toughest conference. There isn't a bad loss on the schedule, including the New Jersey teams, and there isn't a poor win. And personally, we feel Deontae Ramey-Doe is a more than suitable backup, should the Eagles go that route -- his upright running style, while a change of pace from the low-moving Cooper, has an air of deception to it.
But there's four teams with a shot here. Xaverian, with competitive losses to each of our Top 3 teams, has too good of a coaching staff and defensive line not to throw some haymakers in conference place. Catholic Memorial is showing signs of life, and has to be encouraged by A.J. Doyle's four touchdown passes and 200-plus yards last week.
The wild card in all of this is St. John's Prep. With a green line, quarterback change and an offense that sputtered out of the gates, many had written off the Prep as a team in rebuilding mode. But the emergence of sophomore Jonathan Thomas the last two weeks has some giving second thoughts, especially after putting up 41 points on St. John's of Shrewsbury two weeks ago.
This could be one of more exciting races for conference supremacy, and it all starts Friday when the Prep takes a visit to Catholic Memorial. Get your popcorn ready.
THE BEST QUARTERBACK NOBODY'S TALKING ABOUT
Write this name down: Greg Heineman.
Quietly, the Minnechaug senior is putting together one of the state's finer seasons for a signal-caller. While he didn't register a touchdown pass in last week's 21-14 win over Westfield, he finished up with 347 yards on 26 of 37 passing.
Through seven games for the 7-0 Falcons, who come in at No. 22 this week in our statewide MIAA poll, Heineman is completing nearly 62 percent of his passes for 1,742 yards and 15 touchdowns to just four interceptions (our friends at MassLive have his
stats tracked here
). Seven different Falcons players have caught a touchdown pass, which suggests Heineman demonstrates good reads and hits the open man.
October, 20, 2011
10/20/11
11:13
AM ET
By
Ryan Kilian
| ESPNBoston.com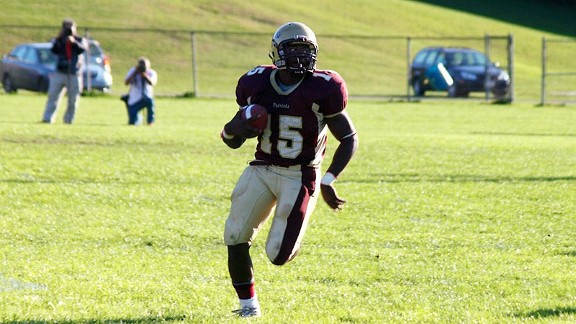 Ryan Kilian for ESPNBoston.comSenior running back George Craan (700 rushing yards, 11 TDs) has No. 8 Concord-Carlisle off to a 6-0 start and averaging 39.8 points per game.
CONCORD, Mass. -- Concord-Carlisle senior running back George Craan has been on a mission ever since losing in the Division 2A Super Bowl last season to Duxbury at Gillette Stadium.
Craan has put on 20 pounds since last season (up to 210) to go along with his 4.5 speed in the 40-yard dash. He is also determined as ever to lead his team to a Super Bowl victory, albeit taking each week "one game at a time".
The returning Dual County League Small Offensive Player of the Year has run for nearly 700 yards and 11 touchdowns this season through the first six games of the season for the No. 8 Patriots (6-0). Craan, who ran for 1,914 yards and 24 touchdowns last season, has shared carries in a talented and balanced backfield along with senior Tyquan Culbreath and junior Tim Badgley.
Craan and the Patriots have outscored their opponents by a score of 239-56 to date, with the majority of the scoring coming before the halftime whistle has blown.
The Patriots face their biggest test to date this Friday when they host Acton-Boxborough. The Colonials (4-2) have had the better of Concord-Carlisle for past 30-plus year,s as C-C has not defeated A-B since 1987. Both teams played to a tie in 1992, and despite many close games over the recent years, A-B has maintained their dominance. In last year's game, A-B defeated C-C, 14-7, at Leary Field in Acton.
We caught up with Craan this week to discuss the season and the big game Friday night in Concord.
Q: Can you talk a little about the 6-0 start of the season?
A:
"It has been a total team effort as we have taken each game week to week. Our running backs, offensive line, and defense have all prepared hard each week. The coaching staff has prepared us well and pushed us each week and that has been a big factor. Practices have been competitive and the completion at each practice has made us all better."
Q: With the balanced attack you guys have this year and the big scores that you have put up it has resulted in less carries than last season. Can you talk about how you feel physically at the mid-point in the season?
A:
"I am feeling fresh. I have been working hard when I get the ball and working hard when I don't have the ball. Whether I am called on to block or carry out a fake I make sure to go 110 percent. The other backs have been ready and the line has been ready and it has made teams have to focus on all of us."
Q: Your offensive line has played great this year. What are your thoughts on the unsung group in front of you?
A:
"Our line is tremendous. They are big, athletic and they go out to get people. Center Andrew VanderWilden is the anchor. He is a senior and has put in a lot of work in the offseason to get better. Tom Gregory, Thomas Kleyn, Trevor Castrichini, and Owen Guattaduaro have all stepped up as seniors. They have executed, focused and not quit on any play. They make us running backs look good when they do their job."
Q: You put on some good weight heading into your senior season bulking up to 210 lbs. What was your off-season conditioning like?
A:
"During the winter season I trained indoors at Katz Training at Acton indoor. I trained intensely for about four hours a day after school. Along with Katz this summer, I also did a lot of track work every day and a lot of football specific workouts. The training has a done a great job preparing me as I feel a lot stronger more mature and have gained a lot from the work."
Q: You guys have done a great job coming out early in games and getting up early. On teams Can you talk about your execution early in some of your wins?
A:
"Before the game Coach Robichaud gives us a pre-game talk that gets us fired up and we get ourselves fired up. We want to come out on the field, make that first hit or make that first play from the opening kickoff. We want to set the tone."
Q: Acton-Boxborough is coming up this Friday. They have had a lot of success against Concord-Carlisle over the years. Can you talk about A-B and the games you have been in over the last few years with them?
A:
"This has been a game I have wanted to win since freshman year. They beat us as freshman on freshman football by one point, my sophomore year we lost by a point and last year we lost by a touchdown. It has been frustrating and we will be prepared for Friday night. They will be ready and we will be ready."
Q: What has the preparation been like for this week's game with A-B?
A:
"We have treated it like every other game where we have been going hard all week. Nothing has really been different but we know that this game will be intense and we will be prepared."
Q: What are your thoughts on schools for next year?
A:
"I am focusing on high school right now. I want to make sure my grades keep improving and that I continue to do well. Coach has been talking to a bunch of coaches but I am not sure yet on plans. I want to keep focusing on my school work and doors will open up."
Q: What are your favorite subjects in school?
A:
"I enjoy English and Math. I like the challenge in Math of problem solving. It is sort of like the football field where you have to do a lot of repetitions to get it right."
Q: What do you like to do off the field and outside of school?
A:
"I like to eat and I like to hang out with my friends."
Q: What does the typical pre-game meal consist of?
A:
"We always get together as a team. We go to VanderWilden's house and usually get a pasta and meatballs going with a Gatorade."
October, 7, 2011
10/07/11
12:09
AM ET
By
Ryan Kilian
| ESPNBoston.com
CONCORD, Mass. -- Concord-Carlisle scored early and often on its way to a convincing 35-7 win over Boston Latin on Thursday afternoon. The win moved C-C (5-0, 1-0) into an early first place lead in the Dual County League Small, as Boston Latin fell to 3-2, 0-2.

C-C led 35-0 at the half, with each of their five first half touchdowns coming by way of the "big play". The Patriots struck first early in the opening quarter as senior quarterback Ryan Hoey found classmate Jackson Finigan on a 47-yard touchdown strike.

"That was all (Ryan) Hoey," said Finigan. "We actually had a run play called but Ryan checked to the fade and threw a perfect ball that I caught and it was all grass from there on."

Hoey looked sharp all day controlling the C-C offense, and has been a steadying factor in his first year under center for the Patriots.

"Offensively we did a good job," said Concord-Carlisle head coach Mike Robichaud. "We talked about the trenches and the edges and I think we did a good job there. We have some running backs that can make things happen if we get to the second level so we were pleased with that."

C-C star running back George Craan scored the next two touchdowns on long runs of 71 and 55 yards respectively. The senior totaled 156 yards on the day, on only five carries

Junior tailback Tim Badgley got into the scoring action as well, with a 65-yard burst through the middle of the Boston Latin defense midway through the second quarter.

Senior tailback Tyquan Culbreath concluded the first half scoring barrage with a 44-yard scamper through the Wolfpack defense.

C-C has come out of the locker room the last two games and put their opponents away early with big opening first halves.

"It is a credit to these captains and a credit to these seniors," said C-C head coach Mike Robichaud of his team's early game execution and focus. "They take a lot of pride in coming out and being real good on first downs and early in the game."

Boston Latin's lone score on the afternoon came with 2:59 remaining in the third quarter, as junior Mike Surdek plunged in from two yards out to break up the shutout.

Latin was also playing without injured junior quarterback Miles Wright who was present on the sidelines sporting a hard cast on his right arm. Junior Cal Cahill took the snaps for the Wolfpack on the day.

Huge holes: "The offensive line are all big fast guys," said Craan. "They do a good job conditioning and at practice and the coaching staff does a great job preparing them."

The C-C veteran offensive line led by seniors Andrew vanderWilden, Trevor Castrichini, Owen Guattaduaro, Tom Gregory and Thomas Kleyn opened up some monster holes for the C-C running backs to run through.

"The offensive line did a great job," said Robichaud. "It is a senior group and these guys have played with each other in some tight situations."

Seniors step up: The C-C senior class has experienced success having advanced to the post season the past two years including a Division 2A Super Bowl appearance last season where they lost to Duxbury 35-13 at Gillette Stadium.

Whether it was captain Henry Bumpus' big fourth down sack in the first half or the aggressive pursuit tackling of defensive backs Tyler Koning, Anthony West and linebacker Kleyn the C-C defense was up to the task.

"Our defense is led by a strong senior group," said Finigan. "We have a bunch of hard hitting kids and we are doing a good job stopping the run and pass and whatever is called."

Hoey, Finigan, Craan, Culbreath and the veteran offense line all led the way for the offense.

Finigan factors in: Finigan was all over the field for C-C. The senior caught a touchdown, returned punts, threw some key blocks to spring the running backs and was a big factor in containing the edge from his defensive back position.

"Probably the guy that is most unsung in our running game is Jackson Finigan," said Robichaud. "He does a tremendous job of making blocks downfield. When you have good backs half our touchdowns are because Jackson has gotten on someone down field and what was a 30-yard run becomes a 50-yard touchdown. We don't throw the ball a whole lot but he has just been huge for us the past three years."

CONCORD-CARLISLE 35, BOSTON LATIN 7

CC (5-0) --- 14 21 0 0 - 35
BL (3-2) --- 0 0 7 0 - 7

First Quarter
C – Jackson Finigan 47 pass from Ryan Hoey (kick failed)
C – George Craan 71 run (Craan run)

Second Quarter
C – Craan 55 run (Evan Boynton kick)
C – Tim Badgley 65-yard run (Boynton kick)
C – Tyquan Culbreath 44-yard run (Boynton kick)

Fourth Quarter
B – Mike Surdek 2-yard run (Jake Hardy kick)
August, 26, 2011
8/26/11
4:13
PM ET
CONCORD, Mass. -- Things are on the rise with Concord-Carlisle football.

A few years ago, a young Patriots team took their lumps. But those learning experiences translated into a historic season in 2010, when C-C made its first Super Bowl appearance since 1978. Although the Patriots fell short of their ultimate goal, taking a thumping at the hands of Duxbury, 35-13, C-C is reloaded for 2011 with 14 starters returning from the squad that walked off the Gillette Stadium field.

"In the offseason, guys were really working hard," C-C head coach Mike Robichaud said. "I think it's a pretty dutiful and a focused group. It starts with our three senior captains, too. They're good kids, they're good students and they're good players. I think it's a group that still feels that there's something to prove. I don't think they're about to put the cart before the horse."

The commitment to finishing off what they started last season has been enforced by the Patriots' three senior captains -- Henry Bumpus, George Craan and Thomas Kleyn.

Craan, for one, committed himself to an extensive offseason training program that should scare DCL Small defenders from Arlington to Weston. The running back has put on an additional 15 pounds to his 5-foot, 11-inch frame and plans to play at around 210 pounds.

"I want to top last year," said Craan, who led all of Division 2A with 24 touchdowns in 2010. "Last year's in the past, it's history. But I just want to have a better year. I'm bigger, faster … Hopefully, that'll help."

The Metco student from Boston spent his offseason working out with his C-C teammates, bulking up and looking to improve on his 1,914-yard performance last year. A lofty goal, certainly, but Craan's also hoping to alter his running style some.

"He was more of a buzz downfield type of runner," Robichaud said, "but now he wants to run some people over this year and take it up to the next level."

Not only has Craan upped his focus, he will be running behind an experienced line. Six-foot, 245-pound center Andrew VanderWilden is the catalyst for the line that also returns Trevor Castrichini, Tom Gregory, Owen Guttaduaro and Kleyn, in addition to Bumpus at tight end.

"Our linemen are fast," said Craan, who has received interest from BC and UConn in addition to a host of FCS schools, "we don't have any fat, slow guys. We have linemen who can get out and move. We have big, experienced, smart, fast guys. And they're aggressive."

All that's left is to get out on the field and do it, although that sometimes can be a problem for the excitable Craan, who's known around C-C as much for his chronic forgetfulness as his highlight-reel runs.

"He's a ready-fire-aim-type guy sometimes," said Robichaud, laughing about Craan's absent-mindedness. "But, in all seriousness, he's a terrific kid and some of his forgetfulness is really kind of endearing. He's such an excited, enthusiastic kid that sometimes, literally, he'll forget where his helmet is on the way out to practice."

Rest assured, he'll be ready for the Patriots' opening challenge against Beverly, the defending Division 3 Super Bowl champions.

"We just have to do it out on the field," Craan said.

CONCORD-CARLISLE AT A GLANCE
Coach: Mike Robichaud (3rd season, 18-7)
Last Year: 10-3 (Lost to Duxbury in Division 2A Super Bowl)
Key Returnees: George Craan, Sr. RB/DB, 5-11, 210; Henry Bumpus, Sr. TE/DE, 6-6, 200; Andrew VanderWilden, Sr. C/DL, 6-0, 245; Thomas Kleyn, Sr. OL/ILB, 5-10, 200; Evan Boynton, Sr. E/OLB, 6-0, 175; Jackson Finigan, Sr. SE/DB, 6-1, 175.
Strengths: Running game, run defensed.
Weaknesses: Passing game, pass defense.
Outlook: Robichaud is straight forward when assessing the Patriots' strengths and weaknesses. And they would be apparent to anybody who watched C-C in last year's D2A Super Bowl against Duxbury. While the Patriots were able to move the ball on the ground with Craan, they were simply overmatched defensively by the Dragons' sophisticated aerial attack. This year, Robichaud said his staff has taken upon themselves to mix things up on offense and make sure their responsibilities are covered against the pass. "It's up to me to make sure that we're addressing those things during the week," Robichaud said. "I'm a little more conservative by nature, so I have to have a little bit more trust in our guys that we can go to the pass in some situations that we haven't in the past." Don't be surprised even to see Craan flexed out of the backfield in some passing situations. Senior Ryan Hoey goes under center, taking over for Peter George. The Patriots will again be strong in the trenches with nose tackle Jack Donovan returning. Bumpus is primed to have a huge season at defensive end after hanging some extra weight on his 6-6 frame. Fellow tri-captain, Kleyn, is the defensive quarterback at inside linebacker. "We want to take pride in the fact that we won our league and won a playoff game for the first time in a long time," Robichaud said. "But we want to get back to that place."