Boston High School:

Trevor O'Brien
June, 11, 2014
Jun 11
1:32
AM ET
By
Phil Garceau
| ESPNBoston.com


ALLSTON, Mass. – It was no secret that goals would be at a premium in the Div. 1 South Sectional final between Duxbury and Xaverian, pitting two top-notch defenses against each other. But Dragons goaltender Nick Marrocco took it to a whole new level Tuesday afternoon at Harvard Stadium, proving to be impenetrable over the final 33:24 leading Duxbury to a 6-2 win over the reigning Div. 1 champs.

"He's the most important part of our team," attacker Trevor O'Brien said of his goalie. "We wouldn't have been able to come back if it weren't for him, they would have been up 5-0 in the first quarter. He made the key saves and we got our energy back and we started rolling on offense."

After a pair of beautiful saves from Hawks goalie Mike Toomey kept the Dragons off the board early in the first quarter, Marrocco responded on the other end with back-to-back saves, setting the tone for the remainder of the afternoon.

The Dragons offense sputtered out of the gate, and conceded the first two goals of the game to the Hawks. Sean Sperzel scored the only goal of the first quarter and a rifle from Jack Wheeler gave Xaverian a 2-0 lead with 9:24 left in the opening half.

Harrison Piper sliced the deficit in half with less than three minutes to go in the quarter, igniting the Dragon crowd as well as their offense.

Roaring to life: When Duxbury took the field in the second half, their offense quickly stepped up to the plate. Just 55 seconds into the quarter, Brendan Burke slipped between a pair of Xaverian defenders to get the equalizer.

With the game knotted at two, Duxbury took advantage of a sloppy Xaverian transition game. O'Brien took over on the offensive end, scoring the games next three goals opening up a 5-2 Duxbury lead.

"We just tweaked it a little bit it was very minor but it made a difference and that with a little more energy in the first half," Duxbury coach Chris Sweet said of his second half offense.

With a comfortable three-goal lead and momentum on their side Marrocco made sure to keep that momentum with a career highlight-reel save. Marrocco misplayed a ball behind the net, which was quickly fed to Sperzel in front of the cage. Marrocco dived to make the save, knocked the ball out of the air and keeping the Hawks off the board.

"I lost it out back, so I knew I had to get there quick," Marrocco said. "I just tried to get my body in front of it and follow his stick and came up with it. It was definitely a momentum swing for us."

Wes Quinzani added a fourth-quarter goal to give the Dragons a four-goal lead and with the Dragon defensive unit that was locked-in, shut down the Hawks the rest of the way.

"We came out with a lot of passion in the third quarter and we went on a little run," said Sweet. "This year we don't need as big of a run because our defense is that good and we are comfortable playing with a small lead."

Shutdown defense: With the Dragon offense struggling to find any rhythm in the opening 24 minutes, it was imperative that Duxbury got good play from their defensive unit.

And just like they have all season long, that unit stepped up to the plate.

"They've been doing it all season but they took it up a notch and took it to a new level," Sweet said of his defense. "In this game to hold a team like Xaverian that's that explosive to two goals, I would've thought we needed more than six goals to win the game."

Back to the finals: Since last season's early exit in the first round to BC High, Duxbury made it their only goal to make it to Boston University for the state championship game this year

Living up to all the hype surrounding their team this year, the Dragons succeeded in that goal with the win and will face Acton-Boxboro on Saturday.

"Its been weighting heavy on this group from a year ago so it's a goal we set to achieve this goal," Sweet said. "It was a huge motivating factor and we're back there now we need to make the most of it."

Marrocco added: "It's incredible to be back here. We wanted to be here last year and we want to start a new tradition here at BU so were looking to get that win."
May, 8, 2014
May 8
1:14
AM ET
DUXBURY, Mass. – As Lincoln-Sudbury boys' lacrosse team kneeled around the crease for a postgame breakdown, with their head coach Brian Vona in goal, they were reminded on what they'd just accomplished. The Warriors' win Wednesday at No. 1 Duxbury was more than just a victory over the perceived best team in the state this year.
This one was for all that had come before.
[+] Enlarge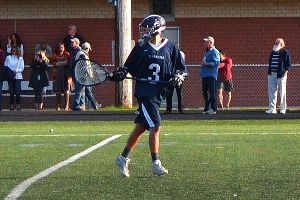 Scott Barboza/ESPNBoston.comLincoln-Sudbury senior goaltender Jack McCready made 11 saves en route to a 9-7 win over rival Duxbury.
They were reminded of all the previous great L-S teams who – despite their best efforts – could never do one thing – beat the Dragons. The Warriors did just that, 9-7, but not reflected in the sizeable crowd that gathered for Massachusetts' premiere public school rivalry was all who were with them in thought.
"There were hundreds of alumni, sending us texts, emails, reminding us about how important this game is," said senior long-stick midfielder John Sexton, a four-year letterman, "how many careers have ended on this field, right here."
The regular-season meeting between L-S and Duxbury last year was a quadruple-overtime classic, with the Dragons extending their all-time winning streak over the Warriors and Tyler Powers providing the game-winner in an 8-7 decision.
This year's duel took on the same intensity from the opening faceoff with a frenetic first quarter when L-S (10-3) took a 5-4 lead with one second remaining on a goal by Eric Holden. The Warriors and Dragons (10-3) went tit-for-tat in the second, with L-S taking a 7-6 lead into the half.
Despite holding the lead, L-S was frustrated by Dragons goaltender Nick Marrocco, who made four of his eight saves during the second quarter.
"He's an awesome goaltender, and I'll tell you, he broke our spirit a couple times with some of those saves," Vona said.
Sloppy play held back Duxbury in the second half, as the Dragons committed nine giveaways in the final two quarters. Yet, the Warriors' stifling defense also had a significant while holding Duxbury off the scoreboard in the third quarter.
"They were doing great in transition, so we were trying to limit their opportunities in transition," Sexton said. "We were feeling very confident with Jack [McCready] in net behind us and our defense was really working hard for each other out there."
Sexton scored the lone goal of the third to give L-S an 8-6 lead.
The Warriors amassed their biggest lead of the game with 5:08 remaining in the fourth, when junior attack Mike O'Connell netted his fourth goal of the game off a feed from Nick Brindisi (1 G, 2 A).
Duxbury countered with a goal by Trevor O'Brien at 4:40, assisted by his brother, Shayne (2 G, 2 A), but turnovers again came back to haunt the Dragons in their final two possessions.
"I think we really came together over the last couple weeks," said Sexton, reflecting on the Warriors' upset loss to North Andover at the Coaches Challenge Cup. "We have more confidence, we started getting better in practice, working harder."
'Third-string' no more:
Vona knew he had a robust defense in place entering the season, with trusted returning starters Matt Barker, Eamon Hunter and Sexton, among others. But the question was in goal where the job was left to senior Jack McCready. A third-string goalie for the Warriors last year, to say McCready was untested would be an understatement.
Following McCready's 11-save performance against the Dragons, L-S knows exactly what it has.
"He made saves today that I've never seen him make," Barker, a senior close defender, said of McCready. "When people would get beat, I'd turn around and boom – save. I was just mind-blown."
That has, in turn, instilled an added sense of security for what was already perhaps the state's best defensive units this season – a scary proposition in the final month of the regular season.
"We love having him behind us because we can play so much more freely," Sexton said.
Notable quotables:
When talking about his teammates' effort in the midfield, eliminating the Dragons' transition game in the second half, it was difficult for Sexton to contain his excitement
"Our midfielders were tracking their …," he said, then inserting a phrase which will be omitted to protect the innocent.
"Pardon me. They were getting back and … working hard."
Sexton's salty sentiment underscored a key component to the Warriors' victory, which had helped Duxbury to a 2-0 lead out of the chute on goals by Shayne O'Brien and Brendan Burke. L-S ground down the pace of the Dragons' transition play throughout the second half, as Duxbury continued to victimize itself with errant passes.
While the Dragons undoubtedly will come away from the matchup of perennial Division 1 championship contenders feeling as though they left some goals off the board, credit is also due to the Warriors' confidence in their own half of the field.
"Six-on-six, we had them today," Barker said.
April, 23, 2014
Apr 23
3:07
AM ET
WESTWOOD, Mass. – There are certain places in sport where anything less than a championship need not apply. Duxbury has achieved such a level of success in the recent decades that any season that isn't capped with hoisting a trophy results in feeling that something isn't quite right with the universe.

And, so, the Dragons met last year's state Division 1 champion and No. 1-ranked Xaverian, Thursday night, looking to reestablish a bit of order to the MIAA lacrosse cosmos.

Nearly from its get-go, the night belonged to Duxbury, as the Dragons never trailed in a 10-5 win.

As Duxbury (6-1) ran out to a 4-1 lead after the first quarter, goaltender Nick Marrocco made the Hawks' deficit look insurmountable, making five saves in the first period alone in a 10-save performance.

"It starts with Nick Marrocco," Dragons head coach Chris Sweet said of the Georgetown-bound goalie. "As long as we have Nick in the cage, we'll have a chance against anybody. You saw it, we have a really physical, tough defense. We're tough to score on."

Marrocco made four of his five first-period saves on Xaverian (5-1) man-up situations, as the game took on a physical tone from the opening faceoff. Fifteen minutes of penalties were assessed through the first half.

The Dragons were also opportunistic with their early man-up opportunities, with Trevor O'Brien scoring his first of two goals at 7:37 of the first, giving Duxbury a 2-0 lead. O'Brien also capped the first quarter scoring at 1:51, after a Tyler Powers (2 G) goal.

Despite controlling play in the first quarter, the Dragons were unable to pull away in the second quarter, with both teams struggling to find clean looks at the cage. Although Jack Wheeler (2 G) whittled the Dragons' lead to one with 9:57 to play in the half before Brendan Burke (2 G, 1 A) sent Duxbury to the half with a 5-2 lead.

"Early on, there were a couple difficult shots," Marrocco said. "Our D was strong and it's always good to get a couple shots early in the game."

After trading goals in the third period, Duxbury all but closed out the victory with a string of three straight goals by Shane Sullivan, Shayne O'Brien and Powers.

Horses run loose: Duxbury put its fleet-footed stable of attackmen and midfielders to good use, scoring four goals in transition, outpacing the Hawks with speed.

In fact, the Dragons nearly had another goal tacked on at the end of the first half, as Wes Quinzani, outraced a trio of Hawks defenders, while swinging around the goal for a shot in close. The goal was disallowed as Quinzani was ruled to be in the crease, but it was another striking example of perhaps greatest asset while possessing the ball.

"If anything, I have to settle them down in between quarters and in timeouts," Sweet said.

Done before it's over?: Sweet praised his goaltender for his efforts keeping the Dragons in the lead through the early going, putting his game-changing impact in perspective.

"Immediately in the first quarter, he gets in the shooters' heads, gets them guessing where he has to put it," Sweet said. "He gets them out of their game."
April, 16, 2014
Apr 16
1:09
AM ET
DUXBURY, Mass. – A swirling wind and – at times – a driving rain had both No. 3 Duxbury and No. 18 Cohasset out of sorts in Tuesday's cross-division battle of South Shore powers.

But the Dragons were just a bit crisper, going on a 7-0 run to earn a 9-5 win over the Skippers.

"The weather made it a little bit sloppy and tough to handle the ball, but in the end we had plenty of chances to increase our lead and just didn't seem to finish inside," Duxbury head coach Chris Sweet said. "But that'll come as the season goes on. We're still trying to put together a complete game."

The Dragons (5-1) surrendered the first goal, but ran off a string of seven straight goals, spanning into the third quarter. Although the Skippers (6-1) had a run of their own in the second half, whittling the lead down to three midway through the fourth quarter, Duxbury largely held them at arm's length behind a strong defensive effort and, all the while, winning the time of possession battle.

"You want to shorten the passes up, protect the ball," Sweet said of controlling the ball during inclement weather. "You're not thinking about going to the goal so much, just taking care of the ball and usually when you do that, especially in these conditions, defenses usually get a little impatient and make a mistake.

"Then, it becomes obvious when to go to the goal."

Despite their "impatience" with the ball, as Sweet termed it, the Dragons possessed for long stretches of the first half and took a 6-1 lead to the locker room. Brendan Burke paced Duxbury with three goals, while Trevor O'Brien and Wes Quinzani popped in two goals each.

The possession gap between teams was also a result of Dragons defensive effort however. Sweet lauded the trio of Hunter Marston, Victor Moitinho and Liam Strauss for keeping things clean out in front of goaltender Nick Marrocco.

"I love this defense," he said. "Our poles that are out there are all very athletic, they're fundamentally sound and they move the ball well on clears. They communicate well. And, now, they're playing great."

Tuesday's game marked just the second home game for the Dragons against MIAA competition, after hitting the road to take on some of New York's best (Pittsford, a 6-5 loss on April 5) and Connecticut state power Fairfield Prep in a 9-6 win on Saturday.

Meanwhile, the game marked a bit of aberration for the Skippers, who are considered to be among the favorites to win the Division 3 state title this year. Head coach James Beaudoin said Tuesday's was his team's sloppiest performance of the year. While he wasn't about to blame the weather for the Skippers' inability to hold onto the ball at times, Beaudoin found the time of possession disparity played a greater role in his team's first loss on the year.

Despite a pair of second-half goals from Danny Axelson, Cohasset was unable find rhythm in its offensive sets – at least not early enough in the afternoon.

"We were using some new offensive sets and getting the ball to the attack because they didn't have the ball for most of the game," Beaudoin said. "That was one of the keys was attacking their defense, but we weren't getting it into [the attack's] hands."

He added, "That was the frustration for us was that the middies were taking it down, they were gassed from playing defense and that one pass just wasn't crisp enough."
March, 22, 2014
Mar 22
11:56
PM ET
By
John McGuirk
| ESPNBoston.com
WORCESTER, Mass. -- Team members of Saturday's 5th annual Aleppo Shriners/Mass. State Hockey Coaches Association All-Star Classic show up knowing little about the strengths and weakness of their fellow linemates. Having not practiced together, the only thing to do is learn on the fly.

The South stars were the quick learners, as all of its lines meshed brilliantly en route to a one-sided 7-1 triumph at the DCU Center.

"You don't really see an all star game finish 7-1," said South and Braintree head coach David Fasano. "It's usually 8-7 or 9-8. But all of our goaltenders played great. We were putting lines together an hour before the game so to come out and move the puck around the way we did was pretty incredible. There was some very good play making out there. There is no system in place so to speak and the goaltenders know they are going to see a lot of shots so to their credit they made some great stops. The way our kids were moving the puck around they looked like they had been playing together for a very long time."

After racing out to a 4-1 lead after the first period, this game was never in doubt. Despite facing 43 shots, South's three goaltenders (St. John's of Shrewsbury's Mario Pizzeri, Framingham's Al Lynch and Brookline's Jake Paul) were outstanding between the pipes.

"We got an early goal on them and I think that sort of set the momentum for us," said Pizzeri, who will play at Assumption College next year. "This was certainly a fun way to go out and a great way to end my high school career."

Offensively, Marshfield forward David Cataldo led the attack as he found the back of net twice. His rebound goal coming at 6:46 of the opening period set the gears in motion for the South squad. Three minutes later, Braintree's Nick Ward made it a two-goal affair after taking a diagonal pass from Trevor O'Brien and beating Springfield Cathedral goaltender John Liquori low glove side.

Wachusett Regional's Marc Happy, taking a well-executed behind the net feed from Jim Currier, ripped a one-timer past Pizzeri to bring his team to within a goal at 10:21 but that is as close as the North stars would get.

"I'm disappointed in regards to the final outcome but this is truly a great event and the fact that it is helping a great cause with Shriners Hospitals," said North and Winchester forward Brendan Greene.

Just 32 seconds after Happy's score, Duxbury's Nick Marrocco, standing in front of the crease, back-handed a shot by Liquori to give South back its two-goal advantage.

Things seemed to snowball from there. With less than three minutes remaining in the period, Cataldo, off a well-timed pass from Robbie Souza, ripped a shot into the back of the net from the left slot to send South into the first intermission leading by three goals.

"Surprisingly we had some very good chemistry among all of us despite having never played together," Cataldo said. "All of the lines seemed to be clicking today. You are going to develop chemistry with all of these kids coming to this game. All of them can play hockey, they can adjust and they learn to play with other kids very quickly. That is why they are here.

"It's cool to play with all of these guys because you read about them during the season."

Early in the middle frame, South picked up right where it left off to end the first. Just 2:21 into the period, Archbishop Williams forward Mike Sorenti, taking a pass from Xaverian's Antonio Marini down low, skated across the front of the crease and patiently waited for St. Mary's of Lynn goalie Bailey MacBurnie to commit before sending a shot beyond the senior's out-stretched right leg pad to make it 5-1.

With North seeing its opportunities being stoned regularly, South continued to maintain its offensive charge. Xaverian's Ricky Smith padded the lead to five at 13:56 with a laser from 20 feet out that MacBurnie never saw.

"It was fun to go out there and play with a bunch of new guys," said South defenseman and St. John's (Shrewsbury) standout Bryan Nelson. "A lot of the guys I knew from playing with or against in squirts and pee-wees. It was nice to see them and catch up on things with them. This felt more like a summer tournament game. It was a lot of fun."

To its credit, North wasn't about to go down easily during the final period. Opening up the offense a bit more, they sent 19 shots toward Paul but none got past him. Meanwhile, Dartmouth's Joseph Correia added to North's misery by tallying an unassisted goal at 13:10. South also finished with 43 shots.

"The real surprise in all of this is the one goal by them on the other end," Fasano said. "That is unheard of in these types of games whether it be high school, college or the NHL. Usually those kinds of games have some pretty-big numbers. This was a lot of fun to be apart of and was a great show put on by both the Shriners and the Worcester Sharks."
March, 2, 2014
Mar 2
2:06
AM ET
There are less than 24 hours remaining before the puck drops on the Super 8 tournament Sunday at TD Garden.

So we're taking this opportunity to break down the final eight. We're taking a look at the head-to-head breakdowns for each series first-round, best-of-three series, along with predictions:

Series: No. 1 BC High (14-2-4) vs. No. 8 Xaverian (12-3-6)

Players to watch: BC High – F Steve DeForge, F Patrick Kramer, F Jake Lemanski, D Billy Roche, D Ryan Shea, D Sam Topham, D Trevor Davis, G Brandon Payzant; Xaverian – F Jon Beniers, F Andrew Durkin, F Antonio Marini, F Connor McCarthy, F Tim Sweeney, D Ricky Smith, G Aidan Murphy.

Previous meetings: 2-2 tie, Jan. 4; BC High, 5-1, Jan. 22.

The skinny: The top-seed Eagles take on their Catholic Conference rival Hawks, who endured a double-overtime classic against Archbishop Williams to slide in as the No. 8 seed. Xaverian will have to take a page from the playbook of Duxbury – which handed BC High a loss in its season finale at the Buddy Ferreira Classic – playing a tight-checking game through the neutral zone to stick with the Eagles' slick transition game. Murphy has shown flashes of brilliance in his freshman campaign and the Hawks will have to rely on him and a big series from All-State hopeful Marini if they want to keep up with BC High.

X-factor: Payzant. The Eagles' sophomore netminder has performed admirably in his first season taking the reigns from All-Stater Peter Cronin. But until a goaltender sees his first rubber in the playoffs, the book is still out.

Prediction: BC High in two.

Series: No. 2 Malden Catholic (16-4-0) vs. No. 7 Catholic Memorial (10-7-4)

Players to watch: MC – F Matt Filipe, F Ara Nazarian, F Tyler Sifferlen, F Jake Witkowski, D John McLean, D Nick Rolli, G Alex Reissis; CM – F Aaron Clancy, F Anthony Panaggio, F Mike Stathopoulos, D Frank Cosolito, D Tim Weinstein, G Brandon Collett.

Previous meetings: CM, 3-2, Jan. 25; MC, 11-0, Feb. 14.

The skinny: Once again the Lancers went on a February run, going 7-1-0 in February, despite a loss to Cathedral in the teams' season finale at the Panthers vacation week tournament. Meanwhile, on the flip side, the Knights back their way into the tournament, having been blanked in the final month of the season, as CM didn't win a game until Monday's play-in game victory over Braintree in a one-goal game. However, as one-sided the matchup between Catholic Conference rivals might seem, CM does have the blueprint on how to take down MC, evidenced in the Knights' 3-2 win in the teams' first meeting at Walter Brown. In that game, CM was able to harass the Lancers breakout with an aggressive forecheck. In order to skate with MC, the Knights will have to repeat that performance or risk having their first-round series resemble more of the teams' second meeting.

X-factor: Filipe. The Northeastern commit has provided a strong presence throughout the season on the Lancers' second unit. While teams have a difficult enough time contending with MC's vaunted top line, with Filipe and the second unit rolling, the Lancers' attack is that much more difficult to match up with, defensively.

Prediction: MC in two.

Series: No. 3 Springfield Cathedral (15-2-5) vs. No. 6 Duxbury (16-2-3)

Players to watch: Cathedral – F Peter Crinella, F Johnny Leonard, F D.J. Petruzzelli, F Riley Prattson, D Dan Petrick, G John Liquori, G Keith Petruzzelli; Duxbury – F Nick Marrocco, F Matt Murphy, F Shayne O'Brien, F Trevor O'Brien, F Matt Saia, D Shawn Errasti, D Tyler Powers, G Tucker Kelly.

Previous meetings: N/A.

The skinny: In perhaps the most intriguing matchup of the first round, the high-flying Panthers offensive juggernaut squares off against a sound, defensive-minded squad from Duxbury. Cathedral enters the tournament ranked among the statewide leaders in just about every statistical category and host two of the top scorers in the state in Crinella (28-26-54) and D.J. Petruzzelli (21-32-53). Meanwhile, the Dragons played their best hockey down the stretch, beating BC High in the Buddy Ferreira Classic final to punch their Super 8 ticket. John Blake's group excels with countering the team's speed through the neutral zone, so the Panthers could be in for some tough sledding.

X-factor: Crinella. A contender for the Mr. Hockey award this season, the Holy Cross commit is capable of taking games over – something to be said on a roster full of Division 1 commits. This could be his coming out party on a statewide scope.

Prediction: Cathedral in three.

Series: No. 4 Austin Prep (13-4-4) vs. No. 5 Central Catholic (16-3-3)

Players to watch: AP – F Bobo Carpenter, F Eric MacAdams, F Jake McKennelley, D Andrew Cross, D J.J. Layton, G Elijah Harris; Central – F Zach Cote, F Richie Greenberg, F Lloyd Hayes, F Alex Lester, F Eric Robbins, F Corey Webber, D Conrad Jepson, D Cam Smith, G Colin Soucy.

Previous meetings: Central, 4-1, Jan. 1; AP, 3-2, Feb. 3.

The skinny: In a rarity with non-league opponents, the teams faced off twice during the regular season and, somewhat predictably, split the series. The teams are near carbon copies of each with a mix of top-flight offensive skill, depth and quality goaltending. AP, a Super 8 finalist last year, is a bit of an unknown commodity this season, as the Cougars lost multitudes of man games to injury through the year. In fact, AP didn't even practice with its full fold of players until February, so we likely haven't seen the Cougars' attack at its fullest potential. Meanwhile, the Raiders can consistently roll three lines, with little drop off from the first to the third. So this one will be about as close as you can find.

X-factor: The goaltending. Both Harris and Soucy made names for themselves at last year's Super 8. Regarded as two of the top goaltenders in the state, both offenses will be hard-pressed to find room to shoot.

Prediction: AP in three.
February, 21, 2014
Feb 21
3:33
AM ET


FALMOUTH, Mass. – Earlier this season, Duxbury hockey head coach John Blake mused about when his team might get its due as the best public school in Massachusetts this year.

For those who might have doubted the Dragons previously, that certainly changed Thursday night.

Duxbury – hungry to earn a berth in the Super 8 tournament – dispatched No. 2 BC High, 5-2, with a concerted attention to team defense, playing the body and an MVP-worthy performance from senior forward Shayne O'Brien in the championship game at the Buddy Ferreira Classic.

"To beat a club like BC High, you almost have to have a perfect game," Blake said. "I thought we were about as close to perfect as we could be."

The Dragons (15-2-3) scored on three of their first six shots on goal and frustrated the Eagles' slick-skating transition game through center ice throughout.

As important to Duxbury's opportunistic nature in the attack zone, the Dragons were able to limit BC High's scoring chances on other half of the ice sheet. Through two periods, the Eagles (14-2-4) could muster just four shots on Dragons netminder Tucker Kelly.

"We knew they're defensive is active, they like to stay in control of the puck," O'Brien said. "We knew we had to get on them right away on the forecheck and our first guy was always in there as fast as he could, banging in the corner, getting in there fast to pick up the puck."

With Duxbury's tight-checking style, the Dragons met and exceeded the Eagles' physical play in the early going, setting a tone for a 45-minute battle.

As BC High was continually rebuffed attempting to gain Duxbury's blue line, the Dragons' momentum swelled as they broke through for a power-play goal at 12:02 of the first. Trevor O'Brien beat Brandon Payzant stick side with a wrist shot from the slot.

Duxbury struck again before the period was out, as Shayne O'Brien tallied his first of two goals on the game. Shayne O'Brien, who was named the tournament's MVP, showed a nose for the goal with wraparound shot at 13:58, sending Duxbury to the room with a two-goal cushion.

Shayne O'Brien scored his fifth goal of the tournament at the 9-minute mark of the second, with an assist from defenseman Shawn Errasti.

However, the stage was set for the Eagles to climb back into the game at the start of the third. Two minor penalties were assessed to Duxbury at the 15-minute mark of the second – a roughing penalty and an unsportsmanlike penalty given to the Dragons' bench.

BC High immediately capitalized on its minute and 30 seconds of 5-on-3 advantage. Chris LaLiberte directed in a cross-ice pass from Jake Lemanski 25 seconds into the third.

The power play factored again when Duxbury reestablished its 3-goal lead at 7:26. Defenseman Tyler Powers' slap from the point clanged in off the post to beat Payzant on an extended power play off a 4-minute major checking-from-behind penalty.

The Eagles were still alive, however, striking for a short-handed tally off the ensuing faceoff. Eight seconds following Powers' strike, Lemanski scored, the beneficiary of a Steve DeForge neutral-zone takeaway, making it 4-2.

BC High had its best chance to add another with less than three minutes remaining, as the Eagles unloaded five shots on Kelly during their sixth power play of the game. Much of the power play was played 6-on-4, as BC High head coach John Flaherty lifted Payzant for an extra attacker with a little more than two minutes remaining.

Kelly made nine of his 13 saves in the third period.

"The third period was probably his best period of the year," Blake said of his junior goaltender. "He knows in big games that he has to make big saves for us. He's a kid that's gotten more and more confident all year long, he's played in big games all year long. He's battle-tested and, today, he rose to the occasion."

While the Duxbury penalty kill (Eagles were 1-for-6 on the PP) held, Powers capped a strong game – offensively and defensively – with an empty-net goal, his second.

Tighten your chin strap: Duxbury entered the game looking to play the body early and often.

"We thought to have chance tonight, we'd have to be the more physical team," Blake said.

But there was a flip side to that.

"We had to take some penalties by playing physical," Blake added.

To the point that it put the Dragons at a greater disadvantage, as top-pairing blue-liner Shawn Errasti was lost for a portion of the third period, after taking his fourth minor penalty of the game.

Down one of its top penalty killers and a minutes leader among defensemen, Duxbury's blue-line corps passed their test in gut-check time.

But, greater than that, the Dragons' defensive brilliance was to a man, as the defenseman created a wall along their own blue line, with the forwards hustling back to slow down the transition game from BC High's fleet-footed defensemen.

"They knew they have to control their gaps and play them as fast they could so [BC High] couldn't get their speed going," Shayne O'Brien said of Duxbury's defensemen. "We knew they had to control their and our backcheckers bust [it] back."

A bigger loss?: While BC High wasn't fighting for its Super 8 life on Thursday, a greater concern to the Eagles' greater chances developed in the first period of play.

Sophomore forward and Merrimack commit Patrick Kramer (12-21-33) left the game after a late-first period shift, following an awkward looking hip check in the corner and another spill in front of the Eagles bench. He did not return.

Striding to the finish line: No team in the state improved its Super 8 chances in the final week-plus of the regular season more than the Dragons.

Coming away with three wins on the Cape virtually assures that the tournament's field will host at least one public, after the Dragons ran the table.

"We want to be playing our best hockey, so we just put it together in the end," Shayne O'Brien said.

Meanwhile, the Eagles ended their regular season with a negative thud. Vying for the top overall seed in the Super 8 tournament, BC High had a chance to sew up No. 1, particularly after Malden Catholic lost to Springfield Cathedral on Thursday at the Panthers' annual tournament in West Springfield.

While the Catholic Conference champions still have an inside track to claiming the top seed at Saturday's selection meeting, the Eagles missed an opportunity to leave no shadow of a doubt.

One for the publics: Aside the playoff-like atmosphere and a huge boost to the Dragons' Super 8 hopes, Blake reflected on his team's accomplishment as the champions of Falmouth's vacation week tournament, now named after the Clippers' longtime and recently retired bench boss. It also was Duxbury's first championship win at the event, formerly known as the Cape Cod Classic.

As a revered figure in state hockey circles, Buddy Ferreira served as leading figure to many young coaches, including Blake.

"I think it's fitting that the first year the tournament's named after Buddy Ferreira that a public school wins this," Blake said. "Buddy was a mentor of mine when I first started coaching in Duxbury, having him and [Hingham's] Garrett Reagan, rest his soul, they kind of took me under their wings and taught me about coaching, a lot about kids, a lot about the game of hockey. We wanted to win this one for Buddy Ferreira, too."
December, 18, 2013
12/18/13
11:56
PM ET


KINGSTON, Mass. – Even in his mind, Duxbury head coach John Blake knew his team was toast.

"I thought it was over," he said.

After both teams took their timeouts, the Dragons assembled around the faceoff circle with 5.3 seconds to play and down a goal in Wednesday evening's non-league tilt against Barnstable at The Bog. They executed their plan with senior captain Trevor O'Brien winning the draw back to Tyler Powers at the point.

However, Powers wasn't able to get the puck to settle and the shot didn't quite come through. It was about that time Blake was about to put his team's opener in the loss column.

But there was O'Brien. He coolly collected the loose puck and found an opening on the short side to beat the Red Raiders' nearly impenetrable goaltender, Kevin Huska (23 saves). There was then 1.2 seconds remaining and a lot of incredulous-looking faces around the rink – including the one behind the Dragons' bench.

Duxbury escaped with a point and a 2-2 tie.

"That why you have to play to the final whistle," Blake said.

And it was those minor victories that helped Duxbury (0-0-1) get even.

"There were a little bit better on every one-on-one battle, I told my coaching staff, I thought that was the difference," Barnstable head coach Scott Nickerson said. "And it showed itself in the end."

After a scoreless first period, the Dragons asserted their will down low on the cycle through the second. Duxbury dominated the territorial play and was rewarded with the first goal of the game at 7:14, with senior captain Nick Marrocco sliding a back-hander past Huska from the top of the crease. O'Brien and Shawn Errasti picked up the assists.

Yet, Barnstable (2-0-1) showed resiliency, striking back before the period was out. Junior defenseman Michael McDonough stepped into the play to tie it with 26 seconds remaining in the second.

The Red Raiders also transferred the momentum into the third, scoring on its first shot on goal of the period. Junior winger Cody Pasic scored his fourth goal in three games at 3:50 of the third.

Despite peppering Huska with 11 shots during the final 14-plus minutes, the Dragons were unable to find the equalizer.

Ultimately, they just wanted it a little more in the end.

"Everybody just has to bear down, get their guy, win the faceoff and get it to the net," O'Brien said of the game-tying push. "It's all mental toughness at that point."

He continued, "When you have a little letdown when they score, it's hard to pick the boys back up. But once you do, we started rolling, controlling the play and we were all over them."

The onslaught: Duxbury could have widened its lead in the second, when the Dragons had four of their five power-play opportunities.

But, while they weren't able to cash in, the Dragons continued pushing the issue while working the puck down low and set up the cycle below the dots.

"We feel that our strength is our speed and skill up front, and our top nine forwards are very skilled," Blake said. "We want to really keep that puck down low, really work it down low. We feel like we have an advantage over most teams with our forwards going against their defensemen."

The answer: Again, as the Red Raiders came to rely upon him last season, Huska was the backbone to their hopes on Wednesday.

Barnstable's blue-line corps isn't too deep, as Nickerson conceded after last year's roster turnover, but the Red Raiders' top three of Donnie Brodd, Chris Fowler and McDonough is steady and rugged.

But the group thrives when the senior netminder is on point.

"He's a competitor," Nickerson said of Huska. "He's a goalie with a big heart and he does whatever he has to do to stop the puck. When you have that, the team becomes more competitive. When you have a backstop like that, you're in every game, or at least you should be."

Filling the void: For Barnstable, dealing with the graduation of an All-State caliber player in Max Willman and the defection of last year's top-scorer Connor Fries to prep school has left the offense a little thin.

However, the Red Raiders are averaging five goals a game in the early going, spurred on by a host of forwards who've already exceed their production from last season.

Take Pasic for example. In his sophomore season last year, Pasic had just one point. Through three games of the 2013-14 campaign, he already has eight.

Senior Cam Curtin also has five points thus far after scratching the score sheet just once last year.

"It's not an excuse, but we're young, and we're learning," Nickerson said.
May, 10, 2013
5/10/13
2:21
AM ET


SUDBURY, Mass. – Tyler Powers had just scored the game-winning goal in an epic quadruple overtime game between the Nos. 1 and 2 ranked lacrosse teams in Massachusetts.

So how did he plan to celebrate?

"I've got a lot of homework to do," Powers said. "Other than that, I don't know."

After a rain-delayed start, the struggle between No. 1 Duxbury and No. 2 Lincoln-Sudbury spanned about three-hours' time and nearly the full span of four, complete overtime periods. And yet, after all the expended time and energy, it remained apparent that the difference between Thursday's competitors was a futile exercise akin to splitting hairs. The highly anticipated matchup between the long-standing MIAA Division 1 powers was worth every minute, and every raindrop, which — at times — fell in torrents.

But it was Powers, a junior attackman, who finally broke the defensive stalemate as a fifth extra session loomed. Just 17 seconds remained in the fourth overtime, when fellow junior Brendan Burke found the cutting Powers for the game-winner. After more than 63 minutes of elapsed play, Duxbury emerged with an 8-7 victory.

"C.J. [LoConte] set a pick for Brendan [Burke], Brendan then found me, hit me in stride," Powers said. "I got by my defenseman and put it by the goalie like our coaches told us."

Not much did pass between the goaltenders – Duxbury's Nick Marrocco and the Warriors' Dario Morando – who were brilliant. The standout saves were too numerous to tally, with both parties seemingly one-upping the other on each stop.

L-S head coach Brian Vona, a goaltender in his own day, called Marrocco "the player of the game" — a tall compliment paid in a game rife with superb defense.

"Nick's about as tough as they get mentally, physically," Duxbury head coach Chris Sweet said. "He's fearless and it showed tonight. He was spectacular along with our three defenders Marshall [McCarthy], [Jon] Hurvitz and George Ward."

For the scant offense that was available to either side, both teams received contributions beyond their usual cast of starters. Sweet called Burke's three-goal effort the junior's "game of his career."

Meanwhile for the Warriors, who suffered their first defeat of the season and were playing without top offensive threats Dan Delaney and Henry Guild due to injury, junior Greg Roder helped fill the void with a two-goal game. Chris Giorgio was also a factor, scoring a goal and adding two assists.

Giorgio's greatest thrill was for not, however. L-S started the third overtime period with a man-up advantage. After cycling the ball around, Giorgio had Marrocco beat with a quick rip to the left-hand post. Giorgio's shot kicked up the slack on the side of net – for a moment, drawing the Warriors' faithful into a frenzy. The shot landed wide of the post, however, and Marrocco coolly collected the ball and cleared to end the threat.

IN AND OUT
Both teams have dealt with recent injury woes. And while L-S (11-1) was without a couple of its top offensive options Thursday, Duxbury (12-4) is on the mend.

The Dragons rotation was bolstered by Trevor O'Brien and Jack and Shayne Sullivan returning to the mix. And although Sweet has had to mix and match his attack during the last couple weeks, it's also been a trial by fire for his group.

"We've had our share of injuries, but what it's done is that it's built a lot of depth for us," Sweet said. "That can be a good thing. We saw a lot of kids step up today who you probably haven't heard much from."

Now, the task is building chemistry among the replenished ranks.

"Our team has a lot of depth," Powers said. "We have a bunch of middies. They've been working hard. The kids that took their place have been playing great, doing what they can to help the team."

DEFENSE RULES THE DAY
Aside from the goaltending, the true stars of the duel were the poles. And, at times, they weren't limited to the defensive half.

Hardly a play went into the L-S half field without Notre Dame-bound long-stick John Sexton throwing his height around. In addition, the rangy junior also chipped in on the Warriors' man-up situations. Also, in close defense, Matt Barker was a revelation for the Warriors, with his crafty stick-check during a key Duxbury possession in the third overtime as a highlight.

Likewise, the Dragons' vaunted defense came to play.

Highly-touted, Fairfield-bound pole Jay Walsh was a ground ball hound, including a couple pick-ups on faceoffs during the overtime periods.

Marshall McCarthy was a force, scooping up key ground balls in the defensive half, while also stepping into the breakout with an assist. It was a pivotal performance from a player who (can you believe this?) didn't play in his sophomore season and is in his first year as a defender.

"I think he could play Division 1 lacrosse right now," Marrocco laughed about McCarthy, who was also ESPN Boston's MIAA football Defensive Player of the Year.
May, 3, 2013
5/03/13
11:53
AM ET
By
Bruce Lerch
| ESPNBoston.com
MEDFIELD, Mass. -- While his teammates searched for the necessary adjustments on defense and any sort of continuity on offense, Duxbury goalie Nick Marrocco produced a second consecutive game-winning performance in the cage.

The junior Georgetown commit sparkled in the first half, making seven of his 11 saves to help lead top-ranked Duxbury to a 5-4 victory over No. 7 Medfield Thursday night at Medfield High School.

Marrocco made several saves that fell into the ridiculous category while giving the Dragons (9-4) every possible opportunity climb out of a 3-2, first-half deficit.

"Nick stood on his head," praised Duxbury coach Chris Sweet. "If not for Nick, that would have been a loss for us. He kept us in it in the first half until our guys kind of woke up."

Medfield (10-2) jumped out first as Matt Crowell snapped in an unassisted tally on the game's first possession. Brendan Burke pulled the Dragons even at the 7:01 mark, but the Warriors won the ensuing faceoff and retook the lead on a goal from Matt Ruzzo.

Wes Quinzani tied it up again with an athletic play that saw him split through a pair of defenders, then crash through two more as he got off his shot. Medfield would another in the second quarter as Jack Isaf converted a feed from Matt Cahill for a 3-2 lead they would carry into the half.

The third quarter belonged to Duxbury, who used smart, lengthy possessions to keep the ball away from the Warriors while generating quality scoring opportunities for itself. Bobby O'Brien made it a 3-3 game with a shot through traffic that may have gone off a defenseman, then C.J. LoConte gave the Dragons their first lead on a sidewinder, and Matt Sharpe capped the 3-0 run off a feed from LoConte with nine seconds left in the frame.

"In the first half we were trying to get as many possessions and we could but ended up playing a lot of defense so it was kind of just knocking it down," Marrocco said. "We communicated a lot, that was huge, my defense helps me out with that. Trying to figure out the slides in the first half it was a little tough but we got it going in the second half and let the offense do the job."

And on the slide package, Marrocco said, "They were dodging from the top and basically feeding the middle as we slid, before the two was coming so we just adjusted to that and got the two really early so we had that backup guy."

Medfield was kept scoreless until Andrew Melvin got one through with just one second left to play in the game.

"Unfortunately it was a tale of two different halves," lamented Medfield coach John Isaf. "Part of it is, we've got to make smart decisions. We've got to get the ball out quicker. When we have a ground ball or a save, we've got get the ball out quicker. We're not breaking out fast enough, we're not getting in our lanes and we've got to get the ball out faster. Part of that is when we let somebody set up a ride, its tougher to clear."

WALSH RETURN PROVIDES A BOOST

Over past couple of weeks, as many as seven Dragons have been sidelined with various injuries but the team finally had some good news with the return of Fairfield-bound defender Jay Walsh to the lineup. Walsh has missed the last two weeks with a hyperextended elbow.

"We needed Jay back," Sweet said. "The poor kid was exhausted by the end there but he's a trooper. He's still got a bad wing but he played great. We really needed him because they've got two or three guys in the midfield that can bring it and Jay was a big help there."

The senior captain stepped right back into his spot alongside Marshall McCarthy and John Hurvitz and the unit was able to make the necessary adjustments to help the defense react to what Medfield was doing.

"We knew their big guys, they have a lot of great shooters so we were trying to stay with them and then we realized once went, we had to recover," Walsh said of the adjustments on defense. "That's where they were beating us, on that backside guy. Once we got that figured out and had a middie slough in, we've been having that problem all year, just the middies sloughing back, and I think we're starting to figure that out now and it showed in the second quarter and second half."

Still on the Dragons injured list are: Trevor and Shayne O'Brien, Jack and Shane Sullivan, Tanner Williams and Brendan Fitzgerald. The majority of those players are offensive guys, and getting them healthy will go a long way toward curing a three-game stretch over which the team has managed just three, eight and five goals respectively.

"We scored just enough. We've been a little stale on offense. We have a couple of middies out that are going to help us when they get healthy and I think were going to get them back soon. The good news is that the guys who have stepped in for them have played pretty well. We'll work on it."

COMPLETE GAME SEARCH CONTINUES

Medfield had ample opportunity to put an end to the buzz already generating for next Thursday's showdown between Duxbury and Lincoln-Sudbury, and if not for Marrocco's effort, we could have been discussing a Warrior victory.

Instead, it was a tale of two halves for Medfield, who seemed to have things in hand over the first 24 minutes but could not maintain it through the end.

"We still haven't put a complete game together," Isaf said. "We played a lousy first half against Foothill and played a great second half. We played a pretty decent first half against Dover-Sherborn, didn't get it done in the second half. We played a good first half tonight, didn't get it done in the second half. We have to figure out how to get a complete game. Once we do, we'll be a tough out."

When asked what his team needed to do to get that elusive complete-game performance, Isaf said, "Keeping your intensity up, keeping your focus, not letting a momentum play change your confidence. Focus, intensity and when another team goes on a run and throws a punch, you've got to get up and punch back. We've done that most of the season. The only teams we haven't have been against two defending state champions."
April, 25, 2013
4/25/13
2:42
AM ET
By
Bruce Lerch
| ESPNBoston.com
DUXBURY, Mass. -- Despite enormous turnover on the roster that left coach Chris Sweet with mostly first-year starters, the on-field product seems to indicate that members of the Duxbury lacrosse team must be acing their chemistry tests.

Both offensively and defensively, the Dragons showed tremendous cohesion and seemed to have a knack for anticipating where teammates would be despite having just half a season to get used to playing with one another.

That chemistry was certainly evident on the attack where senior C.J. LoConte and sophomore Mickey Fitzpatrick often set each other up, each finishing with three goals and two assists to lead top-ranked Duxbury to a 13-5 victory over nonleague rival Billerica at Calabrese Stadium Wednesday night.

Brendan Burke and Nick Sisioan each added a pair of goals for the Dragons (7-3), while Jeff Trainor paced the Indians (6-3) with two goals and an assist.

"It's definitely been a process but I think we're definitely starting to perfect it," LoConte said of the bond developing between himself and Fitzpatrick. "We've been working a lot after practice just feeding each other. We've been working pretty hard all year to perfect this."

That they've been working hard together was evident in the first quarter as LoConte scored twice, both with assists from Fitzpatrick, and the senior returned the favor by assisting on Fitzpatrick's tally as the Dragons built a 3-1 lead.

Fitzpatrick would add his second in transition and Burke scored off a turnover to push the Duxbury lead to 5-1 before Kyle Leclair stopped the bleeding for Billerica.

Duxbury junior Trevor O'Brien slowed any hopes of the Indians gaining momentum, athletically dodging his way through three Indians defenders to make it a 6-2 game. Freshman Drew Laundry scored a transition goal for Billerica and the Dragons closed the half on a score from Sisioan.

Despite strong efforts from faceoff man Kevin Farrell and goalie D.J. Smith (seven first-half saves), it was all Duxbury in the second half. LoConte (from Fitzpatrick), Bobby O'Brien and Burke all cashed in during the third, and Fitzpatrick (from LoConte) Hunter Marston and Sisioan buried chances in the fourth.

The Dragons formula was simple: once they got the ball, they didn't do anything to hurt themselves while relying on a terrific ride to force Billerica into making errors that they were able to exploit.

"We were patient with the ball," Sweet explained. "We did a great job of valuing possession and didn't mistakes by throwing the ball away and that's huge. Just be patient and let the other team make the mistakes and then capitalize on them."

Added Indians coach Craig Flynn, "I don't know if it was their ride or if we were just dropping balls. We were just throwing the ball away and giving them the ball right back." We had a tough time winning the faceoffs at first. Kevin was beating them on the initial faceoff but on the loose ball fight, we were losing the ball on that. D.J. [Smith] played great in that first quarter. We just didn't help him enough defensively."