Boston High School:

Tyler Bogart
April, 13, 2013
4/13/13
7:25
PM ET
SCITUATE, Mass. – Marshfield's victory in Saturday's Chowda Cup Championship game bore multifold benefits.
First and foremost, of course, was the hardware. The Rams ran through Scituate before besting No. 7 Catholic Memorial, 11-10, in overtime to claim the Cup. Second, and perhaps more importantly, there was the matter of proof in the quality of Marshfield's opponent in the final. After an up-and-down 2012, the Rams are off to a 5-0 start and have now claimed a win against a Top 10 opponent.
[+] Enlarge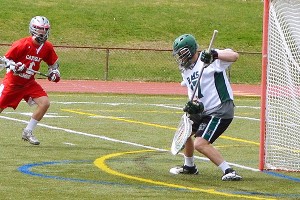 Scott Barboza/ESPNBoston.comMarshfield goaltender Pat Burchill made 12 saves, including seven in the second quarter, to help the Rams to an 11-10 victory over Catholic Memorial in the Chowda Cup championship.
Marshfield again found success on Saturday behind a patient, balanced possession game, bolstered by Mike Carbone's four-goal game. Carbone also tallied the overtime game-winner.
Robbie Keuther also added a four-point game (2 G, 2 A) while goaltender Pat Burchill collected 12 saves to keep the Knights (4-2) at bay. Meanwhile, tournament MVP Joe Parnell tallied two goals and was a demon on faceoffs, winning 17 of 26 draws.
The team battled to a 5-5 tie at the half, in large part due to Burchill's seven saves in the second quarter.
"If Pat [Burchill] wasn't such a strong goalie, that game would've been over fast," Carbone added.
After CM sophomore attack Tyler Bogart notched his third goal of the game for a 7-6 lead, Marshfield strung together three straight tallies to open the fourth quarter on goals by Jack Shaw, Parnell and Carbone.
CM rallied to score the next three to force overtime. The Knights did so with goals by Zach O'Brien (2 G, 1 A), Bogart (his fourth) and Kevin Bletzer (2 G, 2 A) in the final three minutes, eight seconds of regulation. Bletzer tied the game with just 36 seconds remaining.
Carbone tallied the game-winner after a controversial possession call, when referees awarded the ball to Marshfield on a footrace to the end line. Following the call, Tim Colleta strafed down the middle of the field and found a cutting Carbone for the dramatic win.
DOING THE DIRTY WORK
It's not often that face-off men get their due, but Parnell was handsomely rewarded for his efforts in the tournament, taking home the championship plaque.
After a dominating performance against Scituate, Parnell again owned the draws. He was at his best against CM in the fourth quarter, winning six of the seven faceoffs he took.
"The face-off X is an absolute battle," Rams head coach Jake Jones said. "I wouldn't have anybody but Joe [Parnell] in there, scrapping it up. He's doing a great job with the faceoffs and he's being extremely smart with the ball."
When describing his success this weekend, Parnell doffed his cap to his brother, Kenny Parnell, who was waiting at the wings.
"I started off with the clamp and he was wrist-breaking, so then I went with the jump and it ended up working," Parnell said of Saturday's matchup. "My little brother did a great job getting in on the wing, and he helped me win a lot of those."
ALL-TOURNAMENT TEAM
With Cohasset taking a convincing 14-3 win over host Scituate in the consolation game, another successful tournament wrapped up with the naming of the All-Tournament Team.
Here's a look at the list:
Catholic Memorial
– Kevin Bletzer, Tyler Bogart, Kameron Gingras, Scott Spangenberg.
Cohasset
– Jack Conte, John Mills, Tommy Ryan,
Marshfield
– Pat Burchill, Mike Carbone, Jimmy Connors, Joe Parnell, Jack Shaw.
Scituate
– Tucker Ciessau, Jake Reynolds.
April, 8, 2013
4/08/13
2:24
AM ET
Attackmen:
Tyler Bogart, Soph., Catholic Memorial
Jordan Dow, Sr., Lincoln-Sudbury
Jay Drapeau, Jr., Westford Academy
Brandon Jaeger, Sr., Dover-Sherborn
C.J. LoConte, Sr., Duxbury
Andrew Melvin, Sr., Medfield
Nick Menzel, Jr., Archbishop Williams
Nico Panepinto, Sr., Needham
Robbie Pisano, Sr., Needham
Tyler Reilly, Sr., Grafton
Andrew Smiley, Jr., St. John's (Shrewsbury)
[+] Enlarge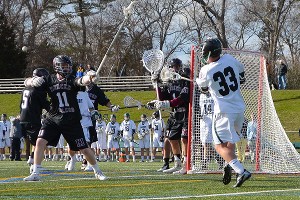 Scott Barboza/ESPN Army commit C.J. LoConte will look to shoulder a bigger part of the offense for defending Division 1 state champion Duxbury.
Midfielders:
Kevin Bletzer, Jr., Catholic Memorial
Will Blumenberg, Soph., Concord-Carlisle
Caleb Brodie, Jr., Hingham
Alec Brown, Sr., Wakefield
Tucker Ciessau, Sr., Scituate
Dan Delaney, Sr., Lincoln-Sudbury
Henry Guild, Sr., Lincoln-Sudbury
Carson Hart, Sr., Wayland
Davis Kraft, Sr., Algonquin
Matt LaCroix, Sr., Westfield
Drew O'Connell, Jr., St. John's Prep
Mikey Panepinto, Jr., Needham
Kieran Presley, Sr., Amherst
Bryan Rotartori, Sr., Grafton
Jack Wheeler, Jr., Xaverian
Long-stick Midfielders:
Nick Brozowski, Jr., Concord-Carlisle
Mike Elcock, Jr., Needham
D.J. George, Sr., Arlington Catholic
John Sexton, Jr., Lincoln-Sudbury
Defensemen:
Evan Boynton, Sr., Concord-Carlisle
Tim Gillis, Soph., Cohasset
Brian Uva, Sr., St. John's Prep
Luc Valenza, Sr., Foxborough
Jay Walsh, Sr., Duxbury
Tyler Weeks, Sr., Andover
Ian Yanulis, Sr., BC High
Goaltender:
Andrew Blood, Jr., Walpole
Matt Comerford, Sr., Reading
Ryan Goodall, Sr., Dover-Sherborn
Nick Marrocco, Jr., Duxbury
Giles Ober, Sr., Algonquin
Jake Reynolds, Jr., Scituate
D.J. Smith, Sr., Billerica
Robert Treiber, Jr., Medfield
Tighe Van Lenten, Sr., Masconomet
December, 11, 2012
12/11/12
5:37
PM ET
A trio of Laxachusetts lacrosse club players announced their college commitments this week.

Here's a look at the student-athletes:

Tyler Bogart, Soph. A, Catholic Memorial – Committed to UMass-Amherst. Tyler recently was named an All-Star at the Philly Showcase. He helped lead Catholic Memorial to their very first Catholic Conference title last spring as a freshman.

Tim Gillis, Soph. D, Cohasset – Also committed to head coach Greg Cannella and the UMass Minutemen. Gillis starred as a smashmouth tail back and linebacker this fall for the Skippers and was just recently named an All-Star at the Philly Showcase. The lock-down defender played at every AA event for Laxachusetts 2015s during the past summer.

John Higgins, Sr. A, Duxbury – Committed to Babson College. Played for the Laxachusetts Uncommitted teams as well as playing at several individual recruiting events who solidified his offer due to his play at the Harvard team showcase in November.
June, 9, 2012
6/09/12
12:45
AM ET
By
Ryan Kilian
| ESPNBoston.com


CONCORD, Mass. -- No. seed 2 Concord-Carlisle is headed back to Harvard Stadium for the second consecutive year as they defeated No. 3 Catholic Memorial, 11-6, in an Eastern Massachusetts Division 2 semifinal game.

The Patriots are making their third trip in four years to the Eastern Massachusetts finals and the first time with an undefeated record since their 1998 state championship squad.

"To go to Harvard, back to back, we would have never thought it at the beginning of the year," C-C head coach Tom Dalicandro said. "These guys just have just played so hard all year. They give it everything all the time. That is a great team we just played there."

CM (19-4) would strike first, 41 seconds into the game, as senior attack John Harrison (2 G, 1 A) beat his man and found the back of the net to give the Knights the opening lead.

C-C (20-0) would come back and answer with four straight first quarter goals before CM freshman attack Tyler Bogart (2G) would score with 1:09 remaining in the first quarter to cut the C-C lead to 4-2.

The second quarter would prove to be the turning point in the game as C-C senior midfielder Kevin Delehey took over in the face-off circle and helped the Patriots gain crucial possessions.

Delahey, who has been hampered by injury of late, came back in full force on Friday as the senior scored both of his goals in the first half to help lead C-C to an 8-2 halftime advantage.

"Kevin Delehey, coming off an injury, played great for us," Dalicandro said. "Our whole offense played great."

Despite an early second half surge by CM, C-C would maintain their comfortable lead and grind out the 11-6 victory.

C-C senior All-American goalie Doug Gouchoe made nine of his 13 saves in the second half as he fended off the enhanced CM pressure.

"Doug is just special," Dalicandro explained.

The Air Force commit continued his consistent play in the cage and the C-C close defense, led by senior All-American Henry Bumpus, also maintained their strong play.

D-Middies: The C-C short stick defensive midfield group of seniors Anthony West (1G), Tyler Koning and junior Brendan Finigan (1G) came up with some of the most important plays on the evening as they held CM's midfield in check and also provided unexpected early offense as West and Brendan Finigan scored the first and third goals of the game for C-C.

"Our defensive middies were unbelievable for us," C-C midfielder Jackson Finigan said. "They were all over the field and they started off the goal scoring for us, which was huge."

Brendan Finigan had the goal of the night as the junior vaulted into the air and took a pass from freshman middie Will Blumenberg (2G, 2A) on the crease for an athletic quick stick goal.

"Our defensive middies did a great job, scoring goals and stopping them." Dalicandro said.

Playing through Harvard: Concord-Carlisle will face the winner of No. 1 Hingham and No.4 Wellesley in a game that was re-scheduled to Saturday at 5 p.m. in Hingham due to weather.

With Harvard on their minds and graduation day tomorrow for the C-C seniors the Patriots are not looking past their ultimate goal.

"We do not want to just get to Harvard," Jackson Finigan explained. "We want to get through Harvard. The last couple of years the goal has been to get to Harvard but this year we want to get all the way."

The Eastern Massachusetts Division 2 champion will face off against the winner of the Western Mass. and Central Mass. championship game for the D2 state championship late next week.
May, 4, 2012
5/04/12
2:41
AM ET
By
Shawn Myrick
| ESPNBoston.com


WEST ROXBURY, Mass. -- There is no question St. John's Prep is going to face adversity as its closes its season with one of the toughest schedules in the state.

Clashing against top-fifteen ranked opponents in six of his final nine games, Eagles head coach John Roy is looking to make sure his squad is well prepped for the postseason. If a three goal fourth quarter comeback and a 9-8 double-overtime victory over Catholic Conference foe Catholic Memorial on Thursday is any sign of things to come, No. 19 SJP (8-4, 5-2) is up to the challenge.

"It is nerve racking to be on the sidelines for a game like this, but it is valuable for the players to get that experience" Roy said. "This is a great way to start this final run of seven games."

The Eagles upset the host No. 9 Knights (9-3, 5-1) at James R. O'Connor Stadium with three goals and two assists from attack Andrew Gallahue and two tallies by midfielder Drew O'Connell (both sophomores).

With Prep scoring the last five goals of the game, a 15-yard side-arm rocket by O'Connell at 2:26 in the second extra period sealed the victory for the Eagles. As Gallahue worked the sidelines midway the second overtime, the sophomore popped the ball up top to O'Connell who finished along the side post for the win.

"I saw Andrew dodging and I saw an opening," O'Connell said. "I have been playing since the second grade (and) shooting a lot in my back yard. He had been stuffing me a lot all game, but that one went through."

The clincher was the second assist for Gallahue, who set up the game tying goal with 33 seconds left in regulation. After the two leading scorers hit net to open the fourth quarter, Gallahue ran a set play from behind the crease and cut backwards to find a slim gap on the outside to organize the third score of the period.

On his way towards the keeper, the attackman caught a slide and popped the rubber up top to fellow Eagle's sophomore Joey Cavallaro for a wide open five-yard finish.

"[Coach] wanted me to go back left, take a dodge, and feed one of the people in the crease," Gallahue said. "I saw Joey Cavallaro come to me and I just tossed the ball."

"We do run it in practice, (but) it did not go exactly as we had planned," added Roy.

The Knights, who never trailed in regulation, took a 3-2 lead at 4:26 in the first quarter and led for the next 40 minutes. A side-net assist from freshman Tyler Bogart set up an open backdoor cut by fellow attacker sophomore Steve Righini to give CM the edge.

The Knights scored the next four, including a one-timer by sophomore Zack O'Brien off a steal and assist by senior Austin Bannister for a 6-2 lead at 4:57 in the second quarter.

"We were trying to use everybody on offense," CM head coach Kevin Lynch said. "We have come out on the losing end of two overtimes so far and that was our third one."

Gallahue helped Prep battle back with a pair in the final two minutes of the half, but the Eagles gave up two by CM senior leading scorers Tom Stanton (3 G, 1 A) and John Harrison (2 G) to open the third. CM had an 8-2 advantage in man-up opportunities, while outscoring the Eagles 2 -1 with the extra player.

Prep keeper Thomas Casale made 17 saves, while CM senior Miles McCarthy knocked away 14.

"Their keeper was making good saves all night," Roy said. "We needed to move to be able to score."

Both teams have two in-conference games remaining, with second-place Prep a game behind league-leader CM. The Eagles finish their final two weeks of the season with a pair of road games against No. 3 Lincoln-Sudbury (9-2) and No. 12 Billerica (8-4) and two home closers against No. 1 Duxbury (11-2) and No. 6 Medfield (7-2).

With six total games left, Prep needs one more win to reach the postseason, while CM has already qualified.