Boston High School:

Tyler O'Keefe
December, 8, 2014
Dec 8
10:58
AM ET
By
John McGuirk
| ESPNBoston.com
MARLBOROUGH, Mass. _ The task at hand is a dubious one for Chris Kelly, but there is no doubt the first-year Matignon head hockey coach has the pedigree and knowledge to put this program back on the map.
In spite the Warriors reaching the postseason a year ago under, then head coach, Dan Lupo, this once-fabled program has not basked in much glory since the days of legendary coach Marty Pierce, who stepped down in 2004, having won eight state championships and responsible for sending a number of players to the NHL, including Steve Leach, Shawn McEachern, Niko Dimitrakos and Tom O'Regan.
Kelly was a member of two of those state title runs in 1982 and '83, serving as team captain on the latter. With Lupo forced to depart due to work commitments, Kelly was brought on board last August following a successful stint at Wayland High School.
"What I am trying to accomplish here is to not worry too much about what has happened in the past," said Kelly, during Sunday's Garrett Reagan Hockey Summit at New England Sports Center. "We are trying to build a future of our own. I don't ever like to compare myself to Coach Pierce because I have too much respect for him. I am trying to build a future here, but always be thinking about the tradition of Matignon. I want to get these kids on board to begin a tradition and hopefully people outside the Matignon community can understand what we are trying to accomplish."
Kelly points out the life lessons he learned as a player under Pierce's tutelage, and now as coach, are immeasurable. Learning from one of the best hockey minds this state has ever produced, far-exceed the basic game fundamentals and strategies.
"I wouldn't be in this position if it wasn't for Coach Pierce," Kelly said. "He is a mentor and a role model of mine. I wish everyone knew Marty the way I do. He has helped so many people inside the hockey community and outside. I just think the world of him. What I instill into my players is what I have taken from Marty and that is the three D's _ discipline, desire and defense. That is what he preached and that is what I am now preaching. I started using that method when I was at Wayland."
The Warriors will have their hands full playing in the highly-formidable Catholic Central League, playing the likes of Arlington Catholic, Archbishop Williams, Austin Prep and St. Mary's of Lynn.
"I would like to see us be competitive in our league," said Kelly. "I would like to see us get into the postseason tournament this year and win a game or two to start. But it is a very tough league with some very good coaches."
A few years back Matignon was in the midst of a numbers crunch as the enrollment dwindled. In fact, under former coach Angus Means, the team managed to dress just 11 players on a nightly basis. At one point there was even discussion to close down the school entirely. But during the past couple of years, a revitalization has taken place as enrollment figures are on the upswing.
"The numbers are there," said Kelly. "We did a lot of work back in August to now of getting kids to come to the school. Some kids were on the fence when Coach Lupo left but I worked the phones, went to tournaments over the summer and met with parents to try to get those kids to come here. It has been quite surprising in terms of our talent level right now. We have a lot of senior leadership and things have projected a little faster than I had first anticipated."
Matignon will be led by goaltender Ben Parker, winger Johnny Andrews, center Mike MacPherson and defenseman Cam Monagle.
MC stockpiled on defense:
There is no mistaking the fact that Malden Catholic head coach John McLean has enjoyed the fruits of his labor, having now won the last four Super 8 Tournament titles.
Known for its well-balanced play at both ends of the ice, most are quick to identify MC's quick-strike offense as the reason why the Lancers are considered the best team state-wide. But don't sleep on the defense. Especially this year.
[+] Enlarge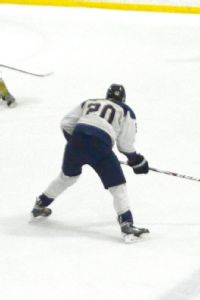 Scott Barboza/ESPNMalden Catholic senior captain John McLean leads the Lancers on their run for a fifth straight Super 8 championship.
The Lancers are the deepest in that department for the first time in McLean's nine years at the helm.
"This is the strongest defensive corps that I've ever had here," said McLean. "We go six deep. We have five returnees and a transfer (Matt Ciulla) from Dexter Southfield School. I'm very excited and having that many defensemen will certainly help us. My biggest thing right now if figuring out what our lines will be. We have four or five games over the next two weeks so we will mix and match and go from there."
The defense will be led by McLean's son, John III. The 6-1 senior has been nothing short of brilliant during his tenure here, well-regarded for his physicality and his penchant of knocking opponents off of their lanes.
"We've got some new guys in this year and I think Matt Ciulla is going to be a huge asset for us," he said. "Also, all of our forwards come back and help play defense so it is all one unit out there."
With the departures of center Ara Nazarian and forward Tyler Sifferlen (both now playing in the USHL), McLean will be looked upon to provide much of the leadership for this year's club.
"I want to represent MC in making sure we continue to be a very good hockey program," the younger McLean said. "Everyone on our schedule is good so we haven't won a thing this year and basically this is a new team. We are starting at square one again. We have lost a lot of senior leadership from last year so I just want to be a good leader on and off the ice and help our younger kids develop so they can be our future leaders both in school and on the ice."
Cathedral set for new heights:
Three straight years Springfield Cathedral has arguably had the most talent team, top to bottom, over all other programs in the state. Having reached the Super 8 Tournament in all three of those years, the best the Panthers could do was reach the semifinals before bowing out.
This season, once again, SC has all the weapons in place for a return trip to the Super 8. The question is how far can they go this time? Losing just one player from last year (goaltender John Liqouri) to graduation, there is no reason why the Panthers cannot advance to the finals this season.
"I do think it is our year," said stellar senior forward Peter Crinella. "Everyone is back but John. We're looking good and it is our hope we can break past the semifinal round this time around and make it to the championship and take it home with us."
Panthers coach Brian Foley says the team has spent a majority of the off season working out together in the weight room, and building leg strength through plyometrics and speed drills in an effort to enhance strength, speed and endurance.
"We're still trying to figure out who is who right now," Foley said. "We've got a little competition going on our fourth line. We have 12 forwards, seven defensmen and three goalies back. The biggest thing I have seen this year is the size and strength difference from a year ago with everybody. All committed to the off season workouts and physically, everyone seems to be bigger, stronger and faster."
Shrewsbury back for seconds?:
Steve Turnblom wants it. So too, does his team. Having hoisted the Division 3 state championship trophy a year ago, the Colonials have a taste for another crown three months from now. Who can argue that notion?
Gone from a year ago are several key components, especially on the defensive side. Following the departures of defensemen Sean Hallice, Cole Ambach, Cole Vincequere and Matt Dillon, who transferred to Cushing Academy, Shrewsbury has left a huge void. Offense took a hit as well with the graduations of forward/center Dave Belbin and forward Derrick Dell'Olio.
"We lost some solid players but 8 of our 9 forwards are back," said Turnblom. "We continue to stress defense more than anything here. Last year we limited teams to 10-15 shots per game which gave us a big advantage. We need to play well in our own end."
But all is certainly not lost. The Colonials return seniors Dan and Jack Quinlivan, Tyler O'Keefe and Joe Buduo on offense. All of whom well-capable to score from anywhere inside the offensive zone.
"We know we've got some holes to fill but I think we will be better in certain areas," said co-captain Dan Quinlivan. "I don't think we'll be as talented as we were but I do feel we will be more-prepared for each game that we play. The intensity here is going to be high. The goal is to get back to the state finals and we feel we can get there. It was the best thing that happened to us last year and we want it again."
Shrewsbury has upgraded its schedule this year by adding Springfield Cathedral and Newton South, as well as its annual grudge match versus St. John's (Shrewsbury).
"The kids want to win another title and they know how to do it," Turnblom said. "But I told them we are starting from scratch again and everyone is going to be gunning for them. They need to work hard all the time and continue getting better. Our kids wanted a better schedule because they want to play some of those better teams. You play better competition then you, yourself, will get better."
Pioneers looking to stay the course:
Under the direction of first-year head coach Mike Mead last season, St. John's (Shrewsbury) reached the Division 1 North tournament. After knocking off Burlington in the quarterfinals, they fell to Arlington in the next round.
Two major components from that team (defensemen Bryan Nelson and goaltender Mario Pizzeri) are gone. Both, no doubt, will be sorely missed but Mead says you cannot dwell on the past and it is time to move forward.
"We have some good seniors coming back so I'm very excited as we head into the season," Mead said.
Players like defenseman Brendan Doherty and Michael Parente will be expected to handle the brunt of action inside their own zone, while Kevin Quinlivan, Patrick Storer and Dan Barlok will be responsible for putting the puck into the back of the net. Goaltending will still be this team's primary concern as sophomore Matt Mongeau and junior Alex Franchi will begin the year platooning between the pipes.
"Both are young goalies who are battling it out," Mead said. "Neither has any varsity experience because Mario played every game last year for us. But I think both paid close attention to what Mario was doing in his preparations for every game and hopefully some of that has rubbed off on both of them. We shall see."
The Pioneers have added powers Central Catholic and Catholic Memorial to an already grueling schedule that also includes Springfield Cathedral, BC High, Xaverian and St. John's Prep.
March, 11, 2014
Mar 11
1:49
AM ET
By
John McGuirk
| ESPNBoston.com
FITCHBURG, Mass. -- There were little reminders left everywhere. Shrewsbury head coach Steve Turnblom made it a habit to remind his team about the past.

So too, did his assistant coaches. Previous articles on unforgiving postseason losses to Wachusett were taped to locker room walls for all eyes to see and ponder.

To know the history of the Colonials' underachieving battles against the Mountaineers in the Central Mass. Division 3 tournament in recent years is to understand that Wachusett has owned Shrewsbury. In the last three seasons, the Colonials have been bounced out of the playoffs by Wachusett.

So in Monday night's Central Mass. Division 3 final between the two powers, questions lingered as to whether or not history would reap its ugly head yet again on Shrewsbury or would the script be different this time around?

As a result, the Colonials chose the latter, scoring a pair of goals in each of the first two periods and, in the process, posted a 4-1 triumph at the Wallace Civic Center. The win was the Colonials third over Wachusett this year, after beating them twice during the regular season.

No. 1 Shrewsbury (19-2-1) moves on to the state semifinals where it will meet defending state champion Westfield (14-5-3) on Thursday at 5:30 p.m. at the Mass Mutual Center in Springfield.

"Everyone was telling me all week that you can't beat a team three times in a season so I was a little worried," admitted Turnblom. "But I knew if we came to play we would have a good shot. It is very impressive for these kids to beat them three times in a season."

To get over the hurdle of believing they could defeat the No. 3 Mountaineers (16-5-2) when it mattered most, the Colonials went out and did just that. Goals by Tyler O'Keefe and Cole Amback (on the power play) at 14:01 and 14:57, respectively, of the opening period had Shrewsbury on top 2-0 heading into the first intermission.

After going toe-to-toe against its Quinn Conference rivals for the first 13 minutes of this contest, giving up those two late markers sent Wachusett into the dressing room a deflated and dejected bunch.

That demeanor seemed to carry itself over into the middle frame. At 2:31, junior Joseph Buduo, taking a diagonal pass from Dave Belbin, sent a shot into the top right corner of the net to extend the Colonials advantage to 3-0. Five minutes later, Buduo would answer the call again. This time the forward gathered a bouncing puck in front of Wachusett starting goaltender Jake Strasser (16 saves on 20 shots) and hoisted a quick wrist shot past the senior's catching glove.

"We just went out there and played as hard as we could," Buduo said. "We wanted to crash the net on Strasser because he likes to play out a lot. That team has knocked us out of the playoffs the past three years so getting a little revenge tonight really feels good."

Following Buduo's second tally, Strasser was pulled in favor Andrew Carter. The junior managed to hold down the fort for the remainder of the game, stopping all 8 shots he faced. By then, though, the damage had already been done. The Mountaineers offense struggled mightily throughout, unable to gain much consistency with the puck as Shrewsbury's defense and forwards swarmed all over them once they got across the red line.

Wachusett was also playing shorthanded. Defenseman Matt Cappucci did not dress due to a concussion. Sam Pridotkas, another defenseman, received a season-ending disqualification for a hitting from behind penalty in an first round game against Westboro. In addition, center Brian Boulette was home with flu-like symptoms. Never one to make excuses, Wachusett head coach Matt Lane said that was not the difference in the outcome of this one.

"The kids who came to the rink tonight gave it all they had," he said. "I told them for the last 22 minutes of this game it was 1-0 us and we held them without a score. But Shrewsbury caught fire at the end of the first and later in the second period with a couple of nice goals. But we cannot and will not make excuses. Our guys played their hearts out. We never seemed to recover from the goal they got with 3 seconds left in the first period. They move the puck well all night and are always cycling to the slot and it's tough to stay with them. We just couldn't break the ice against them."

With less than two minutes remaining in the second, Wachusett senior forward Marc Happy scored a power-play goal but it did little to rattle Shrewsbury. The Colonials blanketed the Mountaineers over the last 15 minutes, limiting them to just five shots.

"We had two articles posted in our locker room showing last year's loss to them," said Turnblom, referring to his club's 2-1 overtime defeat in the CMass semifinals. "I told the kids to remember the tears and all the sadness they felt after that loss and take it to the ice tonight because they had a good shot to win. That was certainly momentum for us. We got those two goals in the first period to give us the lead, and once we got those, we tried to play solid defense after that and I felt we pretty-much achieved that."