Boston High School:

Tyler Patterson
February, 26, 2014
Feb 26
10:38
PM ET
By
Mike Scandura
| ESPNBoston.com
TAUNTON, Mass. -– This time, Brookline got it right.

After losing their last regular-season game, 79-76 to Franklin in double overtime on February 17, the 11th-seeded Warriors did an about-face and outlasted sixth-seeded Taunton, 84-82, in double overtime Wednesday night in an MIAA Division I South first-round game.

"It's funny because our last game was double overtime and we lost to Franklin," Brookline coach Luke Day said. "So it's nice to get this win here in even more important circumstances.

"We've had our ups and downs. But we're pretty good when we play and we've got a chance going forward."

Taunton (17-5) had a chance to "go forward" near the end of regulation.

Corey Green (17 points) gave Taunton a 65-62 lead with 17.1 seconds left in regulation. But Brookline (14-8) tied it when Elijah Rogers (29 points) converted a three-point play with 4.9 seconds left.

Brookline's Tyler Patterson insured that the game with go to at least one extra session when, on the ensuing inbounds play, he stripped the ball from Taunton's Gerald Cortijo (32 points).

Then, in the first extra session, Brookline's Brett Levey converted one-of-two free throws to give his team a 75-72 lead with 7.5 seconds left. But Taunton's Truly Kenku buried a 3-point shot at the buzzer to send the game into a second session.

After the teams fought through a trio of ties, the last at 82-82 on a pair of free throws by Obi Obiora (19 points), Brookline went ahead 84-82 on a driving layup by Rogers.

But Obiora left the proverbial door open when he missed both ends of a two-shot foul with 19.4 seconds left.

That left the Tigers with plenty of time to force a third OT. But it didn't happen because Green's potential game-tying shot was off-target as the final buzzer sounded.

Tough in the clutch: "We made some plays down the stretch," Day said. "We were the one that was down going into the fourth quarter (Taunton led 51-48 after three periods). We had to make the comeback and push the game into overtime, originally.

"There was an element of survival but I was pretty pleased with some of the plays we made, also."

Rogers made enough big plays to fill the Warriors' gym.

Commencing with his three-point play that forced the first OT, the senior guard reeled off 12 consecutive Brookline points – including another three-point play that gave the Warriors a 74-71 lead with 1:29 left in that extra session.

"All game long, especially down the stretch, it's either Rogers or Obi," Day said. "We have other guys who can score. But it's no secret where our bread is buttered. Both of those guys came up big tonight and that's why we got the win."

Flying above the radar: While Rogers and Obiora tend to grab the bulk of the headlines for Brookline, the same can't be said about Jack Moyer.

Moyer, a junior guard, wedged his way into the headline for this game by scoring 14 points including 11 in the last 4:10 of the first half which ended with Brookline leading 39-30.

During this run, Moyer buried two of his overall 3-point shots. He also nailed another trey with 1:40 left in regulation that gave Brookline a 61-60 lead.

"We have a lot of good players and Jack's one of them," Day said. "He's gotten better and better and has gotten more and more confident as the season's gone on. He's gone on stretches like that before.

"We were over at Newton North and he went on a stretch like that. He made a huge shot last week against Newton North. He's been really, really effective for us all year."

Brookline also received eight points from Patterson plus a 3-point basket from Levey which helped the Warriors grab an early lead.

"There have been several guys that have played roles for us over the course of the year," Day said. "I've said before that Obi and Elijah is kind of where our bread is buttered. But that does not mean we're a two-man show at all."

Good point.
February, 16, 2014
Feb 16
10:22
PM ET
By
John Botelho
| ESPNBoston.com
WELLESLEY, Mass. -– Miles Morris scored just one point for the Brookline boys basketball team on Sunday afternoon in the first round of the IAABO Board 27 Comcast Classic, but no one played a bigger role for the Warriors as they cruised past Newton North, 50-40, to advance to Monday's title game against Franklin.

The senior guard spent the game causing fits for Newton North star Tommy Mobley, limiting the explosive scorer to just 14 points.

"That's not an easy thing to do because Mobley's a tough cover," said Brookline point guard Elijah Rogers. "He can shoot it and he can get to the line well. When we have Miles playing like that on defense, that's when we're at our best because everyone feeds off his energy."

Added Brookline coach Luke Day: "We haven't really changed the game plan against Tommy in three games. We basically put Miles on him, and we have a few other guys we sub occasionally. We just told him to keep hounding him. We've changed a few things we do on screens and we made one adjustment from the last game but nothing major.

"The other night, Mobley hit two or three 3's right in Miles' face, and tonight he didn't make those. It's a really slim difference in the game."

Throughout the night, Brookline's defenders limited the open looks for the high-powered Tigers. A team that traditionally piles up points from beyond the 3-point line, North connected on just four 3's in the loss.

"It starts with Miles, but it really was a complete team effort," said Day. "It wasn't our best offensive night, but the defense was great tonight."

With Morris handling Mobley and the impressive defensive effort they faced all over the floor, the Tigers weren't able to mount much of an attack on the offensive end. Jack Boucher (10 points) was the only other North player with more than four points in the loss.

"We played a little bit tentative," said North coach Paul Connolly. "I wasn't happy with our effort happy in terms of our energy and in terms of how we played today. We held them to 50 points, I can live with that. We can be a pretty good defensive team. Teams try to take away Tommy, and they did it, and that was pretty much the game."

Brookline's offense was bottled up most of the game, but Elijah Rogers finally got into rhythm in the fourth, scoring eight of his game-high 17 points to put the game away in the rubber match for these two Bay State rivals.

The Warriors also got seven points, eight rebounds and six blocks from big man Obi Obiora and eight points and five rebounds from forward Tyler Patterson.

Foul play slows pace as Franklin claws past Belmont: As the clock clicked under seven minutes remaining in the other boys game, Belmont center Adam Kleckner fouled out of the game, and Franklin took advantage. With Kleckner out, the Panthers went on an 11-0 run and earned a 61-50 win to advance to the championship game.

That wasn't the first instance in which a foul changed how things were played on the court, as 48 fouls were called in all during the contest. Both teams reached the double bonus in both halves, and 53 free throws were taken before the final horn sounded.

"Both offensively and defensively, it can be kind of hard to get into a flow with that many fouls," said Franklin coach Dean O'Connor. "I'm not complaining, both teams just had to adjust. The thing is, you have to be able to play to however the game is being officiated. It didn't have any impact on winning and losing, it just affected how we both had to play though. There wasn't a lot of flow to this game, but we committed some very dumb fouls away from the basket that contributed to it."

One of the only players seemingly not affected by the slow pace of play was Panthers senior captain Chris Rodgers. He poured in a game-high 21 points to go with six rebounds and four steals.

"He's our best player and that's kind of what he does," said O'Connor. He's great in the open floor and very tough to guard. He's long for his height, so on the boards and getting to the rim, he can elevate over people."

The Panthers (15-5) also got 11 points and eight rebounds from Pat O'Reilly and 10 points, 12 rebounds and three blocks from Marcus Giese in the win.

Matt Kerans paced the Marauders with 16 points and five rebounds, Kleckner finished with 11 points and Cole Bartels chipped in with nine points for Belmont, which takes on Newton North in the consolation game to kick off action on Monday.
March, 27, 2013
3/27/13
8:15
PM ET
By
Brendan Hall
| ESPNBoston.com
Some final thoughts as we put a close on the 2012-13 high school basketball season...
***
A FLU SHOT HE'LL NEVER FORGET
After committing to Vanderbilt last August, Lynn English's Ben Bowden told ESPNBoston.com he was
leaning towards not coming back out for basketball his senior yea
r, saying "it delayed my pitching", that he lost "alot of interest" from some colleges "because I didn't throw hard as they wanted me to."
"I'm leaning that way so I can be fully prepared, because we've got the [MLB] draft and everything," Bowden told us at the time. "Where it's at right now, I don't see myself playing. But it was fun while it lasted."
Bowden, a 6-foot-4 lefty flreballer, is one of the state's most heralded prospects following his junior season, which started with a perfect game against Marblehead and ended with a spot on ESPN Boston's All-State Team and whispers of draft potential. He was 10 minutes away from spending his winter in the gym sharpening his craft, on his own; but a chance encounter on the first day of basketball tryouts changed all that.
The school was conducting flu shots that day, and the location just happened to be near basketball coach Mike Carr's office. As Bowden's girlfriend was getting her shot, Carr light-heartedly ribbed him about spurning one last winter with the team. After Bowden wished Carr good luck and the two parted ways, Bowden bumped into a half-dozen Bulldogs players, who gave him even more ribbing.
Bowden went home, thought about it, and by 5 p.m. had changed his mind.
And boy, was he glad. The Bulldogs captivated the City of Lynn over the second half of the season and throughout their sudden run to the MIAA Division 1 North finals, with Bowden starting at power forwrad, drawing fans from all four of the high schools to come see their wildly-entertaining brand of run-and-gun. He called the Bulldogs' wild 94-87 win over Everett in the D1 North semifinals "the best atmosphere I've ever played in any sport", and doesn't regret a minute of his time this winter.
"It got me into very good shape, obviously I have no regrets at all," he said. "Even if I got hurt, I wouldn't have regretted playing at all. It was an awesome experience."
Vandy head coach Tim Corbin encourages multi-sport activity out of his high school recruits, a sentiment many high school baseball coaches support for a multitude of reasons -- primarily, that it encourages competitive spirit, and also works different muscle groups to keep the body in prime shape.
Carr heavily emphasized conditioning this year with his team, concluding practice each day with a grueling 10-minute session up and down the school's four flights of stairs, and it's paid off for Bowden. Headed into his first start of the spring, currently slated for April 10, he says this is the "best I've ever felt going into a baseball season."
"I feel my legs are stronger, I'm pushing off the mound better," Bowden said. "My core has gotten stronger. Everything we did for basketball has helped me in a positive way for baseball."
Talking about keeping his arm loose, he added, "I feel the best I've ever felt going into a baseball seasons, and I think it's because I've lost quite a bit of weight. I'm feeling a lot better and a lot lighter, and also because I was throwing more...By the time baseball started [this season] I was on my seventh week of throwing. I was a lot more ready than I was in any other season. I was smart about my decision to play basketball because I knew I had to get throws in."
As basketball becomes more individualized at younger and younger ages in this AAU-ized era of specialization, we sometimes forget that these sports can bleed into each other. Notre Dame hoop coach Mike Brey first heard about Pat Connaughton after a tip from the Irish's baseball coach. Soccer prowess helped Danvers' Eric Martin and Melrose's Frantdzy Pierrot become more elusive runners in the open floor. And some are quietly wondering if football may end up being the meal ticket for Wakefield super-sophomore Bruce Brown, who excels with the Boston Amateur Basketball Club (BABC) but also turned in a pretty nice campaign last fall at wide receiver. Same with another budding BABC star, Brendan Hill of Mansfield.
Unless you're one of the top players in the country at your position, I'll never understand why some physically-mature high school guards don't at least give an additional sport a try -- but that's a probably a topic for a whole other day. Know that for as much accolades as we've all poured on English's talented trio of guards, Bowden may have played the most important position of all -- the Joey Dorsey, the rock-solid post player down low counted on for rebounds that can keep possessions alive, and facilitate a whip-quick fast break going the other way.
And to think, if his girlfriend hadn't gone to get a flu shot that first day of tryouts, we might be talking about a whole different story in Lynn.
***
MORE THAN JUST 'WANTING IT MORE'
You have to think long and hard to find the last time a kid in the Merrimack Valley Conference went from benchwarmer on one team in one season, to league MVP on another team the next.
Chris Bardwell's transformation from garbage-time go-getter at Central Catholic in 2012 to an ESPN Boston Super Team selection at North Andover in 2013 is one that will be held up as a model example of will power. At least, that was the rhetoric being told this winter -- that if you want it bad enough as Bardwell, if you train hard enough, you can make the jump.
Sure, some of this transformation has to do with the mental element. But Mansfield wanted it just as bad as Putnam in the Division 1 state title game, and was unable to prevent the Beavers from continuously leaking out for some uncontested fast break points. Scituate wanted to just as bad as Brighton in the Division 2 Eastern Mass. title game at the Garden, but couldn't cleanly escape on-ball pressure from Nate Hogan long enough to prevent Malik James' last-second heroics.
I think of Bardwell -- also a lefty pitcher with reportedly mid to high-80's velocity -- and I think back to my first months at ESPNBoston.com, in the summer of 2010, when St. John's Prep star Pat Connaughton was one of the hottest names nationally on the recruiting front. In basketball, he was an ESPN 100 prospect with a lengthy list of suitors east of the Mississippi. On the mound, he was an overpowering righty with first five round potential, named by
Baseball America
as one of the nation's top 100 high school prospects.
Connaughton had big hype, and in turn put in a legendary summer workout regimen to back it up, sometimes putting in eight hours of training a day -- quite literally, treating it like a 9-to-5. After signing with Notre Dame, the results spoke for themselves -- a state championship, All-State recognition in both sports, and a Day 3 selection by the San Diego Padres.
OK, so Bardwell's not Connaughton. The point is, situations like Bardwell's are the product of both opportunity and preparation, and all that will power is for naught if you're not training right. Bardwell came into the last offseason more determined, but he also upped his daily cardio, played more basketball, and changed his diet, cutting out junk and carbonated beverages and increasing his protein intake. Training for both basketball and baseball certainly helped him stay sharp.
Let's not forget had Bardwell stayed at Central, he would have been battling for playing time among a deep stable of forwards, duking it out with the likes of Doug Gemmell, Nick Cambio, Joel Berroa and Aaron Hall. At North Andover, he could fit in snugly as a terrific compliment to one of the state's best bigs in Isaiah Nelsen -- though in the end, obviously, Bardwell turned out to be the star of the show.
Success stories come from anywhere. Just take a look at another former Central Catholic baseball product, Dennis Torres, who was cut four times by the varsity during his high school years yet was drafted by the Orioles last June after walking-on at UMass.
Like Bardwell, he wanted it badly. Clearly, Torres was sick and tired of being sick and tired. But as usual, it's never as simple as pure will power and mental maturation. There's a method, and Bardwell played it right.
***
RE-BIRTH OF THE RUN?
When you think of the MIAA's most dominant running teams of the 21st century, there are two programs that come to mind. One is the Charlestown juggernaut of the early 2000's, ranked nationally by USA Today and led by electric scorers like Rashid Al-Kaleem, Tony Chatman, Ridley Johnson and Tony Lee. The other is Newton North, winners of back-to-back D1 state titles behind one of the East Coast's best backcourts in Anthony Gurley and Corey Lowe.
Not about to call it a renaissance, but if there's one thing I'll take away more than anything else from this MIAA season, it's the return of quality running teams to the upper echelon. The two best running teams we saw this season represented two different styles.
There was Lynn English, pushing a white-knuckle pace, using more than 15 seconds of the shot clock only sparingly, and blitzing the opposition coming the other way with in-your-grill, full court man-to-man pressure. It took about half a season for Mike Carr's unique system to click -- but once it did, they were firing on all cylinders. The Bulldogs' backcourt of Freddy Hogan, Stevie Collins and Erick Rosario was as good as any in the state the second half of the season, with the former two earning ESPN Boston All-State honors earlier this week.
With just one real post pivot, senior Ben Bowden, the Bulldogs relied on their guards to generate transiton by forcing turnovers, sometimes flat out ripping the ball out of players' grips for easy fast break points. Carr's emphasis on conditioning was well-known, the the Bulldogs never looked tired.
Many will point to Central Catholic's stark rebounding advantage as to why they were able to lay a dump truck on English in the D1 North Final (they held a 28-7 advantage at the half), but -- follow me here -- that was practically by design. The Bulldogs flat out bailed on offensive possessions once the shot went up, surrendering the advantage and forcing Central's guards to make plays (they did, and did often).
That philosophy stood in contrast to what I felt was the state's best running team this year, Division 1 state champion Putnam. They seemed to play a physical brand of basketball in the City of Springfield this year, and nobody exemplified this better than the Beavers, who made up for lack of height with plenty of linebacker-like bulk in forwards KayJuan Bynum and David Murrell, both ESPN Boston All-State selections.
Throughout the season, Putnam coach William Shepard demonstrated enough faith in Bynum and Murrell's ability to get defensive rebounds that the Beavers' guards could continually leak out of possessions early to get fast break after fast break (Bynum and Murrell combined for 11.4 defensive rebounds, and 19.6 overall, per game this season). When an opposing team's shot went up, guards started strafing up the sidelines in anticipation of a long outlet pass. This led to a slew of production in the D1 state title game from guards Ty Nichols, Dizel Wright, Ki-Shawn Monroe and Jonathan Garcia.
Best of all, these two squads return a ton of talent to keep them in Top 10 consideration for the next two seasons. Both teams must find a replacement for their best big (English with Bowden, Putnam with Bynum), but feature a slew of talented backcourt and wing players to keep the tempo frenetic and the opposition uncomfortable.
***
INTERVIEWS OF THE YEAR
My personal favorites for interviews of the year. First, the short category...
And now, the long category...
***
WILL JACK EVER COME BACK?
After Brighton won its first ever state title, Bengals coach Hugh Coleman held court in the media room at the DCU Center, dedicating the state title trophy and season to his lifelong mentor, legendary former Charlestown boss Jack O'Brien.
Anyone familiar with the bond between O'Brien and Coleman knows it is strong. O'Brien came into Coleman's life at a very hectic time -- being born when his mother was 20, becoming the man of the house at just 6 years old, and watching a number of his family members get rung up on drug arrests. He was under supervision of the Department of Social Services when he first met O'Brien as a freshman at Charlestown in 1993.
O'Brien is probably most known for his run of five D2 state titles in six seasons from 1999-2005 at Charlestown, and Coleman was an assistant on the last three. It's worth noting the 2003 squad, which Coleman's brother Derek captained, was the last squad to win both a city and state championship before Brighton did it this year.
"The way Jack O'Brien came into my life...He never recruited me, no one ever said I was going to Charlestown, I ended up going there by chance, he ended up going to Charlestown and it was special," Coleman said. "I lucked out and got the Brighton job four years ago. I probably wasn't supposed to get it, but I did. A lot of people recruited him out of middle school to go to different schools, but he ended up at Brighton with me. So I think that's such a great blessing. I'm glad that I've been able to be a part of his life, and him a part of my life. He's made me a stronger person and I hope that I was able to rub off on him. He led us to victory this entire season, including today.
"I definitely want to dedicate this to Jack O'Brien. He should be coaching. He should be coaching, and I have no idea why he's not coaching in the state of Massachusetts. In my opinion, he is the best coach in the state of Massachusetts. He is, and not just because he won games. He changed the lives of so many of us young men at Charlestown during that time. We went on to go to college. We went on to be great men, fathers, husbands, and you know what? It's because of what he helped us do from the inside out. He helped us to be great men.
"I'll be honest with you, I coach and I took the coaching job because he's not coaching. I couldn't allow that to...When they said he couldn't coach, or they wouldn't allow him to coach for whatever reason, I said I've got to keep the legacy going. He's healthy, he's a 10 times better man, whatever lesson I guess he was supposed to learn. It's a shame he's not coaching, because he is all that and then some."
Wherever he has gone, O'Brien has had dramatic results, producing McDonald's All-Americans at Salem High and nationally-ranked squads at Charlestown. But he has remained out of coaching since his 11th-hour departure from Lynn English hours before the first practice of the 2006-07 season. His name has been linked to jobs throughout Eastern Mass. over the years, most notably Somerville in 2008, but it's unclear when he'll return to coaching.
Still, with 400-plus wins, six state titles, some of the Bay State's most captivating running teams of the last quarter-century, and his age (he just turned 55 last month), there remains faith that he will turn up somewhere. Just where is anyone's guess.
***
HALL'S TOP 10 FOR 2013-14
1. Mansfield
Hornets lost just one senior from their 2013 Division 1 state championship run and return the most talent of anyone in the state, including reigning Hockomock MVP Brendan Hill. A healthier Michael Hershman should bolster an already-deep lineup featuring Rocky DeAndrade, Michael Boen, Ryan Boulter, Kevin Conner and Kyle Wisniewski.
2. Lynn English
The returning backcourt of Freddy Hogan, Stevie Collins and Erick Rosario, along with wing Danny Lukanda, makes this team a preseason Top 5. Key will be the development of promising 6-foot-6 sophomore Johnny Hilaire, whose pogo-like leaping ability has begun to draw comparisons to former All-Stater Keandre Stanton.
3. St. John's (Shrewsbury)
Pioneers return arguably the state's best backcourt in Davon Jones and Adham Floyd, along with a dynamic frontcourt of T.J. Kelley, Drew Vittum and Charlie Murray. Next year gets interesting in D1 Central, with stalwarts such as Franklin, Westford and Acton-Boxborough joining the fray.
4. Central Catholic
A returning core of Tyler Nelson and Nick Cambio makes the Raiders one of the premier perimeter teams in Eastern Mass once again. Six-foot-6 junior Aaron Hall has big shoes to fill in the frontcourt, with the graduation of center Doug Gemmell.
5. Brookline
If all goes as planned and everyone returns, you're looking at a coach's dream. Elijah Rogers is a virtuoso at the point, and a supporting cast of Obi Obiora, Anthony Jennings, Tyler Patterson and Mark Gasperini makes them a formidable foe on size and skill alone.
6. Springfield Putnam
Beavers stand a legitimate chance at going back-to-back as D1 state champs as long as they can find an able replacement for graduating senior post KayJuan Bynum. By season's end this was the best running team in the state –- who knows what another season of David Murrell, Dizel Wright, Jonathan Garcia, Ty Nichols and Ki-Shawn Monroe will bring?
7. Brighton
All signs point to Malik James having played his last game as a Bengal in the state championship game, but freshman Javaughn Edmonds shows promise to potentially fill the point guard role. Should All-State forward Nick Simpson return, you're looking at a front line of Simpson and 6-foot-5 sophomore Jason Jones that is as good as any across Division 2.
8. Melrose
Scary as his junior season was, reigning Middlesex League MVP Frantdzy Pierrot could turn in an even more monstrous senior campaign in 2013-14 for the Red Raiders. With realignment shifting many teams in the North, and a quality stable of underclassmen led by freshman point guard Sherron Harris, next year is as good a time as any to strike.
9. Wakefield
Sophomore Bruce Brown is expected to return next season, and that alone makes the Warriors a favorite in D2 North. The question will be whether they can turn their early-season promise into deep playoff production, and whether they can get past the semifinal round.
10. Springfield Central
The Golden Eagles are not without talent, with one of the state's most promising big men in sophomore Chris Baldwin. The question will be if the guards and forwards can get on the same page, and we think after some growing pains this year, cousins Ju'uan and Cody Williams will make this team sharper coming off a disappointing Division 1 state title defense.
Others to watch:
Acton-Boxborough, Andover, Braintree, Boston English, Catholic Memorial, Danvers, Haverhill, Holyoke, New Bedford, New Mission, Newton North, St. John's Prep, Wachusett, Watertown
March, 2, 2013
3/02/13
11:41
PM ET
By
Brendan Hall
| ESPNBoston.com
MARSHFIELD, Mass. –- Elijah Rogers never lost his cool.
From the first steps onto the bus at Brookline High, where he napped on the ride down to Marshfield; to the first steps out of the basement-level locker room at Marshfield High, with Jay-Z and Chief Keef coming out of his headphones, telling his teammates tonight's Division 1 South quarterfinal "Won't be our last go-around".
From the moment he was introduced to the crowd during starting lineup announcements, raising his arms emphatically to his student section; to his final walk off the court, given a standing ovation from the fans, the game well in hand.
[+] Enlarge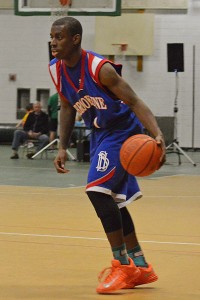 Brendan Hall/ESPNBrookline point guard Elijah Rogers (21 points) was in complete control as the Warriors blew out Marshfield to move on to the D1 South semis for the first time since 2004.
In Thursday night's surprise blowout of New Bedford, the 6-foot junior dominated the game without scoring, racking up just 10 points. Tonight he got untracked in a different manner, leading the way with 21 points and five rebounds as Brookline won over a hostile Rams crowd, leading by as much as 27 en route to a 63-46 victory.
But not once over these last two weeks –- going back to Feb. 18's win over Catholic Memorial, when he racked up 18 points -– has the lead guard ever looked out of control.
So what's gotten into him?
"I don't know, man, I'm just hungry," he said. "I've never been here [in the postseason] before, so this is something you've got to chase...I just come in here every day with a mindset [that] you've got to take what you can get and just win, man. There's no guarantees. It's one and done."
Of course, it's never as simple as just one player wanting it more. Just as he did Thursday, Rogers dictated tempo from start to finish, knowing when to hold and when to attack, and at times inspiring glowing narrative with his flair for the dramatic.
For starters, there was the fall-away buzzer-beater to end the first quarter, heaving a rainbow from NBA range as he fell backward onto the floor for a 12-7 lead.
The second quarter was where he put the game seemingly out of reach. He started things off with his second of four 3-pointers on the night, this one from the corner, then followed up with a windmill reverse layup through traffic for a 22-11 margin with 5:29 to go in the half.
Three minutes later, Rogers put the lead at 15 sparking two consecutive fast break baskets. On each one, he leaped high into the air, pivoted 180 degrees and glided up-court, first hitting Scott Cordner with a bounce pass deep to the blocks, then hitting Lake Berry (11 points) with an outlet pass for a 32-17 margin.
Up 38-20 at the half, Rogers put the game thoroughly in the Warriors' hands with two show-stopping plays back to back. Gathering at the left wing in isolation, he drove to his left, took one dribble and dropped a euro-step, dragging his back foot as he floated the ball up high with his right, kissing the glass for a 48-22 lead. Coming back the other way, Rogers launched high into the air for an acrobatic block.
"Not a lot of guards get recruited for their rebounding, so I've got to show that I can rebound, because I'm a small guy," said Rogers, who has light interest from a number of Division 1 programs, from Providence down to Central Connecticut State and the local Atlantic-10 and CAA schools in between. "I just always stay ball hungry. And then when I get the ball off the rebound, I don't have to worry about the outlet because I already have it, and I got my guys running in transition and they trust me."
This isn't the first time Rogers has had tears like this -– early-season wins over Newton North and Needham come to mind -– but there's a reason the Warriors entered the playoffs 12-8, with a No. 12 seeding. Inconsistency has plagued the Warriors for most of their 2012-13 campaign.
First-year Brookline coach Luke Day chalked it up to maturation.
"Kids develop at their own pace, they grow up, and I think he's getting more comfortable with me, and what I want to do," Day said. "He and I have clicked pretty good since the beginning. We haven't always agreed, we've butted heads at times, but it's always been respectful.
"I'm probably understanding how to use him better, and he's understanding more of what I want him to do. The whole team is growing up, and you can see it right before your eyes."
Seal and deliver:
This much is for certain -- the Warriors are a much better defensive team than they were two months ago.
Brookline owned the glass tonight, unofficially holding a 44-18 margin in rebounds -- including 12 from 6-foot-6 junior Obi Obiora. Between Obiora, 6-foot-7 sophomore Mark Gasperini, 6-foot-3 junior wing Anthony Jennings and 6-foot-2 forwards Corner and Tyler Patterson, the Warriors hold a size advantage over most squads as well.
The key is putting it all together. The Warriors did a terrific job sealing around the basket, not getting caught out of position underneath, and demonstrating patience with pump-fakes and up-and-under's.
"We are clearly the team defensively that I thought we were going to be early on," Day said. "We are really hard to play in the half-court right now, and that's because they've learned some of the X's and O's things that I wanted them to learn about positioning, and they're just putting the effort in on the ball.
"I mean tonight, we talk a lot about help side, but we didn't need it tonight because we did such a good job on the ball tonight. You look at our defensive statistics in the last three games against three pretty good teams…And we're not pressing, not gimmicking anybody, we're just guarding people. It's pretty good."
Special season, special bond:
Brookline moves on to Tuesday's Division 1 South semifinal at UMass-Boston's Clark Athletic Center, against Mansfield, seeded No. 1 in the South and ranked No. 1 in ESPNBoston.com's statewide poll since the beginning of February.
The last time Brookline made it this deep into the tournament was 2004, when Charlotte Bobcats forward Jeff Adrien was a senior. That 2004 team went on to the Division 1 state final, losing to Springfield Commerce 53-51 in a thriller, and concluded the most dominant three-year stretch in program history. From the 2001-02 to 2003-04 seasons, Brookline went 64-9, with two state final appearances, led by stars such as Adrien, Tim Jones, Justin Powell and Clayton Barlow-Wilcox.
Rogers knows all too well of the significance of that era. When he first moved into the area as a sixth-grader in 2006, he befriended Adrien -- then a sophomore at UConn -- during a pickup game at Boylston Park, a short distance from Brookline High. Rogers says he hasn't spoken to Adrien since last spring, when he made one of his annual appearances at the school to talk to students, but it's safe to say he idolizes the NBA veteran.
"He's a good guy," Rogers said. "When I first moved here, I met him while he was at UConn. He taught me a lot, he told me about staying focused, and how it's hard for a black kid to stay focused and take care what you've got to do, because it's not easy for you. He's a good role model that I look up to. I haven't spoken to him in a while, but he's one of my guys."
So what does it mean to be the first Brookline squad since the Adrien era to make it this far?
"It's real special, man. Real special," Rogers said. "[But] it's something that we can't stress over, we can't think too much about, we can't get caught up in the moment. We've got to be bigger than the moment, and just take it to the next game. We've got to get to that goal, try and win a state championship."