Boston High School:

Tyler Piacentini
January, 31, 2013
1/31/13
3:20
PM ET
Former Weymouth hockey standout and current South Shore Kings forward Tyler Piacentini has given a commitment to Division 3 power Norwich University.

The 5-foot-5, 155-pounder was a ESPN Boston All-State Second-Team selection for the 2010-11 season as a senior with the Wildcats, after helping to lead Weymouth to Super 8 crossover round appearance.

This season with the Kings, Piacentini has 13 goals and 29 assists in 36 games.

"I'm very excited to continue my hockey career at Norwich University at one of the most prestigious Division 3 hockey programs in the country with such great history," Piacentini told ESPN Boston. "I could not have done it without my family and friends, and my coaches and teammates who make me better every day."
March, 24, 2011
3/24/11
4:59
PM ET
First Team

F - Colin Blackwell, St. John's Prep
The senior center and captain led the Eagles with 45 points (24 G, 21A) while earning MVP honors from the Catholic Conference. Playing on Prep's top lines, in addition to power play and penalty kill units, the Harvard commit was a +42 this season for the Super Eight finalists.

F - Brendan Collier, Malden Catholic
Collier was perhaps the most versatile player in the state. The junior BU commit scored the game-winning goal in the Lancers' Super Eight championship, but the winger was also a mainstay of MC's penalty kill units, playing defense. The Charlestown native tallied 63 points (24 G, 39 A) during the regular season while guiding the Lancers to their first D1A title.

F - Mike Vecchione, Malden Catholic
The Lancers captain and UNH signee led their potent offense with 70 points (26G, 44A) during the regular season. The senior winger also broke the Catholic Conference's all-time single-season scoring record during MC's run in the Super Eight. The Saugus native is looking at playing in either the British Columbia Hockey League or the United State Hockey League next year.

D - Connor Evangelista, Malden Catholic
The junior blue liner was perhaps the most underrated element to the Lancers' Super Eight title run. Whether it was through an outlet pass springing the rush or on the penalty kill, the Wakefield native did it all. Evangelista was among the state's top-scoring defensemen and contributed 25 assists during the regular season for the D1A champion Lancers.

D - Marc Hetnik, Catholic Memorial
The Knights senior was like having a fourth forward out there, who also readily handled the opposing team's top players night after night. The Chestnut Hill native is considering BU, Holy Cross and Merrimack among his college choices and is likely to play in the British Columbia Hockey League next year.

G - Kyle Williams, Central Catholic
The junior netminder spearheaded the Raiders' run to the Super Eight. With Williams carrying a bulk of the load, Central Catholic surrendered just 43 goals this season while posting a goal differential of +45. He was also a driving force behind the Raiders' Super Eight run and turned in a strong performance in a near upset bid against Malden Catholic.
"Line Change" Second Team

F - Tim Driscoll, Hingham
After scoring the winning goal in the Harbormen's Super Eight championship in 2010, the Holy Cross commit captained Hingham to a D1A return in 2011. The senior winger led the Harbormen with 34 points (12 G, 22A) during the regular season and is exploring opportunities to play a prep postgraduate year of hockey before enrolling at Holy Cross.

F - Ryan Fitzgerald, Malden Catholic
The talented sophomore was the fulcrum the Lancers' prolific top line, centering Collier and Vecchione. The BC recruit was MC's second leading scorer during the regular season, netting 66 points (24 G, 42 A) for the Super Eight champions.

F - Tyler Piacentini, Weymouth
The senior captain was the sparkplug to the Wildcats' Super Eight run. While he was often the smallest player on the ice, Piacentini was typically the most visible, letting his play to the talking. With a 61-point regular season (31 G, 30 A), he finished fourth in the state in scoring to MC's dynamic first line.
D - Chris Joyce, Needham
The senior blue liner was the Rockets' third leading scorer and a stalwart on defense who seldom left the ice. Joyce tallied 24 points in the regular season (7 G, 17 A) while leading Needham to yet another Super Eight appearance.

D - Alex Pompeo, Hingham
The senior was among the state's leading point-getters among blue liners and finished second on the Harbormen in scoring to Driscoll. Pompeo was an integral part of the Harbormen's Super Eight title run in 2010 and their repeat appearance in 2011.

G - Donald Hesse, St. Mary's (Lynn)
The Spartans netminder was among the state's leaders in all goaltending statistical categories, including a measly goals against average of 1.90 during the regular season. Hesse spurred St. Mary's to its first Super Eight appearance this season. The Salem native is considering playing hockey at several postgraduate prep schools next season.
Best of the Rest
F Garrett Allen, Dartmouth
F Mike Cashman, BC High
F Liam Centrella, Andover
F Tom Coleman, Needham
F Ryan Connors, Marshfield
F Liam Coughlin, Catholic Memorial
F Joe Czarnota, Reading
F Ryan Dempsey, Marblehead
F Ryan Doherty, Tewksbury
F Terence Durkin, BC High
F Kevin Emmerling, St. John's (Shrewsbury)
F Tommy Evangelista, Central Catholic
F Riley Flanagan, Weymouth
F Dan Graham, Arlington Catholic
F Anthony Hardy, Bridgewater-Raynham
F Mitch Hamor, Beverly
F Alex Holland, Woburn
F Jack Jenkins, Billerica
F Sam Kurker, St. John's Prep
F Chris Leblanc, Winthrop
F Nick Leonard, Central Catholic
F Conal Lynch, Boston Latin
F Chris Maguire, Waltham
F Jim McGrath, Medfield
F Dan O'Hear, Catholic Memorial
F Ross Olsson, Billerica
F Cam Owens, Wilmington
F Drew Oxley, Saugus
F Kurt Roderigues, Saugus
F Nick Roberto, Malden Catholic
F Jason Salvaggio, Xaverian
F Joe Scarfo, Winthrop
F Casey Shea, Woburn
F Devin Smith, St. John's (Shrewsbury)
F Andrew Taylor, Oliver Ames
F Zach Wells, Barnstable
F Andrew White, BC High
F Garrett White, Malden Catholic
D Steven Bellew, Hingham
D Steven Bristol, Weymouth
D Sean Kavanagh, Springfield Cathedral
D Cam Kennedy, St. Mary's (Lynn)
D Jake Kulevich, Marblehead
D Ryley MacEachern, Austin Prep
D Eric Muise, Peabody
D Alex Taddeo, Franklin
G Joe Cerulo, Wakefield
G James Cox, Braintree
G Peter Cronin, BC High
G Zac Rondeau, Springfield Cathedral
G Kyle Jacobs, Pembroke
G Chris Treon, Westwood
All Rookie Team (Top 5 to Watch for Next Year)
Shane Eiserman, F, St. John's Prep
Tyler Sifferlen, F, Malden Catholic
Tom Besinger, F, BC High
Sean Cleary, G, Barnstable
Nolan Redler, F, Winchester
Coach of the Year
John Flaherty, BC High
It took just one season for Flaherty, who took over for legend Joe McCabe, to get the Eagles back to the Super Eight after missing the playoffs in the previous two seasons. The BC High graduate guided the Eagles to a 15-6-3 record that included an appearance in the Super Eight crossover round. Flaherty also works at the school as its Director of the Fund.
March, 13, 2011
3/13/11
7:39
PM ET
LOWELL, Mass. -- After some tense moments and a measure of confusion beneath the stands of the Tsongas Center, No. 4 seed Weymouth learned that they, not Central Catholic as originally understood, would be moving on to the crossover round of the Super Eight tournament.

Although Weymouth lost to top-seeded Malden Catholic, 5-4, on Sunday and finished with a 1-2 record in the three-game first round of the tournament, the Wildcats held the second tiebreaker over eighth seed Central Catholic and learned they would be moving on only until about a half hour after the final whistle blew. Weymouth held the goal quotient tiebreaker over the Raiders, meaning they were joining BC High, Malden Catholic and St. John's Prep in the tournament's 'Final Four'.

ESPN Boston was standing by with Wildcats senior co-captain Tyler Piacentini as he learned his team's good fortune:


March, 9, 2011
3/09/11
12:57
AM ET
By
Roger Brown
| ESPNBoston.com
NORTH ANDOVER, Mass. -- Central Catholic didn't have many scoring chances in Tuesday night's Super Eight tournament game against Weymouth, but the Raiders took advantage of the best ones they did have.
Nick Leonard scored on a penalty shot, and Tommy Evangelista added a power-play goal to propel eighth-seeded Central Catholic past fourth-seeded Weymouth, 2-1, at Merrimack's Lawler Arena.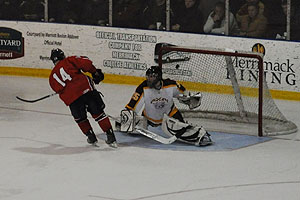 Brendan Hall/ESPNBoston.comCentral Catholic forward Nick Leonard bears down on Weymouth goaltender Brian Brady during their Super Eight playoff game at Merrimack College. Leonard scored on the play to help the Raiders to a 2-1 victory.
The victory raised Central Catholic's overall record to 18-6-1 and its tournament record to 1-1. The Raiders opened the tournament with a 4-2 loss against top-seeded Malden Catholic.
"They outplayed us for the majority of the game," Central Catholic head coach Mike Jankowski said. "We made a few plays and capitalized on the opportunities that we had."
Meanwhile, Weymouth had a hard time getting the puck past Central Catholic goaltender Kyle Williams, who recorded 27 saves.
"Kyle played unbelievable tonight," Jankowski said. "Every time it looked like they were going to cash in on an opportunity, he was there to close the door on them. It was really on Kyle's shoulders. Can't say enough about his play tonight."
Senior forward Tyler Piacentini scored Weymouth's lone goal. Piacentini leads the team in goals (32) and points (64).
"Obviously we're disappointed with the outcome," Weymouth head coach Matt Cataldo said. "I thought the kids played extremely hard. We had a lot of good chances. Tonight just wasn't our night. Normally we bury nine out of 10 of those good shots that we had – especially the flurries we had in the third period. I thought we deserved better.
"Their goalie made some big saves, but we helped him out a little bit. He goes down every single shot and if you go up high on him you're gonna beat him, which is what we did on that first goal. We had a lot of low shots on the ice off the pads, off the stick, so it's something to learn from."
Weymouth slipped to 18-4-2 overall and 1-1 in the tournament. The Wildcats were coming off a 4-3 triumph over fifth-seeded Hingham, last year's Super 8 champion.
It was a 1-1 game until Evangelista collected a power-play goal at 2:32 of the second. Leonard and Ryan Daigle were credited with assists.
Weymouth had several good scoring opportunities in the third – including a shot that hit the left post – but couldn't pull even. Weymouth goalie Brian Brady made 13 saves.
It was 1-1 after the opening period. Piacentini handed Weymouth a 1-0 lead on a wrist shot from the right circle 2:24 into the game, but Central Catholic pulled even when it was awarded a penalty shot. Leonard scored the goal at 12:37.
"It was exciting," Jankowski said. "If we had to pick one guy, he'd be the guy we'd pick to take it."
Each team is scheduled to play its final game in pool play Sunday. Weymouth will face Malden Catholic (2-0), and Central Catholic will face Hingham (0-2). Each contest could be moved if the Hockey East quarterfinal-round series between Merrimack and Maine goes to a third game.
If teams are tied after pool play is complete, goal differential in tournament games is the tiebreaker that will be used to determine which teams advance.
"We couldn't ask for more," Jankowski said. "We have a chance to move forward, so it's pretty exciting."
March, 5, 2011
3/05/11
9:14
PM ET


NORTH ANDOVER, Mass. – The seniors of Weymouth hockey had never once beat South Shore rival Hingham until this year. Now, it seems the Wildcats have the Harbormen's number.

Faced with a one-goal, third-period deficit, No. 4 seed Weymouth scratched their way back into the game to come away with a 4-3 win over fifth-seeded Hingham in their first-round Super Eight tournament game at Merrimack College's Lawler Arena on Saturday, marking their second straight win over the Harbormen.

"This says a lot about those kids and a lot about this team," Wildcats head coach Matt Cataldo said. "We knew if we just kept working, we'd get the chances."

Weymouth (18-3-2) was first on the board midway through the first period. Junior forward Jonathan Wilson had the Wildcats to a 1-0 lead with just his second goal of the season. Sophomore winger Ian Sheridan added an assist. But Hingham (13-6-4) tied the game with less than minute remaining in the period with Alex Pompeo's seeing-eye slap shot from the point. Pompeo's power-play goal was assisted by Steven Bellew and Matt Hughes.

The Wildcats got back to it in the second, reclaiming the lead in the third minute with Riley Flanagan chipping home a centering pass from Tyler Piacentini. Steve Bristol also added a helper on the play.

"Tyler's done that all year long," Flanagan said of Piacentini's wizardry with the pass. "I don't know how he does it, he just does."

Hingham finished the second period with a flurry, however, and outshot the Wildcats, 9-2. Dan Griffin netted his fifth goal of the season with 6:24 to play in the second and the Harbormen struck once again in the final minute, for the second straight period, with Ryan Linehan redirecting James Gordon's pass past Weymouth netminder Brian Brady (16 saves).

"The goal was to get the puck deep and forecheck the D before they could get the puck up," Harbormen head coach Tony Messina said. I think we did that well for the first two periods."

The ice shifted in the other direction during the third, however, as Weymouth outshot Hingham, 11-4. The line of Flanagan, Trevor King and Piacentini again left its imprint on the game. Midway through the third, Flanagan netted his second goal of the game, set up by yet another perfect touch pass (or was it intended as a shot?) from Piacentini.

Then, it was King's turn to get in the fray. The converted forward, turned defenseman, turned forward again, potted the game-winner with 2:45 remaining with a set up from Flanagan, who completed his three-point game.

"We've had a big rivalry with them over the years," Flanagan said, "and that was huge for us getting the split against them … That gave us confidence."


February, 28, 2011
2/28/11
3:28
PM ET
We're hours away from dropping the puck in the postseason with tonight's Super Eight play-in games.

But we took a little time to sort out the Super Eight field, providing a primer on the teams.

Take a peek:

1. Malden Catholic (16-2-2)
Marquee wins: Lancers had wins over five of the 10 Super Eight teams and that doesn't even include what might have been their most impressive win, an early season triumph over New Jersey powerhouse Delbarton.

Players to watch: F Mike Vecchione, F Ryan Fitzgerald, F Brendan Collier, D Connor Evangelista, F Nick Roberto.

The skinny: Wire to wire, unquestionably the top-ranked team in the state. As in the last couple of seasons, the Lancers enter the Super Eight with lofty expectations and seemingly nothing short of a title will satisfy. MC's depth reaches far beyond its top line of three Division 1 college recruits (Collier, Fitzgerald and Vecchione) and its team speed and passing ability are without parallel. Not only can they score, they can defend as well, led by top defensive pairing of Evangelista and Colin MacGillivray.

X-factor: It's funny how the postseason seems to shave away certain goals into missed chances and oftentimes it due to a hot netminder. So if those once plentiful goals start to ebb away, it will be left to senior goaltender Pat Young to shine. Young is capable between the pipes and he might just show that he's been the most overlooked element to MC's success.

2. St. John's Prep (14-5-1)
Marquee wins: As the runners up in the Catholic Conference, the Eagles nabbed a pair of league wins against both BC High and Catholic Memorial, but it might have been Prep's win against the Knights on Friday that showed they can truly be a threat in the Super Eight. Playing against a CM team with nothing to lose and everything to gain, the Eagles ratcheted up the D in a playoff-like atmosphere.

Players to watch: F Colin Blackwell, F Shane Eiserman, F Sam Kurker, G David Letarte, D Joe Currie.

The skinny: Outside of MC, the Eagles have the deepest collection of eye-popping offensive talent. Blackwell, a Harvard commit, is equally adept as a playmaker as he is a sniper. Eiserman is wise and mature beyond his years as a freshman while Kurker provides grit and a nice scoring complement. The blue line was the perceived weakness of the squad, but they've come a long way with Currie providing veteran leadership, in addition to Scott Derrickson who played a strong second half.

X-factor: Kurker. When the junior winger gets hot, he's hard to stop and creates a dynamism to Prep's offense.

3. BC High (13-4-3)
Marquee wins: The Eagles finished strong, winning their final six games in addition to the Cape Cod Classic tournament to end the season. Their 5-4 shootout with Catholic Memorial was also a classic, as usual. Does a tie against Malden Catholic count as well? Sure.

Players to watch: F Mike Cashman, F Terence Durkin, F Andrew White, D Jack Buckley, D Brendan O'Malley.

The skinny: The Eagles play with plenty of speed, a point of emphasis for first-year head coach John Flaherty when assembling this year's varsity roster, and the young roster has gelled together quickly. More than anything, BC High has taken play to their opponents. They're aggressive on the forecheck and know how to use their speed to their advantage.

X-factor: Experience. The Eagles haven't been to the postseason since 2008, so a good portion of their roster hasn't experienced playoff hockey. How long will it take them to acclimate? A period? A shift? "Hopefully, not even that," Flaherty said. "At the end of the day, it's just another hockey game. It's not different from any others."

4. Weymouth (17-3-2)
Marquee wins: The Wildcats' 5-2 win over fellow Super Eight entrant and longtime rival Hingham at Pilgrim was about as good as it gets for the Weymouth seniors who'd never beaten the Harbormen before. "It's a monkey they've wanted to get off their backs," head coach Matt Cataldo told ESPN Boston after the game.

Players to watch: F Tyler Piacentini, F Riley Flanagan, G Brian Brady, F/D Trevor King, D Andy Sheridan.

The skinny: When are people finally going to stop saying that Piancentini is too small to play on the big stage? He can flat out score. Hey, it worked for Nathan Gerbe, right? Not only does Weymouth have scoring punch, they're well suited for a long postseason run with Brady, a senior, in nets. Outside of MC, the Wildcats were perhaps the state's most consistent team from start to finish and that means something coming in a year of great parity.

X-factor: King has played on the blue line and stepped up front to play center as well this season. Whether it's moving the puck out of his own end, or stepping in to win a faceoff, versatility always comes in handy this time of year.

5. Hingham (13-5-4)
Marquee wins: It might not look as impressive as their upset over Malden Catholic on paper, but the Harbormen's 5-3 win over St. Mary's of Lynn on Feb. 5 got them going. After upsetting the Lancers, Hingham went through a tough 0-3-1 stretch before turning things around with a comeback win that had the intensity of Super Eight matchup.

Players to watch: F Tim Driscoll, D Alex Pompeo, F Matt Hughes, F Austin O'Connor, D Steven Bellew.

The skinny: Let's call spades a spade: the Harbormen are the defending champions, so that has to count for something. Simply put, they've been there and done that, so nerves won't be an issue. Although there was a good amount of turnover from last year's roster, a few of their stalwarts remain in Holy Cross commit Driscoll and Pompeo, who is among the best defensemen in the state. They are terrific building blocks to a Super Eight champion-caliber squad.

X-factor: Derek McInnis was superb during last year's run to the title, but head coach Tony Messina likes to roll his goaltenders and senior Kevin Granatino has been solid in the second half of the season. That gives the Harbormen perhaps the greatest depth in goal in the tournament.

6. Needham (12-6-4)
Marquee wins: Where would the Rockets have been without their 3-2 win over Weymouth on Feb. 9? It was a season-turner. Their 4-3 win over Springfield Cathedral was their raison d'Ítre to the tournament.

Players to watch: D Chris Joyce, F Tom Coleman, F Jeff Rosata, D Scott Atkinson.

The skinny: Who'd have thought the Rockets would end up with the sixth seed after (literally) being left off the table in the first round of Super Eight voting. Of course, head coach Bill Guisti has built Needham into one of the state's premier public school programs and is evidenced by their tough out-of-conference schedule which includes several Catholic Conference teams. So the Rockets are used to playing the best. Joyce is in the conversation when it comes to the state's best defensemen and we've always loved the jam Needham's forward play with. They're truly a tough team to play.

X-factor: Akin to the Harbormen, it will be interesting to see how Needham's goaltending tandem of Evan MacDonald and Connor Murray shapes up. They're both talented and capable of carrying the load.

7. Woburn (17-3-1)
Marquee wins: Life in the Middlesex League night in and night out is no easy thing, so we take the fact that the Tanners were 14-2-0 against league competition as a marquee accomplishment.

Players to watch: F Casey Shea, F Alex Holland, F Daniel Holland, F Eddie Aprile, D Brian Dulong.

The skinny: We had the Tanners pegged for the top six, which means they would have avoided playing Cathedral in tonight's play-in game. But so is life and Woburn enters the tournament as one of the most consistent teams throughout the season …

X-factor: … However, the Tanners haven't played much in the way of their out-of-conference schedule (a Their 6-0 thumping at the hands of St. John's Prep was a good harbinger.

8. Central Catholic (16-5-1)
Marquee wins: It was early, but the Raiders' 4-3 win over St. John's Prep is about as good as it gets.

Players to watch: F Tommy Evangelista, G Kyle Williams, F Nick Pelrine, F/D Nick Leonard, D Ricky Sheehan.

The skinny: The Raiders looked like they might have been on the bubble with fellow DCL/MVC co-champion Billerica coming down the last couple weeks of the season, but Central showed what they are capable of with a huge 6-3 win over No. 4 seed Weymouth on the next to last day of the season. If that team shows up, the Raiders will be extremely dangerous. Evangelista is simply fun to watch.

X-factor: Williams is that type of goaltender who is capable of stealing games for his team.

9. St. Mary's of Lynn (14-5-3)
Marquee wins: The Spartans had some tough luck in their out-of-conference schedule and had just a 7-5-3 record against fellow playoff teams. However, they were simply dominant in the Catholic Central (7-0-3), allowing just 12 goals in 10 games.

Players to watch: G Donald Hesse, D Cam Kennedy, F Bobby Mullins, F Christopher Surrette, F Tim Aylward.

The skinny: There's no bones about why the Spartans are in the fold and that is their defense, which all starts in net with Hesse. Among the elite netminders in the state, Hesse is a game-changer and showed in last year's Division 1 North tournament that he's capable of putting a team on his back. Kennedy is an underrated blue-liner who is equally adept leading the breakout from his own end as he is clearing out the crease.

X-factor: It comes down to the ability for the Spartans to get those mucking-type goals in key situations and then shutting teams down.

10. Springfield Cathedral (12-9-1)
Marquee wins: All but one of the Panthers' games was against a playoff opponent, so they're battled tested and held their own against teams that were considered for the Super Eight, going 4-4-0.

Players to watch: G Zac Rondeau, D Sean Kavanagh, F Frank Crinella, F Dante Christofori.

The skinny: The Panthers always seem to find a way into the Super Eight field and play one of the toughest schedules in the state. They might not be as talented as their previous Super Eight predecessors, but they play good defense in front of Rondeau, who is capable of stealing games on his own.

X-factor: Kavanagh is one of the great hidden jewels in the state.
February, 21, 2011
2/21/11
11:50
PM ET
By
Tom Layman
| ESPNBoston.com


BOSTON -- It's never an easy task to roll into Walter Brown Arena and take a game from perennial power Catholic Memorial, but that's exactly what Weymouth accomplished.

The Wildcats shrugged off a sluggish start to dominate play in the second and third periods in their 2-0 win over the Knights on Monday afternoon.

Brian Brady made 36 stops and played a crucial 15 minutes of hockey in the opening frame - stopping all 14 shots he faced - while the rest of the team was trying to adjust to the early start or the anxiousness of playing against one of the top teams in the Catholic Conference.

Matt Cataldo could sense that his team came out a little tentative in the opening period, but saw his crew get a renewed confidence when they took the Knights' best shot and didn't falter.

"I think that's the biggest thing when you come in and start playing the Catholic schools," explained Cataldo. "The public kids maybe have that perception that they can't compete or that they are not as good as a team. These guys are getting more and more confident."

The Wildcats were lucky that Brady came out oozing with confidence, because for most of the third period the Knights were able to control play and control the speedy forwards of the Wildcats.

"(Brady) generally gets better the more shots that he sees," said Cataldo, whose team is now 17-2-2 on the season. "For him to come out and be rock solid from the get-go definitely saved us in that first period."

The Knights were able to camp in front of Brady for most of the period, but his best work came with under a minute left to go as he stoned Liam Coughlin -- arguably one of the most gifted scores for CM -- on a breakaway.

"Every shot I gained confidence and felt good going into it," Brady said.

Tyler Piacentini and Riley Flanagan were held in check for most of the first period, but looked as if they finally figured out the Knights' back-line when the latter broke loose on a pass from Piacentini, but an offside call wiped out the play.

From that moment forward, the two would mount several 2-on-1 rushes. Flanagan had a goal called off after batting a Piacentini pass out of the air, but would finally get one to go on a give-and-go with his linemate at 9:24 of the second period.

Piacentini would notch his own goal with three minutes to go as he got behind the defense at center ice and decided to keep it himself to beat Shane Starrett (20 saves) short-side for the 2-0 lead.

"I saw that I was wide open out wide," Piacenitni said. "That's what I was trying to do all game, just get wide and kick their [defense] out of the way. It was a nice pass by Steve [Bristol]. I think it just squeezed in top right."

The Knights couldn't mount the sustained rushes that they built in the first period even though they outshot the Wildcats 36-22.. CM struggled to an 0-for-6 day on the power play, and with 41 goals in 18 games played, the Knights have to feel a little snake bit when it comes to putting the puck in the net.

"We've got to grind it and get to the crease to get that lucky goal, that 'puck luck' goal," Knights head coach Bill Hanson said. "We don't get them. I've never seen anything like it."

This should be the signature late season win that calms the nerves of Cataldo when it comes to thinking about the Super Eight. But the Knights still have a little bit of work to do. Hanson's team, who seem to be a fixture in the elite tournament every year, need to capture two points in the final two games to clinch a spot.

HONORING A FORMER KNIGHT
The game was played in honor of Mark Bavis, a former Knight player from 1984-88 who was tragically killed during the Sept. 11 tragedy at the World Trade Center. Bavis was a two-time Catholic Conference All-Star and was a member of three championship teams.

Bavis went on to play for Boston University from 1988-1992, but always remained loyal to the Knights' hockey program, according to his former head coach.

"He was like a son," Hanson said.
February, 20, 2011
2/20/11
12:23
AM ET


LYNN, Mass. -- If Saturday's contest between St. Mary's of Lynn and Weymouth is any indication of the quality of hockey to be played in the upcoming Super Eight tournament, puck fans should be happy.

The sixth-ranked Spartans went back and forth with the Wildcats at Connery Rink before Weymouth's Trevor King closed it out with the final two goals in a 4-3 win in a matchup of two teams that figure to be a part of the eight-team field.

The Wildcats battled back from a 2-0 first-period deficit and trailed 3-2 more than halfway through the third period.

"This was a good test for us," Weymouth head coach Matt Cataldo said. "To come in, go down 2-0 and then come right back in the second period and tie up. We found ourselves down again, but then we get two quick ones in the third. There were a lot of good things that came out of this game tonight. It was a good test to get us ready for what's coming down the road."

St. Mary's (12-5-3) got the Wildcats back on their heels in the first period while trying to avoid its third straight loss.

Derek Stella got things started, poking one past Weymouth goaltender Brian Brady (20 saves) with assists from Tim Aylward and Jake Witkowski. The Spartans took a 2-0 less than a minute later at the 9:59 mark Cam Kennedy's goal set up by Bobby Mullins.

Brady prevented St. Mary's from taking a three-goal lead, stopping Jordan Manthorne on a short-handed breakaway with 25 seconds remaining in the period.

It helped to refocus the Wildcats.

"We told them to keep working and do the things that we do," Cataldo said of his message to the team at the first intermission. "It's more or less mental with us when teams start to take over. It's more a matter of us managing how we react."

Weymouth (16-2-2) started chipping away at the Spartan lead 33 seconds into the second with Tyler Piacentini's power play goal from Riley Flanagan and King.

Pat O'Keefe drew the Wildcats even with 11:15 to play in the second, beating St. Mary's goaltender Donald Hesse five hole on a rebound.

The Spartans took the lead one more time in the third with 6:33 remaining. Tommy Braswell scored from behind the goal line, flipping the puck off Brady's back and into the net on a power play.

Weymouth made its final charge, led by King and this three-point night. His first goal — the game-tier — came with 4:04 remaining on a faceoff in St. Mary's zone. Flanagan won the draw and sealed off the Spartans' center. King beat the race to the loose puck and fired off a wrist shot.

"Riley [Flanagan] held us his guy and the puck bounced right back," King said. "I had a lot of space and just threw it on net.

King netted the game-winner with 2:27 to go on a 3-on-2 break. Piacentini and Flanagan added assists to finish with two-point games.

Aside from another two points in the standings, King and the Wildcats have yet another boost of momentum going for them heading into the big dance.

"It's a good to win to come up here and beat these guys," King said.
February, 17, 2011
2/17/11
11:32
PM ET
WEYMOUTH, Mass. -- Melissa and Tyler Piacentini sit in the lobby of the MDC Rink. It's where they grew up, figuratively speaking. The Weymouth residents both learned to skate here. They played together here for a time in the youth league as well.

Tyler had come back from an afternoon game with his Weymouth High hockey teammates, while Melissa had just finished up practice over at Thayer Academy. The Piacentini siblings are leaders of their respective teams and feared presences in the offensive zone. They're competitive, they're talented and, at least most of the time, they're supportive.

"I usually go to all of his games," said Melissa, a junior captain with the Tigers, "and I try to get him to come to mine…"

Tyler interjected: "Well, most of her games are at 4 o'clock and we have practice usually at that time, so it's hard to get there."

Discrepancies in schedule aside, the Piacentinis are strikingly similar on the ice. Along with their prodigious offensive skill, they're not afraid to do the dirty work. Both Melissa and Tyler echoed the sentiment that they enjoy digging pucks out of corners to set up chances for teammates.

But they also can finish. Tyler, a senior, is among the state's top scorers for Weymouth, with 27 goals and 26 assists. His latest marker was yet another dramatic game-changer, netting the tying goal in the Wildcats' 1-1 tie against Braintree on Wednesday in a clash of Super Eight 'Watch List' teams. It helped earn Weymouth its first Bay State Carey title since 2007.

Melissa has netted 23 goals and 13 assists with five games left to play. That comes after a 53-point (36 G, 17 A) performance last season.

It also serves to note the Piancentinis share physical traits. It's not a stretch to say they're usually the smallest players on the ice at any given time.

One thing's for certain, however, they don't let their perceived lack of height stand in the way.

"Obviously, you know that Tyler's one of the smallest guys on the ice and he'll tell you that he's sick and tired of hearing about that," Weymouth head coach Matt Cataldo said. "I always thought he was going to be a pretty good player, but I never thought he'd be this type of player."

Cataldo even admitted that he was hesitant to press Tyler into varsity service as a freshman. His talent level wasn't questioned, but Cataldo was worried about how he'd hold up to the wear and tear against bigger players. That season, Piacentini was Weymouth's third leading scorer — all doubt was removed.

"I will tell you this, after watching him play in the last four years, I don't care how big a kid is anymore," Cataldo said. "If a kid can play, they can play. Tyler's a testament to that.

"It's driven him, too. His foot speed's only gotten better and you can't move him off the puck. Some teams have to use everything but a machete to take him off the puck."

Thayer girls' hockey head coach Bill Lanagan thinks Melissa's natural talent and drive overcome any adversity as well.

A three-sport athlete at Thayer, who was also a part of the Tigers' first-ever NEPSAC Class B field hockey championship team in the fall, Piacentini turned a snub for the U-14 U.S. Hockey development camp into a positive during her Tigers career. By increasing her foot speed, Melissa returned to become a member of the U-15 and U-16 national camps in addition to winning a U-14 national championship with the Assabet Valley club team.

"Speed is her biggest asset, but more than that, she's got hockey sense," Lanagan said. "It's easy to teach things to her, she understands the game and her decision-making comes quickly."

Also inherent to the Piacentini clan is their competitiveness.

And, whether it's on the ice or in the driveway playing street hockey, or at the dinner table talking about hockey, it's all about — well, hockey.

"We're both very competitive, ever since we were little, in everything we do," Melissa said.

Tyler added, "No one can ever lose."
February, 16, 2011
2/16/11
10:49
PM ET


RANDOLPH, Mass. -- Standing outside the locker room following his team's 1-1 tie against Braintree on Wednesday night, Weymouth hockey head coach Matt Cataldo said: "Thanks for coming to our shooting gallery tonight."

The Wildcats outshot the Wamps, 35-5, so it might have seemed as such.

If the Bay State Carey battle was an ole fashioned Wild West shootout, Braintree sophomore goaltender James Cox might have well been wearing a full suit of armor, as he looked nearly impenetrable.

"I thought our kids deserved better than that,' Cataldo added, "but that's a credit to their goaltender."

With the point, seventh-ranked Weymouth (15-2-2, 12-1-2) clinched its first Bay State Carey title since 2007. The No. 15 Wamps (10-4-4, 10-2-3) had a chance to force the Wildcats into a do-or-die matchup at Zapustas Arena, but those title hopes faded after their 3-2 loss to No. 9 Needham on Saturday.

Despite the lopsided distribution of shots, Braintree head coach David Fasano was encouraged by his team's performance.

"I'm still proud of every kid in that locker room," Fasano said. "After Saturday, we could have rolled over. But they showed that we can be a contender in the South this year and try to win the whole thing."

Although they were outshot, 12-2 in the first period, the Wamps went to the room for the first intermission up 1-0 on the scoreboard. On their second shot of the period, David Fasano Jr. redirected Troy Tenaglia's slapper from the point with 2:42 remaining.

Meanwhile, Cox continued to kick out shot after shot and got clean looks at incoming shots with some help from his defensemen.

"The guys did a great job of letting me see puck," Cox said. "There were some tips in front, but it makes it much easier to make saves when you can see them."

The Wildcats continued to pour it on during the second, when they outshot Braintree 22-3. It looked as though Riley Flanagan had finally pushed one past Cox (34 saves) with 5:45 left in the second, but the close brush was waved off by the official.

Weymouth sweated it out until Tyler Piacentini scored the equalizer with 3:56 to play. The captain winger ripped a wrist shot top shelf from inside the right hand circle with an assist from Flanagan.

The Wildcats, who along with Braintree are among the 21 Super Eight "Watch List" teams, continue their push to the postseason with several high profile non-league battles with St. Mary's of Lynn, Catholic Memorial and Central Catholic in succession.

For now, Cataldo was happy to celebrate the team's milestone.

"We have a big group of seniors who've worked extremely hard over the four years and haven't won a league title," he said. "So this means a lot and they deserve it."
February, 1, 2011
2/01/11
12:47
AM ET


HINGHAM, Mass. -- No, it's not that pesky rally monkey from the L.A. Angels World Series run from a few years back, or even that evil monkey in the closet from "Family Guy."

This was a monkey of a different sort.

For the 12 seniors on the boys' hockey team of No. 2 Weymouth, they'd never once known victory against rival Hingham. With the Wildcats' convincing 5-2 win over the seventh-ranked Harbormen Monday night at Pilgrim Skating Arena, consider it vanquished.

"We have a lot of seniors on this team and they've never beaten Hingham," Weymouth head coach Matt Cataldo said. "It's a monkey they've wanted to get off their backs."

The Wildcats (12-1-1) set the tone early and resolved avenge the 3-2 loss they suffered to Hingham (6-4-4) in the Ed Taylor Tournament championship before the New Year. Matching the Harbormen's intensity early was important and Weymouth came in with something extra in their stride.

"The past four years we've played them, they've jumped right out," Wildcats senior captain Tyler Piacentini said. "I think we've gotten nervous or something. We just realized we could play with them and we came out flying."

Weymouth also got yet another huge game from their spark plug leader. With a five-point performance, including two goals against Hingham, Piacentini now has a staggering 46 points in 13 games played. Coupled with goaltender Brian Brady's effort (27 saves) and the Wildcats blue-liners, who kept things clear in front of Brady, Weymouth finally ridded its ghost.

"Both programs have done well in the recent past," Cataldo said, "but it's just a big rivalry game, the place is always packed."

Piacentini helped get things started, setting up Andy Sheridan's goal on a slapper from the point 6:36 into the first period. However, Hingham drew even before the period was out with Matt Hughes' perfectly placed wrister off a face-off win.

Weymouth took a 2-1 lead with 5:43 to play in the second on Piacentini's first goal with an assist from Riley Flanagan. Piacentini repaid the favor later in the second, setting up Flanagan's goal with some dirty work in the corner and a dish to his linemate in the slot.

"We were trying to get to open spaces and shoot on the goalie," Piacentini said. "That's what we've got to do to score."

Piacentini's second goal of the night came on a penalty kill midway through the third, when he used speed to his advantage to fight through the neutral zone for a breakaway.

Joe Nardone capped the win with an empty-netter from center ice, with an assist from Piacentini.

Although Weymouth was out-shot, 28-19, Cataldo praised the efforts of his defensemen in keeping traffic to minimum in front of Brady and not allowing the Harbormen's snipers access to high quality scoring chances.

"That's how the defensive zone works, you give them the outside but you don't let them in," Cataldo said. "[Tim] Driscoll, you give him an inch and he'll bury it, so when you play against any skilled team, you want to keep it to the outside and try to minimize their scoring opportunities from in close and down low. I thought the kids did a great job of that."
January, 13, 2011
1/13/11
9:45
PM ET
By
James Walsh
| ESPNBoston.com
With two goals from Bob Ganley and three assists from Patrick O'Keefe, the No. 6 Weymouth Widcats handed the No. 7 Needham Rockets their first Bay State Conference loss in two years.

"I though offensively they played very well, very solid," Weymouth head coach Matt Cataldo said of his second line. "That's what we've been looking for, we've got our first line that's just been pumping goals in and it's good to see Bob [Ganley] and Ian [Sheridan] and Okie [Patrick O'Keefe] step up and bury their chances."

Ganley, a senior forward, got the scoring started just 2:06 into the first period. Ian Sheridan found O'Keefe behind the net who then passed to a wide open Ganley in front of the net and he put the puck through Needham goalie Connor Murray's five hole for a 1-0 lead. Riley Flanagan made it 2-0 Weymouth at 7:28 in the second period after a nice pass from O'Keefe sent Flanagan through on a breakaway, which he finished high glove side.

Needham made it a one-goal game with just 4:47 remaining in the second when Jeff Rosata roofed a goal past Brian Brady from a tight angle and it was 2-1 at the second intermission.

But it was Weymouth that came out with more fire in the third period.

"Like we talked about in between the second and the third period, this is for the league title, and that's how we treated that third period" said Cataldo.

Senior captain Tyler Piacentini scored the third goal for the Wildcats at 2:23 into the final period and Ganley added his second goal a minute and thirty-six seconds later.

"Weymouth is a good team, we know this is the team to beat in the Bay State League," Needham head coach Bill Guisti said of the Wildcats, "I tip my cap to Weymouth, they wanted it more than us."

The win moves Weymouth to 8-1-0 overall and 6-0-0 in Conference, while Needham falls to 4-3-1 with a 4-1-0 BSC record. The two teams will meet again on Feb. 9.