Boston High School:

Tyler Pike
September, 10, 2010
9/10/10
12:14
PM ET
By
Neil Carroll
| ESPNBoston.com
SHREWSBURY, Mass. -- The football spiraled through the air as long as a punt normally would then hit the grass and made a large thud. It bounced back above a player's head as he looked at the spot where the ball hit, and then counted back the yard marks to its origin.

"78 yards!" he shouted, to the handful of players left after practice.

Richard Rodgers laughed, smiled and looked back at the face of his St. John's starting quarterback Dan Light. Light shrugged his shoulders and then playfully poked fun at his tight end because he knew he was beaten.

The competition was for bragging rights, but Rodgers was not going to lose.

That was the mentality that was passed down to him at St. John's over the past three years. That is the mentality that he wants to pass down.

"When you're a freshman, sophomore or junior you look up to kids and wonder when you're going to be in those senior's shoes," said Rodgers. "Now is that time for us and we need to step up, be leaders for the younger kids and leave our own legacy as a class."

Rodgers, a 6-foot-4, 230-pound wide receiver, committed to the University of California at Berkeley to play football in the fall of 2011. He has been clocked with a 4.6-second 40-yard dash time but because of his size, will play tight end in college.

However, the most impressive aspect about Rodgers is noticed off the field.

If you ask St. John's head coach John Andreoli about Rodgers' talents on the field, surely he'll say a few words. But then he'll tell you about what a stand-up person Rodgers is in the locker room.

"He is a leader on and off the field -- which is really his nature," said Andreoli. "When I look back at the things he's done over the past four years, what I remember the most, are all the small things that no one sees."

Whether the small things are trying to sit with the freshman basketball team when Rodgers was a starter on varsity as a freshman or just screwing in the facemasks of the helmets of younger players, the tight end has certainly learned how to be mature. While the California-bound senior is hoping for another super bowl win this season, he doesn't sweat the little things either.

"When I go out on the field I know that a lot of people will know that I am going to Cal and they're going to try say stuff and get to me like that," said Rodgers about his reputation. "But I just have to make sure I pay attention to the things happening around me and I'll be fine."

ST. JOHN'S AT A GLANCE
2009: 10-2, won Central Mass Division 1 Super Bowl
Coach: John Andreoli (seventh year, 54-17)
Key Players: Richard Rodgers, Sr., WR/DE, 6-4, 230 lbs., (49 catches, 722 yards, 17 touchdowns); Dan Light, Sr., QB/DE, 6-4, 235 lbs.; John Vassar, Sr., RB/LB, 5-10, 200 lbs.; Brendan Melanson, Jr., C/DL, 6-3, 230; Tyler Pike, Sr., LT/DT, 6-1, 270 lbs.; Shaun Burlanson, Sr., LB/RB, 5-10, 200 lbs.; Mike Hogan, Sr., LB, 6-0, 210 lbs.; Efraim Montalbo, Jr., WR/PR, 5-8, 160 lbs.
Strengths: Size, Speed
Weaknesses: Inexperience
Outlook: St. John's is a very strong team. They are once again a favorite in Central Massachusetts, and look to take their talents to the Division 1 Super Bowl again. Although the Pioneers do have a tough schedule, they have the depth to overcome it. While Light does look like he will have a seamless transition from H-back to quarterback, he is still unproven. However, with Rodgers and Montalbo on the outside of the quads package, and Vassar as the running back, the chances are high that the Pioneers will return to the top.

August, 28, 2010
8/28/10
2:25
PM ET
By
Adam Kurkjian
| ESPNBoston.com
SHREWSBURY, Mass. -- While teams around the state may have gotten started with football practices on Monday, the unofficial beginning of the season is the annual scrimmage between perennial state powers Brockton and St. John's of Shrewsbury. This year, the game was up in Shrewsbury, and, as usual, it was a physical affair with some outstanding plays on both sides of the ball for each team.
The first units played four series apiece, and in that span, the host Pioneers scored four touchdowns to Brockton's two. When the second units took the field, the Boxers held the advantage, scoring twice and keeping St. John's out of the end zone. Overall, the Pioneers' starters looked further along at this stage than Brockton's, but the teams were generally evenly matched.
[+] Enlarge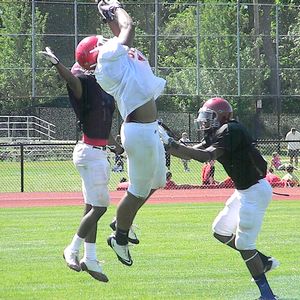 Brendan Hall for ESPN.comSt. John's WR Richard Rodgers was one of several standouts in this morning's scrimmage with Brockton.
Here are some other quick thoughts:
-- Last season, Dan Light came on in relief of starting quarterback Griffin Murphy at times and mostly ran the ball. This year, the senior showed against the Boxers that he can throw the ball, too. The 6-foot-3, 220-pound southpaw throws a beautiful deep ball and can still run over defenders when he scrambles. He threw a 55-yard touchdown pass to Richard Rodgers, a 35-yard score to Drew Ortone and rushed for a pair of scores as well.
"It's a process, definitely," Light said of his development throwing the ball. "We have a couple offensive coaches that have told me reads and other things. It's not just get the ball and try and gain 10 yards. It's where is this coverage going to leave open? Where's the holes in this coverage? So, definitely a learning process, but I think we're picking it up well."
His performance humbled the much-heralded Boxer secondary.
"It's perfect, because we''e used to playing against teams that run the ball a lot," said Brockton safety and University of Miami commit Albert Louis-Jean. "The defense was a little confusing, because I had to give help to one side, but I would still have to be on the other side at the same time. But it was a good experience, a good learning experience, a good way to get better."
-- It seems like this is the case every year, but the St. John'' defensive line looks to be a strength once again. At the ends, Light and the 6-4, 235-pound Rodgers make up an athletic pair that will be tough for any offensive line to keep off the edge. The Pioneers are just as strong at tackle, with junior Ryan Anger (6-2, 250) and seniors Michael Abraham (6-1, 200) and Tyler Pike (6-1, 270). Even with the loss of Troy Moore (Bridgton Academy) to graduation, this group has the potential to be better than last year's.
"Last year, we moved (Rodgers) from free safety to defensive end at about Game 7 or 8," said St. John's coach John Andreoli of his standout senior, who has offers from Boston College, Notre Dame and a host of Pac-10 schools. "He makes so many plays even when he's not in the stat sheet. You look at him, he tips balls, he causes rushes in passes. He's a very tough guy to block on the edge because he's very athletic. We feel like if we can stop the run and bounce the ball to him and Light, that's going to be a good situation for us. It's tough to block him coming off the edge."
-- Although St. John's mostly worked on its passing game, teams would be mistaken to overlook senior running back John Vassar. The 5-10, 200-pounder runs with a nice, downhill burst and had several nice gains on the first Pioneers' series. If defenses empty the box against the potent St. John's passing attack, Vassar will be add an extra dimension to an already-explosive offense.
-- As for the Boxers, the situation at quarterback is a little bit more muddled at this point, with no clear starter being named by coach Peter Colombo yet. Sophomore Austin Roberts got most of the reps with the first team, but senior Paul Mroz also got his fair share. Another sophomore, Micah Morel, also had a series with the ones. Both Roberts and Mroz led the Boxers on touchdown drives that ended with 16-yard scampers by senior running back Trevon Offley. Don't be surprised to see more than one signal-caller under center this season for the Boxers.
"Three good athletes and they all bring a little bit (something) different to the table," Colombo said. "I thought they all made their mistakes. They're all young in terms of varsity experience, so there's a learning curve. I think you saw Micah is going to be a great young quarterback. He had good velocity for a sophomore. Auggie (Roberts) threw it pretty good at times. I think he runs the option the best and Paul is your drop-back guy. The problem with that is you can't get good at three different things.
"For right now, it's Auggie and Paul," he added. "But I still think Auggie's got control of the offense the best. But I wouldn't be afraid to use Paul against certain teams in certain situations. He's a senior. He's the only one that's that age. So there's a maturity physically that he has. So we'll see."
-- Brockton's offensive line looks better than it did at this time a year ago with four starters returning. Even against a quality front like St. John's, the Boxers were able to create some nice running lanes for Offley and junior Josh Brewster. Offley, in particular, looks even faster than he did last fall and still has the lower-body strength to break free from those foolish enough to try and arm-tackle him.
"He's got to have the ball," Colombo said. "And when he does, good luck trying to tackle him. The line is coming together, and we have to get better every day."
-- No matter who takes over at quarterback, he will have a deep and talented group of receivers to work with. Louis-Jean made several nice grabs, including a 70-yarder for a touchdown from Roberts that was called back on a questionable offensive pass interference penalty. However, the player that may have been the biggest surprise was junior Jerrod Shelby. At 6-foot-4 with excellent hands, Shelby came in with the second unit and looked like a man among boys, finishing with a 40-yard catch and run for a score.
"I think this confirms that I've got to get him on the field with the starting quarterbacks, as well," Colombo said of Shelby. "We've got a bunch of kids like that, like Albert and (6-4 junior) Carl Joseph, who's out from the basketball team. (Joseph's) raw, he's learning, but he could help us, too, before it's over. So, we'll see."