Boston High School:

Tyllor MacDonald
June, 18, 2011
6/18/11
12:39
AM ET
FOXBOROUGH, Mass. -- With about five minutes remaining in Friday's Shriners All-Star football game at Gillette Stadium, Tyllor MacDonald knew his team need a big play. The North squad was trailing the South, 14-10, and driving into North territory.

That's when the Lynn English standout laid a wicked hit on North Attleborough's Dan Johnson, prying the ball free. MacDonald capped the play by falling on the loose ball and gaining possession for the North.

North quarterback Cal Carroll of Methuen took care of the rest, leading the team on a 13-play drive to victory that he capped with a 1-yard touchdown run to the North a 17-14 victory.

"As saw [Johnson] coming across the middle and I hit him as hard as I could," MacDonald said of his game-changing play. "I just knew that I had to. I had to pick my team up."

With the ball back in his hands, Carroll led North downfield, completing two key pass attempts for 37 yards on the drive. The Rangers' signal-caller found Everett's Matt Costello, ESPN Boston's inaugural Mr. Football Award winner, for a 22-yard connection on third and 16. Two plays later, Carroll hit BB&N's Peter Savarese with a 15-yard pass to give North a first down and goal at the South 5-yard line.

Carroll then punched in the game-winning score with 1:33 remaining.

"I think once we connected on that third and long, I think we really felt like we were going to pull through in the red zone," Carroll said.

Trae Weathers provided the counterpunch to North's aerial attack, which was quarterbacked by both Carroll and Dracut's Matt Silva. The bruising Revere running back was named the North's Offensive MVP following his 12-carry, 70-yard performance, forming part of a talented backfield alongside Gloucester's Jordan Shairs.

"We saw the ISO was working," Weathers said. "We were just trying to pound it in. It'd been working all game, so we just stuck with it."

Not to be overlooked was North's defense, which racked up five sacks including three consecutive sacks of Holliston's Sean Mayo to negate South's final drive of the game, sealing the win.

The Dexter School's Jake Giovanucci capped the performance with two sacks in the final minute. Billerica's Justin Hood, Lynn Classical's Daniel Omorgie and Gloucester's Chris Unis collected sacks for North.

"We really came together as a unit the last two weeks in practice," Giovanucci said. "We had a lot of really skilled guys. It's tough to block four skilled pass rushers. Someone might get the sack, but the other guys were taking up blockers."

South opened scoring with Mayo connecting on a 10-yard touchdown pass to Attleboro's Nate Robitaille with 6:49 remaining in the first quarter.

Carroll came back to tie the game with a 5-yard touchdown pass to Tewksbury's Anthony Acari with 9:25 to play in the second. Costello added the extra point to tie the game, 7-7.

North would take the lead into the locker room at halftime following James Brao's 24-yard field goal with 5:01 remaining.

South reclaimed the lead four minutes into the third quarter with Scituate's Tyler Park connecting with Cohasset's Jack Carrier on a 15-yard touchdown pass.
May, 5, 2011
5/05/11
10:32
AM ET
The North-South game of the 33rd Annual Shriners Football Classic kicks off this June 17 at 7 p.m., and for the second year in a row the contest will be held at Gillette Stadium. Below are the rosters for both squads participating in the game:
NORTH
Ryan Adams, Northeast, DE
James Aloisio, Masconoment, OT
Eric Apgar, Acton-Boxborough, RB
Anthony Arcari, Tewksbury, RB
Manny Asprilla, Everett, WR
Derek Bent, Shawsheen, TE
Brian Bourque, Reading, DB
James Brao, Hamilton-Wenham, LB
Cal Carroll, Methuen, QB
Brendan Casey, Boston Latin, DT
Thomas Chub, Masconomet, OL
Mitchell Colley, Arlington, LB
Sean Connolly, Tewksbury, FS
Tyler Coppola, St. John's Prep, RB
Matt Costello, Everett, WR
Anthony Courtouis, Lowell, WR
Jeff Covitz, Reading, OL
Nate Cyr, St. John's Prep, OL
Ned Deane, Andover, LB
Ryan Delisle, St. John's Prep, TE
Jake Giovanucci, Dexter, DE
Mike Grassa, BB&N, DB
Will Guinee, Malden Catholic, OL
Mike Harper, Methuen, LB
Zach Hayes, Chelmsford, S
Justin Hood, Billerica, DE
Brian Hurley, Wilmington
Zach Ingalls, Westford, DB
George Kallas, Beverly, OT
Ben Koopman, Marblehead, C
Chris Malonis, Dracut, WR
Tyllor MacDonald, Lynn English, DB
Tom Meade, Malden Catholic, LB
Trae Musumarra, Central Catholic, LB
Zach Nardone, Bishop Fenwick, DT
Paul Nwokeji, Thayer Academy, OL
John O'Connell, Northeast, DL
Daniel Omorgie, Lynn Classical, DE
Xavier Peralta, Central Catholic, DB
Ony Ramos, Lawrence, DB
Peter Savarese, BB&N, RB
Jordan Shairs, Gloucester, RB
Matt Silva, Dracut, QB
Bradley Skeffington, Salem, DB
Zach Smerlas, Lincoln-Sudbury, DL
Brian Strachan, St. Sebastian's, WR
Dave Summiel, Shawsheen, DT
Chris Unis, Gloucester, DE
Trae Weathers, Revere, RB
Sean Whittaker, Methuen, OL
Peter Yasi, Swampscott, DE

SOUTH
Matt Allen, Pembroke, SE
Ryan Barrett, Holliston, TE
Rob Barrus, Weymouth, LB
Adam Boari, King Philip, OL
Blaise Branch, Cardinal Spellman, RB
Lance Burlingame, New Bedford, OL
Jack Carrier, Cohasset, SE
Dylan Colarusso, Weymouth, RB
Joe Colton, Xaverian, DB
Tom Condon, Whitman-Hanson, OL
David Conroy, Walpole, SE
Nate Crary, Dennis-Yarmouth, DL
Seth DeMello, Somerset, RB
Mike Devin, Bridgewater-Raynham, OL
Mike Driscoll, Rockland, FB
Connor Fraser, Abington, DL
Jake Golden, Hingham, OL
Mitchell Graziano, Silver Lake, DB
William Greene, Oliver Ames, DE
Ernest Guy, Foxborough, OL
Joseph Hak, East Bridgewater, OL
Matt Hallisey, Duxbury, SE
Brian Harrington, Rockland, DE
Jordan Henderson, Barnstable, WR
D.J. Jamieson, West Bridgewater, RB
Randall Jette, Martha's Vineyard, DB
Dan Johnson, North Attleboro, SE
Andrew Kestenbaum, Dartmouth, OL
Matt Lockwood, Seekonk, RB
Albert Louis-Jean, Brockton, SE
Denis Maguire, Duxbury, LB
Jamel Marshall, Mansfield, RB
Zach Martin, Mashpee, RB
Alec May, King Philip, TE
Sean Mayo, Holliston, QB
Paul McCarthy, North Attleboro, DB
Kyle McGuire, Mansfield, OL
Dave McSweeney, Medway, OL
Obum Obukwelu, BC High, OL
Trevon Offley, Brockton, RB
Jon Page, Bourne, RB
Tyler Park, Scituate, QB
Liam Porter, Natick, OL
Ethan Rayner, Holliston, OL
Nate Robitaille, Attleboro, DB
Andrew Siden, Natick, TE
Kevin Stanton, Cardinal Spellman, LB
Jeff Synan, Plymouth North, OL
Chris Tamasi, Xaverian, LB
Ryan Vaughn, Norwell, OL
October, 4, 2010
10/04/10
3:15
PM ET
Better hold on to your hats.
That was the theme of Week 4 of the local high school football schedule from the perspective of weather and its results. Driving rains and howling winds across Southern New England had many of Friday's games washed out and moved to Saturday. For those who remained steadfast in their Friday schedules or kicked off on Saturday, there were plenty of upsets to be had and much on the line.
Here's what we learned from this weekend's action:
The good ship Falmouth
Down 15-0 at halftime? No problem. Thirty-six players on your sideline? That's enough. Falmouth has now made "upset" wins over BC High old hat.
It was the first time that a Catholic Conference team had traveled to the Cape in more than a decade. And coming off of last year's 22-20 loss to the Clippers, the Eagles had plenty of motivation to return the favor to what Falmouth had done on their turf last year.
Yet, somehow, the Clippers found a way to win. They weren't just playing for themselves and for their teammates, they were playing for the entirety of football on the Cape. That perceived no man's land of football has now definitively proven it is a force.
"Everybody thinks that because we're from Cape Cod that we don't know how to play football," senior Nelson Baptiste told ESPN Boston's Brendan Hall on Thursday.
Things didn't look good for Falmouth's chances early, as BC High running back Preston Cooper (two rushing touchdowns, 2-point conversion) accounted for all but one of the Eagles' 15 first-half points. BC High's front also bottled up the Clippers' option attack, holding Falmouth to just seven offensive plays in the half.
In the second half, Clippers head coach Steve Femino relied on a couple his less-heralded players to lead the charge in the second half.
Bobby Whelan led the rushing attack with 14 carries for 110 yards and touchdown — all coming in the second half. His 21-yard carry on his first touch of the game in the third quarter set the tone for what was to come.
After a Dillon Mansfield score made it 15-14, Falmouth looked for its defense to make a stand.
The Clippers forced the Eagles three-and-out with two plays for negative yardage, as Tyrone Reine and Jonah Olsen make tackles for a loss. Then, it was junior corner Devon Soares who left his imprint with two interceptions on successive BC High drives to close out the win.
"Devon Soares has been our biggest surprise of the year," Femino said. "He's not the biggest kid and some teams look to pick on him because [Nelson] Baptiste is on the other side. But he's done everything we've asked him to do and he's been a great surprise for us."
Though we shouldn't be surprised about anything the Clippers accomplish from here on out.
Armani Reeves is a big-time player with prime-time speed
Asked about the performance his star junior had just put on in a big win over New Hampshire power Bishop Guertin, Catholic Memorial head coach Alex Campea could only exhale deeply as he beamed, draping a hand on Armani Reeves' shoulder.
"This guy can make it happen, this guy can make it happen," he repeated to ESPNBoston's Brendan Hall. "Listen, we have some good players, and tonight in a big game they shone through -- making big catches, big plays, offensively and defensively. But I'm glad we have him. He competes every snap of every game."
We've previously held Reeves -- who lines up at both wide receiver and running back, and also returns kicks and punts -- in
high regard
. But last weekend's performance (193 all-purpose yards, three touchdowns) affirms everything.
Reeves currently holds scholarship offers from Penn State, UConn, Wake Forest and UMass, but we expect more to roll in as more and more coaches discover what a special athlete this kid is.
TVL up for grabs
Holliston entered Friday night's tilt with Tri-Valley League rival Medway looking as though they might run away and hide with the league title. The Panthers were averaging 48 points per game before they met the Mustangs' defense and met their first loss of the season in a 28-16 win over Holliston.
"I think it showed a lot of character that we were down 10 to nothing," Medway coach Dave McSweeney told ESPN Boston correspondent Neil Carroll on Friday. "We didn't panic and we made plays when we had to. Michael [Ozella] broke a nice run off that set up the last second pass so we kind of lucked out there, but I'll take it anyway we can get it."
With the win, Medway threw the TVL standings for a loop, drawing even with Holliston at 3-1 in league play. Both teams stand a game behind Westwood and Norton, who both improved to 4-0 on the weekend. Norton dispatched Medway in Week One, 23-14, but Westwood looms on the schedules of both the Panthers and Mustangs.
So things are about to get really interesting.
Is the Bay State Carey wrapped up?...
So we're not about to go Gore v. Bush in this space, but it's hard to not look at Weymouth's convincing 26-0 whitewashing of Needham as a huge leap forward to deciding the Bay State Carey.
Once again, the Super Colarusso Bros. (Can we get a video game in development for these guys yet?) led the way, combining for 225 yards and four touchdowns.
"This is not a league title tonight," Weymouth head coach Kevin Mackin told our Phil Perry on Friday, tempering the hype. "It certainly puts us in a good spot, but we've got to continue to work because there are other good teams here."

...One things's for certain: the Merrimack Valley Conference isn't
In Jason Houston's first year as an assistant at Dracut back in 2004, he watched as the Middies lost a 63-46 shootout to Division 1A Super Bowl runner-up Chelmsford. Now six years later, Houston won his second career game as head coach -- and his second in as many weeks over a previously-ranked opponent -- by flipping the switch, his team rolling to a 60-42 win over Billerica behind big nights from quarterback Matt Silva (8 of 12 passing, 262 yards, four touchdowns; 17 carries, 110 yards, touchdown), wide receiver Chris Malonis (seven catches, 252 yards, four touchdowns; 95-yard kickoff return touchdown) and running back Keith Hamel (20 carries, 121 yards, three touchdowns).
Dracut, by the way, wasn't even the favorite in the MVC Small headed into the season. Heck, they could very well end up 7-4 or 6-5 in this kind of daunting league schedule.
"In my opinion, top to bottom, this is the toughest league in the state," said Houston, who himself won an MVC title quarterbacking Lowell in the late 90s.
Central showdown
Looking ahead to next weekend, among the things we'll be watching is the matchup of Central unbeatens No. 17 Auburn and Northbridge. Both teams enter at 4-0 and hope to keep their marks unblemished. But the Rockets have an extra motivation in keeping their state-best 28-game win streak in tact.
However, Auburn's already had a couple of brushes this season. The Rockets slipped by Shrewsbury, 6-2, in Week One and escaped 19-15 this weekend's test against Hudson. No doubt Northbridge, which enters the game averaging nearly 29 points per game, will be looking to be the team to finish the deed.
HEAD OF THE CLASS

VALVOLINE CO-PEAK PERFORMERS OF THE WEEK: MATT SILVA, SR. QB, AND CHRIS MALONIS, SR. WR, DRACUT
Talk about an offensive explosion. Silva accounted for 372 yards of offense (262 passing, 110 rushing) and five total touchdowns, linking up with Malonis (seven catches, 252 yards) for all four of his touchdown passes, as the Middies survived a Wild West 60-42 shootout with Billerica. Since losing to Westford 27-13 in Week 2, the Middies have exploded, averaging 43.5 points per game and knocking off previously-ranked opponents in back-to-back weeks. Think things are clicking up on Route 38?
THE CLASSMATES
Sean Amaru, Sr. RB, Westwood
- The speedy Amaru led the Wolverines with 340 yards rushing on 18 carries and six touchdowns, in an easy 48-24 dispatching of Millis/Hopedale.
Andrew Coke, Jr. RB, Andover
- For the second straight week, Coke eclipsed the 200-yard mark on the ground, this time rushing for 214 yards and three touchdowns on 26 carries in the Warriors' 31-0 win over Haverhill -- in pouring rain, no less. The 6-foot-1, 195-pound Coke has accumulated 450 yards and nine touchdowns in the last two weeks.
Matt Costello, Sr. WR, Everett
- Costello had a dominant afternoon for the Crimson Tide in their 43-14 win over Barnstable, catching eight balls for 203 yards and four scores.
Nate Costello, Sr. RB, Assabet Valley Tech
- The senior ran for 232 yards and three scores for the Aztecs, who cruised to a 48-8 win over Nashoba Tech.
Tyllor MacDonald, Sr. QB, Lynn English
- The 6-foot-1 MacDonald threw for 263 yards and four scores, ran for 74 yards and three more scores, and added an interception on defense to lead the Bulldogs in a 47-16 win over Danvers.
John Page, Sr. RB, Bourne
- Page ran for 243 yards and four scores in the Canalmen's 42-14 win over Coyle-Cassidy.
Nick Schlatz, Jr. RB, Bridgewater-Raynham
- Schlatz carries 18 times for 211 yards and four scores as the Trojans rolled to a 42-14 win over New Bedford.

Mike Walsh, Jr. QB, Swampscott
- Down 34-14 at the half, Walsh rallied the Big Blue to a stunning comeback over Revere, tossing for three touchdowns and finishing the day 25 of 43 for 322 yards passing. He threw the game-winning score with 16 seconds left, and the Big Blue converted the two-point try for the 43-42 win.
August, 29, 2010
8/29/10
7:32
PM ET
By
Neil Carroll
| ESPNBoston.com
We kick off our Top 25 countdown today with a visit to Lynn English, the No. 25-ranked team on our list. Be sure to check back daily for previews on all of our top squads in Massachusetts.
LYNN, Mass. -- Lynn English's Travonne Berry-Rogers broke the huddle, jogged outside the hash marks and settled at the line of scrimmage, five yards from the sideline.
The senior receiver got in his stance putting his right foot forward and his hands by his side, and then sent a reassuring look down the line at a trustworthy face staring back at him. He was signaling to his best friend and quarterback, Tyllor MacDonald, as if to say "I've got this one".
[+] Enlarge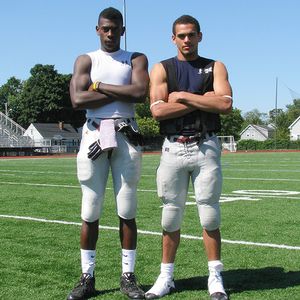 Neil Carroll for ESPN.comTravonne Berry-Rogers (left) and Tyllor MacDonald have formed a strong friendship that translates well on the field.
Berry-Rogers broke on the snap of the ball, used his quickness to get past the Everett High School cornerback in press coverage and then ran a 25-yard fade to the back of the end zone. Meanwhile in the backfield, MacDonald got a low shotgun-snap, took a step back and -- without hesitation -- lofted the football to the left corner.
The ball hung long enough that it seemed the sun took hold of it, but then fell helplessly into the hands of Berry-Rogers, as he and MacDonald paired up for a 25-yard touchdown on Saturday against Everett.
Neither Berry-Rogers' perfect route nor MacDonald's perfect ball were the most impressive part of this play.
Instead, what stood out to the on-lookers at Manning Field was the chemistry between quarterback and receiver.
"They're like brothers," said Lynn English head coach P.J. Holey. "It's almost like a competitive thing. Tyllor gets on Travonne, and Travonne will get on Tyllor, but when it comes down to it they know they can count on each other."
"That's the type of bond that a receiver and quarterback need to have."
The two are entering their second year as a starting tandem for the Bulldogs, but their bond has roots that go back 15 years to a section of West Lynn where they grew up.
Throughout grade school, Berry-Rogers' and MacDonald's families both lived at the Marian Gardens -- a family low-income housing apartment complex across Neptune Boulevard from Lynn Vocational Technical Institute. It was at the Marian Gardens' playground where the two played one-on-one basketball and tackle football, honing the skills they now showcase on Friday nights for Lynn English.
"Tyllor and I are like cousins because we grew up together since we was little," said Berry-Rogers. "Growing up I was always the basketball player and he was the football player, but we would always be throwing the football around in the backyard."
This year, the duo will again try to take that playground-born chemistry to the field. Lynn English is coming off of an 8-3 season, but things are looking up for the Bulldogs because of Berry-Rogers' and MacDonald's familiarity.
Both are looking to play college football next year, however they are not looking over this season at Lynn English.
"Every game is a big game because you gotta take it one by one," said Berry-Rogers of this year's schedule.
While Holey is entering his third season as head coach for Lynn English, it is evident that he does not need to worry about the relationship between his quarterback and wide receiver.
"It's great," said MacDonald about having his best friend at receiver. "I got someone to go to if I need to. I can count on him and I know he's going to come down with it cause he's my boy."
LYNN ENGLISH AT A GLANCE
2009:
8-3 (3-2 Northeastern Large)
Coach:
P.J. Holey (third year, 17-5)
Players to watch:
Tyllor MacDonald, Sr., QB/CB, 5-10, 170 lbs.; Travonne Berry-Rogers, Sr., WR/FS, 6-1, 175 lbs.; Melvin Taveras, Sr., RB/DB, 5-11, 180 lbs.; Josh Baptista,, So., WR/DB, 5-9, 160 lbs.; Jeremy Lessard, Jr., RB/LB, 5-9, 190 lbs; Brendan Holey, Jr., LT/DT, 6-6, 220 lbs.; Erik Holey, Jr., WR/DE, 6-6, 200 lbs.; Nick Flawa, Sr., TE/LB, 6-3, 215 lbs.; Derrick Stevens, Sr., TE/LB, 6-0, 205 lbs.
Strengths:
Skills positions, speed
Weaknesses:
Size, Offensive/Defensive Line
Outlook:
The Bulldogs do not have the size or the depth as many other teams have up front. However they will try to make up for it with speed and quickness on the outside. The zone-read offense suits MacDonald's talents well as a thrower and runner, but teams should not sleep on running back Melvin Taveras. Taveras provides good speed and size in the backfield and is tough to take down once he gets through the first level of defenders. Lynn English will try to sure up the offensive and defensive lines in the coming weeks in order to make a push for a Northeastern Conference title.
August, 28, 2010
8/28/10
8:03
PM ET
By
Neil Carroll
| ESPNBoston.com
LYNN, Mass. -- Two of our
ESPNBoston.com High Schools preseason Massachusetts Top 25
teams squared off on Saturday as No. 25 Lynn English hosted No. 3 Everett at Manning Field in Lynn. The teams showed equally impressive chemistry between quarterbacks and wide receivers, but both coaches know that they have a lot to work on moving forward.
Everett's defense struggled initially to stop quarterback Tyllor MacDonald, wide receiver Trevonne Berry-Rogers and the Lynn English offense. But, after the first series, the group showed a significant improvement.
On the other hand, the Bulldogs defense could not find an answer to quarterback John Dibiaso Jr. and his host of wide receivers. Whether it was Manny Asprilla, Matt Costello, Tony St. Louis or Jakarrie Washington, the Crimson Tide found a lot of room in the Bulldogs secondary. However, it wasn't a true test of Lynn English's defense because they are missing key players Nick Flawa, Brendan Holey and Derrick Stevens due to injury.
[+] Enlarge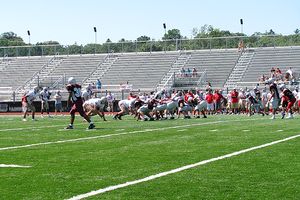 Neil Carroll Two ESPNBoston.com High Schools Top 25 teams faced off when No. 3 Everett traveled to No. 25 Lynn English for a Saturday scrimmage.
Here are some more observations from Saturday's scrimmage:
1. Lynn English head coach P.J. Holey is not afraid to blitz. Missing Flawa and Stevens on the linebacker corps and defensive tackle Brendan Holey, he was forced to bring the pressure with other methods. Linebackers Jeremy Lessard, Zach Adie and Kwame Johnson tried to fill the holes. Holey (who Berry-Rogers and the rest of the team have nicknamed Rex Ryan because of his coaching style) tried to put as much pressure as possible on Dibiaso Jr.
2. The Everett offensive line is impressive. They held their ground while protecting Dibiaso Jr., and opened the run gaps when called upon in the zone-read offense. Sophomore left tackle John Montelus was a formidable opponent for the Lynn English front seven. Montelus, a 6-foot-3, 245-pound lineman, has the size to grow into a solid force for Everett in the future.
3. The Crimson Tide has a talented defense all around, but fell victim to the big play a couple times Saturday. The defense held Lynn English to 15 yards on 15 plays its second time out. But, on the next defensive series, allowed three plays of at least 30-yards, including runs of 75 and 32 yards to Melvin Taveras. The Everett defensive line, led by Shaq Taylor and Ralph Jonathas, disrupted MacDonald enough to get him out of rhythm at points during the scrimmage.
4. Manny Asprilla, Matt Costello, Jakarrie Washington and Tony St. Louis are among the most talented groups of receivers in the state. Asprilla and Costello highlight the group and have a knack for getting open and breaking tackles. Both receivers caught two touchdowns on the afternoon.
"I've said it once and I'll say it again," Everett head coach John Dibiaso Sr. said. "With Asprilla and Costello on one side, and those other guys down the line, our skill guys are the best around."
5. The depth of Lynn English was tested against Everett as the Bulldogs came into the scrimmage with injuries to key players. The offensive line looks to be the weakness of the team, as the unit had trouble snapping the ball to MacDonald at one point on five consecutive plays, and struggled protecting the quarterback when faced with pressure.
"I was concerned about the offensive line and how physical we were going to be going in," Holey said. "I'm pretty happy with what I saw, but we have a long way to go."
July, 24, 2010
7/24/10
3:04
PM ET
By
Brendan Hall
| ESPNBoston.com
LYNNFIELD – The final whistle blew at Saturday's seventh annual Swampscott-Lynnfield High School Shootout tournament, and Lynn English's two dozen or so players gathered in a huddle at midfield to accept their trophy. Everyone, that is, except senior wideout Travonne Berry-Rogers.
Berry-Rogers lay on his back on the grass at Lynnfield High as a coach stretched out his right leg, offering words of support from afar. Just how exhausted was he?
"Super exhausted," he laughed. He then took a deep breath, and exhaled softly, "man".
[+] Enlarge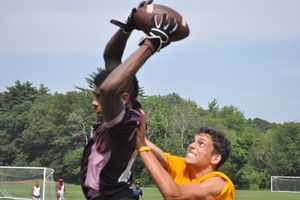 Courtesy Scott BarbozaLynn English receiver Travonne Berry-Rogers leaps over a Gloucester defender to come down with a touchdown in the semifinal of Saturday's Swampscott-Lynnfield High School 7-on-7 Shootout.
Forgive Berry-Rogers, who also excels on the school's basketball squad, for taking a breather. With a handful of circus catches and out-muscling defenders all afternoon for jump balls – coupled with fairly brief breaks in between games – he was a key component in the Bulldogs' run of seven games in this football tournament, which follows 7-on-7 passing league procedures. The Bulldogs downed Chelmsford in the final, 34-12, to capture the title.
"It makes you wake up and understand what varsity football's all about," Berry-Rogers said of this rapid-fire tournament, which had its largest field of competing teams ever this year at 32.
As for the competition itself, "When we play against different teams [that normally aren't on English's schedule], it makes you realize that you do have to work 10 times harder than you usually do on a regular basis."
Chelmsford, which won it all last season and lost to Masconomet in the 2008 final, made it three straight finals with a solid defeat of Longmeadow in the semifinals. English took care of business against Gloucester in their semi's to create the matchup.
Berry-Rogers made a one-handed grab to set up first and goal on the game's opening possession, and after quarterback Tyllor MacDonald threw in a tight one over the middle for the score, Berry-Rogers made one of the most impressive catches of the afternoon on the two-point conversion – tipping the ball up away from a defender, and hauling it in as he fell out of the back of the end zone – for the 8-0 lead.
"I knew it was going to bounce, so first instinct was to just stay with hit," Berry-Rogers said. "So I just stuck with the play and caught the tip."
The two teams traded scores on the next three possessions, with neither team converting on the point after for a 14-12 English lead late in the first of two 15-minute halves. The Bulldogs went up 22-12 just before the close of the half after freshman Freddie Hogan caught a MacDonald pass over the middle.
From there, the Bulldogs' defense swarmed, not allowing a Rams score in the second half.