Boston High School:

Tyquan Culbreath
December, 3, 2011
12/03/11
2:28
PM ET
By
Ryan Kilian
| ESPNBoston.com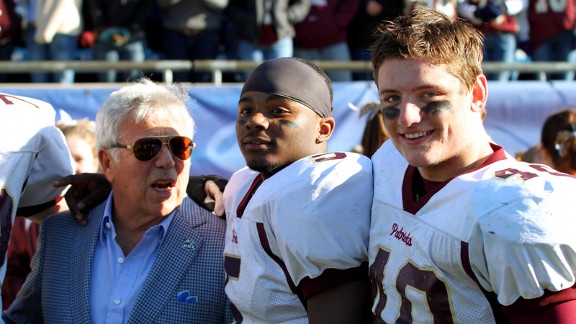 Ryan Kilian/ESPNBoston.com Patriots owner Robert Kraft dropped by the Concord-Carlisle sideline.
FOXBOROUGH, Mass. -- Concord-Carlisle made their second consecutive trip to Gillette Stadium a successful one as they defeated Oliver Ames (7-5) 42-9 to win the Eastern Massachusetts Division 3 Super Bowl.
The game plan for C-C was to run the football, just as they had done in each of their previous 12 victories this season. C-C pounded the ball for 298 total rushing yards behind their veteran offensive line and three-headed backfield of seniors George Craan, Tyquan Culbreath, and junior Tim Badgley.
"For those guys to have a great day, particularly George and Ty as seniors, that makes it special," Concord-Carlisle head coach Mike Robichaud said.
When Concord-Carlisle (13-0) went to the air they also converted as C-C quarterback Ryan Hoey found tight end Henry Bumpus on two separate occasions for touchdown strikes.
"It was a complete team effort," said Robichaud. "I could not have been more proud of our team today."
Oliver Ames could never get any sustainable drives going on the day despite solid games from quarterback Jared Schneider (11-22 passing for 123 yards and 2 INT) and running back Sam Langston (14 rushes for 60 yards and one touchdown).
Bumpus rebounds and stars:
Bumpus had a strong junior season for C-C last year but had a dropped ball in the end zone that would have been a score for Concord-Carlisle in their Super Bowl loss at Gillette Stadium to Duxbury last year.
"Last year was the worst day of my life," Bumpus said. "I dropped a big catch that I should have had so this year I knew I had to make up for it. I think I did that today and it feels so good to get that off my back."
The Dual County League MVP had the biggest game of his career on the biggest stage as the 6-foot-6 defensive end/ tight end had two catches for 34 yards and two touchdowns to go along with an interception where he leaped up and picked off a Schneider pass and returned it deep into Oliver Ames territory.
Bumpus is also the captain of the C-C basketball team as well as a starting defenseman for the Patriots lacrosse squad. He will attend Brown University next season along with teammate and two time DCL lineman of the year Andrew VanderWilden. Together they will team with Henry's older brother John who was a 2009 captain for Concord-Carlisle.
Right time to shine
: Craan has put together one of the all-time great careers for any running back in the history of the Dual County League. This season Craan stepped his game up at the right time for the Patriots as the senior ran for 342 yards (122 in today's Super Bowl win) and seven touchdowns in C-C's two playoff wins.
"I remember when I came in as a little cocky freshman, I told my coach we were going to win the state championship before we left here," Craan said. "We did it and it feels real good to finish big."
History repeats itself for the Robichaud family:
The last time Concord-Carlisle won the Super Bowl was 1978 at Nickerson Field in Boston and the head coach was the legendary Al Robichaud, who manned the Patriots' sidelines from 1972-1990. Al, a member of the Massachusetts Football Coaches Association Hall of Fame, is the father of current head coach Mike Robichaud. He was on hand to witness the championship game and share an emotional moment with his family after the game.
"My dad is my role model," Robichaud said. "I am just proud of the kids to get this done. It is just a great honor to be in the profession he was in. It was not always about the wins and losses as much as it was the impact that he had on so many kids lives."
Seniors go out in style:
"We got together as freshman and collectively said that we wanted to be the best," Bumpus said. "I love all these kids and this is the greatest team I have been on."
The senior class has made it to three straight playoff games, improving each year to win one more game.
"A perfect season feels good," said Craan. "We all put in the hard work, we all worked out together in the offseason, we had good chemistry and we did it. We are a family. We are more than just a team off the field. Brothers look out for each other and that is what we did today."
"They were the first class I connected with as sophomores," Robichaud said. "To execute this way and to end on a perfect season is not just something they deserved or were entitled to. They worked for it. I am just really happy I was able to be a part of it and to spend these lat years with these kids. I am really proud of them."
CONCORD-CARLISLE 42, OLIVER AMES 9
C-C (13-0) - 13 - 8 - 14 - 7 --- 42
OA (7-5) - 3 - 0 - 0 - 6 --- 9
1st Quarter
C – George Craan 4 run (Evan Boynton kick)
O – Ryan McGrath 26 field goal
C – Craan 9 run (kick failed)
2nd Quarter
C – Bumpus 20 pass from Ryan Hoey (Craan run)
3rd Quarter
C – Tyquan Culbreath 35 run (Boynton kick)
C – Bumpus 14 pass from Hoey (Boynton kick)
4th Quarter
C – Craan 12 run (Boynton kick)
O – Sam Langston 3 run (kick failed)
November, 30, 2011
11/30/11
1:56
AM ET
By
Ryan Kilian
| ESPNBoston.com
LOWELL, Mass. --- Concord-Carlisle is heading back to Gillette Stadium for the second consecutive year, as they defeated Holliston 32-27 in one of the most exciting contests of the 2011 Eastern Massachusetts season.
Holliston (9-2) got on the board first in the opening quarter as senior quarterback Dan Barone tossed the first of his three touchdown passes on the evening to a leaping Brody Ciarcello for a 38-yard score.
[+] Enlarge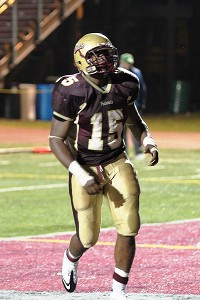 Ryan Kilian for ESPN.comC-C's George Craan (35 carries, 220 yards, 4 TDs) put in a heavy workload to keep feisty Holliston at bay.
The constant misdirection, no huddle offense and unbalanced alignments had C-C (12-0) befuddled early, as Holliston moved the ball up and down the field through the air in the first half.
"Holliston is an incredibly tough team to prepare for," said C-C head coach Mike Robichaud. "I think we did a good job against their run but they are so multi-faceted that they were able to execute in their passing game."
C-C bounced back in the second quarter on two consecutive George Craan scoring runs. The senior tailback was a workhorse on the day as he carried the ball 35 times for 220 yards and four touchdowns.
After some great back and forth play through the middle portions of the game it would come down to the final stages of the fourth quarter as both teams had critical defensive stands within the final five minutes of the game.
C-C got a final time-consuming drive that ended in a six-yard surge through the line by Craan to all but ice the game.
Barone, however, would not settle for defeat after the C-C score, as he led Holliston all the way down the field and into the end zone. The quick drive was capped off by a fantastic individual effort, as the senior signal-caller dove for the pylon and scored from five yards out to cut the lead to five, 32-27, with 35 seconds to play.
The ensuing two-point conversion attempt was unsuccessful, and the Patriots recovered the onside kick to advance to the 9 a.m. Eastern Massachusetts D3 Super Bowl game on Saturday morning at Gillette Stadium in Foxborough.
"We basically knew it was going to be a hard fought game," said Craan. "Coming into the game Coach said it was going to be a senior game so we all just had to step up."
Low Numbers, Big Effort:
Holliston had one of the smallest rosters in the 2011 Eastern Massachusetts playoffs, with 40 players. With what they lacked in numbers they made up for with experience, skill and effort as the defending Eastern Massachusetts Division 3 Super Bowl Champions did not quit at any point on the night.
"They are really well coached so they knew what we were trying to do," said Robichaud. "We kind of out physical'd them but they got us a little more one dimensional then we wanted to be."
Down Lineman:
In the fourth quarter C-C lost senior offensive lineman Owen Guattaduaro to a knee injury as they were driving toward the end zone.
After the game, instead of huddling at midfield, the team all ran over to the sideline bench to be with their fallen teammate and celebrate the win while listening to the coaches.
"It was a group effort and without my O-line I would not have got any of the yards I had," said Craan.
On Saturday's opponent Oliver Ames:
"They have an unbelievable tradition in that town", said Robichaud of Oliver Ames. "We know that they have been down for awhile but Coach (Jim) Artz has done a great job of getting them back."
CONCORD-CARLISLE 32, HOLLISTON 27
C-C (12-0) - 0 - 16 - 8 - 8 --- 32
HOL (9-2) - 8 - 6 - 7 - 6 --- 27
1st Quarter
H – Brody Ciarcello 38 pass from Dan Barone (Stephen Hennessy run)
2nd Quarter
C – George Craan 3 run (Craan run)
C – Craan 24 run (Henry Bumpus pass from Ryan Hoey)
H – Ciarcello 17 pass from Barone (rush failed)
3rd Quarter
C – Craan 4 run (Craan run)
H – Max Athy 24 pass from Barone (Barone kick)
4th Quarter
C – Craan 6 run (Tyquan Culbreath run)
H – Barone 5 run (rush failed)
November, 22, 2011
11/22/11
11:39
PM ET
By
Eitan Tye
| ESPNBoston.com
CONCORD, Mass. -- They may not be the most appealing bunch of football players in Massachusetts, but these three seniors know how to get the job done with the game on the line.
While star running back George Craan may get most of the publicity on No. 6 Concord-Carlisle Patriots, along with backfield sidekicks Tyquan Culbreath and Tim Badgley, it's the guys in the trenches that have kept this dynamic rushing attack well-oiled. Senior captains Andrew VanderWilden, Henry Bumpus, and Thomas Kleyn have been critical in helping the team gut out wins, both on defense and on the offensive line.
VanderWilden, the back-to-back Dual County League lineman of the year and a 220-pound behemoth at center, has anchored one of the best offensive lines in the state and cleared the way for C-C's talented backs all season long. He serves as the unquestioned leader of a line that includes five seniors and four returning starters, and has been crucial in helping execute the Patriots' Wing-T offense to the tune of 35.2 points per game this fall.
"Andrew has been a really solid performer for us for three years now," Patriots head coach Mike Robichaud said. "He's a really fundamentally sound player, and very, very smart. He knows his assignment, and he's worked very hard to become a lot bigger, faster, and stronger"
[+] Enlarge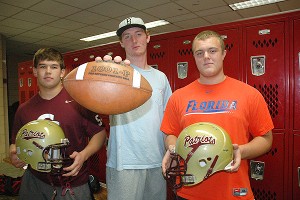 Eitan Tye for ESPN.comSenior captains Thomas Kleyn, Henry Bumpus and Andrew VanderWilden are three of the unheralded players who make No. 6 Concord-Carlisle's high-powered offense go.
Meanwhile Bumpus -- a towering presence at 6-foot-6, and the 2011 DCL MVP -- has made significant contributions on both sides of the ball, starring at both end spots. The three-sport standout remains one of C-C's most lethal weapons on defense, sealing a big September game against Lexington with a decisive sack and interception, and also serves as the Patriots' most reliable receiver at tight end.
"Henry has a lot of physical tools. He's very tall and long, and at the positions he plays, he really uses that length and strength to his advantage. He's very skilled for his size," Robichaud said. "He's deceptively fast and has great reflexes, which comes across both offensively and defensively."
While Kleyn may lack the size and speed of his teammates, the 2010 DCL All-Star and team's defensive player of the year supplants any physical shortcomings with firm leadership and an immense knowledge of the game. The 5-foot-11 middle linebacker directs a defense that is currently giving up just 8.9 points per game, and shut out the league's long-time powerhouse, No. 16 Lincoln-Sudbury (9-1) on November 11.
Robichaud pointed out that while Kleyn may not be "the biggest guy going [or] the fastest guy going, he has tremendous heart and is really smart and fundamentally sound."
"He's really been a key to holding our defense together," Robichaud said. "He's a kid who out on the field knows what's going on and is able to make a lot of our calls on the fly; he literally is like having another coach out there."
Although C-C's gifted rushing attack of Craan, Culbreath, Badgley and Evan Boynton have gained most of the yards and scores in the Patriots' offense, Robichaud maintained that above all else, senior leadership and control of the line of scrimmage have been key to the team's success this season. And no three players have exemplified the coach's words more than VanderWilden, Bumpus, and Kleyn.
"In the game of football, experience really does count for consistency," Robichaud said. "[VanderWilden, Bumpus, and Kleyn] took their lumps, and weren't great players as sophomores, but they got better and better. Their work ethic- how they approach the game and how they prepare- has really helped not just their senior peers, but the underclassmen as well."
The coach also underlined his captains' humbleness, and stressed their sole dedication to victory over any form of credit or acknowledgment. While Craan has been featured in numerous articles in the Boston media, and has been a mainstay on ESPN Boston's Mr. Football Watch List for much of the season, his blockers have continued to linger in the relative anonymity of small-town Concord.
Nevertheless, VanderWilden insisted that he would rather have it that way.
"The offensive line has played really well, but we don't need all the recognition," he said. "George and Tyquan are having great years, and we know when the running backs are playing well, it means that we are doing our jobs too."
"These guys don't care about who gets the recognition as long as the end result is a win," Robichaud added.
When asked to explicate the team's 10-0 start, VanderWilden emphasized familiarity with the game and team chemistry.
"We've all been playing together since Pop Warner and we really count on each other to execute everyone's blocks," he said. "We are all very confident in each other to get the job done."
Bumpus, however, highlighted the Patriots' success in the trenches, explaining, "Our blocking has really helped us seal the edge so we can run in the middle, outside, whatever; so we can have really good success on offense."
Kleyn, undoubtedly the most intense and cerebral of the three, simply pointed to the team's aggressive approach to games.
"Our mindset is to be relentless in all our basic plays and execute them to perfection," the linebacker said.
Although any fan happening upon Walden Street on a Friday night could plainly see the enormous passion that VanderWilden, Bumpus, and Kleyn exhibit on the field, football is not the only arena in which the three captains excel.
"Going to Concord-Carlisle, the importance of academics has always been drilled into us," said Kleyn, who will be suiting up for Amherst College next fall.
VanderWilden and Bumpus also value their education and classroom achievements highly, and both will be playing for Brown University next September.
Bumpus explained that his decision was slightly more difficult, choosing between Brown, Dartmouth, and University of Pennsylvania, institutions known more for producing Rhodes Scholars and Nobel Laureates than NFL prospects. Nevertheless, Bumpus pointed out how Brown's experienced coaching staff, coupled with advice from his brother John, who plays defensive end for the Bears, made the choice easier.
"Ultimately, I really liked the players and the team," he said. "Coach [Phil] Estes has a great staff who have been together for a long time, and I really like the way they coach. Going into high school, I knew I wanted to excel in academics and worked really hard to keep my grades up so I would have opportunities like this in the future."
This week, though, the focus is all on Thursday afternoon. With a mammoth game coming up against league-rival Bedford, a Thanksgiving win is all that separates the Patriots from a playoff spot and a likely return to the D2 Super Bowl. While Concord residents are buzzing with excitement, anticipating an easy win over the 6-4 Buccaneers and salivating over the team's championship possibilities, the players remain committed to the task at hand.
Offering a Belichickian response when queried on C-C's postseason chances, VanderWilden declared, "All we're worried about is Thanksgiving. We know what's at stake, and we're going to put a great effort out there on Thursday."
And as if on queue, Kleyn added, "this is just another week for us, and we've been preparing just like we do for every team."
The captains' refusal to divulge any information or speculate on their team's future hints at their supreme maturity and intellect, and their beaming coach was clearly telling the truth when he pronounced them "great leaders [and] great kids to coach."
November, 11, 2011
11/11/11
1:29
AM ET
ST. JOHN'S PREP (4-4) at No. 3 BC HIGH (6-3)
The Skinny: The young Eagles bounced back from an 0-3 start to win four or their last five games behind electrifying sophomore Jonathan Thomas. Lucas Bavaro and the defense will have their hands full with Eagles running back Deontae Ramey-Doe who's coming off a 200-yard game behind a talented, big offensive line led by senior Mike Prendeville and Adam Richard.

Scott Barboza: Coming off a stellar effort against Xaverian, the Eagles roll into their Turkey Day showdown with CM. BC High, 28-14.
Brendan Hall: Going with the big ol' goose egg on this one. BC High, 24-0.

OLIVER AMES (4-4) at STOUGHTON (5-4)
The Skinny: The Knights proved they're for real with a statement win over Hockomock Kelley-Rex power Mansfield early this season. But now it's the Davenport division title on the line and Stoughton controls their own destiny. With wins over OA and Canton, the Knights can clinch outright.

Barboza: The Knights secondary can shut down an offense, but I like Tigers running back Sam Langston to have a big game. OA, 26-24.
Hall: You think these Stoughton DB's something to watch in the deep field? Wait 'til basketball season. Stoughton, 17-10.

NORTH ATTLEBOROUGH (7-1) at No. 10 MANSFIELD (8-1)
The Skinny: The Hornets control their own destiny when it comes to the Hockomock Kelley-Rex title. A loss and Mansfield would be hard pressed to prevail in the league's tie-breaker system. The matchup also features some of the area's best running backs with the Red Rockets' Alex Jette and the Hornets' Greg Donahue and Blayne Taylor.

Barboza: In the typical fashion of this season, the Hornets go down to the wire, but win. Mansfield, 21-20.
Hall: Don Johnson was trying to explain to me the tiebreaker scenario this afternoon, and I'm still confused. So naturally, I want to see it enacted. North Attleborough, 14-10.

SOMERSET-BERKLEY (4-5) at BISHOP FEEHAN (5-4)
The Skinny: The Shamrocks defense has rolled through Eastern Athletic Conference play thus far, not allowing a single point. The league race was decided by these two teams last year with the Blue Raiders hanging 49 points on Feehan in Somerset to clinch a playoff berth, so the Shamrocks will be looking to return the favor.

Barboza: The EAC title was decided by this very game last season, as it will this year. Only difference is the result. Feehan, 21-14.
Hall: TD Garden is the Garden, the Comcast Center is the Great Woods, and whatever they're calling this school now, it'll always be just Somerset to me. Anyways, I still owe a steak dinner to somebody down there, and Nick Freitas is a terrific coach. Somerset, 21-7.

BROCKTON (4-5) at NEW BEDFORD (4-4)
The Skinny: These teams have had their shares of ups and downs throughout the season, but the fate of the Big Three title hinges largely on this matchup. The Boxers seemed to right ship with a 3-game wining streak in the middle of the season, but are coming off two straight losses. The Whalers are still smarting over two rough losses to Dartmouth and Dennis-Yarmouth (106 points surrendered in those games) in their last three.

Barboza: The question of the year has been when will the Boxers get on track? Is this the week? Maybe, but Whalers win. New Bedford, 28-20.
Hall: One of the most feast-or-famine teams south of Boston is going to have a three-course meal Saturday. New Bedford, 17-0.

BELMONT HILL (7-0) at GOVERNOR'S ACADEMY (7-0)
The Skinny: The last two remaining ISL football squads meet in what should prove to be an emotional game as it is Hillies head coach Kevin Fleming's final regular season game. Belmont Hill's offense finally caught fire last week with a 42-point performance against Lawrence Academy, but the Hillies' defense has been stifling throughout, allowing less than a touchdown per game. Gov's is averaging 36 points per game on offense and weren't held under 30 points until last week's win over Milton Academy.

Barboza: Gov's QB Tate Jozokos might be the best player in the state nobody is talking about. Maybe it's because his lacrosse star overshadows his football ability? Gov's, 17-14.
Hall: I know what I said on the podcast earlier. But thinking about this one again, it just wouldn't be fair for both of us to pick against Kevin Fleming in his final ISL game. Belmont Hill, 13-6.

NO. 19 EAST BRIDGEWATER (9-0) AT MASHPEE (9-0)
The Skinny: The matchup everyone's been waiting for in the South Shore League gauntlet, the No. 19 Vikings come into the game with a bit more hype, what with UNH-bound running back Casey DeAndrade (18 touchdowns) putting in another fine season and the Vikings averaging over 37 points per game. But the Falcons are no slouch, either, averaging 30.7 points per game and getting leadership out of their underrated tailback Jordan Keli'inui.

Barboza: I've said this is the Vikings' year from the very beginning. EB, 20-14.
Hall: Text from our good friend Joe Burke: "I'm not just rooting for Mashpee because they're a Cape team, but because head coach Matt Triveri is a 'Barnstable guy'." Mashpee, 21-17.

NO. 6 CONCORD-CARLISLE (9-0) AT NO. 12 LINCOLN-SUDBURY (9-0)
The Skinny: This game means nothing for playoff implications, but is one of the weekend's most anticipated matchups. We know all about C-C's three-pronged rushing attack of George Craan, Tyquan Culbreath and Tim Badgley; but overlooked is one of the area's more stout defenses, led in the trenches by Andrew VanderWilden and Henry Bumpus, a unit allowing 10 points a game. Then again, the No. 12 Warriors have been even stingier, allowing just 8.1 points per game while getting plenty of production offensively from players like Chris Giorgio and Matt Cahill.

Barboza: This might be the first time this season C-C's starters are required to play a full four quarters. C-C, 31-28.
Hall: Three heads, one monster. C-C, 30-20.

NO. 21 NATICK (8-1) AT NO. 23 WALPOLE (8-1)
The Skinny: Since losing to Needham on Oct. 21, the No. 23 Rebels haven't allowed a point. Overall, the Walpole defense is the stingiest by a wide margin, allowing just 8.1 points per game. They'll be saddled with the task of stopping a Natick offense that, one week after that Walpole contest, hung 49 on that same Needham team in a blowout win. Sophomore Troy Flutie (2,465 offensive yards, 28 total TD) has a shot at surpassing both 2,000 yards passing and 1,000 rushing by season's end; meanwhile, freshman wideout Brian Dunlap (52 catches, 896 yards, 12 TD) is one of the state's leaders in touchdown receptions. Oh, and did we mention the Bay State Herget title is on the line again?

Barboza: If the Rebels get some early stops and a turnover or two to slow down the Red & Blue attack, they can pull it out. Walpole, 14-13.
Hall: The Red and Blue would have you believe their youth may very well show through on this one. Sorry fellas, not fooling me. Natick, 24-14.

LYNN ENGLISH (7-2) AT NO. 25 NORTH ANDOVER (8-1)
The Skinny: The CAL/NEC Division 1 title is on the line in this one. Both teams come into this contest riding a hot streak, with the unranked Bulldogs have won five straight since dropping two in a row to Beverly and Swampscott in September. The No. 25 Knights, meanwhile, haven't lost since the opening-weekend contest to rival Andover; but an injury to senior quarterback Brandon Walsh in last week's win over Masconomet has some concerned.

Barboza: Walsh's status might be questionable after last week's injury, but I'm sure he'll be ready for this one. North Andover, 34-28.
Hall: I don't see the elder Walsh missing this one, and I think the Knights overall are a bit more disciplined. North Andover, 38-35.

CARDINAL SPELLMAN (9-0) AT ARLINGTON CATHOLIC (8-0)
The Skinny: The Catholic Central Large title is up for grabs here. Given the way both teams are playing on defense right now, this may be one of the weekend's more underrated matchups. AC comes into this contest having pitched shutouts in two of its last three contests. Down the road in Brockton, Spellman is allowing just 4.6 points per game, second in the state to Blue Hills (4.4), with four shutouts. A garbage-time touchdown by Austin Prep in last weekend's rout marked the first time all season an opponent got out of single digits.

Barboza: The Cardinals' experience of going to the Super Bowl last year is the difference. Spellman, 20-14.
Hall: AC is the team absolutely no one's talking about, but Ron St. George's coaching mettle in games like this will shine through. Spellman, 20-18.

NO. 5 CATHOLIC MEMORIAL (6-1) AT NO. 13 XAVERIAN (5-4)
The Skinny: It's a simple command for CM -- win this one, and set up a Thanksgiving showdown with archrival BC High for the Catholic Conference title. The execution may be more complex, given the diversity head coach Charlie Stevenson has shown with his offense the last few weeks. One week, it was a "Wildcat" look deploying both quarterbacks Austin DeCarr and Chris Calvanese. The next, it's a "500-pound backfield" of Hunter Taute and 270-pound defensive tackle Maurice Hurst Jr. combining for over 200 yards on the ground. But the Knights wield the ultimate X-factor: Armani Reeves, the state's most electric player out of the backfield.

Barboza: Because we're all looking forward to a potential Thanksgiving Day battle for the Catholic Conference title. CM, 16-10.
Hall: As always, the Knights will find a way to make this one interesting. CM, 28-24.
October, 25, 2011
10/25/11
1:45
AM ET
UNEQUAL AT 11 ON 11
It might be even in man power, but Everett's receivers feel they're always at an advantage.
"There's 11 men on both sides, but they can't cover all of us," junior wideout Jalen Felix said after the Crimson Tide's 35-21 win over BC High on Saturday.
Felix had a coming out party as a legitimate big play receiver an Everett touchdown drive in the second quarter. On that drive, Felix made an other-wordly one-handed grab laying on his back with a BC High defender in his back pocket.
Still, the Everett offense isn't a one-man show. Kenny Calaj, Jakarrie Washington and Jaylen McRae all bring different elements to the Crimson Tide passing attack. Not to mention, Vondell Langston is running out of his mind of late (two straight 100-plus yard games).
"If I make a good play, it's because of my teammates," Felix said. "It's not because of me., it's because they did their jobs that I had the opportunity to do mine and vice versa."
ALL EYES OUT WEST
Springfield's Blunt Park bustled with activity on Monday afternoon. Two junior varsity football game were ongoing, the were a soccer game being played at Springfield Central HIgh in the distance, cheerleading practice, along with that of both Central and Springfield Putnam's varsity football practice.
There you could find two of the elite rushers in Massachusetts this year, practicing within about a football field's distance from each other.
Melquawn Pinkney has garnered plenty of headlines with his multiple 300-plus yard games as a legitimate Mr. Football Award contender.
But, last weekend, it was Central's Sacoy Malone who stole the show in another record-setting performance.
Malone fell one touchdown shy of a Western Mass. record with a school-record seven-touchdown performance against Northampton to go along with 301 yards on the ground.
It's just another in the long line of weighty accomplishments compiled by the best the Springfield area has to offer.
"I think the me, Melquawn [Pinkney] and T.J. [Norris of Longmeadow] and what we've done this year, we're out to show that there is talent actually out here," Malone said during an interview for ESPN Boston's Player of the Week segment.
"Hopefully, we show that there's a possibility that you can make it to play in college coming from here."
So far, Malone has college offers from Fordham along with Central Connecticut State. Something tells us there might be more to come.
NEEDHAM SETTING NEW CHARTER
With star quarterback Drew Burnett (broken ankle) done for the year, Needham head coach David Duffy told the media early last week that he would likely use a rotation of three kids under center to fill the role in last Friday's pivotal matchup with Walpole.
Few could have expected a sophomore by the name of Ryan Charter to make such an impact on such a crucial Bay State Conference tilt, albeit on less than a half-hour's notice.
"Honestly, I found out (that I would start about) 20 minutes before the game," Charter told ESPNBoston correspondent following the Rockets' 31-22 win. "A couple kids were telling me, 'You're going to get in the game.' I was, like, 'Alright, that's all I need.' But I didn't know until today."
The numbers Charter put up in his debut (5 of 10 passing, 222 yards, 2 TD) suggests that the X-factor with this Rockets squad falls upon two Rileys.
Mark Riley had touchdown catches of 67 and 74 yards to pace the Rockets early, and showed once again why he is one of the state's premier pass-catching tight ends. Armed with a lacrosse skill set and an athletic frame, the senior takes on an Aaron Hernandez-like role with the team – that is, a tight end by nature, but one that lines up all over the field to create mismatches. Ian Riley, meanwhile, went over the century mark again as the team's primary weapon out of the backfield.
Coupled with guys like Nico Panepinto, Mike Vespa and Dan Pierce, that's a vicious group to deal with.
CONCORD-CARLISLE IS OFFICIALLY A WAGON
Like probably a lot of you, we raised our eyebrows at the final of Concord-Carlisle's vicious romp of Westford two weeks ago: 61-14, and with relative ease. Tyquan Culbreath kicked things off with two long touchdowns on his first three carries, part of a combined 336-yard effort between himself, Tim Badgley and midseason All-State selection George Craan.
But as the old saying goes, you never look as good in your best win, and as bad in your worst loss (or something like that). But we couldn't help but rush to judgment this week, given the Patriots' historic win over long-time Dual County League powerhouse Acton-Boxborough. C-C knocked off A-B in convincing fashion, 35-12, for its first win over the Colonials since 1987.
Patriots head coach Mike Robichaud admits the offense has been ahead of the defense in many games this year -- and the score sheet (39.1 points per game) undoubtedly reflects that. But not to forgotten is the precision of the offensive line and the swarming style of play the defense has demonstrated.
Robichaud and his staff gush about the skills of center Andrew Vander Wilden, an ESPN Boston midseason All-State selection and a horse at 6-foot, 245 pounds. Combined with Tom Gregory, Thomas Kleyn, Trevor Castrichini, and Owen Guattaduaro, the Patriots boast an offensive line on par with some of the state's other top units like Everett, Duxbury, BC High or Auburn. Add 6-foot-6 tight end Henry Bumpus into the mix, and that's quite a chore.
"Henry Bumpus is one of the best blocking tight ends I have ever seen at the high school level," Robichaud told correspondent Ryan Kilian following the A-B win. "He has been doing this for us for three years now. On defense teams cannot run at him at this point. He just does a great job and plays the entire game for us."
Defensively, Bumpus makes his impact felt at the defensive end position, and has been a load to handle.
"I was really proud of our defense," Bumpus told Kilian. "That is a very good offensive football team and we did a good job stepping up tonight. On offense we have five of six returners back on the line and we are really focused on getting back to where we were last year. We are blocking well right now and the backs are hitting the holes well so it is all coming together for us."
IS THE CATHOLIC CONFERENCE WIDE OPEN NOW?
That's the question on everyone's mind in the wake of a devastating season-ending ankle injury to BC High's Preston Cooper -- a Darren Sproles-like fixture for the No. 5 Eagles, the reigning Catholic Conference MVP, an ESPNBoston Mr. Football candidate, and arguably the state's top prospect at tailback.
Nobody will argue the Eagles have one of the state's most competitive schedules in arguably the state's toughest conference. There isn't a bad loss on the schedule, including the New Jersey teams, and there isn't a poor win. And personally, we feel Deontae Ramey-Doe is a more than suitable backup, should the Eagles go that route -- his upright running style, while a change of pace from the low-moving Cooper, has an air of deception to it.
But there's four teams with a shot here. Xaverian, with competitive losses to each of our Top 3 teams, has too good of a coaching staff and defensive line not to throw some haymakers in conference place. Catholic Memorial is showing signs of life, and has to be encouraged by A.J. Doyle's four touchdown passes and 200-plus yards last week.
The wild card in all of this is St. John's Prep. With a green line, quarterback change and an offense that sputtered out of the gates, many had written off the Prep as a team in rebuilding mode. But the emergence of sophomore Jonathan Thomas the last two weeks has some giving second thoughts, especially after putting up 41 points on St. John's of Shrewsbury two weeks ago.
This could be one of more exciting races for conference supremacy, and it all starts Friday when the Prep takes a visit to Catholic Memorial. Get your popcorn ready.
THE BEST QUARTERBACK NOBODY'S TALKING ABOUT
Write this name down: Greg Heineman.
Quietly, the Minnechaug senior is putting together one of the state's finer seasons for a signal-caller. While he didn't register a touchdown pass in last week's 21-14 win over Westfield, he finished up with 347 yards on 26 of 37 passing.
Through seven games for the 7-0 Falcons, who come in at No. 22 this week in our statewide MIAA poll, Heineman is completing nearly 62 percent of his passes for 1,742 yards and 15 touchdowns to just four interceptions (our friends at MassLive have his
stats tracked here
). Seven different Falcons players have caught a touchdown pass, which suggests Heineman demonstrates good reads and hits the open man.
October, 22, 2011
10/22/11
12:36
AM ET
By
Ryan Kilian
| ESPNBoston.com
CONCORD, Mass. -- Streaks are meant to be broken, and Concord-Carlisle broke a 2-1/2 decade-long winless streak over Acton-Boxborough with a 35-12 win on Friday night.

Defense and a strong ground game powered Concord-Carlisle to their seventh consecutive win to start the 2011 season.

"The flow so far this year has been that the offense has been a little ahead of the defense," said Concord-Carlisle Head Coach Mike Robichaud. "The defense was just huge for us tonight. I think we were really well prepared and our Defensive Coordinator Tom Dalicandro is phenomenal. They (A-B) never stop with all the formations and showed that in the third quarter comeback but our defense was enormous."

C-C was led offensively by senior running back George Craan, who ran for 244 yards, three touchdowns and one 2-point conversion on the night.

C-C also got touchdown runs from junior Tim Badgley and senior Tyquan Culbreath. Badgley provided the game's first score on 21-yard burst through the line and Culbreath provided the game's final score on the night's prettiest run. The senior shed tackles and danced around others on his way to a 37-yard touchdown run.

C-C led from start to finish and took a 22-2 lead into the half. A-B came out of the half and put together a patient and effective 4:21 drive that resulted in a 2-yard touchdown run by senior fullback Matt Brogie. A Jack Perry extra point made it 22-9.

A-B would then drop a squib-like onside kick on the ensuing kickoff that they would recover to turn the momentum in the game. A-B drove down field and came away with a Perry 27-yard field goal to cut the lead to 22-12 in the third quarter.

C-C and A-B would exchange possessions and C-C would grind it out down the stretch with Craan and Culbreath scoring fourth quarter touchdown runs in the win.

"George and Tyquan were huge for us tonight, "said Robichaud.

Jackson Finigan (2 pass break ups), Evan Boynton (1 INT), and Tyler Koning (6 tackles) also had strong defensive games for the Patriots.

Jake Pilecki (two catches for 67 yards) and Mike Duggan (nine tackles and blocked PAT) played well for the Colonials on the night.

Bumpus shines: Henry Bumpus made his presence felt all night as he had his hand on a few deflected balls, made two big tackles for loss and helped open huge holes for the C-C running backs to run through all night.

"Henry Bumpus is one of the best blocking tight ends I have ever seen at the high school level," said Robichaud. "He has been doing this for us for three years now. On defense teams cannot run at him at this point. He just does a great job and plays the entire game for us."

The 6-foot-6 senior defensive end is also an Dual County League All-Star basketball player as well as a star defenseman on the Concord-Carlisle

"I was really proud of our defense," said Bumpus. "That is a very good offensive football team and we did a good job stepping up tonight. On offense we have five of six returners back on the line and we are really focused on getting back to where we were last year. We are blocking well right now and the backs are hitting the holes well so it is all coming together for us."

West crushes momentum: A-B stopped Craan on a fourth down run early in the fourth quarter and got the ball back trailing by just 10 points. As A-B quarterback Hunter Arnold rolled out to his right he was met by a monster hit from C-C defensive back Anthony West. The hit knocked the ball free and C-C 's Jack Donovan recovered at the A-B 33 yard line. The turnover proved to be the difference maker in the game as C-C would score on the next possession to pull away.

The road ahead: Both teams get back to league play next week as Concord-Carlisle travels to Weston on Friday night. C-C plays three straight games on the road with Wayland and Lincoln-Sudbury following Weston. C-C concludes their regular season with their final home game against Bedford on Thanksgiving Day this year.

Acton-Boxborough plays their next three games at home as they begin with Waltham next Saturday afternoon. L-S and Newton South follow on the next two Friday nights before A-B finishes their regular season on Thanksgiving Day at rival Westford Academy.

CONCORD-CARLISLE 35, ACTON-BOXBOROUGH 12
C-C (7-0) --- 14 8 0 13 --- 35
A-B (4-3) --- 2 0 10 0 --- 7

First Quarter
C – Tim Badgley 21 run (kick blocked)
A – Billy Jackman blocked PAT return
C – George Craan 22 run (Craan run)

Second Quarter
C – Craan 6 run (Jason Finigan pass from Ryan Hoey)

Third Quarter
A-B – Matt Brogie 2 run (Jack Perry kick)
A-B – Perry 27 Field Goal

Fourth Quarter
C – Craan 18 run (kick failed)
C – Tyquan Culbreath 37 run (Evan Boynton kick)
October, 20, 2011
10/20/11
11:13
AM ET
By
Ryan Kilian
| ESPNBoston.com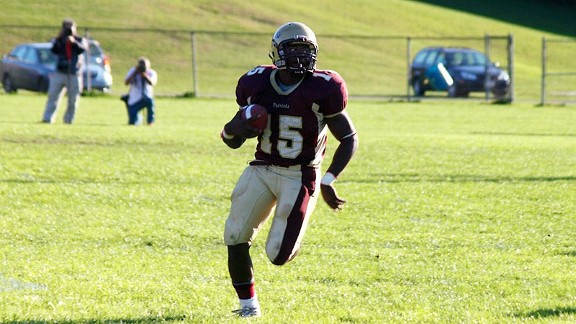 Ryan Kilian for ESPNBoston.comSenior running back George Craan (700 rushing yards, 11 TDs) has No. 8 Concord-Carlisle off to a 6-0 start and averaging 39.8 points per game.
CONCORD, Mass. -- Concord-Carlisle senior running back George Craan has been on a mission ever since losing in the Division 2A Super Bowl last season to Duxbury at Gillette Stadium.
Craan has put on 20 pounds since last season (up to 210) to go along with his 4.5 speed in the 40-yard dash. He is also determined as ever to lead his team to a Super Bowl victory, albeit taking each week "one game at a time".
The returning Dual County League Small Offensive Player of the Year has run for nearly 700 yards and 11 touchdowns this season through the first six games of the season for the No. 8 Patriots (6-0). Craan, who ran for 1,914 yards and 24 touchdowns last season, has shared carries in a talented and balanced backfield along with senior Tyquan Culbreath and junior Tim Badgley.
Craan and the Patriots have outscored their opponents by a score of 239-56 to date, with the majority of the scoring coming before the halftime whistle has blown.
The Patriots face their biggest test to date this Friday when they host Acton-Boxborough. The Colonials (4-2) have had the better of Concord-Carlisle for past 30-plus year,s as C-C has not defeated A-B since 1987. Both teams played to a tie in 1992, and despite many close games over the recent years, A-B has maintained their dominance. In last year's game, A-B defeated C-C, 14-7, at Leary Field in Acton.
We caught up with Craan this week to discuss the season and the big game Friday night in Concord.
Q: Can you talk a little about the 6-0 start of the season?
A:
"It has been a total team effort as we have taken each game week to week. Our running backs, offensive line, and defense have all prepared hard each week. The coaching staff has prepared us well and pushed us each week and that has been a big factor. Practices have been competitive and the completion at each practice has made us all better."
Q: With the balanced attack you guys have this year and the big scores that you have put up it has resulted in less carries than last season. Can you talk about how you feel physically at the mid-point in the season?
A:
"I am feeling fresh. I have been working hard when I get the ball and working hard when I don't have the ball. Whether I am called on to block or carry out a fake I make sure to go 110 percent. The other backs have been ready and the line has been ready and it has made teams have to focus on all of us."
Q: Your offensive line has played great this year. What are your thoughts on the unsung group in front of you?
A:
"Our line is tremendous. They are big, athletic and they go out to get people. Center Andrew VanderWilden is the anchor. He is a senior and has put in a lot of work in the offseason to get better. Tom Gregory, Thomas Kleyn, Trevor Castrichini, and Owen Guattaduaro have all stepped up as seniors. They have executed, focused and not quit on any play. They make us running backs look good when they do their job."
Q: You put on some good weight heading into your senior season bulking up to 210 lbs. What was your off-season conditioning like?
A:
"During the winter season I trained indoors at Katz Training at Acton indoor. I trained intensely for about four hours a day after school. Along with Katz this summer, I also did a lot of track work every day and a lot of football specific workouts. The training has a done a great job preparing me as I feel a lot stronger more mature and have gained a lot from the work."
Q: You guys have done a great job coming out early in games and getting up early. On teams Can you talk about your execution early in some of your wins?
A:
"Before the game Coach Robichaud gives us a pre-game talk that gets us fired up and we get ourselves fired up. We want to come out on the field, make that first hit or make that first play from the opening kickoff. We want to set the tone."
Q: Acton-Boxborough is coming up this Friday. They have had a lot of success against Concord-Carlisle over the years. Can you talk about A-B and the games you have been in over the last few years with them?
A:
"This has been a game I have wanted to win since freshman year. They beat us as freshman on freshman football by one point, my sophomore year we lost by a point and last year we lost by a touchdown. It has been frustrating and we will be prepared for Friday night. They will be ready and we will be ready."
Q: What has the preparation been like for this week's game with A-B?
A:
"We have treated it like every other game where we have been going hard all week. Nothing has really been different but we know that this game will be intense and we will be prepared."
Q: What are your thoughts on schools for next year?
A:
"I am focusing on high school right now. I want to make sure my grades keep improving and that I continue to do well. Coach has been talking to a bunch of coaches but I am not sure yet on plans. I want to keep focusing on my school work and doors will open up."
Q: What are your favorite subjects in school?
A:
"I enjoy English and Math. I like the challenge in Math of problem solving. It is sort of like the football field where you have to do a lot of repetitions to get it right."
Q: What do you like to do off the field and outside of school?
A:
"I like to eat and I like to hang out with my friends."
Q: What does the typical pre-game meal consist of?
A:
"We always get together as a team. We go to VanderWilden's house and usually get a pasta and meatballs going with a Gatorade."
October, 19, 2011
10/19/11
7:19
PM ET
ARE TRIPLE-DIGITS OUT OF THE QUESTION FOR LIL' DIBS?
Barring catastrophe, we fully expect Everett quarterback Jonathan DiBiaso to break Tom Colombo's all-time passing touchdown mark of 85 before the month is over. He's four away, and he's got two games to do it – this Saturday against BC High, and on Oct. 28 in the Crimson Tide's Greater Boston League opener against Medford.

The question now is that, with seven games left on the schedule (let's just declare them Super Bowl-bound now), whether he can surpass the century mark. Last season, he threw for 16 scores in the Tide's four GBL contests, and another five in two playoff wins over Andover and St. John's Prep.

All evidence points to DiBiaso shattering the state mark and putting the record nearly out of reach, when all is said and done.

IS NO. 16 NEEDHAM FOR REAL?
A few weeks ago, when the Rockets upset then-No. 6 Weymouth, we would have told you yes. Even before that, when the Rockets went toe-to-toe in an eventual 36-30 loss to Mansfield, we'd have told you Needham's on to something.

Now? We're not sure what to think. Drew Burnett , a senior quarterback with Division 1 offers, broke his ankle in two places during Saturday's 49-14 win over Milton, putting an end to one of the more promising seasons in the Bay State Conference. With a healthy Burnett, we like their chances of not only controlling their destiny in the Bay State Carey, but against whomever comes out of the Big 3 conference for the Division 1 playoffs.

Head coach David Duffy told ESPNBoston correspondent Matt Noonan earlier today that he will use a rotation of three guys at quarterback in Friday's crucial tilt with No. 17 Walpole. The Rockets have shown to lineup quality athletes in Dan Pierce, Nico Panepinto, Ian Riley and Mark Riley (no relation), but you have to wonder how quickly the understudy can adapt to Duffy's system, which has begun to diversify the last few years.

AUBURN'S OFFENSIVE LINE IS A WAGON
We've sung their praises several times before, but it bears mentioning again: even after a bump in the road, No. 14 Auburn's line is rising as one of the state's best units.

Comprised entirely of juniors and sophomores – including a 6-foot-4, 305-pounder who is just 15 years old – this makes the Rockets at team to watch over the next few years. With short splits and a precise zone-blocking scheme, these guys are a cohesive unit up front and have been blowing teams off the ball to the tune of 17 rushing touchdowns. Dan Flink is the Rockets' Peyton Hillis, but give speedster Fred Taylor some room to run and he is one of the shiftier players in the Worcester area.

Within the Central Mass sphere, this will continue to be one of the more dangerous teams in Division 3.

HOW TOUGH WILL THE ALL-STATE RACE BE AT RUNNING BACK?
Extremely tough.

But such is the beauty and the beast of picking a true statewide All-Star team that doesn't just simply reward the 25 best running backs in Eastern Mass. – when you've got just four slots to pick from 300-plus schools, an elite player inevitably gets left off the list.

Andover's Andrew Coke came into the season as the lone returning All-State running back (Catholic Memorial's Armani Reeves was an athlete selection). But as good as he's been for the 4-2, Golden Warriors, there have been better resumes through the first half of the season.

BC High's Preston Cooper has 14 rushing touchdowns through six games and is coming off a 202-yard performance in a 32-0 blanking of a tough Marlborough squad. Concord-Carlisle's George Craan would be on pace for a ridiculous senior season if not for the emergence of Tyquan Culbreath, and the overall ease with which the Patriots have disposed of opponents so far.

Meanwhile, a trio of Western Mass. tailbacks have emerged on the scene forcefully, all averaging seven yards or more per carry.

Springfield Putnam's Melquawn Pinkney currently leads the state in rushing yards (1,526) and rushing touchdowns (24). Longmeadow's T.J. Norris (1,003 rushing yards, 15 TD) is a fire hydrant at 5-foot-8 and 220 pounds. Folks within the Everett program still tell us Springfield Central's Sacoy Malone (916 yards, 7 TD) is one of the best backs they've faced in two years. If his performance in the Eagles' 21-20 upset of Longmeadow last week is any indication (194 yards, 2 TD), he could be in for a terrific second half.

Also not to be forgotten is King Philip's Charles Ruffin, who is coming on strong after a 147-yard performance in last week's win over North Attleborough. The track star's elite speed is known about statewide, but he's starting show his toughness between the tackles. Health will be key, as he's already missed some time with injury.

GIVE P-FUNK CREDIT
Back when Paul Funk was still an assistant at Everett, the program at Dennis-Yarmouth was in such shambles that the school was thinking of dropping the program altogether.

In his first year, back in 2001, the Dolphins played only JV games. Since then, he's slowly built up a program that has become arguably the Cape's most consistent over the last half-decade. Since their last losing season in 2006, the Dolphins are 38-12, including a 6-0 mark this year; if the Dolphins stay the course, they will wrap up their third 10-win season in six years, and their second-straight Division 2A playoff berth after earning their historic first a season ago.

This year, the Dolphins boast one of the state's elite jump-ball receivers in Damion Johnson and arguably the toughest pound-for-pound quarterback in Matt Montalto. But it's not about the superstars that make this program go.

More often than not, D-Y wins with undersized players who are neither big nor athletic, but embrace contact and love to hit. With little depth, most of the starters go both ways, and guys like 5-foot-7 defensive tackle Tommy Kennedy are relied upon to shoot the gaps rather than fill them. At the end of the day, this is a well-conditioned, disciplined team that has to be one of the favorites in Division 2A if all goes to plan.

WILL THE KNIGHTS BE RIDING COME DECEMBER?
Have you heard about Catholic Memorial's four FBS recruits? Have you heard about their opening day loss to Marshfield?

It's all old news, but now the question is whether the Knights can heed the lessons learned from the Rams debacle and translate that into a Catholic Conference championship.

Following a bye week last week, the Knights will embark on their four-game conference schedule, which is bisected by a matchup with Brockton in two weeks, on Friday against Malden Catholic. The biggest of those game occurs in their Thanksgiving Day game against BC High, provided there are no missed steps along the way. You have to like CM's chances against Malden Catholic and the Prep, but if CM can knock off Xaverian, that would set up the winner-take-all matchup at the end of their regular season schedule.

There's no question the Knights have the talent to beat Xaverian, or the third-ranked Eagles for that matter. But, as has been the case in the last couple of seasons, it's not about if, it's about when. Is this the time that the group led by A.J. Doyle, Donovan Henry, Armani Reeves and Camren Williams prove good on their promise?

CAN NEW BEDFORD WIN THE BIG 3 AGAIN?
When New Bedford knocked off Brockton in their Big Three meeting last November, it was a shocking upset.

If the Whalers are to repeat the feat this year, a New Bedford victory wouldn't be greeted with such surprise.

Myles Medeiros (11 TD passes) has the Whalers offense firing with a legitimate down-field threat in receiver Jaraud Wood, while running back Marcel DePina needs only a yard to shake loose from defenses in the open field. In addition, the defense, led by junior lineman Tyler Arena has been strong.

Meanwhile, Brockton pulled off an upset last week against New Hampshire behemoth Pinkerton Academy (its fifth straight win against the Astros), so you can't count out the Boxers quite yet, despite a slow start (1-3) to the season. But clearly the balance of power in the Big Three (read: Brockton, Brockton and, ahem, Brockton) isn't quite what it used to be.

… THAT BEING SAID
The most encouraging thing you can say about Brockton's season thus far has been the emergence of quarterback Austin Roberts. The junior signal-caller had his biggest game yet last week against Pinkerton. Roberts completed 14 of 22 passes for 207 yards and three touchdowns to down the Granite State's top team.

If Roberts can keep the big plays coming, Brockton is still very much a threat.

ROCK 'EM, SOCK 'EM
No. 4 Chelmsford showed once again last week why the Merrimack Valley Conference Large runs through them in a thorough victory over Andover on Saturday.

But let's not crown the Lions and Mr. Football challenger Tim Joy champions just yet. After all, they still have a pesky Central Catholic team on the schedule, in addition to huge games at Lowell and at Billerica to finish on Turkey Day. Both the Red Raiders and Indians made their debuts in our Top 25 this week after both teams have been flying under the radar a little at 5-1. Dynamic quarterback R.J. Noel has Red Raider nation believing that this could be the team to unseat Chelmsford, while the Indians feature a defense that is much improved from last year's edition.

Plus, Billerica still has that LaSpada kid causing havoc for defenses and you can't underestimate that.

ROCK 'EM, SOCK 'EM: PART DEUX
Akin to the MVC, the Hockomock League always fields one of the most competitive leagues in the state from top to bottom. And we've seen that parity play out in the first half, what with Stoughton's shocking win over Mansfield.

What is for certain is that the league, which now has two playoff bids for the first time for its Davenport and Kelley-Rex winners, is still wide open.

Mansfield remains in the driver's seat in the large division with wins over King Philip and Attleboro, but the Hornets' game against North still looms. In the Davenport, the likely winner-take-all meeting between Oliver Ames and Stoughton is still three weeks away, but the Tigers' matchup with Mansfield on Friday will be a good indicator of how far they've come this season.
October, 17, 2011
10/17/11
12:21
PM ET
HOW THE CONTENDERS FARED

George Craan, Sr. RB, Concord-Carlisle - Part of a three-headed rushing attack in Friday's 61-14 stomping of Westford, carried 10 times for 102 yards and a touchdown.
Preston Cooper, Sr. RB, BC High - Ran for 202 yards and three touchdowns in the Eagles' 32-0 shutout of Marlborough.
Casey DeAndrade, Sr. RB, East Bridgewater - On just four carries, totaled 179 yards and three scores, as the Vikings cruised to a 42-14 defeat of Carver.
Jonathan DiBiaso, Sr. QB, Everett - Threw for 308 yards, and added 55 on the ground, totaling three scores in the No. 1 Crimson Tide's 42-21 win over Xaverian. He is now four touchdown passes off the state's all-time mark of 85.
Sacoy Malone, Sr. RB, Springfield Central - Carried 26 times for 194 yards and two touchdowns in the Golden Eagles' 21-20 upset of Longmeadow.
Matt Montalto, Sr. QB, Dennis-Yarmouth - In the Dolphins' 14-0 shutout of Marshfield, carried 22 times for 148 yards and a touchdown, and also added 82 yards through the air on 6 of 13 passing.
T.J. Norris, Sr. RB, Longmeadow - In the loss to Central, carried 26 times for 170 yards and all three of the Lancers' scores.
Matt O'Keefe, Sr. QB, Duxbury - Was 11 of 20 passing for 191 yards and a touchdown in the Dragons' 21-0 blanking of Scituate.
Melquawn Pinkney, Sr. RB, Putnam - Another week, another monster performance. He carried 31 times for 297 yards and five touchdowns in the Beavers' 56-14 win over Springfield Cathedral. Through six games, he leads the state in rushing yards (1,526) and rushing touchdowns (24).
Charles Ruffin, Sr. RB, King Philip - Carried 23 times for 147 yards and two scores in the Warriors' 19-7 win over North Attleborough.
Cody Titus, Sr. RB, St. Bernard's - Remember our "400 Rule"? Well, this kid just became a contender after rushing for a state-record 436 yards on 34 carries for five touchdowns in the Bernardians' 33-14 win over Littleton. Through six games he's carried 180 times for 1,465 yards and 16 touchdowns.
Brandon Walsh, Sr. QB, North Andover - Totaled five scores, including a 26-yard interception return, in the Knights' 46-0 shutout of Philips Andover.
Don Webber, Sr. WR, Duxbury - Caught seven passes for 109 yards in the Dragons' 21-0 win over Scituate.

ON THE RISE

Drew Burnett, Sr. QB, Needham - Completed 8 of 11 passes for 290 yards and five touchdowns in a 49-14 rout of Milton, but unfortunately that will be his last. He left the game with a broken ankle, and is done for the season.
Jamison Craft, Sr. RB, Gardner - Put in a workmanlike 27 carries for 192 yards and three touchdowns in the Wildcats' 28-7 win over Tyngsborough.
Tyquan Culbreath, Sr. RB, Concord-Carlisle - In the Patriots' 61-14 thrashing of Westford, gave them a jump early with 130 yards and four scores on just six carries.
Jalen Felix, Sr. WR, Everett - A breakout game to say the least, caught 10 balls for 145 yards and a score in the Tide's 42-21 win over Xaverian.
Greg Heineman, Sr. QB, Minnechaug - In the Falcons' 39-14 win over Agawam, he was 23 of 37 passing for 246 yards and four touchdowns.
Vondell Langston, Sr. RB, Everett - Ran for a career-high 203 yards and two scores on 15 carries in the Tide's 42-21 win over Xaverian.
Zack Jackson, Sr. RB, Amherst - Accumulated 282 yards of offense, including 228 on the ground, and two scores in a 44-41 win over Chicopee Comp.
R.J. Noel, Sr. QB, Lowell - Threw for 189 yards and totaled four scores in the Red Raiders' 42-15 rout of Central Catholic.
Mark Riley, Sr. TE, Needham - Hauled in three touchdown passes in the Rockets' 49-14 rout of Milton.
Eddie Sheridan, Jr. RB, Chelmsford - Led the Lions' rushing attack with 145 yards and three scores on 20 carries, in a 48-28 win over Andover.
Jonathan Thomas, Soph. RB, St. John's Prep - Exploded for 235 yards and three scores on 27 carries in the Eagles' 41-20 rout of St. John's (Shrewsbury).
October, 15, 2011
10/15/11
12:04
AM ET
By
Andy Smith
| ESPNBoston.com
CONCORD, Mass. -- Not even thunder and lightning could stop the No. 8 Concord-Carlisle ground attack Friday. It ran all over Westford Academy, propelling the Patriots to a 61-14 victory in front of its home crowd.
[+] Enlarge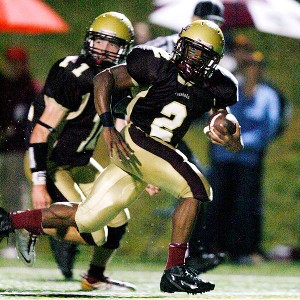 Jon Mahoney for ESPNBoston.comRunning back Tyquan Culbreath had two touchdowns on his first three carries for Concord-Carlisle during Friday night's 61-14 rout of Westford Academy.
Tyquan Culbreath got things going for CC (6-0) early and often. After his team forced Westford (3-3) to punt on its opening drive, Culbreath scored a 10-yard rushing touchdown when he took the option handoff straight through the heart of the Westford defense.
Minutes later, on his teams next offensive possession, he broke two tackles in a 50-yard touchdown run to put his team up by two scores.
In the second quarter, he added a 26-yard touchdown and a 4-yard touchdown on a reverse 5.5 seconds before the end of the half. It was his ability to break multiple tackles that made his performance so memorable in the game.
"We see those kinds of things in practice that only we see," C-C head coach Mike Robichaud said. "He's a special kid who really works hard. He's very quiet and has really improved this year as a blocker. I think he's really bought in to being a complete back, so it's really nice to see him get the ball and just make some unbelievable plays.
"I wish I could say it was a great scheme and all the right blocks, but he just made a lot of great things happen. It's great to see for him."
Culbreath ended the game with six carries for 130 yards and four touchdowns.
His fellow running backs would not let him have all the fun, however.
In the third quarter, Tim Badgley scored on an 85-yard run, giving him four carries for 104 yards and a touchdown. George Craan had a 28-yard touchdown run of his own. He ended the game with 10 carries for 102 yards and the touchdown.
"We're really proud of all the backs because of the way that they practice and the way they push each other," Robichaud said. "They really challenge each other during the week."
They, as well as the rest of the team, will have to keep challenging themselves if they want to keep up their undefeated record.
-- The game was forced into a half-hour delay when thunder and lightning rolled into the area. With 1:02 left in the first half, the teams were told to head into the locker rooms and wait out the storm. The teams made the decision that when they came back from the break halftime would be treated like a quarter, with a shorter break rather than another long one. With time in the locker room so close to the half, Robichaud treated it like the real thing. "We had other things that we were talking about, so it was less about game-planning, it was a little more about leadership during that break," he said. "The guys did a great job of putting things behind them and playing the way we know that we can play. It was a little bit different, but it was no big deal. It's a pretty mature group of guys and they rolled with it.
-- The leadership issues Robichaud was addressing was his team's willingness to take what some coaches would call retaliation penalties in the first half. On more than one occasion, his players were flagged after engaging a Westford player. The penalties came at costly times, keeping Westford drives alive when C-C needed to make stops. "We had what, I think, were maturity issues in the first half," he said. "We had a number of penalties we discussed during the lightning break and we really challenged the seniors to snap out of it and be the leaders we know they are."
-- While its offense will get the most attention attention in the scorebook, the C-C defense also came to play Friday. Collectively, it intercepted the Westford quarterbacks four times, including Tyler Koning's interception return for a touchdown in the first quarter. It also came up with a crucial 3-and-out in the second quarter when Westford was driving to potentially make it a one-score game. "This year, the offense has been a little ahead of the defense developmentally, personel-wise, things like that," Robichaud said. "We made some adjustments during the week and the kids really responded to that. I think we really showed the way we can play on defense. It wasn't a perfect game, but I was really pleased with our pass coverage. This was a great team we played. The kids were really looking forward to the game and I think they did a good job of just executing what the defensive coaches set them up to do. We have to get ready for [Acton-Boxborough] now."
NO. 8 CONCORD-CARLISLE 61, WESTFORD ACADEMY14
C-C (6-0) 20 15 19 7 -- 61
WA (3-3) 0 14 0 0 -- 14

1st quarter
C-C - Tyquan Culbreath 10-yard run (Evan Boynton kick good)
C-C - Culbreath 50-yard run (Boynton kick good)
C-C - Ben Aley interception return (Boynton kick failed)
2nd quarter
W - Alex Eaton 11-yard run (Alex Locker kick good)
W - Justin Mount 1-yard run (Locker kick good)
C-C - Culbreath 26-yard run (2-pt conversion good- Ryan Hoey pass to Evan Boynton)
C-C - Culbreath 4-yard run (Boynton kick good)
3rd quarter
C-C - George Craan 28-yard run (Boynton kick blocked)
C-C - Tim Badgley 85-yard run (Boynton kick wide right)
C-C - Javier Flores 6-yard run (Boynton kick good)
4th quarter
C-C - Flores 73-yard run (kick good)
October, 7, 2011
10/07/11
12:09
AM ET
By
Ryan Kilian
| ESPNBoston.com
CONCORD, Mass. -- Concord-Carlisle scored early and often on its way to a convincing 35-7 win over Boston Latin on Thursday afternoon. The win moved C-C (5-0, 1-0) into an early first place lead in the Dual County League Small, as Boston Latin fell to 3-2, 0-2.

C-C led 35-0 at the half, with each of their five first half touchdowns coming by way of the "big play". The Patriots struck first early in the opening quarter as senior quarterback Ryan Hoey found classmate Jackson Finigan on a 47-yard touchdown strike.

"That was all (Ryan) Hoey," said Finigan. "We actually had a run play called but Ryan checked to the fade and threw a perfect ball that I caught and it was all grass from there on."

Hoey looked sharp all day controlling the C-C offense, and has been a steadying factor in his first year under center for the Patriots.

"Offensively we did a good job," said Concord-Carlisle head coach Mike Robichaud. "We talked about the trenches and the edges and I think we did a good job there. We have some running backs that can make things happen if we get to the second level so we were pleased with that."

C-C star running back George Craan scored the next two touchdowns on long runs of 71 and 55 yards respectively. The senior totaled 156 yards on the day, on only five carries

Junior tailback Tim Badgley got into the scoring action as well, with a 65-yard burst through the middle of the Boston Latin defense midway through the second quarter.

Senior tailback Tyquan Culbreath concluded the first half scoring barrage with a 44-yard scamper through the Wolfpack defense.

C-C has come out of the locker room the last two games and put their opponents away early with big opening first halves.

"It is a credit to these captains and a credit to these seniors," said C-C head coach Mike Robichaud of his team's early game execution and focus. "They take a lot of pride in coming out and being real good on first downs and early in the game."

Boston Latin's lone score on the afternoon came with 2:59 remaining in the third quarter, as junior Mike Surdek plunged in from two yards out to break up the shutout.

Latin was also playing without injured junior quarterback Miles Wright who was present on the sidelines sporting a hard cast on his right arm. Junior Cal Cahill took the snaps for the Wolfpack on the day.

Huge holes: "The offensive line are all big fast guys," said Craan. "They do a good job conditioning and at practice and the coaching staff does a great job preparing them."

The C-C veteran offensive line led by seniors Andrew vanderWilden, Trevor Castrichini, Owen Guattaduaro, Tom Gregory and Thomas Kleyn opened up some monster holes for the C-C running backs to run through.

"The offensive line did a great job," said Robichaud. "It is a senior group and these guys have played with each other in some tight situations."

Seniors step up: The C-C senior class has experienced success having advanced to the post season the past two years including a Division 2A Super Bowl appearance last season where they lost to Duxbury 35-13 at Gillette Stadium.

Whether it was captain Henry Bumpus' big fourth down sack in the first half or the aggressive pursuit tackling of defensive backs Tyler Koning, Anthony West and linebacker Kleyn the C-C defense was up to the task.

"Our defense is led by a strong senior group," said Finigan. "We have a bunch of hard hitting kids and we are doing a good job stopping the run and pass and whatever is called."

Hoey, Finigan, Craan, Culbreath and the veteran offense line all led the way for the offense.

Finigan factors in: Finigan was all over the field for C-C. The senior caught a touchdown, returned punts, threw some key blocks to spring the running backs and was a big factor in containing the edge from his defensive back position.

"Probably the guy that is most unsung in our running game is Jackson Finigan," said Robichaud. "He does a tremendous job of making blocks downfield. When you have good backs half our touchdowns are because Jackson has gotten on someone down field and what was a 30-yard run becomes a 50-yard touchdown. We don't throw the ball a whole lot but he has just been huge for us the past three years."

CONCORD-CARLISLE 35, BOSTON LATIN 7

CC (5-0) --- 14 21 0 0 - 35
BL (3-2) --- 0 0 7 0 - 7

First Quarter
C – Jackson Finigan 47 pass from Ryan Hoey (kick failed)
C – George Craan 71 run (Craan run)

Second Quarter
C – Craan 55 run (Evan Boynton kick)
C – Tim Badgley 65-yard run (Boynton kick)
C – Tyquan Culbreath 44-yard run (Boynton kick)

Fourth Quarter
B – Mike Surdek 2-yard run (Jake Hardy kick)