Boston High School:

Tyree Gregory
March, 6, 2013
3/06/13
1:35
AM ET
By
Chris Bradley
| ESPNBoston.com
BEVERLY, Mass. -– Even when the shots aren't falling for Stevie Collins, his confidence never falters and his swagger goes untouched.

"Like Kobe," he said with a smirk, referencing his favorite NBA star. "Keep shooting, keep shooting,"

'Keep shooting' enabled Collins to punch his team's ticket to the Division 1 North final against Central Catholic. Thanks to 34 points on 14-for-15 shooting from the charity stripe from the sophomore guard, Lynn English (18-5) knocked off Everett (15-8) 94-87 in a fast-paced offensive game.

Everett guard Tyree Gregory dominated the first half, scoring 15 points over the first two quarters and giving the Tide a strong presence off the dribble. However, Gregory mustered just two points after halftime.

The two teams were knotted at 45 at halftime, and then started the game of runs. English had a 9-0 run over the course of the first two minutes of the third quarter, and after a timeout, Everett matched with a run of their own—going on a 10-0 run, keyed by junior guard Timmance McKinney (17 points) to take a 55-54 lead.

Then Collins caught fire. The sophomore knocked down two straight three pointers in the third quarter, and finished an acrobatic layup to beat the third quarter buzzer, giving his team a 67-61 lead going into the fourth quarter.

Bulldogs' senior forward Ben Bowden (13 points), who is committed to Vanderbilt to play baseball, stepped up and took a little pressure off of Collins in the beginning of the fourth quarter -- he scored seven straight points to start off the period to give English a commanding 74-63 lead with five minutes to go.

"Ben Bowden, who I tease about being a great baseball player and maybe not being a fantastic basketball player, was outstanding," Lynn English head coach Mike Carr said. "He had a spurt there where he scored for us and did things that maybe he hasn't been able to do consistently all year--but in the big game, he stepped up."

Moments later, Collins canned his fourth 3-pointer of the night, and with the 14-point lead, the Bulldogs had all but sealed the victory.

But Everett wouldn't go down without a fight.

"We got [the lead] to fourteen midway through the fourth and my kids were starting to get comfortable there. As a coach, you never get comfortable until that final horn goes," Carr said.

Thanks to a quick 9-0 run following Collins' fourth trey, Everett built momentum, forced Collins and Erick Rosario (17 points) into several turnovers down the stretch via their full-court press, and were able to chip away at English's lead thanks to some late-game heroics from sophomore Gary Clark (20 points, 7 rebounds). Bulldogs glue-guy Danny Lukanda (8 points, 14 rebounds) and Rosario both fouled out of the game with just under two minutes to go, forcing Carr to put in 6-foot-6 sophomore Johnny Hilaire.

A long-armed, physically-gifted forward, Hilaire went 3-for-4 from the free throw line in the final minute of the game, and also helped seal off the paint with a big block that helped English hold a 90-87 lead.

"We had a little left in the tank at the end we made a nice comeback, got it down to two points, got the ball, and the kid made a great block," Everett coach John DiBiaso said. "I told my kids in there, 'It showed a lot of guts, that kid coming off the bench hitting free throws'."

Carr added: "With the foul trouble, I put him in at the end thinking he would give us some rebounding, and maybe a defensive presence. Thankfully, he stepped up and hit some big foul shots."

Outrunning the Crimson Tide: Carr and Collins both attributed the Bulldogs' impressive late-season run to their brutal in-season conditioning. Even despite carrying the majority of the offensive load for most of the game, Collins and Rosario never showed to tire even in the slightest late in the second half, when they were able to build a lead that Everett wasn't quite able to come back from.

"It's huge. Running the stairs for 15 minutes after practice: we're exhausted—coach tells us 'fight through it'. If we don't, he adds time. So we just gotta' get through it," Collins said.

Added Carr: "We are what we are, we're team that's built on our guards, we're built on our press. If a team that's similar to us takes us down to the wire, then so be it...we're not tired, and I certainly feel that they (Everett) maybe were. "

Lynn English has played its best basketball over the last month, and though Carr and his staff had limited expectations for how far his young team could come, he also exuded a confidence in his gameplan and the ability of his players to execute said plan.

"No one wants to run with us —- this was the first team all season who did. For the most part I thought we did a pretty good job of handling it," Carr said.

Missed opportunities: Everett had several opportunities to chip away at the lead earlier in the fourth quarter, but was unable to convert on several easy lay-ups inside. The Tide also shot 21-for-32 from the line -— not a bad number, but one that DiBiaso used as an example of opportunities that Everett had to regain the lead—something they were unable to do after they held the mentioned 55-54 lead early in the third quarter.

"We didn't make our layups and we didn't make our free throws -— enough of them," DiBiaso said. "They're a tough team, we battled, we were always coming from behind.

"We dug a whole too many times; you can't come from behind that many times. We got it down to 89-87 and we had the ball, that's all we can ask for. But you've got to make your free throws in games like this; I don't think we shot well from the line."

Cinderella no longer: After beating Springfield Central and St. John's Prep to win the IAABO 130 Classic by surprise, the verdict was no longer out on the young, but talented Bulldogs. They moved on to beat Somerville in the opening round of the Division 1 North tournament, crushed Haverhill in the quarterfinals, and following Tuesday night's win over Everett, English will go into Saturday's showdown with Central Catholic having not lost a game in nearly a month.

Collins said beating Central and Prep, who at the time were considered two of the top Division 1 teams in the state, gave them exactly the fuel they needed to make the unexpected burst.

"It gave us huge momentum, we felt like nobody could beat us after that. I still feel like nobody can beat us, I think we're the number one team in the state."

Gameplanning and conditioning can only go so far, and Carr said his team's chemistry is perhaps the biggest reason why they have been able to make a run all the way to the D1 North finals.

"We never thought 'This group, this year'," Carr said. "We thought, 'Maybe next year', but we just gelled at the right time. That's the whole thing."

But his star sophomore, killer instinct and all, refused to admit the same.

"I expected it," the always-confident Collins said, straight-faced. "I think nobody could beat us and I still feel like nobody can beat us. We practice hard, the only way we lose is if we beat ourselves."
February, 26, 2013
2/26/13
11:38
PM ET
By
Shawn Myrick
| ESPNBoston.com


EVERETT, Mass. -– Everett's transition offense created a slippery slope for East Boston tonight.

The host No. 7 seed Crimson Tide (15-6) created turnovers in both teams' territories, then consistently beat the Jets down the court to score 21 straight points between the second and third quarters. Trumping No. 10 Eastie (12-8) 77-55, Everett advances to the Division 1 North quarterfinals to play No. 2 seed Lowell (18-3) on Friday.

"The transition game is stuff we live and die by," said Everett coach John DiBiaso. "We do different drills (with) trapping, converting from offense to defense, (and) looking out for each other. We play at that intensity because we practice at that intensity."

Senior Tyree Gregory lead Everett with 22 points, while teammate sophomore Gary Clark netted 14 points and grappled five rebounds.

After hitting a layup right before halftime, Gregory finished a wide crossover dribble to lose his defender then hit a deep two-point jumper seconds into the third quarter to start the run at 42-28. Seconds after assisting Clark off a steal, senior Gilly DeSouza converted two steals and a rebound into six points including a one-handed dunk by Gregory for a 51-28 lead with 5:20 left in the quarter.

Everett's standard "Diamond Trap" full-court press aided all three of DeSouza's steals.

"I practice dunking all the time so it is just adrenaline," said Gregory. "We practice D'ing on the press then running the ball to attack. We put the pressure on them and the offense just came like that."

Gregory finished a powerful one-handed layup through a foul from a defender then senior Jordan Seldon hit junior Timmance McKinney for a counter attack dunk and the 59-28 advantage at 3:38 in the third.

Jets senior Stanley Harris forced a point off free throws to cut the run 12 seconds later.

"A lot of those points came off turnovers," East Boston coach Shawn Brown. "You spend a lot of time going over (the press), but there is a difference when you are in the game. When we got in a half court set, we ran good sets"

The Jets trailed since the first basket at 7:03 in the first quarter, but got as close as 25-24 at 3:27 in the second quarter. Seven straight points started with a quick layup off the throw in by sophomore Raekwon Cole and finished on a boxed out layin by senior Will March to cut the score within one.

Thirteen consecutive points including two three-point jumpers by Gregory put the Crimson Tide ahead for good with a 38-24 lead and 1:28 left in the first half.

"We were aggressive, we came out with intensity (and) we kind of physically wore them down a little bit there," said DiBiaso "We rotate 11 guys so it gives us a lot of options."

"We always want to go into the locker room at half time with at least a double-digit lead," added Gregory.

Everett had a 12 man bench, while East Boston only had a five subs.

Much Different Matchup: A lot has changed for the two teams since East Boston won 49-48 in Everett last month.

Eastie entered today with five former JV players and without leading scorers Pat Santos, Kenny Ramos (both seniors) and sophomore Rasheed Bell. Santos did not dress, but was a strong verbal leader throughout from the bench.

"Gets me excited about next year," said Brown. "We have young guys not used to pressure. You get in a game situation it is different."

Sophomore Dion Knight lead Eastie with 17 points.
January, 11, 2013
1/11/13
11:40
PM ET
By
Shawn Myrick
| ESPNBoston.com


EVERETT, Mass. -- The Tide settled just in time against visiting neighbor Malden High last night.

Ahead for the final 25 minutes, Everett boys' basketball looked to be cruising to its first Greater Boston League victory of the season as it lead by as much as 20 points in the final half. A frenzy of fourth-quarter steals slipped the Golden Tornadoes within a single score late, but the Crimson Tide (4-3, 1-1) steadied in the final minute to best Malden (5-2, 1-1), 61-52.

"We got off to a nice start (at) 2-0 and lost three tough ones by a total of three points to real good teams," said Everett coach John DiBiaso. "We were a little down on ourselves so it was important to bounce back."

Leading by its smallest margin since the first quarter, 55-52, guard Tyree Gregory whipped a sideline pass into the paint to set up sophomore Gary Clark for two points off free throws and a 57-52 lead at 1:05 in the final quarter. After Malden sophomore Anthony Gilardi just missed a fade-away, Everett junior Marquis Holman grappled the rebound and whipped the ball across the court for a 59-52 layin by junior Lubern Figaro with 45 seconds left.

A foul shot from senior Gilly DeSouza and junior Timmance McKinney sealed the win at 61-52 in the final seconds.

"We went inside a couple of times with some set plays," said DiBiaso. "That kind of calmed us down. (We) go some layups and free throws and that got us over the hump."

Clark, a forward, battled his way through the flu to lead the Tide with 19 points and seven rebounds. Gregory netted 16 points, while forward Jahlil Price buried 13 points and grappled five rebounds (both Everett senior captains).

"All coach said was play defense and attack the basket," said Clark. "We do a lot of rebound drills for me and close out drills for the zone. Coach wants me to attack the basket really hard"

In The Zone: A patient 2-3 zone and a strong paint presence from six-foot-four center Gilardi helped force turnovers and battle Malden back from a 49-29 deficit at 4:29 in the third quarter.

A 13-2 fourth quarter run by the Golden Tornadoes, including seven steals, finished with senior guard Rodney Morton stripping the ball at mid court and forcing two points from foul shots to gain a slim 55-52 deficit with 1:20 left.

"(Gilardi) has really good court vision and he is able to stay where the ball is," said Malden coach Don Nally. "When you press the ball and take vision away it makes it a little easier to do it. We did a 2-3 and we pressed off of it."

Back-to-back three-point-plays by Gilardi and junior Ray Sainstril off steals had previously finished an eight point streak for Malden with the Golden Tornadoes down 53-48 with 2:42 remaining.

Diamond Defense: The Crimson Tide used its standard 1-2-1-1 full-court press (or as coach DiBiaso referred to it, a "Diamond Trap") the entire game. The press was extremely effective early as Everett scored eight of its first nine points off steals rather than set plays.

Gregory, who tallied 13 points in the first half, caught the defense trying to lob over him and countered to both finish a layup and draw an intentional foul for his eighth straight point to put the Tide ahead 9-5 at 5:16 in the first quarter.

"That is our go to defense," said DiBiaso. "You have to get back if they break it and you have to be aggressive and attack if they make a steal. (Gregory) can stop on a dime, he took the ball too the basket, and he has great body control (to) finish."

A run of nine points between the first and second quarters pushed Everett farther ahead from a slim 17-16 lead in the final three seconds of the first. With all nine points coming from layups or free throws, McKinney battled under the rim to force a 26-16 foul shot at 6:08 in the second quarter.

"We tried to get the ball in the middle of the floor and not on the sidelines, because that is when we get stuck" said Nally. "You can not go down by 18. It is such a hard battle to come back from."

A one and a half minute span that included all but one Everett basket coming off a counter attack lead to the Tide outscoring Malden 8-2 for a 49-29 lead at 4:29 in the third quarter.
December, 24, 2011
12/24/11
12:32
AM ET
By
Tom Layman
| ESPNBoston.com
EVERETT, Mass. — Steve Haladyna knew that the scoring pressures would fall on him this season, and so far the senior forward hasn't disappointed.
Haladyna scored a game-high 27 points on 12-of-14 shooting, and in the process recorded a milestone with the 1,000th point of his career as St. John's Prep (3-0) stormed into Everett (0-2) and took home a 66-53 victory on Friday night.
"It's good to get it over with and we can just focus on the season and focus on the team," said a humble Haladyna, who also grabbed nine rebounds and recorded four steals. "We've got a lot of work to do, but it's been a good career and I'm really happy."
[+] Enlarge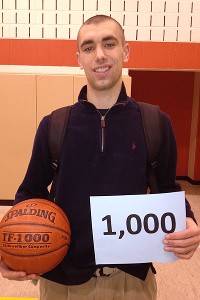 Tom Layman for ESPNBoston.comSt. John's Prep senior Steve Haladyna scored his 1,000th point in a 66-53 victory over Everett.
The only thing stopping Haladyna in the first half was foul trouble as he had to take a seat with two quick ones in the first quarter after posting the first 9 points of the game for the Prep.
His best work, and record-breaking bucket, came in the third quarter.
Haladyna was as relentless at the hoop as he was at the top of a pressure defense that forced turnover after turnover by the Crimson Tide. In the third, Haladyna scored 13 of his 27 points and got the 1,000th and 1,001st points of his career when Tyler Dooley forced a turnover and got it right to Haladyna for the lay-in and a 52-37 lead.
Time was called in the game, and Haladyna was given the game ball by the referee. He was showered with a round of applause by the Prep's visiting fans, and the Everett hosts.
Haladyna is kind of a throw-back scorer and in this game he showed off more of his inside game instead of showing off the range from deep that he clearly posses. Most of his buckets came on lay-ins and moves in the posts, as he flashed several jump hooks and pivot moves in the post to connect on 85 percent of his shots.
"He's a very good scorer," said Prep head coach Sean Connolly. "He just comes up big every time. He's very good from 10 to 15 feet in. He's got the floaters and the jump hooks and he's long and athletic. He's got very good touch around the hoop."
Prep runs away with it:
For two quarters, Everett did everything it could to disrupt any kind of flow from every other Prep player minus Haladyna. The Crimson Tide held a 29-23 lead at the half, but the Eagles came out with a different defense that completely baffled the home team.
Connolly put Haladyna's length at the top of a pressure defense and quick-handed freshman point guard Marcos Echevarria was there to lend a hand to force turnovers and turn them into quick buckets on the other end.
The Crimston Tide held a 37-36 lead after a bucket from Tyree Gregory (12 points), but that defensive pressure by the Prep turned a one-point deficit into a 22-1 run in the final four-plus minutes of the half.
Prep forced 13 turnovers in the period and as a team they shot 15-of-18 from the floor after faltering with a 25 percent clip in the first half.
"We couldn't keep those guys out of the lane, so we wanted to change up the tempo a little bit," said Connolly. "We got a little pressure in, got some deflections, got some steals and got things going a little bit."
Everett coach John DiBiaso saw glimpses of that change in philosophy by Connolly before the end of the half, but his team still couldn't manage to get the ball over half at a consistent rate. Haladyna and Owen Marchetti (12 points) did most of the work at the hoop during the lopsided run.
"We are just inexperienced in the backcourt," said DiBiaso. "We had trouble with it. When they put (Haladyna) at the top it was tough to throw over it."