Boston High School:

Tyrell Springer
December, 11, 2012
12/11/12
12:36
AM ET
By
Terrence Payne
| ESPNBoston.com
SPRINGFIELD, Mass. -- Springfield Central survived its first test on Monday night, taking everything a scrappy Agawam team had and came out with an 82-67 win.
Central led by nine at half and opened up a 17-point lead after three quarters. The Golden Eagles' lead quickly dwindled as the Brownies started the fourth on a 19-8 run, but in the end it was too much Central. The two big men inside, sophomore Chris Baldwin and senior Kamari Robinson, strung together back-to-back buckets in the final minutes to ice the game.
But still, it's a reminder that the defending state champs -- a team that hasn't lost to an in-state opponent in over a year (25 games) -- will get everyone's best shot this season.
The experience and chemistry of last year's team is gone, but the talent and potential is there, it's just a matter of when the Golden Eagles can put it all together.
[+] Enlarge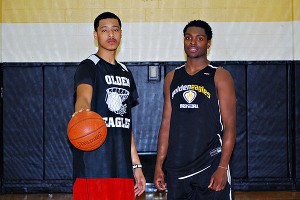 Terrence Payne for ESPNBoston.com Chris Baldwin (left), considered one of New England's most promising sophomores, joins returning All-State forward Kamari Robinson in Central's loaded frontcourt.
"The inexperience is the factor," head coach Mike Labrie said. "The key to the season is how fast we can grow together. We're behind the eight ball, but no one is going to feel bad for us."
Robinson, the senior captain, was the only returning member from last year's championship team to suit up on Monday night. Senior guard Cornelius Tyson -- he of the memorable second-half outburst in the MIAA Division 1 state title game, knocking down four 3-pointers -- is academically ineligible.
However, Central still made noise during the summer, when the 6-foot-8 Baldwin enrolled at Central, after spending last season at the Hillside School (Conn.). Alongside, the 6-foot-5 Robinson, Central has one of the best frontlines in the state and it showed on Monday night. Robinson had a team-high 31 points, while Baldwin added 24 points, 16 rebounds, and three blocked shots.
"I was happy about it," said Robinson on Baldwin's transfer. "It helps me out a lot. It's going to take a lot of stress of me and put another scorer in our arsenal."
Baldwin already holds a Division I offer from UMass, which he picked up in the summer, as well as interest from Boston College and Boston University.
Early on in the season -– both in a scrimmage against St. John's of Shrewsbury last week, and Agawam tonight -– teams have thrown zone defenses at the Golden Eagles, limiting the number of touches Baldwin can get in the post. Likely all teams Central faces this year will play some sort of zone pressure, which makes the guard play more critical for the Golden Eagles.
In Monday night's win, Baldwin was doubled on the block and in the high post. But through the course of the game, when the Central guards could penetrate the zone, it became easier to free up Baldwin and Robinson.
"I think we have some pretty good guards, guys that can step up," said Baldwin. "Overall we should be good with us in the post. We'll need shooters to step up."
For Labrie, the production of Tyrell Springer, Chris Prophet, and Lee Turner can't be replaced, but they are finding contributions from several guards that made their way up the ranks of the Golden Eagles program, such as Josh Malone, Ju'an Williams, and Elliott Johnson.
"Some jayvee players got the privilege of playing up and I was one of them," said Malone, a sophomore guard, who was part of an undefeated jayvee team last year. "So I got the experience playing against guys like Tyrell and Chris."
In his first varsity start, Malone added 15 points, including a trio of three-pointers.
"He did better than I thought he would," said Robinson. "He was hot from deep and played good defense."
Defense was the trademark of Central's run last year -- whether it be the second-half run the Golden Eagles put together to take down St. John's of Shrewsbury in the state semifinals, or the seven-point halftime deficit tuned into a 19-point win in the state final against Brockton -- led by the strong defensive pressure of Central's four guards.
Central will continue to see zone defenses trying to limit the strength in the post. Along with that, it will take time for Central to build chemistry with one another. But the defense is something that can stay consistent.
The Golden Eagles forced a lot of turnovers and wore down Agawam with its full-court pressure in the second half. The defensive spark last year was Springer, who played the pressure defense like a safety. Robinson is ready to take on that role this season, as he was able to come away with three steals for easy buckets in Monday night's win.
"That's what I got to be," said Robinson. "I have to be a leader just like he (Springer) was last year."
Central was none for their late game runs in 2011-2012. With a new roster and a long way until March, Central's constant late-game runs will more likely be a late-season run.
"It's going to take time to gel," said Labrie. ""We have to be patient as a coaching staff. We're going to have to go through our lows and learn from our mistakes."
Big night for Agawam's Tyler Desrosiers:
Kamari Robinson, a returning ESPN Boston All-State, poured in 31 points -- good enough for a team-high, but not the game high. That honor went to Agawam's junior forward, Tyler Desrosiers, who ended the night with 42 points.
"I didn't expect to do that," said Desrosiers. "I just tried to do as much as I could for my team."
The 6-foot-1 Desrosiers began the night be covered by the smaller Josh Malone and then later in the first half covered by Robinson.
He used a spin move several time to create space, split the defense, and squeeze into the lane for open shots. He had an impressive body control, double-clutching to avoid the long reach of Baldwin and Robinson.
Central slowed Desrosiers' production in the third quarter, with full-court pressure, as Central's athleticism and speed began to break Agawam down.
"Defensively and rebounding were the biggest part," said the junior forward. "After a while it just wore on us."
Desrosiers came back with a rally in the fourth, including a fast break layup where he went up one-on-one with Baldwin. Coming down the right side, Desrosiers threw his body into Baldwin drawing the foul, while converting on the layup.
Agawam, although not known as a basketball power in Western Mass., starts off the season on a better note than just a loss.
"I think overall we're not going to take it as a complete victory," said Desrosiers. "We'll be fine if we play like this going into the rest of the season."
December, 7, 2012
12/07/12
12:43
AM ET
By
Chris Bradley
| ESPNBoston.com
SPRINGFIELD, Mass. –- Notes and observations from today's scrimmage between No. 1 Springfield Central, widely considered as the best team out of western Mass. this year, against St. John's-Shrewsbury, Central Mass' highest ranked team.:

Kelley the catalyst: The biggest surprise of this scrimmage was the play of St. Johns' 6-foot-6 junior forward T.J. Kelley. Kelley played second-fiddle last year to forward Matt Palecki, but with the big man graduated, Kelley appears to be taking much more of a leadership role for the Pioneers. Returning All-State forward Kamari Robinson was matched up with Kelley on several defensive possessions for Central, but Kelley never faltered or backed down. He finished around the basket through contact all night, was the Pioneers' most consistent rebounder, and, when need be, even did a little ball handling for the Pioneers.

Central's dominant frontcourt: Springfield Central's post combination of 6-foot-5 senior Kamari Robinson and 6-foot-7 sophomore Chris Baldwin could very well be the MIAA's best this year. Robinson helped lead Central to last year's Division 1 State Championship, the program's first since 1991. The Golden Eagles had trouble at times getting their bigs the ball, and St. John's 2-3 zone defense certainly didn't help matters. For example, Baldwin only had two decent looks from the post the entire third quarter.

As Baldwin becomes more comfortable playing with new teammates, Robinson takes more of an assertive role offensively, and Central improves at guard, this Golden Eagles squad has the talent to make a deep run in the state tournament.

Young guns step up for SJ: It was clear from the start tonight that Coach Bob Foley completely trusts Davon Jones with the Pioneers offense -- not bad for a sophomore who was playing safety for the Pioneers in last Saturday's Division 1 Central Super Bowl loss to Leominster. Jones showed clearly that he is one of the most reliable point guards in the Western half of the state.

Though his jumpshot may take a couple weeks to come back, Jones did a great job of running the Pioneer offense. He made a few big stops defensively, and he showed the quickness to penetrate Central's defense on many different occasions.

Freshman Adham Floyd also played a big role for the Pioneers off the bench. A highly-touted 6-foot-1 guard, Floyd stepped up and gave St. John's an extra ballhandler when Jones or senior Ken Harrington needed a breather. Sophomore Stefan Masciarelli was very efficient off the bench, scoring ten points on five shots.

Eagles' point guard woes: Cornelius Tyson was huge for Central during their state title run last season, but it looks as if for the forseeable future, Tyson won't be a part of the team due to academic ineligibility. The Golden Eagles graduated a lot of talent in the backcourt, including Lee Turner, Chris Prophet, and ESPN Boston Super Teamer Tyrell Springer. In addition, junior guard Cody Williams -- whom Central was expecting to carry the load at guard -- is out for three weeks due to an ankle injury sustained while quarterbacking the Eagles to the Division 1 West Super Bowl championship over Longmeadow. His cousin Ju'an, a junior and three-sport standout, got some significant minutes tonight at guard.

March, 28, 2012
3/28/12
6:49
PM ET
By
Brendan Hall
| ESPNBoston.com
With the unveiling of our MIAA All-State Teams for Boys and Girls late last week, the 2011-12 basketball season has come to close. But before we officially slam the book on another exciting season of hoop, and move on to spring sports, I wanted to get out a few thoughts on the landscape for next season.

To whet your appetite for the 2012-13 season, here are my early projections on the state's must-see teams to watch:

BOYS

Central Catholic - Plenty of talent returning with this squad, which captured the No. 1 overall spot in Division 1 North despite missing Luis Puello (ankle) for most of the season. ESPN Boston All-State guard Tyler Nelson returns as one of the state's top shooters, but the Raiders also return all three of their regular bigs in Joel Berroa, Doug Gemmell and Nick Cambio.

New Mission – Apparently it's never too early for bulletin board fodder, because head coach Cory McCarthy is already making some barnstorming rounds, telling ESPNBoston.com this afternoon that if the Titans don't win the Division 2 state title next year, "I should be fired." Bold, yes, but it's hard not to like a lineup of Isshiah Coleman, Nate Anderson, Greg Bridges, Damion Smith and Shaquan Murray. There is some promising talent in those ranks.

Mansfield – Folks are talking about the Hornets being one of the South region's top teams in two years' time, between promising freshman Brendan Hill and sophomore Michael Hershman. I'm of the camp that believes with those two versatile parts, paired with a terrific coach in Mike Vaughan, the future is now.

Taunton – Shaquille O'Neal Davis. That's legitimately his full name, and one you certainly will not forget by this time next year, for reasons that have nothing to do with The Big Aristotle.

West Springfield – Terriers return virtually everyone, including Chris Lipscomb, Paul Bessette, Andy McNulty, Dewey King, and leading scorer Riyadh Asad. West Side is the early favorite next year in Division 1 West.

St. John's (Shrewsbury) – Junior transfer Tarik Octave was one of the nice surprises of the playoffs, and freshman Davon Jones has shades of former Pioneers great David White all over him (Doesn't hurt that Jones was also the Pioneers' starter at safety last fall, too). A boat load of underclassmen return, including Ken Harrington and T.J. Kelley, which should more than make up for the graduation of Matt Palecki.

Danvers – Falcons graduate 6-foot-7 center George Merry, an ESPN Boston All-State selection, but return some terrific guards. Nick McKenna, Nick Bates, Eric Martin and Dan Connors can all shoot the ball, and are perfectly-suited for John Walsh's four-out offensive system. My early pick to repeat at D3 champs.

BC High – Eagles return what ought to be one of the state's best backcourts in point guard Charles Collins and ESPN Boston All-State swingman Jameilen Jones. Throw into the mix one of the region's best basketball minds in Bill Loughnane (he of four state titles) and it's hard to think of the Eagles as anything but a favorite in the South.

Springfield Central – A plethora of talent graduates, including Chris Prophet, Lee Turner, Jevaughn McMilian, and ESPN Boston Super Teamer Tyrell Springer. But All-State forward Kamari Robinson should have another terrific season, and the way Cornelius Tyson exploded onto the scene in the Division 1 state final makes us all wonder if he's about to realize the potential that many in the Springfield area have been talking about for so long.

Stoughton – Super Teamer Aaron Calixte and Defensive Player of the Year Marcus Middleton formed the state's best backcourt in 2011-12. If all goes as planned, they'll be well-equipped to defend that notion next season.

Wareham – Vikings might not endure an unbeaten regular season again next year. But another year of All-State point guard Darien Fernandez means they're not going anywhere.

GIRLS

Braintree – Wamps started three freshmen this year: Ashley Russell, Bridget Herlihy, and 6-foot-1 center Molly Reagan. Expect them in conversation for state title contention from now until their time runs out in 2015.

Archbishop Williams – Ditto the Bishops, who have two 6-foot freshmen to look forward to the next three seasons. Add in sophomores Olivia Conrad and Leah Spencer, and their fiery mouthpiece Sara Ryan, and this could be another top-five team come December 2012.

Reading – The Rockets made a flawless run through the Division 2 gauntlet, winning their first Division 2 state title in school history as one of two final unbeaten squads in Massachusetts. Two-time Middlesex MVP and ESPN Boston All-State Olivia Healy returns, as does guard Morgan O'Brien.

Andover – Golden Warriors are expected to come down to Earth with the graduation of two-time ESPN Boston Miss Basketball, Nicole Boudreau, and UConn lacrosse commit Ally Fazio. What might be overlooked amidst Andover's unprecedented run to a third straight state title is that there were plenty of terrific complimentary backcourt pieces in the underclass.

Central Catholic – Raiders treaded water after some injuries early on. But once junior forward Casey McLaughlin was back to full strength, they made a run all the way to the Division 1 North semifinals. Have to imagine they'll be in conversation again next year.
March, 22, 2012
3/22/12
4:59
PM ET
THE SUPER TEAM
Guard – Aaron Calixte, Jr., Stoughton
An exceptional athlete gifted with a tenacious motor, and one of the state's most dynamic scorers, the 5-foot-11 Calixte was the driving force behind the Black Knight's run to the Division 2 Eastern Mass. final, and asserted himself as the state's premier point guard. For his junior season, he averaged 19 points and six assists, and was named a Hockomock League All-Star. Calixte also stands out on the gridiron for the Black Knights' football squad.
Guard – Tyrese Hoxter, Jr., Charlestown
After playing in the shadows of former All-Stater Akosa Maduegbunam a year ago, the 6-foot-3 Hoxter thoroughly burst onto the scene and had a monster campaign for the Townies, leading them to the TD Garden floor for the first time since 2005 before bowing out to Brockton in the Division 1 Eastern Mass. Final. This season he averaged 19 points, eight rebounds, three assists and two steals.
Guard – Tyrell Springer, Sr., Springfield Central
After falling short of a state title two seasons ago with New Leadership, the 6-foot-2 Springer led Central to the DCU Center floor this season where the Golden Eagles captured their first Division 1 state title since 1991. The centerpiece of one of the state's most athletic lineups, Springer averaged 15.3 points, 7.5 rebounds, seven assists and 7.3 steals. He is undecided on college plans.
Forward – Jake Layman, Sr., King Philip
The 6-foot-8 Layman was one of the most dominant players in Massachusetts this season, with the ability to score both inside and out, as the Warriors set a school single-season record for wins (18) before suffering a surprise upset in the Division 2 South quarterfinals. In 21 games, he averaged 26.5 points, 16 rebounds, 5.8 blocks, 3.2 assists and three steals. He closes his career with with 1,752 points, 1,098 rebounds and 391 blocks, giving him career averages of 20.6 points, 12.9 rebounds, 4.6 blocks, 2.8 steals and 2.6 assists. This is his second appearance on the Super Team; he also captured the Hockomock League's MVP for the second straight season. Layman, who was named ESPN Boston's "Mr. Basketball" earlier this week, is ranked the nation's No. 62 overall senior by ESPN, and will continue his career next season at the University of Maryland.
Center – Sayvonn Houston, Sr., Brockton
A nightly double-double machine, Houston established himself as one of the state's most dominant true centers, making life difficult down low as the Boxers went 23-3 and made their first Division 1 state final appearance since 1985. He saved his biggest performances for the biggest stages, such as his 20-20 night in the Division 1 South semifinals, or his 22-point, 13-rebound effort in Brockton's overtime win over Charlestown in the Division 1 Eastern Mass. Final at TD Garden. Houston is undecided on college plans.
BEST OF THE REST
Jalen Adams, Soph. G, Melrose
Quickly rising as one of the Bay State's most complete scoring guards, the 6-foot-1 Adams took home Middlesex League MVP honors after averaging 21 points per game. He led the Red Raiders to an 18-2 regular season record, before they fell to state runner-up Brighton in the Division 2 North semifinals. Adams has already declared that he will be transferring to Wilbraham & Monson Academy next season, where he will reclassify to the Class of 2015.
Jaylen Blakely, Jr. G, Brockton
Like Houston, the 5-foot-11 Blakely saved some of his best performances for the crunch time in the playoffs, such as his eight-assist performance in the Boxers' win over Catholic Memorial. Blakely distributed evenly to Brockton's talented shooters and post players, as they went 23-3 and reached their first state final appearance since 1985.
Matt Droney, Sr. F, Catholic Memorial
A terrific shooter, the 6-foot-4 Droney was named the Catholic Conference's MVP after a season of averaging 20.7 points, six assists and five rebounds per game. He also became the eighth player in school history to surpass 1,000 points earlier this season. The Canton resident will be doing a post-graduate season next year at the Taft School in Connecticut.
Darien Fernandez, Jr. G, Wareham
The 5-foot-7 waterbug demonstrated a tenacious motor in leading the Vikings to their second Division 3 Eastern Mass. Final appearance in three seasons. Wareham was the state's last unbeaten before losing to state champion Danvers. For the season, Fernandez averaged 24 points, 10 assists, eight rebounds and five steals, and recorded three triple-doubles. He needs just 45 points next season to reach 1,000 for his career.
Rony Fernandez, Sr. G, Charlestown
Fernandez was one of the most outstanding point guards of the MIAA tournament, leading the Townies to a thrilling win over Lexington in the Division 1 North final before bowing out to state runner-up Brockton in the Eastern Mass. Finals. For the season he averaged 16 points and seven assists. He is undecided on college plans, but is currently fielding interest from Division 1 programs such as Maine, Northeastern and Hartford.
Joey Glynn, Sr. F, Cardinal Spellman
The 6-foot-5 Abington resident did it all this season for the Cardinals, averaging a double-double (18.5 points, 12 rebounds, three steals, 2.2 blocks) as they lost to Eastern Mass. runner-up Wareham in the Division 3 South semifinals. For his career, Glynn scored 1,425 points. He will continue his career next season at Bentley University.
Steve Haladyna, Sr. G/F, St. John's Prep
One of two repeat All-Staters, the 6-foot-3 Haladyna was unable to lead the Eagles deep in their Division 1 state title defense, but he still leaves the Danvers campus as one of its most decorated basketball stars. He averaged 22.4 points and 9.5 rebounds per game, both team highs, and for his career he finishes with 1,392 points -- second all-time on Prep's scoring list. The South Hamilton resident will continue his career next season at Tufts University.
Malik James, Soph. G, Brighton
The 6-foot-1 James elevated his game when the Bengals needed it most, as they made their first state final appearance in school history, falling to Mahar in the Division 2 title game. For the season, James averaged 18.1 points, 8.2 assists and 4.2 rebounds as the Bengals won their first-ever Eastern Mass. title.
Jameilen Jones, Jr. G, BC High
BC High's season came to an unexpected halt as the Eagles loss in the first round of the Division 1 South tournament, but the 6-foot-2 Jones has established himself as one of Eastern Mass.'s premier two-way players. For the season, he averaged 17 points and eight rebounds as the Eagles went 15-6.
Zach Karalis, Sr. G, North Andover
The 6-foot-1 Karalis was one of the driving forces for the Scarlet Knights, who went 21-2 and reached the playoffs an unprecedented 47th straight time. For the season he averaged 15.9 points and shot 46 percent from the field, to go along with 6.5 rebounds, 4.7 assists and 1.8 steals. Karalis will continue his career next season at Worcester Polytechnic Institute.
Kevin LaFrancis, Sr. C, Acton-Boxborough
After a stellar season in leading the 21-2 Colonials to a Division 1 North semifinal appearance, the 6-foot-6 LaFrancis was named the Dual County League's MVP. He averaged 19.5 points and eight rebounds this season, and finishes his career at A-B with 1,012 career points. He is undecided on college plans.
Alex Lopez, Sr. G, Springfield Commerce
The 5-foot-10 Lopez led the Valley League in scoring for the second straight season, averaging 22.3 points as the Red Raiders went to the Division 1 Western Mass. Finals and took state champion Springfield Central to the wire. He led Western Mass. in field goals made (185) and total points (512). Lopez is currently undecided on college plans.
Damian Lugay, Sr. G, Weymouth
The 6-foot-2 Lugay led the Wildcats to a second straight 17-win season, before they were bounced in the first round of the Division 1 South tournament. For the season he averaged 18.1 points and just under four assists, and leaves Weymouth as a two-time First Team All-Bay State Conference. Lugay is undecided on college plans.
George Merry, Sr. C, Danvers
At 6-foot-7, Merry was a force at both ends of the floor for the Falcons, known for his ability to redirect shots as much as his scoring touch. He averaged 16.1 points, eight rebounds and 6.6 blocks as Danvers captured its first Division 3 state championship in school history. Merry is currently undecided on college plans, but showing interest from several schools in Divisions 2 and 3.
Marcus Middleton, Jr. G, Stoughton
Tasked nightly with locking down the opposition's top scorer, Middleton established himself as one of the state's premier on-ball defenders. Middleton averaged 16 points per game for the Black Knights, who won the Division 2 South title before bowing out to state runner-up Brighton in the Eastern Mass. championship at TD Garden. Middleton also stars on Stoughton's football squad.
Matt Mobley, Sr. G/F, St. Peter-Marian
One of state's most pleasant late-blooming surprises, the 6-foot-3 Mobley was one of the leading scorers in Central Mass. as the Guardians made it all the way to the Division 1 Central Final. For the season, he averaged 23.2 points in leading SPM to its most successful season under head coach Marcus Watson. Mobley finished his career at SPM with 1,175 points, and will do a post-graduate season next year at Worcester Academy.
Tyler Nelson, Soph. G, Central Catholic
The 5-foot-11 Nelson established himself as one of the state's premier shooters, as the Raiders made it to the Division 1 North semifinals before bowing out to champion Charlestown. He averaged 15.5 points and four assists this season, shot 42 percent from three-point range, and 91 percent from the free throw line.
Colin Richey, Jr. G, Whitinsville Christian
After winning a Division 3 state title a year ago, the 6-foot Richey nearly led them back, as the Crusaders lost in the final seconds to state runner-up St. Joseph Central in the state semifinals. For the seaosn, Richey averaged 16.8 points, 6.7 assist and 6.3 rebounds for the Dual Valley League champions.
Kamari Robinson, Jr. F, Springfield Central
The 6-foot-5 Robinson was a rock underneath for the Golden Eagles, who captured their first Division 1 state title since 1991 and third overall. He was a nightly double-double threat this season, averaging 13 points, 11 rebounds, four steals and three assists, as Central went undefeated in Massachusetts.
Michael Thorpe, Sr. G, Newton North
The Tigers went run-and-gun this season, and the 5-foot-11 Thorpe kept them thoroughly going. One year after reaching the Division 1 South finals, he nearly led them back, before losing to state runner-up Brockton in the semifinals. He was named the Bay State Conference's MVP, with averages of 15 points and four assists. Thorpe will continue his career next season at Emerson College.
DEFENSIVE PLAYER OF THE YEAR

MARCUS MIDDLETON, STOUGHTON
The kind of on-ball pressure Middleton provided nightly to some of the state's premier scorers can take its toll physically, but he was routinely up to the task. As teammate Aaron Calixte saw a barrage of double-teams and box-and-one's, Middleton did his part at the other end, hedging off screens and staying one one's hip, chasing them all over the floor. As much praise as Calixte will get in this unprecedented season for the Knights, an equal amount must be thrown Middleton's way.
ALL-DEFENSIVE TEAM
G – Marcus Middleton, Jr., Stoughton
G – Anthony Hodges, Sr., Holy Name
G – Darien Fernandez, Jr., Wareham
F – Jake Layman, Sr., King Philip
C – George Merry, Sr., Danvers
COACH OF THE YEAR

HUGH COLEMAN, BRIGHTON
The Bengals lost their best player before the start of the tournament, and backpedaled into the playoffs with uninspiring losses to Acton-Boxborough and Madison Park. Yet in the end, they were one step away from the school's first-ever state title. Coleman is an unabashed disciple of the legendary Jack O'Brien, and staples of those historic Charlestown squads are sprinkled all over the program. Not only has Coleman done a remarkable job bringing the team to heights never before reached in his three seasons at the helm, but this is a program that will be dangerous for the next few years.
RUNNERS-UP:
Paul Connolly, Newton North
Dean O'Connor, Franklin
FINALISTS:
Kevin Brogioli, Wareham
John Gallivan, Stoughton
Reggie Hobbs, Lexington
Malcolm Smith, East Boston
Chad Softic, Mahar
John Walsh, Danvers
Dennis Wilson, Madison Park
March, 18, 2012
3/18/12
9:40
AM ET
WORCESTER, Mass. -- ESPN Boston High Schools Editor Brendan Hall caught up with Springfield Central's Cornelius Tyson and Tyrell Springer following the Golden Eagles' 67-46 win over Brockton, which earned them their first MIAA Division 1 state championship since 1991.

Video is courtesy of Greg Story:



March, 18, 2012
3/18/12
2:06
AM ET
By
Jay King
| ESPNBoston.com
WORCESTER, Mass. -– Much of what followed halftime smelled like fiction, yet it was all true.

Almost two hours after Central entered the halftime locker room in the DCU Center with a 27-20 deficit, Central coach Mike Labrie walked out of the same locker room with an undone tie, disheveled hair and water still dripping from his face.

A split second later, the Massachusetts Division 1 state champion Golden Eagles followed him out the door.

The Golden Eagles came back from a seven-point halftime deficit to blindside Brockton 67-46. After trailing 35-34 with four minutes remaining in the third quarter, the Golden Eagles scored 30 of the game's next 38 points en route to outscoring Brockton 47-19 in the second half.

The final two quarters displayed everything Labrie has come to expect from his troops –- swarming defense led to offense, offense led to momentum, and momentum led to the theft of another opponent's heart. But at halftime, with defeat hanging in front of Central's face, Labrie needed to remind his team of its capabilities.

"We're going to have a spurt," he told his players. "We've never played a game without a spurt. We just have to ride the spurt."

And ride it they did, like a wave that never ended, straight into Central history alongside ex-NBA player Travis Best. It was Best who led the school to its last state title in 1991.

This time, it was a junior reserve named Cornelius Tyson, who came off the bench to score 16 points, all in the second half. Tyson's first bucket, a three, gave Central its first lead of the second half at 32-31. He followed with a no-look assist to Kevin Johnson on Central's next possession, and added another triple before the end of the third quarter to give Central a 39-35 lead.

"The basket just started looking bigger," he said.

And it wouldn't stop growing. Tyson drove to the hoop and finished with his left hand to extend Central's advantage to 46-39 early in the fourth quarter, sank a fade-away jumper off one foot to push the score to 50-39 a minute later, and then drilled two consecutive long bombs two minutes after that as Central's lead ballooned to 62-42.

Said Central star Tyrell Springer, who scored 14 points, "He amazed me, man. It was so shocking. Not shocking maybe –- I knew he could do it. It was just a matter of him showing it. And he did. I'm so proud of him. Everybody here's so proud of him."

Brockton barely mentioned Tyson on the team's scouting report, but Houston tried to warn his teammates.

"I played AAU basketball with Cornelius, so I know he's a great shooter," Houston said. "I tried to tell my teammates to watch out for him."

But his urgings fell on deaf ears.

And why wouldn't they? Tyson's season high entering Saturday night's finals was seven points. He averaged fewer than four points per game. The guard spent most of his 2012 season attempting to nudge his way into Central's crowded rotation and hardly played any minutes against St. John's in the state semifinals.

There were no warning signs that he would become a hero during the school's biggest win in more than 20 years.

"Throughout the whole season, everybody was doubting him, saying he's not that good, that he hasn't been living up to his name," said junior forward Kamari Robinson (12 points, eight rebounds), referring to a reputation Tyson built during the AAU and summer circuits. "He came out here today and balled. When the lights are on, it's time to perform. And I really appreciate what he did today. That was a grown man performance right there."

Labrie walked out of the locker room after the game, a state champion for the first time, and said he was shocked his players could still surprise him after so many years in coaching. He was referring to the water dousing that left him such a mess walking to the bus –- one player distracted him with a hug while the rest poured a bucket of water on Labrie's head -– but he also could have been speaking about the Golden Eagles' play:

Central finished a 24-1 season undefeated in the state of Massachusetts, and saved its greatest trick for last.

Going Small Provides Big Returns: Without injured starting center Jevaughn McMillian, one of Western Mass.'s finest shot blockers, the Golden Eagles feared they would struggle to match up with Houston.

The first half did nothing to prove their fears wrong, as the 6-foot-6 Houston dominated the interior with nine points and 10 rebounds. But when Trevor Bacon, McMillian's replacement in the starting lineup, got into foul trouble early in the second half, Central tried a new strategy -- a small lineup.

Though he would still finish with 17 rebounds, Houston failed to score a single point after halftime. Robinson and Kevin Johnson took turns as Houston's primary defender. Both performed admirably in the role, and they had plenty of help.

"It seemed like I got triple-teamed every time I got the ball," Houston explained. "They were harassing me as soon as I touched it. I tried to find my teammates but nobody was getting open, so I tried to attack. It didn't work."

"What happened with our speed on defense is that they were rushing their shots. We were closing out on them a lot better with the small guys. I was just really concerned about losing the board battle with that lineup, but they just gutted it out," Labrie said.

Central often uses Springer as a free safety, and he created havoc when Houston caught the ball in the post. On one possession, he sneaked behind Houston and poked the ball away. On another, he dug down on Houston and swiped the ball off the big man's leg.

"Springer was crucial in the post," Labrie noted. "They don't have many weak guys, but we try to put him on their weakest guy so he can roam and help in the paint, and he did a terrific job."

Central's small lineup seemed to overwhelm Brockton athletically, and the Boxers scored just 19 points after halftime. Thirteen of those belonged to Jamal Reuben, who finished with 19 points and 10 rebounds. Reuben repeatedly slashed to the hoop for good looks, but his teammates had less success.

"Our offense wasn't flowing," Reuben said, "and we weren't running the plays the way they were designed. They came out energized and that's what we needed to do."

As usual, Central's defense fed its offense. The more stops the Golden Eagles achieved, the more efficiently they scored.

"Once we locked up the big man, everything open up," explained Springer.

West Is (At Long Last) Best: Central's title represented the first time a Western Mass. school won the Division 1 boys basketball state championship since 2004, when Commerce accomplished the feat.

During the entire state tournament, the Golden Eagles felt like they were playing for more than themselves.

Said Labrie, "We're representing Western Mass. We're representing the Valley League. We're representing Central High School. We're representing the students. It means a real lot. I think it's been eight years since Western Mass. won it, and it just shows everyone that Springfield is back on the map."

"I'm just happy I'm a part of it," Robinson added. "We have some freshman and sophomores on the team, and even they were so hyped about it. They have more years to go, but some of them were still shedding tears."

Lee Turner, who scored eight points, didn't know how to react.

"As soon as that two minutes came and we were up 20, I shed tears," he said. "I was laughing, I was crying, it was crazy."
March, 16, 2012
3/16/12
8:24
AM ET
By
Brendan Hall
| ESPNBoston.com
The MIAA will crown six state champions in boys and girls basketball on Saturday at Worcester's DCU Center. Here are my thoughts on how those six games will play out:
DIVISION 3 GIRLS: PENTUCKET (22-4) VS. SABIS (21-5)
Pentucket Players to Watch:
Tess Nogueira, Jr. C; Leigh McNamara, Sr. F; Sarah Higgins, Sr. F; Nicole Viselli, Jr. G; Alex Moore, Jr. G; Kelsie McNamara, Fr. G
Sabis Players to Watch:
Jazmine Collins, Jr. G; Janaiya Sanchez, Fr. G; Shyanne Washington, Jr. F; Madison Sinkfield, Fr. F; Casie Thurber, Soph. C.
Analysis:
After coming close the last couple of years, Sabis finally got over the hump in their competitive Western Mass. bracket, to land here at the DCU Center. Plain and simple, these Lady Bulldogs are on a mission; and led by a core that includes the dynamic Collins, this is a well-oiled machine. Unfortunately (and this will be the operative word for many of my picks), they run into a Pentucket team that is quite simply swarming on defense. The Sachems' lineup =is among the best in Division 3, and they're on a roll. Pentucket is also motivated -- the last time they were here, in 2010, the Sachems were penned as a favorite, only to run into a gritty Lee team that, quite frankly, pressed like kamikazes.
Hall's Pick: Pentucket over Sabis
DIVISION 3 BOYS: DANVERS (20-4) VS. ST. JOSEPH CENTRAL (20-5)
Danvers Players to Watch:
George Merry, Sr. C; Nick McKenna, Jr. G; Nick Bates, Jr. G; Eric Martin, Jr. G; Jon Amico, Sr. G.
St. Joe's Players to Watch:
Taverick "Tank" Roberson, Jr. G; Mike McMahon, Sr. F; Joe Wiggins, Sr. F; Lavante Wiggins, Jr. G; Jon Bianchi, Jr. G
Analysis:
Credit to St. Joe's for playing an ambitious non-league schedule, which included a rockfight of a bout with Holy Name back in December, and get ready to be introduced to the spunky power that is Roberson -- in my opinion, he's every bit of a tank as his nickname suggests. But after putting in arguably its best performance of the year Monday night in the Eastern Mass. Finals against Wareham, I'm convinced Danvers will come out on top in this one. the 6-foot-7 Merry can step out on the perimeter and facilitate offense for shooters like McKenna and Bates, as much as he can take it inside. Danvers coach John Walsh goes with some of the same offensive principles as his cousin Watertown head coach and two-time D3 state champ Steve Harrington. And if you thought Harrington's four-out, drive-and-kick, dribble drive-oriented motion offensive was frustrating enough, imagine what it's like with size.
Hall's Pick: Danvers over St. Joseph Central
DIVISION 2 GIRLS: READING (24-0) VS. TYNGSBOROUGH (23-1)
Reading Players to Watch:
Olivia Healy, Jr. G; Morgan O'Brien, Jr. G; Melissa DalPozzo, Sr. F; Katie Clements, Sr. G; Katherine Callahan, Sr. G.
Tyngsborough Players to Watch:
Lauren Iadarola, Jr. F; Amanda Hogan, Jr. G; Helena Hamilton, Sr. F; Morgan Mitchell, Jr. C.
Analysis:
The Mid-Wach C champion Tigers avoided a clean sweep of Central Mass. on Wednesday with a dominant 50-35 win over Palmer out in Springfield, getting quality production out of Iadarola, Hogan and Hamilton along the way. But Reading has had the tougher route here, putting away stalwarts Wachusett, Bishop Feehan, Arlington Catholic (twice) and Scituate to get to DCU Center floor. Look for Healy to get hers, but most crucial in the Rockets' overtime defeat of Scituate on Tuesday night was the play of O'Brien, who scored 33 points. Look for her to be the X-factor in this one.
Hall's Pick: Reading over Tyngsborough
DIVISION 2 BOYS: BRIGHTON (21-4) VS. MAHAR (21-3)
Brighton Players to Watch:
Malik James, Soph. G; Theo Oribhabor, Jr. G; Daivon Edwards, Jr. G; Prince Unaegbu, Jr. F; Jerard Mayes, Sr. F; Tre Dowman, Sr. C
Mahar Players to Watch:
Travon Godette, Sr. F; Jesse LaCroix, Sr. G; Phil DiPhillipo, Sr. G; Josef Whitman, Jr. F; Nate Martin, Sr. C; Darwin Duncan, Sr. F.
Analysis:
The relationship between Brighton coach Hugh Coleman and his mentor, legendary Charlestown coach Jack O'Brien, is well-documented. There are ripples of O'Brien's system and tactics sprinkled throughout the Bengals; and we can assure you, there are tons of coaches in Eastern Mass. rooting for Coleman, as good a guy as they come, on Saturday. That aside, the Bengals figure to be favorites in this one. Godette, DiPhillipo and LaCroix combined for impressive whipping of St. Bernard's on Tuesday, but they haven't seen anything like Brighton. Hardened by a brutal schedule, the Bengals lost their best player, sophomore Nick Simpson, before the playoffs, yet somehow haven't dropped off. There's plenty to like -- a frustrating extended 2-3 zone, a swarming press, and a gifted shooter in Edwards -- and I think this will be another big one for promising sophomore point guard Malik James.
Hall's Pick: Brighton over Mahar
DIVISION 1 GIRLS: ANDOVER (26-0) VS. HOLYOKE (22-2)
Andover Players to Watch:
Nicole Boudreau, Sr. G; Ally Fazio, Sr. G; Devon Caveney, Sr. G; Angelice Gonzalez, Jr. G; Jackie Alois, Jr. F; Rebecca Alois, Soph. F.
Holyoke Players to Watch:
Monique Heard, Sr. G; Alison Littles, Sr. C; Kirsy Segarra, Jr. G; Nyomi Walker, Jr. F; Selena Yates, Sr. G.
Analysis:
Our friend and Pioneer Valley legend Adam Harrington is getting giddy over this "dream matchup", Western Mass.'s premier point guard versus, quite frankly, the best female guard to come through Massachusetts in over a decade. We think the crowd on hand will be impressed with Heard, but the Golden Warriors -- despite usually being undersized -- have proven again and again to be unstoppable. It just seems whatever the score is going into the fourth quarter, the Warriors simply turn around and take ownership of it. When you have a team of athletes that get up and down as quickly as these girls, plus a superstar with NBA range, that's a vicious combination.
Hall's Pick: Andover over Holyoke
DIVISION 1 BOYS: BROCKTON (23-2) VS. SPRINGFIELD CENTRAL (23-1)
Brockton Players to Watch:
Jaylen Blakely, Jr. G; Drew Fiske, Sr. F; Jahleel Moise, Sr. F; Jean Thomas, Sr. F; Will Baker, Sr. G; Sayvonn Houston, Sr. C; Jamal Reuben, Sr. F; Jarrod "Bubba" Shelby.
Springfield Central Players to Watch:
Tyrell Springer, Sr. G; Lee Turner, Sr. G; Chris Prophet, Sr. G; Kamari Robinson, Jr. F; Jevaughn McMillian, Sr. C; Trevor Bacon, Sr. F; Cornelius Tyson, Sr. G.
Analysis:
This might be the best matchup of the day. I picked Springfield Central
to win it all before the tournament started
; and since the Eagles are still in it, I'm sticking with the pick. The X-factor here might be the health of McMillian, a game-changing 6-foot-7 shot-swatter who injured his ankle in Tuesday night's thrilling semifinal win over St. John's (Shrewsbury). If he can't go or is less than 100 percent, that could make the matchup down low with Brockton's 6-foot-6 Sayvonn Houston -- by many accounts, one of the state's most efficient true five -- very interesting. Yet it seems the Golden Eagles thrive on adversity -- in the Western Mass. Final, with Springer and Prophet fouled out -- Robinson held his own to stave off a furious Commerce comeback bid. On the flip side, the Boxers have been on a mission since getting trounced by nearly 20 by Charlestown right before the start of tournament play. Blakely has been one of the best point guards of the tournament, and the Boxers have gotten crucial shooting out of Baker, Fiske and Reuben. Look out for Moise, an athletic shot swatter with quality defensive skills.
Hall's Pick: Springfield Central over Brockton
March, 14, 2012
3/14/12
1:40
AM ET
By
Jay King
| ESPNBoston.com
SPRINGFIELD, Mass. -- Last year's speed bumps, this year's dominance, everything paved a road of tribulation and reward which led to this: Springfield Central, the No. 1 team in the state, trailed St. John's 44-38 with 6:23 remaining in the state semifinals Tuesday night at the MassMutual Center.

Central coach Mike Labrie called timeout and reminded his team of a drill they used so many times in practice. He calls it "animal" –- a coach throws the ball to the basket, no fouls are called, anything goes, and the objective is for one side to score 10 points first.

Labrie knows his squad thrives when games become muddy, even possesses a unique ability to control chaos.

"Let's play animal with them," he told his players. "Who's going to win an animal game? We will."

St. John's didn't score again until less than a minute remained, and only scored three points the rest of the way. Tyrell Springer -– who finished with 18 points, 11 steals, eight rebounds and five blocks -– hammered home a put-back dunk with 2:30 left to give Central its first lead of the fourth quarter, 45-44, then captured another offensive rebound and tip-in on Central's very next possession.

When Central's mesmerizing scramble ended with the final buzzer, the Golden Eagles had seized a 52-47 victory, securing a title bout with Brockton in Saturday's MIAA Division 1 state finals at the DCU Center in Worcester.

"We kept it away from the chaos until about four minutes to go, but then they turned us over a few times down the stretch," St. John's coach Bob Foley said. "They're tall, they're athletic, they're everything."

They're everything, yet without the aptly-named Springer, they'd probably be an everything sitting at home on Saturday. When asked about the lefty kangaroo's surreal stat line, Labrie just nodded.

"I'm used to it," he said.

Used to someone briefly flirting with a quadruple-double? Dominating on both ends? Sprinting in for a putback dunk just when Central needed a bucket most? Working his way inside to clean up a teammate's miss again on the next play, despite being just 6-foot-2?

"That's what he does. And what's nice about it is that he could score 30 a game. But that wouldn't be what's best for us. He lets the game come to him, and he kind of determines, 'What's better tonight?" Labrie said.

"'Am I going to defend?' Obviously he defends all the time. 'Am I going to share the ball? Am I going to make people involved? Am I going to take it to the hole? Am I going to take the outside shot?' And tonight he just decided to take over."

Springer explained, "This game just meant so much. I was just trying to do as much as I could in every aspect of the game."

Central trailed 44-43 when Chris Prophet missed a three with 2:30 left. The ball hung suspended in the air about six inches above the rim, a level in the stratosphere very few high school players -– much less do-it-all guards –- can reach.

Springer sprung, grabbed the board and slammed it through the hoop, giving the Golden Eagles a lead they would never surrender.

"I jumped my highest. Even if it went off to the side, I knew I was up high enough to grab it," he said. "That put-back pretty much sealed the deal. After they saw that –- I looked at them and saw it, they just didn't want to play as much."

"They had a lot of momentum on that tip dunk, slam, whatever you want to call it," said St. John's center Matt Palecki, who finished with eight points. "I thought we did a good job trying to control things after that, but sometimes it's just not your day."

For Central, this journey began last year. With almost the exact ensemble as this season, the Golden Eagles finished 12-8, falling to Westfield in the Western Mass. quarterfinals.

To some observers, the season was a disappointment. But to Labrie, it was a necessary step toward reaching the mountaintop.

"Last year we got better and better. We look at this year, everyone's talking about this year. But it was last year when we made significant improvements throughout the season. It's those years where you're 12-8 that really make the difference, and all of a sudden you're 23-1," he said.

Without last year's lessons, perhaps senior guard Lee Turner would not have finished with 14 points, including a critical five-point flurry in the third quarter.

Perhaps Prophet would not have shaken off four straight missed free throws to can two in the fourth quarter, bringing Central within one point.

Perhaps Kamari Robinson and Jevaughn McMillian -- the latter of whom left during the second half with an injured ankle -- would not have done combined for 11 rebounds and four blocks while doing such an impressive job limiting Palecki inside.

Perhaps the Golden Eagles would have folded after giving up five straight points to begin the fourth quarter. Instead, they tightened their defense and turned once more to their good friend -- chaos.

"Mostly, we just gutted it out," said Labrie. "With our veteran core, you just hope you can control the last four minutes. And we did."

No update on McMillian: Labrie didn't have an update on the McMillian's status following the game, stating simply, "I'd like to get Jevaughn healthy by Saturday."

The 6-foot-7 McMillian is considered one of the premier shot blockers in Western Mass., and has proven a terrific compliment to the 6-foot-5 Robinson in the frontcourt. Brockton's Sayvonn Houston, arguably the state's premier center, would stand to benefit if McMillian is out of the lineup or less than 100 percent during the state finals.

Advanced Scouting: Labrie spent all season preparing for St. John's.

Knowing that Central might meet the Pioneers in the state semifinals –- they entered this season having won the last four Central Mass. sectional titles –- Labrie and his coaching staff scouted St. John's six times throughout the season.

"That's a pretty interesting thing that they did that because Holy Name and St. Peter's, going into the year, were the teams to beat," Foley said. "We consider that to be the ultimate compliment that they came and saw us six times."

He added, "We're hard to scout because we don't run plays. Well, we have one, but for the most part it's just motion, cutting."

Central still benefited from seeing St. John's so often, with Labrie noting that he spent plenty of time devising the best way to stop Palecki.

"He's a tremendous worker," Labrie said. "But we knew we could play behind him, as long as he doesn't post up under the hoop. He goes right all the time and we have shot blockers, so I was comfortable with that matchup."

A Successful Journey: Despite winning the past four Central Mass. sectional titles, perhaps only a few observers (Labrie obviously excluded) expected St. John's to reach the state semifinals again this season.

The first few games of the season did little to change anyone's opinion. St. John's started 3-4 as the team's starting lineup, which features two sophomores and a freshman, struggled to mesh.

Even in defeat on Tuesday, the Pioneers realized how special their turnaround was.

"We took the bumpy road to get here. It wasn't easy, we started the year 3-4, but from there we just rattled off a big winning streak," Palecki said, referring to the 16 straight wins St. John's earned before falling to Central.

"Our confidence just improved game after game. I'm just proud of the way our guys played tonight. It was a full 32-minute effort, and you can't ask for much more than that against probably the No. 1 team in the state."

Noted junior Ken Harrington, after netting seven points, "Nobody even expected us to make the playoffs this year. We slowly started coming back, under our captain Matt Palecki and Coach –- everyone bought into everything Coach said. Every game we got better, every practice we got better."

"These kids just kept on winning," Foley said. "Then we hit the districts –- and we talk about the dirt road. You saw who we had to play in the districts. We had to go through Milford, No. 5, and then Holy Name, No. 1, and then St. Peter's, No. 2. It was no easy street there and these kids took them all on. Those are the memories we look at."

"For what it's worth, we won the state championship in 2000. Yay, you get a plaque," he added with an edge of sarcasm. "The biggest thing I remember about that year is we beat Holy Name with Neil Fingleton, who was 7-feet-6. That's the game I remember. I don't remember the state championship. You look at the plaque once in a while, but the biggest plaque was the district championship. And these kids can go back to Worcester County and know we did a heck of a job this year with what we had."

This wasn't the most talented St. John's team; Palecki admitted as much. But in yet another season that featured a masterful coaching job by Foley, the St. John's name still matters.

"It means something special. When you talk about high school basketball in Massachusetts, you're talking about St. John's," Labrie said.
February, 1, 2012
2/01/12
11:30
PM ET
By
Jay King
| ESPNBoston.com
SPRINGFIELD, Mass. -- No. 5 Springfield Central knew emotions would rise like smoke inside the Springfield Commerce High School gym. But rowdy environments and scrappy opponents are becoming Central's shot of adrenaline.

As if Western Mass. teams need any additional incentive to knock Central off its lofty perch, Commerce entered Wednesday night's city rivalry knowing that guard Alex Lopez needed just four points to reach 1,000 for his career. Anticipation of the milestone collided with the natural excitement of facing Western Mass.'s best team, leaving a Commerce gym that bounced with excitement.

Central strutted into the lion's den and exited with another impressive victory, souring Lopez' big night by a score of 52-43.

"This season's been great. It's been a coach's dream. We don't even talk about playoffs," Central coach Mike Labrie said. "We don't talk about two opponents down the road. It sound like a cliche, but all we do is focus on our next opponent. It's really easy for me to coach because they don't care about anything but the next game."

The night did not make for a clinic in shot-making, as both teams combined to miss a number of decent looks. A fierce pace almost left steam coming from the players' sneakers, but the scoreboard did not reflect the mounting number of possessions. Central's defense challenged each Commerce shot and its offense -- missing starting power forward Kamari Robinson, out for undisclosed reasons -- struggled to make outside shots.

The Golden Eagles led 13-7 when Lopez was fouled with 1:41 remaining in the first quarter. The senior toed the line and drilled both free throws for the 999th and 1,000th points of his career, becoming the first Commerce player to reach the milestone since 2007.

"It feels great. It's a mark that not very many people get," Lopez said.

"Alex has meant an awful lot to this program over the last four years. He's our leader. He's our best all-around player, and even though he scored 1,000 points, they were a very unselfish 1,000," Commerce coach Gary Mindell added. "He's really just about trying to win the game. Unfortunately, on his special night, we couldn't win the game for him."

It was Commerce's third consecutive loss, after opening the season with 11 straight victories.

Central finished the first quarter with a 15-9 lead, then applied a blanket that smothered Commerce's offense until halftime came. Commerce scored just four points the entire second quarter, missing a lot of shots in and around the painted area, especially during a six-minute drought in which Central increased its lead from four to 12.

"We missed a lot of easy baskets right around the rim, and it really hurt us," said Lopez, who finished with 14 points to lead the Red Raiders.

"It's easy for us to say those are easy," said Mindell. "But when you're out there with two 6-foot-7 guys jumping and extending their arms at you, short looks aren't necessarily the easy ones."

Central's lead slowly grew as Commerce's offense stalled, thanks to eight first-half points from Chris Prophet (who ended with 12) and a quick scoring burst from Lee Turner. The senior guard Turner, who chipped in 14 points, went on a personal 7-0 run as Central opened a 25-13 halftime lead.

Turner's quick spurt included one ridiculous three-pointer. He jumped out of bounds to save a loose ball, and, in mid-air, turned toward the hoop and fired a shot that split the rim as he fell into the first row of bleachers.

"I practice those shots in practice -- a lot, a lot, a lot," Turner said. "So when I caught it, I gathered myself, looked at the hoop and just shot a regular shot. I just fell out of bounds and it went in, and I just felt like it was practice. I knew it was going in. I came to my bench and my team was like, 'Yeah, I knew it was going in, too.'"

Does Turner really practice shots like that?

"He shoots insane shots like that in practice all the time, so we're just used to it," said Central star Tyrell Springer, who paced the Golden Eagles with 15 points. "We started getting a little flow, and as soon as he caught it and shot it up, I threw up my three fingers and knew it was going down."

Lopez and Shadiar Thompson (13 points) tried to bring Commerce back after halftime, cutting the deficit to seven points during the third quarter, but Central quelled every run and the margin was at least eight for the entire fourth frame.

"We have a lot of the same guys as last season, but we have more of a brotherhood now," Springer said. "On the court, off the court, we're with each other all the time. We communicate with each other a lot more. We even help each other with our homework. We're just with each other 24/7."

The brotherhood is now 13-1, undefeated in Massachusetts play.

"And I don't believe we're going to take anyone lightly," said Labrie.
January, 23, 2012
1/23/12
11:34
PM ET
By
Jay King
| ESPNBoston.com
SPRINGFIELD, Mass. -- Intimidating? The No. 8 Springfield Central High School boy's basketball team won't admit it, but the Golden Eagles are growing an armored layer of invincibility with every convincing Western Mass win.

Some old-timers say there hasn't been a better high school team in the region since Springfield Cathedral won the state title in 2002. Others say this Central team is the school's best since former NBA guard Travis Best lit up the scoreboards.

"They win most games before they even step on the court. They just intimidate the piss out of people," said Springfield Cathedral coach Justin Dalessio before his team lost 87-78 at Central on Monday night.

But there was nothing scared or timid about Cathedral.

"We know you don't put fear into those guys. They come to play hard every night, especially against us," said Central coach Mike Labrie.

The players in the cross-town rival know each other well. They had tied for the Valley League title last season. Many of the players play AAU basketball, summer league basketball or pickup basketball with each other. The level of familiarity bred a certain amount of respect. But it also brought a scrappiness that was evident in both teams.

"We knew exactly what we were going into. I call [Central] my brothers. I love them to death on and off the court," said Jordan Monts, who led Cathedral with 27 points. "But on the court, I want nothing more than to beat them."

On Monday, Monts would not be so lucky.

The two teams raced back and forth so quickly in the first quarter that spectators seemingly resembled like tennis fans, their heads whipping back and forth to follow the ball. Central hit four threes in the quarter, but Cathedral countered with quick ball movement to beat the famed Central press, and the Panthers trailed just 21-19 after one.

Central had been steam-rolling teams from Western Mass., its closest game entering Monday out of nine in the region being a 19-point victory against Putnam a week and a half ago. The Eagles were beating Western Mass teams by an average of 34.8 points heading into Monday's meeting against Cathedral, although they did lose to Connecticut power Windsor High School by six points in the Hoophall Classic.

"The scores we're beating people by are intimidating them. It's not us. It's the scores," said guard Chris Prophet, who led Central with 20 points. But when pressed, he added, "We have great guard play, when we get Tyrell Springer going he's a great player and Kamari (Robinson) -- our whole team is really good."

The Eagles weren't perfect Monday night, but they were good enough. Cathedral primarily uses five players and brings very little depth off the bench (although Cullen Burke did provide a lift Monday, especially in the second half), and the second quarter saw Central's depth begin to make its impact.

The Eagles held Cathedral to just two points in the first five minutes of the second quarter, forcing turnovers and turning them into transition buckets to open a 41-32 halftime lead. But Cathedral would not go without a fight. Almost literally.

The game turned into a whistle-fest. Five technical fouls were called, including a double technical foul that occurred when Marquez Collins (who scored 21 points for Cathedral) finished an and-one, screamed in a Central player's face and then got shoved for his antics. Cathedral shot 23 second-half free throws. Central shot 28.

"The refs really favored us," said Prophet.

"The game lost its flow," added Dalessio, "and my players -- we have four senior starters -- need to have more composure."

Central led by as many as 18 points after halftime, and Cathedral never cut the lead closer than six. But every time it seemed as if Central would put the game in its back pocket, Cathedral revived itself with a run.

Three minutes into the third quarter, Cathedral trailed by ten points when the crowd started chanting for Springer, who had been mostly kept in check before then.

"Ty-rell, Spring-er" came the home crowd chants, and the jumping jack Springer, as if on cue, bounced into action. He leapt and caught a pass, then streaked in for a two-handed tomahawk slam. Central stole the following inbounds pass and Springer exploded to the hoop, catching a bounce pass and rising in one motion for his second dunk in ten seconds. When Cathedral was called for a technical foul 20 seconds later, Springer hit both free throws for his fifth and sixth points in a 30-second span, and the 52-36 lead seemed insurmountable.

"I didn't notice the crowd until someone pointed it out. When the game is going, I'm not focused on anything but the court," said Springer, who finished with 14 points but fouled out midway through the fourth quarter.

Even after Springer's surge, the win wouldn't come easy. Monts and Collins attacked the hoop repeatedly as Central's taller defenders struggled to stay in front of Cathedral's five-guard lineup. Cathedral would cut the lead to single digits, Central would seize control again and Cathedral would dig itself out of yet another grave.

The Panthers made one final charge to cut a 14-point fourth-quarter deficit to 79-73 with two minutes left. But on the ensuing possession, Lee Turner drilled a three-pointer from the corner and Central could finally put Cathedral into its rearview.

"Nothing comes easy against Cathedral," said Prophet. "They just play really hard."
January, 17, 2012
1/17/12
2:57
PM ET
By
Brendan Hall
| ESPNBoston.com
With many teams across the state reaching the midway point of their schedule this week, here are my mid-season picks for our annual MIAA All-State, All-Defensive, and Coach of the Year awards.

THE SUPER TEAM
G – Aaron Calixte, Jr., Stoughton
G – Steve Haladyna, Sr., St. John's Prep
G – Tyrese Hoxter, Jr., Charlestown
F – Jake Layman, Sr., King Philip
F – Isshiah Coleman, Jr., New Mission

BEST OF THE REST
Yadoris Arias, Sr. G, Lawrence
Tyler Delorey, Sr. G, Holy Name
Matt Droney, Sr. G/F, Catholic Memorial
Joey Glynn, Sr. F, Cardinal Spellman
Leroy Hamilton, Sr. F, New Mission
Jameilen Jones, Jr. G, BC High
Kevin LaFrancis, Sr. C, Acton-Boxborough
Alex Lopez, Sr. G, Springfield Commerce
Damian Lugay, Sr. G, Weymouth
George Merry, Sr. C, Danvers
Marcus Middleton, Jr. G, Stoughton
Matt Mobley, Sr. G/F, St. Peter-Marian
Brian Mukasa, Soph. G, Sharon
Tyler Nelson, Soph. G, Central Catholic
Quinton Perkins, Sr. G, Fitchburg
Luis Puello, Sr. G, Central Catholic
Colin Richey, Jr. G, Whitinsville Christian
Kamari Robinson, Jr. F, Springfield Central
Tyrell Springer, Sr. G, Springfield Central
Michael Thorpe, Sr. G, Newton North

ALL-DEFENSIVE
G – Luis Puello, Sr., Central Catholic
G – Anthony Hodges, Sr., Holy Name
F – Jake Layman, Sr., King Philip
F – Antonio Ferreira, Sr., Stoughton
C – George Merry, Sr., Danvers

COACH OF THE YEAR FINALISTS
Scott Boyle, Lowell
Hugh Coleman, Brighton
Paul Connolly, Newton North
Paul DiGeronimo, Fitchburg
John Gallivan, Stoughton
Paul Neal, Lawrence
Brendan Smith, Boston Latin
Malcolm Smith, East Boston
Mike Vaughan, Mansfield
John Walsh, Danvers
January, 14, 2012
1/14/12
4:35
PM ET
By
Andy Smith
| ESPNBoston.com




SPRINGFIELD, Mass. -- Up by four points with about a minute and a half to go Saturday against Springfield Central, Windsor (Conn.) High's Andrew Hurd dribbled the ball up over halfcourt.

Together with his teammates, they worked the ball around the floor, bringing the shot clock down to five seconds. Two seconds later, Jaquan Harrison hit a layup to put his team ahead 59-53 with under a minute to go.

That proved to be the dagger, as the Warriors went on to win, 61-55, to kick off day three of the Hoophall Classic, at Springfield College's Blake Arena.

Windsor (8-1) led the whole game until 1:33 left in the third quarter, when Central senior guard Chris Prophet (16 points, 7 rebounds) converted a three-point play to put his team ahead 43-40. Windsor quickly answered back with a basket of its own, but Central (8-1) took the 1-point lead into the final quarter.

It was then that Windsor went on a 10-2 run to take the lead right back.

"We didn't play as good as we could have played, I thought we could have played a lot better," said Windsor coach Ken Smith. "Springfield Central is a very good team. They're the best team, they say, up in this area, so I thought we fought real hard. We didn't give up."

One could not help but think of the slogan on the back of the shirt Smith wore on the sideline during the game: "How bad do you want it?" When things got tough for Windsor, was when it picked its game up the most.

"The third quarter was that adversity. They fought to the bitter end, and that's what we ask them to do, and they did it."

Central almost caught a break with 4:12 left in the game. Down 52-50, Windsor committed its seventh foul of the half, meaning that for the last half of the fourth quarter, Central would be shooting foul shots. Almost on cue, Windsor stretched its lead to 8, negating any effect its foul troubles might have gave them.

"That's just how Windsor is," said freshman Jared Wilson-Frame, who contributed 15 points and five rebounds off the bench for the Warriors. "If we get down, we're going to come back. We're going to come back and pick our heads up. We never get down on anything."

Central's Tyrell Springer was just behind Prophet in the scorebook with 15 points and 7 rebounds of his own.

Controlling the glass: One of the biggest reasons Springfield Central kept the game close was its success on the defensive glass. Early on, not only did the Golden Eagles prevent Windsor from getting second-chance scoring opportunities, but its big men allowed the guards to get out in transition and create plays. When it pushed the ball up the floor, it lead to missed Windsor defensive assignments and easier baskets. Windsor tried to match the pace, but Central just ran its breakouts more effectively.

Although Central out-rebounded the Warriors 53-44, it was Windsor that was better on the glass down the stretch, preventing Central from getting those tip-ins and other opportunities it was getting in the first half.

"We don't really have a big, strong guy this year," said Wilson-Frame. "One of them is a junior (Jaquan Harrison) and one of them is a senior (Theodore Lee) who wasn't even on the varsity last year. We're working with them to get them tougher, but to me they played a strong game today."

"They killed us on the glass in the first half, so we had to make an adjustment," said Smith. "What really helped us we got their big guy (Kamari Robinson) in foul trouble. When he got in trouble, that limited it, but sometimes with kids, they relax. That's what hurt us also."

Fab Frosh: Wilson-Frame made a statement for himself as a freshman with his performance on a big stage. With his 6-for-12 showing from the floor, he turned a lot of heads and proved himself to be someone to watch as he moves forward in his high school career.

"He has a lot of upside," said Smith. "My thing is building his character. He needs to have good character if he's going to play for me, and he needs to work hard and have a good work ethic. I don't think he realizes how good he really could be. If he even felt like he was a lot better, he would have played a lot more and did a lot more things. But he has to play defense first. If he's not going to play defense, we're not going to play him."