Boston High School:

Upper Cape
October, 31, 2013
10/31/13
4:21
PM ET
EDITOR'S NOTE: Picks for Western Mass. are omitted, as the district concludes its final week of regular season this weekend)

Brendan Hall
ESPN Boston High Schools Editor

Division 1 North: Everett
Plain and simple, I just don't see John DiBiaso getting outcoached in this field.

Division 1 South: Attleboro
One of several surprise picks I'm going to lay down here. The Blue Bombardiers' program has long been a sleeping giant, and they've finally awoken this fall with a slew of skilled athletes, including quarterback Tim Walsh, tight end Luke Morrison, receiver Brenden Massey and promising young two-way lineman Kyle Murphy. The key may be junior Damon Belin, a speedy pass-catching running back who is elusive in space.

Division 2 North: Haverhill
Hard to think just two years after an 0-11 campaign, the Hillies are the No. 1 seed in a playoff tournament. Sophomore running back Ian Kessel, one of the area's leaders in yards from scrimmage, has been at the forefront of the renaissance, and I expect him to have a breakout campaign this next month.

Division 2 South: Natick
If there is one player capable of carrying his team on his back, it is quarterback Troy Flutie, who has put up video game numbers yet again (2,500-plus yards, 35 TD) with an assortment of supporting cast members.

Division 2 Central: Leominster
This is the most talented team of Dave Palazzi's tenure, and it may be his best coaching job yet. They are not the most physically intimidating team, but they are one of the most disciplined, and they squeeze every inch out of their talents, led by dual threat QB Neil O'Connor. The Blue Devils brought the biggest crowd ever to Gillette Stadium two years ago. I can only imagine what kind of caravan from this football-mad city would show up this year.

Division 3 Northeast: Tewksbury
There may be some bumps in the road in this field, but at the end of the day there isn't a team as deep as the Redmen in this field. They were the most dominant team in the MVC this season, and with a stable of running backs led by James Sullivan and Eddie Matovu, along with a scheme that draws formations from seemingly every family of offense throughout history, I just don't see how anyone knocks these guys off.

Division 3 Northwest: Arlington
Two Dubzinskis are better than one, and the father-son duo of head coach John Jr. and his father John Sr. as defensive coordinator has taken the Middlesex by storm this fall after showing promise a year ago. I don't know what direction this bracket is headed in, but the Spy Ponders are a safe pick.

Division 3 Southeast: Plymouth South
As long as Dylan Oxsen is carrying the rock, I don't see anyone but the Panthers taking this bracket. It's a different story after that, though.

Division 3 Southwest: Walpole
The Rebels' ground game has come along well, after hitting a few bumps. As long as the defense can hold up, their multi-dimensional stable of backs can do the rest.

Division 4 North: Bedford
Another field that can go in an assortment of directions, the ground game dictated by Olan Abner could be the difference.

Division 4 South: Dennis-Yarmouth
The Dolphins typically hit their stride in the second half of the season, and the way this offense is clicking, it's going to take a flawless defensive performance to shut down Spencer Tyler, Michael Dunn and company.

Division 4 Central: Doherty
Twitter follower and familiar 98.5 The Sports Hub caller "Aidan From Worcester" guarantees Shepherd Hill beats Doherty in this bracket. The Rams are a dangerous bunch, but the Highlanders have arguably the best grouping of pure athletes statewide across Division 4, so I'm sticking to my gut.

Division 5 North: Bishop Fenwick
Rufus Rushins gets much of the glory in this dominant run for the Crusaders, and deservedly so, but quarterback Nick Bona is the catalyst of this offense, and will be the difference in a close game somewhere down the line.

Division 5 South: Abington
The Green Wave lost some key bodies to start the year, but have been rolling ever since, capped with a convincing 36-7 rout of East Bridgewater. The versatile backfield of Al Freeman, Jason Halpin, quarterback Bryan Dwyer and promising sophomore Shawn Donovan will wear front sevens down.

Division 5 Central: Leicester
Tom Rodrick has been the driving force on both sides of the ball, but quarterback Drew Mazzeo puts the Wolverines over the top.

Division 6 North: Latin Academy
There are trendier picks in this field, such as Boston Cathedral, but the Dragons have one of the better overall athletes in this field in quarterback/safety Kyle Dance. He will be the difference.

Division 6 South: Upper Cape
Mike Hernon has done a fantastic job with this program, and while the Rams are a low seed headed into this wide-open field, Jon Dumont is a dangerous asset to this triple-option scheme who can take them deep.

Division 6 Central: Blackstone Valley Tech
Nic Wojnar is as elusive with his feet as he is throwing the ball in the Beavers' read option scheme. Expect big numbers from the senior this postseason.

***

Scott Barboza
ESPN Boston High Schools Editor

DIVISION 1 NORTH: Lowell
I've gone on record since the summertime months saying the Red Raiders are making an appearance at Gillette Stadium this year. Lowell has a tough road there, staring with a first-round road game at St. John's Prep in the No. 4 vs. No. 5 swing matchup, but I've like the strides this defense has made behind Alex Quintero and Shyheim Cullen.

DIVISION 2 NORTH: Haverhill
One of the tougher races to project in Eastern Mass., the Hillies enter as the No. 1 seed. Preseason favorite Reading, a buzz worthy Waltham team and old stalwarts Lincoln-Sudbury could all claim the prize, but I'm going with the upstart Hillies, vindication for the terrific job Tim O'Connor has done since taking over the program.

DIVISION 3 NORTHEAST: Tewksbury
Marblehead might have the best athlete in the field with two-sport standout Brooks Tyrrell, but Tewksbury proves too much to handle, with a three-headed rushing attack and a stout defense.

DIVISION 3 NORTHWEST: Melrose
The Red Raiders lone loss of the regular season came against Middlesex Freedom division rival Wakefield, coming on a late field goal, but I like Melrose the second time around. The teams couldn't meet until the sectional final and who wouldn't love ensuring a third meeting of the season by Thanksgiving rivals.

DIVISION 4 NORTH: Watertown
Perhaps a surprise pick coming out of the division, the Red Raiders have some athletes on the boundaries with T.J. Hairston. I think Bedford might be the team to watch here, but just playing a hunch.

DIVISION 5 NORTH: Bishop Fenwick
Pick the Crusaders to go all the way, on a tear through Gillette. They haven't just beaten teams, they've annihilated the CCL's best, including St. Mary's (first-round opponent) and Austin Prep, which they both will/can see down the road.

DIVISION 6 NORTH: Cathedral
Another North-based team I have running the field. As I mentioned earlier in the state championship Roundtable, I think the Panthers are just hitting their stride now. This could be the second championship of more to come.

DIVISION 1 SOUTH: Xaverian
Almost wanted to pull the trigger and go with Bridgewater-Raynham here, but I think the Hawks' defense, which has carried them through the regular season, continues to be the story in the postseason, leading them to Gillette.

DIVISION 2 SOUTH: Mansfield
If this were the World Cup, this would be referred to as the "Group of Death." Seriously, whichever team survives this gauntlet will be battle-tested. Ever since Week 1, it seems as though Mansfield's been a team of destiny; they follow through.

DIVISION 3 SOUTHEAST: Plymouth South
An intriguing bracket, littered with some of the Atlantic Coast League's finest, so look no further than the Panthers, the league's playoff representative from last season. Nauset and Plymouth North are lurking, but also don't look past an underrated rivalry game between Somerset-Berkley and Dighton-Rehoboth as a first-round appetizer.

DIVISION 3 SOUTHWEST: Oliver Ames
Another division strongly influenced by the presence of one particular league, in this case the Hockomock. OA and Stoughton drew the top two seeds, but let's not sleep on No. 4 seed North Attleborough, which plays up in the Kelley-Rex division. Whichever team emerges from the Red Rocketeers' first-round duel with Walpole could be a dark horse for the sectional title.

DIVISION 4 SOUTH: Westwood
Tons of Tri-Valley League talent to go around here, but I'm sticking with the regular-season champion. It wouldn't shock me in the slightest if Dennis-Yarmouth wears the sectional crown, but the Wolverines are a team that simply seems to get it done when the chips are on the table, led by dynamic senior quarterback Bo Berluti.

DIVISION 5 SOUTH: Cardinal Spellman
Old Rochester Regional enters the tournament with the No. 1 seeding, having posted some gaudy offensive numbers throughout the year behind running back Richie Phillips. I picked the Cardinals to win the state title from the start of the season, and while I like Fenwick a little more in terms of the state championship, I still envision Spellman returning to Gillette.

DIVISION 6 SOUTH: Millis/Hopedale
Perhaps no injury will have a greater impact on the outlook of the division than that of the Mohawks and lineman Jon Baker. Granted, I still like M/H's chances emerging from a wide-open field, thanks to running back Chris Ahl. That being said, the Mohawks' first-round date with Mashpee could determine the sectional champion.

DIVISION 2 CENTRAL: Leominster
I like the Blue Devils to advance to Gillette, but the sectional field is fraught with peril, too. Marlborough and St. John's (Shrewsbury) can score with the best of them, but I don't think anything short of an act of god slows down the Leominster caravan.

DIVISION 4 CENTRAL: Doherty
From season's start, I've tabbed the Highlanders as my statewide Division 4 championship favorite. However, the toughest matchup in the path might very well in their first-round test against No. 6 seed Quabbin.

DIVISION 5 CENTRAL: Leicester
Coming into the season, it would have been easy to project Auburn running away with another championship of sorts, but I'm going with the No. 1-seeded Wolverines, led by linebacker Tom Rodrick – a strong Defensive Player of the Year candidate.

DIVISION 6 CENTRAL: West Boylston
This is a case of what have you done for me lately? While No. 1 seed Littleton rolled through its Mid-Wach schedule undefeated, scoring at a clip of nearly 43 points per game, West Boylston notched a thorough win over previously mentioned Leicester two weeks ago. Granted, the Lions' lone loss of the season came at the hands of Littleton, but after a one-possession loss in Week 1, I'm banking on the second meeting having a different outcome.
December, 2, 2012
12/02/12
12:06
AM ET
By
John Botelho
| ESPNBoston.com
MILTON, Mass. -- After Upper Cape's EMass. Div. 5 Super Bowl win, 22-8, over Dorchester at Curry College, it's starting to feel like where Rams' coach Mike Hernon goes, a Super Bowl is sure to follow.

He won one as a player with Rockland (2001), then won two more as an assistant coach at South Shore Vo-Tech (2002, 2003). And yesterday, the 27-year old Hernon added a ring as a head coach, in just the second year Upper Cape was a varsity program.

"When you're a head coach, you have so much invested in the programs and invested in these kids," said Hernon. "I came in with these kids, building the program together. We took our lumps last year and it was painful. Coming in to this year, it was kind of like 'what do we do to fix it.' These kids vowed to make it better and they did."

Led by a pair of touchdowns and 131 yards on 16 carries by junior running back Jonathan Dumont, the Rams completed the transition from new program to Super Bowl champion, handing Dorchester their first loss of the season.

"They've got talent and they should be proud of that," said Dorchester coach Rich Moran. "Overall we just made too many mistake – we dropped the ball a lot and gave them extra chances. But hey, they beat us what else can I say? It was a great high school football game and congrats to Upper Cape."

Added Hernon: "We just talked about grinding it out. That's our gameplan – ball control offense and get timely stops on defense, and I thought we did that today."

Dorchester pulled out all the stops in this one, including opening the game with a successful onside kick, but just couldn't overcome the ground attack of Dumont and sophomore Dylan Derby, who combined on 180 yards on the ground.

The teams were knotted at zero when Upper Cape had what looked like a touchdown pass from Edgar Eldredge to Derby wiped off the board because of an ineligible receiver down field.

On the next play – a 4th-and-10 from the 15 – Dumont broke around the right edge, racing past the would-be first down and into the end zone with 1:57 left in the first. A two-point try failed and the Rams led 6-0.

Dumont pushed his rushing total over the century mark about halfway into the second quarter when a 42-yard touchdown run sent his total to 103 yards.

Dorchester got on the board in the final minute when quarterback Demetrius Leary tossed a 32-yard score to Arrik Bell, cutting the lead to 14-8.

On the first play of the fourth quarter, Eldredge extended the lead with a four-yard dive up the middle for the score, and followed with a successful pass to Matt Hoadley for the two-point conversion, making the score 22-8.

Rich Semple sparked the defense in the win, intercepting a pair of passes and knocking down a third in the win.

Trevaughn McCoy chipped in 84 yards on 17 carries in the loss.

Even after taking their first loss of the season in their biggest game, the Dorchester players certainly earned the respect of
their coach.

"These guys, from the beginning there was something different," said Moran. "They got a long and worked together well. I didn't expect this, I didn't expect 10-0 (before the Super Bowl).

I'm so damn proud of the kids, it's just phenomenal what they did this year. We beat a lot of good teams, but we ran into a power today. We did play good football."

And for Upper Cape (10-1), this Super Bowl meant a lot more than just adding a ring to Hernon's collection – it meant they had opened people's eyes to their program.

"I'm not sure too many people even knew what Upper Cape even was until this year. Hopefully we put Upper Cape on the map a little bit. It's the first state championship in school history."
November, 30, 2012
11/30/12
1:40
PM ET
FOXBOROUGH, Mass. -- ESPN Boston High Schools editors Scott Barboza and Brendan Hall preview Saturday's slate of 19 MIAA Super Bowl Championships, from yesterday's Media Day at Gillette Stadium:

(Video by Greg Story)


November, 23, 2012
11/23/12
6:12
PM ET
By
Brendan Hall
| ESPNBoston.com
1.
The biggest thing that stood out to me from yesterday's Natick-Framingham game was how efficient the Redhawks' passing game remained despite limited touches by Brian Dunlap. The sophomore has an unheard-of 30 receiving touchdowns since his first varsity start last season, but for the first time in his career did not register a touchdown catch.
I posed this question to the Framingham defense in my pick Wednesday, and I'll pose it again to Plymouth South -– how do you cover Brian Dunlap? But now, I'm wondering if bracketing or shading a safety to his side is even the best gameplan. The Natick coaching staff was pretty high on Alex Hilger before he missed most of the season with a broken collarbone, and yesterday we saw why. Athletically, he's a terrific target who can stretch the field. Between Dunlap, Hilger and the recently-blooming Justin Robinson, it might be a case of "pick your poison".
Still, I think the key on Tuesday will be running back Nick Lee, who injured his ankle last month but looked solid yesterday. He told me yesterday his right ankle was "100 percent", and anyone who watch Natick's No. 9 win over Walpole knows that wasn't the case.
***
2.
You could make a pretty solid list of elite players sitting at home after Thanksgiving -– Xaverian's Maurice Hurst Jr., Catholic Memorial's Peter Ngobidi, Needham's Mike Panepinto and Nantucket's Terrel Correia come to mind. But the one I was really looking forward seeing was Amherst running back Kieran Presley, who ended his career yesterday with 175 rushing yards and two scores on just 10 carries in a 35-15 win over Northampton.
We profiled Presley
after his ridiculous 359-yard performance in a Nov. 2 win over Chicopee
, and you can argue he is playing his best ball right now. He finished with 1,009 yards on the season, but 684 of those yards have come in the last three weeks – including four scores of 56 yards or longer. Head coach David Thompson also says there is varying degrees of interest from a scattering of Division 1 FBS and FCS programs, including UConn, Albany, Rhode Island, New Hampshire and James Madison.
It looks like the Hurricanes finally got their zone-blocking scheme down midway through the season, but unfortunately they'll be on the outside looking in. Just a hunch, Thompson has a good thing going forward with this program.
***
3.
I said this on FOX 25 last night, and it bears mentioning again. For the most part, there isn't an overwhelming favorite among any of the divisions in Eastern Mass. Out in Central Mass., Division 1 is wide open, and on paper Nashoba feels like the overwhelming favorite but this is a team that Doherty nearly upset earlier this season.
However, in Division 3 Central, it's Auburn, Auburn, or Auburn. The Rockets are No. 9 in our statewide poll, and No. 1 in the Telegram & Gazette's poll, for good reason. As a team, they've run for 2,863 yards and 44 touchdowns, with an average of 10 yards per carry, led by senior Tyler Desjardins (120 carries, 1,560 yards, 23 TD).
Much like USC's student body right or Nebraska's I-bone formation, there's not a lot of trickeration to the domination – everybody knows what's coming. The Rockets run primarily power sets with jumbo personnel, and have been blowing people off the ball all season. I've previously mused that in the past the Rockets have gotten by just on outweighing people at the point of attack (they average about 280 pounds across, after all), but this is a unit that seems to get more mobile every time out. All-State candidate Aaron Dyke is at the forefront of this, able to pull down and lead block on sweeps fluidly.
The rest of the field in Division 3 consists of Hudson, Tantasqua and Groton-Dunstable. To those three teams, I say good luck.
***
4.
Sharon's Dave Morse, Stoughton's Greg Burke and Plymouth South's Scott Fry are on many short lists for Coach of the Year, and deservedly so. But I think we should also consider Upper Cape's Mike Hernon for any such nod. In just his second year at the helm, he has the Rams in the playoffs as Mayflower Small champs, with a 10-1 record. The Rams are one of the highest-scoring teams in Division 4A (28.1 points per game), and they have junior running back Jon Dumont to thank for that. He had an impressive start to the season (89 carries, 889 yards, 11 TD in his first five games), and is a hard north-south runner with 40 speed allegedly in the 4.5 range.
***
5.
If Barnstable and Everett win out on Tuesday, then the Division 1A Super Bowl is by far the marquee game of the Gillette Stadium slate. Some of us -– myself included -– are probably wondering why that got the 3:30 p.m. slot instead of 6 p.m., which has been designated for Western Mass. Division 2. Especially considering the crowd for last year's Western Mass. Super Bowl, an early-afternoon contest between Springfield Central and Longmeadow, was thoroughly a ghost town.
All of that considered, I might end up eating my words if Wahconah makes it. I had a conversation with noted
Berkshire Eagle
columnist Howard Herman the other day, and he assured me that if the Warriors make it to the Super Bowl, the town of Dalton "will shut down". Hope he's right.
August, 9, 2012
8/09/12
9:57
PM ET
By
John McGuirk
| ESPNBoston.com
MEDFIELD, Mass. -- Through a solid upbringing, Mike Schell has always been one who has strived to help others.
The son of hard-working parents who were the first in their families to graduate with college degrees, Schell took the values learned at a young age and has carried them with him ever since.
Schell, a former standout baseball player at Holy Cross and current teacher and baseball coach at St. Sebastian's Prep in Needham, believed baseball was the perfect avenue for him to assist others.
Two years ago he, along with Mike Ginns, partnered to form The Cannonball Foundation. The premise behind it was to provide student-athletes who come from urban communities the opportunity to play baseball at a competitive level while educating them in the college admissions process, prepping for SATs, applying for grants, scholarships, financial aid as well as nutrition, strength and conditioning.
While many teens are awarded the luxury of playing summer ball in select AAU programs and showcases with parents shelling out thousands of dollars, what happens to those who come primarily from households that average medium to low incomes that cannot afford it?
Enter The Cannonball Foundation.
[+] Enlarge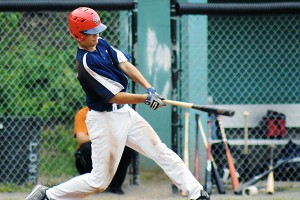 Courtesy of The Cannonball Foundation The Cannonball Prospects team has allowed players like Upper Cape Tech's Randy Frazier to attend high-profile showcases they wouldn't previously have been able to get to.
"Our foundation is an opportunity for kids to learn, develop good character and leadership traits and play the game we all love and not having to break the bank when your parents are working as hard as they can just to make ends meet," said Schell, speaking from the program's home base at Sluggers Academy. "There are a lot of families who cannot afford to send their kid to an AAU program or a showcase. Here they can. We aren't just focused on giving top-notch baseball training. We're also going to talk about why academics is so important, and we are going to get you to understand the real-life alternative when you are helping a paraplegic, or a child in a wheel chair, down the first base line."
As part of the foundation, Schell and Ginns developed The Cannonball Prospects -- an independent team made up of high school players with solid backgrounds from Massachusetts who play approximately 20 games in various high-profile tournaments and showcases in Massachusetts and Rhode Island. Playing in these tournaments and showcases has given players an opportunity they wouldn't have otherwise, to be seen by various collegiate programs.
"Without the Cannonball Foundation, my brother and I wouldn't have been able to play in the big showcases in front of college coaches," said Upper Cape Cod Tech infielder/pitcher Randy Frazier. "We've received great exposure and have been able to do community service in the process."
Schell said he plans to add two more prospect teams to the mix next summer as well as a softball entry for girls.
The Cannonball Prospects is named after Will "Cannonball" Jackman, a former submarine-style pitcher from Texas who played in several Negro Leagues in the late 1920s including the Boston Royal Giants of the New England Negro League. While Schell was doing post-grad work at Tufts University, his research about the New England Negro League and Jackman in particular, and his ability to overcome numerous struggles along the way, inspired him.
With the foundation solely relying on donations from various groups and organizations, parents don't have to fund for their child to play. What Schell asks for in return is for the players to donate time toward community service activities. Three charitable organizations The Cannonball Foundation serve are The Miracle League of Massachusetts, Hugs for Heroes and Special Olympics of Massachusetts.
"We have been very fortunate to have private donors," Schell said. "We've made a promise to them that we are going to take this as far as we can. We are covering all of our costs and people are seeing our success. This is not a money-making operation for us and never will be. I feel everyone who has come through this foundation is better for it. Down the road I would like to have a prospects team in every state in New England. We are not here to compete with AAU. I want to collaborate with them."
Schell adds, "We are trying to do the most good for the most people. We want to preserve dreams and goals these kids had when they were 12 years-old -- to go to college and become baseball players.
"Cannonball has given me the desire to strive for more," said Chelsea High infielder Carlos Vega.
Schell says that while The Cannonball Prospects are a selected-based team, the clinics they put on throughout the fall and winter months at Sluggers Academy that involves both baseball and academic preparation are open to anyone. More information can be attained at their website thecannonballfoundation.org.
"This is an incredible organization with highly-motivated people looking to provide families opportunities that would not be with their reach due to their financial situations," Cannonball Prospects head coach Ron Frazier said. "We feel many college level players are being out-paid not outplayed. The mission stresses not only athletic excellence but also academic excellence and good citizenship."
December, 26, 2011
12/26/11
4:55
PM ET
BASKETBALL

2nd annual Thomas "Skip" Karam Holiday Classic
at Durfee High School

Thursday
Fitchburg vs. La Salle Academy (R.I.), 5:30
Barnstable vs. Durfee, 7:15

Friday
Consolation Game, 5:30
Championship Game, 7:15

2011 Stripes Holiday Basketball Tournament
presented by Cape Cod Basketball Officials Association

Tuesday

Girls: Sandwich at Harwich, 4:30
Barnstable vs Falmouth, at Cape Cod Academy, 5

Boys: Chatham at Harwich, 6:30
Sandwich at Cape Cod Academy, 7

Thursday
at Sandwich High
Girls Consolation, 1
Boys Consolation, 3
Girls Championship, 5
Boys Championship, 7

BOYS HOCKEY

Cape Cod Cup
at Falmouth Ice Arena

Tuesday
Barnstable vs Chelmsford, 5:10
Falmouth vs Westford, 7

Thursday
Barnstable vs Westford Academy
Falmouth vs Chelmsford
Note: Falmouth and Barnstable had a previously scheduled game on new years eve, so this is just a two game tournament. No Championhip or Consolation

Judy Kostas Holiday Tournament
at Charles Moore Arena, Orleans

Monday

Div 2: Nauset vs Sandwich, 4
Dennis-Yarmouth vs. Boston Latin, 6

Div 3: Wareham vs Mashpee/Upper Cape, 2
Cape Tech vs Harwich/Chatham, 8

Wednesday

Div 2: Consolation, 2
Championship, 4

Div 3: Consolation, 6
Championship, 8