Boston High School:

Van Buren
December, 17, 2012
12/17/12
8:08
PM ET
By
Matt DiFilippo
| ESPNBoston.com
For most teams, the Maine high school basketball season began Dec. 7. Here's a look at how the classes shape up

Class A Boys:
The West looks like a three-team race between Portland, Deering, and Bonny Eagle, with South Portland ready should there be an opening. Junior Justin Zukowski is Portland's top all-around player, and he has help in Nick Volger and Jayvon Pitts-Young. Deering tries to beat you inside, with six-six Labson Abwoch, and six-four Thiwat Thiwat, both of whom are from the Sudan and moved to the United States at an early age.
Hampden was upset by Deering in the state final, and even though the Broncos return only two starters, they were still the pick for first place in Eastern A's preseason coaches poll. Edward Little, Lawrence, and Bangor, all programs with strong traditions, could each challenge Hampden. Lawrence relies on forward Spencer Carey and guard Xavier Lewis, a transfer from Bangor.
Class A Girls:
Western A has at least four strong teams in McAuley, Scarborough, Cheverus, and Deering. Oddly enough, none of them play each other until January. Point guard Allie Clement leads two-time defending state champion McAuley. Add in three six-footers and a talented guard in sophomore Olivia Dalphonse (a transfer from Bonny Eagle), and this team should go far in the tournament again.
In the East, Edward Little, Mt. Ararat, and Mt. Blue should fight it out for the top spot. Edward Little's top scorer is guard Ashlee Arnold, and the Red Eddies have some motivation after blowing an 11-point halftime lead and losing to Cony in last winter's regional final. Mt. Blue has balanced scoring, and guard Gabby Foy is a player who can run up a lot of points in a short time. Brewer was the big surprise in the early going, beating Mt. Blue on a three-pointer at the buzzer, then knocking off Lewiston the same way three nights later. Bangor has the height and athleticism to play with anyone, while Oxford Hills, Skowhegan, and Lawrence could be sleepers in a deep league.
Class B boys:
Falmouth and York are two of the tallest and best teams in the West. York has five players six-four or taller; Falmouth has three at least six-five. Falmouth didn't return any starters this season, but began the year with three lopsided wins. To go with York's height, the Wildcats have senior guard Adam Bailey, who hit 11 three-pointers in York's first four games this season.
Expectations are very high at Oceanside, which finished 12-8 last season but returns four starters and is loaded with height. The
Portland Press Herald
even said that, "Anything short of winning Eastern Class B would be a disappointment." Winslow is expected to be a playoff team, but Oceanside beat the Black Raiders, 80-53, on opening night. Medomak Valley, Camden Hills, and possibly Caribou and Presque Isle will also look to get hot at the right time.
Class B girls:
Defending regional champ Lake Region is probably the favorite again. Tiana-Jo Carter averaged 15 points and 17 rebounds per game last winter, and the
Portland Press Herald
reports she has already received full scholarship offers to Division I schools. The Lakers are so deep at guard that freshman CeCe Hancock stepped in and had 11 points and nine assists in an early-season win over Waynflete. York, Gorham, Spruce Mountain, and Wells could all make a run at Lake Region. Leavitt might not have all the pieces to go all the way, but the Hornets have one of the most entertaining players in the state in senior Kristen Anderson, who will play at the University of New Hampshire next season. Anderson can shoot from 30-35 feet out, and often does.
In Eastern B, Presque Isle is the decided favorite. The Wildcats finally got past Nokomis last winter and squeaked past Lake Region to win the state title. Presque Isle's first three games this season were wins by scores of 39, 63, and 38 points, and that's a good indication of how their regular season will go. The Wildcats are never very tall, but they throw lots of quick guards at you and can shoot from long range. Nokomis, which won't face Presque Isle during the regular season, may have the best chance to defeat the Wildcats in the playoffs. The Warriors have three fine guards in Lindsay Whitney and twins Kylie and Kelsie Richards, and a good low-post option in Anna MacKenzie.
Class C boys:
Dirigo has won four consecutive Western C titles, and until someone gets past the Cougars, they have to be considered the favorites again. Even after graduating seven seniors from last winter's state champions, Dirigo was still picked first in the Mountain Valley Conference coaches poll. Boothbay is probably Dirigo's toughest competition in the MVC, and Waynflete, which competes in the Western Maine Conference, could be a dark horse.
Houlton went 8-10 last winter, but may just be the No. 1 team in Eastern C. Kyle Bouchard, who can play pretty much any position, leads the Shiretowners. Among Houlton's early wins this season was a seven-point victory on the road against a good Class B Presque Isle team. Penquis Valley and Lee Academy — which is currently on probation from the Maine Principals' Association for recruiting violations — are also threats for the regional crown.
Class C girls:
The Mountain Valley Conference is deeper, but the Western Maine Conference has the best player (Margaret Veroneau) and maybe the best team (Waynflete). The Flyers have a top-notch coach in Brandon Salway, and bring back all five starters. They're good enough that they almost beat Class B Lake Region, losing by five on the road. Madison, Lisbon, and Monmouth are also contenders. Mt. Abram should have been in that mix, but the Roadrunners had some players decide not to return, and apparently don't have everything they need to play with the top teams.
Calais, led by guard Madison McVicar and center Paige Gillespie, is the favorite in the East. Orono, Dexter, and Narraguagas are also in the hunt.
Class D boys:
Forest Hills is known for a lot of things, like being closer to the Canadian border than any other high school in Maine, and having kindergarten through 12 all in one building. The Tigers also have a great basketball team. Senior Evan Worster already has over 1,000 points, and everyone returns from a team that went to the Class D state championship game this winter. The Tigers will get tested this season, as Valley, Greenville, and possibly Hyde all have the potential to cut down the nets after the Western D final in late February.
When Jonesport-Beals won the state title last season, it did so with a total high school enrollment of 58 students. It helped immeasurably that one of those was six-foot-five Garet Beal, the state's Gatorade Player of the year. Beal will play at the University of Maine next season, and already has back-to-back 40-point games this season. The second of those was in overtime against Deer Isle-Stonington, a team that could challenge the Royals again this winter. Woodland could also give Jonesport-Beals a scare.
Class D girls:
It looks like Rangeley and Richmond will battle once again for the Western D title. Rangeley, a school with about 80 students, has three six-footers in sophomore Taylor Esty, freshman Blayke Morin, and transfer student Emma Gunic. Richmond has its own six-footer in Jamie Plummer, the daughter of Colby College baseball coach Dale Plummer. Rangeley won the first meeting this season, 56-54 in overtime.
In the East, Washburn won the state title last winter with no seniors and three juniors. The Beavers did lose their coach when Mike Carlos was not rehired after winning two consecutive state titles. There were widespread rumors of parents being unhappy with Carlos, who is now coaching at East Grand. When Carlos was not rehired, superintendent Ed Buckley released a statement to the
Bangor Daily News
which included the line, "we do not measure the success of our athletic teams by the number of contests they win but whether it is a positive experience for all our students." Diana Belskis Trams is now coaching the Washburn girls. Van Buren could give Washburn a run in the East. The Crusaders' star is junior guard Parise Rossignol, who verbally committed to the University of Maine as a sophomore.
June, 8, 2012
6/08/12
12:53
PM ET
By
Gary Hawkins
| ESPNBoston.com
Abbey Leonardi concluded her stellar high school running career last Saturday with a pair of wins at the State Class A track and field championships. The Kennebunk senior won the 1,600 and 3,200 meter races despite missing a month of training this spring with a strained tendon in her leg.

Leonardi finished the 1,600 in 4 minutes, 56.87 seconds, a little more than five seconds off her state record pace in 2010. She caught Lawrence's Erzsebet Nagy on the final lap and held her off down the stretch.
"I missed more than a month of training," Leonardi said, "so it was just more about being mentally tough."
Leonardi won 3,200 later in the meet in 10:45.49, again a few seconds off the state record she set in 2010. In four years, Leonardi has posted four cross country individual championships and 12 outdoor track titles. She holds state records in 1,600, mile, 3,000, 3,200 and the two mile.
She is widely considered Maine's best female high school runner since Joan Benoit Samuelson, who won the inaugural women's marathon at the 1984 Olympics. This year Leonardi finished fourth in the prestigious Foot Locker Cross Country Nationals, setting a PR of 17:35.30 in the 5,000 meter event.
"What we've tried to do is not go too crazy with her in high school and chase every big meet," her father Jack said.
Abbey will attend the University of Oregon next fall on a running scholarship and will step on campus with plenty of gas left in her tank. She hasn't run indoor track in high school nor has she over-trained.
"I actually think she can get a lot better," her dad said. "We've tried not to stress her too much. I think Abbey's at the low end of the top kids in high school in terms of mileage."
Her dad got her started in running and said he got up to speed in training methods as she progressed. He credits middle school coach Mike LeBlanc as an important influence. As she's grown older, Leonardi has trained with Kristen Barry, a former 2:40 marathon runner and Falmouth's Sheri Piers, the top American female finisher in this year's Boston marathon.
"She definitely has some physical talent but she works as hard as anybody at it," jack Leonardi said of his daughter. "She's really methodical about what she does. She's pretty educated about what she's doing."
Leonardi won't complete in this weekend's New England meet in Saco, but will follow a training regimen to get her ready for cross country season next fall. Her only appearance in the new England cross country meet was her freshman year when she finished first. Oregon is one of the country's strongest track and cross country school. Last fall, the Ducks placed fifth in the NCAA cross country meet and return five of their top seven runners.
"She had lots of opportunities (to attend other schools)," Jack said, "but she definitely is choosing to jump into the big pond. If she didn't give the biggest stage a chance, she wished she would have."
Leonardi, who has a twin sister, is a straight A student who also loves to cook.
"She'll probably end up studying business and hope to apply that in some food area," her father said.
May, 13, 2012
5/13/12
11:25
PM ET
By
Gary Hawkins
| ESPNBoston.com
It didn't take Luke Fernandes long to get on the baseball radar screen, a result you could say of the radar gun.

Playing in a Perfect Game tournament in New Jersey for pro and college scouts, Fernandes clocked 93 on the radar gun, a pretty big deal when you consider he had yet to begin his sophomore year at Marshwood High School. Later that summer, playing at the Lynn Invitational in Lynn, Mass., Fernandes and his fastball caught the eye of a Boston College coach who happened to be at the tournament.
Two days later he visited the campus and talked to head coach Mike Gambino. He had yet to play his sophomore year yet was offered a 3-for-4 scholarship and made a verbal commitment to play for the Eagles. Now a senior at Marshwood, Fernandes expects to report to Chestnut Hill this fall, unless he receives a call from a Major League team looking to take him fairly high in the draft. He's already filled out surveys for 10 professional teams.
"That will be a decision he has to make," said Eric Fernandes, Luke's father and high school coach. "We really believe in Coach Gambino at BC."
Fernandes, a 6-foot-1, 180-pound, right-hander, experienced arm trouble last year and didn't pitch because of weakness in his shoulder.
He came back through rehabilitation but then developed some elbow soreness. His dad had him on a 70 pitch count when he faced defending Class A state champion Cheverus a couple of weeks ago, but after a shaky start he settled down and pitched into the seventh inning, finishing with 101 pitches.
Marshwood and Fernandes won the game 6-3 after he fell behind 3-0 early but settled down and pitched hitless ball through the middle innings.
"The first inning I just had the wrong approach," he said. "I wasn't spotting fastballs and I wasn't changing speeds effectively."
Eric Fernandes said Luke's best pitch is his slider.
"It can be devastating on a right-hander as well as burying on a lefty's hands," Eric Fernandes said.
Fernandes throws a two-seam fastball to create movement on his pitches. He worked with former Red Sox reliever Bob Stanley in a Stratham, N.H. for a few years to develop his repertoire.
"Luke and he gravitated toward each other," Eric said. "Bob really got him command of that two-seamer."
Luke plays shortstop, or sometimes first base to save his arm, and is capable of playing college ball as a position player as well as a pitcher. Boston College has agreed to take a look at him in the field as well as on the mound.
"There's something to be said for going out and playing every day," said Luke, who admitted he's a pitcher at heart.
"(It's) the one-on-one stuff with the hitter and having better stuff than he does," he said.
Fernandes has also developed a changeup which remains a work in progress.
"The only three well-hit balls off him have been on changeups," Eric said. "He left it up."
The Hawks are 7-2 and in first place in the Class A West standings. In addition to Fernandes, they also pitch Jake Verrill, who is headed to West Point next fall to play football and possibly baseball. Troy Pappas, who is headed to Bates College, also pitches while catcher Matthew Bernier made the Under Armor tea that is headed to Florida.
Fernandes hasn't accepted any offers to visit schools since committing to Boston College. He likes the idea of "just knowing I had a place to go."
A four-year player on the basketball team, baseball is his first love and his been since he was young kid.
"Baseball for me has been kind of where I can go and leave everything else (behind)," he said. "Winning games and competing."
A, SORT OF, LEAGUE OF THEIR OWN
With an enrollment of just 110 students it's sometimes difficult for Van Buren High School to fill out spring baseball and softball rosters.
The baseball team played with the minimum nine players in 2005 and 2006 and reached the Eastern Maine Class D final in 2006. They Crusaders didn't have enough to field a team in 2009. This spring, the seasons of the baseball and softball teams were again in jeopardy.
The softball team, it turned out, didn't have enough players for a varsity team, while the baseball team had just 11 players.
Boys aren't allowed to play softball under Maine Prinicpals' Association rules, but girls can play baseball. And three softball team members — senior Naomi Maldonado, sophomore Kayla Durette and freshman Amanda Sytulek — decided to join the baseball team. Maldonado, in fact, doubled and singled in the team's opening day 13-3 loss to Wisdom.
"I wanted to play, I was pretty disappointed when they said there wasn't going to be a softball team," Maldonado told the
Bangor Daily News
. "I thought it was a good opportunity. I didn't have to think long about doing it at all."
The girls were accepted withouth protest by the boys on the team who prefer a full roster to none at all.
April, 23, 2012
4/23/12
11:37
PM ET
By
Gary Hawkins
| ESPNBoston.com
Mt. Blue boys basketball coach Jim Bessey retired recently after 37 years with the Cougars. Bessey, who also coached at Madison Memorial High School, leaves with 479 wins. This year's team reached the Eastern Maine Class A championship game where it lost to Hampden 46-44.

Bessey, 68, led the Cougars to the Eastern Maine title in 1997. He answered some questions regarding his team and coaching philosophy.
Q: Who were your early influences in the game?
A: "My high school coach, Rod Shain. My whole life has been connected with sports. It was and always has been my niche. I played for a small high school and had the physical ability to excel and the internal desire to win. Coach brought this out in me."
Q: How did you first get into coaching?
A: "I started out as a JV coach at Farmington High School."
Q: When did you start to feel comfortable as a coach and why?
A: "I have always been comfortable as a coach and I knew in the sixth grade that it was I wanted to do. I think my comfort level has always been connected to my ability to relate to my players."
Q: How would you describe your coaching philosophy?
A: "It has always been to get players to work together as a team and to make them understand that everyone on the team can and must make a contribution for the team to be successful. Every player has the ability to make the team better. That little things are important. To convince them that playing and practicing hard are talents."
Q: Where did it come from?
A: "I developed it over time."
Q: Who were your coaching role models?
A: "At the high school level Dick Hunt (Cony), Bob Brown (Cheverus), Tom Maines (Morse, Scarborough). At the college level Dick Whitmore (Colby), Dick Meader (Farmington) , Ed Kohtala (Maine), Steve Clifford (Orlando Magic)."
Q: How has the game changed and how have you adapted to it?
A: "The inability to score the ball-which may be related to more aggressive defense. This demands better ballhandling skills and more time has to be spent on it. More drills."
Q: What do you believe is the key to a successful basketball program?
A: "The key is to get young people to commit to the time it takes to be good."
Q: What will you miss most?
A: "The contact with the players and the coaches and the relationships developed as a result."
Q: How do you hope to be remembered as a coach?
A: "As someone who gave his best and always came prepared. As a coach who made a difference in the big picture of his players, who used sport to teach life lessons."
February, 10, 2012
2/10/12
2:15
PM ET
By
Gary Hawkins
| ESPNBoston.com
That Travis and Karen Magnusson would become high school basketball coaches, given their backgrounds as point guards and students of the game, seemed inevitable. So does the success that the husband and wife coaches are having this season at their respective schools.

Travis, who coaches the Dirigo High School boys team, came within a whisker of a perfect season before falling to Spruce Mountain, 39-34 Wednesday night. Still, his Cougars finished the regular season at 17-1 and enter the upcoming Western Maine Class C tournament as the top seed. Karen, who coaches the Cony High School girls team, finished at 18-0 Thursday and her Rams will enter the Eastern Maine Class A tournament as the top-seeded team.
There wasn't much talk between Karen and Travis about going unbeaten this season — both recognize winning a state title as a larger goal — but it's still hard to avoid.
"Honestly we try not to do it," Karen said. "But it's something that comes up with other people."
The couple rarely get to see one another's teams play since they usually play on the same night. Fans at both schools, however, recognize what's going on.
[+] Enlarge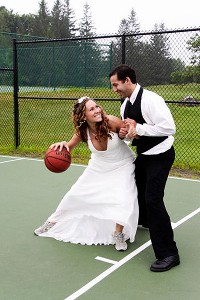 Courtesy of Karen Magnusson Travis and Karen Magnusson are having success coaching high school hoops in Maine.
"It's almost like we share our programs with each other," Karen said. "His fans ask how I'm doing and my fans ask how Trav's doing."
The Magnussons are both basketball junkies, a passion that began long before they met at the University of Maine at Farmington a few years ago. Karen Sirois starred at Cony in Augusta while Travis played for Georges Valley in Thomaston. Both played point guard at UMF and each of them totaled over 1,000 points and 500 assists in their careers.
Farmington women's coach Jamie Beaudoin and men's coach Dick Meader saw coaches in the two long before their playing careers ended.
"I knew from the first moment I watched her play that she was going to be a coach," Beaudoin said. "She was able to see things on the floor that many times an experienced coach wouldn't pick up on. She's just a student of the game."
Meader echoed those thoughts about Travis, who served as a varsity assistant at UMF the year after he graduated. Travis was hired as boys coach at Livermore Falls a year before Karen go the job at Cony so she helped him out and gave him an unbiased look at the players and the team.
"There was nobody I listened to more, especially with my team that first year," Travis said.
Travis turned the Livermore program around, reaching a tournament prelim game his first year in 2009 and the tournament itself the next two. He lost his job when Livermore and Jay high schools combined this year to form Spruce Mountain, but when the Dirigo job opened up he applied. The Cougars reached the state final last year and return many of those players.
The Magnussons talk basketball most of the time, often while breaking down film at home another or swapping drills.
"I get some of my plays and sets from him," Karen said. "I know his personnel, we definitely help each other out. Sometimes we sit up until 11:30 or 12 talking about it. We watch game film together. It's like having an assistant coach at home."
They also share a similar philosophy, borne from the way they played the game.
"We both like to run and gun, play pressure defense and give our players freedom to take shots." Travis said. "As I've gotten older I've realized the importance of quality shots."
The Magnussons are competitive by nature and haven't played a serious game of 1 on since Travis came away with a bloody nose when the got together on the court in college.
"He's competitive and I'm competitive so we never really have the fun 1-on-1," Karen said.
Well, they did have a little fun on the court on the day they were married, playing a friendly game, she in her wedding dress and he in his tuxedo.
They'll get a chance to watch the other's team play in about 10 days when their teams will be favored to win regional championships at the Augusta Civic Center.
November, 10, 2011
11/10/11
5:40
PM ET
By
Gary Hawkins
| ESPNBoston.com
Madison Memorial High School senior Matt McClintock recently won his third Class C cross country title while posting the fastest time in the state in any class. McClintock also won the mid-season Festival of Champions which featured over 600 runners from 60 schools in and out of state. Last spring, he won the 1,600 and 3,200 meter runs at the state track and field meet. He's competing this weekend in the New England meet in North Scituate, R.I. He recently answered questions about his season and running career.
Q: How did you get started running?

A: "I started running in 5th grade on the Madison Junior High XC team. I went to Athens Elementary so what would happen is Athens would practice on it's own and then we would just join the Madison team at meets. Fifth grade was the first year that I could compete in any "real" school sports, and I don't really know what drew me to it, but I decided to try it, and I guess my first race went well. I finished 13th. All my coaches were really happy with it and I guess I've been running ever since."
Q: Who have been your greatest influences?
A: "First and foremost would definitely be my coaches. Mrs. Moulton and Mr. Harper in junior high and Bob and Brandon Hagopian in high school. The person that really inspired me and drove me to get better was definitely coach Bob Hagopian. He's been with me since freshman year, through my wins and losses, and has always found a way to make me better."
Q: At what point did you feel you made a breakthrough in your high school career?
[+] Enlarge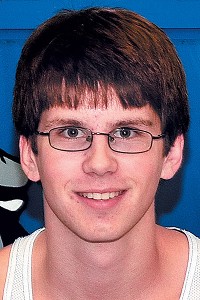 Gary Matt McClintock
A: "Without a doubt it was after I lost the conference championship last year. I got to cocky and that race showed me that I wasn't invincible, that I wasn't going to win just because my name was Matt McClintock, but because I wanted it more than the guy in front, beside, or behind me. That race made me
love
running, because I then had something to prove and something to work for. It re-instilled that love for competition in me. I will remember that race for the rest of my life, and I'm definitely a better runner because of it."
Q: What do you consider your greatest achievements in track and cross country?
A: "Wow, I guess in cross country it would be my three state championships. Since fifth grade my dream was to win a state championship in high school. To have three cross country titles and two titles on the track is just unbelievable to me. In track, my greatest achievement was definitely breaking the Madison High School records for 1,600 and 3,200 meters, probably more so the 3,200 because I was the first Madison kid in history to go under 10 minutes in that event."
Q: Which sport do you prefer?
A: "It really depends on the season. During cross country my favorite sport is cross country. During track it's track. I just love to run and race whether it's on the road, a track, or a trail."
Q: What goals did you set this season and did you reach them?
A: "My first goal for the season was to go undefeated in Maine and three-peat the Class C State Championship. I'm proud to say I met this goal. My next goal was to go under 15 minutes for the 5k I haven't met this goal yet as we've never really had a good day for a championship race, but Saturday at the New England Championships looks to be a good day, and it's a very fast course so we'll see what I can do there.
Q: What is your goal for this week's New England meet?
A: "My goal here is to win the title, and to go under 15 minutes for the 5K. As I said, before, it's a fast course, and there will be some incredibly strong competition to push me there."
Q: You won several races handily this season. Is it tough competing when you're not pushed?
A: "I guess that would depend on your definition of competing. A lot of people look at competing as winning. I prefer to look at it in the manner of Steve Prefontaine. If I'm going to win, I want to know that I've done my best. So yes, it's difficult to push myself to fast times, but I always just try to stay focused and not worry about the pain or where my competition is and just get to the finish line as fast as possible."
Q: What do you enjoy most about running?
A: "I love the people that we meet. The type of people you meet at cross country or track events is totally different then you will see in any other sport. At the state meet, I was getting encouraged to reach my sub 16 goal by the coaches and family and teammates of people that I was directly competing against. I'm confident to say that you will not find nicer and more supportive fans at any other high school sports competition."
Q: Do you have any running role models?
A: "I have several running idols, the most prominent would be Steve Prefontaine. I try to live up to the guts and determination that he always showed as a runner. His quote "To give anything less than your best is to sacrifice the gift" are the words I live by. Another two are Haile Gebrselassie, and Kenenisa Bekele. Both are Ethiopian runners. Gebrselassie is a two-time gold medalist and world record holder. Bekele is the two-time defending Olympic 10,000 meter champion and holds World Records now."
Q: Where will you attend college and why did you choose that particular school?
A: "I will be running for Lock Haven University of Pennsylvania next year. I felt very comfortable around the campus and really connected well with Coach Aaron Russell and the entire team at Lock Haven."
Q: What other sports or activities do you enjoy
?
A: "I enjoy all sports, but running is my one and only true passion."
Q: What is your training regimen in and out of the season?
A: "Sorry, but I don't like to discuss what my training is, at least not until after the outdoor track season."
Q: Where do you need to improve?
A: "I definitely need to improve on my kicking speed. In order to really be competitive in college I need to be able to win a race in the last 200 Meters if necessary. I feel that as my speed continues to develop in conjunction with my continued endurance training all of my events will improve drastically."
November, 17, 2010
11/17/10
3:02
PM ET
By
Gary Hawkins
| ESPNBoston.com
State football championships in Class A, B and C are on the line Saturday at Fitzpatrick Stadium in Portland.

Here is a rundown of the games:
Class A, Cheverus (11-0) vs. Bangor (10-1), 2:30 p.m.
Both teams squeaked by in regional finals last week. Cheverus downed Deering 35-34 when a last-second 36-yard field goal attempt by Deering's Jamie Ross missed by two feet. And Bangor won 28-25 against Lewiston when the Blue Devils gambled on fourth and one from their own 10-yard line with two and half minutes left. Bangor held and scored the game-winning touchdown to seal the win.
Cheverus is making its first appearance in a state game since it won in 1985. The Stags, however, have made a rapid climb in the past four years under Coach John Wolfgram who has won seven state titles at Gardiner and South Portland and is the state's winningest coach. They rely on the passing and running of quarterback Peter Gwilym who has accounted for 21 touchdowns. Running back Evan Jendrasko has rushed for 13 touchdowns. Equally important is the play of the Stags' special teams which has accounted for several scores.
Bangor has a history on state title appearances, having won five since the current format began in 1967 while also losing in the state game eight times. The Rams lost to Windham in the state final last year and to Bonny Eagle in 2004. They last won a championship in 2001. They led the East in points scored behind a balanced attack that features the passing and running of 6-foot-6 quarterback Joe Seccareccia and the running of Josiah Hartley. They've combined for 36 touchdowns. Included in that number are eight receiving scores by Nick Sherwood.
Class B, Leavitt (11-0) vs. Mountain Valley (11-0), 11 a.m.
Leavitt defeated Gardiner, 27-7, in the East regional game last week while Mountain Valley shut out Wells 18-0. The shutout was the seventh of the season for the Falcons who have allowed just 30 points in 11 games. Quarterback Cam Kaubris leads the offense along with running backs Josh Allen and Taylor Bradley who have combined for 29 touchdowns. The Falcons are looking for their fourth Class B title in seven, last winning in 2008.
Leavitt is the defending Class B state champion and is riding the state's longest winning streak at 23 games. The Hornets allowed 81 points during the regular season and outscored their three playoff opponents 110-23. Junior quarterback Jordan Hersom accounted for 26 touchdowns in the regular season and an additional five in the playoffs. Running back Jake Ouellette is a complement, having scored 15 touchdowns.
Class C, Stearns (11-0) vs. Yarmouth (11-0), 6 p.m.
Stearns defeated John Bapst in the regional final 26-7 while Yarmouth downed Lisbon 14-12 thanks to a late 65-yard scoring run from freshman quarterback Brady Neujahr.
Stearns, located in Millinocket, has the longest trip of any of the state finalists at 200 miles. It's doubtful the Minutemen will complain too much, though, since this is their first trip to the state championship game since winning in 1998. The team is both the northernmost as well as the smallest football playing school in the state. This season they carry a roster of just 29 players. Stearns also features one the toughest defenses in Class C, having allowed 49 points. Running back William Eurich leads the offense with 18 touchdowns.
Yarmouth is playing just its fourth year of varsity football, yet the Clippers excelled under coach Jim Hartman with an offense that led the state in the regular season with 391 points. Four players — Neujahr, Anders Overhaug, Nate Pingitore and Nick Proscia — have scored 10 or more touchdowns this season. Neujahr has passed for eight touchdowns and rushed for 10. A win by the Clippers would give them a unique double this fall since the soccer team won the state title last weekend. A win by the football team would complete unbeaten seasons for both.
FOOTBALL TOP 10
1. Cheverus
2. Bangor
3. Deering
4. Bonny Eagle
5. Lewiston
6. Mtn. Valley
7. Lawrence
8. Leavitt
9. Stearns
10. Yarmouth
MIKE LANDRY AWARD
Scarborough football coach Lance Johnson recently won the Mike Landry Award, given annually to the top coach in the Southern Maine Activities Association. Johnson led the Red Storm to a 7-1 regular-season record, its best ever, as well as its first playoff victory.
LOOKING FOR RARE DOUBLES
The Bangor and Yarmouth football teams will look to duplicate the success of their soccer teams in state championship games this weekend. No Maine high school has ever won a football and soccer championship in the same year. The Bangor soccer team defeated Portland 3-2 for the Class A title while Yarmouth won the Class B crown with a 5-0 win against Ellsworth.
Yarmouth can also complete an unbeaten season for both teams if it stops Stearns in Saturday's Class C football championship game.
SOCCER TITLES AWARDED
Soccer titles in four classes were decided earlier this month.
In boys Class A, Bangor downed Portland 3-2 to win its second title overall and first since 2006. In girls Class a, Scarborough won its first state title with a 3-0 win against Bangor. The Red Storm allowed only one goal all season.
In Class B, the Yarmouth boys completed a 17-0-1 season with a 5-0 victory against Eastern Maine champion Ellsworth. The Falmouth girls won their second title in three years and eighth overall with a 1-0 win over Caribou in a game decided on a penalty kick.
In Class C, the Fort Kent boys downed North Yarmouth Academy to win their first state championship. Sacopee Valley won the girls' title with a 2-1 overtime win against Fort Kent.
In Class D, the Richmond girls defeated Van Buren 1-0 for their seventh state title. Bangor Christian won the boys title with a 5-2 victory against Richmond.
DURGIN PLACES 2ND
Cheverus junior Emily Durgin finished second at last Saturday's New England cross country meet in Thetford, Vt. Durgin, who won the title last year, finished 12 seconds behind Linda Crevoiserat of Glastonbury, Conn.
Durgin placed second her freshman year behind Kennebunk's Abbey Leonardi, who skipped this year's meet to concentrate on the Foot Locker Regionals the Saturday after Thanksgiving. Last fall, both Durgin and Leonardi qualified for the Foot Locker Nationals in San Diego.
September, 22, 2010
9/22/10
9:37
PM ET
By
Gary Hawkins
| ESPNBoston.com
Performances by a number of running backs highlighted Week 3 of the Maine high school football season.

The fledging co-operative program between Calais and Woodland high schools took its lumps last season in the Class C Little Ten Conference, but is off to a 3-0 start this season, thanks in large part to running back Spencer McCormick who rushed for 292 yards on 20 carries and scored five touchdowns in a 54-7 win against Orono.
Gardiner's Alonzo Connor also turned in a five-touchdown performance as the Tigers downed Class B Pine Tree Conference rival Waterville 32-20. Connor, a junior, rushed for 172 yards on 26 carries.
Jack Powers of Camden Hills scored three touchdowns while rushing for 291 yards on 23 carries as the Windjammers nipped Morse 34-28 in a PTC Class B game. In another PTC Class B contest, Hampden Academy's Nick Stevens rushed for 227 yards and four touchdowns to lead the Broncos to a 35-28 victory against Winslow.
Portland's quarterback experiment with Imahdi Zagon is apparently over. Coach Mike Bailey put his talented running back in a number of different sets against Westbrook but not under center. Junior Matt McInnis is now the full-time quarterback with Zagon in the backfield. He responded by rushing for 258 yards on 37 carries to lead the Bulldogs to their first win of the season, a 27-15 over the Blue Blazes.
In other standout performances, Biddeford remained unbeaten in Class A Western Maine with a 47-21 win over Kennebunk behind Nick Gagne who rushed for four touchdowns and 145 yards.
Oak Hill's Josh Allen put the Raiders in the win column against Jay by rushing for 227 yards and four scores.