Boston High School:

Vanderbilt
December, 3, 2012
12/03/12
10:57
AM ET
By
Roger Brown
| ESPNBoston.com
The uncertainty regarding the Boston College coaching situation didn't make the school any less attractive to Tabor Academy's Tevin Montgomery, who committed to BC on Sunday.

Montgomery said BC's location was a huge factor in his decision. Although Montgomery's mother lives in Texas, he lives with his guardians in Boston.
ESPN lists Montgomery as a three-star offensive lineman, but he said he was recruited to play defensive tackle. He is the first recruit to commit to BC since the school fired coach Frank Spaziani last month.
"I knew it was a possibility [Spaziani would be fired], but coaches shouldn't be the deciding factor," Montgomery said. "I chose BC for the school, not for the coach. I liked talking to the other recruits. They seem like good guys. I also like the fact that I'll be around my support system [in Boston]."
Montgomery, a 6-foot-4, 305-pound senior, also had scholarship offers from Connecticut, Maryland, Massachusetts, Missouri, Rutgers, Temple, Vanderbilt and Virginia. BC was the first school to extend him a scholarship offer.
He narrowed his choices to BC, Vanderbilt and Virginia, and said he final decision was a choice between BC and Vanderbilt.
Montgomery grew up playing basketball, and didn't start to play organized football until last year. He is the No. 3 prospect from Massachusetts in the Class of 2013.
"I didn't finalize things until [Sunday]," Montgomery said. "I called coach Devine [Sean Devine] and he confirmed everything with the AD, since they don't have a head coach.
"It was a hard decision. If it wasn't then I would have committed already. I didn't rush it, but I didn't want to procrastinate because that could have been dangerous for me too. I finally decided BC would be best for me."
HOLT HAS DEFENSIVE ATTITUDE
New Hampshire, Maine, Rhode Island, Fordham, Colgate, Holy Cross and Marist are among the schools pursuing Ricky Holt, a 6-foot-4, 260-pound defensive lineman from Portsmouth (N.H.) High School.
Holt, who is also a pitcher/first baseman on Portsmouth varsity baseball team, has led the Clippers to the Division III championship in each of the past two seasons. Holy Cross and Colgate visited Portsmouth High School last month, and Maine is scheduled to stop by this week.
"He's matured greatly since last year," Portsmouth coach Bill Murphy said. "This year he became a leader. He led by example more than anything else. I think if you talked to any coach we played against they would tell you that they had to know where he was first and foremost."
ACADEMIC EXERCISE
The 25th annual Eastern Massachusetts and Southern New Hampshire college football recruiting night will be held Tuesday from 7 to 9 p.m. at the Tewksbury Country Club in Tewksbury.
Representatives from colleges throughout the Northeast will be in attendance. There is no cost to players.
For more details, contact Brian Hickey (978) 640-7834 or Ed Harrison (978) 694-6065.
Recruiting information about high school or prep school football players in New England can be sent to Roger Brown at rbrown@nhfootballreport.com.
October, 23, 2012
10/23/12
11:15
PM ET
By
Roger Brown
| ESPNBoston.com
La Salle Academy (R.I.) running back Josh Morris has been nursing a sprained ankle for much of the season, but it hasn't hampered his recruiting situation.

Yale head coach Tony Reno recently told Morris he'd like him to join the Yale program next season.
"I started to build a good relationship with Yale last spring," Morris said. "I visited and camped there last summer. The Yale head coach kept calling me every week during the season to make sure I was still interested and letting me know he was still interested in me.
"Last Thursday he told me: You have an offer from Yale."
[+] Enlarge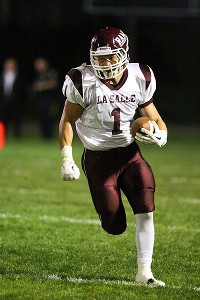 Courtesy Josh MorrisYale is the latest school to offer La Salle Academy (R.I.) running back Josh Morris, who was the Rhode Island Gatorade Player of the Year as a junior.
Morris, who was the Rhode Island Gatorade Player of the Year as a junior, has offers from four other FCS schools: Brown, Bryant, Monmouth and Valparaiso.
Morris is being recruited primarily as a running back, but he could also play slot receiver or defensive back for Yale. Morris said he'd prefer to play offense in college.
"I like the ball in my hands," he said. "Yale offered me as an athlete – that's what [Reno] said. They would probably put me at a position based on whatever else they get in their class.
"I really do like the Ivy League. It's hard to pass up an Ivy League education, but I'm keeping my options open to see what else might be out there."
Morris injured his ankle during a victory over South Kingstown on Oct. 5. He scored three touchdowns in a 41-24 triumph over Bridgewater-Raynham the following week, but said he's been playing at less than 100 percent since the injury.
"I haven't missed any games, but it's been lingering," Morris said.
Morris rushed for 1,278 yards and 16 touchdowns on 134 carries last season. He also caught nine passes for 175 yards, and averaged 39.8 yards per kickoff return.
He's run for 613 yards and 11 touchdowns in six games this year.
New Hampshire may be the next school to offer Morris, who has generated interest from several Patriot League and Colonial Athletic Association schools.
"A lot of schools are on the cusp [of making a scholarship offer] right now," Morris said. "My senior film could determine whether schools pull the trigger [on an offer] or not."
Decision time:
Tabor Academy's Tevin Montgomery, a 6-foot-4, 295-pound defensive lineman, said he will announce his college choice on Dec. 1 at his school. He has narrowed his choices to Boston College, Vanderbilt and Virginia.
"But I don't know if I'm going to make a big scene," Montgomery said. "I might just call the school and let them know."
Montgomery, a three-star recruit, is the top-ranked uncommitted player from Massachusetts in the Class of 2013. He also has offers from Temple, Massachusetts, Connecticut, Rutgers, Maryland and Missouri.
Catching a Crook
: Worcester Academy quarterback D.J. Crook is generating plenty of interest, but is still waiting for his first scholarship offer, according to Worcester Academy coach Tony Johnson.
"He's got interest from Holy Cross, Princeton, Dartmouth and a few others from the Patriot League – Lafayette and Colgate," Johnson said. "And there are a few schools interested from the MAC, like Akron and Massachusetts.
"You know how it works. He's gotta get that one offer, and then a few more come in quickly. I think he's done enough."
Crook played a Barnstable High School before choosing to spend a postgraduate year at Worcester Academy. He missed four games because of a fractured thumb during his senior season.
Big man not on campus:
Four-star offensive lineman John Montelus was scheduled to take his official visit to Notre Dame last Saturday, but had to postpone the trip when Everett High School's game against BC High was postponed from Friday night to Saturday because of heavy rain.
Montelus, the No. 1 prospect from Massachusetts in the Class of 2013, said he will reschedule the trip. Montelus committed to Notre Dame following the team's spring game in April. He is the only New England player ranked in the ESPN 300 (No. 292).
Back in motion:
Ansonia (Conn) High School running back Arkeel Newsome has gained 884 yards through six games this season.
Newsome, a junior who has scholarship offers from Connecticut and Massachusetts, led the nation in rushing last year, when he set a Connecticut record by gaining 3,763 yards.
Newsome's playing time has been limited this year because Ansonia is 6-0 and has won all six games by at least 28 points. Ansonia has scored at least 35 points in each of its six games.
Recruiting information regarding high school or prep school players in New England can be sent to Roger Brown at rbrown@nhfootballreport.com.
June, 7, 2011
6/07/11
3:30
PM ET
The third and final day of the Major League Baseball Draft has concluded. Here's a rundown of which locals went where:
First Round (Monday)
11. Houston Astros, George Springer, OF, Connecticut (Avon Old Farms), New Britain, Conn.
19. Boston Red Sox,
Matt Barnes
, RHP, Connecticut (Bethel H.S.), Bethel, Conn.
21. Toronto Blue Jays,
Tyler Beede
, RHP, Lawrence Academy, Auburn, Mass.
Second Round (Tuesday)
63. Arizona Diamondbacks, Anthony Meo, RHP, Coastal Carolina (Cranston West H.S.), Cranston, R.I.
64. Baltimore Orioles,
Jason Esposito
, 3B, Vanderbilt (Amity H.S.), Bethany, Conn.
85. Atlanta Braves,
Nick Ahmed
, SS, Connecticut (East Longmeadow H.S.), East Longmeadow, Mass.
Third Round (Tuesday)
118. New York Yankees,
Jordan Cote
, RHP, Winnisquam Regional, Sanbornton, N.H.
Fifth Round (Tuesday)
162. New York Mets,
Jack Leathersich
, LHP, UMass-Lowell (Beverly H.S.), Beverly, Mass.
169. Toronto Blue Jays,
Andrew Chin
, LHP, BB&N, Newton, Mass.
Sixth Round (Tuesday)
182. Pittsburgh Pirates,
Dan Gamache
, 3B, Auburn (Bishop Hendricken H.S.), Exeter, R.I.
Tenth Round (Tuesday)
302. Pittsburgh Pirates, Taylor Lewis, CF, Maine (Montville H.S.), Montville, Conn.
303. Seattle Mariners, Dan Paolini, 2B, Siena (Bunnell H.S.) Stratford, Conn.
317. Detroit Tigers, Curt Casali, C, Vanderbilt (New Canaan H.S.) New Canaan, Conn.
Twelfth Round (Tuesday)
363. Seattle Mariners, Mike Dowd, C, Franklin Pierce (Cardinal Spellman H.S.), East Bridgewater, Mass.
Thirteenth Round (Tuesday)
394. Arizona Diamondbacks, John Pedrotty, LHP, Holy Cross (Portsmouth H.S.), Portsmouth, R.I.
Fifteenth Round (Tuesday)
463. Florida Marlins, Jhimoar Veras, RF, Western Oklahoma State Coll. (Methuen H.S.), Methuen, Mass.
Seventeenth Round (Tuesday)
519. Chicago Cubs, John Andreoli Jr., RF, Connecticut (St. John's of Shrewsbury), Shrewsbury, Mass.
Eighteenth Round (Tuesday)
553. Florida Marlins, Greg Nappo, LHP, Connecticut (Daniel Hand H.S.), Madison, Conn.
563. San Diego Padres, Mike Gallic, LF, Marist (Tolland H.S.), Tolland, Conn.
Twentieth Round (Tuesday)
610. Houston Astros, Matt Duffy, 3B, Tennessee (St. Sebastian's), Milton, Mass.
630. Tampa Bay Rays, Garrett Smith, SS, Boston College (St. John's of Shrewsbury), Sterling, Mass.
23rd Round (Tuesday)
700. Houston Astros, Ruben Sosa, 2B, Oklahoma City University (Lawrence H.S.), Lawrence, Mass.
702. New York Mets, Jeff Diehl, C, Cranston West H.S., Cranston, R.I.
715. Cincinnati Reds,
Sal Romano
, RHP, Southington H.S., Southington, Conn.
24th Round (Tuesday)
747. San Francisco Giants, Keith Bilodeau, RHP, Maine (Bourne H.S.), Bourne, Mass.
25th Round (Tuesday)
763. Florida Marlins, Sean Donatello, RHP, UConn-Avery Point (East Lyme H.S.), Salem, Conn.
780. Tampa Bay Rays, Brooks Belter, RHP, Occidental (The Gunnery Prep), Lakeville, Conn.
28th Round (Tuesday)
862. Boston Red Sox, Brenden Shepherd, RHP, Stonehill (Masconomet Regional) Boxford, Mass.
867. San Francisco Giants, Tyler Mizenko, RHP, Winthrop (Hamden Hall H.S.), Wallingford, Conn.
31st Round (Wednesday)
958. Minnesota Twins, Garrett Jewell, RHP, Southern New Hampshire (Newfound Regional), Alexandria, N.H.
32nd Round (Wednesday)
975. Los Angeles Angels, John Leonard, RHP, Boston College (Hanover H.S.), Hanover, Mass.
35th Round (Wednesday)
1076. Atlanta Braves, Mike Hashem, LHP, Fisher College (North Andover H.S.), North Andover, Mass.
1080. Tampa Bay Rays,
John Magliozzi
, RHP, Dexter School, Milton, Mass.
38th Round (Wednesday)
1163. San Diego Padres,
Pat Connaughton
, RHP, St. John's Prep, Arlington, Mass.
1169. New York Yankees, Joe Maher, RHP, Bedford H.S., Bedford, N.H.
39th Round (Wednesday)
1192. Boston Red Sox, Corey Vogt, RHP, Keene State (Suffield H.S.), Suffield, Conn.
40th Round (Wednesday)
1206. Kansas City Royals, Ben Waldrip, 1B, Jacksonville State (Medford H.S.), Medford, Mass.
42nd Round (Wednesday)
1269. Chicago Cubs, Brad Zapenas, SS, Boston College (Nashua North H.S.), Nashua, N.H.
1290. Tampa Bay Rays, Mike Bourdon, C, U. Tampa (Northwest Catholic H.S.), Simsbury, Conn.
43rd Round (Wednesday)
1303. Florida Marlins, Drew Leenhouts, LHP, Northeastern (Franklin H.S.), Franklin, Mass.
1310. St. Louis Cardinals, Chris Costantino, RHP, Walters State CC (Bishop Hendricken H.S.), Lincoln, R.I.
44th Round (Wednesday)
1349. New York Yankees,
Adam Ravenelle
, RHP, Lincoln-Sudbury H.S., Sudbury, Mass.
45th Round (Wednesday)
1372. Boston Red Sox, Matt Gedman, 2B, UMass (Belmont Hill), Framingham, Mass.
1377. San Francisco Giants, Brian Maloney, LHP, Franklin Pierce (Brockton H.S.), Brockton, Mass.
46th Round (Wednesday)
1389. Chicago Cubs, Scott Weismann, RHP, Clemson (Acton-Boxborough H.S.), Boxborough, Mass.
48th Round (Wednesday)
1443. Seattle Mariners, Max Krakowiak, RHP, Fordham (Staples H.S.), Westport, Conn.
1448. Cleveland Indians, Blaine O'Brien, RHP, Keystone College (Scituate H.S.), Scituate, Mass.
50th Round (Wednesday)
1522. Boston Red Sox,
John Gorman
, RHP, Catholic Memorial, Norwood, Mass.
May, 11, 2011
5/11/11
10:10
PM ET
This isn't the first time Lawrence Academy's Tyler Beede has pitched in front of nearly 40 major league scouts this season, and it's certainly not the first time they came away mighty impressed.

But in a season of fulfilling a mountain of hype, the Auburn native and Vanderbilt-bound righthander continues finding ways to up the ante. Today, that was tossing a perfect game in front of more than three dozen MLB scouts and several general managers, as the Spartans downed Brooks, 9-0, to improve to 12-2 on the season.

For the game, the potential first-round draft choice struck out 15 batters on 82 pitches, walked none and allowed no hits. His last pitch of the game -- a swinging strikeout -- hit 93 miles per hour, and he topped out at 95 for the day. He also went 2 for 3 at the plate to help the winning cause.

His catcher, junior Kevin Wnukowski, was the first one to greet him on the mound, followed by the rest of his teammates in mob fashion. And as usual, Beede politely deferred to his teammates about the effort.

"The whole team surrounded me on the mound. It was a good feeling when it hit me," Beede said. "I knew in the sixth or seventh that I had something going. But it was just a fun time out there, and fun to celebrate with the team. This whole season has been real fun."

Meanwhile down the road, his Vanderbilt teammate-to-be Adam Ravenelle put in a season-best performance on the hill for Lincoln-Sudbury. The 6-foot-4 senior righty struck out 18 in a complete-game one-hitter, losing his perfect game in the sixth inning, and belted two homers from the plate to lead the Warriors to a 13-0 win over Arlington.