Boston High School:

Villanova
February, 7, 2013
2/07/13
1:24
AM ET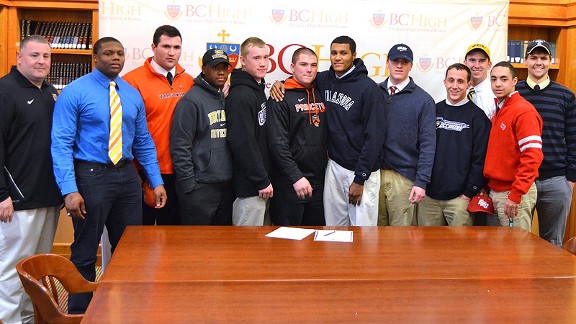 Scott Barboza/ESPNBoston.comEleven college-bound seniors from BC High football's team gathered for a ceremony Wednesday at the school on National Letter of Intent Signing Day.
BOSTON -- Luke Catarius' senior season didn't go as planned. Coming off a Division 1 Eastern Mass. Super Bowl championship season with his BC High teammates as a junior, the Eagles linebacker and fullback held high expectations for 2012.
Yet, his final campaign got off a rough start when he suffered an ankle fracture during a preseason scrimmage against Mansfield. It forced Catarius to miss the Eagles' first seven games of the season.
"It was tough because every year since freshman year everyone's like senior year is when everyone's going to come together," Catarius said Wednesday at the school's Morrissey Blvd. campus, "and obviously we had big shoes to fill from [the 2011] team. We wanted to repeat. I got hurt, a couple other guys got banged up, too, and it all went down hill from there."
BC High had a revolving door of injuries through the first half of the season and they struggled to gain momentum, finishing with a 4-6 record.
But Wednesday was National Letter of Intent signing day and Catarius joined 10 of his football teammates who are going on to play football at the college level for a ceremony held for the families and friends of the Eagles athletes.
While 2012 might have been a season of unrealized potential, the Eagles seniors will leave nothing behind.
"Going to BC High, you understand that an education is what gets you far in life," said wide receiver Lincoln Collins, who signed to FCS power Villanova. "In looking for colleges, we did the same thing. We're all setting ourselves up for life outside of football."
Looking on during the gathering was Eagles head coach Joe Gaff, a longtime Eagles assistant coach who assumed the program's reigns for the first time in the fall. Gaff held Catarius up as an example to younger athletes. It would've been easy for the injured player to pack it for the rest of the season. Instead, Catarius stuck to his strict rehabilitation regiment and made his return to the field while putting in some extra work in the library to work his way into Princeton.
"He took his frustration and turned it into action," Gaff said of Catarius, who originally committed to Bryant University before switching to Princeton in January. "He knew what he had to do to get into the Ivys. He needed a certain test score, so he went in and studied every day and he got himself mentally prepared.
"He did a tremendous job. It shows what kind of competitor he is."
On a day that marks a milestone for many families across the nation, Gaff's class headed the notion that Wednesday was but a transitional day.
Eagles offensive tackle Jack McDonald signed his Letter to Virginia before a large group of family members – most of whom were donning the Cavaliers' navy blue and orange colors.
"Football's going to end sometime, whether that's two years, four years from now, or even if you're lucky enough to make it to the NFL," the Eagles captain said. "It's going to happen sometime. You need that education for when it does end. I think that's what all of us have found."
Those BC High seniors pursuing collegiate football careers are:
Jackson Bockhorst - Tufts
Luke Catarius – Princeton
Lincoln Collins – Villanova
Skyler Evans – Mass Maritime Academy
Jaleel Johnson – Merrimack
Tim Johnson – Sacred Heart
Jack McDonald - Virginia
Mark McGuire – Holy Cross
Pat O'Hearne – John Carroll
Brandon Owens – Byrant
Mike Roberts - Colby
November, 13, 2012
11/13/12
11:19
PM ET
By
Roger Brown
| ESPNBoston.com
There are football players who are kickers, and then there are football players who can kick. Logan Laurent falls into the second category.

"Sometimes people see kickers and they see someone who's maybe not the best athlete. He's extremely athletic. His upside down the road could be huge. We've sent his tapes all over the place. [Recruiting] will really start to pick up after next week."
The University of New Hampshire is the only school that has offered Laurent a scholarship, but Dartmouth, North Carolina, Elon and East Carolina are among the other schools that have shown significant interest. He finished first in a kicking camp at East Carolina.
Laurent, who is 6-foot-3 and 210 pounds, said he's also considering a postgraduate year. UNH's offer came after Laurent attended a clinic there last summer.
"[UNH coach] Sean McDonnell had me do some athletic stuff – run some routes and play some defensive back, which I love doing," Laurent said. "After that he had me kick some balls on the field and I went 11 for 11."
Laurent made two field goals (35 and 40 yards) to help Exeter defeat Pinkerton Academy in last year's Division I championship game. The same programs will meet Saturday to decide this year's Division I championship.
Laurent grew up playing soccer, but Ball persuaded him to play football as a freshman. He played varsity soccer and kicked for the football team as a sophomore.
"I really, really like UNH," Laurent said. "They're a phenomenal team and have a great 1-AA program, but I'm also talking to other schools and I'm not going to make any decisions until after the season's over. Gotta win a state championship."
DRY TALENT POOL:
Longtime recruiting analyst Tom Lemming wrote a story for last Thursday's
South Bend Tribune
that said a lack of talent at the high school level in New England is largely responsible for Boston College's recent struggles on the football field.
Here's an excerpt from that story:
"Their problem is that New England has been drastically bad talent-wise the last few years. The talent has never been great there, but it's been pretty good. There hasn't been much talent at all in Connecticut and Massachusetts, and Maine, New Hampshire and Vermont don't produce a lot."
THIS FORD IS RUNNING FINE:
Recruiting interest has picked up for Souhegan (Amherst, N.H.) senior Tyler Ford, who moved from wide receiver to quarterback this season. He's also a kicker, and starts in the defensive backfield.
"He's high on the [recruiting board] of three 1-AA schools: Marist, Holy Cross and UNH," Souhegan coach Mike Beliveau said. "He's getting great interest from three Division II schools: Bentley, Stonehill and Assumption; and there are a bunch of Division III schools interested, led by Trinity.
"He's 6-feet, 185 pounds. Very solid. He could play receiver or defensive back. He'll definitely punt."
Ford has passed for 1,920 yards and rushed for 991 yards this season. Souhegan has one game remaining on its schedule.
MASS. APPEAL:
Milton Academy linebacker Matt Morin is hearing from some big-name schools, but has yet to receive his first offer. Morin played for Bridgewater-Raynham before transferring to Milton Academy, where he repeated his sophomore year. He recently completed his junior season.
"I'd say Penn State and Maryland are the leading two in terms of interest," Morin said. "I get mailings from Missouri two or three times a week. Nebraska invited me to their camp. Villanova and UNH have expressed a lot of interest.
Morin, who wrestles for Milton Academy, said he's also heard from Boston College.
"Right now it's medium interest, but no offers," he said.
Recruiting information regarding high school or prep school players in New England can be sent to Roger Brown at rbrown@nhfootballreport.com.
August, 15, 2012
8/15/12
3:32
PM ET
The Top Gun Lacrosse club announced the college destinations for several of its team members recently.

St. John's Prep rising senior defenseman Tucker Mather committed to Tufts for the 2013 season while 2014 attackmen Joe Delaney and Danny Seibel, both of Belmont Hill, also gave their commitments. Delaney will play at Colgate while Seibel will attend Villanova.

Mather, also a member of the Eagles football team, hopes to play both sports with the Jumbos.
April, 6, 2012
4/06/12
4:58
PM ET
Last year, as a junior, Foxborough lacrosse goaltender Greg Stamatov led the Warriors on their deepest postseason run in program history with a senior-laden team.

This year, the senior netminder, who's ranked as the nation's 100th best Class of 2012 player by ESPNHS, is prepared to take the Warriors a step further – to their first-ever state championship appearance.

We chatted with the Villanova signee after the Warriors' 10-3 win over Barnstable on Friday to talk about the new season:

Q: So catch us up on what you've been up to since we saw last lacrosse season. Seemed like a busy schedule.

A: It was a great summer, [with the New England Select Lacrosse League Whalers] we went to the Brine Shootout, a tournament at Rutgers, King of the Hill in Pennsylvania, and those were all really good tournaments. We came in second at the Brine Shootout and that was an unbelievable tournament. We upset Tri-State from New Jersey. We lost to Calvert Hall (Mary.) in the finals, but we beat Boys Latin (Mary.) and Haverford (Penn.). But it was a great summer and I got to see some serious rubber. I feel like I got a lot better and then, all winter, we've all been working since November, taking shots.

Q: You were among the Massachusetts contingent at the Warrior 40 at Harvard Stadium. What was that experience like?

A: "It was crazy. It was so fun. Everyone's the same, but with a little hint of where they're from, you know what I mean? Everybody became good friends, it's a just a matter of everyone meeting everyone. It's just crazy because the talent is so good. I saw a lot of great shots."

Q: It looks like you once again have a very strong defense in front of you this year. How much of a goaltender's success goes back to those poles?

A: "This year, the two returning players on defense are me and Al Noonan. We know the defense like the back of our hands. But our younger guys are fast and talented and they can grasp it real quick. We've got fast defensemen, but they can run anything and, with that kind of D, nobody can run inside of us. I think the strength of the team is our defense. If we're playing good on the back end, then our offense can build off of that. We just want to get a quick stop and then get the ball down field. That's the way to hurt another team. Then, we get to rest, and we're fresh when they come back at us. I think that's something that can take us far in the postseason."

Q: Speaking of which, this team is coming off its furthest postseason run in program history. What did last year's success mean to this program as a whole?

A: "That's the best our town has ever done and that team was almost all seniors, but even with them being gone, we still know what we want to do, and that's to go another round further, which would be the state championship. That was a crazy ride, and we beat some great teams. But now we know what it takes to get there as a group. That's just going to set us up even better going into this season. It's not the same guys, but it's the same system, same mentality."

Q: There have been a couple of early season Hockomock League surprises so far (Mansfield, North Attleborough), but how do you see the league playing out?

A: "It's going to be an interesting year for sure. What do I think? … (Trails off.) I don't know what to think. I guess I think that I'm ready for anything to happen. But we don't change our game for anything depending upon the opponent. We have some different defensive schemes and different offenses, but when it comes down to it, it's just all about hustling to loose balls and executing the systems … If we stick to our fundamentals, we'll be able to stick with any team."
November, 14, 2011
11/14/11
11:32
AM ET
HOW THE CONTENDERS FARED

George Craan, Sr. RB, Concord-Carlisle - Carried 28 times for 164 yards and two scores in the Patriots' 27-0 shutout of Lincoln-Sudbury.
Casey DeAndrade, Sr. RB, East Bridgewater - Ran for 116 yards on 19 carries, and returning a kickoff 71 yards to the house, in a 16-6 loss to Mashpee.
Jonathan DiBiaso, Sr. QB, Everett - Threw for 232 yards and four touchdowns, and added 97 rushing yards and a fifth score, in the Crimson Tide's 42-20 win over Malden that clinched their 17th straight Greater Boston League title. DiBiaso is now at 97 career touchdown passes.
A.J. Doyle, Sr. QB, Catholic Memorial - In the No. 5 Knights' win over Xaverian, threw for 167 yards and three scores and added 72 rushing yards and a fourth score.
Matt Montalto, Sr. QB, Dennis-Yarmouth - Completed 14 of 15 passes for 170 yards and 3 TD, and added 124 rushing yards and two more scores on just three carries, in a 42-7 win over Sandwich.
Sacoy Malone, Sr. RB, Springfield Central - Carried 14 times for 94 yards in a 34-25 win over Holyoke, the first time since the Eagles' season-opening loss to Putnam that he's been held to under 100 yards.
T.J. Norris, Sr. RB, Longmeadow - Spraing his ankle in the opening five minutes of an 18-6 win over Minnechaug. Reports have surfaced that Norris, who has nearly 1,400 rushing yards on the season, sprained it somewhat significantly.
Matt O'Keefe, Sr. QB, Duxbury - In the Dragons' 34-7 league-clinching win over Hingham, completed 14 of 25 passes for 248 yards and four scores, and also added 95 rushing yards and a fifth score.
Melquawn Pinkney, Sr. RB, Putnam - Carried 33 times for 168 yards and two scores in the Beavers' 22-12 win over South Hadley.
Armani Reeves, Sr. RB/WR, Catholic Memorial - Opened up the floodgates in the first quarter of a 33-11 win over Xaverian, with a 92-yard touchdown scamper, before Doyle took over.
Michael Walsh, Sr. QB, Swampscott - In the Big Blue's 33-15 win over Gloucester, he was 13 of 22 passing for 251 yards and four touchdowns, and carried nine times for 63 yards. On the season, the Brown commit has over 2,900 yards of offense.

ON THE RISE

Dan Barone, Sr. QB, Holliston - In the Panthers' 48-22 win over Norton, completed a perfect 7 of 7 passes for 227 yards and three scores, and added two rushing scores.
Andrew Coke, Sr. RB, Andover - Totaled 283 yards of offense and four rushing touchdowns in a 26-21 win over Lowell.
Mike Decina, Sr. QB, Hopkinton - Threw for 300 yards and six touchdowns in the Hillers' 42-13 beatdown of Westwood.
Theo France, Sr. RB, Barnstable - Last week, it was carving up the B-R defense on the ground. This week, he had 103 receiving yards and three touchdowns, in a 20-10 win over Plymouth North.
Jordan Keli'inui, Sr. RB, Mashpee - Carried 18 times for 98 yards in the Falcons' 16-6 win over East Bridgewater.
Cam McLevedge, Sr. QB, Weymouth - Threw for four touchdowns in a 50-0 shutout of Framingham, bringing his season touchdown pass total to a Division 1-best 34.
Chucky Ortiz, Sr. RB, Woburn - Did it all in the Tanners' 24-7 win over Lexington, running for two scores, throwing for another, and kicking a field goal.
Matt Owens, Sr. QB, Boston Cathedral - Threw for 270 yards and four touchdowns in the Panthers' win over Trinity Catholic that clinched the Catholic Central Small.
Quinton Perkins, Sr. RB, Fitchburg - Ran for four touchdowns in the Red Raiders' 26-15 win over Holy Name.
Karl Sery, Sr. RB, Hudson - The Bryant commit carried 34 times for 239 yards and two scores in the Hawks' 25-14 win over Clinton.
February, 22, 2011
2/22/11
4:54
PM ET
ESPN's Roger Brown checks in today on his
blog
with New Hampton (N.H.) quarterback/defensive back
Jake Kiley
, who earlier this month attended a junior day at Boston College and is scheduled to be at UConn's junior day this weekend. Virginia and Maryland have also shown interest in the 6-foot-1, 170-pounder.
"Penn State is still in the mix," Jake's father Ed Kiley, who is also New Hampton's head coach, told Brown. "He'll probably visit Duke at the end of March. We'll take a look at Villanova, JMU, Richmond and UNH too. He's keeping an open mind."
For more recruiting updates on New England's top football talent, be sure to check out Brown's
blog
.
February, 16, 2011
2/16/11
12:45
PM ET
Just before the start of a long weekend break on the Brewster Academy campus, junior big man
Mitch McGary
gave ESPN's Adam Finkelstein an informal list of favorites, which he is reporting on his
blog
today.
McGary told Finkelstein his current list looks as follows, in no particular order: UConn, Florida, West Virginia, Pitt, Villanova, Miami (Fla.), Wisconsin, Indiana and Arizona.
"I probably won't make a decision until next year," McGary told Finkelstein. "Maybe next fall. It depends."
Like several other teammates, the 6-foot-10 Chesterton, Ind. native has seen his stock rise playing alongside a loaded Bobcats roster that includes the likes of
Naadir Tharpe
,
Markus Kennedy
,
Jakarr Sampson
and
Durand Johnson
. McGary has thrived as a four on the Wolfeboro, N.H. campus, often playing huge minutes off the bench when Kennedy gets into foul trouble.
McGary transferred to Brewster from Chesterton (Ind.) High, and is repeating his junior year. Prior to Brewster, McGary says he had offers from Purdue, Indiana, Cincinnati, Marquette, Dayton and Valparaiso.
Brewster lost its first game of the season last night -- an 84-71 decision to St. Thomas More and
Andre Drummond
, the nation's No. 1 junior -- to fall to 24-1.
February, 4, 2011
2/04/11
1:52
AM ET
By
Brendan Hall
| ESPNBoston.com
BOSTON -- Two weeks ago, Mike Orloff's phone went off during class, as sometimes happens these days. And when he looked down at the missed call, he was startled to see a Los Angeles area code number.
"I couldn't for the life of me guess who it was going to be," the Lawrence Academy senior laughed as he recalled the story of how he ended up just minutes earlier this Thursday evening, from the 37th floor of the 40-story 28 State Street skyscraper in Government Center, signing a National Letter of Intent to play football at UCLA next fall.
Turns out the mystery call was a voicemail from Rick Neuheisel, head coach of the Bruins, and he had just finished watching his film 10 seconds ago. Not only did he love the linebacker's physical, downhill style of play, and natural nose for the ball, he wanted him to call back immediately and come down to Westwood for an official visit.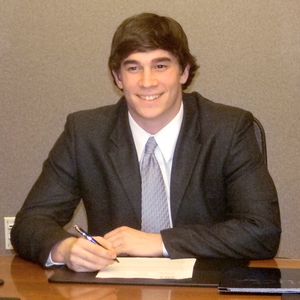 Brendan Hall/ESPNBoston.comSenior linebacker Mike Orloff switched his commitment Monday from Iowa to UCLA and signed his letter of intent Thursday night in Boston.
Orloff had verbally committed to Iowa last summer, but couldn't resist. He flew down for an official visit last Friday, and by Monday he had made up his mind to switch his commitment.
On Thursday night, high above the downtown Boston skyline, he and six of his Spartan teammates signed National Letters of Intent to play Division 1 football at the FBS or FCS level, bringing the Spartans' amazing run these last two seasons -- 17-1, with two ISL championships and a NEPSAC Bowl victory -- full circle.
Wednesday's National Letter of Intent signing day for football prospects was one that lacked drama, with all of the top in-state prospects already committed. But it was quite an anomaly, with 13 players signing NLI's to Division 1 FBS schools from the ACC, Big East, Big Ten, Conference-USA, Pac-10, Mountain West and MAC, most significantly Brockton's Albert Louis-Jean (Boston College), Rivers' Taariq Allen (Nebraska) and St. John's of Shrewsbury's Richard Rodgers (Cal). One of Orloff's teammates, three-star wideout Marcus Grant, signed with Iowa; they were joined by running back Anthony Knight (Nevada), tight end Clay Horne (Villanova), linebacker Dan Giovacchini (Brown) and linemen Max Ricci (BC) and Ryan Welch (UNH).
It's a level of depth not seen year to year in this state. Allen, for instance, will be the Huskers' first scholarship player from Massachusetts since Peabody's Grant Miller in 2002; before that, you have to go back to Lincoln-Sudbury's duo of Mike Croel and Joe Sims in the 1980's. Louis-Jean, meanwhile, is the No. 9 overall cornerback in the nation by ESPNU's rankings, and committed to Miami last March before dropping the Hurricanes following Randy Shannon's firing as head coach.
"Being from Mass, and seeing other kids from Mass going on to big places, Taariq going to Nebraska and Albert going to BC, and all of us in this room, it's been incredible," said Grant, a Carver native, moments after putting the ink on his paperwork. "To see people you've known for so long, going on to play big time football, it's been a pretty amazing experience for me."
IOWA DILEMMA HITS HOME
Grant was in Iowa City this past January 21, a Friday, the day after a number of players performed an intense squat workout that has since come under scrutiny from the national media. Grant said he saw "players limping, looking like they couldn't move, couldn't even go out at night to hang out."
He didn't put too much weight into the scene until Monday rolled around and reports surfaced that 13 players were hospitalized with rhabdomyolysis, a stress-induced syndrome that can cause kidney problems and damage cells. The news has resonated back in the Boston area, as Duxbury native and linebacker Shane DiBona was among the 13 hospitalized, while strength coach Chris Doyle hails from Quincy.
Earlier today, University of Iowa Hospitals and Clinics spokesman Tom Moore told the Associated Press that three employees were in the process of being terminated over a breach of players' medical records, while two more were handed five-day unpaid suspensions.
Grant says he sticks by the Hawkeyes, and that the news has not had an affect on his commitment.
"It was crazy," Grant said. "First thing I did was talk to my recruiting coordinator, Ken O'Keefe, and he actually had no idea at the time because he was out on the road. It was crazy, but then again they said it wasn't anything to do with people on the team doing something illegal or anything. It wasn't too concerning, you've just got to take care of your body when you do a gruesome workout like that."
When asked how much of an affect the highly-publicized incident had on him switching his commitment from the Hawkeyes, Orloff swiftly responded, "Absolutely not, absolutely not. I mean, coach Doyle is one of the most respected people in that business. As far as I know, he's one of the best, so that has nothing to do with it."
February, 2, 2011
2/02/11
2:15
PM ET
The first day of the football National Letter of Intent signing period has arrived, and we've got you covered all day (though we'll probably be buried under snow ourselves). Here is a list of Massachusetts athletes committed to Division 1 programs headed into today's big day.
Any commitments can be sent to Scott Barboza at sbarboza@espnboston.com or Brendan Hall at bhall@espnboston.com.

(NOTE: The Ivy League does not recognize National Letters of Intent)
DIVISION 1 FBS
Taariq Allen
, Rivers – Nebraska
Manny Asprilla
, Everett – Boston College
Dalton Gifford
, Bridgton Academy (Maine)/Barnstable – UConn
Marcus Grant
, Lawrence Academy – Iowa
Harry Keselman, Oliver Ames - Temple
Anthony Knight
, Lawrence Academy – Nevada
Albert Louis-Jean
, Brockton – Boston College (enrolled in January)
Brian Miller, Andover
– Boston College
Paul Nwokeji
, Thayer Academy – UConn
Rodman Noel
, Milford Academy (N.Y.)/Everett – NC State
Mike Orloff
, Lawrence Academy – UCLA
Liam Porter
, Natick – Boston College
Max Ricci
, Lawrence Academy – Boston College
Richard Rodgers
, St. John's (Shrewsbury) – Cal
Andrew Siden
, Natick – Tulane
DIVISION 1 FCS
Jeff Anderson, Longmeadow - Brown
Ryan Barrett
, Holliston – Bryant
Connor Candito, Bridgton Academy (Maine)/St. John's (Shrewsbury) - Sacred Heart
Jamie Casselbury, Philips Andover - UMass
Connor Caveney, Cushing Academy - Sacred Heart
Matt Costello
, Everett – Princeton
Jeff Covitz
, Reading - Bryant
Ryan Delisle
, St. John's Prep – Harvard
Anthony Fabiano
, Wakefield – Harvard
Ryan Flannery, North Attleborough - Columbia
Justin Flores, Tilton School/Woburn - Maine
Dan Giovacchini
, Lawrence Academy – Brown
Will Guinee, Malden Catholic - Dartmouth
Greg Hilliard
, Suffield Academy (Conn.)/Brockton – UMass
Clay Horne
, Lawrence Academy – Villanova
Brandon Howard, Worcester Academy/King Philip - UMass
Randall Jette
, Martha's Vineyard – UMass
Isaiah Jones
, Mahar - Maine
Andrew Kestenbaum
, Dartmouth – Rhode Island
Ben Koopman, Marblehead – Holy Cross
John Lavin
, Falmouth – Bryant
Dan Light
, St. John's (Shrewsbury) – Fordham
Harrison Lyons, Avon Old Farms (Conn.)/Norwell - Bryant
Alec May, King Philip - Georgetown
Brian McDonald, Hebron Academy (Maine)/Westwood - Sacred Heart
Andrew Mizzoni
, Gloucester – Holy Cross
Obum Obukwelu
, BC High – Harvard
Ben Patrick
, Rivers – UMass (preferred walk-on)
Jason Richard, Milford Academy (N.Y.)/Weston - Sacred Heart
Peter Savarese, BB&N - Dartmouth
Zach Smerlas
, Lincoln-Sudbury – Brown
Keshaudas Spence, Taft (Conn.)/Catholic Memorial - Sacred Heart
Charlie Storey
, Milton Academy - Dartmouth
Brian Strachan
, St. Sebastian's – Brown
Cam Sullivan, Westfield - Bryant
Jeff Synan, Plymouth North - Bryant
Ben Ticknor
, Milton Academy - Dartmouth
John Wallace
, Somerville – UMass
Ryan Welch
, Lawrence Academy – UNH
Conor Wyand, Nashoba - Brown
DIVISION 2 RECRUITMENTS REPORTED
Nick Broughton, Marblehead - Merrimack
Matt Delaney, Barnstable - Assumption
Chris Mooney, Stoneham - Assumption
Mike Muir, Xaverian - Bentley
Bobby Richman, North Attleborough - Bentley
Chris Unis
, Gloucester - Merrimack
DIVISION 3 RECRUITMENTS REPORTED
Eric Bertino, BB&N - Middlebury
Ned Deane
, Andover - Amherst
Mike Devin, Bridgewater-Raynham, Bowdoin
James DiBlaisi, BB&N - Trinity
Josh Friedland, Marblehead - Bates
Jake Giovanucci, Dexter - Bowdoin
Mike Gustafson, Belmont Hill - Washington & Lee
Brett Harasimowicz, Duxbury - Middlebury
Mike Hogan, St. John's (Shrewsbury) - Wesleyan
Matt Perlow
, Marblehead - Bowdoin
Mike Tomaino, Gloucester - Bates