Boston High School:

Vinny Clifford
February, 19, 2015
Feb 19
12:36
AM ET
By
Nate Weitzer
| ESPNBoston.com
LYNN, Mass. -- As Lynn English head coach Mike Carr put it, "Someone had to lose the basketball game."

Carr's Bulldogs (16-3) and the visiting Danvers Falcons (20-0) left everything on the floor in an extremely intense rivalry game on Wednesday night. The home team fought back from a 10-point deficit to tie the contest at 78 with 5 seconds left. But they made the final, and most critical, mistake of the night when they fouled Falcons forward Devan Harris on a three-point attempt, and the senior nailed his first free throw with no time left to give Danvers a 79-78 victory.

With 14 seconds left on the game clock, Harris missed the front end of a one-and-one to give the Bulldogs a chance to tie the game, and ended up with a roundabout rout to redemption.

"I was supposed to set a screen on that last play, and then come to the ball and look for Vinny [Clifford], but they had it covered, so I just turned and fired, and he hit my arm, and thank God they called it," Harris recalled.

"I was definitely relieved to get another shot at it," he continued. "I just knew the free throw had to go down, I couldn't let these guys down. I was thinking, just make it, if not I got two more, but man, I had to make it."

Clifford, another hero for the undefeated Falcons, was an instrumental part of a 14-2 run that allowed Danvers to take control of the game in the third quarter. He nailed three triples during that stretch, and finished a remarkable 8 of 14 from downtown as he poured in a game-high 28 points.

"As a team, we're playing at a really high level right now," said Clifford. "[Lynn English] really tests us every time, it's a battle, and this is how you want to play going into the tournament."

Weathering The Storm: Falcons head coach John Walsh was hoarse after a remarkable finish to a hotly contested game. However, as hard as he worked to put his players in a position to win, he deflected all credit towards the athletes, and his sophomore point guard in particular.

"Devonn Allen was just tremendous," said Walsh. "He played all 32 minutes, defended their best player, and handled their incredible pressure. He's a gem, and he's just a sophomore."

Lynn English got off to a fantastic start, as the Bulldogs forced the visitors into turnovers on their first three possessions, and hit their first six field goal attempts to take an early 14-7 lead. Junior forward Anthony Silfa was on fire, as he nailed seven of his eight shot attempts on his way to 17 first-half points, but there was no panic in the Falcons.

Led by Allen, Danvers managed to break Lynn English's pressure enough times to find Harris open in the paint, or Clifford open for one of the several corner threes he hit throughout the contest.

"We've played English so many times over the years, we know they start out fast, and you just have to weather the storm," Walsh said.

Playing their third game in three nights, the Falcons were able to find enough energy to remain within striking distance, as they trailed 41-38 going into halftime. Then, in the third quarter, they made their move, outscoring the Bulldogs 20-9 over the first six minutes of the period to take a 58-50 lead.

Walsh said, "It's great to come in here and get a win. I'm happy for the kids. The coaches are tired, but the kids aren't tired. They're playing so hard, and that's how we've been able to ride this momentum."

Tournament Ready: The final result was extremely disappointing for Lynn English, but Carr felt that this game provided a nice taste of what action could be like in the upcoming state tournament.

"This was a fantastic high school game. They're as good a team as you'll see in Eastern Mass., and I think we showed that we can play with anyone," said Carr.

He continued, "There's an awful lot of positives to take out of this. I thought we showed great toughness and character coming back, and it's tough when it comes down to a foul, but it's certainly not the reason we lost. They deserved this win as much as we did."

The Bulldogs bounced back from that third-quarter flurry by leaning on their pressure. They scored off several turnovers to go on a 9-0 run in the late third, and early fourth quarter.

With seniors Erick Rosario and Stevie Collins spearheading the press, Lynn English managed to tie the game at 66, 71, and eventually, at 78 when Collins split a pair of free throws with five seconds remaining.

One fundamental mistake provided a conclusion to this dramatic contest, but a ton of factors decided this game. As both these teams will soon find out, that's the way things unfold when the best programs in the state meet in a winner-take-all situation.


Danvers 79, Lynn English 78

DN 20 18 26 21 --- 79
LE 23 18 17 24 --- 78


Top Performers:
Danvers – Vinny Clifford (28 points, 9 rebounds, 2 assists)
Danvers – Devan Harris (15 points, 11 rebounds, 4 assists)
Danvers – Devonn Allen (9 points, 2 rebounds, 8 assists)
Lynn English – Erick Rosario (17 points, 8 rebounds, 9 assists, 4 steals)
Lynn English – Stevie Collins (16 points, 3 assists)
Lynn English – Anthony Silfa (24 points, 3 rebounds)
February, 18, 2015
Feb 18
12:09
AM ET
By
Mike Abelson
| ESPNBoston.com
NEWTON, Mass. -- When Danvers chooses to take, it takes everything.

Tied at eight against Malden Catholic 3:22 into their Division 2 Comcast/Arbella Tournament final, the Falcons decided to take over the game. A 32-10 run over the next 8:19 opened up a 40-18 lead and the Falcons rolled to a 79-59 win at Newton North.

Danvers had five players in double digits, led by senior center Peter Merry who dumped in 21 points and pulled down 12 rebounds.

"We definitely played more as a team," Merry said. "We were able to work everyone in; we played amazing defense, especially at the start of the third quarter. We were trying to make it so that we could shut down the game in those first four minute instead of having them come back."

The Falcons were firing on all cylinders offensively. Merry set the tone in the paint, using all of his 6-10 frame to get to the hoop and score the ball, including several powerful dunks. The net was like an ocean for Danvers' shooters, who pumped in a combined 11 threes.

Vinny Clifford led the shooting gallery with 19 points, including five triples. The Falcons also got a quality game from Rashad Francois, who scored 13 points off the bench including three three-pointers during Danvers' monster first-half run.

While everything Danvers threw up seemed to go in, scoring points of any type was a chore for Malden Catholic from the start. Austin Batchelor, a Boston College baseball signee, was the lone Lancer in double figures with 10 points.

"I think we just made some shots and they just missed some shots," Danvers coach John Walsh said. "That's what it comes down to. Malden Catholic is a great team, and we'll see them again in the tournament. It's just as easy as we made shots. Some shots didn't go in for them that normally do. When we play again this score won't be indicative of the next game. We got a little bit lucky, hit some threes, and that was the difference in the game."

When the shots weren't falling for the Lancers, Merry was either swatting them away or making it impossible for them to happen. MC's glut of cutting guards were no match for Merry's size.

Danvers won the rebounding battle 27-20.

"I would step up, put my hand up, and they'd go bring it back out," Merry said. "Once they see me coming up they just want to get out of the way. I know they can't shoot over me if I jump."

The Real MVP: He didn't have the most points in the tournament, or even the most rebounds, but Danvers sophomore Devonn Allen took home MVP honors and, according to his coaches and teammates, deserved every piece of the trophy. Allen had 10 points in last night's win.

"IAABO 27 choose it, which makes me happy because it takes the pressure off the coaches, and I think he deserved it," Walsh said. "This is a referee's tournament; they see the things everyone might not see like how Devonn defends the other team's best player, getting us set up in our sets. I think that was really evident in this tournament and he was rewarded for that."

"I think if it wasn't for Dev Allen being on this team we'd have trouble running plays," Merry said. "He pretty much settles us down and knows how to play the game."

"He's only a sophomore and he's stepping up big," Clifford said. "I remember when I was a sophomore I couldn't do those things he's doing handling the ball. It just shows he's going to a great player in a couple of years. The way he controls the game, as a sophomore is great."


February, 17, 2015
Feb 17
12:17
AM ET
By
Mike Abelson
| ESPNBoston.com
WOBURN, Mass. -- The large swath of Danvers faithful that made the trip down Route 128 had to sweat at the end, but their Falcons held off a Bishop Feehan rally in the last minute to escape Woburn High with a 60-56 win in the Division 2 semifinal of the Comcast/Arbella Tournament at Woburn High School.

The Falcons led from start to finish, but saw a 13-point lead with 2:30 shrink down to just two points with 10 seconds to play aided mostly by a string of seven missed free throws. Feehan hit three three-point field goals in a 32-second span to slice the deficit, but Danvers finally slammed the door shut when Tre Crittendon netted two from the stripe with eight seconds left to push the score to its end result.

"They pressured us and we started to turn the ball over a lot; missed our free throws," Danvers guard Devonn Allen said. "Coach told us before that they'd hit a lot of threes and we had to stop that. We didn't so it brought them back in the game."

The Falcons also had to play the final minutes without their two frontcourt stars, Peter Merry and Devan Harris, who both fouled out.

"I just think we got in foul trouble," Danvers coach John Walsh said. "We had to go a little beat deeper than we're accustomed too. If he hit our free throws like we're supposed it's over. We didn't. It's something that, clearly, we need to work on."

The game moved in one of two distinct directions: Danvers dominating the paint, and Feehan raining shots from the outside.

The Falcons flew out of the gate, scoring the first seven points, and manhandling the Shamrocks on the inside. Harris was a monster inside early. The Danvers senior threw his burly body around with abandon from the jump and was a key part in Danvers taking a 17-7 lead into the quarter break. Harris finished with a double-double with 13 points and a game-high 10 rebounds.

Danvers outrebounded Feehan 38-28 in total.

"I like the way he played," Danvers coach John Walsh said of Harris. "He's just got to finish. He's getting right to the rim."

In the second, the tables flipped and it was Feehan's shooters who took center stage. Christian Mordarski and David Carchedi hit threes on consecutive possessions early in the quarter to revive the Shamrocks, who cut the gap down to two going into halftime.

"I thought our effort was terrific," Bishop Feehan coach Matt Freeman said. "You're going toe-to-toe with a program that not too long ago was in the doldrums and is now a state power year in, year out. They're not used to losing. They handled the situation great game pretty well. Our kids never stopped fighting and gave us a chance to win."

The Falcons put the pedal down for most of the second half. Danvers scored 10 of the first 11 points in the second half and grew the lead to as much as 14. The Falcons' control of the glass waned as Merry and Harris hit foul trouble but the guard duo of Allen and Vinny Clifford stepped up to the plate.

Clifford hit five 3-point shots, and finished with a game-high 19 points.

"Vinny shoots the ball as good as anyone around the state," Walsh said. "When he gets his feet set it's as good as in."

Allen scored nine of his 13 points in the second half also finished the game with eight rebounds and a pair of assists.

"Devonn Allen is one of the best point guards around," Walsh said. "He's just a winner. I can't believe the strides he's made from the beginning of the year to now. He's a leader on the floor. He's as competitive as any kid you meet, and I'm happy for him because he works extremely hard. He deserves anything he gets."

August, 4, 2013
8/04/13
10:19
AM ET
By
Paul Lazdowski
| ESPNBoston.com
HANOVER, Mass. –- Even Mike Slonina was impressed.
More than two years since the 20-year old Watertown resident hoisted jumpers for 24 consecutive hours and created A Shot For Life Foundation (ASFL) -– a non-profit dedicated to funding brain cancer research at Mass General Hospital and Boston Children's Hospital -– the former Catholic Memorial School varsity basketball manager was awestruck by his surroundings.
As he stood in the middle of the eight basketball courts that comprise the University Sports Complex in Hanover –- site of Saturday afternoon's inaugural "A Shot For Life Challenge" – the rising junior from Quinnipiac University pronounced, "The amount of shooting talent in this room is . . . it's tough to match. And the fact that they're all doing this, really, to make a good impact on the world, outside of basketball, is awesome. All these kids deserve a ton of credit for this."
When the two-hour exhibition – which challenged 11 competitors to 20-minute intervals of specific shot types, including mid-range jumpers, free throws and three-pointers – concluded between the Commonwealth's top marksmen, Scott Arsenault, who will be a senior at Walpole High this fall, was crowned the "Best Shooter in Massachusetts."
With a large crowd of friends and family looking on, the Rebels two-guard knocked down 90.6 percent of his attempts to better runner-up Shiraz Mumtaz of Brookline High, who finished at an 81.8 percent clip. Newton North's Tommy Mobley placed third with a shooting percentage of 79.2.
Arsenault, who led throughout, also received a trophy and will have his number retired at future ASLF events.
"I was just trying to hit as many as I could in a row," he said. "I knew I was going to get tired because it was for two hours. So, I made sure to stay disciplined and not break my form."
Drawing visions of Jimmy Chitwood -– the lean, smooth-shooting sniper from the film
Hoosiers
-– Arsenault battled through the final half-hour despite "feeling [his] leg kind of giving out."
Such physical ailments were commonplace amongst a field that included Ben Judson (St. John's Prep), Sam Bohmiller (Franklin), Nick McKenna (Danvers), Jake Foote (Duxbury), Ryan Roach (Cardinal Spellman), Mike Nelson (Bishop Feehan), and Tyler Gibson (Rockland), the Massachusetts' Gatorade Player of the Year who will play at Bentley University next season. Vinny Clifford (Danvers) was a late scratch after injuring his knee during a recent pickup game.
"Extremely tired," said Mobley in the competition's immediate aftermath. "I think my right arm is significantly stronger than my left arm now."
Judson acknowledged similar symptoms.
"It was definitely tough," said the Plaitstow, NH product. "My arms and legs were so tired halfway through, but I just had to keep pushing."
Said Bohmiller, who will play at Babson College next season, "My arms are heavy and I'm pretty tired, but I had a lot of fun."
Despite their collective fatigue, there was a general sense of elation that each competitor had pushed themselves to their physical limits for a worthwhile cause.
And though many were aware that what they had accomplished –- regardless of their final stats -– was significant, they also knew it paled in comparison to Slonina's 24-hour shooting marathon.
"It seems impossible to do that," Mobley said of shooting for a full day. "I'm right now very exhausted. I'm probably going to sleep the whole car ride home. And when I get home, I may take a shower and sleep some more. He shot for 12 times longer than I did, so, I mean, doing that 11 more times, back-to-back, I can't even imagine what it must mean. It's incredible that he was willing to work that hard for the cause; it's incredible that there are people out there with that much passion to help others."
Echoed Bohmiller, "No way, I don't know how he [did] it . . . Props to him for 24 hours. That's something special."
Still, Slonina knows that for now his shooting days are over. He's traded in his sneakers for wingtips as he focuses on expanding ASFL and its marquee event each year.
"For A Shot For Life to grow in the way that I want it to grow," he said, "A Shot For Life can't be synonymous with Mike Slonina. It just can't be. A Shot For Life needs to outgrow me in that sense. I [received] a big outpouring of support for the 24 hours; that's great and I appreciated all of it. But I want A Shot For Life to grow to the size of Livestrong. I want A Shot For Life to be nationwide. If it's about one kid shooting over and over, it can't do that. The face has to change."
With Saturday's one-day event already topping $10,000 in proceeds, Slonina understands that there is more money to collect and donate and additional events to plan.
"Raising money is the part that counts," he said. "We raised $10,000 without any corporate help whatsoever. In my mind, I think, we can easily turn that into $50,000. That's with no corporate sponsorship; that's a really good sign."
As for the structure of next year's event, Slonina said, "We're definitely having a dunk contest, I can guarantee that. We're almost going to turn it into an NBA All-Star Saturday where they have the skills competition, three-point shootout and dunk contest. That's what this event will eventually evolve into."
While Slonina will no longer be doing the shooting, it's undeniable that the legacy he created and the standard he set with his courageous effort in April 2011 will endure.
Paul Lazdowski can be followed on Twitter: @plazdow
July, 23, 2013
7/23/13
2:42
PM ET
By
Josh Perry
| ESPNBoston.com
WEST ROXBURY, Mass. -– Mike Slonina has always found solace and strength on the court. In 2010, when he learned that his mother had been diagnosed with brain cancer, the Watertown resident went straight to the Waltham YMCA and shot jumpers for four hours, while trying to process the news. Gratefully, the initial diagnosis turned out to be incorrect and he became determined to try and prevent others from suffering from the hopelessness that he felt that afternoon.
It turned out that basketball would provide more than just a coping mechanism, it also became the method by which Slonina, then a senior at Catholic Memorial High School, would try and fight back.
"I'm one of those people that, when something goes wrong, I feel like I have to do something," he recently reflected. "The thing with cancer is that it makes you feel helpless and that's what makes me so mad. I just wanted to give that hope back and show people that you can make a difference."
He formed a non-profit foundation, trained for several months, and, on April 9, 2011, took to the Ronald S. Perry gymnasium court and
shot jumpers for 24 hours straight
. That day, A Shot For Life Foundation (ASFL) raised more than just awareness about brain cancer; it also raised nearly $30,000 for Mass General Hospital and Boston Children's Hospital.
Two years later, as a rising junior at Quinnipiac University, Slonina has organized another competitive event to further his organization's mission of funding cancer research.
On Saturday, August 3, at the University Sports Complex in Hanover, 11 of the best shooters in Massachusetts high school basketball -- including Rockland's Tyler Gibson, the state's Gatorade Player of the Year -- will fire jumps shots for two straight hours. The winner of the "A Shot For Life Challenge" (to be determined by field goal percentage) will not only be crowned the "Best Shooter in Massachusetts," but will also have his number retired for all future ASFL events.
"I think it's great because you hear so many terrible things happening in youth sports today and here are 11 really tremendous basketball players unselfishly using their talents for a good cause," said Slonina last week during a break in a youth camp that he is helping to run at his alma mater. "It was so great seeing that many young kids embracing it and realizing the good that they can do with basketball."
His own basketball career was cut short in seventh grade by a nerve problem in his ankle, which it was later determined was caused by a bone being in the wrong place, but the game remained a huge part of his life. Slonina was the team manager for the CM team that won the 2008 MIAA Division 2 state championship and, when he needed an outlet for his desire to give back, basketball (and his great jump shot) was a natural fit.
He showed up at CM every morning at 6:30 a.m. to shoot, would lift during lunch periods, and then shoot for hours again after school. He demonstrated the same determination off the court, going door-to-door to raise funds for the event. While Slonina admits that ASFL is not yet raising the type of money that will make a huge difference, he firmly believes that every penny counts. He also believes that this is just the beginning for his foundation.
He explained, "That's what everyone needs to grasp. On a bigger scale, that's what I was trying to do with the 24-hour thing. People kept saying, 'But, you're only one person.' It only takes one person."
Following his feat, Slonina's life changed and the profile of A Shot For Life was at its highest point. He hopes that the foundation, which he loves, can reach that potential again through the August competition and that the players will feel honored to be taking part in the event. There is no question that Slonina is already eyeing the future and placing high expectations on himself and the foundation.
"I want to be the Nike of non-profits," he said with total sincerity and a contagious enthusiasm for what the future holds for ASFL. The inaugural "A Shot For Life Challenge" is still more than two weeks away, but Slonina is already thinking of ways to make it bigger and better in 2014. He exclaimed, "I can tell you right now that next year is going to have a dunk contest!"
Since his record-breaking effort, Slonina and A Shot For Life have inspired countless people and he can recount numerous examples of people that have shared stories that, he says, nearly bring him to tears. An example was a comment from one of his former teammates from the 2008 state title-winning team, who came back to rebound for him that day.
"[One of the players], who was a senior when I was a freshman, told me, 'You don't know how many people you just inspired.' I look up to him, so him saying that...It just means so much to me," marveled Slonina. "I don't want to say a cliché, but it means the world to me."
After several other tries to put into words just what it meant to read the letters and emails that he received after the 2011 event or to have people tell him how about how he affected their lives, Slonina simply shook his head and laughed, "This is the first time I've been speechless in an interview. I don't know how to word it. It's awesome."
The "A Shot For Life Challenge" will take place on Saturday, August 3 at the University Sports Complex in Hanover beginning at 1 p.m. The 11 shooters are: Ben Judson, St. John's Prep; Sam Bohmiller, Franklin; Tommy Mobley, Newton North; Nick McKenna, Danvers; Jake Foote, Duxbury; Ryan Roach, Cardinal Spellman; Vinny Clifford, Danvers; Scott Arsenault, Walpole; Mike Nelson, Bishop Feehan; Shiraz Mumtaz, Brookline; and Tyler Gibson, Rockland.
To donate to the A Shot For Life Challenge,
CLICK HERE
.
March, 26, 2013
3/26/13
5:52
PM ET
By
Chris Bradley
| ESPNBoston.com
In the biggest game of the year in MIAA hoops, the Division 1 state title game, it seemed as if the sophomores were hitting all the big shots. With hundreds of Mansfield fans directly behind the basket screaming and waving, Putnam sophomore Ty Nichols nailed two free throws with eight seconds left in overtime to seal the Beavers' first state title in school history.

But let's not forget how the game got to that point. Rewind to the end of regulation.

Mansfield sophomore Ryan Boulter put on one of the gutsiest performances that we saw all season. After he was fouled on a three-point attempt with five seconds to go in the fourth quarter, Boulter went to the line with an opportunity to tie the game and send it into overtime. Miss one, and his team, in all likelihood, would lose the game.

Not only did Boulter hit all three free throws, he did so without ever taking his eyes off the rim -— not even to catch the bounce passes that came from the referee following each of the first two free throws. He sent the game into overtime, then hit a three-pointer from the wing to give Mansfield the lead.

Following a four point swing by Putnam, Boulter put the team on his back one last time -— draining a three-pointer to tie the game with just seconds to go in overtime. Enter Nichols, and game over.

While Putnam's entire team circled around their trophy in the pressroom after the game, a few of Mansfield's players sat across the room waiting to be interviewed. Boulter fought back tears. Brendan Hill -- a sophomore who was Hockomock League MVP and considered to be a Division 1 prospect in both football and basketball -- stared at the floor, head in hands.

While listening for Putnam senior KayJuan Bynum talk about the pride that Springfield has in basketball, I couldn't help but glance over at Hill and Boulter across the room. Both fierce competitors with unbelievable poise, they sat in the shadows of the pressroom while Putnam's players hugged each other in celebration.

That was the ringing overtone talked about for days following the state title game: Mansfield will be back.

It was the same reaction seen on the floor of the Tsongas Center only a week earlier. After a crushing defeat to a more experienced Central Catholic team, Lynn English sophomore guard Stevie Collins pulled his jersey over his face as the final buzzer sounded, hiding tears from watching Central Catholic celebrate the Division 1 North championship.

The playoff run was an unexpected one for the Bulldogs, and English can be expected to be back next year. With Collins' classmates Johnny Hilaire (6-foot-6 forward) and Erick Rosario (6-foot guard) both returning, as well as juniors Freddy Hogan and Danny Lukanda, expect a big run from English once again. The Bulldogs' run to the North final almost wasn't possible, mainly because of 20 points from Everett sophomore Gary Clark in the quarterfinal match -- a high-scoring, back-and-forth match that left English the 94-87 victors.

English, Putnam, and Mansfield, and Everett are not alone in boasting talented young players, though. Statewide, the MIAA's depth in the 2015 and 2016 classes is one of the best we have seen in recent memory.

***

DAVIS, COLLINS LEAD LONG LIST OF POINT GUARDS

Collins leads a long list of talented floor generals in the 2015 and 2016 classes. Those included (and very close behind him) are Lowell sophomore Kareem Davis, who ignited one of the state's most exciting offenses this year; New Mission's Randy Glenn, a left-handed playmaker who was pivotal in helping the short-handed Titans make a run to the Boston City League championship; St. Peter-Marian freshman Makai Ashton, a fearless point guard who is considered to be the best long-term guard prospect in the Worcester area; and Melrose frosh Sherron Harris, whose "on-court killer" style of play is scarily similar to his cousin, Cushing Academy star Jalen Adams.

-- St. John's (Shrewsbury) sophomore Davon Jones has more big-game experience than any of the point guards listed above, as he has helped lead Bob Foley's Pioneer squad to WPI each of the last two years. As mentioned with Hill, Jones is considered to be a Division 1 football prospect.

-- Boston English freshman Ernie Chatman will win a lot of games for Boston English over the next three years, Chatman is a great ballhandler who is also lightning quick and a great floor leader.

-- Along with Glenn and Chatman, Brighton freshman Javaughn Edmonds will make a major impact in the Boston City League in the coming years. Edmonds will be looked to to step in and help fill in some of the production missing from departing ESPN Boston Mr. Basketball Malik James.

***

MIAA'S TOP PROSPECT HEADS FORWARDS

There is no question who has the highest ceiling of any player in the MIAA. It is Springfield Central's 6-foot-8 sophomore Chris Baldwin. A sureshot Division 1 prospect who can block shots, rebound at a high rate, and score in a variety of ways, Baldwin will make sure Central remains one of the state's best hoops programs after making the Western Mass. Division 1 championship game once again this year.

St. Peter-Marian freshman Greg Kuakumensah will have big shoes to fill next year for the Guardians, especially as they soon graduate forward Tim Berry, the heart and soul of their offense. Kuakumensah, the younger brother of Brown University forward Cedric Kuakumensah, will join Ashton in what should be a very bright future for St. Peter-Marian. At 6-foot-4, he is a great shot blocker like his older brother, but is also tremendous athlete and competitor.

-- SPM isn't the only squad returning a talented young duo though. Brighton, the Division 2 state champion, will, alongside Edmonds, return 6-foot-5 sophomore forward Jason Jones, who played a lead role in helping the Bengals to their first Boston City League championship.

-- Andover's 6-foot-5 sophomore forward Connor Merinder was limited in minutes this year as he recovered from a severe wrist injury. However, he was able to recover by playoff time and led the Warriors to the Division 1 North semifinals, knocking off Medford and St. John's Prep in order to do so.

-- For all the attention to the prospects at larger Division 1 and 2 schools, keep an eye on 6-foot-5 sophomore forward Jake Wisniewski out of Quaboag. After averaging over 20 points per game for Quaboag this past year, the already-experienced post scorer is one of the state's top prospects in Division 3. A talented forward at Division 3 New Leadership, 6-foot-6 freshman Davidson Pacheco, will take his talents elsewhere after averaging 10 points per game this year, what with the expected closing of the Springfield-based charter school.

***

MOBLEY, JUDSON CAN MAKE IT RAIN

Newton North sophomore Tommy Mobley was one of the state's most feared scorers this year, leading the Tigers to a 20-4 record and picking up Bay State Carey MVP. Mobley and St. John's Prep sophomore guard Ben Judson showed that they can be two of the MIAA's best scorers again next year. Like Mobley, Judson's three-point range extends all the way out to 25 feet—as both were known to drop a barrage of three-pointers on opponents this year, heavily guarded or not.

New Mission's Juwan Gooding, New Bedford's Tyree Weston, and Catholic Memorial's Guilien Smith, were all early exits from the state tournament this year. But as three of the MIAA's most talented pure scorers in the 2015 class, they'll be back for big runs next year. Smith and Gooding are finesse guys who use their quick first step to get to the rim, while Weston uses his sculpted frame to overpower opponents and score inside-out.

-- One other Springfield product to keep an eye on is Cathedral sophomore Darrick Boyd. The young, talented sharpshooter scored 19 points per game this year, leading Cathedral to a 13-9 record. Danvers sophomore Vinny Clifford, also a dead-eye shooter, will be looked at to be a leader for the two-time defending Division 3 state champion. Clifford, the younger brother of Merrimack College forward Mike Clifford, was an integral piece this year for a team led by Eric Martin, Nick Bates, and Nick McKenna.

-- Yet another two-sport star, Wakefield sophomore Bruce Brown, helped the Warriors make a deep run in the Division 2 North tournament this year, eventually falling to a deeper, more experienced North Andover team. Brown is an elite athlete who, at his best, is nearly unstoppable because of his upper body strength. On the football field, Brown caught seven touchdown passes as a wide receiver last fall.

-- Two 14-seed over 3-seed upsets in the first round of the Division 1 North tournament should be remembered going forward. Freshman Saul Phiri's heroics in a first-round upset win helped lead Haverhill past Westford Academy, while frosh Keyshaad Dixon's three-pointers sparked perhaps the most surprising win of the first round, as Braintree knocked off heavily-favored BC High.

-- St. John's (Shrewsbury) freshman Adham Floyd, was a very important piece for the Pioneers' run to the Central Mass. Division 1 title game, starting several games during the season. Bishop Feehan freshman Mike Nelson, a teammate of Floyd's with the Shooting Stars AAU program, showed great poise in leading his team to an impressive run in the Division 3 South tournament, falling narrowly in the quarterfinals to eventual D3 South champion Martha's Vineyard.

***

Picking the Super Team for this year's ESPN Boston MIAA All-State Team sparked as much debate as any Super Team selection in recent years. The statewide parity, talented young players bolting to prep school, and lack of scholarship-level talent in the upper classes forced careful consideration and a never-ending debate about picking out the MIAA's elite upperclassmen.

However, with the amount of freshmen and sophomores who made a name for themselves on a big stage this year -- the instant-classic Division 1 state final between Mansfield and Putnam being the prime example -- it's likely we won't spend too much time worrying about the pipelines of scholarship-level talent coming up the ranks in MIAA basketball.
March, 17, 2013
3/17/13
1:19
AM ET
By
Terrence Payne
| ESPNBoston.com


WORCESTER, Mass. -– For the second times in as many years the Danvers boys' basketball team captured the Division 3 state title. After defeated St. Joseph Central of Pittsfield in 2012, the defending champs took another team's best shot for the last time, defeating Smith Academy 66-50 at the DCU Center in Worcester to finish the repeat.

Danvers (24-2) had to fight through until late in the game against Smith (22-4), the Western Mass. champion, before finally pulling away in the early minutes of the fourth.

Smith Academy kept the lead from getting to double digits, always on the verge of threating. With 38-32, the Danvers Falcons began to create separation when Vinny Clifford starting to knock down shots.

After not scoring in the first half, Clifford hit his last four shots, en route to 11 second half points.

"We were always that one or two shots away from extending that lead," Danvers head coach John Walsh said. "I mean it's credit to them. We just couldn't extend it."

Clifford rattled home a pair of threes in the opening minutes of the fourth and Danvers held a double-digit lead for the rest of the game.

Danvers started the game behind strong shooting, with Nick McKenna and Nick Bates knocking down 4-of-5 from three in the first quarter. Over the next eight minutes, Danvers missed seven 3-pointers as Smith cut into a 12-point deficit, closing the first half on an 9-2 run and trailed 34-29.

In the second half, Danvers relied on getting the ball to Dan Connors inside while shying away from the three ball.

"We knew we had to get it inside to Dan Connors," McKenna said. "If we get it into him, he's either going to score the ball or have a really high percentage shot (or) a kick out for three."

McKenna ended with a game-high 20 points with a pair of rebounds and assists. Connors and Bates added 12 while Clifford and point guard Eric Martin added 11 as all Danvers starters scored in double figures. Smith was led by Seaver Rickert with a team-high 14 points with Mat Sulda added 11.

Danvers repeats: Danvers continued its title reign on Saturday with another double-digit win in the state final at the DCU Center. For a core of senior starters –- Eric Martin, Nick McKenna, Dan Connors and Nick Bates -– there is no better way to go out.

"It's unbelievable," McKenna said. "I mean we worked so hard to get here; back-to-back years is not something a lot of teams get to do. To win...[I] can't even explain it."

The final act for the Danvers repeat was the easiest. Smith Academy hung around for all of three quarters, before the opening minutes of the fourth saw Danvers finally break open a double-digit lead.

All four seniors were instrumental in Saturday's title win. All four scored in double figures while McKenna was the only player to go for 20 points and Bates finished with a double-double of 12 points and 14 rebounds. Martin and Connors may not have filled the stat sheet, but were solid all-around, especially Connors, who was the focal point of the offense in the second half.

"He (Connors) didn't have the greatest offensive game up to his standards, but he was tremendous defensively and rebounding," Walsh said.

In the final minutes, the four seniors exited the floor after Martin connected on a free throw and Danvers was able to bask in the second straight title as the clock hit triple zeros.

"It's such a special moment sharing this with my team," Bates said. "We knew it was going to be hard, but we knew we had it in us."

Clifford continued to shoot: Danvers sophomore Vinny Clifford could not find his shooting stroke. Through one half the sophomore was 0-for-6 from the field. The Falcons' 3-point shooting was on display earlier as Nick McKenna and Nick Bates connected on 4-of-5 to start the game. However, Danvers went onto to miss seven consecutive, as Smith climbed into the game.

When the second half started, Danvers focused on getting the ball inside to Dan Connors. Yet, when the Falcons did go outside, Clifford was the one to make the big shots.

"We're very demanding of certain things," said Walsh. "When you're a shooter, we want you to shoot the basketball. We don't care if you miss; just keep shooting. You have to be a threat for the defense to at least want to cover you."

In the second half, Clifford got into a groove and finishing the game connecting on his last four shots.

"He (coach) just told me to keep shooting," Clifford said. "It was good because I had been shooting bad all game, it just felt good to finally find my shot."

Danvers held a six-edge with when Clifford hit his first shot, a 3-pointer to up the lead to nine. Clifford hit a long two to keep the lead at nine and then buried to more threes to push the lead to double digits. With six minutes to go and Smith Academy still hanging around down 10, Clifford drilled a 3-pointer to put Danvers up 50-37.

"He doesn't miss once he gets going," McKenna said. "It's amazing to see a sophomore; a kid who still barely talks to us, hit huge threes in the state championship. It's pretty cool to see."

With Danvers core of two-time champions set to graduate, Clifford showed the promise of the Falcons future.


March, 14, 2013
3/14/13
11:52
PM ET
By
Brendan Hall
| ESPNBoston.com
MassLive.com online sports producer Jay King and I break down each of the three MIAA boys basketball State Championships taking place Saturday at the DCU Center in Worcester. I'll be providing Eastern Mass. perspective, while Jay handles Western Mass.

***

DIVISION 3: DANVERS VS. SMITH ACADEMY

School: Danvers
Record: 23-2
Region: North

The Falcons were our preseason pick to repeat as Division 3 state champs, and outside of a forgettable showing at the Comcast Tournament in late February (against Division 1 competition, mind you), they have done nothing to dissuade from that. Danvers head coach John Walsh is a cousin of Watertown coach Steve Harrington, winner of D3 state titles in 2007 and 2009, and has brought elements of Harrington's four-out motion offense to Danvers for dramatic results.

Overall, Danvers is one of the most well-conditioned squads in Eastern Mass., able to win track meets when the game calls for it. Part of that is due to several players' success on the soccer pitch during the fall season. The bench is considered deep for the long haul, but in the short term the Falcons typically keep it to a seven-man rotation. And those seven can all shoot from deep.

-- Brendan Hall

Key Players:
Eric Martin, 6-0 Sr. G – One of several soccer standouts on the squad, the Northeastern Conference MVP is one of the region's better distributors.
Nick Bates, 6-4 Sr. G – Another soccer star, and another terrific shooter from long range.
Nick McKenna, 6-0 Sr. G - Missed a month of action during the regular season with mononucleosis, but has come on strong in the playoffs, including Tuesday night's win over Martha's Vineyard.
Dan Connors, 6-3 Sr. F – The weak-side pivot in Walsh's four-out offense, he's not as big as 2012 All-State center George Merry, but has certainly held his own with the best of them.
Vinny Clifford, 6-2 Soph. F – Sharpshooter is the younger brother of current Merrimack College forward Mike Clifford.

Road through the playoffs
North First Round: beat Greater Lawrence, 78-41
North Quarterfinal: beat Minuteman, 81-42
North Semifinal: beat Whittier, 69-51
North Final: beat Wayland, 57-52
Eastern Mass. Final: beat Martha's Vineyard, 50-47

***

School: Smith Academy
Record: 22-3
Region: West

At halftime of the Western Mass. final against St. Joe's, I joked with a Smith Academy assistant coach that I could use one of the team's patented scoring runs to liven my day. He looked at me and said, "And it might come from anywhere."

Anywhere? Well, it'll probably come from one of the top five scorers. Smith Academy's top five scorers account for 86.5 percent of the team's points, with 64.4 percent of that coming from the top three scorers. Smith Academy's sixth-best scorer averaged just four points per game.

But that's okay, because the Falcons' heart of the order can hit for both power and average, and the supporting cast features role players willing to get their hands dirty. The mixture forms a potent offensive team that can score in a hurry. During the first half of an opening-round playoff game against Ware, Smith Academy drilled an obscene 12 three-pointers.

After surviving a St. Joe's attempt at the buzzer of the Western Mass. final and rolling Littleton by 16 points in the state semifinals, Smith Academy has reached the school's first state championship game in 21 years. The Falcons are now 22-3, with those losses coming by a combined five points.

-- Jay King

Key players
Mat Sulda, Sr. G (19.3 points per game) – Sulda doesn't have much of a conscience, and there isn't really any reason for him to have one. The lefty, who has 76 made 3-pointers this season, can hit tough shots from almost anywhere on the court.
Keith Natale, Jr. F (14.3 points) – Natale's a smooth wing who can hurt opponents in a lot of ways. His off-the-dribble, spinning jump shot from just inside the free throw line provided the final margin in Smith's 3-point Western Mass. championship game win.
Derek McMahon, Jr. G (10.4 points) – A couple of his teammates score better, but McMahon's court presence and cerebral play are quite important ingredients.

Road through the playoffs
West Round 1: beat Ware, 85-39
West Round 2: beat New Leadership, 67-46
West Semifinals: beat Renaissance, 57-45
West Final: beat St. Joe's, 66-63
State Semifinals: beat Littleton, 72-56
January, 29, 2013
1/29/13
11:27
PM ET
By
Ryan Hannable
| ESPNBoston.com
BEVERLY, Mass. -– Over the course of a season, a team very rarely goes out and dominates teams on a night in and night out basis like Danvers has this season. Eventually there comes a night where maybe they don't play their best, ending up in a dog fight with a tough opponent.
That is what took place Tuesday night as Beverly (10-4) gave No. 3 Danvers (13-0) everything they had, but eventually fell 49-47 before a packed house at the Henry Cabot Lodge Field House.
"It was a crazy ending to really a great high school basketball game," Beverly coach Scott Lewis summed up perfectly following the game.
With Beverly trailing 48-47 with just under 40 seconds to go, and with possession, the ball was knocked loose towards the Beverly bench with players diving after it. One of the referees blew the whistle awarding a timeout to Danvers, but after a few minutes of discussion it was ruled to be an inadvertent whistle, thus turning to the possession arrow and giving it back to Beverly with 30.8 seconds left.
[+] Enlarge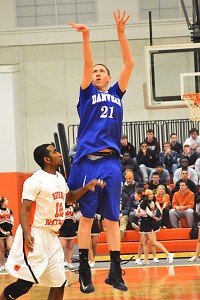 Brendan Hall/ESPNBoston.comSophomore Vinny Clifford (14 points) fueled Danvers' fourth-quarter rally with two big shots in the final two minutes.
After a runner in the lane by junior Nick Cross rolled off the rim, and Danvers sophomore Vinny Clifford scooped up the rebound, Beverly was forced to foul. Clifford made one of two free throws to give the Falcons a two-point lead and one last chance for Beverly with 10.8 seconds left.
Senior captain Cam Rogers got a good look at a runner in the lane, but it too rolled off the rim and Danvers escaped with the win.
"I was proud we overcame some adversity," said Danvers coach John Walsh. "You get late in the game and certain things can rattle a team, like when a call doesn't go your way or something like that. We fought through and I'm ecstatic."
Beverly led virtually the entire way until a Clifford three-pointer with 5:10 to play gave the Falcons a 42-40 lead. The Panthers threw different zone defenses at Danvers, which seemed to work forcing them off their game.
"They came out like we thought they would and played some sort of zone and it worked to their advantage," Walsh said. "Like I said they are very well coached. There was nothing that we were surprised about. We knew they would do everything well and right."
The Panthers led 15-10 after one, 29-24 at the half and 36-33 after three. Lewis also agreed defense was the key.
"We defended," he said. "We threw some different looks at them and tried to take away their options. That was the key, our defense. Offensively, we were OK. I think in the second half we got a little tight and missed a couple of bunnies. If we made a couple of shots it would probably be a different outcome, but the reason it was close was because we defended."
Beverly's offense struggled in the second half -- finishing with just five field goals -- and missing some key shots, which could have put the Panthers over the top.
"I thought we got good looks," Lewis said. "Cam (Rogers) got a few good looks, and I think Nick Cross had a few good open looks, but they just didn't drop. Maybe we were tired and didn't have the legs in the second half. One thing I would have liked to have seen was us go to the rim a little bit more and not settling for the jump shot, but hose are shots that we normally make."
After struggling in the first half, going 0-for-4 from three-point range, and finishing with just two points, Clifford picked his game up in the second half recording 12 points for a game-high of 14 including three 3-pointers.
"He hit some big shots," Walsh said. "He is a sophomore and he is coming up big. He's stepping into that void where (Nick) McKenna would get those shots. I was very proud of him."
McKenna is arguably Danvers' best player, but has only played in seven games this year due to mononucleosis. He averaged 19 points in those games and is expected back Feb. 8 against Saugus.
Seniors Dan Connors and Eric Martin each had solid games for Danvers finishing with ten points apiece.
Beverly was led by junior guard Jonangel Franco, who led the team with 11 points. Junior Jonathan Berchoff also played well finishing with 10 points in the loss. Cross, the Panthers leading scorer, was limited to only seven points and none in the second half.
Danvers was able to overcome poor free throw shooting as they finished just 6-for-13 from the charity stripe, while Beverly was an impressive 11-for-12.
The undefeated Falcons, and defending Division 3 state champions, have five Northeastern Conference games remaining before their next big test comes in the Comcast Tournament late in February.
Beverly, who qualified for the Division 2 state tournament in Sunday's win over Bridgewater-Raynham, has five Northeastern Conference games remaining before a non-conference tilt with Dracut to close out the year.
LOOKING FOR POSITIVES
Coming into the game Danvers' closest margin of victory in a game this season was 19 points over Revere last Friday. Although Walsh wasn't particularly happy with the way his team played, the game will certainly help the team down the stretch and in tournament games.
He also was quick to point out the outcome had a lot to do with how Beverly played.
"I'm not happy with the way we played, but getting a win like that can't hurt us," he said. "I think it is more of a credit to them. I think they are that good, they are really good. I think they play hard, they are tough and they are well coached. You're not going to get anything free against them."
For Lewis, some positives can be taken from taking one of the top teams in the state down to the wire, but ultimately the upset was what the Panthers were after.
"I guess maybe in a couple of days when it settles in we can say 'we played with Danvers, one of the best teams in the state, beating everyone by 20 points. We can play with them,'" Lewis said. "On the other hand we lost the game. That would have been a huge win for us so we're a little upset we lost the game because quite frankly we played really well, well enough to win."
January, 10, 2013
1/10/13
1:40
AM ET
By
Brendan Hall
| ESPNBoston.com
DANVERS, Mass. -- Devoid of real depth in the size department, Lynn English looked to push tempo and run at all times Tuesday night. And stocked with multi-sport athletes accustomed to continuous sprints, No. 4 Danvers was more than up for the track meet.
The Falcons took a slim four-point lead into the break, but exploded for 30 points in the third quarter, and outscored the Bulldogs 48-32 in the second half overall to pull away with a nice 90-70 victory in its own field house.
"We went into this game thinking, if it's in the 60's or 70's, we lose," head coach John Walsh said. "Obviously it wasn't our goal to play at that level with that many points scored, but they make you do that. They make you run. For a minute there, I thought they had us."
With that in mind, perhaps just as impressive is the fact that the Falcons (6-0) used just six players on the night. Five of them scored in double-figures, led by seniors Nick McKenna (23 points) and Dan Connors (20 points, eight rebounds). Senior Eric Martin also notched a solid night distributing, finishing with 13 points and eight assists.
[+] Enlarge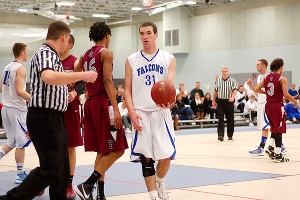 Brendan Hall/ESPNSenior forward Dan Connors exploded for 14 of his 20 points in the third quarter for Danvers, en route to a 90-70 win over Lynn English.
Walsh admitted he thought Martin looked tired by the end of the game, even calling a timeout with a minute left worried that his senior point guard "was going to pass out". But in the same thread, Martin's star career on Danvers High's soccer pitch has him conditioned for this type of action.
"I was definitely tired at the end there, but for most of the game I can keep going more than other kids because of soccer," Martin said.
Holding on to a 42-38 halftime lead, the Falcons took command of the game in the third quarter with a 30-point outburst. English forward Ben Bowden picked up his fourth foul early in the quarter, leaving the Bulldogs (4-4) shorthanded underneath the basket. The Falcons took advantage, running a slew of sets through Connors as he repeatedly either found space around the rim for easy bunnies, or simply stretched behind the blocks to either clear the runway for Martin or set up an open three with a screen.
Connors was a perfect 7-for-7 from the field in that quarter, while Danvers was 4-for-5 on three-pointers overall, getting two each from McKenna and Vinny Clifford (16 points).
Danvers led comfortably 72-52 headed into the final frame.
Postal Service:
With Bowden on the bench with four fouls, the Falcons exploited the ensuing mismatch down low with Connors in a multitude of ways.
"We just started doing everything right, just flashing the ball like we were supposed to," Martin said. "I think Danny was open five times under the hoop, just getting it down to him, he started finishing his layups. So once we took care of all the little plays that we didn't [do] in the first half, things just opened up for us."
He added later, "We knew if we got him the ball, at least if he didn't score they were going to foul. So we started getting him the ball, and everything else just opened up. We started moving it from inside-out, and everything else started opening up."
One particularly successful method involved cross screens, or screens set with lateral movement to create an opening in the post area. As a cross screen was set underneath the basket for Connors, Martin was usually coming off of a flare screen, or a screen set near the three-point line aimed at releasing the shooter fading to the wing for an isolation play.
"AFter Vinny Clifford sets the initial screen, when he gets to the corner, it's almost like...if you don't switch it, he's going to get an open look in the corner," Walsh said. "Which he did, so he hit a couple of three's. And that makes it so that you have to know where he is at all times. And if not, Danny Connors is coming to the back, almost like a flex cut, but it's set by the point guard and then they have to decide whether to go after Vinny or Danny. It worked out well."
Run, and run some more:
To establish their affinity for the uptempo, the Bulldogs came out pressing from the get-go, switching off between man-to-man and 1-2-2 looks -- and still, later some 2-1-2 sprinkled in, which Danvers solved with some movemenet up the sidelines.
To keep pace with it, that requires a certain level of conditioning. Most of the Falcons are multi-sport athletes. Some, such as Martin, are accustomed all of this run-and-gun style from his standout career as a soccer player, having scored more than 100 career goals for the varsity.
"We're blessed with Eric, because he's a soccer player that can legitimately run forever -- I mean, forever," Walsh said. "And our other kids are just used to it. It's a philosophy I've had."
Young, but promising:
With just two seniors on the roster, the Bulldogs are a bit green this year. But that isn't to say there isn't talent abound in the program, with players like junior Freddy Hogan (23 points) and sophomore Erick Rosario (10) leading the backcourt.
One in particular to keep track of the next few years might be Johnny Hilaire, a 6-foot-6 sophomore slasher with an above-the-rim style brought on by a fairly impressive vertical leap. Hilaire exploded for eight points in the fourth quarter on a perfect 4-for-4 clip from the field, highlighted by a tomahawk dunk in transition. He finished the night with 12 points overall.
Both Walsh and English coach Mike Carr made a comparison to former ESPN Boston All-Stater Keandre Stanton, who had some low Division 1 interest before settling at Frank Philips Junior College, in Borger, Texas, where he is a freshman.
Said Carr: "He's an athlete, he does a lot of nice things. He's only a sophomore, he just has trouble picking some things up, that's why he's not playing as much. But he will, he's a good kid. It's a great group, they work hard."
Said Walsh: "He's going to be him [Stanton]. It's freaky how quickly he gets off the floor. I don't know he jumps as high as Keandre -- I don't know if I've ever seen anyone in my life jump as high as Keandre ever -- but he's pretty close. And he's only a sophomore, so that team is loaded -- loaded -- for the next couple of years."