Boston High School:

Virginia
February, 1, 2013
2/01/13
9:00
AM ET
By
Roger Brown
| ESPNBoston.com
The second half of January featured a flurry of activity with regard to New England players committing to colleges. Some of the notable commitments:

"Everett High School wide receiver/defensive back Jakarrie Washington to Wisconsin: Recruiting writers were scrambling last week when word leaked that Washington would be joining the Badgers, since he was relatively unknown outside of Massachusetts. He had no other scholarship offers at the time of his commitment. What Washington does have is speed. He has reportedly run the 40 in 4.4 seconds. He's also versatile. He caught 33 passes for 439 yards and nine touchdowns last season, when he also carried the ball 75 times for 697 yards and 15 touchdowns.
"St. John's Prep running back Alex Moore to Pennsylvania: Many thought Moore would join teammate Lucas Bavaro at Dartmouth, but he selected Penn – the first school to make him an offer. Moore, perhaps the best two-way player in Massachusetts last season, helped St. John's Prep win the EMass Division I Super Bowl and claimed the third annual ESPN Boston "Mr. Football" award, which is given annually to the best player in the state. Moore, who will likely play on the defensive side of the ball in college, made 67 tackles (five for loss), recorded four interceptions and forced four fumbles during his senior season. He also rushed for 857 yards and 14 touchdowns, and caught 20 passes for 455 yards and five touchdowns.
"Windsor (Conn.) defensive end Cole Ormsby to Connecticut: Ormsby committed to UMass in June, but switched that commitment last week. Ormsby led the state with 17 sacks last season, when Hand defeated Windsor 23-6 in the Class L championship game. He completed his senior season with 85 tackles.
SIGN HERE
Wednesday is National Signing Day, and ESPNU will have 10 hours of coverage beginning at 9 a.m. At least 17 of the nation's top uncommitted recruits are expected to announce their college decision live during the telecast. Rece Davis and Dari Nowkhah will host the coverage from Charlotte, N.C.
ESPNU will have reporters at the following schools: Alabama, Auburn, Clemson, Florida, Florida State, LSU, Michigan, Notre Dame, Ole Miss, Ohio State, Texas, Texas AM and USC. The station will also air a two-hour preview show on Tuesday beginning at 5 p.m.
THESE GUYS ARE COMMITTED
Nine of New England's top 10 recruits (as rated by ESPN) have verbally committed to college programs. Six of the 10 players are from Connecticut, and the four others are from Massachusetts. Here's where those players will be playing next season:
John Montelus, OG (Everett High School): Notre Dame
Maurice Hurst Jr., DT (Xaverian Brothers): Michigan
Tim Boyle, QB (Xavier): Boston College
Noel Thomas, ATH (St. Luke's): Connecticut
John Van Allen, OLB (Avon Old Farms): Harvard
Sadiq Olanrewaju, OT (Salisbury School): Virginia
Cory Jasudowich, ILB (Cheshire Academy): Connecticut
Tevin Montgomery, OT (Tabor Academy): Boston College
Jack McDonald, OG (BC High): Virginia.
Note: Thomas, who played for his father at St. Luke's in New Canaan, Conn., enrolled at UConn for the spring semester. Thomas played wide receiver, quarterback and running back in prep school, and finished his career with 4,888 yards of offense and 53 touchdowns. He is expected to play wide receiver in college.
BULLDOG MENTALITY
Michael Dulac, Vermont's Gatorade Player of the Year for the 2012 season, has committed to play for Division I Bryant University. The Bulldogs compete in the Northeast Conference.
Dulac, a 6-foot-3, 270-pound lineman, led Hartford High School (White River Jct.) to three consecutive Division I championships. He started on each side of the ball in all 43 games of his high school career.
Dulac reportedly had offers from eight schools, and selected Bryant over Dartmouth.
NEW HAMPSHIRE LANDS LINEBACKER
Proctor Academy fullback/linebacker Odaine Franklyn committed to the University of New Hampshire on Thursday.
Franklin made 48 tackles last season. He also rushed for 178 yards and three touchdowns on 17 carries. Proctor finished the season with an 8-1 record.
Franklyn, who was recruited to play linebacker, was a three-year starter for White Plains (N.Y.) High School before he enrolled at Proctor Academy. He had scholarship offers from Akron and Albany coming out of high school.
Recruiting information regarding high school or prep school players in New England can be sent to Roger Brown at rbrown@nhfootballreport.com.
December, 3, 2012
12/03/12
10:57
AM ET
By
Roger Brown
| ESPNBoston.com
The uncertainty regarding the Boston College coaching situation didn't make the school any less attractive to Tabor Academy's Tevin Montgomery, who committed to BC on Sunday.

Montgomery said BC's location was a huge factor in his decision. Although Montgomery's mother lives in Texas, he lives with his guardians in Boston.
ESPN lists Montgomery as a three-star offensive lineman, but he said he was recruited to play defensive tackle. He is the first recruit to commit to BC since the school fired coach Frank Spaziani last month.
"I knew it was a possibility [Spaziani would be fired], but coaches shouldn't be the deciding factor," Montgomery said. "I chose BC for the school, not for the coach. I liked talking to the other recruits. They seem like good guys. I also like the fact that I'll be around my support system [in Boston]."
Montgomery, a 6-foot-4, 305-pound senior, also had scholarship offers from Connecticut, Maryland, Massachusetts, Missouri, Rutgers, Temple, Vanderbilt and Virginia. BC was the first school to extend him a scholarship offer.
He narrowed his choices to BC, Vanderbilt and Virginia, and said he final decision was a choice between BC and Vanderbilt.
Montgomery grew up playing basketball, and didn't start to play organized football until last year. He is the No. 3 prospect from Massachusetts in the Class of 2013.
"I didn't finalize things until [Sunday]," Montgomery said. "I called coach Devine [Sean Devine] and he confirmed everything with the AD, since they don't have a head coach.
"It was a hard decision. If it wasn't then I would have committed already. I didn't rush it, but I didn't want to procrastinate because that could have been dangerous for me too. I finally decided BC would be best for me."
HOLT HAS DEFENSIVE ATTITUDE
New Hampshire, Maine, Rhode Island, Fordham, Colgate, Holy Cross and Marist are among the schools pursuing Ricky Holt, a 6-foot-4, 260-pound defensive lineman from Portsmouth (N.H.) High School.
Holt, who is also a pitcher/first baseman on Portsmouth varsity baseball team, has led the Clippers to the Division III championship in each of the past two seasons. Holy Cross and Colgate visited Portsmouth High School last month, and Maine is scheduled to stop by this week.
"He's matured greatly since last year," Portsmouth coach Bill Murphy said. "This year he became a leader. He led by example more than anything else. I think if you talked to any coach we played against they would tell you that they had to know where he was first and foremost."
ACADEMIC EXERCISE
The 25th annual Eastern Massachusetts and Southern New Hampshire college football recruiting night will be held Tuesday from 7 to 9 p.m. at the Tewksbury Country Club in Tewksbury.
Representatives from colleges throughout the Northeast will be in attendance. There is no cost to players.
For more details, contact Brian Hickey (978) 640-7834 or Ed Harrison (978) 694-6065.
Recruiting information about high school or prep school football players in New England can be sent to Roger Brown at rbrown@nhfootballreport.com.
October, 23, 2012
10/23/12
11:15
PM ET
By
Roger Brown
| ESPNBoston.com
La Salle Academy (R.I.) running back Josh Morris has been nursing a sprained ankle for much of the season, but it hasn't hampered his recruiting situation.

Yale head coach Tony Reno recently told Morris he'd like him to join the Yale program next season.
"I started to build a good relationship with Yale last spring," Morris said. "I visited and camped there last summer. The Yale head coach kept calling me every week during the season to make sure I was still interested and letting me know he was still interested in me.
"Last Thursday he told me: You have an offer from Yale."
[+] Enlarge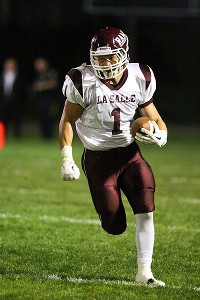 Courtesy Josh MorrisYale is the latest school to offer La Salle Academy (R.I.) running back Josh Morris, who was the Rhode Island Gatorade Player of the Year as a junior.
Morris, who was the Rhode Island Gatorade Player of the Year as a junior, has offers from four other FCS schools: Brown, Bryant, Monmouth and Valparaiso.
Morris is being recruited primarily as a running back, but he could also play slot receiver or defensive back for Yale. Morris said he'd prefer to play offense in college.
"I like the ball in my hands," he said. "Yale offered me as an athlete – that's what [Reno] said. They would probably put me at a position based on whatever else they get in their class.
"I really do like the Ivy League. It's hard to pass up an Ivy League education, but I'm keeping my options open to see what else might be out there."
Morris injured his ankle during a victory over South Kingstown on Oct. 5. He scored three touchdowns in a 41-24 triumph over Bridgewater-Raynham the following week, but said he's been playing at less than 100 percent since the injury.
"I haven't missed any games, but it's been lingering," Morris said.
Morris rushed for 1,278 yards and 16 touchdowns on 134 carries last season. He also caught nine passes for 175 yards, and averaged 39.8 yards per kickoff return.
He's run for 613 yards and 11 touchdowns in six games this year.
New Hampshire may be the next school to offer Morris, who has generated interest from several Patriot League and Colonial Athletic Association schools.
"A lot of schools are on the cusp [of making a scholarship offer] right now," Morris said. "My senior film could determine whether schools pull the trigger [on an offer] or not."
Decision time:
Tabor Academy's Tevin Montgomery, a 6-foot-4, 295-pound defensive lineman, said he will announce his college choice on Dec. 1 at his school. He has narrowed his choices to Boston College, Vanderbilt and Virginia.
"But I don't know if I'm going to make a big scene," Montgomery said. "I might just call the school and let them know."
Montgomery, a three-star recruit, is the top-ranked uncommitted player from Massachusetts in the Class of 2013. He also has offers from Temple, Massachusetts, Connecticut, Rutgers, Maryland and Missouri.
Catching a Crook
: Worcester Academy quarterback D.J. Crook is generating plenty of interest, but is still waiting for his first scholarship offer, according to Worcester Academy coach Tony Johnson.
"He's got interest from Holy Cross, Princeton, Dartmouth and a few others from the Patriot League – Lafayette and Colgate," Johnson said. "And there are a few schools interested from the MAC, like Akron and Massachusetts.
"You know how it works. He's gotta get that one offer, and then a few more come in quickly. I think he's done enough."
Crook played a Barnstable High School before choosing to spend a postgraduate year at Worcester Academy. He missed four games because of a fractured thumb during his senior season.
Big man not on campus:
Four-star offensive lineman John Montelus was scheduled to take his official visit to Notre Dame last Saturday, but had to postpone the trip when Everett High School's game against BC High was postponed from Friday night to Saturday because of heavy rain.
Montelus, the No. 1 prospect from Massachusetts in the Class of 2013, said he will reschedule the trip. Montelus committed to Notre Dame following the team's spring game in April. He is the only New England player ranked in the ESPN 300 (No. 292).
Back in motion:
Ansonia (Conn) High School running back Arkeel Newsome has gained 884 yards through six games this season.
Newsome, a junior who has scholarship offers from Connecticut and Massachusetts, led the nation in rushing last year, when he set a Connecticut record by gaining 3,763 yards.
Newsome's playing time has been limited this year because Ansonia is 6-0 and has won all six games by at least 28 points. Ansonia has scored at least 35 points in each of its six games.
Recruiting information regarding high school or prep school players in New England can be sent to Roger Brown at rbrown@nhfootballreport.com.
May, 11, 2011
5/11/11
12:14
PM ET
By
Ryan Kilian
| ESPNBoston.com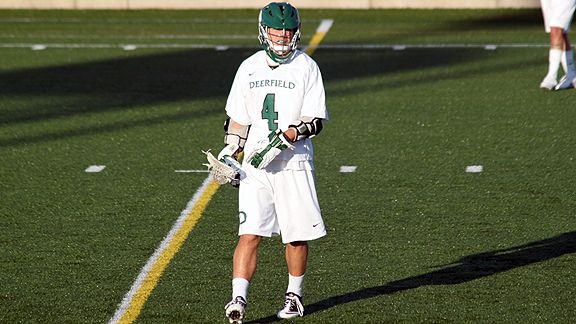 Ryan Kilian for ESPNBoston.com Deerfield Academy's Jimmy Bitter is ranked the No. 2 attack by ESPN, and will join his brother Billy next year at UNC.
Deerfield Academy attack Jimmy Bitter is no stranger to lacrosse success, as he is the youngest of six college lacrosse playing siblings. Jimmy's older brother Billy is currently a two-time First Team All-American attack at North Carolina, where Jimmy will play next season. His eldest brother Matt played at Navy from 2006-09.
Bitter is the No. 2 ranked attack in the Class of 2011 by ESPN RISE, and No. 4 overall. The Manhasset, N.Y., native has been instrumental in Deerfield's success, as they are currently ranked No. 6 in the country in the latest Under Armor/Inside Lacrosse poll.
ESPNBoston.com caught up with Jimmy recently, as Deerfield hits the home stretch in its season.
Q: Being undefeated (11-0) and a top-ranked team in the country, can you talk about expectations and goals for your team?
A:
"As a team, our goal is to win each game, taking it one game at a time. We have to stay disciplined, focused and make sure we do not look ahead or past teams. We must play each game like it is our last game of the season."
Q: How was last season for you both personally, with the injury (Bitter missed six games with a broken thumb), and overall as a team?
A:
Last season was a tough season for me. I got hurt early on in the season and missed a major chunk of the schedule because of this. Then when I returned, I was never able to fully play at 100 percent, which was also frustrating. As for the team, I thought we had a great season, with many of our young players stepping up when the team suffered injuries. If it was not for one loss to Salisbury, who played a great game, we would have won it all."
Q: Talk a little about your summer lacrosse experience? How does summer help with improving your game?
A:
"Over the summer I played for FCA (Fellowship of Christian Athletes), the Under Armour Long Island team, and in the Warrior 40 game. FCA is a great experience because we play top level lacrosse along with learning how to reach out to God along the way. It was quite an eye opener to learn how to feel comfortable talking about my faith with others.
"The Under Armour games and the Warrior 40 were both incredible experiences as well. In both events I was able to play with and compete against the best players in the country. This was very helpful in the development in my game because not only was I competing against great talent but because there was such a wide range of players from diverse places I was able to learn new styles of play and set higher goals for myself."
Q: Can you talk about your family and what kinds of advice you get about the game and what to look forward to in college next year?
A:
"My brothers were all great players and I always looked up to them as I grew up and watched them play. I always tried to incorporate what they did into my game, and I'm still doing that today. As for advice, my family has always been supportive by coming to my games and driving me to all those youth practices and events. In many ways I was blessed to be the youngest, because each of my siblings has had input and enabled me to absorb something they did well. My oldest brother, Ward, was and still is one of the best runners I have ever seen. Matt went to Navy to play lacrosse, and has gone on further to become a Navy Seal. He taught me the meaning of toughness and true-grit. Billy is known for his bursts of speed and dodging. While growing up in Manhasset, I spent many days and nights with my brothers in our backyard. Sometimes I was shooting and often they had me all suited up and they shot on me. I think I am a better shooter today because of it. Also, if they saw anything I needed to work on they wouldn't hesitate to let me know."
Q: Can you talk a little about how the recruiting process went and the main factors that went in to the decision?
A:
"The recruiting process was a very difficult one. My mind was not always set on UNC, I was considering schools such as Duke, Hopkins, Harvard, Virginia, Notre Dame, and Navy, however after discussing it with my family they and I both felt UNC was the best fit for me. I absolutely loved everything about the school from the town, the coaches, the players, the academics, etc. UNC also did very well by Billy and the entire UNC package is almost too good to be true. I can't wait to get to work down there."
Q: Can you talk about the major influences in your life that have shaped you on and off the field?
A:
"The single greatest influence in my life is and has always been my family. As I mentioned earlier, we would play for hours in our backyard together. If I had to choose someone from my family, it would have to be my Dad. He had been my coach ever since I could remember. As a coach he was very knowledgeable about the game of lacrosse, he was an all-American at Boston College, so I was always listening to what he had to say. It's no different now either, he comes to many of my Deerfield games and gives me plays and pointers from the sidelines. He has taught me to plan ahead of games and think during the game about what is happening or how to counter the opponent's efforts. Obviously off the field, my father was my mentor, but my Mom was the best care giver I could ask for. I think both my parents and my siblings are the reasons that I can be so confident about making sure I am making good, sound decisions in life. I also want to give credit to my uncle, Kevin Cook, as the other big coaching influence I can reflect upon."
Q: Can you talk about your overall experience at Deerfield Academy?
A:
"Deerfield has been an amazing place to go to school. Deerfield was my number one choice of all boarding schools from the start. Personally, when deciding boarding schools I couldn't think of any negatives about Deerfield, it has great academics, a very friendly environment, and a top athletic program. Deerfield has been even better than I could have hoped. The school has taught me to push myself academically and grow as a lacrosse player. Coach [Chip] Davis and Coach [Jan] Flaska are very knowledgeable about the game of lacrosse and really make an effort to improve each player. Also, Deerfield promotes playing multiple sports as a way to develop other talents. I was able to play soccer and basketball, which for me were very beneficial to my lacrosse game."
Q: Who are the best long sticks that you have played or will play against this year with Deerfield?
A:
"I would probably have to say the toughest defenders I play against are the ones I go against every day in practice. Will Swindell (Brown), Bobby Osgood (Dartmouth), and Mike Mueller (Dartmouth), are all tremendous players and know a lot of my tendencies making it very difficult to go against them."
Q: What other sports do you enjoy watching or playing?
A:
"If there was sport I wish I could play better it would probably be soccer or skiing, both are great sports. I grew up watching my siblings excel at both of those sports but because of playing so much lacrosse I haven't had the time to ski as much as I would like to."
Q: What do you like doing in your spare time?
A:
"In my spare time I'm mostly just hanging out with friends, maybe playing a pickup game of something of that nature."
April, 29, 2011
4/29/11
2:14
PM ET
ESPN's Roger Brown
checks in today
on his recruiting blog with two of Worcester Academy's football stars who led the Hilltoppers on the gridiron this past year, athlete
Canaan Severin
and quarterback Jon Pieterse.
Severin, a Marlborough native, told Brown that he is now up to 10 scholarship offers, having added Western Michigan and Syracuse to the stack. Boston College, Rutgers, Virginia, NC State, Iowa, Penn State, UConn and Villanova are the other schools offering for the 6-foot-2, 210-pound Severin, who repeated his sophomore year at Worcester Academy after transferring from Marlborough High. Maryland is also on the radar.
Coaches from Boston College, Connecticut, Penn State and Notre Dame also stopped by Worcester Academy's campus this week. Severin told Brown that Stanford was scheduled to visit today.
"I think I have to do a lot more research on the schools," Severin told Brown. "One of the coaches gave me some good advice. He said, 'You have to see a lot of schools before you know which ones you like and don't like.'"
As for a decision, Severin says there is no rush.
"I probably won't decide until after my senior season," he told Brown. "I don't want to rush anything. This is one of the biggest decisions of my life."
Meanwhile, Pieterse told Brown that he will be pursuing a post-graduate season at Salisbury (Conn.) next year.
Pieterse -- who missed most of his junior year with a broken collarbone -- took an unofficial visit to Central Michigan earlier this month, and told Brown he plans to visit Purdue and Pitt as well.
"The bigger schools suggested I do a postgraduate year," Pieterse told Brown.
For more recruiting updates on New England's top high school football talent, be sure to check out Brown's
blog
.
April, 21, 2011
4/21/11
9:59
AM ET
ESPN's Adam Finkelstein
checks in today
on his recruiting blog with New Hampton junior forward
Zach Auguste
, who has been attracting the eye of a handful of Division 1 college coaches this week.
Most notably, Finkelstein writes, Virginia head coach Tony Bennett and his staff arrived on the New Hampton, N.H. campus last Friday at 6 a.m. to watch the 6-foot-9 Marlborough native work out. Auguste, who transferred to New Hampton last year from Marlborough (Mass.) High and repeated his junior year, currently holds six scholarship offers: Boston College, DePaul, Notre Dame, Oregon State, Penn State and Wake Forest.
"I haven't seen any campuses yet," Auguste told Finkelstein. "I'm going to wait until the fall to do anything but I'll have a decision before the season starts."
Auguste has seen his lanky, raw potential turn some heads in his first season with the Huskies, who advanced to the NEPSAC Class AAA Finals this season. As Finkelstein writes:
Auguste is a long and athletic forward who has started to turn raw potential into more consistent production within the last year. The latest in a long line of skilled big men to come through the Mass Rivals AAU program, he was groomed by coach Vin Pastore to follow in the footsteps of guys like Michigan's Evan Smotrycz and Wake Forest's Carson Desrosiers, who were big but nonetheless extremely skilled on the perimeter.

With that foundation already in place, Auguste arrived at the New Hampton School and began to add a low-post game under the tutelage of head coach Pete Hutchins, incorporating a jump hook into his arsenal and gaining valuable experience playing under the boards in arguably the most talent-laden league in the country.

Now, while he's still far from a finished product, Auguste shows signs of being a true mismatch forward, equally capable of scoring and rebounding in the paint as he is shooting or driving off pick-and-pop action on the perimeter.

And when you're his size and capable of doing all of those things, coaches are only all too happy to wake up early to see you work out.
For more recruiting updates on New England's top high school basketball talent, be sure to check out Finkelstein's
ESPN blog
as well as his
New England Recruiting Report
.
April, 11, 2011
4/11/11
3:21
PM ET
ESPN's Roger Brown
checks in today
on his recruiting blog with Buckingham, Browne & Nichols offensive lineman
Eric Olson
, who came to the Cambridge prep school as a basketball player but will likely leave next spring as one of New England's premier offensive tackles.
Olson, a 6-foot-6, 270-pound junior who transferred from Lincoln-Sudbury following his sophomore year, has scholarship offers from Boston College, UConn, Duke, UMass, Virginia and Wake Forest. He told Brown he also hears regularly from Michigan, Northwestern and Stanford.
He told Brown he is trying to set up visits with Michigan and Northwestern for this weekend. A decision is likely to come before the start of his senior season for the Knights this fall.
BB&N head coach John Papas also told Brown that Stanford "is supposed to visit the school in April."
"He's an incredible athlete for an offensive lineman," Papas told Brown. "He came to us as a basketball player. He was skinny and extremely raw, but I think he's become one of the best linemen on the East Coast."
For more recruiting updates on New England's top high school football talent, be sure to check out Brown's
blog
.
March, 1, 2011
3/01/11
2:26
PM ET
ESPN's Roger Brown
checks in today
with Worcester Academy athlete and ESPN150 Watch Lister
Canaan Severin
, who picked up his latest offer last weekend from Penn State to bring his Division 1 FBS offer total to four. Boston College, NC State and Virginia have been the other schools offering to date.
There is no general consensus among college coaches whether the Marlborough resident projects as either a wide receiver or defensive back. Severin told Brown he's open to playing wherever needed.
"I like scoring touchdowns," Severin said. "That gives you a great feeling. But laying a big hit on a receiver over the middle is a good feeling too. Schools have been telling me I'm a good enough athlete that if it doesn't work out on offense they can move me to defense. Or if it doesn't work out on defense, move me to offense."
Michigan, Tennessee, Miami (Fla.), Maryland, UConn, Iowa and Rutgers are among the other schools showing interest in the 6-foot-3, 210-pound junior, who re-classified to the Class of 2012 following his sophomore year at Marlborough High.
For more recruiting updates on New England's top high school football talent, be sure to check out Brown's
blog
.
March, 1, 2011
3/01/11
11:07
AM ET
ESPN's Roger Brown
checks in today
on his recruiting blog with two of Catholic Memorial's highly-touted football stars for the Class of 2012, quarterback
A.J. Doyle
and athlete
Armani Reeves
.
Reeves was down on the Rutgers campus last weekend for a 7-on-7 tournament, and while Scarlet Knights head coach Greg Schiano was out of town, Reeves may be getting some news soon.
"They told me they really like me," Reeves told Brown. "I think Coach Schiano was at a Nike convention. They told me they might have some good news for me when he returns."
Reeves, who was an inaugural
ESPNBoston All-State
selection this past fall, currently holds offers from 11 Division 1 schools, among them Boston College, UConn, North Carolina, Missouri, Virginia, Penn State, Wake Forest, Michigan, Stanford, Northwestern, and Maryland.
Brown writes that Reeves likely won't pick a school until after his senior season ends.
"The schools that have offered all intrigue me," Reeves told Brown. "They're all good schools academically and really good programs."
Meanwhile, Doyle picked up his first offer last week from UMass, and it likely will not be his last Division 1 offer, as BC, UConn and Syracuse have all shown interest in the 6-foot-2, 225-pound junior's services.
For more updates on New England's top football talent, be sure to check out Brown's
recruiting blog
.
February, 22, 2011
2/22/11
4:54
PM ET
ESPN's Roger Brown checks in today on his
blog
with New Hampton (N.H.) quarterback/defensive back
Jake Kiley
, who earlier this month attended a junior day at Boston College and is scheduled to be at UConn's junior day this weekend. Virginia and Maryland have also shown interest in the 6-foot-1, 170-pounder.
"Penn State is still in the mix," Jake's father Ed Kiley, who is also New Hampton's head coach, told Brown. "He'll probably visit Duke at the end of March. We'll take a look at Villanova, JMU, Richmond and UNH too. He's keeping an open mind."
For more recruiting updates on New England's top football talent, be sure to check out Brown's
blog
.
January, 4, 2011
1/04/11
11:59
PM ET
ESPN's Reggie Rankin has confirmed that Hotchkiss (Conn.) junior center
Mike Tobey
has verbally committed to the University of Virginia for the Class of 2012.
Tobey, a 6-foot-10 big from Ramsey, N.J., is the first commit for Tony Bennett's 2012 recruiting class. Tobey's current evaluation on Scouts Inc. reads as follows:
Strengths:
Tobey has a plethora of tools at his disposal and projects as a skilled inside-out five man at the next level. He has good hands and feet inside the paint, catching in traffic and showing well developed footwork both playing with his back to the basket as well as facing up from the elbow. Tobey also has a very soft touch around the rim along with an ability to stretch opposing defenses out to 18 feet.

Weaknesses:
While undeniably talented, Tobey is still very raw and likely a couple of years away from becoming a dominating force inside the paint. Physically, he needs to get into better shape and get stronger while tightening his frame. He can struggle to keep up with a fast paced game at the moment as his reaction time and agility are still developing as he grows into his body. He also needs to become a more consistent rebounder and finisher while developing a signature move with his back to the basket.

Bottom Line:
A young big man with a world of potential, Tobey has the combination of size and natural skill that simply can't be taught and while he still has a lot of improvements to make his upside is undeniable.
July, 23, 2010
7/23/10
12:23
PM ET
By
Brendan Hall
| ESPNBoston.com
Good week for offensive linemen, at least in terms of publicity.
Yesterday, we told you about Dartmouth's Andrew Kestenbaum, a 6-foot-4, 300-pound senior who
could be getting some offers soon
. Today we present to you Natick's Liam Porter, who picked up a scholarship offer from Boston College in the last month and, according to his head coach Mark Mortarelli, has one potentially on the way from the University of Virginia.
The 6-foot-6, 315-pound senior (again, can't teach size) demonstrated a high potential for the Red and Blue last season, with the holes he paved for a hard-nosed stable of running backs. The Red and Blue were one of the state's most prolific offenses in 2009, averaging 32.9 points per game and finishing 12-1 after losing to Reading in the Division 2 EMass Super Bowl at Gillette Stadium.
"He has good, quick feet and nice long arms that colleges like to see when they look at offensive linemen," Mortarelli told correspondent Roger Brown. "He also has a nasty streak that's beneficial when you play football. He competes on every play. He likes to be the top dog out there. There were games last year when we rode him up and down the field all night."
Brown has more about Porter on his recruiting
blog
.