Boston High School:

Virginia Tech Hokies
April, 2, 2014
Apr 2
9:41
PM ET
By
John Botelho
| ESPNBoston.com
BRIDGEWATER, Mass. -– Long before he was a rock behind the plate for a state championship team, before he was an NCAA Division 1 commit and before he started showing up on the radar of pro scouts, Bridgewater-Raynham's Joe Freiday was predispositioned to be a catcher.
"Back in little league, you usually throw the short, pudgy kid behind the plate," Freiday said. "That was me. I was short, I was a little chunkier, and it really just started as I'd play anywhere just to play."
Added cousin and B-R teammate Jack Connolly through a laugh: "He was always the cousin who wasn't as athletic."
Connolly, a junior pitcher with an electric arm, is already committed to pitch at Notre Dame. Connolly's older brother Mike followed up his career for the Trojans by playing for the University of Maine, and is currently a pitcher in the San Francisco Giants organization after being drafted last spring.
A growth spurt from eighth to ninth grade for Freiday saw him shoot up eight inches in less than a year, meaning he'd never again be referred to as short or pudgy. The physical tools that came with it mean his athleticism would no longer be questioned.
At 6-foot-4, 225 pounds, Freiday is a lean backstop oozing enough baseball skill that he committed to Virginia Tech last summer, following a breakout spring in which he picked up ESPN All-State honors after hitting .455 with five homers to lead B-R to its first ever MIAA Div. 1 state title.
Even with the physical gifts on the way as he grew, Freiday hardly seemed destined to explode onto the scene last season, after spending much of his sophomore season on the junior varsity squad, only coming up to varsity when an injury to starting catcher Brandon Hoyle created a need for the Trojans.
"He wasn't a varsity regular or stud as a sophomore," said B-R coach John Kearney. "With Eddie Campbell, Mike Connolly who we had for a couple of years, Drew Larson I had back six, seven years ago, those kids all played as freshman. Jack Connolly pitched for me as a freshman. They were already as freshman ready to roll. Joe was not. Even as a sophomore, he had a long way to go."
Added Connolly: "All I remember is him being not the most athletic catcher in the world. He got so much better over the course of a year or two and he grew up, gained some weight and, now he's a division one guy, maybe getting drafted."
Total transformation
Developing physically was the first step toward baseball success for Freiday, but becoming a student of the game allowed him to transform into one of the most complete players in the state. A talent who at times shows all five tools a scout looks for in a baseball player (hit for average, hit for power, run, throw and fielding).
[+] Enlarge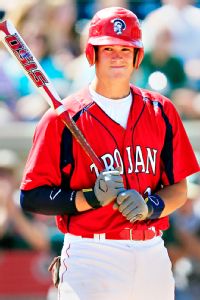 Jon Mahoney/ESPNBridgewater-Raynham catcher Joe Freiday committed to Virginia Tech last summer after leading the Trojans to their first state championship.
The hitting came most naturally for him, but after making mincemeat of fastballs in the early going last year, teams started pitching around Freiday, offering up off-speed pitches out of the strike zone in an effort to get him out.
"He did have to work more at the defensive part, but offensively he's still had to learn how to be a good hitter," said Kearney. "His biggest thing last year was that he had to learn how to hit when teams didn't want to give him anything to hit. It's a big adjustment. Word got out that you just can't throw fastballs to this kid, and he saw a lot of junk and a lot of slop, and he had to learn how to pick his spots."
Growing up, Freiday's running speed was anything but an asset. "I was pretty slow. I was a lumbering catcher," he said.
A commitment to offseason workouts, both to strengthen his legs and develop agility, has turned him into an at least average runner, with his 60-yard dash times clocking faster than most catchers.
Freiday's arm is perhaps his best tool, and the summer after his sophomore year he posted an impressive 1.93 pop time at a Perfect Game showcase -– a number that many big leaguers can't throw.
"When I threw that 1.93 at the Perfect Game showcase, I was all over the place," said Freiday. "I had no clue what I was doing. I've really focused on getting my feet to be quicker, getting myself in line to make good throws, and getting the most out of my arm strength.
"I really like to watch college and pro catchers and see what they do. I take everything in and see exactly what they're doing when they make a perfect throw. I watch where their feet are, the arm angle, where their release point is. I just try to get everything down from that point of view."
The resulting pop times have moved south toward 1.8 seconds, occasionally dipping underneath the mark, allowing Freiday to control the running game of many opponents.
"He has absolutely one of the best arms that you're going to find in the state of Massachusetts for a catcher," Kearney said. "It's a cannon. It got to the point last year, and I'd like to see it this year, where teams weren't running on him very often. They were testing him early, then word got out on him. In the state tournament, we played six games and I would say in those six tournament games he probably had eight to ten attempted steals and he threw out 75 percent of them. Pop time, arm strength -– he's second to none I think in the state. He doesn't even have to pop up. From his knees he could throw guys out."
His defense and receiving skills were the ones not so obviously enhanced when his body type changed, and it's this part of the game Freiday has had to work hardest at.
"Something he really had to work on was blocking and keeping it in front of him," Kearney said. "When he was younger, he used to have a lot of balls go off the end of his glove. I think it was a concentration issue. I was pleasantly amazed with how improved he was coming in to last year at that."
Kearney continued, "It starts from within with him. He's got to want and be able to accept the challenge from inside himself, and he does that. He embraces it. We were pretty hard on him his sophomore year and the beginning of his junior year. In a very kind and loving way, we were criticizing a lot of the things he had to work on defensively, and he did it. It's not just with us all year round he's work with other catchers, college and pro guys. He's learned from a lot of sources."
Best yet to come?
Freiday's game continued to elevate after his breakout junior year and after he'd committed to Virginia Tech. By the end of last summer, he'd caught the attention of enough people in pro baseball to get invited to some elite showcases -- including East Coast Pro, an even featuring many of top high school players in the country. He also made stops at showcases at both Yankee Stadium and Citi Field.
The scouts at these events pushed his game to a new a level.
"They all just critiqued me on little, little things to make my game that much better," said Freiday. "The small parts people don't usually notice unless you're a catcher."
Freiday sponged up everything he could about baseball, about catching, and about the mental game of pitch calling. Like his hero, Jason Varitek, Freiday developed a cerebral approach to catching.
"He studied hitters' tendencies. He really got to know what guys were trying to do. It's no wonder he's caught a record number of no-hitters," Freiday said. "I tried to do some scouting. I'd go to games of teams I knew were coming up in the future and I tried to get their tendencies down. I watched hitters' swings. When I went to the pro events this summer, I would sit with pro scouts and scout with them. The next game I caught a combined staff no-hitter with three pitchers at Metropolitan Classic."
When the summer showcases concluded, Freiday didn't take for granted that he'd already committed to school, instead pushed himself throughout the offseason. He added nearly 15 pounds of good weight, balancing strength workouts, baseball drills and even averaged a double-double for Trojans hoops team; all with an eye toward continuing his baseball transformation.
"Joey eats, sleeps, drinks baseball. Everything is baseball," said Connolly. "The kid is in love with baseball. I've worked out with him every winter and this year was the hardest we ever worked. Every day, it was just 'let's go hit' or 'let's go throw.' It's always baseball. Everything he thinks about is baseball, baseball, baseball."
And it's because of that that the Trojans' captain even though he began catching because of his physical stature, Freiday has proven over the last year –- destiny or not -– that he belongs behind the plate.
July, 23, 2013
7/23/13
8:30
PM ET
By
Brendan Hall
| ESPNBoston.com
Bridgewater-Raynham Class of 2014 catcher Joe Freiday verbally committed to Virginia Tech tonight, becoming the second Trojan in as many months to commit to an Atlantic Coast Conference baseball program.
Verbally committed to play baseball at Virginia tech! #Hokieball

— JoeyBats24 (@Joe_Freiday) July 23, 2013
The 6-foot-3, 210-pound Freiday was one of the state's leaders in runs plated, batting .425, with a .573 on-base percentage, 31 RBI and five home runs as the Trojans captured the MIAA Division 1 State Championship for the first time in school history. He also drew 21 walks and struck out just 10 times. Behind the plate, Freiday demonstrates above-average arm strength, recording a pop time as fast as 1.82 seconds.
At the time of his commitment, Freiday was also considering Coastal Carolina and Virginia, as well as a full ride from the University of Maine. He is the second B-R player in as many months to commit to an ACC program, joining his cousin, 2015 righthander Jack Connolly,
who committed to Notre Dame in late June
.
Freiday is the second Bay Stater from the Class of 2014 to pledge to the Hokies, joining Boston Latin lefthander Pat Naughton, who committed last fall. When Freiday arrives in Blacksburg in the fall of 2014, he'll join BC High's Ryan Tufts (a fellow Bridgewater resident), Lowell's Matt Tulley, and Noble & Greenough's Phil Sciretta among the Massachusetts natives on the roster. B-R product Eddie Campbell, a lefty for Tech the last three seasons, was drafted in the 15th round by the Seattle Mariners last month.
"Its unreal, it's better than winning a state championship," Freiday said tonight from Richmond, Va., where he is playing in a tournament with his summer club, Team Nokona.
Really? Better than winning a state title?
"I dunno," he laughed. "But it feels great. I don't know how to put my feelings into words right now."
Freiday visited Blacksburg yesterday, and says he was immediately enamored with the campus.
"Obviously what attracted me there [initially] is they have an elite baseball team -- they're absolutely unreal at baseball, number one," Freiday said. "And then, once I got there, the campus was absolutely beautiful. I couldn't believe what I was seeing. It's everything I wanted in a school -- athletically, the campus, and great academics -- there's so much to offer."
Since the Hokies first began evaluating Freiday, they've had a change in head coaches, with Peter Hughes leaving for the University of Oklahoma and Tech internally promoting pitching coach Patrick Mason. Mason, a Franklin native and former Northeastern University standout, watched Freiday in the Trojans' MIAA Division 1 South Final against BC High (of which Hughes is a graduate). He watched Freiday again a week later at Area Code Games tryouts on the campus of Bentley University.
"He's a real nice guy," Freiday said of Mason. "I know Hughes showed interest at first, and I know he texted [B-R coach John] Kearney. He [Mason] impressed me. He knew his stuff about baseball. He was also a catcher at Northeastern back in the day, so he probably saw me from a different perspective."
July, 14, 2012
7/14/12
12:52
PM ET
By
Brendan Hall
| ESPNBoston.com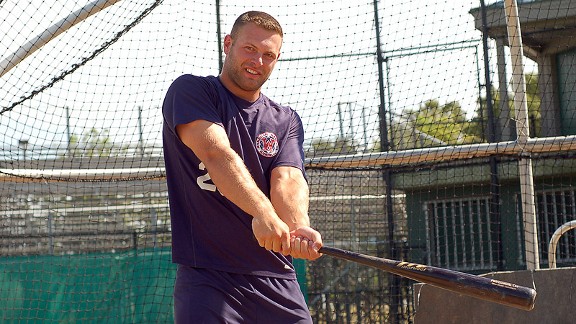 Brendan Hall/ESPN BostonMiddleborough native Tyler Horan won three state titles at BC High before taking his talents to Virginia Tech, where he led the team this year in home runs and RBI. He's off to a great first half in the Cape Cod League this summer.
Middleborough native Tyler Horan built his reputation as a winner during his time at Boston College High, helping the Eagles capture back-to-back state titles in baseball (2008-09) and leading them to a Division 1 Eastern Mass. Super Bowl title in 2008. After a redshirt season with Virginia Tech in 2010, he's been demonstrating more of that explosive power out of the batter's box he showed as a raw 16-year-old.
This past spring, Horan hit .282/.400/.585 totals in 54 games in left field for the Hokies, ranking fourth in the Atlantic Coast Conference in on-base percentage. He led the Hokies in RBI (41) and home runs (15) and ranked second in total bases (110).
After participating in the Home Run Derby at the last month's College World Series in Omaha, Horan has been tearing it up a mere 25 minutes down the road for the Cape Cod League's Wareham Gatemen. He's currently hitting .329/.391/.633 with an OPS of 1.024, leading the Gatemen in average and sitting tied for fourth in the league with six home runs.
Horan spoke with ESPNBoston.com before batting practice at Spillane Field on Thursday afternoon, before the Gatmen took an 8-1 loss to Hyannis.
Q: You took batting practice with the team at Fenway on Wednesday. How did that feel?
A:
"It was definitely different. You grow up watching them and everything, you're watching all your favorite players out there, and you never expect to be out there hitting in the same place they are. On TV, the field looks big, but then when you're on the field and you crush a ball...for me, as a lefty, I crush a ball to right field, and I'm like 'Wow, these guys are hitting shots'. It's definitely a cool experience being able to play on the same field that they do."
Q: When you cracked one to right, did you envision Papi at all?
A:
"A little bit. Definitely since he was my idol, especially coming out of BC High when I was a DH until my senior year. I'm a big, left-handed DH, and then obviously Papi is a huge left-handed DH. It just kinda fit to be watching him."
Q: You were in the College Home Run Derby last month, and you have six home runs right now. What's the adjustment typically like going from college to this level?
A:
"For me, I don't think it was quite as bad, because our college is sponsored by Easton bats. We get Easton bats, and they have a black bat they call their 'speed bat', and a white bat their 'mass bat'. I use the white one, so it's already top-heavy, similar to the wood bats we use. So, the adjustment for me, I don't feel is quite so different. But then as far as pitching goes, maybe for the mid-weeks you're going to see a lot better pitching than you would in our mid-week games, but the ACC pitchers are also very good.
"You come here, and you're gonna see everybody's best pitcher. Whether that's a mid-week game or not, it's going to be their best starter, their best closer. You're always seeing the best of the best."
Q: Do you recall the first time you watched Cape League?
A:
"I caught a couple games when I was real young, but a lot of times Little League would interfere, especially in our town. So I didn't catch too many games, but I've always been hearing about it. And then you see the movie 'Summer Catch' and you'll hear about it and go, 'Oh, that's right down the street from me, that'd be cool to play there some day'.
Q: Do you think about the Major Leaguers that have come through here, and the allure of the league?
A:
"A lot of people say this is the last step before you make it to the minors for a lot of people. So thinking about it that way, it's really cool. It puts a lot of pressure on you, though, to try and...It's a scout's league, so you have to do your best, and just show off what you've basically. But at the same time, stay within yourself, and not let all the pressure get to you. Joe Carter at the Home Run Derby, he probably gave me the best advice -- to make it to the next level, everything's mental, because everybody has similar talents at this level, so it's all in your head."
Q: Building on that, talk about your experience in Omaha at the Home Run Derby.
A:
"Oh, they treated us awesome, I couldn't have expected anything more. I had a king size bed, I had a jaccuzzi in my room and everything. It was an unbelievable experience, they were real nice to everybody. The fans loved it. Omaha just lives for baseball. I think there were 22,400 fans -- that's a rough number, but it was around that -- easily the biggest crowd that I've ever played in front of.
"It's also different because, instead of having the whole team out there, and thinking they're probably watching someone else -- no, all 22,400 are staring at you. And you don't have the safety of the turtle or anything, it's just completely different out there hitting. It's a rush. You get those butterflies, and for me once I got that first ball out, it's almost like, now I can loosen up and get it going."
Q: What was more rewarding for you at BC High -- winning two state championships in baseball, or winning a Super Bowl in football?
A:
"That's a tough one. I don't know if I can separate the two. Honestly, I might have to say football because it was only the second or third time in school history that it's ever been done. In baseball, we were expected to go pretty far, and football it wasn't seen quite the same way. And then the hype for the football games, it builds up all to that one game. I can't really say, because either way all that dedication, all of your work goes into all three of those championships."
Q: Peter Hughes redshirted you for your first year at Virginia Tech. Was it just getting acclimated to year-round baseball?
A:
"Yeah, it was that, and like you were talking about with the football question, I was very raw. My sophomore year of high school, I thought I was going to play football, so I didn't play summer baseball at all. I just worked on hitting the weight room, getting as big as I could as fast as I could, and it helped me in football but made me a raw but natural talent for baseball. When I got to college, after seeing pitching here -- Northern pitching isn't as good as Southern, because they can do everything all year round.
"Especially the year I came in, we had Jesse Hahn, Matt Price and Justin Wright -- all guys that can throw over 90. I remember the first time I got in the box, it was Jesse Hahn, and [whooshing noise] like that, it must have been 95 and I was like 'Oh man' [laughs]. It was definitely a good thing, I'm glad I redshirted. Once you get to this time, I have an extra year of eligibility, so I have negotiation in the draft. I definitely needed that year to adjust. I learned so much from baseball that year. Even when they traveled on the weekends, I'd go to the hitting building and work on all that stuff. I definitely worked really hard that year, but it paid off."
Q: What did you need to improve upon most?
A:
"I had to adjust to the speed of the game at that point. It was just purely adjusting to the speed of the game -- the pitching, the speed, knowing different things on the basepaths, what to look for as an outfielder, what to look for in counts, where I should be playing. After I got that down, now I'm working on cutting down on my strikeouts, adjusting my swing a little bit, trying not to be so jumpy at the plate. My power numbers have always been good, I haven't been worried about those. I wanted to get my average up, because if my average goes up, my power numbers also go up because it's just running into more balls and eventually they go out."
Q: You're good friends with Eddie Campbell [a Bridgewater-Raynham alum and Horan's Virginia Tech teammate, currently playing for the Harwich Mariners]. How is the banter? Any smack talk?
A:
"Eddie's dealing right now [laughs]. Me and Eddie, it's not too much, you always wish each other the best. My roommate who is also on Harwich, Clark Labitan, me and him got a little crap talk going back and forth. The thing with him is always, I live with three pitchers [at Virginia Tech] and I haven't gotten a hit off him or any or my other roommates yet. So, he'll go on Twitter and be like 'The hitless streak continues' and tag all of my other roommates in it. I can't wait until I get that hit, I'm going to be all over him. It's all friendly smack talk, but it's good."
Q: What lessons did you take from BC High that you still hold with you in college and the Cape League?
A:
"I'd probably say their whole thing of men for others is their big thing, just helping with the community. My coach Peter Hughes, he went to BC High, so he played under Norm Walsh also. He follows those too. We have this program called '19 Ways', which every year we try to do 19 things to help the community. It all falls in line. Treat everyone the way you want to be treated.
"You see little kids come up to you for autographs, you make their day and just sign it. Live for the day, I guess."
Q: For a kid who aspires to play in the Cape League one day, what's the life like?
A:
"Stressful at times, definitely. You could be playing every day, you get tweaks here and there. I'd say it's stressful, but at the same time you've got to keep your head up. You've got to be good to fail at baseball, because if you're average, you're .333. I'm batting .333 right now, but that means two out of every three times I'm failing. You've always got to keep your head up and have a short term memory to be a good baseball player."
June, 20, 2012
6/20/12
12:26
PM ET
ESPNBoston.com and its high school section announced today that Matt Tulley, senior righthanded pitcher for the Lowell High Red Raiders, is the recipient of its second annual "Mr. Baseball" award, presented annually to the top player in Massachusetts.
The Mr. Baseball Award winner was chosen by a panel of experts made up of ESPNBoston.com staff and correspondents, as well as local area coaches. Tulley will be presented the award at a later date.
[+] Enlarge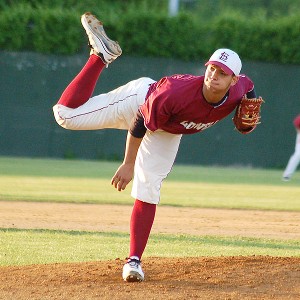 Brendan Hall Matt Tulley is headed to Virginia Tech to play baseball.
"We are proud to present our Mr. Baseball award to Matt Tulley," said ESPN Boston High Schools co-editor Brendan Hall, who coordinates the site's baseball coverage. "Of all the awards we've handed out in our two years of existence, this was the most difficult choice, because there was no clear-cut favorite. It speaks to the uniqueness of this year's talent pool, but also to Tulley's prowess that he was the unanimous choice by our panel."
After a junior season in which he earned a spot on ESPN Boston's inaugural MIAA All-State Team, Tulley followed up with an even stronger senior campaign. He earned his third consecutive Merrimack Valley Conference Player of the Year honor, going 7-1 with 90 strikeouts in 59 innings and one save, for a 1.46 earned run average. Two of those wins came in the Division 1 North tournament, including the sectional final at LeLacheur Park.
Opponents batted just .159 against Tulley on the season, and in turn he also provided some spark at the plate. Tulley batted .306 for the Raiders, leading the team in RBI (20) and ranking second in hits (28) and runs scored (19).
The Raiders earned the No. 1 overall seed in a loaded Division 1 North bracket of the MIAA tournament, and came up just short in their quest for a state title, falling to eventual state champion Xaverian in the D1 Eastern Mass Final.
"We were spoiled with superior pitching in Massachusetts last year, and the amount of local position players taken in this year's MLB Draft speaks to that," Hall said. "But Matt clearly separated himself from the pack this spring. Others might have better numbers, but Matt always took the ball in the big games, and he always performed consistently well.
"In addition to his fortitude in big-game situations on the field, you'll find a really humble and polite kid off the field. He's dedicated to his craft, and is never one to boast. He always lets his 90-mile per hour heat do the talking."
For his career, Tulley went 20-2 with a 1.57 ERA and 200 strikeouts in 140 innings. He will continue his career in the fall at Virginia Tech, where he signed a National Letter of Intent last November.