Boston High School:

Wachusett Regional
April, 4, 2011
4/04/11
7:55
PM ET
We've released our first state-wide MIAA Top 25 baseball poll this afternoon, which can be found
here
; and our panel of staff writers, correspondents and area coaches have tapped Catholic Memorial as No. 1 to top the preseason.
Many felt this could be the year the Knights, who have lost in extra innings in the last two Division 1 South finals, get over the hump. And certainly, head coach Hal Carey has the horses in his starting rotation to pull it off, between Division 1 commits Matt Goreham (Northeastern), John Gorman (BC) and John Mildner (UMass).
Overall, the Catholic Conference took four of the top five spots in the poll, with Lincoln-Subury taking the No. 2 spot followed by Malden Catholic, reigning Division 1 North champ St. John's Prep and Division 1 state runner-up Xaverian. Rounding out the top 10 are Lowell (6), Lexington (7), Peabody (8), Wachusett (9) and North Andover (10).
Our panel has also put together a preseason All-State to whet your appetite, listed below:
RHP – Adam Ravenelle, Sr., Lincoln-Sudbury
LHP – Will Marcal, Sr., Lexington
RHP – Pat Connaughton, Sr., St. John's Prep
RHP – Matt Goreham, Sr., Catholic Memorial
RHP – Pat Delano, Jr., Braintree

C – Matt Walsh, Sr., Plymouth North
1B – Lorenzo Papa, Sr., Arlington Catholic
2B – Zach Apotheker, Sr., Brockton
SS – Aaron Fossas, Sr., Holy Name
3B – John Gorman, Sr., Catholic Memorial
DH – Zach Littman, Sr., Abington
OF – Carl Anderson, Sr., Lincoln-Sudbury
OF – Connor McDavitt, Sr., Wachusett
OF – James Ricoy, Sr., Lowell
As always, let us know how we're doing in the comments section below, or by emailing editors Brendan Hall at bhall@espnboston.com and Scott Barboza at sbarboza@espnboston.com.
March, 25, 2011
3/25/11
9:10
PM ET
STARTING FIVE

Guard – Nicole Boudreau, Jr., Andover
The state's Gatorade Player of the Year and Merrimack Valley Conference Player of the Year led the Golden Warriors to their second straight Division 1 state title, and put up impressive numbers in her junior season: 23.1 points, 7.7 rebounds, 4.9 steals, 4.5 assists and two blocks, as the Warriors went 27-1. Boudreau is verbally committed to Boston College.

Guard – Natalie Gomez-Martinez, Sr., Andover
Together with Boudreau, the 5-foot-6 Gomez-Martinez formed the state's most formidable backcourt, and backed it up with some impressive numbers of her own. She averaged 13.5 points, 5.6 assists, 5.3 rebounds and 4.3 steals as the Golden Warriors won their second straight Division 1 state championship. Gomez-Martinez will continue her career next fall at Division 1 Marist College.

Guard – Blake Dietrick, Sr., Wellesley
The Raiders made a surprise early exit from the Division 1 South tournament, but the 5-foot-11 Dietrick leaves Wellesley as one of the school's all-time greatest athletes. This season she averaged 20.1 points, 8.3 rebounds, 5.3 assists, 3.9 steals and was named the Bay State Conference's MVP. She also hit 52 three-pointers this season. She leaves Wellesley with 1,440 career points, and is the school's all-time leading scorer for either gender in both basketball and lacrosse. Dietrick will continue her basketball career next fall at Princeton University.

Forward – Elizabeth Belanger, Jr., Acton-Boxborough
The 5-foot-11 junior continued the momentum from sophomore season, in which she won the Dual County League's MVP, to held the Colonials break through to the TD Garden floor in 2011. After outlasting archrival Lincoln-Sudbury in overtime, the Colonials made it to the Division 1 North final at the Garden, where they lost to eventual state champ Andover. For the season, Belanger averaged 20.5 points, 11.4 rebounds and 2.7 steals, and registered her 1,000th point in a D1 North first round win over Billerica.

Center – Tori Faieta, Sr., St. Mary's
At 6-foot-2, the senior imposed her will around the rim for four years, culminating this season with a Division 3 state championship, the school's first state title since 2003. She was named the Catholic Central League's MVP, and is a four-time league all-star. This season, she averaged 13 points and 11.2 rebounds, and finishes as the all-time leading scorer (1,471 points) and rebounder (1,416 boards) in school history. She will continue her basketball career next fall at Stonehill College.
BEST OF THE REST
Cassi Amenta, Sr., St. Mary's
Together with Faieta, the 5-foot-11 Amenta formed one of the state's most vicious frontcourts, culminating with a Division 3 state title. The two-time Catholic Central League All-Star leaves St. Mary's as the third all-time leading scorer (907 points), including averages of 10.5 points and 7.6 rebounds this season.
Nicole Beresford, Sr., Marshfield
The 5-foot-11 Beresford has been a rock for the Lady Rams since her freshman year, earning Atlantic Coast League All-Star nods in all four of her years on the varsity and earning a McDonald's All-American nod this season. She averaged 22.4 points and 11.2 rebounds in her senior season, and leaves Marshfield as the school's all-time leading scorer for either gender (1,804 points). Beresford will continue her career next fall at Dartmouth.
Sophie Bikofsky, Sr., Newton South
As co-MVP of the Dual County League for the Large division champs, the 5-foot-11 Bikofsky honed her reputation as one of the area's best shooters. This season she averaged 18.5 points, seven rebounds and 2.7 steals, and memorably got her 1,000th point within 30 seconds of teammate and fellow All-Stater Kendall Burton. Bikofsky will continue her career next fall at Brown.
Kendall Burton, Sr., Newton South
The DCL's other co-MVP was just as versatile on the court as her counterpart Bikofsky. She averaged 15.5 points, six rebounds and 1.7 assists for the Lions as they advanced to the Division 1 South semifinals. Burton, along with Bikofsky, was also a McDonald's All-American nominee this season. She will continue her career next fall at Villanova University.
Amber Dillon, Sr., Brookline
The 5-foot-4 Dillon led the Warriors to a 14-7 campaign in her senior season, while finishing second to Wellesley's Blake Dietrick in scoring in the Bay State Conference. She averaged 15.3 points, four rebounds, four assists and earned a McDonald's All-American nomination this season.
Khadijah Ellison, Sr., Burke
With freakish athletic talents, the 5-foot-8 senior established herself as one of the state's craftiest ballhandlers, if not the best in the city of Boston. The Bulldogs made an early exit in the Division 3 South tournament, but her brightest days are ahead of her. Ellison, the No. 44 overall player nationally in the Class of 2011 by ESPNU, will continue her career next fall in the SEC at Mississippi State.
Julie Frankian, Sr., Millbury
The 5-foot-11 Frankian established herself as one of the most dynamic scorers outside of I-495, leading the Woolies to a fifth straight Central Mass. Division 2 title and fourth straight appearance in the Division 2 state championship. Frankian leaves Millbury as the school's all-time leading scorer, and for her senior season averaged 19.3 points, 8.9 rebounds and three assists. She will continue her career next fall at Division 2 Assumption College.
Arielle Gomes, Sr., New Bedford
The 5-foot-11 power forward was a force in the middle for the Whalers, who went 20-0 during the regular season to earn the No. 1 overall seed in the South and advance to the Division 1 Eastern Mass finals, where they lost to eventual state champion Andover. Before losing to Andover, the Whalers allowed just 40 points per game in the playoffs. For the season she averaged 17.7 points and five assists, and finishes her career at New Bedford as the second all-time leading scorer (1,284 points).
Brenna Gonsalves, Sr., Coyle-Cassidy
The 5-foot-10 Gonsalves leaves Coyle as the school's all-time leading scorer for both boys and girls, with 1,615 points. She was also a three-time Eastern Athletic Conference scoring champion. With Gonsalves leading the way, the Warriors won three straight EAC titles, and took the Division 3 South crown earlier this month. She finishes with a career scoring average of 17.9 points, and amassed 672 rebounds, 254 steals, 202 assists and 140 blocks. She will continue her career next fall at Division 2 Adelphi University.
Monique Heard, Jr., Holyoke
Holyoke's spark plug of a 5-foot-5 point put in a dazzling junior season for the Purple Knights, averaging 22.5 points and six assists per game as they went 19-3 and advanced to the Western Mass. Division 1 semifinals. Heard was also the inaugural recipient of the Basketball Hall of Fame/MassLive Western Mass Player of the Year.
Morgan Jenkins, Sr., Revere
The 6-foot Jenkins was a dominant force in the paint for the Patriots, who won the Northeastern Conference and went 20-0 in the regular season to earn a No. 1 seed in the Division 1 North tournament. Jenkins, who led the NEC in scoring average (18.8 points), will continue her career next fall at St. Michael's College.
Carlene Kluge, Sr., Reading
The 6-foot Kluge lead a young Rockets squad to Middlesex League dominance, as they went 21-2 and won the league outright in the last year before splitting into two divisions. She averaged 13.2 points on the season, as the Rockets advanced to the Division 2 North semifinals. Kluge will continue her career next fall at Bentley College.
Melissa Miller, Sr., Central Catholic
A four-year member of the varsity, Miller co-captained the Raiders to a 20-3 campaign this season and was one of the region's premier forwards, averaging 11.1 points and 7.2 rebounds. For her career, the Merrimack Valley Conference All-Star amassed over 850 points and 500 rebounds. She will continue her career next fall at Merrimack College on a full scholarship.
Gabie Polce, Sr., Central Catholic
A four-year varsity player who has run the point for the Raiders the past 3 years, the 5-foot-9 Polce captained the Raiders to a 20-3 campaign, averaging 10.6 points, 3.7 assists and 2.8 steals. For her career, the Merrimack Valley Conference All-Star scored 838 points, over 210 steals and more than 300 assists. She will continue her career next fall at Division 2 College of St. Rose.
Alyssa Roach, Sr., New Bedford
Along with Arielle Gomes, Roach was a force offensively for the Whalers, who averaged nearly 70 points per game in the regular season and finished the year 24-1, bowing out to eventual state champ Andover in the Division 1 Eastern Mass finals. She averaged 12.6 points and 8.1 rebounds on the season. Roach will continue her career next fall at American International College.
Emma Roberson, Jr., Arlington Catholic
The 5-foot-9 Roberson was the catalyst for a young Cougars squad that captured their first Division 2 state championship in school history in dominating fashion, a 49-28 drubbing of Millbury. After a competitive Catholic Central slate, Roberson led a Cougars defense that allowed just 39 points per game in six playoff games.
Bri Schnare, Jr., Wachusett
The 6-foot-2 forward turned in a stellar junior season for the 15-6 Mountaineers, averaging 12.2 points, eight rebounds and four blocks per game and earning a Mid-Wach A All-Star nod. When play resumes at the end of the year, Schnare will be a captain for head coach Jim Oxford.
Dana Theobald, Jr., West Springfield
One of several lightning-quick point guards to rule Western Mass, the 5-foot-6 Theobald led the district in scoring with 23.5 points per game. Behind Theobald, the Terriers earned a No. 1 overall seed in the Division 1 West sectional, and lost in the semifinals to Longmeadow in an overtime thriller.
November, 6, 2010
11/06/10
12:44
AM ET
By
Neil Carroll
| ESPNBoston.com
HOLDEN, Mass. -- With three minutes, 14 seconds left in the fourth quarter, No. 8 St. John's of Shrewsbury led 35-14, and could have simply run the clock down and taken a 21-point win over No. 16 Wachusett Regional High School.

Instead, the St. John's defense intercepted a Matt LeBlanc pass on the Wachusett 32-yard line, and Pioneers head coach John Andreoli did not let up. Andreoli called a wide receiver reverse-pass that put the ball on the 3-yard line, and then scored on a John Vassar 3-yard touchdown run.

Though the score ultimately gave the Mountaineers another possession that ended up in a touchdown, Andreoli stuck with his aggressive play-calling.

"We are playing a 7-1 team and we're playing them for 44 minutes," stated Andreoli about the final few minutes of the game.

"They can score at any point in the ball game…so our goal was to come out here and to keep the pedal to the metal for 44 minutes -- offensively, defensively, and special teams -- and that's what our goal was, and that's what we did."

St. John's (8-1, 4-0 1A) won by a score of 42-21 in the end, and left Wachusett (6-2, 3-1 1A) hurting after a physical game.

"That was a smash mouth, toe-to-toe type of football game," Andreoli said.

"It always gets chippy with Wachusett," said St. John's wide receiver Richard Rodgers. "We wanted to make a statement and make sure they know who's the best."

Wachusett's Eric Darko led both teams in rushing in the game, as he finished the contest with 16 carries for 150 yards and two touchdowns. Darko led a bruising Mountaineers offense that tried to run down the clock and keep the ball away from St. John's offense.

The game plan was an excellent idea, but a tough one to execute.

"They are able to get yardage -- big chunks -- in a very short bit of time," Wachusett head coach Mike Dubzinski said, "…part of our gameplan was to take the ball [away] and have our best defense, be our offense."

The strategy scared the St. John's coaching staff initially, as Wachusett scored on a 15-play drive that not only took seven minutes, 37 seconds off the clock in the first quarter, but also spanned 80 yards.

The Pioneers scored on six of nine offensive possessions and held the Wachusett offense to 14 points through the first 42 minutes of the game.

"The last two years they beat us, so we had to come out and leave no doubt that we were the better team," St. John's quarterback Dan Light said.

"We lost to Xaverian last week and we felt that we should have won that game," Rodgers added. "I think we were all pretty mad about that and came out and used our anger from that game -- and the past two losses to Wachusett -- and took it to them."

For St. John's it was the usual crew. Rodgers finished the game with five catches for 142 yards and two touchdowns, and Light completed 7 of 17 passes for 161 yards and three touchdowns. Light also ran the ball 11 times for 76 yards and two touchdowns.

Although the St. John's offense was overpowering at times, Wachusett never laid down.

"It was 42-14 and we could have gone three-and-out real quick, but we didn't," Dubzinski said. "The kids came to the sideline and we said, 'Let's keep going, let's play Wachusett football' and that's what we did."

Wachusett's Matt McMillen was the focal point of the offense in the first half, piling up 45 yards on 11 carries. However, the St. John's defense adjusted and limited McMillen to 15 yards on seven carries in the second half.

The Mountaineers opened up the second half with a 13-play drive of 77 yards and ended in a McMillen touchdown.

"To come up here and be playing on the road in this ball park, and play a team like this we had to play our best game," Andreoli said. "And I think we played one of our better games tonight."

"It feels good," said Vassar (10 carries, 89 yards, one TD) about beating St. John's biggest regional rival. "We still have to go through the rest of the year but we might see them again and they're probably going to come out hard again."

SJ - 14 7 0 21 -- 42
W - 7 0 7 7 -- 21

First quarter
SJ - Rodgers 67 catch from Light (Rodgers kick)
W - Darko 3 run (Connor McDavitt kick)
SJ - Light 5 run (Rodgers kick)

Second quarter
SJ - Rodgers 25 catch from Light (Rodgers kick)

Third quarter
W - McMillen 2 run (McDavitt kick)

Fourth quarter
SJ - Drew Ortone 12 catch from Light (Rodgers kick)
SJ - Light 35 run (Rodgers kick)
SJ - Vassar 3 run (Rodgers kick)
W - Darko 10 run (McDavitt kick)
November, 5, 2010
11/05/10
10:41
AM ET
By
James Walsh
| ESPNBoston.com
The seedings for the Boys and Girls 2010 MIAA Soccer Tournament were announced on Thursday afternoon, and with teams getting seeded base solely on their winning percentage, this tournament set up to be one of the most exciting in high school sports.

BOYS' BRACKETS:
D-I North
In 2009, Lexington came in as a No. 2 seed and Lincoln-Sudbury as a No. 5 seed, when they met in the North Sectional finals with Lexington winning 2-1 on penalty kicks.

In 2010, the Minutemen and the Warriors find themselves again ranked second and fifth, and both teams have the ability to win this section. Lexington finished No.1 on ESPNBoston's final boys' poll and they score as a team with six players having scored four or more goals this season. Jordan Vanderhooft leads that group with eight markers.

Lincoln-Sudbury finished the season 13-2-1(No. 10 on ESPNBoston) and they have Cole DeNormandie up top who can change a game on his own.

Boston City League Champs Madison Park (No. 15 on ESPNBoston) grabbed the top seed in this section with a 14-0-1 regular season record and could pay ninth-seeded Greater Boston League Champs Medford (No. 20 on ESPNBoston) in one of this section's quarterfinals.

D-I South
New Bedford (No. 3 on ESPNBoston) and Greater New Bedford are the top two seeds in this section, and for the record the New Bedford won the regular season local derby 3-0. The Big Three Conference flexes it's muscles with Brockton (No. 4 on ESPNBoston) getting the third seed. But the Bay State Conference put three teams in the top 10 seeding in this section with Walpole at No. 5 (No. 13 on ESPNBoston), Weymouth at No. 6 (No. 11 on ESPNBoston) and Wellesley at No. 10.

The most interesting, potential quarterfinal would be if Brockton met Weymouth. The Boxers have scored three or more goals in nine of their 18 games, while the Wildcats have kept 12 clean sheets though 20 matches. Their first choice keeper Scott Greenwood is just a sophomore. Two other sophomores' in this section to keep an eye on are Needham's Mac Steeves, who scored 15 goals to improve on the eight he scored as a freshman, and Attleboro's Dominik Machado, who is a member of the Revolution U-16 Academy.

D-I Central
The Algonquin Tomahawks (No. 7 on ESPNBoston) have been the class of Central Mass all season long and got the No. 1 seed. But No. 2 seed Leominster handed Algonquin one of their two losses on October 26, in a 1-0 game. The only way they could meet in the post season would be in the Central Final.

D-I West
Ludlow (No. 8 on ESPNBoston) has won three Western Sectional Finals in a row and come in as the top seed, but Amherst, the No. 2 seed, may have a say in who represents the West this year. Amherst finished above the Lions in the Smith Division this year even though Ludlow defeated and drew with the Hurricanes in their two regular season meetings. Chris Pereira has 25 points (15 goals, 10 assists.) through 18 games for Ludlow and is the marquee man in this section.

D-II North
The defending champs, Concord-Carlisle (No. 3 on ESPNBoston) come in as a No. 2 seed this year and appear in the tournament for the 26th season in a row. Senior tri-captain Cam McGrory is perhaps the most complete goalkeeper in the state and Ray Pavlik's team will be well-tested having dropped only three points all season in the Dual County League, which is arguably the toughest in Massachusetts.

But the No. 1 seed in the section goes to the undefeated Winchester Sachems (No.6 on ESPNBoston), who won the Middlesex and have only two draws all season, both to Lexington. Their defense is full of confidence having allowed just one goal in their last six matches. And up top Ryan Connolly and Ben Davis have 27 goals between them.

D-II South
This section features two undefeated teams, No. 1 seed Sandwich (No. 5 on ESPNBoston) and No. 2 seed Canton (No. 9 on ESPNBoston) and they both seem to have an easy road to the finals, but looks can be deceiving.

Sandwich had only two draws all year, and learned an important lesson after squandering a four-goal lead to Marshfield in mid October. The Blue Knights didn't allow a goal in five of their next seven matches. The Canton Bulldogs finished the season undefeated for the only time in the programs 28 years.

No. 4 seed Bishop Feehan has won nine of it's last 10 and could potentially play Tri-Valley Champions Medfield (No. 19 on ESPNBoston) in the quarterfinals. The Warriors have a goal difference of plus-30 entering the tournament.

D-III Overview
There could very well be a re-match of the 2009 State Semi-Finals.

In D-III North, keep an eye on Weston, who is just the 11th seed at 7-6-3, but they will be ready for to make another run to the state finals after a tough regular season in the Dual County League, where they registered a 1-0 over Lincoln-Sudbury.

In D-III South, Cardinal Spellman finished the season 18-2 and it will take a major upset to stop them from getting to the state level.

GIRLS' BRACKETS:
D-I North
This bracket is unpredictable to say the least, which make the most exciting.

Top-seeded Peabody (No. 3 on ESPNBoston) handed fifth seeded Acton-Boxborough (No. 5 on ESPNBoston) their first regular season loss since 2006 on opening day. A-B ended up losing two games in 2010 -- their only other loss coming to No. 22 seed Lincoln-Sudbury. The two teams could have a rematch if they each reach the semifinals. Colonials goaltender Jessie Wiggins only allowed four goals in 17 games, but the Tanners strike force of Hayley Dowd and Victoria Digiacomo is a tough one-two punch.

On the other side of the bracket, No. 2 seed Masconomet (No. 13 on ESPNBoston) lost just once all year -- to No. 21 seed Andover. They have a scoring trio of Gabby Russo, Hannah Nekoroski, and Amy Griffiths making it tough to focus on just one player. No. 3 seed Central Catholic hasn't been scored upon in their last seven matches, a nice run to be on heading into the tournament.

D-I South
Whitman-Hanson (No. 1 on ESPNBoston) finished the season undefeated and UCLA-bound Samantha Mewis is the most talented player in the state and also member of the USA Women's U-20 team. It will be tough for any team in D-1 South to stop the Panthers.

Bishop Feehan lost only one game all season, and it was to an out-of-state opponent. The Shamrocks will most likely play the winner of No. 7 seed Needham (No. 16 on ESPNBoston) versus No. 10 seed Brockton (No. 10 on ESPNBoston), which will be the most interesting matchup of the first round. The Rockets have the second lowest goals against average in Division I at 0.5 and only Whitman-Hanson And Acton-Boxborough are better. Goalkeeper Victoria Tarabelli and senior defender Courtney Steeves will have their work cut out for them against the Boxers forward Morgan Branco.

D-I Central & West
These regions are also wide open. Nashoba and Wachusett look destined to meet each other in one semifinal, while Algonquin and Shrewsbury look ready for the other semi. It will be interesting to see if the Tomahawks can get out of the Central and defend their state title.

In the West, it's Minnechaug's title to lose. Lauren MacLellan is a tough forward to contain.

D-II North
Look for Belmont's playermaker Katie O'Brien to set up Lauren Thurber as the top-seeded Marauders look ready to make a deep tournament run. Danvers is the No. 2 seed and had impressive regular season wins over Peabody and Central Catholic. But they also lost to No. 4 seed Bishop Fenwick, so the D-II North title is there for the taking.

D-II South
East Bridgewater is the top seed with a 16-2-0 regular season record. But don't overlook No. 5 seed Cardinal Spellman, the defending D-II champions will no doubt be out to defend their title.

D-III Overview
Shawsheen (No. 20 on ESPNBoston) earned the top seed in D-III North and Nantucket earning the top seed in the South with a perfect 18-0-0 record. Bromfield earned the top seed in the Central and Gateway earned the top seed out West. And with defending D-3 Champion Millis not qualifying for the tournament this year, there will be a new D-III state champion crowned.
September, 9, 2010
9/09/10
12:38
AM ET
By
Brendan Hall
| ESPNBoston.com
HOLDEN, Mass. -- The heat and humidity finally got to Mike Dubzinski at some point this summer. And so one July night, he found himself tossing and turning as he tried to sleep in his Rutland home, walked downstairs to his living room around midnight, and flicked on the television. The town's community access channel just happened to be playing the Division 1 Super Bowl win over Holy Name from last December, the one that capped his Wachusett Regional Mountaineers' flawless 13-0 season.
Some teams can't bear to watch the film after coming out on the short end of an overtime loss or regulation beatdown. But that chance happening last July, Dubzinski says, is the only time he's even thought about 2009, one of the most remarkable campaigns in program history.
"We haven't spent one sentence or one moment talking about last season," Dubzinski said. "That's not to diminish anything that's happened, but once it's over, we've moved on. You have to.
[+] Enlarge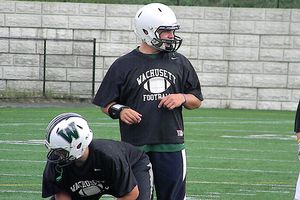 Brendon Hall/ESPNBoston.comSenior quarterback Matt LeBlanc embraces the collisions that made him a respected linebacker in years past.
"I have a whole new group of kids, and we owe it to them as a coaching staff to put forth that same effort. They deserve that full attention to detail."
Coachspeak? At first glance, decidedly so. But then out comes his diminutive senior kicker unloading prodigious blasts from his right foot that land in touchback territory nearly every time. When the time comes for point-after and field goal attempts, the JV players don't just huddle behind the goalposts. Dubzinski sends them out to the parking lot down the hill, and then watches as the little guy's kicks sail two, maybe three stories high into the air.
You get the idea. The Mountaineers may only return eight starters (three offensively), but the talent is still there in the most unconventional ways. And perhaps nobody embodies that defiance of convention better than senior
Connor McDavitt
.
At just 5-foot-6, 145 pounds, the baby-faced senior looks more suited to be carrying water for the freshman team than he does launching footballs a considerable distance. Yet there he is, connecting on field goals in practice from as far out as 60 yards; taking Central Mass. indoor track titles in the 55-meter dash (6.77 seconds) and hurdles (7.98); covering a vast plain of ground as a centerfielder and beating out the throw to first base out of the leadoff spot (some believe that's his best sport); and, at the end of the day, turning out as the nation's 50th best kicker and the state's 12th-best prospect by ESPNU's scouting service, ahead of big-time BCS commits like Lawrence Academy's Anthony Knight (NC State) and Mike Orloff (Iowa).
"He's a complete athlete. The kid's a total package," says senior quarterback and co-captain Matt LeBlanc. "I know he doesn't look it, but he's an athlete...he comes out here before practice and drop-kicks it from about 60 yards."
Not often does a kicker set the tone. But in Holden?
"It's huge," LeBlanc said. "Almost every kickoff is a touchback. If we're in a hole at our own 10, we can count on him to kick it back to their 30. I mean, he's got a great leg, such a small kid, I mean...I grew up with him, and he's just an athlete. You should see him play baseball. Just a stud."
There's pedigree in the McDavitt clan -- his father, Tom, punted at Amherst College in the early 80's; his brother, Tom, punted for Tufts earlier this decade -- and since he was about eight years old, he's been practicing under their tutelage. Some kids hone their skills through soccer, but McDavitt only took two years of it before deciding on Pop Warner. Rather, he got his kicks in just hanging around the open fields on the campus of Anna Maria College, not too far from his Paxton home, and booting the ball around -- "Beats here, running through the parking lots or into the swamp," McDavitt laughs.
McDavitt and his deceptive speed will also play a role in the Mountaineers' offense, where he will look for open space as a slot receiver; and in the return game, where he is fielding kickoffs for the first time.
He admits size is somewhat of a motivating factor -- "a little bit," he smiles sheepishly -- but Dubzinski's prose speaks to deeper intangibles.
"Let me say this. I don't care how big you are," he starts matter-of-factly, with a pause. "OK? I don't care how big you are, but I do care how tough you are...McDavitt? He's going to leave Wachusett with 12 letters. He's a versatile athlete. Mentally, he's tough."
For the soft-spoken LeBlanc, there is considerable bite to his relatively muted bark. Defensively, he is calling the shots at inside linebacker, and relishes in being right in the middle of the collisions. That same mentality carries over to an offense that will be more of a run-oriented attack in 2010. LeBlanc embraces the contact he takes on carries around the edge.
"There's nothing more that I like to do," he smiles. "Just that feeling, you know. I like to hit. Whether it's blocking, or making the tackle, carrying out a block on offense, as long as I'm hitting I'm happy...I'm lowering my shoulder, I'm not trying to sidestep them.
"I love it, that's the kind of football I play. I grew in a tough football family, and that's the way I've always played since Pop Warner."
WACHUSETT AT A GLANCE
2009:
13-0 (5-0 Division 1A), won Central Mass. Division 1A Super Bowl
Coach:
Mike Dubzinski (11th year at Wachusett, 74-49; 16th year overall, 99-77)
Players to watch:
Matt LeBlanc, Sr., QB/LB; Shane Murray, Sr., OL; Connor McDavitt, Sr., WR/K; Alex Goodhile, Sr., OL/DL; B.J. Foley, Sr., RB/LB; Eric Darko, Sr., RB/LB; Nick Champlin, Sr., RB/LB; Matt McMillen, Sr., RB/LB; Tyler Catalina, Sr., DL/OL; Steve Trychon, Sr., QB/DB; Rocco DiVerdi, Sr., DB; Sean Goehle, Sr., DB; Alex Turgeon, Jr., TE/LB; Zack Mazyck, Sr., OL/DL; Josh Anderson, Sr., OL.
Strengths:
Speed, linebackers, kicking game.
Weaknesses:
Inexperience on offensive and defensive lines.
Outlook:
The Mountaineers return just eight starters from last season's Super Bowl winning squad, but the perception around Central Mass is that Dubzinski's boys still have plenty left in the tank to defend their title. LeBlanc is an inside linebacker who happens to play quarterback, and he leads the offense as such, with a bullish running style around the edges. Also look for the diminutive McDavitt -- who happens to be the defending Central Mass. indoor track champ in the 55-meter dash and hurdles -- to be active with the ball, returning kicks and creating space for himself off underneath routes (a.k.a. the Welker). McDavitt is considered one of the state's best placekickers, too. Defensively, the line is young but Catalina has been a stalwart in the middle thus far. The Mountaineers are long in the tooth at the linebacker spots, and will switch off between 4-4, 5-2 and 3-5 looks accordingly based on personnel.