Boston High School:

Wake Forest Demon Deacons
October, 2, 2012
10/02/12
11:26
PM ET
By
Roger Brown
| ESPNBoston.com
St. Sebastian's Connor Strachan has a message for those eager to learn where he will be playing college football: Be prepared to wait.
"Yeah, right now recruiting isn't really the focus," Strachan said. "We have a chance for an undefeated season, so I think it's best to play the season out and then narrow it down."
Strachan, a 6-foot-1, 230-pound junior, has scholarship offers from four schools: Boston College, Connecticut, Virginia and Wake Forest. He received his offers after attending each school's camp last summer. Although he's being recruited primarily as an inside linebacker, he said Connecticut and Virginia have shown interest in his skills as a running back as well.
[+] Enlarge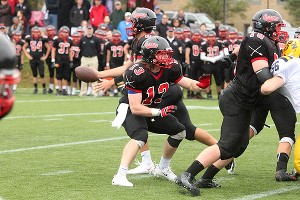 Ryan Kilian for ESPNBoston.com St. Sebastian's junior linebacker/running back Connor Strachan already claims offers from Boston College, Virginia, UConn and Wake Forest.
"I've been playing linebacker longer," Strachan said. "I feel I'm geared more toward defense."
Strachan, who lives in Wellesley, is the only New England player from the Class of 2014 in the ESPN 300 Watch List, which was released last week.
"Strachan may play at a small school, but he's a big-time talent on a national level," ESPN recruiting coordinator Billy Tucker said. "He was recently named to the 2014 ESPN 300 Watch List as we saw prototypical size and speed measurables for the inside linebacker position, as well as deceptive athleticism and run-stopping instincts to be very productive at the BCS level."
Strachan's uncle Steve played at Boston College and in the NFL for the Los Angeles Raiders, and his brother Brian is a sophomore wide receiver at Brown.
Maryland, North Carolina, Notre Dame and Penn State are among the other schools showing significant interest in Strachan.
"I really want to play at the highest level possible, but I'm definitely looking for a place with good academics," Strachan said. "After the season I'll try to do some visits and narrow it down to two or three schools. I'd like to have it done before next summer."
Back in action:
Former Everett High School quarterback Jonathan DiBiaso isn't the only Division I recruit in the Phillips Exeter Academy backfield this season.
Running backs Andreas Robinson (Dartmouth, Nova Scotia) and Devon Carrillo (Middletown, Conn.) will both have plenty of Division I options to choose from.
"They're like clones of each other," Phillips Exeter coach Bill Glennon said. "Carillo is a free safety, but we're real tough when he's in the [offensive backfield]. Carillo is tougher inside, Andreas is a kid who can get to the outside."
Robinson was the NEPSAC's leading rusher in 2010, but missed most of last season with an injury. He has taken visits to N.C. State, North Carolina and Stanford. Glennon said both Robinson and Carrillo are drawing heavy interest from FCS schools as well.
"Maine has already offered both, and UNH is gonna offer," Glennon said. "I think the [FBS] schools are more interested in Andreas as a defensive back, and then everyone else on the I-AA level is interested in him as a running back."
Conn. man
: Boston College landed one of the top athletes in Connecticut when Manchester High School quarterback/linebacker Marquis Little committed to the Eagles late last month. Little is expected to play outside linebacker in college.
Andrew Isaacs, Little's high school teammate, decommitted from BC to accept a scholarship offer from Maryland earlier this year.
Footnotes
: Brookfield (Conn.) High School's Boeing Brown, the No. 11 recruit from Connecticut in the Class of 2013, has been moved from quarterback to wide receiver this season. ESPN has Brown rated s two-star quarterback...Roxbury Latin quarterback Mackay Lowery completed 24 of 37 passes for 291 yards and five touchdowns in last weekend's 34-33 victory over Thayer Academy. Lowery has committed to Boston College.
Recruiting information regarding high school or prep school players in New England can be sent to Roger Brown at
rbrown@nhfootballreport.com
.
June, 19, 2012
6/19/12
12:33
PM ET
By
Roger Brown
| ESPNBoston.com
Buckingham Browne & Nichols tight end Brendan O'Neil said there was no timetable for selecting the school where he would play college football, but the process was accelerated following his second visit to Wake Forest.
That's when O'Neil learned that in many cases scholarships are handed out on a first-come, first-served basis.
[+] Enlarge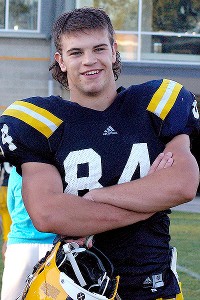 Courtesy of Kathy O'NeilBB&N tight end Brendan O'Neil committed to Wake Forest late last week over offers from Temple, UMass and UConn.
"They didn't put any pressure on me or anything like that," O'Neil explained. "It wasn't like they were trying to rush me. They just told me that one tight end/receiver had already committed and there was room for one more, but they had offers out to a couple other guys who had the opportunity to play there. I didn't want to miss out on a great opportunity at Wake Forest."
O'Neil, who recently completed his junior year at BB&N, committed to Wake Forest last Thursday. He is rated as a two-star prospect and the No. 6 recruit from Massachusetts in the Class of 2013. O'Neil, who lives in Burlington, also had scholarship offers from Connecticut, Massachusetts and Temple. Wake Forest offered him a scholarship in April.
"I visited Wake Forest over spring break, and gave them my highlight tape then," he said. "I was looking for a school with great football and great academics."
O'Neil took unofficial visits to Connecticut, Massachusetts and Wake Forest, and had narrowed his choice to Connecticut or Wake Forest before he visited Wake Forest a second time earlier this month.
"I went to Wake Forest a second time to make sure I was comfortable," O'Neil said. "It was beneficial. I got a better feel for it. I didn't get to meet all of the coaches during my first trip.
"I was going back and forth between UConn and Wake. UConn has great facilities, I liked that it was close to home and the coaches seemed like good guys, but I liked Wake a lot."
O'Neil, who is 6-foot-5 and weighs 230 pounds, said the Wake Forest coaches told him they wanted to bring in a tight end who was a good receiver, but also a good blocker.
"They told me they see me as someone who can do both," O'Neil said.
"They have a pretty balanced offense as far as the tight end is concerned. The coaches told me they liked the fact that I didn't get caught from behind on any of my plays [on his highlight tape] so I have the speed to stretch the field. They also said they liked some of my defensive plays [at defensive end]. They like to see some chippiness."
Boston College High offensive tackle Jack McDonald and Tabor Academy offensive tackle Tevin Montgomery are the top-rated uncommitted recruits from Massachusetts in the Class of 2013. Both are three-star recruits.
"Wake Forest has a philosophy that whoever the best player is will play," O'Neil said. "If I can beat out some guys I'll play. If not, I'll likely redshirt."
June, 15, 2012
6/15/12
3:08
PM ET
Buckingham, Browne & Nichols tight end Brendan O'Neil told correspondent Roger Brown last night that he committed to Wake Forest for the 2013 season, earlier in the day.
O'Neil, a Burlington resident, is a two-star tight end who also held offers from UConn, UMass and Temple at the time of his commitment.
"Brendan had some great options with Wake, UConn and UMass," BB&N head coach John Papas wrote in a statement to ESPNBoston.com. "In the end, he felt like the combination of football and academics at Wake were the best fit. He was very thorough and visited twice. The visit last week sealed the deal. What Wake is getting is a 6-foot-5, 230-pound athlete who can block at the line of scrimmage but can also stretch the field. More than anything, he's a relentless competitor."
Scouts Inc. offers a favorable evaluation of O'Neil, the full breakdown of which you can find
HERE
.
With O'Neil you seem to get a kid who plays hard and gets the job done. He has solid overall size, but doesn't look quite as big as his listed measureables, but he does look to have a frame that can support additional good mass with time in a college weight program. He is a pretty solid receiver who displays the ability to consistently catch the ball away from his body. He demonstrates some body control to be able to adjust to passes thrown a little off target. After the catch displays marginal ability to elude defenders, but is a tough kid who will fight for yards and quickly get up-field and get what he can. As a blocker he does a good job of getting hands on. He displays solid playing strength and the ability to generate leg drive and create some push.
May, 1, 2012
5/01/12
3:22
PM ET
By
Brendan Hall
| ESPNBoston.com
Former Central Catholic standout and Wake Forest center Carson Desrosiers will be transferring to Providence College.
Citing a source, ESPN's Adam Finkelstein initially reported the news
on his Twitter account
.
Desrosiers has confirmed the news on his own Twitter account -- "Excited to be a new member of Friartown! Go Friars,"
he wrote in a tweet
.
The 6-foot-11 Windham, N.H. resident led Central Catholic to MIAA Division 1 state championships in 2008 and 2010, before moving on to Wake Forest. In two seasons in Winston-Salem, he averaged 4.4 points and 3.7 rebounds, with 38 starts, and totaled 112 blocks. His 52 blocks in 2010-11 were the most by a Wake freshman since Tim Duncan.
Desrosiers declared his intent to transfer late last March, and was released from his scholarship.
Per transfer rules, Desrosiers must sit out the 2012-13 season. He will have two years of eligibility remaining starting in the fall of 2013.
Desrosiers is the latest high-profile local to sign on with Friars head coach Ed Cooley. Providence also has commitments from South Kent swingman and Providence native Ricardo Ledo, the nation's No. 21 overall senior; and point guard Kris Dunn, a McDonald's All-American this past season out of New London (Conn.) High.
September, 5, 2011
9/05/11
11:57
PM ET
By
Brendan Hall
| ESPNBoston.com
King Philip Regional forward
Jake Layman
told ESPNBoston.com earlier this evening that he has verbally committed to Maryland and head coach Mark Turgeon for the 2012-13 season.
Layman is the No. 53 overall player in the Class of 2012 in ESPNU's latest rankings, and the nation's No. 11 small forward. He was considering offers from at least 15 other high-major programs.
Late last month, Layman had initially set up official visits for September, starting with College Park this Labor Day weekend followed by subsequent visits to Syracuse, Louisville, Florida and Wake Forest. But his relationship with Turgeon and the rest of his staff has been notably strong, going back to when he was first offered a scholarship by Texas A&M last February.
Layman called Turgeon this afternoon, driving back to his home in Wrentham, and gave him his commitment over the phone.
"My relationship with the coaches has been real strong, with every single coach," he told ESPNBoston.com.
"I like Coach Turgeon's style of play, his offense is a good fit for me," he continued. "The ACC is a good conference for me, too. I think it's the most skilled conference in the country, I like it a lot. I've spent a lot of time with the players [on my visits], I know them real well, and they're easy to talk to, so that's good. Plus, I have the opportunity to be an impact player my freshman year."
Layman was named to the starting five of ESPNBoston's inaugural
MIAA All-State Team
last March, after leading the Warriors to a surprise appearance in the Division 2 South Finals and averaging 24.6 points, 13.6 rebounds, 4.6 blocks, 3.1 steals and 2.3 assists. He also took Hockomock League MVP honors to cap off a historic season for the program, which set a school record for most wins in a season (17).
After a run with the Boston Amateur Basketball Club on the AAU circuit this summer, which included winning the Nike EYBL Championship on national television in July, Layman saw his recruitment explode. Syracuse, Louisville, Notre Dame, Wake Forest, DePaul, Virginia Tech, Iowa, Gonzaga and Florida all jumped in with offers for his services.
August, 23, 2011
8/23/11
6:05
PM ET
By
Brendan Hall
| ESPNBoston.com
King Philip senior forward Jake Layman has narrowed his list of schools down to five and will begin taking official visits to each school next month, his mother Claire told ESPNBoston.com this afternoon.
Maryland, whom some have viewed as the favorite, has made the cut, and will be his first visit over Labor Day weekend. Syracuse, Florida, Louisville and Wake Forest will be the other schools he will visit.
The 6-foot-8 Layman is the No. 54 overall player in the Class of 2012, the No. 11 small forward, and the state's top prospect. Last March, he was named to the starting five of
ESPNBoston's inaugural MIAA All-State Team
, after leading the Warriors on a surprise run to the Division 2 South finals and averaging 24.6 points, 13.6 rebounds, 4.6 blocks, 3.1 assists and 2.3 steals. He was also named the Hockomock League's Most Valuable Player.
June, 8, 2011
6/08/11
5:12
PM ET
New Hampton (N.H.) power forward Zach Auguste told ESPN's Paul Biancardi this afternoon that he was offered a scholarship from new Providence head coach Ed Cooley.

Auguste, a 6-foot-9 Marlborough native, visited the Friars unofficially for the second time earlier this week and sat down with Cooley and his staff.

"Coach Cooley is a very real person," Auguste said. "He's personable and real and I felt very comfortable with him and his whole staff. They see me as a guy who can help the program immediately. Plus, basketball is like church there (at PC), everybody goes."

Auguste also mentioned that he speaks three languages fluently (Greek, French Creole and English) and hopes to major in business, possibly internationally, a major which Providence offers.

Auguste also holds offers from Notre Dame, Boston College, UMass, Wake Forest, Virginia, DePaul, Oregon State and Penn State. He is also garnering attention from West Virginia, Syracuse, Kansas, Georgia Tech and Alabama.