Boston High School:

Walt Dubzinski
May, 2, 2013
5/02/13
10:16
PM ET
By
Brendan Hall
| ESPNBoston.com
There is fame, and then there are those folks, some say, who are better than famous -- they are beloved.
To be a fly on the wall at the memorial services this week for Walt Dubzinski, Sr., the former Gardner High coach and grand patriarch of the legendary Dubzinski coaching family, was to be part of a spectacle. The eldest Dubzinski passed away peacefully last Friday at the age of 93, but left behind generations of decorated lineage.
At the time of his death, Dubzinski was the last living member of Boston College's 1941 squad that won the Sugar Bowl and captured a national championship. He went on to play two years in the NFL, most notably the New York Giants in 1943, before enlisting in the Navy for World War II. Upon his return home, he had one-year coaching stints at Fitchburg and Rockland before assuming the Gardner job from 1946-65, where the Wildcats were among the state's most dominant with an unorthodox "Single Wing" offense.
A member of the Massachusetts High School Coaches Hall of Fame and Boston College Varsity Club Athletic Hall of Fame, Dubzinski gave way to one of the First Families of high school football in Massachusetts. One son, Walt Jr., has roamed the Gardner sidelines for the last 27 seasons, winning a Super Bowl in 1997; prior to that, he won three Super Bowls in the late 70's and early 80's with Lunenburg High.
Another son, John, coached Leominster High from 1985-2010, leaving the Blue Devils with five Super Bowls and 215 career victories (nearly two-thirds of the games he coached). He currently serves as defensive coordinator for his son, John Jr., who is entering his third season as head coach at Arlington High. Another grandson, Mike, is currently the head coach at Wachusett Regional, having previously served in the same capacity at Natick High. Still another grandson, Steve, serves as an assistant with his father Walt Jr. at Gardner.
Close to 1,200 people showed up for Tuesday night's wake, waiting nearly 2.5 hours in line to give their condolences. They showed up from near and far, from all walks of life, folks like BC legend Barry Gallup mixed in with local lifers from this working-class city.
"My father had a wonderful career here, he enjoyed his work and I never saw a guy who didn't want to play for him," said Walt Jr., who read the eulogy at Wednesday's funeral. "He enjoyed this community, he enjoyed Gardner High School. He had a love affair with this community, and was proud of everything that happened here."
That included the busybodies employed by the many assembly lines throughout Gardner, nicknamed the "Chair City" for its many furniture factories in the 20th Century.
"One of the things he said too, he was really proud of places like Heywood-Wakefield, Nichols & Stone [furniture factories], and particularly Simplex [securities firm]," Walt Jr. said. "He was proud that they were worldwide leaders in their field, and they were Gardner people. He was the son of immigrants, who grew up in the height of the depression, and he understood hard work.
"He never differentiated between the owner of the factory and the factory worker, they were all the same. There were no big people and small people. There were no people who were important and people who were unimportant -- they were all important. He was blind to social status, financial status, he liked who you were and what you did. He liked the people in the factories and what they did."
So how would he have received all the outpouring of support this week?
"He would have been embarrassed," Walt Jr. said. "He never saw himself in that kind of light."
THOMAS TAKING IT EASY
The recruitment of St. John's Prep running back Johnathan took another upward turn late last week, when Arkansas running backs coach Joel Thomas visited the Danvers campus early Friday morning to watch the sought-after prospect work out, eventually following up with a scholarship offer.
Thomas, a 5-foot-11, 205-pound Salem resident, is one of New England's top prospects for the Class of 2014. He has seen increased attention since impressing scouts last January with a 4.47 40-yard dash time at the Under Armour All-American Combine. Last fall, he was named to ESPN Boston's All-State Team and was the lone junior among the five finalists for its annual "Mr. Football" award, rushing for 1,794 yards and 15 touchdowns as the Eagles captured the MIAA Division 1 Eastern Mass. Super Bowl.
UMass was the first Division 1 FBS school to offer Thomas last fall, and since then Boston College, UConn and Maryland have all offered, with the latter hosting him for their spring game last month.
As the attention continues to climb, Thomas will be laying low. He says he does not plan on attending any camps, instead focusing on team-based activities the rest of the offseason.
"I'm most likely going to be a captain next year, so you have to lead by example," Thomas said. "You have to do everything that you can to show them. You have to be a role model for the young guys. So if you're not showing up, they're not going to show up."
The attention itself can be overwhelming at times, he said. In particular BC, which he has visited several times, has been "very aggressive" in trying to secure a commitment.
"Sometimes it can be overwhelming, because they really pressure you to commit right away," Thomas said. "And if you're not ready to commit..it's still early, I do want to commit before the season, but if I'm not positive about something, I don't want to commit because once you commit at the Prep, it's a done deal. There's no de-committing."
That may come as a departure from others' recruitments in recent years. Back in March 2010, Brockton High safety Albert Louis-Jean committed to the University of Miami, nearly 11 months before signing day for the 2011 class, only to renege and switch his commitment to BC after Miami head coach Randy Shannon was fired.
In April 2012, Everett High's highly-sought after offensive tackle John Montelus committed to Notre Dame, and later admitted on signing day last February that he probably committed "too early", in part because the pursuit from colleges didn't cease.
"I got a call from [Ohio State linebackers coach Mike] Vrabel a month ago, saying 'Are you sure you want to go to Notre Dame? Are you sure you don't want to take a last trip to Ohio State?'," Montelus
said at the time
. "And I was like yeah, I'm all set, but if I change my mind I'll give him a call. I knew Notre Dame was the right place though."
Under new head coach Steve Addazio, who has been relentless thus far on the recruiting trail, BC has already locked up three in-state commitments for the 2014 class. The first pledge came from Doherty High wideout/defensive back Isaac Yiadom on March 29, and that was followed by commitments on April 20 from Millis offensive lineman Jon Baker and Roxbury Latin linebacker Kevin Cohee.
SAULNIER SEEKING ASSISTANCE
Former Walpole assistant and Trinity College standout Ryan Saulnier was named the head coach at Cambridge two months ago, replacing John Shea, who stepped down in January. Saulnier, a math teacher at Cambridge, was defensive coordinator the last four seasons for Walpole, making three playoff appearances over that time; he also played for legendary coach John Lee at Walpole, graduating in 1992 having won two MIAA Super Bowls.
The Falcons are coming off a 7-4 season in which they turned heads for a few weeks after pushing juggernaut Everett to the brink for three quarters, but many questions lie ahead.
One of those questions regards the naming of coordinators. Saulnier still has not laid out his plans, and it still seeking applications. Word of the opening made its way to a post on FootballScoop.com, a popular website for coaching position postings nationwide, and before long he had resumes coming in from Illinois, Rhode Island, Florida and North Carolina.
In the meantime, though, his players are anxious to get started.
"The biggest concern is my players want their playbook," he laughed. "I keep telling them 'Relax, we'll get it'. I keep reminding them the MIAA doesn't let us start until August 19.
"I think this is gonna be a year of transition and building, but we owe it to those seniors to put all of our effort into it. I'm up every night late all around, I've put together a bunch of ideas."
Among the biggest holes to fill figure to be at quarterback. Junior David Maaghul led the Falcons last fall with a record-breaking campaign, setting the school's single-season passing touchdown mark. But he is expected to transfer to Salisbury (Conn.) Prep for the fall and re-classify to the 2015 class, which should give way to a quarterback battle between two kids he beat out initially for the job. One should be Cameron McMillan, a pocket presence who started at defensive back last year; the other figures to be Marcus Collins, a tall and athletic passer in more of the dual threat mold.
Elsewhere, Shaquille Anderson figures to be back as starting tailback, serviceable for his breakaway abilities and good hands receiving passes out of the backfield. Joey Kozlowski, the defense's heart and soul, will be back as well as three-year starter Chris Thomas at center.
At wide receiver, the Falcons must find a way to replace All-State wideout Elijah Scott, who will continue his career at Division 3 Centre (Ky.) College in the fall.
But here's the dirty little secret about the Greater Boston League, perceived in most years to be a wasteland outside of the Everett juggernaut. Even when you exclude Everett, there are diamonds in the rough to be found, for a number of reasons, demographics and sheer population chief among them.
Consider the fact that three active NFL veterans are alumni of the GBL, yet not one of them played their football at Everett -- Colts tackle Gosder Cherilus (Somerville '02), Seahawks tackle Breno Giacomini (Malden '04) and Cowboys guard Mackenzy Bernadeau (Waltham '04).
"When John Lee found out I was teaching in Cambridge, he practically ran over to my house to make sure I would go for the job once it was available," Saulnier said.
Speaking to the talent in Cambridge, he continued, "I know the reputation around Cambridge is they have tough athletes. Their track program is exemplary, they just won the [4x200] relay and three of the four kids are returning football kids -- they have top line speed.
"I know the issue historically in Cambridge is finding linemen, and one of my jobs is going to be to make sure I'm in the hallways at Cambridge. Certainly we're looking to build a community, and it's important to have good player turnout. There are big kids walking the halls at Cambridge, and the school has proven over the years to produce Division 1 talent."
October, 17, 2012
10/17/12
7:55
PM ET
By
John McGuirk
| ESPNBoston.com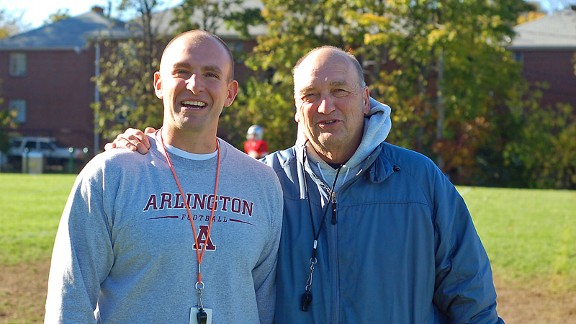 Brendan Hall/ESPNBoston.comArlington head coach John Dubzinski Jr. is looking to build up the Spy Ponders program alongside his father John Sr., who won five Super Bowls over three decades at Leominster High.
ARLINGTON, Mass. -- Growing up in a football enviornment was there any doubt as to whether or not John Dubzinski, Jr. would become a football coach and take his spot in the family coaching legacy?
After serving as an assistant coach at Leominster, Everett and Medford, Dubzinski knew he had the proper credentials and resume to run his own program.
That dream was fulfilled two years ago when he was handed the keys to the Arlington High School football program. Upon accepting the position, one of the first decisions he made was bring his father, John Dubzinski Sr., on board as an assistant.
Dubzinski Sr. is a Massachusetts football coaching legend, having spent the last 25 years guiding a highly-successful Leominster High squad. He cemented a solid record of 181-92-2, which included five Super Bowl titles.
Prior to his time with the Blue Devils, Dubzinski Sr. ran the show at Fitchburg High for five seasons. His list of accomplishements earned him induction into the Massachusetts High School Football Coaches Association Hall of Fame in 2006, going in with his brother, Walt Dubzinski Jr., who has been the front man at Gardner High School since 1986. Walt Dubzinski Jr's grandfather, Walt Dubzinski Sr., is another legendary figure, having served as the head coach at Gardner from 1945-1965. He, like his sons, is also Hall of Famer member, inducted in 1970.
Two of John Dubzinski Jr's cousins, Michael and Steven, hold their spots in the family coaching tree. Michael is head coach at Wachusett Regional High. Steven assists his father Walter in Gardner, and is also the varsity boys' basketball coach at Leominster High.
Not a bad pedigree for Dubzinski to grow up in.
When John Dubzinski Sr. was not retained as the Blue Devils coach two years ago, it happened to coincide around the same time of his son's hiring. These events immediately began the process for the younger Dubzinski to bring his father into the fold at Arlington.
"For me, it's huge having him here," Dubzinski Jr. said. "I am a history teacher at Everett so I don't get practices here until 3 o'clock. My dad gets here around 2 o'clock and already has the kids on the field and the practice schedule is up. Everything is ready to go by the time I get here and it's one less thing I have to worry about."
The thought of father and son coaching together had always lingered in the back of Dubzinski Sr's mind. However, he admits he wasn't sure if it would ever come to fruition.
"I always had that notion in the back of my head," he said. "I felt what a great way for me to finish up my coaching career. John worked with me for one year at Leominster, and I really enjoyed that. With him getting the Arlington job last year I felt it was close enough for me (a 50-minute drive from his home in Leominster) to get down here in the afternoons. Fortunately, I had retired from teaching and had some time on my hands. It's really been a great experience for me here and I am truly enjoying every minute of this."
Growing up in a football household, Dubzinski Jr. tried to accumulate as much knowledge as he could about football and coaching styles and philosphies. Now with his No. 1 confidant working alongside him, Dubzinski Jr. says there will always be a spot for his father for as long as he wants to continue coaching.
"At the time I was always going for a head coaching job and my father was still coaching in Leominster," said Dubzinski Jr., who played his college ball at Bates. "If we were ever able to coach together at some point I said to myself if it happens, it happens and if it doesn't then it doesn't. But deep down I knew someday he would help me out. As it turned out things fell into place perfectly and it has worked out well for both of us."
Playing under the tutelage of his father at Leominster is where Dubzinski Jr. developed his ambition to someday become a head football coach. For him, it never was just about running a program, it was about wanting to follow in the footsteps of his father. He says the primary factor behind it all was an opportunity for him to teach kids not only about the game of football, but life lessons as well. It is those values and principles he says he attained from his father.
"I feel the difference a coach can make in someone's life and the impact that you can make will last a lifetime," he said. "The main reason I wanted to get into coaching was to try and be a positive influence on kids. I want to try and give these kids the skills in helping them become good fathers, good husbands and good members of the community. If I, as well as my coaches, can do that here at Arlington then we've done our jobs. If we win a few games along the way then that's an added bonus."
Dubzinski Jr. goes on to say, "through my father and my family I learned about hard work, discipline,working in a team environment towards one goal, dealing with winning and dealing with losing. All of those things remain with you throughout your entire life. Playing football at Leominster I feel has made me who I am today. It really shaped my personality. It's pretty cool growing up in football family like I have.
"All of them, my father, my grandfather, my uncle and my cousins, have all helped me develop my philosophies in how to handle kids, etc. I listened to all of them and just soaked it all in like a sponge. I have my own personality but it is the lessons I learned from all of them, as well as (Everett head coach) John DiBiaso, that have helped me become who and what I am today."
Even though he retired as a teacher, Dubzinski Sr knew he was not ready to step away from football just yet. The unforseen circumstances regarding his termination at Leominster are in the past now. The bitterness from it has since subsided and he now considers it a closed chapter of his life. In retrospect, the chance to coach with his son played an intracle part in the healing process and has rejuvenated his passion to coach.
"I'm very proud of him," said the elder Dubzinski of his son. "He's doing a wonderful job here. He's a very good coach. If you read what he wrote in his high school yearbook, he said he wanted to coach, he wanted to teach and he wanted to be just like his father. He has accomplished those goals. He has taken over a rebuilding project here. It's a difficult job yet it's also a very rewarding job to try and get this program on the right track.
"The kids and other coaches here have all been wonderful. The parents and the community have also been great. I'm having a lot of fun here. My wife (Donna) said to me 'You would go out of your mind if you weren't coaching.' She was right. She is very happy that our son is doing what he wants to do and she is happy for me that I'm still doing what I want to do. I think when you work with young people you, yourself, tend to think younger too. You aren't an old man when you are around and working with these young people everyday."
Dubzinski Jr says Spy Ponder players refer to Dubzinski Sr, age 64, as "Daddy Dubs." His responsibilities here are coaching the offensive line and assisting on the defensive side of the ball.
"Anytime you have someone who has coached as long as my father has you always want to lean on him regarding various situations and strategies especially when you might be unsure about something," Dubzinski Jr. said. "He has been such a valuable resource to me. It is truly great having him here with me."