Boston High School:

Waynflete
May, 8, 2013
5/08/13
11:04
PM ET
By
Matt DiFilippo
| ESPNBoston.com
Waterville senior Bethanie Brown is coming off a winter season where she posted new state records in the mile and 2-mile. She was also state champion in the 800, 1,600, and 3,200 last spring. She also found time to be a state finalist in the Poetry Out Loud competition and blog for a high school running website, and she recently won the 2013 Maine Principals' Association Award, which takes into account a student's academic excellence, outstanding school citizenship, and leadership.

Brown will be running for the University of Connecticut this fall. She recently took time to answer some questions about UConn and her high school career.
Q:
What made you decide on the University of Connecticut?
A: "It was a number of things. Overall, out of all of the colleges that I looked at, it seemed to be the best fit for me. Recruiting junior year and especially last summer and fall was a crazy, once-in-a-lifetime experience. I got multiple calls every week last summer, and got to talk to a lot of coaches about their college, the team, and their coaching style. I finally narrowed it down to my top five, and those were the ones I took official visits to. After visiting each one and thinking about all the pros and cons of each school, I felt like UConn was the best fit. The University is big, so I'll have lots of options open for majors, which is important since I'm sort of undecided. I really like the coach, and I feel like her coaching style will work well with my personality. I met the team and really liked them, and I also know some people in Connecticut so it won't be as nerve-wracking to live there without my parents."
Q: You mentioned in one of your blogs about running laps and seeing the same neighbors walking their dogs five times. Obviously, there's some drudgery in running. What kinds of things do you do to stay motivated?
A: "Yes, I tend to joke about that. Since one loop of my neighborhood is 0.9 miles, it's kind of like a giant track! It's fun to see all my neighbors when I'm out running. We'll say hello and even chat sometimes when I finish my run. It's nice to have neighborhood support. Obviously, running loops can get boring at times, so when I feel bored I switch it up and run other routes. But, as a track person, I like running in circles! During the track season I usually run near the high school instead of in my neighborhood, so that gives my running a little bit of variety.
"In terms of staying motivated, it's not that hard because I like to run. There are days when I'm tired, and maybe not as anxious for my run as on other days, but I know the importance of continuity in training, and so I just do it. But I usually look forward to racing and going to practice, because running is something that I genuinely enjoy."
Q: You and the Waterville girls have had such an incredible run during your high school years. Do you find yourself thinking a lot about how your high school career is almost over?
A: "I don't think it's really hit me yet that this is actually my last high school track season. It feels so normal to be a part of the Waterville track team! It has been an incredibly exciting experience to go into each year aiming for a state title as a team. It creates a supportive, focused atmosphere, because each person knows that they need their teammates to do their best in order to win. As a freshman, I was intimidated by the team of older kids who were so good at their events, and so knowledgeable and serious about track. I remember being nervous to compete, but really enjoying being a part of such a successful team. Now, I guess I'm the older, serious track athlete. It feels strange to think I won't be there next year to help out the team. I will miss it so much, even though I'm excited for next year too. It's been so fun."
Q: Ian Wilson is regarded as one of the best coaches in the state. What makes him so good at what he does?
A: "He's really serious about track, and he devotes a lot of time to the team. He studies and continually learns more about the sport, so even though he never ran track, he is really good at helping his athletes to have good mechanics. He can look at someone who has never run track before, and know what they will be good at. He has made a lot of individual state champions, and, well, the team championships speak for themselves. It might seem like Waterville has a lot of talent, but really, it's that kids who have just as much talent as any other kids in any other school are spending 6 days a week at track practice, running and doing strength work, and working really hard to improve.
"Every meet, he emphasizes the importance of getting better each week. He plans tough, demanding workouts for his team, and the team toughs it out because they respect him and are motivated by him and his goals for the team. Not only is he good at the training side of track, he is also really good at the psychology of it too. He tells motivating stories, puts motivational quotes on the practice plan every day, and knows how to make his team feel confident in their abilities. He has a good sense of what motivates certain individuals, and what helps them specifically to do well.
"As a freshman, I was a little scared of him, I will admit. Scared because he seems very intimidating. In reality, he knows what he's doing, and isn't actually as scary as I thought he wasthat is, as long as you stay clean from drugs and alcohol, wear practice uniforms, never miss practice without permission, and give 110% effort in practice and at meets. He's the coach you'll hear bellowing from the sidelines at track meets. Trust me, it's like magic. When he yells, you do go faster. Even if you feel like you're giving your all, you just find another gear. It's sort of like a lion's chasing youbut instead it's Wilson yelling at you. Overall, he's just a really experienced, knowledgeable, motivating coach. I feel very lucky to have been able to work with him."
Q: Bill Stewart wrote a column in the Morning Sentinel, urging people to go watch you run so they could see greatness. What were some of the reactions you had when you read that column? Did your teammates kid you about it?
"My parents told me about it and read me some quotes from the article, because they really liked it, but they didn't have me read it. They are saving it for me to read at the end of the season. They don't want to put too much pressure on me. I've gotten a lot of comments from members of the community who saw the article and thought it was very nice, so I'm excited to read it. A parent of one of my friends told me that he liked seeing that article because he had been telling people at work for a while that they should come and watch me run."
Q: Alex Jenson is such a key part of your team, and she's out for the season with an injury. What's it like to watch a teammate go through that?
A: "It's really hard because I know it must be so frustrating for her to watch other people compete, and not be able to. It's her senior year, and she has loved being coached by Wilson, and has been such a key part of our team even since freshman year. I live near her, and so we have been friends since she moved to Waterville in fourth grade and we rode the bus together. I've always been impressed with her talent and work ethic, and I know that she'll find a way to stay positive through this disappointment because she's really tough."
Q: What kind of goals do you have for this season?
A: "My goal is to improve! It sounds so simple, but it can be difficult to keep finding ways to improve yourself. And when you finally get a PR, it feels so good! It's a feeling of accomplishment to know that you just ran faster than you have ever run before. This season, I started off with a lifetime PR in the 3200 (two-mile) of 10:22, and so I'd be thrilled to improve that time. In my races I have to run at the front a lot, which is different than running with a pack of girls, and can be hard to do sometimes. So, another goal is to just be really focused and tough even when I'm just racing the clock."
NEW INDUCTEES FOR MAINE SPORTS HALL OF FAME
The Maine Sports Hall of Fame inducted 10 new members at its annual banquet May 5 at the Augusta Civic Center. Included on that list are four people who are inducted based on their contributions to Maine high school sports:
- Skowhegan field hockey coach Paula Doughty, who has won 438 career games and 14 Class A state championships. Doughty has twice won the National Coach of the Year award, and her teams have won 11 of the last 12 Class A state titles.
-Cony girls basketball coach Paul Vachon. Now the athletic director at Cony, Vachon compiled a 451-40 record while coaching the Rams. He won 11 regional and seven Class A state championships.
-Football coach John Wolfgram, who has won a total of 10 state championships at four different high schools. Wolfgram's Cheverus team won 34 consecutive games from 2010 to 2012. That broke the previous state record of 31, set by Wolfgram's South Portland team from 1995 to 1997.
PLAYERS TO WATCH
With spring season under way, here are eight athletes you should know about. This isn't meant to be a list of the best athletes in their sports, but it is clear that all of them can be expected to be at the top of their game this season:
Ryan Rebar, Foxcroft baseball:
An outstanding three-sport athlete, baseball is Rebar's best sport. He's a pitcher and shortstop. "A sign of a top notch pitcher is the ability to put up great numbers even when he does not have his best stuff," says Marc Calnan of
Examiner.com
. "Ryan Rebar does that. I have covered many games that Rebar has pitched between high school and American Legion in the last four years. I have not seen any situation overwhelm him. As a shortstop, he is as smooth as anyone in any class."
Sonja Morse, Cony softball:
Softball is still a game dominated by talented pitchers, and Morse carried Cony to the state title last year and could do so again this spring. Morse went 13-0 with 0.50 ERA last season, with 146 strikeouts in 87 innings. At the plate, she hit .479 and drove in 30 runs in 22 games. In the state final against South Portland, Morse retired the first 20 batters before losing her perfect game on a two-out single in the seventh of Cony's 2-0 victory.
Patrick Ordway, Waynflete tennis:
Ordway won the state singles title as a sophomore, and seemed poised to do it again last spring. He was the No. 1 seed and breezed into the semifinals, losing a total of five games in his first three matches. But in the semis, Ordway was stunned by fifth-seeded Jordan Friedland of Lincoln Academy, 5-7, 6-1, 6-4. Friedland went on to win the state title, and is back as a senior to defend his title. Their teams don't meet in the regular season and can't meet in the playoffs, but if Ordway and Friedland meet in the state singles tournament, it will be a fun match to watch.
Maisie Silverman, Brunswick tennis:
Silverman was the state singles runner-up as a freshman in 2011, and took the title last year as a sophomore, defeating Falmouth senior Annie Criscione, 6-3, 4-6, 6-4. Silverman was also tested in the tournament by Waterville's Colleen O'Donnell and Falmouth's Olivia Leavitt, both of whom are back this year. Brunswick is also out to defend its team Class A state title.
Nicco DeLorenzo, Kennebunk lacrosse:
The name rolls off the tongue, but he's more than just a name. According to a preseason feature article in the
Portland Press Herald
, DeLorenzo, a junior at Kennebunk, has already verbally committed to play at Colgate. DeLorenzo had 120 ground balls last season, and is a presence as a long-stick midfielder.
Lauren Steidl, Cape Elizabeth lacrosse:
Steidl is coming off a season in which she scored 58 goals and dished out 26 assists as the Capers reached the Western B championship game. Steidl will play for Princeton next year. She's actually one of two 50-goal scorers on the Cape Elizabeth roster. Talley Perkins, who will play at Boston University next season, had 50 goals last year.
Alex Shain, Sanford track and field:
Shain was a Fitzpatrick Trophy finalist after rushing for 1,400 yards and scoring 28 touchdowns for the Sanford football team this fall. He does the running thing pretty well in the spring, too. Shain is the defending Class A state champion in the 100 (11.33 seconds) and the triple jump (42 feet, 6.75 inches). He was also part of the school's state champion 4x100 relay team, and placed fifth in the long jump (20 feet, 0.25 inches).
Bethanie Brown, Waterville track and field:
Brown has one of the best résumés of any runner around. Last spring, she won the Class A state title in the 1,600 (4 minutes, 55.23 seconds) and 3,200 (10:34.79) then went out and won both of those events at the New England championships. She also helped Waterville's 4x400 relay team win the state title. The winter, she set Class B state indoor record in the mile and 2-mile. Brown is headed to the University of Connecticut this fall. In a preseason column, the
Morning Sentinel
's Bill Stewart wrote, "As you fill the calendars with what you hope to see this spring, particularly when the weather pleasantly warms, do yourself a favor and go see Waterville senior Bethanie Brown run. Do it. You won't be disappointed."
March, 27, 2013
3/27/13
6:54
PM ET
By
Matt DiFilippo
| ESPNBoston.com
Martha Veroneau's season was driven by one memory, and capped with a flashback to another.

Veroneau was the star player on one of the most exciting teams in the state — the Waynflete girls, who won this year's Class C state basketball title by defeating Calais in the final girls high school game ever at the Bangor Auditorium.
Although Veroneau set individual records in the 2012 tournament with 47 points and nine 3-pointers in a game, the Flyers lost to Hall-Dale in the regional final.
"Last year, after we lost in the regionals, everybody remembered sitting in the locker room and being so disappointed," Veroneau said, "because we were so close."
Veroneau was the major reason there were no such regrets this year. In five postseason games, she averaged 27.4 points, 7.6 rebounds, 5.6 assists, and 6.2 steals per game. She scored 19 points in the fourth quarter of the state final as Waynflete won by four.
"She's the most impressive athlete I've ever coached — male or female," said Waynflete coach Brandon Salway, who has also coached boys' basketball and soccer in his 24 years on the sidelines. "She raises the level of every team she's plays on."
The state final was Veroneau's last high school game. She finished with 1,465 points and 186 3-pointers.
"She had the green light since she was a freshman — a bright green light," Salway said.
Veroneau stands five-foot-six, but sometimes played the post on defense for Waynflete. On offense, the ball was in her hands as much as possible.
"She had tremendous ball-handling skills," Salway said. "We really haven't been pressed in four years. Teams try occasionally, but she was just able to break through the press with her speed and agility."
Salways and Veroneau also brought up how much Veroneau enjoyed playing on this team with this group of girls. The Flyers got together recently in Salway's office and watched the state championship game.
That night, things didn't go so well for the Flyers for much of the game. Calais led 34-22 at the half, was up by as much as 14 in the third quarter, and still held a 44-36 lead after three quarters.
"I think we all could see [watching the game] that we were a little nervous to be on that stage," Veroneau said. "Coach told me, 'You're better than this.' I was shooting some way deep 3-pointers that I normally wouldn't have, just because I was so nervous. I think I was trying too hard."
The turning point, Salway said, was when tournament officials brought out the Gold Ball trophy and set it on the scorer's table. Salway said Veroneau changed when she saw that, and Veroneau dominated the rest of the game, hitting several key free throws in the final two minutes.
It brought back memories of Veroneau growing up and shooting in her driveway, imagining that the state championship was in the balance and she was shooting the crucial foul shots.
"Those scenarios that I made up as a kid, I was actually in them," Veroneau said. "It was just surreal."
Salway said Veroneau has drawn a lot of attention from Division II and Division III schools, and there's little doubt she'd be an impact player at the Division III level.
"At least one Division Three coach told me if she was his point guard next year, he'd be an NCAA tournament team the next four years," Salway said.
The catch is that Veroneau won't be anybody's point guard next year. She's headed to Boston College, she's going to focus on nursing, and she won't be playing sports.
"I just love the atmosphere there," Veroneau said. "I've had second thoughts if that was the right call, because I'm missing basketball so much these past few weeks, but I think it will all work out."
For Veroneau, it might be even tougher for her to realize that her high school basketball career is over.
"We had a great run at it," she said. "We had memories together, and we had friendships that will last forever."
CHAMPIONSHIP GAME STAR EYES TRANSFER
Only a couple weeks after leading Penquis Valley High School to the Class C boys' basketball state title, Isaiah Bess made it public that he wants to transfer to Hampden Academy. The Broncos won the Class A state title this year.
Marc Calnan of
Examiner.com
originally reported that Bess was transferring, then later reported the same day that the transfer was unofficial.
"I think the move will help me in terms of education and will help me prepare for college in a few years," Bess told Calnan. "I am definitely a people person so seeing 750 new faces which involves meeting new people will be fun for me, also experiencing new challenges every day. The sports seasons should also be a good time."
MAGNUSSON RESIGNS AT CONY
After leading the Rams to the Class A state championship game in 2012 and the regional final from the No. 9 seed this winter, Cony girls' basketball coach Karen Magnusson resigned. Magnusson and her husband, Travis, the boys' basketball coach at Dirigo, are due to welcome their first child in August.
"I felt like I was choosing between my own kid and my basketball family," Magnusson told the
Kennebec Journal
. "It hurt because I want to be there. It's going to hurt until I have my baby then I want to spend time with my child. I want to be a great mom."
Magnusson was a star player at Cony and then the University of Maine at Farmington. Even while Cony was making a run through the Eastern A tournament. she provided color commentary on television broadcasts of some games in other brackets.
Magnusson told the
Kennebec Journal
she plans to return to coaching in two of three years. Cony athletic director Paul Vachon added that Magnusson "can work for us anytime."
March, 6, 2013
3/06/13
3:26
PM ET
By
Matt DiFilippo
| ESPNBoston.com
Like any old building, it has its flaws. It's cold and drafty sometimes, and way too hot other times. Everyone's relieved when the roof doesn't leak during games, or when a week of basketball tournament games goes on as scheduled without any old parts breaking down.

But the Bangor Auditorium, which hosted its last high school basketball tournament game on March 1, has history on its side.
The basketball part of the arena, of course, is old-fashioned. There are Maine high school tournaments at the Augusta Civic Center and the Cumberland County Civic Center in Portland. In Augusta, the concession stands are behind one of the baskets, creating a depth perception problem that knocks some teams right out of the tournament. In Portland, the seats are so far away that watching a game from the front row is like trying to watch your neighbor across the street.
At the Bangor Auditorium, everything is enclosed. There is little space behind the baskets or out of bounds, so the sound bounces off the walls loud enough that it can be impossible to hear the person talking next you.
"To this day, I wonder how anyone can play in that atmosphere," Lawrence coach Mike McGee told the
Bangor Daily News
. "It's amazing to look straight up and see the crowd. Your mouth is dry, all you want to do is drink water, and it makes you wonder how all those great athletes were able to perform in that setting.
"Since we've gone to the [Augusta] Civic Center coaching hasn't been the same for me," McGee added. "The fans are so on top of you in Bangor. You hear a giant roar when you score and now it's just silence by comparison. They can hear me all over the Civic Center, and back when we played in Bangor we had to use play cards because the players could never hear me."
Several newspapers and television stations have done tributes to the Auditorium over the past couple weeks. As the
BDN
wrote, "The Bangor Auditorium is filled with the echos of the basketball heroes it created, from Mike Thurston making a halfcourt shot as time expired to win the 1969 Class LL state championship for Caribou to Joe Campbell's buzzer-beating basket that rallied Bangor past Deering of Portland for the 2001 Class A crown."
Campbell's shot is one of the most famous in state history. He came from the other side of the basket to get a rebound and reverse layup just before the buzzer (Many still insist Bangor got a few extra seconds on the play because the clock operator was slow to re-start the clock.). Within a couple seconds, the floor was covered with Bangor fans. During this year's Eastern A boys tournament, Hampden freshman Nick Gilpin hit a 30-footer to beat Lawrence at the buzzer – a shot that made SportsCenter's list of Top 10 plays for the night. A group of adults formed a wall to make sure the Hampden fans didn't rush the court. No one thought to do anything like that in Bangor.
Maine has long had a problem keeping its high school graduates in the state or even in the area. That's especially true when you get north of the Portland area. Many big schools have seen their enrollment drop over the last 20 or 30 years. Presque Isle used to be in Class A and is now a normal-sized Class B school. Waterville has around 1,500 students in the late 1970s, and now has well under half that.
But even with the economy faltering and the small towns getting smaller, they still had the Bangor Auditorium.
"So many people, when they say 'That's the worst place to play,' they're not from northern Maine or eastern Maine," Lindsey Welch, who played at Nokomis and now coaches at Winslow, told the
Morning Sentinel
. "They don't know. I would get so defensive about the place. It's like family."
MR., MISS MAINE BASKETBALL SEMIFINALISTS NAMED
The 10 semifinalists for the Mr. and Miss Basketball Awards were announced recently, with the winners to be announced on Friday, March 8.
On the boys' side, the semifinalists are Garet Beal of Jonesport-Beals, Spencer Carey of Lawrence, Anthony DiMauro of Boothbay, Charlie Fay of Falmouth, Quin Leary of Edward Little, Garrett Libby of Old Town, John Murray of Medomak Valley, Aaron Todd of York, Mitch Worcester of Washburn, and Evan Worster of Forest Hills.
Beal is one of the favorites, even though his Jonesport-Beals team was stunned by Easton in the Eastern D tournament.
On the girls' side, the semifinalists are Leavitt's Kristen Anderson, York's Emily Campbell, Dexter's Lauren Crane, Presque Isle's Chandler Guerrette, Lake Region's Sydney Hancock, Camden Hills' Jordan Knowlton, Cony's Josie Lee, Gorham's Kristin Ross, Waynflete's Martha Veroneau, and Orono's Jillian Woodward.
Only three of those players are taking part in state championship games this weekend. Guerrette and Hancock will face off as Presque Isle takes on Lake Region in a rematch of last year's Class B state final, won by Presque Isle in a squeaker. In the Class C final, Veroneau and Waynflete will play Calais for the Gold Ball.
The biggest omission on the girls' side was probably Richmond's Jamie Plummer, who led the Bobcats to the regional title for the third consecutive year.
TWO PLUS TWO ON THE SIDELINES FOR EASTERN A GIRLS FINAL
The Eastern A girls' basketball final between No. 2 Bangor and No. 9 Cony was notable not just for Cony's run from the last seed, but also because both coaches – Bangor's Katie Herbine and Cony's Karen Magnusson – are pregnant.
Herbine – who is so animated on the sidelines she makes Jonathan Papelbon look subdued – is nearly six months along, while Magnusson is a little over four months into her pregnancy. Both were standout players at their current schools as high school athletes.
The game was anticlimactic. Bangor had a height advantage and outrebounded Cony, 54-29, in a 57-43 victory.
December, 17, 2012
12/17/12
8:08
PM ET
By
Matt DiFilippo
| ESPNBoston.com
For most teams, the Maine high school basketball season began Dec. 7. Here's a look at how the classes shape up

Class A Boys:
The West looks like a three-team race between Portland, Deering, and Bonny Eagle, with South Portland ready should there be an opening. Junior Justin Zukowski is Portland's top all-around player, and he has help in Nick Volger and Jayvon Pitts-Young. Deering tries to beat you inside, with six-six Labson Abwoch, and six-four Thiwat Thiwat, both of whom are from the Sudan and moved to the United States at an early age.
Hampden was upset by Deering in the state final, and even though the Broncos return only two starters, they were still the pick for first place in Eastern A's preseason coaches poll. Edward Little, Lawrence, and Bangor, all programs with strong traditions, could each challenge Hampden. Lawrence relies on forward Spencer Carey and guard Xavier Lewis, a transfer from Bangor.
Class A Girls:
Western A has at least four strong teams in McAuley, Scarborough, Cheverus, and Deering. Oddly enough, none of them play each other until January. Point guard Allie Clement leads two-time defending state champion McAuley. Add in three six-footers and a talented guard in sophomore Olivia Dalphonse (a transfer from Bonny Eagle), and this team should go far in the tournament again.
In the East, Edward Little, Mt. Ararat, and Mt. Blue should fight it out for the top spot. Edward Little's top scorer is guard Ashlee Arnold, and the Red Eddies have some motivation after blowing an 11-point halftime lead and losing to Cony in last winter's regional final. Mt. Blue has balanced scoring, and guard Gabby Foy is a player who can run up a lot of points in a short time. Brewer was the big surprise in the early going, beating Mt. Blue on a three-pointer at the buzzer, then knocking off Lewiston the same way three nights later. Bangor has the height and athleticism to play with anyone, while Oxford Hills, Skowhegan, and Lawrence could be sleepers in a deep league.
Class B boys:
Falmouth and York are two of the tallest and best teams in the West. York has five players six-four or taller; Falmouth has three at least six-five. Falmouth didn't return any starters this season, but began the year with three lopsided wins. To go with York's height, the Wildcats have senior guard Adam Bailey, who hit 11 three-pointers in York's first four games this season.
Expectations are very high at Oceanside, which finished 12-8 last season but returns four starters and is loaded with height. The
Portland Press Herald
even said that, "Anything short of winning Eastern Class B would be a disappointment." Winslow is expected to be a playoff team, but Oceanside beat the Black Raiders, 80-53, on opening night. Medomak Valley, Camden Hills, and possibly Caribou and Presque Isle will also look to get hot at the right time.
Class B girls:
Defending regional champ Lake Region is probably the favorite again. Tiana-Jo Carter averaged 15 points and 17 rebounds per game last winter, and the
Portland Press Herald
reports she has already received full scholarship offers to Division I schools. The Lakers are so deep at guard that freshman CeCe Hancock stepped in and had 11 points and nine assists in an early-season win over Waynflete. York, Gorham, Spruce Mountain, and Wells could all make a run at Lake Region. Leavitt might not have all the pieces to go all the way, but the Hornets have one of the most entertaining players in the state in senior Kristen Anderson, who will play at the University of New Hampshire next season. Anderson can shoot from 30-35 feet out, and often does.
In Eastern B, Presque Isle is the decided favorite. The Wildcats finally got past Nokomis last winter and squeaked past Lake Region to win the state title. Presque Isle's first three games this season were wins by scores of 39, 63, and 38 points, and that's a good indication of how their regular season will go. The Wildcats are never very tall, but they throw lots of quick guards at you and can shoot from long range. Nokomis, which won't face Presque Isle during the regular season, may have the best chance to defeat the Wildcats in the playoffs. The Warriors have three fine guards in Lindsay Whitney and twins Kylie and Kelsie Richards, and a good low-post option in Anna MacKenzie.
Class C boys:
Dirigo has won four consecutive Western C titles, and until someone gets past the Cougars, they have to be considered the favorites again. Even after graduating seven seniors from last winter's state champions, Dirigo was still picked first in the Mountain Valley Conference coaches poll. Boothbay is probably Dirigo's toughest competition in the MVC, and Waynflete, which competes in the Western Maine Conference, could be a dark horse.
Houlton went 8-10 last winter, but may just be the No. 1 team in Eastern C. Kyle Bouchard, who can play pretty much any position, leads the Shiretowners. Among Houlton's early wins this season was a seven-point victory on the road against a good Class B Presque Isle team. Penquis Valley and Lee Academy — which is currently on probation from the Maine Principals' Association for recruiting violations — are also threats for the regional crown.
Class C girls:
The Mountain Valley Conference is deeper, but the Western Maine Conference has the best player (Margaret Veroneau) and maybe the best team (Waynflete). The Flyers have a top-notch coach in Brandon Salway, and bring back all five starters. They're good enough that they almost beat Class B Lake Region, losing by five on the road. Madison, Lisbon, and Monmouth are also contenders. Mt. Abram should have been in that mix, but the Roadrunners had some players decide not to return, and apparently don't have everything they need to play with the top teams.
Calais, led by guard Madison McVicar and center Paige Gillespie, is the favorite in the East. Orono, Dexter, and Narraguagas are also in the hunt.
Class D boys:
Forest Hills is known for a lot of things, like being closer to the Canadian border than any other high school in Maine, and having kindergarten through 12 all in one building. The Tigers also have a great basketball team. Senior Evan Worster already has over 1,000 points, and everyone returns from a team that went to the Class D state championship game this winter. The Tigers will get tested this season, as Valley, Greenville, and possibly Hyde all have the potential to cut down the nets after the Western D final in late February.
When Jonesport-Beals won the state title last season, it did so with a total high school enrollment of 58 students. It helped immeasurably that one of those was six-foot-five Garet Beal, the state's Gatorade Player of the year. Beal will play at the University of Maine next season, and already has back-to-back 40-point games this season. The second of those was in overtime against Deer Isle-Stonington, a team that could challenge the Royals again this winter. Woodland could also give Jonesport-Beals a scare.
Class D girls:
It looks like Rangeley and Richmond will battle once again for the Western D title. Rangeley, a school with about 80 students, has three six-footers in sophomore Taylor Esty, freshman Blayke Morin, and transfer student Emma Gunic. Richmond has its own six-footer in Jamie Plummer, the daughter of Colby College baseball coach Dale Plummer. Rangeley won the first meeting this season, 56-54 in overtime.
In the East, Washburn won the state title last winter with no seniors and three juniors. The Beavers did lose their coach when Mike Carlos was not rehired after winning two consecutive state titles. There were widespread rumors of parents being unhappy with Carlos, who is now coaching at East Grand. When Carlos was not rehired, superintendent Ed Buckley released a statement to the
Bangor Daily News
which included the line, "we do not measure the success of our athletic teams by the number of contests they win but whether it is a positive experience for all our students." Diana Belskis Trams is now coaching the Washburn girls. Van Buren could give Washburn a run in the East. The Crusaders' star is junior guard Parise Rossignol, who verbally committed to the University of Maine as a sophomore.
June, 25, 2012
6/25/12
3:17
PM ET
By
Gary Hawkins
| ESPNBoston.com
Longtime Bangor High School boys' basketball coach Roger Reed reluctantly resigned recently after being informed by the administration to make a choice between coaching and serving in the legislature.

Leonardi Reed, 73, submitted his resignation a day before winning the Republican primary to represent House District 23 in the Maine Legislature. Reed will face Democrat Richard Thomas in the Nov. 6 general election for the right to fill the seat formerly held by Rep. David E. Richardson, who is also a Republican.
Reed, who retired this spring after a 47-year career as a teacher, hoped to continue coaching the Rams. In 27 seasons he led them to eight Class A state championships. In a career than began at Bangor Christian Academy, Reed has a career record of 571-201, a .740 winning percentage. After going 7-11 in his first year at Bangor, Reed's teams posted 26 straight winning season including a 14-6 mark last winter. The Rams won their eighth state title under Reed in 2011.
Reed wanted to continue coaching next season but was told Bangor principal Paul Butler that demands of time and travel to Augusta would be too great to do both jobs. The Legislature is in regular session during the winter months.
"Somewhere and sometime ago, it was decided that I wouldn't be allowed to do both," Red told the
Bangor Daily News
. "I really don't think that it has anything to do with logistics. I was assured by all who encouraged me to run that I would have no reason to give up coaching."
Butler, who played for Reed in the late 1980s, said he asked several people if someone could serve in both capacities and do justice to both jobs. He determined than it wasn't "It was an honest, good-faith decision. I think Bangor High School athletes and our program deserve 100 percent of a person's attention, and I just felt that it was untenable for somebody to do both," he told the BDN.
"Once I made the decision, I waited until after the season and asked Roger to choose us," Butler said. "I wanted, and offered, to have Roger back as coach and gave him until June to make that decision. I told him the only time I ever rooted against him was going into the primary."
WESSEL WINS JOHN WILKIN AWARD
Scarborough High School senior Ben Wessel won the Dr. John Winkin Award, presented annually to the state's top baseball player at the senior all-star game. Wessel sustained a torn ulnar collateral ligament which prevented him from pitching the Red Storm in the second half of the season but he returned to the lineup as a designated hitter and helped the team to the Western Maine Class A title.
Wessel led the Southern Maine Activities Association in batting average (.486), slugging (.943), on-base percentage (.600), RBI (21), triples (4) and home runs (2). As a pitcher the right-hander went 6-0 with a 0.62 earned run average and struck out 45 batters in 34 innings.
He expects to undergo Tommy John surgery in July and will attend the University of Rhode Island this fall.
GEAUMONT NAMES MISS MAINE SOFTBALL
Thornton Academy senior Julia Geaumont could have won the Miss Maine Softball Award as a pitcher or a hitter. She excelled at both. Geaumont got the good news at last week's senior all-star games. The award is presented annually by the Maine High School Softball Coaches Association.
This season Geaumont went 14-2 on the mound with an 0.84 earned run average and 136 strikeouts. At the plate, she batted .679 with 10 home runs and 38 RBI. Geaumont, who will attend Bowdoin College next fall, was also named Gatorade and Southern Maine Activities Association player of the year.
SANFORD NAMES NEW MASCOT
Soon after its boys track and field team won the Class A state championship, Sanford High School announced its new mascot.
Superintendent David Theoharides reported the new mascot will be the Spartans. Students in grades seven through 12 voted on four new nicknames — Spartans, Pride, Stampede and Cardinals. The Spartans claimed 587 votes to 423 for Pride, 202 for Stampede and 113 for Cardinals. The new mascot will go into effect starting with the 2012-2013 school year.
Sanford's school committee voted 4-1 last month to retire the Redskins mascot, the last high school in the state with such a nickname.
STATE CHAMPIONSHIPS
Baseball and softball championships in four classes were decided on June 16 at venues in Bangor and Windham. Eastern Maine teams swept the softball championships while East and West split for the baseball titles.
Class A Baseball
Messalonskee 6, Scarborough 3: The Eagles took advantage of seven errors by the Red Storm to win their first Class A title. All six of Messalonskee's runs were unearned. The Eagles turned two double plays including a memorable one in the bottom of the fifth when shortstop Sam Dexter dove for a ball in the hole, relayed it to second to younger brother Jake who threw to first. Messalonskee finished at 15-5, winning its last 10 games.
Class B Baseball
Falmouth 2, Foxcroft 0: Ninth-place hitter Ryan Conley ripped a two-run double in the second inning to lead the Yachtsmen to their first state title since 1998 and their first in Class B. Starter Thomas Fortier pitched a complete game, holding the Ponies to two hits while striking out six. Falmouth finished at 17-3.
Class C Baseball
Dirigo 6, Calais 1: The Cougars took an early lead and senior Ben Holmes preserved it to give the Cougars their second title in three years. Dirigo took a 4-0 lead in the bottom of the second, the big hit a two-run double from Caleb Turner. Holmes finished with eight strikeouts in running his season record to 12-1. Dirigo finished at 19-1 overall while three-time reigning Eastern champion Calais closed at 18-2.
Class D Baseball
Bangor Christian 7, Buckfield 3: Sophomore Cody Collins drove in four runs on a pair of singles and a double to lead the Patriots to their first baseball title. The Eastern Maine champs scored five runs in the first inning en route to the win. They finished at 19-2 while Buckfield closed at 17-2.
Class A Softball
Cony 2, South Portland 0: Junior Sonja Morse pitched a one hitter and struck out 10 to lead the Rams to their first state title since 1983. Morse lost her no-hitter with two outs in the bottom of the seventh inning. She also issued a walk but both runners were picked off as she faced the minimum number of batters. Cecelia Fuller singled home both Cony runs in the fifth inning.
Erin Bogdanovich allowed three hits and struck out 13 for South Portland (17-3). Cony finished at 20-0.
Class B Softball
Old Town 4, Fryeburg 1: Junior Kendra Hayward struck out 15 and contributed a two-run double to lead the Coyotes to their first state championship. Hayward allowed three runs in four Eastern Maine games while striking out 38 batters in 28 innings for fifth-seeded Old Town. The Coyotes finished at 17-4 while defending Class B champion Fryeburg closed at 18-2.
Class C Softball
Bucksport 2, Dirigo 0: Cassidy Adams pitched a two-hitter to lead the Golden Bucks to their first Class C title. The Bucks, who dropped down a class this season, reached the Class B title game last year before losing to Fryeburg. They last won a Class B title in 2006 and have gone five for eight in championship games. The win completed a perfect season at 20-0.
Class D Softball
Penobscot Valley 4, Richmond 2: Jenna Hope's two-run single in the third inning capped a three-run rally to lead the Howlers to their first state championship. Winning pitcher Kayla Dube allowed four hits, including three bunt singles, while striking out 14. Penobscot Valley finished at 19-1, while Richmond, playing in its third straight state title game, finished at 16-2.
LACROSSE
Class A Boys
Scarborough 9, Cheverus 4: Ryan Pallotta scored five goals as the Red Storm rolled to its third straight state championship. Scarborough finished at 14-1.
Class B Boys
Falmouth 7, North Yarmouth 4: Charlie Fay scored three goals to lead the yachtsmen to their second straight state championship. It was Falmouth's third win this season against North Yarmouth and also the second straight time the Yachtsmen have beaten the Panthers in the state final.
Class A Girls
Scarborough 11, Brunswick 9: Mary Scott scored four goals to lead the Red Storm to their third consecutive state championship. Scarborough (15-1) also defeated Brunswick (14-2) in last year's state final by a score of 13-11.
Waynflete 16, Freeport 5: Martha Veroneau had four goals and five assists to lead the Flyers, who were playing in their fourth straight championship game. Sadie Cole added five goals and Walker Foehl scored four for Waynflete (14-1) which rallied for wins against Falmouth and Cape Elizabeth in the regional tournament.
March, 2, 2012
3/02/12
3:20
PM ET
By
Gary Hawkins
| ESPNBoston.com
State championship matchups are set for this weekend for boys' and girls' basketball teams in four classes.
Here's a rundown of the games:
Class A Boys
HAMPDEN (20-1) vs. DEERING (16-3)

Regional finals: Both teams were tested in regional finals and won on last second shots. Hampden's Brian Fickett scored on an inbounds play with two seconds left to give the Broncos a 56-54 win against Mt. Blue. Christian led Hampden with 14 points. Deering beat Bonny Eagle 45-42 in the Western final on Pat Green's 3-pointer at the buzzer. Green paced the Rams with 17 points.
Matchup: Both teams have good overall size and experience. In addition to McCue, the Broncos are led by 6-foot-7 center Fred Knight, 6-6 forward Logan Poirier and Pat Gilpin. Besides Green, the Rams are led by 6-6 Labson Abwoch, 6-4 Thiwat Thiwat and guard Jon Amabile.
History: Deering last won a state title in 2006 when it beat Hampden, Hampden won in 2005 by beating Deering in the state final.
Class B Boys
GARDINER (19-2) vs. YARMOUTH (17-4)
Regional finals: Both teams upset unbeaten top seeds in the finals. Gardiner beat Mt, Desert Island 70-58 behind 23 points from Jake Palmer and 16 from Aaron Toman. Yarmouth knocked off Falmouth 56-50 behind 26 points from Chris Knaub and 12 from Josh Britten.
Matchup: The teams are similar in size and style of play. Gardiner relies on team defense and rebouding. Toman is the tallest player at 6-4 while Palmer has taken off in the playoffs, scoring 33 and 23 in his last two games. The Tigers have good rebounders in Alonzo Connor and Matt Hall. Yarmouth looks to Britten, its 1,000 point scorer, to carry the offense, but showed others, like Knaub, can contribute. Sam Torres is also a key team member.
History: This is Gardiner's first-ever trip to the state championship while Yarmouth last played for a state tile (Class C) in 1973 and last won in 1968.
Class C Boys
DIRIGO (20-1) vs. Lee (19-2)
Regional finals: Dirigo cruised to a 69-38 win against third-seeded Boothbay. during the three-game tournament, the Cougars outscored their opponents by a average scored of 76-35. Lee got 25 points from Boubacar Diallo to knock off upset-minded Houlton 58-47.
Matchup: This is a rematch of last year's state final, won by Lee, 65-55. Because it's a private school, many of Lee's players from last year moved on but they do have some valuable additions including Boubacar and D.J. Johnson. The Cougars, led by Cody St. Germain, Ben Holmes and Josh Turbide, return most of their team with a new coach Travis Magnusson in charge. They run and pressure the ball which should make for an entertaining game.
History: Last year's state final win was the first-ever by Lee. Dirigo has appeared in each of the last three state games without a win. They last won a state championship in 1983.
Class D Boys
FOREST HILLS (18-3) vs. JONESPORT-BEALS (18-2)
Regional finals: Forest Hills pulled off one of the most dramatic comebacks in the history of the Western Maine tournament when it rallied from 19 points down late in the third quarter to defeat top-seeded Hyde 61-60. Junior Evan Worster led the Tigers with 33 points and set a tournament scoring record with 106 points in three games. Jonesport-Beals shot 62 percent from the field in stopping Deer Isle-Stonington 75-62. Garet Beal led the Royals with 20 points while Cole Beal scored 14.
Matchup: Jonesport-Beals has the history and experience on its side, not to mention size with a couple of 6-5 forwards in Garet Beal and Justin Alley. The Tigers have only eight players on their team — the school enrollment is 54 — and start three freshmen.
History: This is Forest Hills' first-ever appearance in a state final while Jonesport-Beals is gunning for championship No. 10.
Class A Girls
CONY (21-0) vs. MCAULEY (21-0)

Regional finals: Cony got past No. 2 seeded Edward Little 46-41 behind 17 points from Mia Diplock who scored two key baskets down the stretch. McAuley coasted to a 61-43 win against second-seeded Scarborough. Allie Clement led the Lions with 19 points and seven assists while Olivia Smith added 15 and tournament MVP Alexa Coulombe scored eight points, grabbed seven rebounds and had seven steals.
Matchup: The Lions are the defending state champs and enjoy a decided height advantage with Coulombe and Smith, both 6-2, in the lineup. Cony relies on the guard play of Diplock and junior Josie Lee and a host of three-point shooters. Both teams like an uptempo game.
History: Cony is making its sixth appearance in a state final since 2002 while McAuley is making its fifth. The Rams defeated McAuley for the title in 2007.
Class B Girls
PRESQUE ISLE (21-0) vs. LAKE REGION

Regional finals: After losing in the final the past two years to Nokomis, Presque Isle finally broke through and downed the Warriors 52-40 behind 13 points from Chandler Guerette and 11 from Hannah Graham. Lake Region defeated Greely 46-30 behind 22 points from Sydney Hancock and 14 rebounds from Tianna-Jo Cater.
Matchup: Presque Isle averaged 70 points a game during the regular season and would like to push the pace while a slower pace would favor Lake Region.
History: The teams last played for a state championship in 2006 when Presque Isle defeated lake Region 48-36. Lake Region last won a title in 1975.
Class C Girls
HALL-DALE (18-3) vs., CENTRAL (18-3)

Regional finals: Top-seeded Hall-Dale knocked off No. 7 Waynflete behind 16 points and some big plays down the stretch from Carylanne Wolfington. Central beat Stearns 42-41 in overtime behind 21 points from freshman Brianna Skolfield and nine from Sam Brownell.
Matchup: Hall-Dale is the defending state champion but a different team with the graduation of center Taylor Massey. Wolfington is a Miss Basketball finalist and a versatile player who can score inside and out. Central relies on defense and will likely assign Max McHugh to guard Wolfington.
History: Hall-Dale won its first state title since 1986 last season while Central last won in 1982.
Class D Girls
RICHMOND (20-1) vs. WASHBURN (20-1)
Regional finals: Richmond junior Jamie Plummer scored 21 points and grabbed 13 rebounds to led the Bobcats past Rangeley 46-33. Freshman Mackenzie Worcester scored 20 points and Carsyn Koch added 19 as the beavers flew past Hodgdon 68-44.
Matchup: The game is a rematch of last year's state final won by Washburn 43-40. The Beavers will press, run and try to quicken the pace of the game while the Bobcats would like to slow things down and get the ball inside to Plummer and six-footer Alyssa Pearson.
History: This will be Richmond's seventh appearance in a state final but the Bobcats have yet to win one. Washburn won its fourth championship last year.
TOURNAMENT RECORDS

Waynflete junior Martha Veroneau and Forest Hills junior Evan Worster each set tournament records last week at the Augusta Civic Center. Veroneau, a 5-7 guard, scored 47 points against Boothbay to break the single-game Class C tournament record of 45 set by Boothbay's Katie Sibley. Veroneau also connected on nine 3-pointers to break her own tournament record of seven in a single game.
Worster scored 51 points in a quarterfinal win against A.R. Gould to set a single game Class D record of 45 set by A.R. Gould's Ian Nono. Worster, a 6-3 forward also set a new tournament scoring record of 106 points, breaking Buckfield's Paul Bessey's mark of 96.
November, 10, 2011
11/10/11
5:40
PM ET
By
Gary Hawkins
| ESPNBoston.com
Madison Memorial High School senior Matt McClintock recently won his third Class C cross country title while posting the fastest time in the state in any class. McClintock also won the mid-season Festival of Champions which featured over 600 runners from 60 schools in and out of state. Last spring, he won the 1,600 and 3,200 meter runs at the state track and field meet. He's competing this weekend in the New England meet in North Scituate, R.I. He recently answered questions about his season and running career.
Q: How did you get started running?

A: "I started running in 5th grade on the Madison Junior High XC team. I went to Athens Elementary so what would happen is Athens would practice on it's own and then we would just join the Madison team at meets. Fifth grade was the first year that I could compete in any "real" school sports, and I don't really know what drew me to it, but I decided to try it, and I guess my first race went well. I finished 13th. All my coaches were really happy with it and I guess I've been running ever since."
Q: Who have been your greatest influences?
A: "First and foremost would definitely be my coaches. Mrs. Moulton and Mr. Harper in junior high and Bob and Brandon Hagopian in high school. The person that really inspired me and drove me to get better was definitely coach Bob Hagopian. He's been with me since freshman year, through my wins and losses, and has always found a way to make me better."
Q: At what point did you feel you made a breakthrough in your high school career?
[+] Enlarge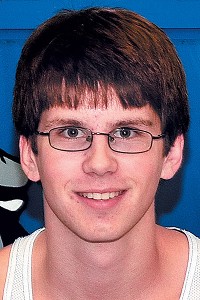 Gary Matt McClintock
A: "Without a doubt it was after I lost the conference championship last year. I got to cocky and that race showed me that I wasn't invincible, that I wasn't going to win just because my name was Matt McClintock, but because I wanted it more than the guy in front, beside, or behind me. That race made me
love
running, because I then had something to prove and something to work for. It re-instilled that love for competition in me. I will remember that race for the rest of my life, and I'm definitely a better runner because of it."
Q: What do you consider your greatest achievements in track and cross country?
A: "Wow, I guess in cross country it would be my three state championships. Since fifth grade my dream was to win a state championship in high school. To have three cross country titles and two titles on the track is just unbelievable to me. In track, my greatest achievement was definitely breaking the Madison High School records for 1,600 and 3,200 meters, probably more so the 3,200 because I was the first Madison kid in history to go under 10 minutes in that event."
Q: Which sport do you prefer?
A: "It really depends on the season. During cross country my favorite sport is cross country. During track it's track. I just love to run and race whether it's on the road, a track, or a trail."
Q: What goals did you set this season and did you reach them?
A: "My first goal for the season was to go undefeated in Maine and three-peat the Class C State Championship. I'm proud to say I met this goal. My next goal was to go under 15 minutes for the 5k I haven't met this goal yet as we've never really had a good day for a championship race, but Saturday at the New England Championships looks to be a good day, and it's a very fast course so we'll see what I can do there.
Q: What is your goal for this week's New England meet?
A: "My goal here is to win the title, and to go under 15 minutes for the 5K. As I said, before, it's a fast course, and there will be some incredibly strong competition to push me there."
Q: You won several races handily this season. Is it tough competing when you're not pushed?
A: "I guess that would depend on your definition of competing. A lot of people look at competing as winning. I prefer to look at it in the manner of Steve Prefontaine. If I'm going to win, I want to know that I've done my best. So yes, it's difficult to push myself to fast times, but I always just try to stay focused and not worry about the pain or where my competition is and just get to the finish line as fast as possible."
Q: What do you enjoy most about running?
A: "I love the people that we meet. The type of people you meet at cross country or track events is totally different then you will see in any other sport. At the state meet, I was getting encouraged to reach my sub 16 goal by the coaches and family and teammates of people that I was directly competing against. I'm confident to say that you will not find nicer and more supportive fans at any other high school sports competition."
Q: Do you have any running role models?
A: "I have several running idols, the most prominent would be Steve Prefontaine. I try to live up to the guts and determination that he always showed as a runner. His quote "To give anything less than your best is to sacrifice the gift" are the words I live by. Another two are Haile Gebrselassie, and Kenenisa Bekele. Both are Ethiopian runners. Gebrselassie is a two-time gold medalist and world record holder. Bekele is the two-time defending Olympic 10,000 meter champion and holds World Records now."
Q: Where will you attend college and why did you choose that particular school?
A: "I will be running for Lock Haven University of Pennsylvania next year. I felt very comfortable around the campus and really connected well with Coach Aaron Russell and the entire team at Lock Haven."
Q: What other sports or activities do you enjoy
?
A: "I enjoy all sports, but running is my one and only true passion."
Q: What is your training regimen in and out of the season?
A: "Sorry, but I don't like to discuss what my training is, at least not until after the outdoor track season."
Q: Where do you need to improve?
A: "I definitely need to improve on my kicking speed. In order to really be competitive in college I need to be able to win a race in the last 200 Meters if necessary. I feel that as my speed continues to develop in conjunction with my continued endurance training all of my events will improve drastically."
June, 17, 2011
6/17/11
5:15
PM ET
By
Gary Hawkins
| ESPNBoston.com
Kennebunk High School junior Abbey Leonardi not only set a goal to repeat as 3,200-meter champion at last Saturday's New England Track and Field championships, she was intent on breaking the meet record.

When the field started too slowly, Leonardi went to the front and stayed there, finishing in 10 minutes, 19.03 seconds to beat the old record by more than six seconds.
"I was hoping I wouldn't have to lead from the start," Leonardi said. "At the 200 I felt the pace was slow. I was trying to run between 5:08 and 5:12 for the first mile.'
Leonardi had competed against many of the runners in the field and hoped they would push her a little more.
"I definitely had the record in the back of my head," she said. "Last year I was only a second off."
Next up for Leonardi is the New Balance Outdoor Nationals this weekend in Greensboro, N.C. Last year she placed fourth in the 3,200 in 10:26.
After that, Leonardi plans to take a short break before building a base for the cross country season.
At 5-foot-1 and 100 pounds, Leonardi doesn't appear to be a lion on the track or cross country trails. But she emerged as the premier female high school distance runner in New England shortly after winning the N.E. cross country title her freshman year. She's repeated since then in New England while dominating fellow runners in Maine.
Leonardi said by the end of either the track or cross country season, she's ready for a change but at the same time admits longer distances are her forte. To that end, she and her father Jack are taking a conservative approach to her training.
"The most important thing in my mind is not to try to go too crazy this year, from getting too aggressive, too early in her career," Jack said. "Nothing has been more important than that."
Jack Leonardi oversees his daughter's training in a very general sense, even less so since she become older and more knowledgeable.
"I oversee what goes on," Jack said. "But her coaches are pretty much her coaches. She pretty much plans out her life. She knows what she needs to do."
Leonardi placed second in the in Footlocker Northeast Cross Country Regionals last season to Ainsley Cuffe of Cornwall-on Hudson, N.Y. Cuffe went on to win the Footlocker Nationals last fall while Leonardi placed 16th.
She''ll have Cuffe to contend again with this fall and would need to make a vast improvement to catch her.
"I think she's pretty far ahead," Leonardi said. "That would be a 20 or 25 second improvement."
February, 24, 2011
2/24/11
2:26
PM ET
By
Gary Hawkins
| ESPNBoston.com
It's tournament basketball week in Maine and there's no more exciting time in high school sports. Schools in four classes are playing for regional titles at the Bangor Auditorium, the Augusta Civic Center, the Portland Expo and the Cumberland County Civic Center. State championships will be contested next week.
Here are some of the highlights so far:
Boys Class A

In Western Maine games, top seeded and unbeaten Cheverus struggled before getting past No. 8 Marshwood 52-40. Louis DiStasio led the Stags with 16 points. Second-seeded Bonny Eagle won its quarterfinal against Westbrook but No. 5 Portland upset No. 4 South Portland behind 19 points from Mike Herrick and No. 6 Deering knocked off No. 3 Thornton, 41-33. The seedings held in the quarterfinal round in Class A East with No. 1 Bangor, No. 2 Hampden, No. 3 Edward Little and No. 4 Mt. Blue all winning.
Kennebec Valley Athletic conference southern division player of the year Bo Leary led Edward Little past Mt. Ararat with 28 points and 13 rebounds. Northern KVAC player of the year Graham Safford led Hampden past Lewiston with 22 points. The semifinal matchup between Bangor and Mt. Blue featured a pair of coaches with over 1,000 combined career wins. Bangor's Roger Reed has 554 while Mt. Blue's Jim Bessey has 463.
September, 22, 2010
9/22/10
9:37
PM ET
By
Gary Hawkins
| ESPNBoston.com
Performances by a number of running backs highlighted Week 3 of the Maine high school football season.

The fledging co-operative program between Calais and Woodland high schools took its lumps last season in the Class C Little Ten Conference, but is off to a 3-0 start this season, thanks in large part to running back Spencer McCormick who rushed for 292 yards on 20 carries and scored five touchdowns in a 54-7 win against Orono.
Gardiner's Alonzo Connor also turned in a five-touchdown performance as the Tigers downed Class B Pine Tree Conference rival Waterville 32-20. Connor, a junior, rushed for 172 yards on 26 carries.
Jack Powers of Camden Hills scored three touchdowns while rushing for 291 yards on 23 carries as the Windjammers nipped Morse 34-28 in a PTC Class B game. In another PTC Class B contest, Hampden Academy's Nick Stevens rushed for 227 yards and four touchdowns to lead the Broncos to a 35-28 victory against Winslow.
Portland's quarterback experiment with Imahdi Zagon is apparently over. Coach Mike Bailey put his talented running back in a number of different sets against Westbrook but not under center. Junior Matt McInnis is now the full-time quarterback with Zagon in the backfield. He responded by rushing for 258 yards on 37 carries to lead the Bulldogs to their first win of the season, a 27-15 over the Blue Blazes.
In other standout performances, Biddeford remained unbeaten in Class A Western Maine with a 47-21 win over Kennebunk behind Nick Gagne who rushed for four touchdowns and 145 yards.
Oak Hill's Josh Allen put the Raiders in the win column against Jay by rushing for 227 yards and four scores.