Boston High School:

Wells (Maine)
December, 17, 2012
12/17/12
8:08
PM ET
By
Matt DiFilippo
| ESPNBoston.com
For most teams, the Maine high school basketball season began Dec. 7. Here's a look at how the classes shape up

Class A Boys:
The West looks like a three-team race between Portland, Deering, and Bonny Eagle, with South Portland ready should there be an opening. Junior Justin Zukowski is Portland's top all-around player, and he has help in Nick Volger and Jayvon Pitts-Young. Deering tries to beat you inside, with six-six Labson Abwoch, and six-four Thiwat Thiwat, both of whom are from the Sudan and moved to the United States at an early age.
Hampden was upset by Deering in the state final, and even though the Broncos return only two starters, they were still the pick for first place in Eastern A's preseason coaches poll. Edward Little, Lawrence, and Bangor, all programs with strong traditions, could each challenge Hampden. Lawrence relies on forward Spencer Carey and guard Xavier Lewis, a transfer from Bangor.
Class A Girls:
Western A has at least four strong teams in McAuley, Scarborough, Cheverus, and Deering. Oddly enough, none of them play each other until January. Point guard Allie Clement leads two-time defending state champion McAuley. Add in three six-footers and a talented guard in sophomore Olivia Dalphonse (a transfer from Bonny Eagle), and this team should go far in the tournament again.
In the East, Edward Little, Mt. Ararat, and Mt. Blue should fight it out for the top spot. Edward Little's top scorer is guard Ashlee Arnold, and the Red Eddies have some motivation after blowing an 11-point halftime lead and losing to Cony in last winter's regional final. Mt. Blue has balanced scoring, and guard Gabby Foy is a player who can run up a lot of points in a short time. Brewer was the big surprise in the early going, beating Mt. Blue on a three-pointer at the buzzer, then knocking off Lewiston the same way three nights later. Bangor has the height and athleticism to play with anyone, while Oxford Hills, Skowhegan, and Lawrence could be sleepers in a deep league.
Class B boys:
Falmouth and York are two of the tallest and best teams in the West. York has five players six-four or taller; Falmouth has three at least six-five. Falmouth didn't return any starters this season, but began the year with three lopsided wins. To go with York's height, the Wildcats have senior guard Adam Bailey, who hit 11 three-pointers in York's first four games this season.
Expectations are very high at Oceanside, which finished 12-8 last season but returns four starters and is loaded with height. The
Portland Press Herald
even said that, "Anything short of winning Eastern Class B would be a disappointment." Winslow is expected to be a playoff team, but Oceanside beat the Black Raiders, 80-53, on opening night. Medomak Valley, Camden Hills, and possibly Caribou and Presque Isle will also look to get hot at the right time.
Class B girls:
Defending regional champ Lake Region is probably the favorite again. Tiana-Jo Carter averaged 15 points and 17 rebounds per game last winter, and the
Portland Press Herald
reports she has already received full scholarship offers to Division I schools. The Lakers are so deep at guard that freshman CeCe Hancock stepped in and had 11 points and nine assists in an early-season win over Waynflete. York, Gorham, Spruce Mountain, and Wells could all make a run at Lake Region. Leavitt might not have all the pieces to go all the way, but the Hornets have one of the most entertaining players in the state in senior Kristen Anderson, who will play at the University of New Hampshire next season. Anderson can shoot from 30-35 feet out, and often does.
In Eastern B, Presque Isle is the decided favorite. The Wildcats finally got past Nokomis last winter and squeaked past Lake Region to win the state title. Presque Isle's first three games this season were wins by scores of 39, 63, and 38 points, and that's a good indication of how their regular season will go. The Wildcats are never very tall, but they throw lots of quick guards at you and can shoot from long range. Nokomis, which won't face Presque Isle during the regular season, may have the best chance to defeat the Wildcats in the playoffs. The Warriors have three fine guards in Lindsay Whitney and twins Kylie and Kelsie Richards, and a good low-post option in Anna MacKenzie.
Class C boys:
Dirigo has won four consecutive Western C titles, and until someone gets past the Cougars, they have to be considered the favorites again. Even after graduating seven seniors from last winter's state champions, Dirigo was still picked first in the Mountain Valley Conference coaches poll. Boothbay is probably Dirigo's toughest competition in the MVC, and Waynflete, which competes in the Western Maine Conference, could be a dark horse.
Houlton went 8-10 last winter, but may just be the No. 1 team in Eastern C. Kyle Bouchard, who can play pretty much any position, leads the Shiretowners. Among Houlton's early wins this season was a seven-point victory on the road against a good Class B Presque Isle team. Penquis Valley and Lee Academy — which is currently on probation from the Maine Principals' Association for recruiting violations — are also threats for the regional crown.
Class C girls:
The Mountain Valley Conference is deeper, but the Western Maine Conference has the best player (Margaret Veroneau) and maybe the best team (Waynflete). The Flyers have a top-notch coach in Brandon Salway, and bring back all five starters. They're good enough that they almost beat Class B Lake Region, losing by five on the road. Madison, Lisbon, and Monmouth are also contenders. Mt. Abram should have been in that mix, but the Roadrunners had some players decide not to return, and apparently don't have everything they need to play with the top teams.
Calais, led by guard Madison McVicar and center Paige Gillespie, is the favorite in the East. Orono, Dexter, and Narraguagas are also in the hunt.
Class D boys:
Forest Hills is known for a lot of things, like being closer to the Canadian border than any other high school in Maine, and having kindergarten through 12 all in one building. The Tigers also have a great basketball team. Senior Evan Worster already has over 1,000 points, and everyone returns from a team that went to the Class D state championship game this winter. The Tigers will get tested this season, as Valley, Greenville, and possibly Hyde all have the potential to cut down the nets after the Western D final in late February.
When Jonesport-Beals won the state title last season, it did so with a total high school enrollment of 58 students. It helped immeasurably that one of those was six-foot-five Garet Beal, the state's Gatorade Player of the year. Beal will play at the University of Maine next season, and already has back-to-back 40-point games this season. The second of those was in overtime against Deer Isle-Stonington, a team that could challenge the Royals again this winter. Woodland could also give Jonesport-Beals a scare.
Class D girls:
It looks like Rangeley and Richmond will battle once again for the Western D title. Rangeley, a school with about 80 students, has three six-footers in sophomore Taylor Esty, freshman Blayke Morin, and transfer student Emma Gunic. Richmond has its own six-footer in Jamie Plummer, the daughter of Colby College baseball coach Dale Plummer. Rangeley won the first meeting this season, 56-54 in overtime.
In the East, Washburn won the state title last winter with no seniors and three juniors. The Beavers did lose their coach when Mike Carlos was not rehired after winning two consecutive state titles. There were widespread rumors of parents being unhappy with Carlos, who is now coaching at East Grand. When Carlos was not rehired, superintendent Ed Buckley released a statement to the
Bangor Daily News
which included the line, "we do not measure the success of our athletic teams by the number of contests they win but whether it is a positive experience for all our students." Diana Belskis Trams is now coaching the Washburn girls. Van Buren could give Washburn a run in the East. The Crusaders' star is junior guard Parise Rossignol, who verbally committed to the University of Maine as a sophomore.
December, 1, 2011
12/01/11
8:18
AM ET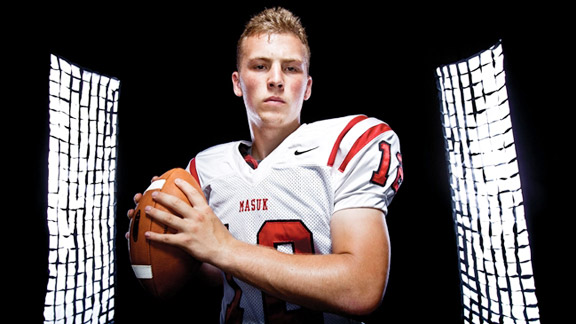 Christopher Beauchamp/ESPNHSWith 10,000 passing yards and 108 TD passes for his career headed into Saturday's state championship, UConn-bound QB Casey Cochran of Masuk was named Connecticut's Gatorade Player of the Year this morning.
In its 27th year of honoring the nation's best high school athletes,, The Gatorade Company, in collaboration with ESPNHS, today announced Casey Cochran of Masuk High School as its 2011-12 Gatorade Connecticut Football Player of the Year. Cochran is the first Gatorade Connecticut Football Player of the Year to be chosen from Masuk High School.
The award, which recognizes not only outstanding athletic excellence, but also high standards of academic achievement and exemplary character demonstrated on and off the field, distinguishes Cochran as Connecticut's best high school football player. Now a finalist for the prestigious Gatorade National Football Player of the Year award announced in December, Cochran joins an elite alumni association of past state award-winners in 12 sports, including Mark Sanchez (2004-05, Mission Viejo HS, Calif.), Wes Welker (1999-00, Heritage Hall HS, Okla.), Terrell Suggs (1999-00, Hamilton HS, Ariz.), Anquan Boldin (1998-99, Pahokee HS, Fla.) and Jerome Bettis (1989-90, Mackenzie HS, Mich.).
The state's returning Gatorade Football Player of the Year, the 6-foot-2, 205-pound senior quarterback led the Panthers to an 11-0 record and a berth in the Class L state semifinals against Hand High, scheduled for Dec. 3. Cochran passed for 2,801 yards and 36 touchdowns through 11 games, completing 119-of-167 attempts while throwing just four interceptions. He also rushed for four touchdowns. Cochran won a Class SS state title with New London High as a freshman in 2008 and with Masuk in 2010. He is the state's career leader in two categories with 10,501 yards passing and 108 touchdowns.
Cochran has maintained a 3.92 GPA in the classroom. The winner of the Masuk High Book Award for Introduction to Engineering and Algebra I and Geometry, he has volunteered locally at area food banks for the needy, as a youth football coach and as a peer tutor.
"It's scary how someone can be that accurate," said Joe Lato, head coach of rival Weston High. "It's unbelievable what Casey Cochran can do. I haven't seen a high school quarterback like him. He makes everybody look silly."
Cochran has verbally committed to play football on an athletic scholarship at the University of Connecticut beginning in the fall of 2012.
Cochran joins recent Gatorade Connecticut Football Players of the Year Kevin Pierre-Louis (2009, King Low Heywood Thomas), Mike Osiecki (2008, Seymour) and Alex Thomas (2007, Ansonia) among the state's list of former award winners.
In Massachusetts, Jonathan DiBiaso of Everett High took home Gatorade Player of the Year honors. Here are the four other winners from New England:
RHODE ISLAND: JOSH MORRIS, LA SALLE
The 5-foot-9, 170-pound junior running back and cornerback led the Rams to a 10-1 record and a berth in the Division I state championship against Bishop Hendricken High, scheduled for Dec. 3. Morris rushed for 1,278 yards and 16 touchdowns on 134 carries through 11 games and caught nine passes for 175 yards and a score. A 2010 First Team All-Division I selection, he is averaging 39.8 yards per kickoff return, with one touchdown, and has recorded two interceptions on defense.
Morris has maintained a B average in the classroom. He has volunteered locally as a youth mentor and football coach and as part of multiple community service initiatives in association with his church community.
"Every game, he's getting better," said Geoff Marcone, La Salle Academy's head coach. "The kid wants to be great in everything that he does. A lot of high school kids say they want to be the best, but very few work to be the best. He's doing everything he can to make himself better."
Morris will begin his senior year of high school next fall.
Morris joins recent Gatorade Rhode Island Football Players of the Year Ben Willett (2010, Portsmouth) Mike Read (2009, Barrington), Dave D'Errico (2008, North Kingstown) and Bobby Bentsen (2007, Warwick Veterans) among the state's list of former award winners.
NEW HAMPSHIRE: JAKE KILEY, NEW HAMPTON
The 6-foot-2, 180-pound senior quarterback, running back and defensive back rushed for 358 yards and 11 touchdowns on 62 carries this past season, leading the Huskies (7-2) to the New England Prep School Athletic Council's Jack Etter Bowl. A two-time Evergreen League Player of the Year, Kiley also passed for 235 yards and three touchdowns, caught 15 passes for 328 yards and five touchdowns and returned a kickoff for a score. On defense, he recorded 46 tackles and four interceptions, and he averaged 40.3 yards on 16 punt attempts.
Kiley has maintained a B average in the classroom. He has volunteered locally as a New Hampton School campus tour guide, a youth basketball referee and as part of multiple community service initiatives in association with the New Hampton School Service Learning Program.
"I have coached against Jake Kiley for three years and have marveled at his athletic talent each time he steps on the field," said Ben Rulli, head coach at rival Proctor Academy. "He has progressed throughout the years as one of the most athletic players I have seen. Jake is fast, agile and always a threat to make a big play."
Kiley has verbally committed to play football on an athletic scholarship at Penn State University beginning in the fall of 2012.
Kiley joins recent Gatorade New Hampshire Football Players of the Year Max Jacques (2009-10, Salem), David Zocco (2008, Nashua South) and Billy Ferriter (2007, Nashua South) among the state's list of former award winners.
MAINE: LOUIS DiTOMASSO, WELLS
The 6-foot, 180-pound senior linebacker and fullback led the Warriors to a 12-0 record and the Class B state championship this past season. DiTomasso rushed for 1,559 yards and 18 touchdowns on 203 carries. The 2011 Campbell Conference Player of the Year, DiTomasso recorded 133 tackles, forced a fumble, recovered a fumble and blocked a field goal. He ran for 134 yards and a touchdown in the state final win over Leavitt High.
DiTomasso has maintained a B-plus average in the classroom. An avid photographer and artist, he has volunteered locally as a youth football coach.
"Louis DiTomasso has great instincts at linebacker and flies to the play," said Jeff Guerrette, head coach of rival Westbrook High. "At the point of attack he is extremely physical and consistently delivers the blow."
DiTomasso remains undecided upon a collegiate destination.
DiTomasso joins recent Gatorade Maine Football Players of the Year Peter Gwilym (2010, Cheverus) Jack Mallis (2009, Windham), Jack Heary (2008, Deering) and Justin Villacci (2007, Gorham) among the state's list of former award winners.
VERMONT: JAKE STALCUP, BURR & BURTON
The 6-foot-4, 185-pound junior quarterback passed for 2,448 yards and 31 touchdowns this past season, completing 163-of-286 passes while throwing 10 interceptions, leading the Bulldogs (7-4) to the Division 2 state final. A 2011 ESPNHS preseason All-State selection, Stalcup passed for 202 yards and a pair of touchdowns in the Division 2 semifinal win over North Country Union.
Stalcup has maintained a 3.54 GPA in the classroom. He has volunteered locally as a youth football and baseball coach and has assisted in relief efforts for Hurricane Irene flood victims.
"Jake Stalcup has become a first rate quarterback in every sense," said Burr and Burton Academy head coach Jason Thompson. "Every single week he gave us a chance to win and he will only keep getting better."
Stalcup will begin his senior year of high school next fall.
Stalcup joins recent Gatorade Vermont Football Players of the Year Christian McCormick (2010, Rice Memorial) Max Librizzi (2009, Essex), Mick Wong (2008, Hartford) and James Durham (2007-08, Spaulding) among the state's list of former award winners.