Boston High School:

Will Blumenberg
August, 5, 2013
8/05/13
2:16
PM ET
Concord-Carlisle lacrosse rising junior attack Will Blumenberg recently committed to the admissions process at Colgate.

Also a quarterback on C-C's football team, Blumenberg finished with 42 points and was named a Dual County League All-Star last season despite recovering from a broken leg suffered during the Thanksgiving Day football game. As a freshman, Blumenberg led the Patriots in scoring with 71 points, en route to the Division 2 state lacrosse championship.

This story was first reported by Bruce Lerch of the Boston Herald.

"Will is an extremely hardworking young man, both on the playing field and in the classroom," Patriots head coach Tom Dalicandro wrote in an email to ESPN Boston. "He is a tremendous leader and a pleasure to coach as well.

He continued, "I am excited for the opportunity to coach Will for two more seasons. I am so happy for Will and his family. Colgate is a strong academic school as well as a top-notch Division 1 lacrosse program. Will's sister, Leigh, attends Colgate and Will's father, Karl, is a graduate of Colgate University. Needless to say, Colgate is a special place for the Blumenberg family."
June, 1, 2013
6/01/13
12:53
AM ET
By
Ryan Kilian
| ESPNBoston.com


WELLSELEY, Mass. -- If a defensive lacrosse battle was what you were looking for then there was no better place to be on Friday night than Wellesley's Sprague Field.

No. 6 seed Wellesley and No. 11 Concord-Carlisle locked horns in another pivotal post-season matchup as the Raiders outlasted C-C to win, 4-3, and advance to the quarterfinals of the Eastern Mass. Division 2 tournament.

"In a 4-3 game, if one team blinks, that game goes the other way," Wellesley head coach Rocky Batty said after the game. "All the credit in the world to Concord-Carlisle. You can't score on them."

Two of the top programs in Massachusetts Division 2 lacrosse, both programs pride themselves in their ability to control the pace of the game and to use their defensive strengths to wear teams down.

"They did a better job of taking the air out of the ball and they valued the ball better than we did today," Concord-Carlisle head coach Tom Dalicandro said.

Wellesley (16-4) would score first as attack John Caraviello beat his man and finished at the cage to give the home team an early 1-0 lead.

Wellesley middie Andrew Volkmann would then score the next two goals as the senior captain stayed aggressive and beat C-C sophomore goalie Andrew Kielar to give Wellesley a 3-0 lead after one quarter.

C-C (13-6) changed goalies early as they went to freshman Aidan Long to try to stem some of the early momentum. Long would do just that as the young C-C netminder came in and made an immediate impact.

"Aidan [Long] stepped in and was unbelievable," Dalicandro said after the game. "It is great for him and we have great competition for the next two years."

Concord-Carlisle got on the board with their first goal, midway through the second quarter, as middie Will Blumenberg let one rip from the top of the box to beat Wellesley goalie Mike Riskind with a man-up score.

C-C seized temporary momentum as senior defender Evan Boynton made a nice play on the ball deep in the C-C field of play and carried the ball the length of the field in transition. He found attack Charlie Painter (2 assists), who hit fellow attack Steven Armanetti to cut the lead Wellesley lead to 3-2.

Wellesley would get a big goal before the half as Kerry Lyne would score to make it 4-2 and give the Raiders a two-goal advantage heading to the half.

Defensive Finish: Both teams struggled out of the half, as each team's defense buckled down and denied each other's offense numerous potential scoring opportunities.

"The goalies were great, the defenses were great and I do not know how the middies could run any harder for both teams," Batty stressed.

The Wellesley defensive unit of Matt Bomes, Will Hartnett and T.J. Noonan all did a magnificent job controlling the tempo of the game and shutting the C-C offense out through most of the second half.

"Every minute counts and you cannot take any turns off," Bomes said after the game. "We were ready to go today. Four-to-three is a close one, not a lot of scoring, and we just had to hold it down."

The Wellesley defensive midfield also did a great job of limiting C-C's transition opportunities and negating the effectiveness of the early offense. Trailing by two goals with time winding down, C-C middie Jack Barrett scored on the run to bring C-C to within one goal at 4-3 with 2:53 remaining in the game.

Despite the goal and the newfound momentum, Wellesley's defense and Riskind denied C-C the comeback attempt. Riskind came up with a critical save with under one minute remaining in the game to seal the win.

"We had all the momentum in the fourth quarter," Dalicandro said. "We just needed to bury some shots and we just didn't. They are a very good defensive team and their goalie made some saves."

The Concord-Carlisle senior defensive unit of Boynton (Amherst-football), Sam Barrett (Washington and Lee) and Javier Flores (St. Mary's College) also played equally well in the loss. The all-Dual County League veteran unit will be missed as they transition to college athletics.

"They did a great job," Dalicandro said. "They are three all-league guys and we are going to miss them. We are going to be a really different team next year. We graduate a lot of seniors. It was great to see them step up and play championship lacrosse.

Wellesley advances to the quarterfinals and will take on the winner of No. 3 Reading and No. 19 Melrose. Both Middlesex league rivals will play their first round game on Saturday at 2:30 p.m. at Reading High School.


May, 23, 2013
5/23/13
12:52
AM ET
By
Ryan Kilian
| ESPNBoston.com
READING, Mass. – No. 8 Concord-Carlisle lacrosse stormed out to a 5-0 lead after one quarter and never looked back as they defeated No. 16 Reading, 9-7, behind an intelligent and disciplined defensive effort.
Despite a furious second-half comeback, Reading (16-2) cou;d not overcome a six-goal second half deficit on Wednesday in both team's final tune-up before post-season play begins next week.
[+] Enlarge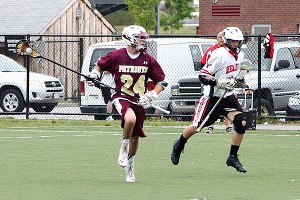 Ryan Kilian for ESPNConcord-Carlisle long-stick midfielder Nick Brozowski collected eight ground balls in the Patriots' 9-7 win over Reading.
The Patriots would maintain their 5-0 lead through the second quarter and in to the half as their senior defensive unit of Evan Boynton, Sam Barrett and Javier Flores did an excellent job of containing the explosive Reading attack unit.
"This is the best we have played defensively," Concord-Carlisle head coach Tom Dalicandro said after the game. "I was really worried about the match-up because the have three really good attackmen. Sam Barrett had his best game of the year for us today and Evan [Boynton] and Javy [Flores] also played well. They are three all-league kids on defense and I think they rose to the occasion today."
Don't look now but the defending Division 2 state champion Patriots (12-5) have won four games in a row and seven of their last eight, including wins over Lincoln-Sudbury and now Reading, as they head into tournament play with plenty of momentum.
"We feel really good about ourselves," Dalicandro said. "I think we can compete with anyone but we need to do the three key things we talk about. We need to value and share the ball, play great team defense and get saves from our goalie."
Concord-Carlisle completely dominated the start of the game and led 6-0 until 2:58 on the clock in the third quarter when Greg Connery would score the Rockets' first goal of the game.
Reading goalie Matt Comerford (10 saves) would then come up with a big save as the clock ticked down in the third quarter and Conor Frazier would take a deep outlet and find Charlie Colvin (2 Goals) for a goal with point-one seconds remaining on the clock.
Trailing 6-2 heading into the final quarter of play, Reading would come to life and begin to get out in the open field as they would cut the Concord-Carlisle lead to 8-4 with 6:36 to play.
"We want to play our style of lacrosse," Reading head coach Charlie Hardy said. "We are a little more run and gun and we want to get out in transition."
After Reading (16-2) started to seize momentum, Concord-Carlisle attack Tim Badgley (2G, 1A) would score and important ninth goal with 5:40 on the clock to give Concord-Carlisle a 9-4 lead.
Reading would not let down, however, as Charlie Colvin, Mark Dente and Eric O'Brien all netted goals to cut the C-C lead to 9-7 with one minute remaining in the game.
"I think the kids put a lot of spirit into the comeback," Hardy said. "The team you saw at the end is the team that we have."
C-C middie Will Blumenberg would help the Patriots secure a key late possession in the final minute of play to seal the win.
Blumenberg led C-C with three goals on the day while middie Peter Anastos (1G, 1A) also played well offensively for C-C.
"You can't spot a team like that goals," Hardy said. "They are too sophisticated and they are too well coached."
Concord-Carlisle and Reading will now both await the seeding selection for Division 2 on Friday to see whom they will face next week.
"We love playing them as it is a character game," Hardy said of the annual end-of-year game with C-C. "We want to play them at the end of the regular season so now we get to see what we need to work on."
Concord-Carlisle also received a strong game from long stick middie Nick Brozowski, who had his usual strong game on groundballs, scooping up eight, and using his quick stick to force multiple turnovers.
Andrew Kielar also played well in net for C-C as the sophomore came up with five of his nine saves in the first half.
April, 18, 2013
4/18/13
3:24
PM ET
By
Bruce Lerch
| ESPNBoston.com
CONCORD, Mass. -- Charlie Painter is an attack player by trade, but with teammate and top midfielder Will Blumenberg still recovering from a football injury, Painter proved pretty adept as a middie in his own right despite next to no practice time at the position.

Painter and Blumenberg each recorded hat tricks to help lead the Patriots to an 11-6 victory over Winchester in the final game of Day One of the Coaches Challenge Cup tournament at Doug White Memorial Field.

Blumenberg, a three-sport star who quarterbacks the football team and serves as the basketball team's point guard, suffered a foot injury during the Patriots Thanksgiving football game against Bedford. He missed the hoops season and is playing at far less than his full capacity thus far on the lacrosse fields. C-C coach Tom Dalicandro elected to move him to attack to save him some wear and tear while turning to Painter, one of the team's captains, to handle midfield duties.

"We kind of yo-yoed (Painter) because he's a really smart kid," explained Dalicandro afterward. "We put Will at attack and we let him play middie without really coaching him that much. He's a really smart kid, he knows how to play and he's a kid we can move around a little bit. We expect him to compete for us and do a good job as one of our captains."

The move also benefitted Blumenberg, who turned in his best effort so far, adding a hat trick and 10 faceoff wins to his game totals.

"This was the best he's played all year," Dalicandro said. "Will's probably about 50 percent athletically of what we was from last year because of his foot injury. Will's a middie but for us he's been struggling getting up and down the field so we played him mostly at attack and he took some faceoffs. Sometimes he just makes plays, which we need. He can carry the ball a little bit and has a good shot. I thought this was the best he's played. This was back to the Will from last year."

Winchester (3-2) was the team that got off to the stronger start, however, as Tim Mangano and Evan Carey both scored to stake the Sachems to a quick 2-0 lead. Concord-Carlisle (4-2) responded with the first of two goals from Jack Barrett and proceeded to run off six straight before Gerald Nluve stopped the bleeding for Winchester right before the half.

The Patriots blanked the Sachems in the third while scoring five of their own as Painter, Blumenberg, Barrett, freshman Aidan Cyr (two goals) and Peter Anastos all found the back of the cage to push the lead to 11-3. Winchester fought the entire way and made things interesting in the final frame as Tyler Calnan got one and Dan Marx scored twice, the second coming with 2:56 to go, but C-C was able to hold on from there.

"The thing I was very pleased about was that, even in our youth and our immaturity and our inexperience, we competed hard," said Winchester coach John Pirani in praise of his team. "I don't think we competed smart for 48 minutes but we competed hard for 48 minutes. And you could see our inexperience. Three sophomore attackmen, a couple of freshmen playing at midfield and we just didn't take advantage of what a good team gave us. They gave us a few things, we just didn't take advantage of it. But the thing that comes through here in the middle of April, and hopefully in preparation for the end of the season, is that we'll learn those lessons and get more consistent and tougher all the way through."

WELLESLEY 7, ANDOVER 4: New players stepping means new nicknames for kids who will go by "Risky Biz" and "No Name Bobby" for the time being. The hope is that those players, and others whose nicknames we've yet to learn, will help the Raiders continue to improve with each practice and game day.

Tucker "No Name Bobby" Dietrick scored twice, as did John Caraviello, and Mike "Risky Biz" Riskind made 12 saves to lead Wellesley (3-3) while Andrew Eriksen had two goals to pace the Golden Warriors (2-2).

Andover built a 3-1 lead at the half on goals from Eriksen, Jesse Greaves and Justin Bresnan while the defense did a tremendous job of limiting the Raiders to just a lone tally from Kerry Lyne.

Senior captain Andrew Volkman changed the momentum by owning the faceoff X in the third quarter, sparking Wellesley to a four-goal spurt that gave them a 5-3 advantage to take into the final frame.

"Volkman did a great job at facing off today, had some good help from the wings," praised Raiders coach Rocky Batty. "Tucker Morgan, who was out there with him on the wing, I thought did just a fantastic job of keeping it on the ground and giving us a chance to win the ball."

Eriksen fired in his second score early in the fourth to pull his team to within a goal but Caraviello put in his second, then Brian Pedersen capped the scoring with a beautiful transition goal off an Andover turnover with 55 seconds remaining.

"At the end of the third, I think we had taken the lead by then," Batty recalled. "The three coaches got together and said, 'We're still not running an offense. We're kind of getting hustle goals.' And I can't think of the last time a coach argued about a hustle goal, but after that we had to run some offense. We had possession, we struggled with transition all day and then we finally got that last one which, maybe that leads to a lot of transition from here, we'll find out."
April, 8, 2013
4/08/13
2:24
AM ET
Attackmen:
Tyler Bogart, Soph., Catholic Memorial
Jordan Dow, Sr., Lincoln-Sudbury
Jay Drapeau, Jr., Westford Academy
Brandon Jaeger, Sr., Dover-Sherborn
C.J. LoConte, Sr., Duxbury
Andrew Melvin, Sr., Medfield
Nick Menzel, Jr., Archbishop Williams
Nico Panepinto, Sr., Needham
Robbie Pisano, Sr., Needham
Tyler Reilly, Sr., Grafton
Andrew Smiley, Jr., St. John's (Shrewsbury)
[+] Enlarge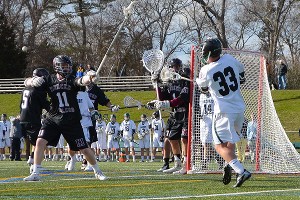 Scott Barboza/ESPN Army commit C.J. LoConte will look to shoulder a bigger part of the offense for defending Division 1 state champion Duxbury.
Midfielders:
Kevin Bletzer, Jr., Catholic Memorial
Will Blumenberg, Soph., Concord-Carlisle
Caleb Brodie, Jr., Hingham
Alec Brown, Sr., Wakefield
Tucker Ciessau, Sr., Scituate
Dan Delaney, Sr., Lincoln-Sudbury
Henry Guild, Sr., Lincoln-Sudbury
Carson Hart, Sr., Wayland
Davis Kraft, Sr., Algonquin
Matt LaCroix, Sr., Westfield
Drew O'Connell, Jr., St. John's Prep
Mikey Panepinto, Jr., Needham
Kieran Presley, Sr., Amherst
Bryan Rotartori, Sr., Grafton
Jack Wheeler, Jr., Xaverian
Long-stick Midfielders:
Nick Brozowski, Jr., Concord-Carlisle
Mike Elcock, Jr., Needham
D.J. George, Sr., Arlington Catholic
John Sexton, Jr., Lincoln-Sudbury
Defensemen:
Evan Boynton, Sr., Concord-Carlisle
Tim Gillis, Soph., Cohasset
Brian Uva, Sr., St. John's Prep
Luc Valenza, Sr., Foxborough
Jay Walsh, Sr., Duxbury
Tyler Weeks, Sr., Andover
Ian Yanulis, Sr., BC High
Goaltender:
Andrew Blood, Jr., Walpole
Matt Comerford, Sr., Reading
Ryan Goodall, Sr., Dover-Sherborn
Nick Marrocco, Jr., Duxbury
Giles Ober, Sr., Algonquin
Jake Reynolds, Jr., Scituate
D.J. Smith, Sr., Billerica
Robert Treiber, Jr., Medfield
Tighe Van Lenten, Sr., Masconomet
April, 6, 2013
4/06/13
5:18
PM ET
ALLSTON, Mass. -- The defending Division 1 and Division 2 state champions of MIAA boys' lacrosse had a long day Saturday morning in a double-header against out-of-state powers at Harvard.

Duxbury went down in a 10-1 defeat to one of the best public school programs in the country in Garden City (N.Y.). Meanwhile, Mercer Island (Wash.) continued its tour of the Northeast -- having lost an 8-4 decision to Duxbury on Tuesday -- with a 7-2 victory over reigning Div. 2 champion Concord-Carlisle.

While there weren't many highlights to go around for the local sides, here are a couple of parting thoughts from today's action:

PLUSSES TO THE MINUSES
Concord-Carlisle (2-1) were largely done in by a string of four Mercer Island goals in roughly five minutes to start the game. While it immediately put the Patriots behind the 8-ball, head coach Tom Dalicandro was

"We played pretty even after that, but we just couldn't recover from that start," Dalicandro said. "I thought the play after that was pretty even."

The bright spot for C-C was its man-up unit, which produced both goals. The Patriots also got a lift from their goal-scorers -- senior attack Tim Badgely and sophomore midfielder Will Blumenberg. Both players are coming up to game-speed after out-of-season injuries.

Aside from the goal-scoring boost, Dalicandro has been pleased by the progress of the two players, who carry a heavy height if the Patriots hope to capture their fifth state title in a repeat.

"They're ahead of where I thought they'd be at this time of the year, which is a good thing," Dalicandro added.

'EYE ON JUNE'
After registering a neat and tidy win while playing host to Mercer Island, Duxbury was simply overmatched by Garden City -- a team Dragons head coach Chris Sweet affirmed as one of the nation's best.

While the Trojans stifling defense afforded Duxbury few clean looks at the cage, holding the Dragons scoreless until inside the five-minute mark of the fourth quarter, Sweet felt his team didn't do themselves any favors either.

"We didn't hit our shots. We certainly got outplayed in a lot of phases of the game, but I like the way our guys played."

Junior attack Tanner Williams broke up Garden City's shutout bid off a feed from James Higgins working behind the cage.

Sweet emphasized the ability for his team to learn their weaknesses facing such competition.

"We schedule this game for the sole purpose of having our eye on June," Sweet said. "We'd like to win a game like this, but trust me we got a lot of game out of this that'll make us a much better team going forward.

"You can't find what your weaknesses are when you're winning fourteen to one."
November, 3, 2012
11/03/12
12:02
AM ET
By
Ryan Kilian
| ESPNBoston.com
CONCORD, Mass. –- One point and one yard proved to be the difference on Friday night as the Wayland Warriors (6-3) defeated the Concord-Carlisle Patriots 14-13 in overtime.

The win gives Wayland the edge in the Dual County League Small Race as they stand at 2-0 in league with two more games to play in the regular season. The win is also Wayland's first over the three-time defending Dual County Small champion Patriots since 2007.

"It was just a great effort from the team all around," Wayland head coach Scott Parseghian said after the game. "We are very excited right now."

In a damp and raw evening on the gridiron, it was both teams' defenses that shined through. With the game tied at 7-7 at the end of regulation the two teams entered their first overtime game of the season.

Wayland scored the opening touchdown in overtime as senior signal caller Matthew Goddard found tight end Kurt Straube on a 10-yard pass on second down to gave Wayland the 14-7 lead.

On the ensuing possession, Concord-Carlisle (4-5) dipped into their playbook as they executed a perfect halfback pass as senior running back Evan Boynton found sophomore quarterback Will Blumenberg on third down attempt for a 6-yard touchdown strike.

Trailing by one, Concord-Carlisle wasted little time, as they decided to go for two out of a timeout.

Blumenberg rolled right and did not see any open receivers so he tucked it under his right arm, dove for the pylon with his the ball extended, but he came up one yard short as host of Wayland defenders led by linebacker Matthew Devlin made the stop.

"I was actually thinking of going for two because I knew he was going to," Parseghian said. "The defense just came up big."

Devlin and the Warriors' defense stepped up when it counted all night, as they held Concord-Carlisle scoreless on two other crucial red zone opportunities along with a stop at the end of regulation.

"Defense is our strong point this year," Parseghian stressed. "We are holding teams to under 10 points a game and we knew it was going to be a great effort."

Wayland also received a strong defensive game from senior defensive back Dayleon McKenzie who had two big interceptions in the end zone on the evening, denying two C-C scoring attempts.

Senior Defensive End Tom Crowley stood out defensively for Concord-Carlisle as he made double-digit tackles and multiple tackles for losses on the night. Blumenberg also did a nice job in pass coverage for the Patriots.

Back-to-Back Early Scores: While both defenses were the story on the evening both offenses showed glimpses of excitement early as the games only two regulation touchdowns occurred on 25-yard-plus scoring strikes less than three minutes apart in the second quarter.

Goddard began the action when he found senior fullback William Gunshenan on a fourth down play that went for 25 yards and the game's first score.

Blumenberg answered right back, as the athletic sophomore scrambled to his left and launched a 38-yard bomb to classmate Andrew Kielar for a touchdown.

What this means: The win gives Wayland the opportunity to control their own destiny if they win their final two games against Bedford and Weston.

Bedford (6-2, 2-0 in the DCL Small) poses a strong threat as they are currently tied atop the DCL Small with games against Wayland and Concord-Carlisle remaining.

Wayland also has the added benefit of hosting next Friday night's game against Bedford at 7 p.m. along with their annual Turkey Day rivalry against neighboring Weston.

WAYLAND 14, CONCORD-CARLISLE 13
WAY (6-3) 0 7 15 0 7 --- 14
C-C (4-5) 0 7 0 0 6 --- 13

Second Quarter
W- William Gunshenan 25 pass from Matthew Goddard (Eric Maclean kick)
C – Andrew Kielar 38 pass from Will Blumenberg (Evan Boynton kick)

Overtime
W– Kurt Straube 9 pass from Goddard (Maclean kick)
C– Blumenberg 6 pass from Boynton (rush failed)

September, 6, 2012
9/06/12
11:06
PM ET
FRIDAY
NO. 1 EVERETT AT NO. 7 LEOMINSTER
The Skinny: Leominster has never beaten the Crimson Tide since this series began in 2002, but the Blue Devils have usually been a tough out. In 2009, the teams played to a 14-6 Tide win. The last two meetings, the Blue Devils got under the Tide's skin early before Everett's talent took over. But Leominster is brimming with excitement, its proud football culture awakened again following their first Super Bowl championship in a decade last fall. Everett, meanwhile, seems to be settled at every position but quarterback – and with a line averaging over 315 pounds, that will suffice. If Leominster is to pull off the upset, they'll have to a find a way to contain electric wideouts Jakarrie Washington and Jalen Felix.

Scott Barboza: Leominster turns it into a game, but still too many horses in the stable for Everett despite the questions. Everett, 27-20.

Brendan Hall: It's going to be a majestic crowd at Doyle, and some readers will undoubtedly conclude I'm biased towards Leominster because their defensive coordinator coached me 10 years ago at Oakmont. But I'm not. Even I'm not foolish enough to pick against the Tide in this one. Everett, 24-13.

NO. 2 BC HIGH AT NO. 22 BROCKTON
The Skinny: Injuries were an overarching theme of the preseason and both of these teams were affected. Bad news for BC High is Luke Catarius is out with a hairline ankle fracture, but Brockton should have Micah Morel in the lineup for their Week 1 challenge. We'll get a look at the reigning Div. 1 Super Bowl champions new-look offense with Brendan Craven under center and Brandon Owens in the backfield while the Boxers will be sporting a Georgia Tech-inspired scheme with Auggie Roberts back at quarterback.

Barboza: A Jackson Bockhurst field goal will be the difference. BC High, 17-14.

Hall: Things unraveled for Brockton pretty quickly in last year's meeting in Dorchester. The Boxers are fighting an uphill battle again this year, but at least it will be respectable. BC High, 28-14.

NO. 23 SPRINGFIELD PUTNAM AT NO. 14 SPRINGFIELD CENTRAL
The Skinny: With the schools sitting less than a mile from each other along Roosevelt Ave., the season-opening battle between these rival schools has become must-see as of late. Putnam won this contest last season, kick-starting an historic 2011 season that ended with their fifth Super Bowl title in eight seasons. Central will be looking for revenge, but it's not easy replacing 2,000-yard rusher in Sacoy Malone. Putnam, meanwhile, turns to a plethora of new faces to replace record-setting running back Melquawn Pinkney, including quarterback Kayjuan Bynum and running back Wayne Lowery.

Barboza: I came away very impressed from talking to Central QB Cody Williams last year at Gillette. He blossoms into the real deal this year. Central, 21-16.

Hall: I like the direction Central is headed in over the long run, but Putnam is still Roosevelt Ave (See what I did there?). Putnam, 7-6.

LA SALLE ACADEMY (R.I.) AT NO. 16 NORTH ATTLEBOROUGH
The Skinny: Big Red will have its hands full opening night with their challenger from just across the state line. The Rams feature a high-octane attack led by reigning Gatorade Player of the Year running back Josh Morris and senior quarterback Anthony Francis. The key to this one will be in the trenches where North's offensive line led by Eric Beckwith and Sean Peters could have the advantage.

Barboza: This Rams team is very talented, but North holds on – just barely. North, 28-26.

Hall: Josh Morris and Co. have been dying for that elusive win over a Massachusetts squad, and I think they finally get it here. La Salle, 17-13.

NO. 12 KING PHILIP AT DOVER (N.H.)
The Skinny: Self-admittedly, we don't know as much about Dover as we do KP, but we can be some what certain what the Warriors will be showing them on defense. And, of course, that's a variety of different looks and blitz and coverage schemes. Dover, which sits just outside of ESPN Boston correspondent Marc Thaler's Granite State Top 10 poll, will also have to contend with KP quarterback John Dillon, who will enjoy a greater role directing the offense in his second year as starter.

Barboza: KP's "Psycho" package gives Hockomock League teams fits, nevermind an offense that hasn't seen it. KP, 28-8.

Hall: Knowing little about Dover outside of what our loyal New Hampshire correspondents tell us, I'm going to trust their convictions on this one and say it will be close. But I'm still going with the team closer to Boston. KP, 20-10.

NO. 4 ST. JOHN'S PREP AT DRACUT
The Skinny: The Middies have been a bit of a bugaboo for St. John's Prep in recent years and some around Danvers feel Dracut has simply posed a matchup problem for the Eagles with its spread attack. Good news for Prep is that their secondary, with Lucas Bavaro, Gerry Kahari, Alex Moore and Johnny Thomas, has matured into a strength of the team. Dracut senior linebacker Zach Bassett could be the key to the game, trying to slow down Prep's running attack.

Barboza: Looking for a defensive struggle here. Prep, 14-7.

Hall: Classic trap game for The Prep, against a classic trap opponent that's had their number in recent years. Dracut, 10-6.

NORTH ANDOVER AT ANDOVER
The Skinny: North Andover's season starts with a Walsh at quarterback, but of another name. Brendan Walsh's younger brother Casey takes the helm of the Scarlet Knights' offense. It also marks North Andover's first Merrimack Valley Conference game. The Golden Warriors will counter with a high-flying attack that impressed during this summer's Northeast 7v7 passing tournament. Quarterback C.J. Scarpa has plenty of targets including Cam Farnham and Will Heikkinen.

Hall: I know it's a familiar rival that's been on the schedule for years, but North Andover is still in for a whole new ball game. And since it's now officially an MVC game, there will be no less than 172 points scored and 1,000 yards of offense. Andover, 35-30.

Barboza: Ditto. Andover, 31-20.

MARSHFIELD AT CATHOLIC MEMORIAL
The Skinny: Last year at this time, Catholic Memorial entered Marshfield's stadium with plenty of hype, behind three Division 1 FBS commits and a No. 4 preseason ranking in ESPNBoston.com's poll. They promptly got shut out by the Rams, 24-0, fueling their ensuing seven-game win streak. The Knights will no doubt be looking to exact revenge, and they'll look to Preseason All-State defensive end Peter Ngobidi to stifle the Rams' vaunted run game.

Barboza: Ngobidi is a dominant force and asserts his will here. CM, 7-0.

Hall: The Knights got embarrassed last year in Marsh Vegas, and I expect them to exact revenge here. CM, 16-13.

SATURDAY
NO. 24 HOLY NAME AT NO. 17 ST. JOHN'S (SHREWSBURY)
The Skinny: For all of Holy Name's success under Mike Pucko, the Naps have never beaten St. John's during his tenure. Could that change on Saturday? Holy Name turns to one of the state's most elusive scatbacks in Quron Wright, and will hope for a big day. St. John's has already hit the injury bug, with incumbent QB Connor Kurtz (knee) out for the season, but RB Shadrach Abrokwah is a nice fit for their hurry-up scheme, and is poised for a breakout senior season.

Hall: If the Naps are ever to beat St. John's, this has to be the year. Holy Name, 9-8.

Barboza: Hate to do this to the Naps, sorry. St. John's, 22-21.

NO. 9 DUXBURY AT NO. 8 BRIDGEWATER-RAYNHAM
The Skinny: B-R is itching to get over the hump after dropping its season-opener to the Dragons the past two seasons. The Trojans have some terrific talent between the tackles, led by Joey MacInnis, to pave for a big afternoon for junior tailback Arcel Armstead. Duxbury graduated one of its most talented classes ever from the 2011 Super Bowl champion squad, but still has plenty of talent left over to keep the state's longest active win streak (26) going. Look for guard Rob Kosharek, linebacker Marshall McCarthy and running back Jon Hurvitz to have big days.

Barboza: Now that Dan Buron's nephew Andrew (former Duxbury standout) has graduated, expect the Trojans to get back to their winning ways. B-R, 14-10.

Hall: After graduating one of the program's most talented classes ever, Marshall the Missile gets the full spotlight. And he usually gives the fans their money's worth. Duxbury, 14-10.

CONCORD-CARLISLE AT BEVERLY
The Skinny: C-C heads into its non-league tilt with the heavy NEC/CAL Tier 2 favorite already limping, losing its star running back Tim Badgley (ACL tear) for the season. If the Patriots are to repeat last year's Super Bowl championship success, sophomore quarterback Will Blumenberg will have to grow up quickly. Meanwhile, Beverly features one of the North Shore's most feared rushing attacks with the three-pronged approach of Kenny Pierce, Brendan Flaherty and Dom Abate.

Barboza: ETA on when the Kenny Pierce hashtag gets rolling again? We're looking at you James Coffey. Beverly, 27-14.

Hall: I'm excited to see what Will Blumenberg can do for the Patriots, but the Panthers just have too much in the tank to be stopped in this one. Beverly, 28-7.
June, 16, 2012
6/16/12
2:17
AM ET
By
Ryan Kilian
| ESPNBoston.com


WORCESTER, Mass. -- The Concord-Carlisle boys' lacrosse team wrote a new page in their long and storied history book on Friday night as they defeated Algonquin 13-3 to win the school's fourth state championship and first since 1998.

The undefeated Patriots saved one of their strongest efforts for last as they struck early and often and played some of their best team defense of the season in the Division 2 state championship game.

"We have never had a season where we have played up to or beyond our potential every single game," Concord-Carlisle head coach Tom Dalicandro said. "It is amazing."

Concord Carlisle (22-0) got all the offense they would need in the first quarter as senior midfielder Jackson Finigan set the tone early by netting the games first two goals on strong individual efforts. Finigan and freshman midfielder Will Blumenberg would each net hat tricks in the opening quarter to give C-C a 6-0 lead after one.

Finigan would add his fourth goal of the game with 4:36 remaining in the second quarter to give C-C a 7-0 lead heading into the half.

Concord-Carlisle All-American goalie Doug Gouchoe made five of his nine saves in the first half and the C-C defense held the talented and high-scoring Algonquin attack of Conor Healey, Mike Wood and Keegan Gillis scoreless in the half.

Algonquin (22-2) got on the board with 6:46 remaining in the third quarter as Wood scored the first of his two goals on the night. Blumenberg would answer for C-C with his fourth of the game a minute later.

C-C closed out the quarter with three more tallies to Algonquin's one score to take a 12-2 lead into the final quarter of play.

Wood and Finigan would exchange goals in the final quarter as C-C controlled possession to seal the win.

Finigan finished the game with six goals and Blumenberg added five goals and two assists to lead the C-C offensive attack.

"It was a team effort," Finigan said. "Everything that I did would not have happened without the guys on the field out there."

Senior Leadership: "The seniors on the team this year are the hardest workers we have," Dalicandro said.

Finigan, Gouchoe, All-American long pole Henry Bumpus and midfielder Mike O'Brien (1 Goal) were the C-C captains this year.

Finigan will do a postgraduate year at Deerfield before heading to the University of Delaware to play lacrosse in 2013.

Gouchoe will head to the Air Force Academy where he will continue playing lacrosse.

"Doug has been unbelievable," Dalicandro said with a smile on his face. "We are going to miss him next season along with all of the seniors."

Bumpus, who missed the Shriners All-Star football game at Gillette Stadium on Friday to play in the state championship, will play football at Brown University next fall with his brother John and C-C football teammate Andrew VanderWilden.

O'Brien, an All-American soccer player, will head to the University of Pennsylvania next fall as a member of prestigious the Wharton School.

Refuse to Lose: Concord-Carlisle senior lacrosse players Bumpus, Finigan, Tyler Koning and Anthony West were also members of the Concord-Carlisle football team that went 13-0 and won the Division 3 Super Bowl under head coach Mike Robichaud.

"Going undefeated in two sports and winning two state championships are some really great memories that we will leave behind," Finigan said.

The Futures: Blumenberg, who also starts at defensive back on the football team and guard on the basketball team, is a unique talent at Concord-Carlisle. The freshman was a top scorer this season while playing attack and midfield for the Patriots.

With top long pole Evan Boynton returning for his senior year along with Sam Barrett, Javier Flores and Blaine Taylor, the C-C defense should again be one of the top in the state.

Algonquin also returns many key components next year at attack with Gillis and Wood, in addition to midfielder Davis Kraft and goalie Giles Ober.
June, 14, 2012
6/14/12
12:38
PM ET
By
Ryan Kilian
| ESPNBoston.com


ALLSTON, Mass. -- Concord-Carlisle took one step closer to their dream perfect season on Wednesday night as they defeated Wellesley 5-4 in the Eastern Massachusetts Division 2 championship.

No. 2 seed C-C (21-0) used their typical blend of strong defense, timely offense and elite goaltending throughout the game and held off a spirited fourth quarter comeback by the Raiders.

"We just made one more play than them," Concord-Carlisle head coach Tom Dalicandro said. "It could have gone either way. It was a one goal game and they really pressed us at the end."

Wellesley (19-4) jumped out to an early one goal lead at the 7:46 mark in the first quarter as senior midfielder Oliver Saffery (2 Goals) took a pass from behind the cage and flipped it behind his back to beat Concord-Carlisle All-American goalie Doug Gouchoe.

Wellesley dominated the early possessions in the opening quarter but Gouchoe turned away five big shots in the opening frame that could have extended the lead even further for the Raiders.

Concord-Carlisle took momentum right back from Wellesley at the start of the second quarter as freshman Will Blumenberg (1G, 1 A) won the opening face-off and found defensive midfielder Tyler Koning for the game-tying goal at the 11:49 mark in the second quarter..

Junior attack Charlie Painter would give Concord-Carlisle their first lead of the game with just under a minute remaining in the first half. Painter took a feed from classmate and fellow attack Tim Badgley (1G, 1A) and beat Wellesley goalie Connor Darcey low to give C-C a 2-1 lead at the half.

Darcey also kept the Concord-Carlisle lead from getting away from the Raiders as the senior came up with several key saves in the second quarter including two at the end of the half.

"We hit a couple of pipes and Darcey robbed us a couple of times as well," Dalicandro said. "Both goalies were unbelievable today. They are the two best goalies in the state."

C-C exploded out of the halftime intermission and scored two quick goals with less than a minute gone off the clock. Blumenberg and senior midfielder Jackson Finigan both added unassisted tallies to give C-C a 4-1 lead. Badgley would fire home another goal in transition on a feed from senior midfielder Mike O'Brien at the 7:06 mark in the third to give C-C a 5-1 lead after three quarters.

After exchanging possessions for much of the fourth quarter Wellesley attack John Caraviello cut the C-C lead to 5-2 as the sophomore's goal sparked the fourth quarter Wellesley comeback.

Senior attack Peter Crane followed suit with another score to bring Wellesley to within two goals at 5-3 with 3:30 remaining in the game.

When the game appeared to be all but over Saffery would score again with 31 seconds remaining to cut the C-C lead to one goal at 5-4.

C-C would get possession off a Blumenberg face-off win and run the clock out to take the victory and advance to Friday night's D2 state championship game at Foley Stadium in Worcester.

Elite keepers: Both Gouchoe (Air Force) and Darcey (Penn State) had fantastic games for their respective teams as they drew the praise from fans, coaches, teammates and opponents alike.

"He played great today," Gouchoe said of Darcey. "He pretty much kept his team in the game the entire time. He had some unbelievable saves against Will Blumenberg, Jackson and kids like that. It sort of makes it hard to play against when he is such a great goalie. You do not want to mess up and make yourself look like a sieve in front of him."

Next Up: Concord-Carlisle will face Central/ Western Mass. champion Algonquin on Friday night at Foley Stadium in Worcester. The D2 state championship face-off is scheduled for 7:30 p.m.

Central Mass. champion Algonquin defeated Western Mass. champion Minnechaug, 11-6, Tuesday evening to set up the state championship match up.

In last year's D2 state final Medfield defeated Algonquin 13-9. Medfield also defeated Concord-Carlisle at Harvard Stadium last year by a score of 11-5 in the 2011 Eastern Mass. D2 final.


June, 9, 2012
6/09/12
12:45
AM ET
By
Ryan Kilian
| ESPNBoston.com


CONCORD, Mass. -- No. seed 2 Concord-Carlisle is headed back to Harvard Stadium for the second consecutive year as they defeated No. 3 Catholic Memorial, 11-6, in an Eastern Massachusetts Division 2 semifinal game.

The Patriots are making their third trip in four years to the Eastern Massachusetts finals and the first time with an undefeated record since their 1998 state championship squad.

"To go to Harvard, back to back, we would have never thought it at the beginning of the year," C-C head coach Tom Dalicandro said. "These guys just have just played so hard all year. They give it everything all the time. That is a great team we just played there."

CM (19-4) would strike first, 41 seconds into the game, as senior attack John Harrison (2 G, 1 A) beat his man and found the back of the net to give the Knights the opening lead.

C-C (20-0) would come back and answer with four straight first quarter goals before CM freshman attack Tyler Bogart (2G) would score with 1:09 remaining in the first quarter to cut the C-C lead to 4-2.

The second quarter would prove to be the turning point in the game as C-C senior midfielder Kevin Delehey took over in the face-off circle and helped the Patriots gain crucial possessions.

Delahey, who has been hampered by injury of late, came back in full force on Friday as the senior scored both of his goals in the first half to help lead C-C to an 8-2 halftime advantage.

"Kevin Delehey, coming off an injury, played great for us," Dalicandro said. "Our whole offense played great."

Despite an early second half surge by CM, C-C would maintain their comfortable lead and grind out the 11-6 victory.

C-C senior All-American goalie Doug Gouchoe made nine of his 13 saves in the second half as he fended off the enhanced CM pressure.

"Doug is just special," Dalicandro explained.

The Air Force commit continued his consistent play in the cage and the C-C close defense, led by senior All-American Henry Bumpus, also maintained their strong play.

D-Middies: The C-C short stick defensive midfield group of seniors Anthony West (1G), Tyler Koning and junior Brendan Finigan (1G) came up with some of the most important plays on the evening as they held CM's midfield in check and also provided unexpected early offense as West and Brendan Finigan scored the first and third goals of the game for C-C.

"Our defensive middies were unbelievable for us," C-C midfielder Jackson Finigan said. "They were all over the field and they started off the goal scoring for us, which was huge."

Brendan Finigan had the goal of the night as the junior vaulted into the air and took a pass from freshman middie Will Blumenberg (2G, 2A) on the crease for an athletic quick stick goal.

"Our defensive middies did a great job, scoring goals and stopping them." Dalicandro said.

Playing through Harvard: Concord-Carlisle will face the winner of No. 1 Hingham and No.4 Wellesley in a game that was re-scheduled to Saturday at 5 p.m. in Hingham due to weather.

With Harvard on their minds and graduation day tomorrow for the C-C seniors the Patriots are not looking past their ultimate goal.

"We do not want to just get to Harvard," Jackson Finigan explained. "We want to get through Harvard. The last couple of years the goal has been to get to Harvard but this year we want to get all the way."

The Eastern Massachusetts Division 2 champion will face off against the winner of the Western Mass. and Central Mass. championship game for the D2 state championship late next week.
May, 11, 2012
5/11/12
2:51
AM ET
By
Matt Noonan
| ESPNBoston.com
CONCORD, Mass. -- A few weeks ago, Concord-Carlisle needed a three-goal rally to defeat Dual County League foe Weston by one goal to preserve their perfect season.

On Thursday, the Patriots (12-0) relied on senior faceoff extraordinaire, Kevin Delehey (2G, 1A), who jumpstarted his team's offense with five consecutive faceoff wins in the opening quarter, which helped C-C earn a two-goal lead that eventually ballooned into an 8-3 victory against the Wildcats.

"I was a little bit worried at halftime [because] we've had the ball the whole game, but I think our guys feed off each other, and we kept winning faceoffs and finally we sort of broke them down a little bit [and] separated enough to pull away," C-C head coach Tom Dalicandro said.

The win also provided the Patriots with their fourth DCL Small conference crown.

"We didn't want to be the team to [be remembered as the unit] that didn't win the league [or] had to share their league with Weston," said C-C senior Jackson Finigan, who finished the game with a hat trick. "We didn't want to be those guys, so we knew our goal coming into the game and we finished strong."

C-C's offense dictated the first 7:50 of the contest by registering three tallies –- two by Finigan (3G, 1A), one by Delehey -– before Weston (10-4) capitalized on a late transition goal by senior Harrison Fontaine with 36 seconds remaining in the opening quarter.

The Patriots responded halfway through the second when Finigan tallied his third goal of the period before the Wildcats closed the half with a 'man up' goal by senior Joey Pasquale.

"Our coaches were talking to us before the game, they talked about how we're going to have to run by sticks and that's all we did the entire game. They tried to take my left away every single time it looked like, they would almost double team me in the middle, and then I would just keep pushing left and finish every single time," Finigan said of his three-goal first half.

Once the third quarter commenced, C-C took advantage of various Weston mistakes and two man-up situations to push themselves ahead for good, as Delehey, juniors Charlie Painter and Graham Hunt, and freshman Will Blumenberg (1G, 1A) each netted one strike to secure the Patriots sixth division win of the season.

"We just decided that we had to push [in the second half]," Finigan said. "We talked about it all year, 10 goals has been the limit, we didn't get there today, but we came out strong both in the first half and the start of the second, and I think it was really nice because it gave our defense a break for the first time, they've been holding us down every single day and ever single game they've been like the leader of our team, and we gave them a good break."

Faceoffs Fueled the Patriots
Kevin Delehey may not be the biggest player on the field, but despite his average frame, he still knows how to defeat opponents at the face-off X.

"I practice a lot with my reaction time. Before games, I try to work on my clamps every pre-game warm up, and I'm not bigger than most kids, so I try to get a quick move off and get the ball out as fast as I can," said the senior midfielder.

Against Weston, Delehey managed to win 10 faceoffs.

"It was really great because we got to possess the ball so much [following faceoffs], and any time we can keep the ball out of the hands of such a talented offense like Weston, it's really nice," Delehey said.

"He did a great job on face-offs," Dalicandro added. "I think he won a lot of them to himself, it wasn't like the wing play was really involved. Usually we split him and Will [Blumenberg], but he was winning so many that we kept him going, and that was a huge advantage for us. "

Numerous Penalties Plagued Weston's Attack
Weston recorded eight penalties, six of them in the second half, derailing their attack and allowing the Patriots to maintain momentum for the majority of the contest.

"You take penalties against C-C, and they're going to hurt you because they have such good ball movement and they just have a lot of different guys that can shoot the ball, so we had to really play discipline defense, and part of that was on us and part of it is C-C creating those situations," Weston head coach Jim Wilcon said. "Part of it's on us, part of it is credit to C-C and that was just a piece of the game."
April, 22, 2012
4/22/12
12:04
PM ET
By
Ryan Kilian
| ESPNBoston.com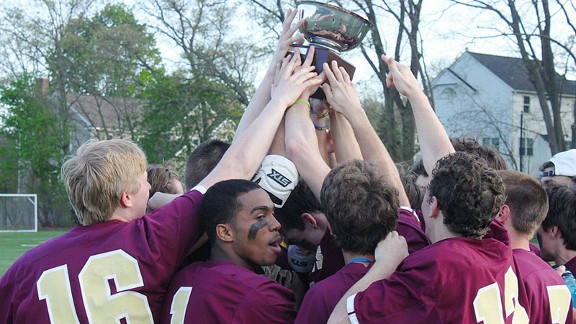 Ryan Kilian for ESPN.com
WELLESLEY, Mass. -- Concord-Carlisle got a spectacular defensive effort and timely and effective offensive possessions to defeat fellow Division 2 power Wellesley 8-4 on Saturday in the finals of the 2012 Coaches Challenge Cup.
Concord-Carlisle (6-0) got out to a 6-1 halftime lead and never looked back as they moved the ball efficiently on offense, received strong net play from senior goalie Doug Gouchoe and added great rotational team defense in the second half to seal the victory.
"It has been a great week," Concord-Carlisle head coach Tom Dalicandro said." The defense was awesome. "I knew Doug [Gouchoe] would be Doug but I am very impressed with the defense led by Henry [Bumpus]. Henry is the only one back and the other guys played JV last year. Evan Boynton was a short stick d-middie and Sam Barrett transferred back in."
Wellesley (5-2) got on the board first to open the game as senior midfielder Oliver Saffery scored the first of his two goals on the day to give Wellesley a 1-0 lead. Concord-Carlisle would answer back with six unanswered tallies, including two man-up goals in the second quarter, to take a five goal lead into the half.
"This week we have come out so strong in the first two quarters," Gouchoe said. "It is up to the defense to preserve that lead. Our offense has proved they can come out and score 8-9 goals now and that is big for our defense."
Saffery would strike again out of the break for the Red Raiders on a man-up rip to cut the C-C lead to 6-2. Wellesley senior goalie Connor Darcey made 12 saves on the day with four coming in Wellesley's third quarter shutout.
Trailing 6-2 heading into the fourth quarter Wellesley buckled down on defense and cut the lead to 6-3 as they held C-C scoreless for a 20-minute period before C-C senior attack Mike O'Brien beat the Wellesley defense on a great individual effort to ensure the win for the Patriots.
"We have to play smart," said O'Brien. "We are not the flashiest players but we have a lot of kids who work hard and are smart with the ball. When we play well we are a really hard team beat."
Wellesley also received strong play from senior long stick midfielder Ryan Cassidy, who excelled all tournament long for the Red Raiders. The senior followed up a huge semi-final effort in a win over Winchester with another strong performance on Saturday.
"It was great team win," said C-C's Bumpus. "We are playing smart and that has been what is getting us ahead in these teams. We do not make mistakes and that is what led to the Coaches Cup win."
C-C freshman attack Will Blumenberg and junior attack Tim Badgley each scored twice for Concord-Carlisle in the win.
"Our offense starts with our defense," senior attack Jackson Finigan said. "Without our defense we would not get as many opportunities for our offense. Our defense transitions the ball so well and gives us so many chances. We know that even if we do not get it the first time we are going to get the ball back."
D-MIDDIES IN FOCUS
As good as Gouchoe and C-C's close defense was on the day the most unheralded work was done by the d-midfield unit of seniors Tyler Koning (1 G), Anthony West, junior Brendan Finigan and sophomore Nick McCormack.
"Those guys played JV last year," Dalicandro said. "Brendan, Tyler, Westy, and Nick was even on the freshman team. They all did a great job today."
CUP REMATCH
The 2012 finals was a rematch of the 2011 Coaches Challenge Cup finals that was held in Winchester. Wellesley defeated C-C 5-2 on a rain soaked Saturday afternoon to win the Cup for Wellesley.
Darcey was the star of last year's game as the Penn-State bound net minder had 15 saves in the win.
After Saturday's game Wellesley head coach Rocky Batty graciously handed the trophy over to Concord-Carlisle.
"Concord-Carlisle deserves this trophy," said Batty after the game as he presented the Cup to C-C. "You won with class and if we are lucky we will get to play you again in June."
HINGHAM TAKES CONSOLATION
In the third place game Hingham defeated Winchester 9-5 behind four goals from senior attack Noah Ellis and two goals from senior attack Kevin Blair.
Hingham led 7-2 at the half but Winchester stormed back in the third quarter to cut the deficit to 8-5. Hingham midfielder Caleb Brodie would score the lone fourth quarter goal as the Harbormen take home third place in the Coaches Cup.
Lincoln-Sudbury defeated Andover 9-6 and Dover-Sherborn defeated North Andover 6-4 in the first two Coaches Cup consolation games of the day.