Boston High School:

Will Lukas
May, 10, 2014
May 10
1:11
AM ET
By
Terrence Payne
| ESPNBoston.com
LONGMEADOW, Mass. — Six days ago, Longmeadow lost its first game in 38 tires when Medfield avenged last season's loss in the Division 2 state championship game with 10-9 win on Saturday night.

The Lancers have since started a new, modest three-game win streak, the most recent of which was an 11-6 win over St. John's of Shrewsbury on Friday night at home, handing the Pioneers their first loss of the season.

"Yesterday (versus Westfield) we came out really slow," Longmeadow senior midfielder Drew Kelleher said. "Coach talked to us and told us we needed to have a four-quarter effort for tonight.

"This is a huge momentum swing. St. John's was undefeated, came in here today playing some great lacrosse, so for us, this is a big win."

Kelleher wasted no time getting points on the board, scoring the his first of five goals 27 seconds in. That was followed by his younger brother, Cam, posting another goal, giving Longmeadow a 2-0 lead only 90 seconds in.

The early offense provided some comfort for goalie Matt Draymore, who put forth a 13-save effort for the Lancers.

"When we played Medfield, I think he had two saves," Longmeadow coach Ryan Liebel said. "He was really down on himself, and we tried to stay positive and keep him going. He turned it around real quick. It woke everybody else up."

St. John's attempted to cut into the lead in the third quarter, scoring three unanswered goals from Jared Ward, Drew Smiley and Andrew Cox. The trio of goals, made it a 7-5 game. Longmeadow would counter with a goal from Drew Kelleher, who knocked in a shot midair after a scrum of white and red jerseys attempted to scoop a ground ball outside the crease.

Ward's second goal made it 8-6, the last time the game would be that tight. Max Stukalin ripped in a netter with less than a minute to play in the frame, and the Lancers added two more in the fourth quarter.

"The defense is aggressive and pushed out on us," St. John's coach Terry Leary said. "I thought Draymore had a great game. We had as many easy opportunities and he was the difference maker."

The face-off battle between Kelleher and Connor Maloney was tight throughout the game, but Longmeadow was able to control the game, scooping ground balls, resulting in transition for the Lancers.

While Kelleher had five goals, Will Lukas set up a handful of his own for Longmeadow.

Smiley recorded a hat trick for the Pioneers.
April, 14, 2014
Apr 14
6:26
PM ET
LONGMEADOW, Mass. -- It didn't take long for first-year Longmeadow boys' lacrosse head coach Ryan Liebel to figure out the kind of talent he had for the 2013 season.
"When I was at tryouts, I just said to myself, 'This is awesome.'"
For the then-25-year-old coach, an alumnus, himself, of Longmeadow and a standout at UMass-Amherst, his return home was truly an ideal situation. After a season as the head of Belchertown lacrosse, Liebel returned to his roots, taking over the Lancers program last season.
[+] Enlarge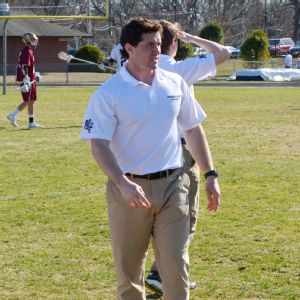 Scott Barboza/ESPNIn his first year at the helm, Longmeadow alum Ryan Liebel led the Lancers to a 25-0 season and a Division 2 state championship.
The bar was set extraordinarily high for both coach and team in that first season, as the Lancers capped an undefeated season as Division 2 state champions. With that, Liebel was named Coach of the Year by ESPN Boston.
That doesn't mean there isn't room for improvement, however.
With little surprise, the No. 2-ranked Lancers have started the season unbeaten yet again, improving to 4-0 with a 9-5 win over No. 8 BC High. Yet, after the Saturday matinee at home, Liebel was still ruminating over the things that aren't quite right with the Lancers early on.
"We had some very big role players from last year who've graduated," Liebel said, "so we're still kind of finding out where everybody fits the best."
Namely, the Lancers lost an All-American level midfielder in Keegan Dudeck, who scored more than a few timely, important goals in their state championship run last year.
But, for the most part, Longmeadow's core returns in tact this season, starting at the faceoff "X" with one of the state's best draw men in Drew Kelleher.
"The faceoff and transition game is absolutely huge in terms of setting the tone for the game," Liebel said. "So when you have the chance to have a faceoff guy like Drew Kelleher, it's absolutely unreal to have, especially at a time like now, when our offense is struggling with things like time of possession."
Watching Longmeadow any time during the last season-plus, it becomes immediately evident that the Lancers thrive on defense and the transition game. Hardly a motion is wasted, moving the ball from the defensive half of the field and through the midfield. It's what Liebel has prided the program on, and it comes with the continual repetitive motion of practice drills.
"It really comes down to working hard in practice – lots of long practices," senior goaltender Matt Draymore said. "Then, when we come to the games, we just have to play all four quarters."
Adding on how the Lancers have taken on the visage of their head coach, Draymore said, "I think we all have really good relationships with him, but he's really hard on us. He really pushes us to get better. It's a really good combination."
In front of Draymore, the Lancers return a deep core of veteran defensemen. Senior captain Reid Leveillee returns as a preseason All-State selection, while junior Daniel Cotnoir and senior long-stick midfielder Jack Ryan provide additional proven experience on the starting defense.
"They're just absolutely the best role models you could hope for," Liebel said. "Three of our five captains are defensive players and they're what's keeping us together right now. If it wasn't for them, I don't think we'd be where we are right now."
The Lancers' attack is still rounding into shape in the early going, with returning senior attack Zach Lukas sidelined due to injury. In his absence, that's given a few of Longmeadow's younger options a chance to work their way into the rotation, including the younger siblings of a few of the Lancers' aforementioned tone-setters. Sophomore Will Lukas and freshman Cam Kelleher has seen significant playing time alongside returners, such as senior midfielder Max Chipouras.
While the offense tries to find its foothold, the Lancers will rely on what has their winning streak at 29 games and counting – a commitment to defense, having surrendered less than three goals a game on average.
That, and a commitment to never becoming complacent.
"Right now, we're just fighting to make the playoffs with everybody else," Drew Kelleher said. "Coach pushes us really hard, he really knows how to get the best out of us. He leads a high-intensity practice every day and we know that makes us better."