Boston High School:

Will Seifert
April, 29, 2012
4/29/12
12:00
PM ET
By
Matt Noonan
| ESPNBoston.com
NEEDHAM, Mass. -- Two days after one of Duxbury lacrosse's wildest contests of the season, the No. 1 Dragons once again found themselves behind the 8-ball.

But Duxbury constructed a three-goal rally early in the first half, which helped them go on to defeat Needham, 11-7, at Memorial Field Saturday night.

"We want to get back to playing Duxbury lacrosse, and we've had a tough schedule [because] we've had a game every other day for about three weeks," Duxbury head coach Chris Sweet said. "But I thought we played a great second half, we got off to a slow start in the first half, and sometimes that just happens."

The Rockets, who jumped out to a stunning 3-1 lead in the first quarter, struggled to maintain their two-goal advantage, as missed shots, passes and ground balls opened the door for the Dragons attack and midfield to tally four unanswered goals before intermission.

Senior Sam Sweet (2 G) tied the game at 7:10 of the second quarter after collecting a pass from senior Paul Hellar (2A). Senior Adam Fitzgerald and junior Henry Narlee (2G) then upped the Dragons' lead to 5-3.

"Coach Sweet, one thing he stresses is always get ahead of the ball, and never give up on the play, so once I won the face-off, I saw Reilly [Naton] had the ball, and I just tried to get in front of everybody and beat my defender," Narlee said of his second quarter strike. "I beat him, [my defender] and luckily got the shot off, so I thought it was nothing special, but I just had to get in front and do the fundamentals."

Duxbury, which managed to tally two strikes in the third, ramped up its intensity during the final quarter, as the Dragons' defense initiated four transition goals to secure their 10th victory.

Senior Will Siefert (4 G, 2A), who was responsible for three of his team's final strikes, set up shop to the left side of senior Lucas Davis' cage during the fourth quarter and was able to finish Duxbury's transitions with three consecutive tallies.

"In the fourth quarter we stuck together, and we just started to pick it up, started winning ground balls, and got us the possessions that we needed, so it helped us get the goals," Siefert said. "My buddy, Sam [Sweet], we've played together for a while, and he always finds me there [on] the backside, so I just camp out there and wait for the ball, and try to finish it."

"I think it starts at the defensive end. We get the ball off the ground, then we get a couple of quick passes, and get into transition, and then once we get a little bit of space, our attack man are pretty good at moving the ball and finding the open guy," Chris Sweet added.

Senior Jamie McGill and junior Nico Panepinto registered Needham's final goals with two minutes remaining, but their rally was cut short after Duxbury secured the ball on the ensuing possession, and drained the clock with various passes.

"We knew this was going to be a tough game," Needham head coach Dave Wainwright said. "We put this on our schedule because we wanted to see where we were at the midpoint of the season, and this is exactly the midpoint. This is game nine for us out of 18, and the fact that we're at this point right here, we feel as though we've got room to grow, but we've done a lot of good things along the way."

"This was a game that we look at the outcome of the score, we're not happy with it, but we feel as though we can answer some of those problems," added Wainwright. "We definitely have some talented young men that work real hard and I think they're going to be ready once it becomes tournament time because we have another half of the season to grow."
June, 29, 2011
6/29/11
2:21
PM ET
STARTING 10

Attack - Kane Haffey, Duxbury
The Duxbury captain helped lead his team back to the top of Massachusetts' Division 1 ranks, scoring six goals in the title game against St. John's Prep. The All-American scored 43 goals with 18 assists this season and also helped Duxbury football to another Division 2A Super Championship in the fall. Haffey is headed to Phillips Exeter for a post-graduate year.

Attack – Connor Hall, Lincoln-Sudbury
The Warriors' senior captain was named Dual County League Player of the Year after tallying 56 goals and 55 assists. The Eastern Mass. All-American was also named the Dual County League's Player of the year and will attend Union College next year.

Attack – Will Stenberg, Needham
The two-time All-American finished his career with 432 points for the Rockets after posting 67 goals and 54 assists this season. Stenberg was also a three-time Eastern Mass. All-Star. The Rockets' captain received Needham's Leadership and Community Service award and will play lacrosse at SUNY-Albany.

Attack – Grant Whiteway, Billerica
The prolific Indians captain became one of just six high school players to ever crack the 500-point plateau, finishing with 539 points. Whiteway, a UMass-Amherst commit, also broke his single-season state scoring record (which he'd previously broken last year) with 182 points, including 116 goals, this year.

Midfield – Bryan Barry, Duxbury
The All-American wrapped up his senior season with 32 goals and 18 assists while helping the Dragons to their eighth state title in the last decade. Barry was also captain of Duxbury's hockey team and will continue his lacrosse career at Fairfield next year.

Midfield – Thomas Flibotte, Cohasset
The two-time All-American finished his Skippers career with 285 points, including a 75-point season as a senior. Flibotte, who was also a standout on Cohasset's football and wrestling teams, will play a prep lacrosse season with Deerfield Academy next year.

Midfield – Jimmy O'Connell, St. John's Prep
The senior led the Eagles to their second straight D1 finals appearance, scoring 54 goals for 60 points. The National Honor student will attend Trinity College in the fall.

Defense – Michael Anastos, Concord-Carlisle
The All-American and three-year starter led the Patriots to a 20-2 season and an Eastern Mass. D2 finals appearance. The Patriots' captain also served in the same role on C-C's hockey team and was a DCL/MVC All-Star defenseman. The two-time Dual County League lacrosse all-star will attend Dennison University in the fall.

Defense – Peter Willauer, Duxbury
The senior captain and All-American built the foundation of the Dragons defense, leading Duxbury to its eighth state title in the last decade. The National Honor Society member will attend Colby College in the fall.

Goaltender – Connor Darcey, Wellesley
The junior All-American netminder led the Raiders to a 71.0 save percentage while being named the Bay State League's MVP. The Penn State commit was also aggressive from the crease, scoring a goal and tallying and assist while scooping up 30 ground balls.
SECOND TEAM
Attack – Kevin Blair, Hingham
Attack – Klye Guilbert, Walpole
Attack – Paul Hellar, Duxbury
Midfield – Sam Lawrence, Wellesley
Midfield – Billy Polk, Dover-Sherborn
Midfield – Kurt Hunziker, Masconomet
Midfield – Mark Riley, Needham
Defense – Mike Curley, Billerica
Defense - Eric Marcantonio, Lexington
Goaltender – Jeff Williams, Dover-Sherborn
BEST OF THE REST
Sam Aronson, G, Medfield
Seth Bird, A, Concord-Carlisle
Peter Crane, A, Wellesley
Ben Cook, D, Andover
P.J. Copponi, A, Dover-Sherborn
Dan Delaney, M, Lincoln-Sudbury
Jared Fong, G, Weston
Todd Galvin, A, BC High
Ty Martina, M, Marshfield
Nick Morello, A, Billerica
Connor Nugent, A, Framingham
Joey Pasquale, A, Weston
John Powers, A, Marshfield
Max Randall, D, Duxbury
Garrett Read, D, Medfield
Connor Roddy, A, Medfield
Jack Rodgers, G, Acton-Boxborough
Will Siefert, M, Duxbury
Cam Slatton, A, Billerica
Greg Stamatov, G, Foxborough
Paul Tocci, D, Lincoln-Sudbury
Tim Towler, M, Masconomet
BEST LONGSTICK MIDFIELDER
Reilly Naton, Duxbury
BEST FOGO (Face-off, get-off)
Clay Richard, Medfield
COACH OF THE YEAR
Jim Wilcon, Weston
April, 15, 2011
4/15/11
12:47
AM ET
BILLERICA, Mass. -- Following a first half in which his team fell behind to Billerica, Duxbury boys' lacrosse head coach Chris Sweet thought something was lacking. He even likened the Dragons' first-half play to a certain Boston baseball team that has stumbled out of the gates.
"That first half was really frustrating," Sweet said. "There was something missing, something wasn't clicking, kind of like the Red Sox right now. You know any game at any second something could turn it around."
[+] Enlarge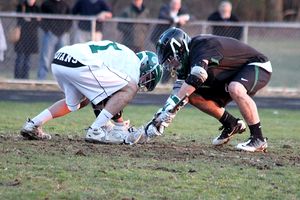 Ryan Kilian for ESPNBoston.comAfter being postponed one day due to rain, the anticipated matchup between No. 1 Duxbury and No. 5 Billerica didn't disappoint, as the Green Dragons clawed back from a fourth-quarter deficit to down the Indians 12-9 in Billierica.
That certain something came in a multitude of forms in the second half of Thursday's matchup as No. 1 Duxbury picked up the slack on the offensive end, heightened their physical play and won just about every faceoff there was to be had.
In culmination, the Dragons' improved play bore itself out on scoreboard, as they tallied the last six goals of the game to earn a 12-9 comeback win over the Indians.
"It was really about effort. I think we're a good team, but sometimes I think good teams forget what go them there and that's good old fashioned hard work. You have to work real hard against Billerica and in the second half we did a much better job of that."
Duxbury (3-1) took the victory with a balanced offense with Bryan Barry, Andrew Buron, Kane Haffey, Paul Hellar and Chris Williams netting two goals each. Will Seifert and Sam Sweet also tallied goals.
Although the Dragons took a 1-0 lead midway through the first quarter, the No. 5 Indians controlled play for the majority of rest of the first half. Billerica went into halftime leading 5-4, thanks to two goals in the final minute from Nick Morello (his second) and Peter Walters (also his second of the half).
The Dragons emerged a new team in the second half due in no small part to their faceoff success, winning 10 of 13 draws.
"We just couldn't get the ball and if you don't have an offense, you can't score," Billerica head coach Craig Flynn said. "You can only keep a team like down for so long. You have to get the ball on the offensive side of the field."
Duxbury clawed back in the third quarter with a pair of strikes from Buron, drawing the Dragons back within two.
Ben Melaugh netted his second of the game to give the Indians (2-2) a 9-6 lead with nine seconds remaining in the third quarter.
The fourth belonged to Duxbury, which tied the score at nine all on Barry's second of the match with 6:42 to play.
Williams then notched the go-ahead goal with 5:06 to play, tallying his second score of the game with a dodge before letting one rip from 10 yards out. Hellar and Haffey each added their second goals of the game to round out scoring.
"Hopefully, this is something we can build on for the season," Sweet said.