Boston High School:

Will Stenberg
June, 29, 2011
6/29/11
2:21
PM ET
STARTING 10

Attack - Kane Haffey, Duxbury
The Duxbury captain helped lead his team back to the top of Massachusetts' Division 1 ranks, scoring six goals in the title game against St. John's Prep. The All-American scored 43 goals with 18 assists this season and also helped Duxbury football to another Division 2A Super Championship in the fall. Haffey is headed to Phillips Exeter for a post-graduate year.

Attack – Connor Hall, Lincoln-Sudbury
The Warriors' senior captain was named Dual County League Player of the Year after tallying 56 goals and 55 assists. The Eastern Mass. All-American was also named the Dual County League's Player of the year and will attend Union College next year.

Attack – Will Stenberg, Needham
The two-time All-American finished his career with 432 points for the Rockets after posting 67 goals and 54 assists this season. Stenberg was also a three-time Eastern Mass. All-Star. The Rockets' captain received Needham's Leadership and Community Service award and will play lacrosse at SUNY-Albany.

Attack – Grant Whiteway, Billerica
The prolific Indians captain became one of just six high school players to ever crack the 500-point plateau, finishing with 539 points. Whiteway, a UMass-Amherst commit, also broke his single-season state scoring record (which he'd previously broken last year) with 182 points, including 116 goals, this year.

Midfield – Bryan Barry, Duxbury
The All-American wrapped up his senior season with 32 goals and 18 assists while helping the Dragons to their eighth state title in the last decade. Barry was also captain of Duxbury's hockey team and will continue his lacrosse career at Fairfield next year.

Midfield – Thomas Flibotte, Cohasset
The two-time All-American finished his Skippers career with 285 points, including a 75-point season as a senior. Flibotte, who was also a standout on Cohasset's football and wrestling teams, will play a prep lacrosse season with Deerfield Academy next year.

Midfield – Jimmy O'Connell, St. John's Prep
The senior led the Eagles to their second straight D1 finals appearance, scoring 54 goals for 60 points. The National Honor student will attend Trinity College in the fall.

Defense – Michael Anastos, Concord-Carlisle
The All-American and three-year starter led the Patriots to a 20-2 season and an Eastern Mass. D2 finals appearance. The Patriots' captain also served in the same role on C-C's hockey team and was a DCL/MVC All-Star defenseman. The two-time Dual County League lacrosse all-star will attend Dennison University in the fall.

Defense – Peter Willauer, Duxbury
The senior captain and All-American built the foundation of the Dragons defense, leading Duxbury to its eighth state title in the last decade. The National Honor Society member will attend Colby College in the fall.

Goaltender – Connor Darcey, Wellesley
The junior All-American netminder led the Raiders to a 71.0 save percentage while being named the Bay State League's MVP. The Penn State commit was also aggressive from the crease, scoring a goal and tallying and assist while scooping up 30 ground balls.
SECOND TEAM
Attack – Kevin Blair, Hingham
Attack – Klye Guilbert, Walpole
Attack – Paul Hellar, Duxbury
Midfield – Sam Lawrence, Wellesley
Midfield – Billy Polk, Dover-Sherborn
Midfield – Kurt Hunziker, Masconomet
Midfield – Mark Riley, Needham
Defense – Mike Curley, Billerica
Defense - Eric Marcantonio, Lexington
Goaltender – Jeff Williams, Dover-Sherborn
BEST OF THE REST
Sam Aronson, G, Medfield
Seth Bird, A, Concord-Carlisle
Peter Crane, A, Wellesley
Ben Cook, D, Andover
P.J. Copponi, A, Dover-Sherborn
Dan Delaney, M, Lincoln-Sudbury
Jared Fong, G, Weston
Todd Galvin, A, BC High
Ty Martina, M, Marshfield
Nick Morello, A, Billerica
Connor Nugent, A, Framingham
Joey Pasquale, A, Weston
John Powers, A, Marshfield
Max Randall, D, Duxbury
Garrett Read, D, Medfield
Connor Roddy, A, Medfield
Jack Rodgers, G, Acton-Boxborough
Will Siefert, M, Duxbury
Cam Slatton, A, Billerica
Greg Stamatov, G, Foxborough
Paul Tocci, D, Lincoln-Sudbury
Tim Towler, M, Masconomet
BEST LONGSTICK MIDFIELDER
Reilly Naton, Duxbury
BEST FOGO (Face-off, get-off)
Clay Richard, Medfield
COACH OF THE YEAR
Jim Wilcon, Weston
June, 22, 2011
6/22/11
6:35
PM ET
ESPN Boston correspondant James Walsh checked in today from his day gig at the Needham Channel, providing
highlights from last weekend's Eastern Mass Lacrosse All-Star Game
, which was held in -- you guessed it -- Needham.
In the piece, Walsh also checks in with Nick Morello and Grant Whiteway of Billerica, Kyle Guilbert of Walpole and Will Stenberg of Needham after playing their final high school games.
The game ended in a tie, but there was plenty of action to go around with the match between the North and South squads ending in an 11-11 tie.
June, 11, 2011
6/11/11
11:39
PM ET
By
James Walsh
| ESPNBoston.com
NEEDHAM, Mass. --The Eagles weren't even sure if they were going to qualify for the postseason, needing to win two of their final three games just to get in, but now they have the opportunity to repeat as champions after a thrilling 10-9 victory over the Needham Rockets.

It's the third season in a row St. John's Prep will be playing for the title.

"They've gone to Harvard every year of their varsity careers," Eagles coach John Roy said of his seniors. "It's something special. I think once they got a taste they wanted to go back."

"To go back there, it means a lot," said Eagles senior Colin Blackwell. "To start off the season on a rough note, with injuries, and to be able to pull through like this is a big confidence boost, and I'm proud of all the guys."

Prep (14-7) looked to be pulling away from Needham (18-3) early in the second quarter after a Blackwell (1 G, 6 A) goal gave them a 5-2 lead. But Mark Riley's solo effort for the Rockets cut the lead down to two, and the teams went to halftime with Prep ahead 5-3.

A flurry of goals opened up the third quarter. Needham sophomore Nico Panepinto (1 G, 2 A) scored just 13 seconds in, only to have Eagles freshman Drew O'Connell score his only goal of the night just over 40 seconds later. Nico's freshman brother, Mike Panepinto, then scored at 10:56 making Prep's lead just one again. The teams traded goals the rest of the quarter, which ended with Prep in front 8-6.

Riley (3 G) brought the Rockets to within a goal with 2:59 remaining in the game with a thunderous strike from 15 yards out. Just 30 seconds later the Rockets looked certain to tie the game, but Cam O'Leary's bounce shot deflected away off of the crossbar, which was a common theme for Needham all night hitting the post 5 times.

"That's the way it goes," Needham coach Dave Wainwright said about the high number of posts hit by his team. "I do feel there were some momentum shifts that went against us rather than for us."

But Needham got their game tying goal from Will Stenberg with 1:51 left. Stenberg was a game time decision for the Rockets after suffering a shoulder injury in their quarterfinal games verses Masconomet. But his ability to play through sever pain was a boost for Needham.

"For him just to be able to walk on the field made everyone pick up their head just a little more," Wainwright said of his All-American. "His mere presence on the field is like having a player coach."

But the tie lasted just 42 seconds. Blackwell took the ball from behind the Needham net and hit a cutting Matt Scalise with just 1:09 remaining in regulation for the game-winning goal.

"I didn't want to force it," Blackwell said about the game winning play. "All I heard Scalise give me a 'woo' call, he got it, he had some space and he got a nice one in the back of the net."

"Colin's a great feeder," Scalise said of Blackwell passing ability. "He was just working really well with me, [Dan] Mini, the whole offense."

The Eagles took some time after the game to enjoy the victory, but will get right back to work in preparation for Duxbury.

"We've played Duxbury already this year, but we know that we've got our work cut out for us," said Roy after the game. "Gotta' roll up the sleeves and get back to work because it's certainly going to be a battle on Tuesday."
June, 1, 2011
6/01/11
2:22
PM ET
The Eastern Mass boys' lacrosse All-Americans along with Academic All-American honors were announced today.

The honorees, as selected by Massachusetts coaches through U.S. Lacrosse, the national governing body of the sport, are list below:

EASTERN MASS ALL-AMERICANS
Mike Curley, Billerica, D, Sr. (Plymouth State)
Grant Whiteway, Billerica, A, Sr. (UMass)
Thomas Flibotte, Cohasset, M, Sr. (Deerfield)
Michael Anastos, Concord-Carlisle, D, Sr. (Dennison)
Billy Polk, Dover-Sherborn, M, Jr.
Jeff Williams, Dover-Sherborn, G, Sr. (St. Lawrence)
Bryan Barry, Duxbury, M, Sr. (Fairfield)
Kane Haffey, Duxbury, A, Sr. (Exexter Academy)
Pete Willauer, Duxbury, D, Sr. (Colby)
Kevin Blair, Hingham, A, Jr.
Eric Marcantonio, Lexington, D, Sr. (Laselle
Conor Hall, Lincoln-Sudbury, A, Sr. (Union)
John Powers, Marshfield, A, Sr. (Assumption)
Kurt Hunziker, Masconomet, M, Jr. (UMass)
Tim Towler, Masconomet, M, Jr.
Mark Riley, Needham, M, Jr.
Will Stenberg, Needham, A, Sr. (Albany)
Jimmy O'Connell, St. John's Prep, M, Sr. (Trinity)
Kyle Guilbert, Walpole, A, Sr. (Merrimack)
Conor Darcey, Wellesley, G, Jr. (Penn State)
Sam Lawrence, Wellesley, M, Sr.

ACADEMIC ALL-AMERICANS
Calvin Williams, Wayland
Peter Trombly, Acton-Boxborough
Sean Carroll, Hull
John Carrier, Cohasset
Colin Clark, Marshfield
Daniel Cashman, Pentucket
Kevin Dunn, Pentucket
Benjamin Cook, Andover
Evan Katz, Hopkinton
Peter England, Milton
Conor Nugent, Framingham
Jay Rosenberg, Milton
Edan Lewis, Gloucester
May, 26, 2011
5/26/11
11:27
PM ET
The Bay State Conference announced its boys' lacrosse all-stars today, in addition to naming Wellesley goaltender and Penn State commit Conor Darcey as the league's MVP.

Here's the complete list:

First team:
Goaltender - Conor Darcey, Wellesley*
LSM Specialist - Ryan Cassidy, Wellesley*
LSM - Justin Lanzafane, Framingham
Defense - Nate Menninger, Newton North*
Defense - Jake Shearman, Newton North
Defense - Joe Manganaro, Natick
Defense - Jimmy Hughto, Wellesley*
Defense -Matt Ndden, Walpole*
Mid - Mike Stearns, Framingham*
Mid - Cam Brown, Natick*
Mid - Sam Lawrence, Wellesley*
Mid - Charlie Jennings, Wellesley*
Mid - Oliver Saffery, Wellesley
Mid - Mark Riley, Needham*
Mid - Davis Cutter, Needham
Mid - Eli Yannekis, Brookline*
Attack - Peter Crane, Wellesley
Attack - Kyle Guilbert, Walpole*
Attack - Brian Rossman, Norwood
Attack - Matt Hillman, Brookline*
Attack - Will Stenberg, Needham*
Attack - Nico Panepinto, Needham
*Denotes Eastern Mass All-Star

Second team:
Attack - Brendan Kelley, Milton
Attack - Conor Nugent, Framingham
Attack - Nick Foley, Walpole
Attack - Jason Lee, Brookline
Mid - Zack LaFavre, Weymouth
Mid - Ryan Quinn, Newton North
Defense - Matt Kustra, Natick
Defense - Kyle Skinner, Norwood
Defense - Mike Vespa, Needham
Defense - Josh Miller, Braintree
D Mid - Adam Horelick, Wellesley
May, 13, 2011
5/13/11
9:55
PM ET
ESPN Boston correspondant James Walsh checks in from his day job with The Needham Channel with a recap of Needham High lacrosse action.
And it was a noteworthy week for the Rockets with Will Stenberg notching his 400th career point in a dramatic win over Walpole. In addition, three members of Needham's girls' lacrosse team will be headed to Maryland for a national all-star tournament during Memorial Day weekend.
Check out the video
here
.
April, 8, 2011
4/08/11
12:08
AM ET
By
Brendan Hall
| ESPNBoston.com
With the body of a linebacker and footwork of a point guard, University of Albany-bound Will Stenberg has asserted himself onto the lacrosse scene aggressively the last few years at Needham High, and enters the season as one of the state's premier attackers. A season ago, he took home Bay State Conference MVP honors and earned an All-American nod as he totaled 129 points (65 goals, 64 assists), giving him 313 career points headed into this, his final season.

Earlier today in Westwood, the 6-foot-1, 205-pound bruiser got off to a solid start, scoring four goals and two assists as the Rockets cruised to a 12-8 victory over host Xaverian at the Hawk Bowl. Following the win, Stenberg sat down with ESPNBoston.com to discuss his inclination for playing the body, the Rockets' strong tradition, and where he sees himself among Needham lore.
Q: When did you first pick up a lacrosse stick?
A:
"I started playing around fourth or fifth grade, just town leagues, and then just watching my dad [Paul Stenberg] coach, he's been [an assistant] coach for the last 12 years for the Needham high school team. So, just being around this atmosphere in itself is a lot of fun."
[+] Enlarge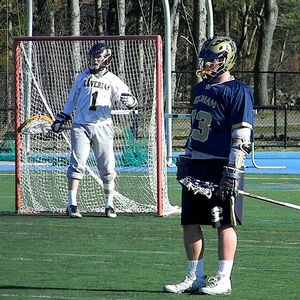 Brendan Hall for ESPNBoston.comNeedham's Will Stenberg started off his senior campaign nicely Thursday with a six-point effort in a 12-8 win over Xaverian.
Q: What kind of stuff did your dad teach you growing up, lacrosse-wise?
A:
"You know, he's taught me most of my moves as a kid. He's taught me to be pretty patient as a player, play what comes to me, don't force anything."
Q: You have a pretty good sized frame for an attack. How much do you incorporate physicality into your game?
A:
"Mostly for riding, because when you play aggressive on the riding end, that's caused goals. So I try to use my body and hit kids as much as I can."
Q: How much do you enjoy hitting?
A:
(smiles) "It's a big part of my game. I love hitting."
Q: What makes the tradition at Needham so important to you?
A:
"You know, just...years past, there's been so many guys that help, the alumni always come back and help out. They give us tips, because they've played in college. It's just, over the years kids have always just helped one another, which is great. We're all friends. The team chemistry's really high."
Q: Do you remember your first Needham lacrosse game on the varsity?
A:
"Yes I do. It was against Wellesley, I got called up from the JV at halftime and scored three goals. That started to where I am right now, four years ago, a couple games into the season."
Q: What about watching as a kid?
A:
"You know, I would go on all the bus rides, and I'd go to all the playoff games, and it was my goal to be a starter for this team, and to be one of the greatest players to ever come through Needham High School. That's my goal, and hopefully I'll end up being one of them."
Q: Who is the greatest Needham High player, in your opinion?
A:
"It'd have to be Ben Chadwick. He's a senior at Bowdoin right now, and just one of the fastest...one of the greatest sticks I've ever seen. He's also one of the greatest teachers. He always comes back, and adds a lot to my game. I credit him a lot."
Q: Behind the net, you seem to have a pretty good feel for things. What is your favorite way to set up a teammate from behind the net?
A:
"I like to slow down the offense, call who has the shorty, and I basically dodge. Someone slides, I'll find the open man."
Q: How about your favorite move coming into the circle?
A:
"I like to just beat my defender on a split-dodge. I use my big body, and I back him in, then I'll shoot it."
Q: You've got an accurate stick. One goal in particular today, you hit top corner, short side, from a pretty wide angle. How much work goes into developing that accuracy?
A:
"A lot, [especially] this offseason. As a freshman, I was more of a catch-and-shoot kind of a guy, so that helped me with my accuracy. And as the years go on, now I'm creating more. So now, when I have the ball I know exactly where to shoot, and it's easy for me."
Q: Where would you say you've improved the most this past year?
A:
My quickness, mostly. My footwork. Again, I was more of a catch-and-shoot guy, everyone wasn't really taking me as a dodger, but now I've added that to my game, so it's more of a threat."
Q: How in tune are you with your fellow attackers? You guys seem to communicate well out there, and obviously you're very vocal.
A:
"Jamie [McGill] and Nico [Panepinto], Nico being a transfer from CM [Catholic Memorial], they're both young. Basically, I just want to get them comfortable in the game. And with them scoring so many goals, it keeps the pressure off me, so each defender doesn't know who's gonna be the threat."
Q: Take me through your pregame routine.
A:
"I like to listen to some music, some techno, get the blood going, you know. I like Scrillex and Swedish House Mafia. Then I get loose, start shooting, stretch a little bit, and then I tune in."
Q: Some like to get loose, some like to get aggressive, before a game. What kind of person are you?
A:
"I'm more of a loose guy. Sometimes I get nerves, so I just laugh it off. But come game time, I get focused."
November, 25, 2010
11/25/10
7:35
PM ET
By
James Walsh
| ESPNBoston.com
NEEDHAM, Mass. -- The 123rd meeting of the two oldest public high school rivals in the country added one of its most exciting episodes this year with Needham coming from behind to win 20-17 in overtime and tie its best regular season record in school history.

The Needham Rockets and Wellesley Raiders entered the game with two of the best defensive records in the Bay State Conference and the first half showed that. The only score of the half came from Wellesley's Michael Janey on a 2-yard run, untouched, up the middle. It was Janey's seventh touchdown of the season and the Raiders took a 7-0 score to the half.

The second half had one of the most bizarre starts to a half this season for either team. Dan Pierce recovered an onside kick for Needham, and the Rockets seemed to be in business with excellent field position. But a rare fumble from Needham quarterback Kevin Brennan ended the drive two plays later.

The Raiders went three and out on the ensuing drive, but another Rockets fumble on the punt return from Ian Riley gave Wellesley the ball back on the Needham 36-yard line. The Raiders fumbled on the following play, only to see the Rockets fumble again on their next snap, creating an inauspicious streak of three lost fumbles on three consecutive plays.

That time, however, the Raiders made the Rockets pay with a 7-yard touchdown pass from Matt Pini (his fourth of the season) to Brett Mongeau, and the Raiders were ahead, 14-0, heading into the fourth quarter.

On the first play of the fourth, Wellesley had a chance to seal the game. On fourth and three, Needham went for it through the air and Wellesley's co-captain Duncan Johnson dropped an interception with nothing but an open field in front of him.

The Rockets changed things on their next possession and they would get on the board on that drive. Drew Burnett came in at quarterback and starting signal-caller Kevin Brennan split out wide.

"I'll do anything to help the team," said Brennan about the switch, "catching passes feels great too, Drew [Burnett] was doing a great job."

Burnett then threw his fifth touchdown pass of the season for 21 yards to junior tight end Mark Riley. The touchdown reception was Riley's seventh in seven games.

"We had some big plays," said Needham head coach Dave Duffy, "Drew came in and lit a fire under us, Kevin [Brennan] had some huge catches, things just snowballed."

After Needham's defense forced another three-and-out, the Rockets tied the game with a Sam Nickles' 6-yard touchdown run with 5:23 left on the clock. The drive was set up through the air but ended with Nickles plowing threw the offensive line.

"We called a '20 man line,'"Nickles described afterward, "I followed Stenny [Will Stenberg] into the end zone, I just followed my blocking, walked right in."

The Rockets had the ball last in regulation, and the final play of the game had both fans holding their breath. Burnett took the snap at Wellesley's 27 just as the clock expired, he scrambled out of the pocket looking for a receiver but was unable to pull the trigger. Instead, he ran 17 yards before being caught by a pack of Wellesley players.

The teams headed into overtime for the second time in four years.

The Raiders had the ball first in the overtime period. On third down, Pini threw a bullet to Sam Lawrence over the middle and in the end zone. But the pass was broken up at the last second by Dan Pierce and Wellesley had to settle for a field goal leaving the Rockets a chance to get the win.

Brennan was put back in at quarterback and led his team to victory in overtime for the second time this season. On third and 12, Brennan scrambled right and hit Mark Riley cutting across the end zone. Riley slid across for the catch, ending the game 20-17 and coming from a fourth-quarter 14-0 deficit.

"After I made the catch I saw everyone running over, and it was wild, it was crazy, but it was great to get the win for the seniors," Riley said after the game. "At halftime our captains said to us, this is the last time we'll ever be playing together, they said to us they want the underclassmen to step up, we stepped up and I'm glad they got to go out with a victory."

Not too many quarterbacks get to end their high school career with a touchdown pass, but Brennan was able to so finishing with 26 over his two years as a varsity starter.

"To get a win against Wellesley, on this field, with this group of seniors, it's unbelievable," said a humble Brennan after the game. "It felt like slow motion that last play, I saw Mark threw it and I couldn't even believe it was the end of the game."

Needham's poor play in the first half and the fourth quarter comeback was on the minds of all the players after the game.

"To play that bad in the first half and come out in the second half and give it our all is unbelievable, I can't explain it," Needham captain Will Stenberg said.

"We're a second-half team," added senior captain Rob Timmerman, "we're very resilient and don't stop until we're in the end zone and we have the victory."

Despite losing their starting quarterback, Adam Farina, Wellesley finished the season 7-4, while Needham finished the season 9-2, tying the best regular-season record in school history, previously set by the 2003 team.

The Needham victory brings the all-time series to 59-55-9 in favor of Wellesley.

Wellesley 7 0 7 0 3 -- 17
Needham 0 0 0 14 6 -- 20

First Quarter
W- Janey 2 yard run (Johnson Kick)

Third Quarter
W- Mongeau 7 yard TD pass from Pini (Johnson Kick)

Fourth Quarter
N- M. Riley 20 yard TD pass from Burnett (Wong Kick)
N- Nickels 6 yard TD run (Wong Kick)

OT
W- Johnson FG
N – M. Riley 11 yard TD pass from Brennan