Boston High School:

Will Toffey
February, 9, 2014
Feb 9
11:20
PM ET
By
John McGuirk
| ESPNBoston.com
ASHBURNHAM, Mass. -- The long-awaited battle between two of the premier prep school hockey programs in New England methodically transformed into a self-educating lesson about opportunity.

Salisbury School, the No. 2 rated prep school program, according to New England Hockey Journal, took advantage of the opportunities handed to them while fourth-ranked Cushing Academy failed to convert on its many bids. The end result would see the Crimson Knights scoring four times on the power play to prevail 4-3 Sunday night inside Theodore Iorio Arena.

"Scoring those power play goals is great," said sixth-year Salisbury head coach Andrew Will. "You want to make teams pay when they have a guy in the box. That was certainly a huge difference in this game. At the same time we take pride in our penalty kill by doing the little things like blocking shots and getting pucks away from our defensive zone. I thought our guys did a nice job creating that tonight."

In a physically-inclined contest halted repeatedly by an ongoing number of infractions, Salisbury displayed a solid, crisp passing style on the man-advantage before transcending into scoring mode.

Junior forward Vimal Sukumaran redirected two shots into the back of the net while Mitchell Smith and Derek Barach contributed one goal apiece as the Crimson Knights improved to 15-1-4. They are 6-0-1 in their last seven contests.

With the victory, Salisbury puts itself in prime position to contend for a second consecutive Elite 8 crown, which begins later this month and will conclude March 2 tentatively scheduled for Yale University's Ingalls Rink. Last season, Salisbury defeated Kent School for the title, its third overall.

"With our success, everything starts with our leadership," said Will. "Much of that has to do with our captains and our seniors who want to come to rink each day to try and get better. Getting to the Elite 8 is our dream goal but not our daily goal. Our daily goal is coming to work every day and continuing to get better and do all the little things that we need to in order to be successful. For us it is looking at the process instead of the end result."

This rough-and-tumble contest wouldn't be decided until the final period. With both teams deadlocked 2-2 after 36 minutes, Salisbury struck for the go-ahead goal at 4:46 of the closing frame. After failing to score on a 5-on-3 advantage, the Crimson Knights still had a one-man advantage for another minute. Sukumaran, standing just to the left of Penguins goaltender Joey Daccord, fed a quick pass to Smith in front of the crease. The senior got enough of his stick on it, pushing it past Daccord to give Salisbury a 3-2 lead.

Later in the period, Cushing's Jake Simons received a roughing call. With the man-advantage back in its lap, Salisbury capitalized as Barach (team-high 14 goals) raced down along right boards before slipping a shot between Daccord's pads, putting the Crimson Knight's ahead by a pair.

In all, a total of 14 penalties were called -- eight going against Salisbury.

The Penguins (20-7-0) failed to score when having the man-advantage. They then proceeded to watch in vein as the Crimson Knights showed them how it is done.

On Saturday night, versus Canterbury School, Cushing surrendered four power play tallies in a 4-3 defeat. It is a trend seven-year head coach Rob Gagnon says needs to change quickly.

"That's two nights in a row now that all the goals we've allowed were on the power play," said Gagnon. "Kids sometimes get caught up in the heat of the moment which is understandable. But we haven't faced this issue all year until this weekend. Usually our penalty kill is very good but we haven't had the issue of playing undisciplined like we have. This weekend we experienced those issues and it caught up to us and bit us in the butt. We need to be more-disciplined."

Senior forward Tommy DeFelice put the Penguins on the board first. Off the face off inside the right circle, DeFelice took control of the puck and send a laser past Mitchell Datz just 5:32 in. Moments later, Cushing had a golden opportunity to add to its lead after being given a 5-on-3 chance.

But to Salisbury's credit, there was no panic and the special teams performed admirably by shutting Cushing down. That, in turn, would lead to the Crimson Knights tying up this tilt. A shot from the outside by Smith deflected off of Sukumaran's stick in front and past Daccord coming at 9:45.

Daccord, a junior, was busy all evening, finishing with 35 saves.

The score stayed that way until Cushing sophomore Bailey Conger broke in on Datz (26 saves) and beat the senior with a backhand stick side at 3:01 of the second period and give the lead back to the Penguins at 2-1. But Cushing's inability to stay out of the penalty box would prove to be their downfall. Just four minutes following Conger's marker, Sukumaran once again perched in front of the crease. Salisbury's power play unit worked the puck vicariously between the circles before Will Toffey let go of a shot just inside the blue line. Sukumaran was able to tip it into the back of the net at 7:58 and send the Crimson Knights into the second intermission all even again.

Once Salisbury had taken control of the final frame with its two scores, Cushing, the defending Martin/Earl Tournament title holders, did not go down without a fight. With Daccord pulled for the extra man, Simons tallied a top-shelf goal with 47 seconds remaining.

"During the whole year our power play has been big for us," senior forward Evan Smith said. "Every practice we work a lot on special teams. We knew coming in that Cushing was going to hit us and hack at us and we knew they tend to get a bunch of penalties. The key to this game was for us to take it, let them get called for penalties and it ended worked out in our favor because we got a bunch of power play goals tonight."
March, 3, 2013
3/03/13
6:39
PM ET
By
Roger Brown
| ESPNBoston.com
SALEM, N.H. – If there was a key moment in Sunday's NEPSAC boys hockey game between fourth-seeded Kent School and sixth-seeded Salisbury, it came late in the second period when Salisbury cashed in on a 5-on-3 opportunity.

Senior forward Liam McDermott collected the goal that broke a 1-1 tie with 53 seconds remaining in the period and propelled Salisbury to a 4-1 victory in the championship game of the Stuart/Corkery Tournament, better know as the Elite 8 Tournament.

"Getting that power-play goal settled us down a little bit and gave us the confidence we needed to play with the lead," Salisbury head coach Andrew Will said. "If we don't score on the 5-on-3 it gives them a boost and gives them a little more energy. You have to score on chances like that to win games like this one."

Junior forward Mitchell Smith added two third-period goals for Salisbury, which completed its season with a 21-5-3 record. Matt Pugh scored Salisbury's other goal. Junior defenseman Will Toffey and junior forward Evan Smith each collected two assists in the victory.

It was the third meeting between the teams this season. Salisbury prevailed 4-3 at Kent, and the teams played to a 2-2 tie at Salisbury.

"It was a case where the teams knew each other well," Will said. "We really stressed staying out of the penalty box because we knew their power play has been deadly lately. Once we got the third goal we were feeling pretty good. At that point you could feel the energy on the bench and that the guys weren't going to be denied."

Salisbury's path to the title included overtime victories against third-seeded Berkshire (3-2) and seventh-seeded Westminster (4-3). Will said playing those one-goal games benefited his team.

"It allowed us to play with the composure we needed in a game like this," he said. "Something that really helped us was our depth."

Senior Connor Mitchell scored for Kent, which ended its season with an 18-7-3 record. Kent advanced by beating fifth-seeded Dexter (7-1) and No. 8 seed The Gunnery School (3-0).

Kent goaltender Charlie Fennell stopped 23 saves. Salisbury goalie Callum Booth also made 23 saves.

Pugh handed Salisbury a 1-0 lead 1:46 into the contest, but Kent pulled even when Mitchell scored at 14:20 of the first. Then Salisbury took the lead for good when McDermott capitalized on the 5-on-3 opportunity.

"I'm just tremendously proud and pleased for these guys," Will said. "It was a full team effort."
March, 12, 2011
3/12/11
1:17
AM ET


BOURNE, Mass. –- Even though Marshfield went into the first intermission down one goal, Rams head coach Dan Connolly wasn't discouraged.

And he didn't worry either when his team fell behind by two goals.

"I thought we played well and we carried the play," Connolly said. "They just capitalized on both their chances."

Then, as though a switch had been turned on, the Rams took off. After falling behind second seed Barnstable 2-0 midway through the second period of Friday night's Division 1 South semifinal at John Gallo Arena, No. 3 seed Marshfield rallied to score three goals in three and a half minutes and pull out a 3-2 comeback win over the Raiders.

"The attitude in the locker room after the first period, they were a little down," Connolly said. "But we told them they played well, there was nothing to be ashamed of. We just had to keep playing the way we were and they were going to go in eventually."

Barnstable (14-4-4) took a 1-0 lead with 9:04 remaining in the first when Zach Wells redirected a Will Toffey point shot.

The Raiders were also able to neutralize the Rams' team speed through the first period, playing a 1-2-2 defensive trap.

"They kind of played that trap on us and we knew if we skated to them and we manipulated one guy to come over, there would be another guy open," Rams junior forward Chris Perry said. "And that's what happened."

Toffey helped Barnstable to a 2-0 lead in the second, stripping a Marshfield defender with a persistent forecheck and then walking into the slot and letting off a wrist shot at the 8:56 mark.

The Rams (17-3-5) began their comeback 11 seconds later, straight off the ensuing faceoff. Joe Admirand raced up the left wing boards and slid a cross-ice pass to Jon Fraser, who buried the one-timer.

Ty Martina tied the game with 2:30 to play in the second, unleashing a slap shot from the right wing circle that appeared to be deflected by a Raider defenseman's stick. Ryan Connors and Jimmy Connors had the assists on the play.

Perry then tallied the game-winner before the period was out. With 25 seconds remaining, Perry put back the rebound off of Ryan Connors' shot from the off wing. Connors' blast ricocheted off the post, but back in the direction of Perry, who then finished top shelf.

"It was a great play by my linemate Ryan Connors," Perry said. "He was flying around everywhere. It came off the back post right to me. I was lucky."

The Rams defense held through some tense final minutes of the third period, with Kyle Moran making seven saves.

Freshman Sean Cleary also turned in a strong performance in net for the Raiders with 23 saves.

Marshfield will face top-seeded Springfield Cathedral at Gallo on Sunday for the sectional championship. The puck drops at 4:45 p.m.

"They're deep, they're big and they're fast," Connolly said of Cathedral. "Hopefully, it's a good one."

PANTHERS RETURN


Top-seeded Springfield Cathedral's been in this territory recently.

Two years ago, the Panthers lost a Super Eight play-in game and then rebounded, tearing through the Division 1 South tournament en route to the state championship.

Cathedral has followed through on that trajectory this season, advancing to the D-1 South final with a 5-0 win over No. 13 seed Duxbury during the early game at Gallo.

The Panthers (14-10-1) jumped on the board four minutes into the first with Frank Crinella one-timing Mickey Foley's feed through the slot. Dante Christofori also picked up an assist on the play.

Christofori tallied his second point of the game, finding the back of the net 1:19 into the second period, providing Cathedral with a 2-0 lead. The Panthers ran their lead to 3-0 three minutes later with Matt Peloquin cashing in after camping out on the high slot with Griffin Foley providing the feed.

"Me and Frank have been connected all year long and Dante came on our line two weeks ago," Mickey Foley said. "He's really fit the spot. We had an empty spot and he's really stepped up to the plate. He's getting open and giving good passes. We've connected really well."

Cathedral carried play through the second and Duxbury was held without a shot for the first 13 minutes despite having two power play opportunities sandwiched together midway through the period. The Panthers outshot the Dragons, 9-1, in the period.

Duxbury (9-8-8) was unable to cash in on four power play chances.

"We went into the third talking about staying out of the box," Panthers head coach Brian Foley said. "We gave up two man-up opportunities, but we practice those situations a lot and it was nice to see the execution on the power play and the penalty kill."

Stephen Metayer had the Panthers to a 4-0 lead in the third, exhibiting some quick hands, picking up a loose puck in the slot and letting off a wrist shot. Sean Kavanagh rounded out scoring with a power play goal with 6:15 remaining.
January, 23, 2011
1/23/11
12:43
AM ET
By
Brian Fabry
| ESPNBoston.com
HYANNIS, Mass. -- Barnstable's Scott Nickerson can be his team's worst critic, but even the fifth-year head coach had to admit there was not much to complain about.
Senior captain Zach Wells scored two goals, including the game-winner, as the Red Raiders upended No. 20 Bridgewater-Raynham, 4-1, in a battle of Old Colony League unbeatens.
Wells potted the game-winner 6:03 into the third period, 25 seconds into the second power play opportunity of the period. The man-advantage set off three unanswered goals in the final stanza with the senior captain adding an empty-netter with 1:05 remaining to give him 10 tallies on the season and pairs of goals in each of the last three contests.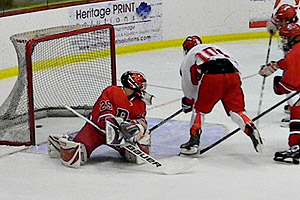 Brian Fabry for ESPN BostonBarnstable's Max Willman (10) slides the tying goal past Bridgewater-Raynham goaltender Peter Drowne in the Red Raiders' 3-2 win Saturday in Hyannis.
"Bridgewater's the only team really [in the league] that this is the biggest game for us all year until the state tournament", said Wells. "They've always been a good team, we usually don't beat them so it's a great win for us."
The victory over the Trojans (5-3-1; 1-1) is the first for the Red Raiders in the last three seasons and puts Barnstable (6-1-3; 2-0) directly in the driver's seat for the Old Colony League title.
"The first period they out shot us, but after the first period we were a better team out there", said Nickerson. "You know I'm negative a lot but that's a big show for us, I'm happy and we had a lot of guys really play well for us."
Bridgewater-Raynham carried the play for most of the first period holding a 9-5 shot advantage as freshman Connor Sullivan gave the Trojans the 1-0 lead only 1:28 into the first period. Corbette McLucas' blast from the point bounced to senior Matt White, who tried to punch home the rebound, but Sullivan finished the frenzy with the easy wrister just to the right of the crease.
Max Willman led a 14-shot effort in the second period with his seventh goal of the season on a highlight-reel toe-drag across the crease for the period's lone goal as the teams skated to a 1-1 tie after the first two stanzas.
Nickerson lit up in his office talking about the equalizer scored at 7:23 of the second period.
"Beautiful, just beautiful but there is a kid, although he's small, he's got a head on him, and he can make that play and we don't have many guys who can make that play," said Nickerson. "If he was even 5-10, he'd be all world, but he's only about 5-5, 125 pounds."
Added Wells: "He has some really good hands and what was a huge goal for us and we really needed something to get back in."
After Wells' game-winner, Will Toffey scored at 8:01, less then two minutes after the senior captain's tally, for the insurance goal and Wells followed with the empty-netter. Wells' power-play strike was all goaltender Sean Cleary needed as the freshman netminder was solid the rest of the way with 21 saves for the Red Raiders.
"The guys that are supposed to score scored tonight, Willman and Wells, Toffey and exactly what happened is what we've been looking for," said Nickerson. "Figure a 3-1, 3-2 game, figure Wells is going to get one, our defense is going to get one, and then someone else."
The power-play goal was only the second of the entire season for Barnstable as they out shot the Trojans 29-22 overall. But the small improvements can add up in the end for Nickerson's Red Raiders.
"We're getting better and better, more aggressive, handling the puck a little bit better," said Nickerson. "This game helps us confidence-wise as they are starting to believe they are pretty good - not getting cocky over it - but our guys are really starting to believe."
BRIDGEWATER-RAYNHAM (5-3-1; 1-1) - 1 - 0 - 0 - - 1
BARNSTABLE (6-1-3; 2-0) - 0 - 1 - 3 - - 4
FIRST - BR - Connor Sullivan (Matt White, Corbett McLucas), 1:28.
SECOND - BA - Max Willman (Ricky Panton, L.J. Fellows), 7:23.
THIRD - BA - Zach Wells (Willman ), 6:03; BA - Will Toffey (Kyle Fontaine), 8:01; BA - Wells, 13:57 (en)
SAVES: BR - Peter Drowne (25); BA - Sean Cleary (21).