Boston High School:

Will Twyman
December, 29, 2011
12/29/11
1:38
PM ET
The Massachusetts High School Football Coaches' Association unveiled its annual "Super 26" All-State Team today. Those honored will be presented this spring at Lantana's Restaurant, in Randolph.

Below are the selections. Italicized names indicate they were also a selection to ESPN Boston's MIAA All-State Team.

OFFENSE

Quarterback
Jonathan DiBiaso, Everett
Cam McLevedge, Weymouth
Matt Montalto, Dennis-Yarmouth

Receivers
Armani Reeves, Catholic Memorial
Don Webber, Duxbury

Offensive Line
Brendan Melanson, St. John's (Shrewsbury)
Dan McCourt, Pembroke
Jameson McShea, BC High
Andrew VanderWilden, Concord-Carlisle
Chad Woodfine, Chicopee

Running Back
Sacoy Malone, Springfield Central
Quinton Perkins, Fitchburg
Melquawn Pickney, Springfield Putnam

DEFENSE

Defensive Line/Linebacker
Henry Bumpus, Concord-Carlisle
Nick DiChiara, BB&N
Tim Joy, Chelmsford
Vondell Langston, Everett
Max Randall, Duxbury
Zack Schafer, Mansfield
Nick Schlatz, Bridgewater-Raynham
Will Twyman, Lincoln-Sudbury
Camren Williams, Catholic Memorial

Secondary
Todd Collier, St. Mary's (Lynn)
Jack Connolly, St. Sebastian's
Joe Epps, Bourne
Charles Ruffin, King Philip
December, 4, 2011
12/04/11
1:25
AM ET
By
Corey J. Allen
| ESPNBoston.com
WALTHAM, Mass. -- Early in the fourth quarter, Everett's Jakarrie Washington took a sweep right down the sidelines and made a hesitation move that caused a Lincoln-Sudbury defender to fall, despite being between Washington and the end zone. The momentum that the Warriors had gained with their only offensive touchdown of the game less than two minutes earlier had been quickly put to rest, as the No. 1 Tide won easily, 36-13.
[+] Enlarge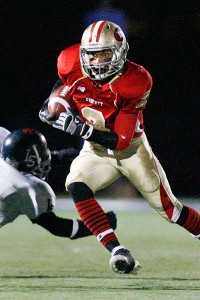 Jon Mahoney for ESPNBoston.com Jakarrie Washington's 63-yard touchdown run in the fourth quarter sealed a second straight Super Bowl title for Everett.
"On third down, we knew they were going to drop," said Everett coach John DiBiaso. "They were really dropping off on us, so when Jakarrie took that jet sweep I saw he got the corner. Once he got the corner, I knew he at least had the first down. When I saw his shoulders squared and he was going upfield I said he's got a shot to go all the way and he did."
That score made the game 27-13, and the extra point rush by Joey White made the score 29-13. On the ensuing Lincoln-Sudbury drive, junior Angel Duarte and senior Vondell Langston sacked quarterback Matt Cahill on first down and after two complete passes punted the ball away.
Despite a block in the back penalty on the return that negated the run back but also took away punitive yards, the Crimson Tide walked straight down the field, led off by Kenny Calaj with a 37-yard run. By the time Vondell Langston broke the plane with 3:30 left, it became nearly impossible for Lincoln-Sudbury to come back now down 36-13, but Washington's interception one minute later put the final touch on the game for the Crimson Tide.
"We've been practicing for them all week," said Washington of Everett's defensive training. "Going through the plays, learning play recognition, so we adapted to what they were doing and we did what we had to do."
Heat of the Battle:
DiBiaso and the Crimson Tide are used to winning games by large margins, and even though tonight the 23-point victory is sizeable, that was not solidified until late in the fourth quarter. The victory, although not at Gillette, felt good to coach DiBiaso because of the effort needed for his players to pull of the win.
"To win a tough game is always more gratifying than to win a blow out," said DiBiaso. "So if this game were say 42-0, we wouldn't appreciate it as much as we appreciate it now. This was a battle, we had to battle for it, we had to fight for it, we had to claw, scratch, bite for it, and when we get it, it means that much more. That's why I'm very emotional and I feel so good. It was a war out there tonight and our kids responded like champions."
[+] Enlarge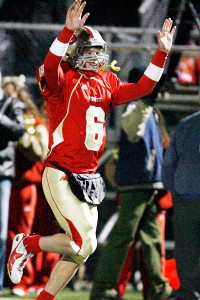 Jon Mahoney for ESPNBoston.comEverett's Jonathan DiBiaso was emotional in reflecting on what has been statistically the best career by a Massachusetts quarterback.
Run Game:
Before the game, Everett quarterback Jonathan DiBiaso was not feeling well and went to the bathroom to throw up before the game. Although he started the match, he was sliding early on during his runs, avoiding serious contact with the L-S defenders. As the game progressed, he began to take on hits and get the extra yardage that he usually does. Between not feeling 100% and the deep coverage that Lincoln-Sudbury was playing, the Crimson Tide scored all of their touchdowns on the ground today, something unusal for the high-powered offense.
First Quarter
E – Jonathan DiBiaso 1 run (Gilly DeSouza kick)
Second Quarter
E – Vondell Langston 2 run (DeSouza kick)
L – Connor Young 62 yard interception return (kick blocked)
E – Jalen Felix 1 run (DeSouza kick)
Third Quarter
L – Jack Harris 14 pass from Matt Cahill (Will Twyman kick)
Fourth Quarter
E – Jakarrie Washington 63 run (Joey White rush)
E – Jonathan DiBiaso 4 run (DeSouza kick)
November, 29, 2011
11/29/11
11:19
PM ET
By
Mike Scandura
| ESPNBoston.com
TAUNTON, Mass. -- Any resemblance between the Lincoln-Sudbury team in the second half of Tuesday's Eastern Mass. Division IA semifinal game versus Barnstable and the Lincoln-Sudbury team in the first half was pure coincidence.
The Warriors were dead in the water in the first half as the Red Raiders built a 13-0 lead. But Lincoln-Sudbury rallied behind quarterback Matt Cahill and edged Barnstable, 14-13 – with all of the Warriors' points coming in the fourth quarter.
[+] Enlarge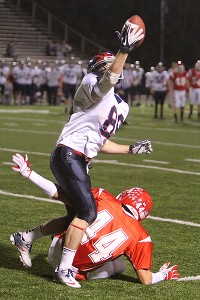 Eric Adler for ESPN.comJack Harris sparked the L-S comeback with several big grabs, including this one-hander.
Barnstable (7-5) was clinging to a 13-7 lead late in the fourth when it went for a first down on fourth-and-two from the Warriors' 6. But the Warriors slammed Hayden Murphy for a three-yard loss.
What transpired next was the stuff of legends as Cahill guided a 71-yard drive which culminated when he threw a 13-yard touchdown pass to Jack Harris with 2:19 remaining.
Will Twyman then kicked the second of his two PATs for what proved to be the winning point.
"Matt Cahill rebounded from a never-mind-the-first half and played a great second half," Warriors coach Tom Lopez said. "He's a great leader."
All Cahill did in the second half was complete 9-of-11 passes for 114 yards and two touchdowns.
Barnstable bolted to a 13-0 lead at halftime thanks to a 28-yard run by quarterback D.J. Crook late in the first quarter and a 30-yard touchdown pass by Crook to James Burke on the first play of the second.
"We thought we were making mistakes and that's why they were successful," Lopez said. "We thought we'd cut down on our mistakes. Having said that, we didn't play very well in the first half."
Lopez felt what was a momentum-shifter occurred in the third quarter.
"I think the key was when they stuffed us on fourth-and-two," Lopez said. "They went three-and-out and that gave us some confidence. All of a sudden the momentum changed."
Good point.
After Barnstable punted, the Warriors (11-1) reeled off a 93-yard drive that ended with Cahill's 11-yard touchdown pass to Harris.
What made the Warriors victory even more impressive was the fact the played all but a few minutes without one of their top players, Brian Carroll.
"We lost Brian Carroll on the second series (with a shoulder injury)," Lopez said. "He's basically been our whole offense. He had eight interceptions on defense and 800 yards rushing on offense.
"He's not in and Dan Cellucci, Greg Roder and Henry Guild all did a great job filling in. I couldn't be more proud of our kids."
LINCOLN-SUDBURY 14, BARNSTABLE 13
L-S (11-1) 0-0-0-14 - 14
Barnstable (7-5) 6-7-0-0 – 13
First quarter
B – D.J. Crook 28 run (kick failed)
Second quarter
B – James Burke 30 pass from Crook (Tom Mullen kick)
Fourth quarter
LS – Jack Harris 11 pass from Matt Cahill (Will Twyman kick)
LS - Harris 13 pass from Cahill (Twyman kick)