Boston High School:

Willie Nastasi
June, 28, 2012
6/28/12
12:43
PM ET
By
Brendan Hall
| ESPNBoston.com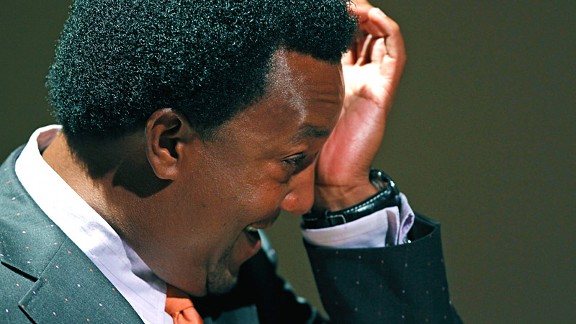 AP Photo/Alex Brandon
Pitch count has become the topic of inspired discussion in many corners of the baseball landscape, fueled further by the feats of several high schoolers this past spring.
Two opposing starters combined for 347 pitches in a Louisiana high school game. Not too long after, Barnstable's UConn-bound ace Willie Nastasi drew national attention for his 155-pitch, 16-strikeout performance in an April 24 win over Taunton.
We had a roundtable discussion about pitch count a few days after Nastasi's performance,
which included input from Red Sox orthopedic surgeon Dr. Luke Oh
; a month later, ESPNHS' Matthew Muench followed up
with his own exploration into the debate.
Last night,
before being honored with the Lifetime Achievement Award at "The Tradition"
, Pedro Martinez greeted the media in the loge area of TD Garden. Spinning it to the high school crowd, with the premise that it might be a while before we get another opportunity to ask No. 45 about pitch counts, I got his thoughts on the matter.
Because honestly, who wouldn't want to hear what one of the game's greatest has to say about these kinds of things?
Pedro put together a Koufaxian run of numbers in the late 1990's and early 2000's, but perhaps most impressive about the feat was that this was coming from the most atypical of "power pitcher" frames -- a lanky 5-foot-11 and 170 pounds. But he said growing up and coming over from the Dominican Republic, it was the mental aspect he had to take care of the most.
"I think it all goes to a few things, it's not just one," he said. "You have to actually dedicate yourself, have determination, have no fear -- that's a big word, no fear, because you come into a different land, you're facing a lot of different things you're not used to. But hard work, faith, determination, those are things that really stand up, and discipline. Discipline is another big word that you can put together with all that.
"Baseball is not easy. It's a very, very difficult sport. To be exact, one out of 250 seems like a good rate right now. But that tells you how difficult it is to make it to the big leagues. I was extremely proud to have a career like I had. Coming from the Dominican doesn't make it easier."
On the topic of pitch count, the science around it then, coming up in the Dominican, is obviously not as sophisticated as it is today. And maybe he was better for it.
"I was never reluctant to taking the ball," he said. "I would take the ball anytime, any day, but my physical abilities are only so great. You have to actually allow yourself to rest, do whatever you can on the days you can, but I was never reluctant to take the ball and take one for the team.
"I was never worried about pitching count. It's just part of the game now, it seems like the game is changing to numbers. But I didn't mind it. What I was worried about was the situation. The situation dictated for anything, I was up for it -- including fighting, beaning somebody, yeah. For my teammates, I would do anything."
June, 10, 2012
6/10/12
11:58
PM ET
By
Brendan Hall
| ESPNBoston.com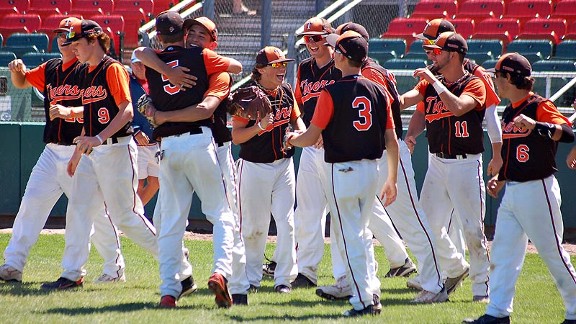 Brendan Hall/ESPNBoston.comTaunton made a philosophical change following a beating from Barnstable at the end of the regular season. The Tigers turned around and beat the Red Raiders to advance to the D1 South Final.
BROCKTON, Mass. – The first time Old Colony League rivals Taunton and Barnstable squared off, in late April, Barnstable hurler Willie Nastasi struck out a career-high 16 batters, and later ignited some controversy nationally with his 155-pitch count.
The second time the two battled, on the last weekend of the season and with the outright OCL title on the line, Barnstable wasted the Tigers, 14-2.
Meeting No. 3, in the semifinals of the Division 1 South tournament this afternoon at Campanelli Stadium was...well, to call it a charm wouldn't be just cliché. It'd be unfitting.
The UConn-bound Nastasi was brilliant again on the hill for the Red Raiders, fanning eight and scattering just two hits in 7.1 innings of work. But the Tigers deployed some of the same small-ball principles that won them two games in this tournament already, and got stellar defense behind starter Danny Pedro, to squeeze out a 3-0 win and advance to tomorrow's South final.
Eighth-seeded Taunton (18-5) will face No. 15 seed Xaverian (15-8) in tomorrow's final at Braintree High, at 4 p.m. Barnstable ended its season 16-5.
"This, it can't any better for the team," Taunton head coach Jeff Sylvia said. "We played with confidence. They know us, we know them. I think they woke us up the last time we played them [the 14-2 loss], and we've changed that philosophy since that game a little bit. The pitching was great, defense was great, and we got timely hitting today, which was huge."
Part of that philosophical change has been a more aggressive approach in the batter's box and the basepath. In the Tigers' first-round win over Braintree, for instance, Zach Grady took two bags on a bunt, beating the tag at third base with a head-first slide; he was brought home the next at bat with a Joe Walsh blast to center, making it 2-0 and shifting momentum in their favor.
This afternoon, Walsh was pivotal again. The Old Colony League Co-MVP took a Nastasi pitch off his back on the first pitch, to lead off the bottom of the fourth inning. On the very next pitch, Matt Maclean hit a shot to deep center, and Walsh sprinted all the way from first to home.
"I was pissed I didn't get to hit, that's the first time I've gotten hit all season," Walsh laughed. "But we had faith in our four-hitter [Maclean], and I knew he was going to come through."
Walsh gave the Tigers insurance in the eighth. First, Travis Ritchie slapped a slow roller into the infield grass, but beat out the potential 3-1 putout at first to score Grady. Two at bats later, Walsh planted a first-pitch slider into right field to score Ritchie, before getting thrown out at second on a 9-6, trying to take an extra base, for the second out of the inning but a 3-0 lead.
"I had struck out on it at home [last month, on that pitch]," Walsh said. "I knew I had that pitch. I knew whatever he was throwing me on that first pitch, I was ready to hit."
Said Sylvia, "Joey Walsh has been doing that for us all year. He's been an RBI machine. He's big. He was the right guy on at the right time."
Pedro Productive:
Sylvia said he was looking for six innings out of Pedro today. The junior righty ended up giving them seven, scattering five hits while walking one and fanning two.
Pedro's best inning might have been the second, when the Raiders loaded the bases up on a walk to Derek Estes. After Estes walked, Pedro jammed Dennis Beynor with a 1-1 fastball that trickled to shortstop Chris Roumbakis, who easily made the inning-ending 6-4 play.
Walsh said Pedro's fastball was moving today "better than I've ever seen it before."
"Danny Pedro pitched outstanding today," Sylvia said. "He kept the ball down, pitched ahead of hitters. We wanted six, he gave us seven, and then Matt Nunes came in and did the job...Getting out of that [second inning] gave us a lot of confidence."
Rumblin' Roumbakis:
When Roumbakis fumbled an Everett Walsh grounder to his left in the top of the fourth, allowing the No. 6 hitter to reach safely, it was his first error in three playoff games. And that might have been the only time in these playoffs he didn't field the ball cleanly; the senior shortstop, known for his fancy back-handed snags, has been phenomenal throughout the postseason.
"I think he got eaten up a bit with the top spin on the left hand, but we'll take it," Sylvia laughed. "He makes every other play."
Sylvia continued, "He's been my starting shortstop since his sophomore year, and he's done really well. Again, our strength is defense. We put it together today, and hopefully we can keep it going."
Nastasi goes out on top:
In two starts this year against Taunton, Nastasi has struck out 24 batters and allowed five hits in 15 innings. Mixing in his off-speed with his high-80's fastball cleanly, it was an effort that he won't soon hang his head.
"He did exactly what we needed him to do," Barnstable head coach Joe DeMartino said. "Our pitchers, especially Willie and Keegan [Dellacona], they go out and they give us a chance to win. We just didn't get it done today."
Dellacona came in to relieve Nastasi in the eighth, and DeMartino said afterwards, "I knew he could handle 30 or 40 pitches, and come back tomorrow if we made it."
June, 7, 2012
6/07/12
12:51
AM ET
By
Brendan Hall
| ESPNBoston.com
HYANNIS, Mass. -- Keegan Dellacona had been itching for another crack at it since his last playoff appearance with Barnstable, some two seasons ago when the then-sophomore got tossed around by Catholic Memorial for a quick exit in a 19-0 loss.

But part of Dellacona's pre-game routine involves blasting heavy metal on his headphones, so naturally he might have been a little too fired up. Especially after fanning 14 batters in a complete-game win that gave himself goosebumps.

"The anxious factor really gets to you sometimes," he said, stumbling over his words. "When you get anxious is when you start making mistakes and, you've got to take it one pitch at a time. You've got to be...not really think that much, but try and keep them off-speed, I mean, off-balance at the same time."

Then he cracked a smile -- "I mean, I'm still hyped up, I've still got the adrenaline in my body, so I'm stuttering here."

The 6-foot-3 senior turned in one of his best performances of the season in going the full nine, allowing just three hits in addition to the 14 K's, as the Red Raiders advanced to Friday's Division 1 South semifinals with a 5-0 win over Framingham.

And try as he might, he couldn't stay calm.

"I try not to get hyped up [before starts], I try to keep to myself," Dellacona said. "But I was really excited for today. Sophomore year, Catholic Memorial shelled me -- I was horrible -- so I was really anxious for today, to get back out here in the playoffs and do good."

Meanwhile, the bats of the Red Raiders (16-4) gave Dellacona plenty of run support against a Flyers (12-8) squad still beaming from a shocking upset of state championship contender BC High yesterday afternoon. Mark Brodd and Sam Holway each stole a base to start off the bottom of the second, and Dennis Beynor blasted a two-out single to the left-centerfield gap to send them both home and make it 2-0.

The Raiders plated two more runs in their next trip up, with Everett Walsh hitting a sacrifice fly to right, followed by a Brodd RBI single. Walsh popped another sac-fly to right in the fifth for the 5-0 advantage.

Dellacona retired the final 17 batters he face in succession to pick up the win, and he did it with an efficient combination of a hanging curve and two-seam fastball with some late life.

"His two-seamer had some run on it today, so he was eating the outside corners," Barnstable head coach Joe DeMartino said. "Just throwing it, and having to come back over the plate. Those guys looked like they'd never seen a two-seamer like that before, he could put it where he wanted it today."

Dellacona's outing is the second straight complete-game outing for the Raiders in as many playoff games. UConn-bound righthander Willie Nastasi, who struck out seven and allowed five hits against Catholic Memorial on Saturday, will get the nod Friday night at Quincy's Adams Field, against the winner of tomorrow's quarterfinal between Franklin and Taunton.

Heist in Hyannis: The Raiders stole second a whopping eight times to manufacture the runs -- including five times over the second and third innings alone, and two each from Morris, Brodd, and Tyler Adams. DeMartino said after getting a look in the first inning, when Dylan Morris dove into second cleanly, he put on the green light.

"We try to at least get a look early," DeMartino said. "We happened to get one in the first inning, and it was apparent we could take bags, so we kept on going."

Like Framingham, the Raiders also belong to a league that plays nine innings with wooden bats. How much did those games -- where small-ball tactics are often deployed in lieu of the lighter amount of hits -- condition them for these playoff-type games?

"I think ever since I got in here, we wanted to do those little things correctly," DeMartino said. "Once you get a guy on, if there's no outs get him over and try to get him in. We practice that a lot. It helps, and it's apparent that we do practice that, because we got it done [today]."

Flying High: The Flyers came up goose-egg this afternoon, but after yesterday's turn of events, can you blame them? Led by a lights-out performance from ace Johnnie Lacy on the mound, Framingham delivered the upset uppercut of the MIAA tournament -- and, possibly, the year -- with a 3-2 win over Catholic Conference juggernaut BC High, a team many had pegged as a favorite for the Division 1 state championship.

"That's a win these kids are always going to remember, let's face it," head coach Dan Avery conceded. "Lacy was phenomenal yesterday, pretty much dominated, just really gave intensity. We looked tired, but you know, you get a win like that, you expound a lot of energy.

"I'm afraid of saying something like that and taking away from them [Barnstable], because they're a good-looking team. I didn't see any weaknesses -- if you saw them, I don't know where they were."
June, 3, 2012
6/03/12
8:48
PM ET
By
Eric Adler
| ESPNBoston.com
HYANNIS, Mass. -– The Barnstable baseball team knows that it only needs to put up a couple of runs at most when Willie Nastasi is on the mound. But with their lives on the line in the first round of the MIAA Division 1 South tournament, they made sure to give their senior ace plenty of support.
[+] Enlarge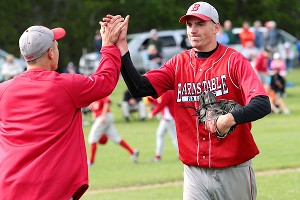 Eric Adler for ESPNBoston.comBarnstable ace Willie Nastasi had another solid outing, going the distance while striking out seven and scattering five hits against Catholic Memorial.
The Red Raiders scored six unanswered runs –- including four in the fifth –- to back a solid, complete-game effort by Nastasi, who struck out seven and yielded just five hits and a walk to lead Barnstable to a 6-1 victory over Catholic Memorial this afternoon.
No. 4 seed Barnstable improves to 15-4 and will take on the winner of BC High and Framingham in the quarterfinals on the Cape Tuesday. No. 13 seed Catholic Memorial bows out with a 12-9 record.
"The team has a lot of confidence in Willie, so much so that if we just get two runs, we feel like we're more than likely going to win the game," Barnstable coach Joe DeMartino said. "We know Willie is going to give us a great game, so it's all up to our bats after that."
The Red Raiders' offense has been spotty at times this season, and worse, they were facing a formidable foe in Catholic Memorial starter Patrick Hurley, who tossed a seven-inning no-hitter in his previous start against Brockton (May 21). But that didn't deter them from winning their third straight opening-round playoff game.
Everett Walsh and Sam Holway had two hits each for Barnstable, which hammered out 10 hits altogether and eight off Hurley, who fanned five and walked four over five-and-two-third innings.
"Patrick wasn't at his best today, but our defense didn't help him at all," Catholic Memorial coach Hal Carey said. "We knew we were playing a very good team with a very good pitcher and that we'd have to play close to perfect to win, but we made too many errors. We hit the ball OK, but they made every play. Their defense was much better than ours."
Nastasi, who struck out 16 batters in his now infamous 155-pitch effort against Taunton earlier in the year, was coming off a rare loss in his previous outing vs. Dennis-Yarmouth (May 24). But in a do-or-die setting, he wasn't about to let his team down.
"I definitely felt a little more pressure in this game because it's the state tournament," said Nasasti. "I was anxious all day and had a lot of adrenaline going between innings, but I felt like I needed to get the job done and I did."
The Knights did their best to rattle Nastasi from the start.
Kevin Murphy smacked the first pitch of the game to deep right for a triple and came home two batters later on Sean Heelen's sacrifice fly. But that's all the visitors could come up with against the UConn commit.
Nastasi retired 11 of the next 13 batters, and in between, picked off a runner at first.
"Early on, I couldn't throw my cutter for a strike and I couldn't get my change-up where it needed to be, but working in the bullpen between innings helped," said Nastasi. "Playing catch allowed me get more comfortable with the grip."
Barnstable knotted the game in the third when Tyler Adams reached on a fielder's choice, moved over two bases on Dylan Morris' hit to left and an error on the same play, then dashed home on a wild pitch.
In the fifth, the Red Raiders opened the floodgates. Dennis Beynor and Luke Besse drew walks before Adams executed a perfect bunt single down the third base line. Morris was hit by the very next pitch to plate the go-ahead run.
Walsh grounded into a 4-6-3 double play, but was able to bring home Besse. Mark Brodd followed with a run-scoring double to right, and Walsh capped the attack with an RBI single in the same direction to give the Red Raiders a commanding 5-1 lead.
Barnstable added its final run in the sixth thanks to back-to-back errors by the Knights –- one in the infield and one in the outfield -– allowing Besse to score.
The production proved more than enough for Nastasi, who got out of a two-on, one-out jam in the eighth, and induced a pair of ground balls plus a pop-up in the final frame to secure the win.
"Anybody is going to have a tough day against Willie when he's on, and he was on today," said DeMartino.
Nastasi's fielder's were also at the top of their game. Adams (at second base) and Derek Estes (at shortstop) finished with four assists, and Brodd (the third baseman) helped record the final two outs of the eighth.
As satisfying as the win was against CM, which blasted Barnstable 19-0 in the tournament two years ago, the Red Raiders put it past them shortly after the final put out.
"The last two years we've won the first game in the states then got bounced, so we know we've got some work to do, but we've got pitching," said DeMartino, who will hand the ball to strong-armed senior Keegan Dellacona on Tuesday. "And pitching is the best way you can win in the tournament."
May, 31, 2012
5/31/12
1:28
PM ET
By
Brendan Hall
| ESPNBoston.com
After Jesuit (New Orleans) pitcher Emerson Gibbs and Archbishop Rummer (Metairie, La.) pitcher Mitch Sewald combined for 347 pitches in a recent high school game, ESPNHS' Matthew Muench discusses pitch counts with world-renowned orthopedic surgeon Dr. James Andrews, in an article posted today in
ESPNHS' baseball section
.
In the article, which you can find by
CLICKING HERE
, Muench also talks to Barnstable senior righthander Willie Nastasi, a UConn signee who ignited some local controversy last month when he threw 155 pitches in a 16-strikeout, nine-inning performance over Taunton. His effort
also sparked a roundtable discussion on ESPNBoston.com
.
Nastasi reaffirmed that he doesn't regret the high pitch count, but probably wouldn't do it again:
Two weeks later, another young pitcher was piling up the pitch count in Massachusetts. Barnstable (Mass.) senior ace Willie Nastasi threw 155 pitches in a nine-inning, complete-game victory over Taunton (Mass.).

Nastasi, who struck out 16 in the game, said he doesn't regret the high pitch count but does agree that 155 is a little too steep for his comfort.

"Looking back, yes it probably was too many pitches and I won't do it again," said Nastasi, who is signed to play for UConn next season. "But I also look back at that game and remember that I stayed strong throughout the whole game. I really felt great and had no fatigue."
Raiders head coach Joe DeMartino also discusses with Muench his decision to leave Nastasi in for the win -- which turned out to be a crucial one, as the Raiders pounded Taunton in their rematch to finish the Old Colony League schedule one game up, and therefore winning the league outright.
All three pitchers felt no pain beyond the usual soreness. And they all continued to pitch this season.

"I felt fine the whole time before and after," Nastasi said. "But I will say, if I was tired and if I felt like my arm was getting tired I think I am smart enough to know to take myself out. That just wasn't the case that game."

His coach, Joe DeMartino, agreed.

"He didn't look like he was pressing, and in my mind he was looking really strong as the game went on," he said. "I was confident in my decision. And I still am."

DeMartino said he always kept Nastasi's health a concern during the game and repeatedly asked his young pitcher if he was OK to continue.

"It's a tough call," he said. "Any coach who has been in my position knows the feeling. But I know what Willie is capable of and I know he works hard and has great mechanics. The key in all this is a coach should know what their pitcher can and cannot do. I can tell when a pitcher is getting tired. I would have had no problem pulling him if I felt he wasn't good to go."
April, 27, 2012
4/27/12
3:22
PM ET
Tuesday afternoon, Barnstable High senior righthander Willie Nastasi went the distance in a 3-1 win over Taunton, striking out a career-high 16 batters in nine innings while allowing just three hits. But the 6-foot-5 UConn commit also needed 155 pitches to complete the effort, which has since sparked some spirited debate locally about pitch count and what is appropriate. Nastasi has since said it was his own decision to stay in the game. Head coach Joe DeMartino said following the game that Nastasi would not have gone back out if the game went to an extra 10th inning.
Nastasi's performance is one of countless examples of pitchers racking up high pitch counts this season, but one that drew much debate on the Twitter-sphere. Scouts Inc. Baseball Analyst Keith Law went as far as to call it
"Absolutely criminal" in a post on Twitter
. Still others lauded Nastasi for his performance, which improved the No. 11 Red Raiders to 2-0 in the four-team Old Colony League.
Was it the right call? How much is too much? We asked our regular panel of contributors as well as a few special guests:
Eric Cressey
, President of Cressey Performance;
Dr. Luke Oh
of Massachusetts General Hospital, an orthopaedic consultant with the Boston Red Sox; and
Kirk Fredericks
, head coach of three-time state champion Lincoln-Sudbury High.
Dr. Luke Oh
Orthopaedic Surgeon, Massachusetts General Hospital
Orthopaedic Consultant, Boston Red Sox; medical staff member, New England Revolution, New England Patriots, Harvard University Athletics
There has yet to be a high school or college baseball pitcher in his late teens who needed Tommy John surgery that I have seen who demonstrated good rotator cuff strength, periscapular control, and throwing mechanics. If these variables are not optimized, then it becomes difficult for young athletes to negotiate the fatigue and overuse that develops as the baseball season progresses.
At the professional level, there are comprehensive strength and conditioning programs in place that are baseball-specific. This is certainly not the case at the high school level. In fact, you may be surprised by the number of Division I college teams that do not have a baseball-specific program either.
At the high school level, it would be uncommon to find a pitcher who has the required stamina, mechanics, and strength and conditioning to throw 155 pitches per game on a regular basis without having symptoms of overuse. We have to remember that some of these adolescent athletes are still growing, and other may have finished growing with regard to height but have not filled into their frame. Even for those young athletes who appear to be muscular and well-developed, the rotator cuff and other dynamic stabilizers of the shoulder and elbow that are important for throwing tend to lag behind in development. They are attempting to emulate what the professional athletes are doing, but their bodies are not developed to the same degree.
Some people believe that a pitcher needs to throw more, in order to be able to throw more. In my opinion, there has to be a balance between developing endurance and risking injury from overuse. I think like many things in life, after an optimal range, there will be a decrease in the return on investment and an increase in the risk of injury. Well, what is the optimal range? Is there a specific threshold? This depends on each athlete because there is so much variability in physique, skill, technique, conditioning, etc. It may be counterproductive to simply ascribe a set number for the maximum recommended pitch count in high school because it may become misused and not applied appropriately.
Nevertheless, some experts believe that younger pitchers at the high school level should limit the pitch count to under 100 in an effort to reduce the risk of overuse injury. In some major league ballclubs, the pitch count may be monitored over a span of a few games such that if a pitcher throws 140 pitches in one game, for example, then he will likely throw fewer pitches during his next outing. If such precautions are taken at the highest level of competition for our professional pitchers, then it would be prudent to take additional precautions for our high school athletes.
The tremendous stress placed on the shoulder and elbow during the baseball pitch can take its toll over time. My mentor, Dr. James Andrews, and I have both seen a steady increase in injuries to the ulnar collateral ligament among young pitchers. In my practice, approximately 20-25 percent of Tommy John surgeries that I perform are on pitchers younger than 20 years old. Dr. Andrews has said that Tommy John surgery for athletes in their late teens decreased for the first time last year; but every year before that, it increased each year. Perhaps the message is getting out, and people are paying more attention to the young athlete's development, baseball-specific strength and conditioning, muscle coordination, proper mechanics and other variables that are important for injury prevention as well as optimizing performance.
Eric Cressey
President and Co-Founder, Cressey Performance
Kids might feel fine in the short-term and think they can gut it out, but the truth is that they don't know what damage is going on inside their elbows and shoulders, especially as fatigue sets in and more stress is shifted to the non-ideal places. As an example, at the elbow, when the flexor carpi ulnaris and pronator teres start to fatigue, the ulnar collateral ligament (UCL) takes on more stress. At the shoulder, when the rotator cuff starts to fatigue, the biceps tendon picks up the slack - and the loss of control of the humeral head (ball in socket) causes more and more fraying on the labrum.
Pitching injuries are not rolled ankles; a thrower isn't just fine one day, and then injured the next. Rather, these injuries are the culmination of years and years of microtrauma to the tissues that finally hits threshold. The kids having Tommy John surgeries are the ones that have previous areas of calcification on the UCL from injuries they may have never perceived, or partial UCL tears that will never heal perfectly. Shoulder-wise, almost every thrower you come across will have labral fraying and degenerative changes in the rotator cuff.
Pitch counts are a big can of worms to open because every kid is uniquely (un)prepared. Some work hard to make sure that they have stability and mobility in the right places, warm up correctly prior to outings, and hone their mechanics to make sure that they are eliminating potentially injurious flaws in the delivery. Some choose to throw curveballs over sliders (throwing sliders is associated with an 86% increased risk of elbow injury, according to research) to protect their arms. Some kids simply don't throw hard, so it's harder for them to reach threshold (sprinters don't pull their hamstrings if they don't run fast, do they?).
The take-home point is that pitch counts will always be an inexact science, but a valuable one nonetheless because they help protect the majority -- especially those who are unprepared. Unfortunately, about 95% of pitchers aren't just unprepared; they are WOEFULLY unprepared. Time and time again, the primary factor that predicts injury risk in throwers is overuse - both acute and chronic. And, we have to remember that high school kids are particularly susceptible because they are skeletally immature; otherwise, you'd see growth plate injuries in big leaguers all the tike.
Personally, I think 105 pitches for a high school player is a good cap. Anecdotally, kids seem to struggle when they go back-to-back with 100+ pitch outings, too -- especially when they happen with fewer days between starts. This isn't surprising at all, though, as most of the college pitchers I've seen who go on to pro ball comment on how the hardest adjustment is going from a seven-day to a five-day rotation.
I would like to head off one counterpoint, and it's that many coaches will rebut, "We threw way more pitches than that when I was in school, and we never got hurt!" The response is very simple: we are dealing with a different generation on a number of fronts.
First, kids are more unprepared athletically than ever because of early sports specialization (less variety = less development), and because they sit more than ever before, thanks to the popularity of things like Facebook, Twitter, and video games. After-school "play" is a thing of the past.
Second, kids can throw year-round nowadays, if they want to do so. There can be fall ball, winter lessons/clinics, showcases, and summer ball on top of what someone gets for throwing volume during the high school season. This is likely the biggest change from what players experienced more than a decade ago. Their throwing volumes were dictated by the competitive year.
Third, we are better diagnostically and surgically now. In other words, there likely were more of these injuries in the past, but we weren't as good at evaluating them and treating them, so they weren't as publicized.
Scott Barboza
ESPN Boston High Schools Editor
At the risk of sounding like the old school baseball wonk here, we've so lost sight of the way things used to be. In the 1905 World Series, Christy Mathewson pitched three complete-game shutouts in what is considered to this day as perhaps the finest postseason pitching performances in baseball history. What's makes Mathewson's 27 scoreless innings against Connie Mack's Athletics is the fact that he threw all three games within a span of six days. Yeah, maybe it was the dead ball era, but it still happened. The more fitting example would be Daisuke Matsuzaka's line during Japan's esteemed Summer Koshein series, a spectable of national attention. He threw a 17-inning, 250-pitch quarterfinal game; that is ONE DAY after he threw a 148-pitch complete game shutout. Now, we can argue how Matsuzaka's innings load, pitch count and rigorous warm-up routine might have impacted his time here with the Red Sox, but it's not as though he didn't have nearly a decade of rubber-armed action between then and now.
Look, I'm not saying Willie Nastasi is or will be of the ilk of those aforementioned, although he's certainly a fine player in his own right at the high school level and, likely, in college, but the point remains that this week's performance isn't without peer. Now more than ever, those kinds of lines are becoming fewer and farther between, which makes them all that much more remarkable when they occur. But we might be overlooking the real cause of arm fatigue in Little Leaguers and high schoolers, and that is the use of breaking balls at a young age. If a pitcher has proper mechanics and has trained to carry such a load (particuarly with the development of leg muscles), there's no reason why such a pitch count isn't possible. I think the more pervasive danger to young pitchers is the impetus to throw curve balls and other breaking pitches at a young age, which results in added strain on elbow ligaments. The world of baseball might have the right idea, but the wrong argument. Less isn't more; proper instruction is.
So we should celebrate Nastasi's accomplishment exactly as it is, something few us could ever dream to endeavor. That also doesn't mean it's impossible.
Brendan Hall
ESPN Boston High Schools Editor
For some historical context, I reached out to former Whitinsville Christian pitcher Andrew Green, who grabbed headlines back in 2009 for throwing 225 pitches in 15 innings, in what ultimately was a 1-0 loss to Douglas.
The weight training regimen Green says he was put through as a high schooler involved hardly any upper body work, outside of medicine ball work and pushups. Instead, he went heavy on leg presses and curls, and dynamic squats. The philosophy here was that by generating power from the lower body, head coach Kris Bradley could get more innings out of his thin staff, while minimizing the risk of injury.
Green -- who had earlier in the season threw a handful of 120-pitch, complete game outings -- didn't recall any soreness afterwards.
"It was funny, right after the game, my friend was like 'Come over and sit in my hot tub for as long as you want'," said Green, who is currently an assistant with WC's varsity. "I probably sat in there for two hours. My shoulder was stiff the next day -- not sore, just stiff. My body felt pretty tired. But I never really had any pain, that was the great thing about it.
"I did that on five days rest, and I started my next game five days later. There were a lot of people talking on MassLive [messageboards] about, 'You're going to ruin the kid's arm', but I never had any pain afterwards."
To this day, Bradley said pitch count wasn't as big of a concern with Green.
"I had taught him from his freshman year that his build was perfect for a pitcher, he had a large lower body," said Bradley, who had a short career at the University of Pittsburgh. "We started working with him on his lower body to generate power. A lot of coaches are in love with the tired and true, getting to a balance point [in your delivery]. The real way to pitch is to power yourself with your legs.
"You do that, and as Andrew learned, you can throw from quite a long time. It's not uncommon for guys that pitch for me to throw 80 to 100 pitches in a bullpen session, and that's kind of the way Andrew was as well."
Moreso, since Bradley took over as head coach in 2007, he says none of his pitchers has ever been sidelined with injury for an extended period of time. Defense has actually been the issue with Crusaders squads under Bradley, but that is also a function of lack of facilities -- this is the first year WC has ever had a home field, which in the past meant practicing anywhere from a gymnasium to a parking lot. The Crusaders are off to a 1-5 start, but have already seen pitchers go over the 120 threshold.
"I'm 50 years old, and on a weekly basis I throw anywhere from 500 to 1,000 pitches in a week for batting practice," Bradley said. "And I think the number of times I've had arm soreness in my entire life, I can count on three fingers."
Clearly, there are two distinct schools of thought here. There is the school of thought that errs on the side of caution with pitch count, some stricter than others. Then there's the one shared by the Bobby Cox's and Nolan Ryan's of the world, letting players routinely ring up triple-digits with the mantra of building up arm endurance.
Would Bobby Cox or Nolan Ryan let one of their players ring up 155 pitches in an April game in cold temperatures? Let's face it, probably not.
The first baseball game I covered this season, Pat Ruotolo of Peabody threw 133 pitches in an eventual loss to St. John's Prep. I'm sure there are countless other instances around the state this season where a player exceeded a common threshold this early in the season.
I was also in attendance for the Barnstable game in question here, so let's take into account his mechanics. In Nastasi, I see a little bit of Jordan Cote, the lean 6-foot-5 righty from Winnisquam (N.H.) High who turned down a Coastal Carolina scholarship last summer to sign with the Yankees for $750,000. Like Cote, Nastasi stretches out on the mound, keeps his elbow in, transfers his weight well, and as a result generates high-80's fastball power from his lower body. His mechanics are sharp, but most importantly they are also clean.
And like Green, Nastasi can eat innings on the mound. He didn't show any signs of laboring until the ninth inning, and at that they were minimal.
But let's also consider the human element here. The Old Colony League made the switch this year to nine-inning games and wooden bats only; and with only four teams in the league, every one of these matchups is very important. Nastasi had a good thing going, striking out a career-high 16 batters, and had the winning run at the plate in the top of the ninth. Was Nastasi going to tap himself out? No, and I don't think it mattered whether it was April 24 or June 24. Nastasi earned his scholarship to UConn by being a competitor, not a conservative.
In Green's case, it was one of that last games of the regular season, with the Crusaders still trying to quality for postseason. He was also playing at legendary Soldiers Field in Douglas, where Babe Ruth himself once made an appearance. It was also one of the last starts of his senior season, and he wanted to make it count. Like the majority of high school players, his career didn't continue in college (he briefly tried to walk on at NAIA power Malone University, before returning home and enrolling at Quinsigamond Community College).
I'm sure the high pitch count startled the UConn coaching staff -- or maybe it didn't. Maybe it's the part of his competitive makeup that excites coaches the most.
There are many good reasons Nastasi should have left the game earlier, many of them smartly laid out here, many of them concerning the long-term.
They're probably right.
But in the heat of the moment, you're in the fog of war, and how you'll feel a year from now isn't a priority.
You're trying to win a ball game, and that's all you care about at that moment. And at the end of the day, isn't this what high school sports are all about?
Kirk Fredericks
Head Coach, Lincoln-Sudbury Regional High School
Every situation is different as each kid is different. We have a kid that when he throws over 75 pitches, he can't pitch on five days, he has to go to seven days. As a coach, you need to be educated and you have to know your players. When does your kid change his mechanics? When is he tired and going to hurt himself? It isn't like a cut, where you see blood. You don't see the results of the damage until later.
I don't have an answer for what the magic number is. We look at it as what number is he at and where that puts us for the next time out. If we go one more then where does that put us? I guess the general number is 100. Have I gone over that? Yes, because a kid had an easy 100, or we want one more batter, so they get to 110. But a win isn't important enough to be the person responsible for long-term damage. You never know what damage a kid has from previous history that he is coming in with, so it is always good to side with caution.
What is the highest that one of my pitches has gone? 125 in a state championship, and 133 in a state championship. Is that right? I don't know.
John Botelho
Staff Writer, Brockton Enterprise
No pitcher -- not just a high school kid - should be throwing that many pitches. Simply put, that kind of workload on an arm seriously raises chances of an injury.
It is a good thing that Nastasi not only wanted the ball but also was quick to defend the decision that let him throw more pitches than most pitchers do in a game at any level. It means he's a good teammate and truly cares more about his team winning games than he does his own well-being.
We're not discussing what kind of a teammate he is though, and him hinting that it was decision to stay is where my problem with this type of pitch count starts. A decision like that shouldn't be left in the hands of a player. Teams have coaches for that very reason. If we're going to brush off an extreme pitch count because, well a 17-year-old kid trying to win games with his best friends said he was fine, where do we draw the line? If players dictated playing time, wouldn't every kid believe he should be playing all the time, hitting near the top of the order? So how is letting a kid dictate how many pitches is too many okay?
Think about what would happen to a coach if he let a potentially concussed player return to action without ensuring he was 100 percent. It wouldn't take long for people to call for that hypothetical coaches job. I'm not going to pretend that an arm and a head are anywhere near the same thing, but why is a baseball coach allowed to do something that could cause potential to his player? If any professional - a physical therapist, strength coach, orthopedist, etc. -- could prove there was no harm in throwing that many pitches, wouldn't big leaguers throw more than 100 or so a game, especially since teams are shelling out all sorts of money? MLB teams would love to get more bang for their buck, but instead $15 million investments are babied, and protected as much as possible. Why then, are high school kids who are still developing physically thrown to the wolves then?
For those who would argue that, 'Well, of course MLB teams will baby their pitchers. They pay too much money not to,' I contend that those pitchers well-beings should be no more important than a kid pitching for his high school. If that is your argument though, consider that Nastasi is committed to UConn to pitch next season. Last summer, Huskies pitcher Matt Barnes signed for $1.5M as a first round pick -- something that certainly could've been jeopardized if he needed his arm reconstructed. Furthermore, what is the ultimate pay out for adding this type of risk to a high school kids arm? A few extra wins? Is winning games -- even if they result in a league title banner or better record -- more important than a kids health? Even if these were big tournament games, I wouldn't see this as okay, but right now we're talking about games played in cool and pitcher-unfriendly April weather. Knowing how an arm injury can effect a kids future, this juice just doesn't seem worth the squeeze.
I think you'd have an easier time finding a high school kid act like Nastasi did on Tuesday, willing to lay it all on the line to win the game at hand than you would one who would go to his coach and ask out of the game because his pitch count was mounting. High school athletes are stubborn and hard-headed, naive to the world of baseball injuries that is truly out there. And for anyone who thinks no toll is paid for the mileage piled up on high school arms, a quick look at the arms of college pitching staffs tells a much different story. It's easy to spot the tell-tale labrum fixes with the scars around the shoulder. It's even easier to to spot the train tracks running around the inside of an elbow that has had Tommy John surgery. Those injuries are typically hangover from abuse in high school, when kids regularly throw on short rest with little regard for pitch count. That is not the case at the collegiate level, as starters throw once a week, and aren't asked to go complete games every time out because bigger rosters allows for real bullpens. The injuries still pile up though.
For the sake of argument, I'm going to call Roy Halladay the most durable pitcher in the MLB. Since 2006, he has been an absolute horse, tossing at least 220 innings in each season and throwing as many as 250.2 in a given year. Consider that in that time, he never got anywhere near 155 pitches. He never even reached 140. In fact, only three times in his entire career has he even reached 130 (and never more than 133). Just 16 times in 356 career starts has Halladay thrown at least 120 pitches in a game. The information gets more interesting if you consider that Halladay was 26 the first time he reached 120 pitches in a game. He didn't toss 130 until he was 33-years-old, long after his growth plates had closed, long after his development and physical maturation had ended.
I've been told Coach DeMartino planned to take Nastasi out at the end of the nine innings if it went to extras, but why there? Was it because the pitch total was already far beyond a reasonable amount? Or was 150 or so the magic number? I have to think he puts less importance on pitch counts than I do -- and some coaches do -- because I watched Barnstable pitcher Keegan Dellacona throw about 140 pitches in over eight innings in a loss to Bridgewater-Raynham Thursday afternoon. DeMartino is hardly alone in this practice, and maybe the MIAA needs to step in and establish clean cut rules in regards to pitch count and rest - just as they did with returning from concussions -- to ensure that athletes' safety is made priority number one.
Perhaps that means knocking the Div. 1 state tourney games from nine innings to seven or having teams carry bigger rosters, but one thing is for sure: No pitcher should be throwing 155 pitches, or even approaching that mark, in a high school baseball game.
Ryan Lanigan
Founder, HockomockSports.com
Willie Nastasi had an incredible performance in the win over Taunton with a complete game and 16 strikeouts, but did he stay in too long? For me, I see nothing wrong with the decision to let him finish the game. Nastasi said it was his own decision to stay in but in the end, the coach has the final say no matter. I believe both made the right decision to let him finish the game. The UConn commit is an experienced pitcher and knows his own limits. Yes, some will say that his youth and getting wrapped up in the moment could influence his decision, but in the end, he knows his body. Someone with a bright future wouldn't jeopardize it by risking their health and Natasi was confident in his decision to throw the amount of pitches he did.
Ryan Kilian
Founder, New England Prep Stars
It is a tough call because I can see both arguments on the issue but I have to think that with proper training and advanced understanding of the individual pitcher it can be done. I think it really begins and ends with the individual pitcher. I come from the Nolan Ryan and Mike Maddux camp where I believe that pitchers to need to re-trained and not be coddled as much. However, I think mechanics and future in the game are two important factors to look as well. There are definitely some deliveries and styles that are more taxing on the body and arm in particular and without proper diagnosis and training you should lean on the side of caution. I would also look at all the advantages that hitters have, such as aluminum bats and the high strike not being called as much as factors in favor of the hitter and advanced pitch counts.
Some pitchers will never be 130 pitch a game pitchers just like some pitchers will never throw 95 mph or average 1.9 walks per game. It depends on the pitcher.
Ben Larsen
Online Producer, MassLive.com
There are a number of variables at play here. Was he equally effective in the later innings? Was the high pitch count due to strikeouts via deep counts? The question I'm wondering though is why it was his decision to stay in the game? It should be up to the coach. With all that said, I think 155 is too much. You rarely see pitchers at the highest level, with the benefit of a complete spring training regimen, reach that mark. In my opinion, if he needed 155 to get through, he wasn't efficient enough. That is a lot of pitches and this early in the season, surely, it wasn't a 'must-win'. This is a game that could have been left in the hands of the bullpen.
April, 25, 2012
4/25/12
12:13
AM ET
By
Eric Adler
| ESPNBoston.com
HYANNIS, Mass. -– In the very first at-bat of his first career varsity start for Barnstable High, Willie Nastasi did something that most high school baseball players can only dream about.
He stepped to the plate, dug in, took a big swing and sent a two-run shot over the right field fence at Attleboro High, propelling the Red Raiders to a 10-3 victory over the Bombardiers.
It was a surprising smash from the freshman catcher, who had been called up from the JV just a few days earlier. And it was an impressive one, which not only caught the attention of his coaches, his teammates and the opposing players, but a Chicago White Sox scout who happened to be at the park that day.
Three years later, Nastasi is still raising eyebrows, only now he does it with a ball in his hands instead of a bat.
The star senior righty, who signed with UConn last November, has been the ace of the Barnstable staff since converting from catcher to pitcher his junior year. Last spring, he was named co-pitcher of the year in the Old Colony League, and this season he's off to a strong 3-0 start with 28 strikeouts in 21 innings.
[+] Enlarge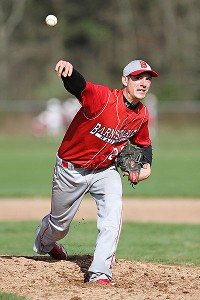 Eric Adler for ESPNBoston.comBarnstable righty and UConn commit Willie Nastasi is off to a strong start, fanning 16 batters in Tuesday's win over Taunton.
"Willie looked great behind the plate his freshman and sophomore years, but with his strength and his 6-foot-3 frame, he was destined to be a pitcher," said Barnstable coach Joe DeMartino. "After he put that one out against Attleboro, the White Sox scout came up to me and wanted to know all about him. I knew back then that Willie was going to eventually become a pitcher, but it goes to show just how much of a natural athlete he is."
He's also a cutthroat competitor.
By his own admission, Nastasi lives off his four-seam, two-seam and cut fastball, but he's also got a tricky circle change-up and sharp 12-6 curveball to boot. With a wide range of weaponry, he sees himself as the dealer and the house, and has the percentages on his side. All he has to do is use the cruel odds of the game to torment hitters.
"Every team I face I want to dominate," said Nastasi. "When I'm on the mound, I always have a good confident feeling. I know what I'm doing out there and I trust that my team has my back. I have the mindset that I'm the best on the field and I'm going to do whatever I can to win."
A pair of teams in the Atlantic Coast League can certainly attest to Nastasi's ironclad confidence.
In his season debut a few weeks ago, he took a no-hitter into the sixth inning against Falmouth and finished with four strikeouts in Barnstable's 8-4 win over the Clippers. He followed that with an 8 K, four-hit effort as the Red Raiders downed Dennis-Yarmouth, 5-3.
Nastasi's ability to throw good pitches, mix them up and hit his spots have been the keys to his success. But many times, he has batters beat long before the ball leaves his hand thanks to a deliberate delivery that's predicated on rhythm and tempo.
He begins his throwing motion holding the ball with both hands at his waist, then raises both arms high over his head (and a little behind it), kicks up his right leg, reaches back and fires away. It's almost as though he's pitching on a metronome.
"It's a little bit of funky, old-school motion yet he hides the ball real well," said DeMartino. "When the ball comes out of his hand, it sneaks up on you. He's throwing in the mid-80's, but the way he hides it, it looks like it's coming at you ever harder than that."
What's more, Nasasti's experience as a backstop has given him a distinct advantage on the bump. Said DeMartino, "He can read hitters, and he has a good feel of what pitches hitters are expecting and when to throw them. He's got a little more knowledge of the game than the average pitcher."
Nastasi's immense skill set was on display Tuesday when he struck out a career-high 16 batters in a complete-game, nine-inning victory to lead Barnstable (6-1) to a 3-1 victory over Taunton in the OCL opener for both teams.
Simply put, Nastasi was nasty.
He tied the Tigers in knots, allowing just three hits, three walks and one unearned run while throwing a career-high 155 pitches. It was even more amazing considering it had been 15 days since he pitched in a live game.
"This was one of Willie's more gutsy performances," said DeMartino. "He got behind in a lot of counts, but he battled back, and when he need a strike on a 3-2 count, he got it. We didn't have a hit after the fourth inning, so this was all Willie today. He obviously threw a lot of pitches, and had the game gone into extras we would have taken him out, but he put the team on his back and carried us."
Nastasi set the tone from the start, striking out the side in order in the first. He fanned four in the second inning after a batter reached on a passed ball, and he struck out the side in the fourth and the ninth.
"After that long layoff, I wondered how I was going to do, but as soon as I started throwing, my arm felt really good and loose, and I kind of knew it was going to be a good day," said Nastasi. "Nine innings is a lot to throw, but I knew I had it in me to finish the game. My arm felt great so I knew I could keep going."
His endurance aside, Nastasi also proved how well he fields his position. After Taunton capitalized on two Barnstable errors to plate a run in the fifth, the Tigers threatened for more with two runners on, but Nastasi knocked down a hard shot hit back to him and fired to first for the third out. In the seventh, he teamed up with first baseman D.J. Crook to record a rare 3-1 double play.
Barnstable got all the runs they would need in the third thanks to an RBI single by Dylan Morris, who stole second and scored on Mark Brodd's triple to deep center. The Red Raiders padded their lead in the eighth when Taunton botched a pick-off play.
Barnstable's 3-1 lead came in jeopardy in the ninth after Deitrich Wahl drew a two-out walk and Zach Grady reached on an error to bring the go-ahead run to the plate. But Nastasi showed tremendous poise and punched out Travis Ritchie to secure the win.
"My dad has been my main pitching coach all my life and he instilled in me that when you get on the mound, nothing else matters," said Nastasi. "I try to focus, relax, be nice and smooth with my mechanics and throw strikes. That's how you get people out."
Nastasi will bring that same approach with him when he suits up for UConn next year. He said his goals are to lead the Huskies to the College World Series, and they came awfully close last year, making it to the Super Regionals before falling to defending and eventual champion South Carolina.
Nastasi's other dream is to play in the Cape League. When he was in middle school, he was a bat boy for the Cotuit Kettleers, and his freshman and sophomore years, he was the team's bullpen catcher. His family has also hosted players for the past 13 years.
"Playing in the Cape League would be the Holy Grail, because Cape League baseball is as good as it gets," he said.
But for now, the main focus is leading the Red Raiders to the promised land.
"At the end of last year, all of the incoming seniors and myself talked about how we knew we were going to have a good team this year and how we're aiming for a state championship and nothing less," he said. "Every team talks about that, but we feel this is our best shot. We feel like we can do it."