Boston High School:

Wilton-Lyndeborough
January, 18, 2013
1/18/13
8:48
AM ET
By
Roger Brown
| ESPNBoston.com
We're more than a month into the Division 1 boys basketball season, and you'd have to dig deep into the league standings before you found a team not capable of winning this year's state championship.

Entering Friday night's schedule eight teams are above .500, and all of them seem to have legitimate title hopes.
"Obviously some teams are better than others right now, but there are quite a few teams that could put things together by the end of the year and they could be real dangerous," Salem coach Rob McLaughlin said. "I see a lot of teams that could cause problems."
Even Manchester Central (7-0) and Trinity (6-0) – the only unbeaten teams in league play – have a non-league loss against a Division I opponent. Trinity lost to Central in the Queen City Invitational, and Central lost to Manchester Memorial in the same tournament.
Memorial (5-1) is one of four teams with one loss. That group includes Bishop Guertin (6-1), Nashua South (6-1) and Spaulding (6-1). Merrimack (4-2) and injury-plagued Winnacunnet (4-3) round out the top eight.
"Right now I'd have to say Trinity and Central are the two best teams," said McLaughlin, who has faced five of the top eight teams in the standings. "At least they're the best teams we've played. Then there are a bunch of teams that aren't that far behind."
GIVING DEVILS THEIR DUE
No NHIAA hockey team is playing better than Salem, which is 6-0-1 since opening the season with a 1-0 loss to Bishop Guertin. The Blue Devils stretched their winning streak to five games when they beat Exeter 6-1 Saturday.
Salem has been winning with defense. Goaltender Nick Phair has a 1.16 goals-against average – the lowest among Division I goalies – and a .949 save percentage in 233 minutes. Cody Soucy (nine points) and Jake Pappalardo (seven points) lead the offense.
The Blue Devils have outscored their opponents, 29-11.
STAR GAZING
Rosters for the second CHaD New Hampshire East-West All-Star Football Game were released earlier this month. This year's game will be played June 29 at the University of New Hampshire's Cowell Stadium, and will benefit Children's Hospital at Dartmouth-Hitchcock (ChaD).
Former Manchester Central coach Jim Schubert will coach the West, and former Concord coach Bob Camirand will serve as the East's head coach. The East roster includes five players from Division I champion Exeter and five from Division I runner-up Pinkerton Academy of Derry.
"As is the case with any all-star game there are some people who are worthy who won't be selected," Camirand said. "We looked at people who were familiar with the 4-4 defense and running the football from under center out of the Wing-T or the Double-Wing, which is what I hang my hat on.
"The Pinkerton kids and the Exeter kids are familiar with the offense we'll be running so it makes for an easy transition."
The West won the inaugural game, 44-12, last summer.
"This is an all-star game," Schubert said. "These are the best senior players in New Hampshire in the eyes of the coaches."
EAST-WEST ALL-STAR ROSTERS
West players:
David Cannone (RB/LB) Bedford; James Capparell (QB) Bedford; Brian Collins (WR/OLB) Bedford; Dylan York (RB/DB) Bedford; Blake Boudreau (FB/LB) Bishop Guertin; Nick Marino (RB/DB) Bishop Guertin; Seth Gosse (OL/DL) Concord; Tolbert Nemo (RB) Concord; Kody Benwell (FB/TE/LB) Franklin; Nathan Grevior (OT/DT) Franklin; Connor Benjamin (QB/RB/WR) Goffstown; Cyrus Rothwell-Ferraris (WR/S) Hanover; Mitch Frick (WR/CB) Hollis/Brookline; Lucas Luopa (QB/DB) Keene; Dylan Drew (RB/LB/DE) Lebanon; Zach Hileman (C/DL) Manchester Central; Troy Pelletier (WR/DB) Manchester Central; Pierre Noel (WR/S) Manchester Memorial; Jared Ombati (RB/DB) Manchester Memorial; Zach Ziemba (QB/DB) Manchester West; Chris Sanborn (TE/DE/MLB) Mascoma; Joe Albina (RB/LB) Milford; Nick Patterson (G/LB) Monadnock; Mike Lynch (OT/DT) Nashua North; Deric Wagner (TE/RB/LB/DE) Nashua North; Stephen Choate (WR) Nashua South; Christian Stack (OL) Nashua South; Matt Tremblay (RB/OL/LB) Newport; Brandon Goodale (FB/HB) Plymouth; Chase Wyman (OG/DT) Plymouth; Tyler Ford (QB/WR/DB) Souhegan; Jake Kennedy (OT) Souhegan; CJ Gosselin (OT/LB) Stevens; Colin Bouchard (OL/DL) Trinity; Ryan Carrier (FB/DL/LB) Trinity; Romeo Masuku (RB/WR/LB/DB) Trinity; Russ Pallas (OL/DL) Trinity.
West coaches:
Jim Schubert (head coach), Mike Bombardier, Eric Brown, Dante Laurendi, Jimmy Lauzon, Paul Lavigne, Bob Leclair, Gerry Tautkus.
East players:
Matt Dow (OL/DL) Dover; Kyle Seawards (RB/WR/DB) Dover; Eric Wilson (TE/LB) Dover; Zach Bosen (TE/DT) Exeter; Tyler Grant (HB/TB/SS) Exeter; Logan Laurent (P/K) Exeter; Jamie Vogt (HB/LB) Exeter; Jameson Whiteley (TE/OLB) Exeter; Conor McDonald (LB) Kennett; David Mahoney (RB/LB) Laconia; Graham Nyhan (TE) Laconia; Troy Ward (FB/DE) Londonderry; Chadd Loring (C/DL) Pelham; Chris Ford (OG/DT) Pembroke; Jake Bernaiche (G/DL) Pinkerton; David Hansen (G/LB) Pinkerton; Chris St. Onge (HB/QB/S) Pinkerton; Matt St. Onge (FB/LB) Pinkerton; Brett Stuart (HB/DB) Pinkerton; Dillon Crosby (RB/OLB) Portsmouth; Rick Holt (DT) Portsmouth; Kurtis Leonard (C/DE) Portsmouth; Drew Francoeur (QB/DB) Somersworth; Tyler Kretschmar (OL/DE) Somersworth; Kyle Hall (OL/DL) Spaulding; Ryan Monette (RB/WR/CB/S) St. Thomas; Joe Richard (G/LB) St. Thomas; Joshua David (RB/WR/DB) Timberlane; Ryan McCarthy (WR/DB) Timberlane; Danny Cannone (RB/TE/OLB/DE) Windham; Kevin Cooney (FB/OLB/DE) Windham; Joe Lorenz (QB/S) Windham; Jordan Cutting (G/OT/NG) Winnacunnet; Christian Dyer (OT/DT) Winnacunnet; Ben Franzoso (RB) Winnacunnet; Ben Gareau (WR/DB) Winnacunnet; Mason Taylor (G/OL) Winnisquam.
East coaches:
Bob Camirand (head coach), Peter Bergeron, Dave Bernaiche, Dan Fallon, Dave Malay, Ken Sciacca.
NHL EYES SANFORD
Zach Sanford, who helped Pinkerton Academy win the 2012 Division I ice hockey championship, was among the players listed on the NHL Central Scouting Bureau's mid-term rankings, which were released on Jan. 15.
Sanford, a 6-foot-3, 190-pound forward, was listed at No. 83. He is currently playing for the EJHL's Islanders Hockey Club, and had three goals and 15 assists through 24 games.
Sanford, an Auburn resident, had 69 points in 21 games last season – he collected at least one point in every game -- and collected a goal during Pinkerton's 3-2 triumph over Manchester Memorial in the Division I championship game.
EPPING'S STANLEY JOINS ELITE GROUP
Senior Frank Stanley became the seventh Epping High School boys basketball player to score 1,000 career points when he tossed in 25 during a 66-29 victory over Wilton-Lyndeborough on Jan. 11.
Stanley, an undersized center, finished the game with 1,001 career points.
Roger Brown is a staff writer for the New Hampshire Union Leader and publishes the New Hampshire Football Report. He has been covering high school sports throughout New England since 1992.
June, 27, 2012
6/27/12
2:07
PM ET
By
Marc Thaler
| ESPNBoston.com
Fundraising totals between the teams competing in the inaugural New Hampshire East-West High School Football All-Star Game couldn't have been much closer.

The game itself? That's a different story.
West's all-stars – widely considered underdogs for the June 23 contest at the University of New Hampshire – proved too tough. The combination of overpowering offense and dominant defense led to a 33-point halftime lead and 44-12 final score.
Thaddeus "Junior" Brown was toughest to cover. Manchester Central High's 6-foot 3-inch, 180-pound receiver made all four of his catches for 87 yards in the first half. Three receptions went for touchdowns, including a 50-yard down-the-right-seam dagger that helped Team West build a 37-6 halftime lead.
"This means a lot. I worked hard for it," Brown, the game's first Bo Dickson MVP, said of the trophy he was handed for his efforts. "The coaches helped me out a lot. I just busted my butt for 10 days. The outcome was this MVP."
Off the field, the outcome of Brown's efforts, as well as the 73 other all-stars, was even more impressive.
Teams East and West combined to raise $51,301.21 for Children's Hospital at Dartmouth-Hitchcock (CHaD) in Lebanon.
Team East was designated the home team. It earned use of UNH football's locker room for winning the head-to-head fundraising contest. Coach Bill Raycraft's players raised $25,751.21 – a mere $201.21 more than West's standouts.
In total, $301,000 was raised for CHaD.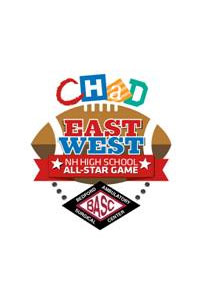 BASCTBD by editorial
"These kids came together and did a heck of a job for a great cause," said Team West coach Keith Jones, whose 6-year-old son, Harris, a CHaD patient, participated in the pre-game coin toss.
Harris was involved in a freak snowmobile accident three years ago. His father has said many times if not for CHaD, right-leg amputation would have been required.
On gameday, the soon-to-be first-grader made an appearance in Team West's locker room prior to warm-ups. It gave the players an additional boost, which carried over to kickoff.
Several playmakers fueled Team West's 37-point first half.
Brown caught a pair of 9-yard TD passes from Manchester West High's Aaron Martin, who also used his speed to sneak inside the left pylon for a 2-yard rushing score.
Merrimack High's Jackson King returned an interception 19-yards for a TD.
Nashua South's Johnny Bieren was crucial to posting a second-quarter safety. He also forced and recovered a fumble on one of his three quarterback sacks.
Central's Stephen Grzywacz – who raised a players-best $5,965 for CHaD – converted five extra points (6-for-6 overall).
East's all-stars committed five of the game's eight turnovers. The favored squad fell behind, 30-0, before Salem High's Jerickson Fedrick returned a kickoff 96 yards to paydirt.
Fedrick, and Pinkerton Academy of Derry stars Kevin Davies and Emmitt Smith, were all neutralized. Combining to rush for 4,649 yards and 57 TDs last fall, the trio managed 99 yards – 28 through two quarters.
Conor Donovan of Division VI cooperative team Inter-Lakes-Moultonborough scored East's second TD early in the third. Derek Paradis of Nashua South answered with an up-the-gut run.
"The first series, I thought we did pretty well. We stopped them (but) right away turned the ball over," Raycraft said. "That's not the way you want to start an all-star game. From there, we pressed a little bit more than we probably should have and, because of that, created more turnovers.
"But, like I told the kids, I had a blast these last (10) days," he added. "I couldn't have asked for a better group of kids. It's going to be fun watching where they go from here. The score will fade, but they set the tone for fundraising."
BASEBALL CHAMPS
Division I
: Dillon Emerson's extra-inning hit snapped two droughts, including a lengthy one for Concord High.
The senior's single down the right-field line scored Pat Cannon and gave the top-seeded Crimson Tide a 5-4 walk-off win over No. 3 seed Merrimack High in the state final June 16 at Northeast Delta Dental Stadium, home of Double-A baseball's New Hampshire Fisher Cats.
Emerson's hit snapped an 0-for-4 skid in the title game and earned Concord (18-4) its first crown since 1980. The Tide lost the state final in 2011.
"I was in the dugout upset over all the missed opportunities I had when coach [Scott Owen] came up to me and said, 'Stick with it. You'll get your at-bat and you'll come through.' He was right," Emerson told the
New Hampshire Sunday News
.
November, 10, 2011
11/10/11
6:13
PM ET
By
Marc Thaler
| ESPNBoston.com
In his 41st year at the helm of Plymouth Regional's storied football program – a span that's produced a state-record 334 wins and 18 championships – Chuck Lenahan has surely experienced it all.

Yet it was the manner in which the Bobcats won their most recent matchup that had the gruff-voiced grid coach admitting, "I'm kind of numb."
It's understandable. Lenahan approved the call for a fourth-quarter fake punt that produced the game-winning touchdown. Plymouth celebrated a 21-14 Division IV semifinal win Nov. 5 against longtime rival Laconia High.
The scenario: Plymouth was forced to punt from its 32-yard line in a 14-all game. The game clock showed less than nine minutes remained in regulation.
Special teams coach Chris Sanborn persuaded Lenahan to fake the punt. The Bobcats desperately needed a spark. Their rushing attack, which generated two lengthy first-half scoring drives capped by Cole Brooker touchdown runs, was stifled after halftime.
Standout senior Taylor Newberry (37 carries for 205 yards) was asked to fake the punt for the first time in his career. It worked out better than even Lenahan could have expected.
Newberry gained the three yards necessary to extend the drive. He also picked up 65 more yards, cutting left-to-right across the field, dodging would-be tacklers, and ultimately celebrating a 68-yard TD run.
"We actually just set that up (in the week leading up to the semifinal). We were 50-50 on it," Newberry said. "I guess it worked."
Plymouth – a year removed from missing the playoffs on a three-team tiebreaker – actually plays the role of underdog in the Nov. 12 final.
The second-seeded Bobcats (9-1) travel to Manchester's Gill Stadium for a showdown with No. 1 seed Trinity High (10-0). The Bobcats were stunned at home in Week 4 by the Pioneers, allowing a pair of late-game touchdown passes in a 12-7 loss.
It snapped Plymouth's 40-game home win streak.
"Another week," Lenahan said. "The kids wanted it bad. What the heck. We might as well take a trip to Manchester."
September, 2, 2011
9/02/11
3:58
PM ET
By
Marc Thaler
| ESPNBoston.com
A year ago, underclassmen-laden Pinkerton Academy wasn't supposed to win its 10th Division I football championship since the celebrated 1985 season. But the young Astros, facing foes with far more experience, beat those odds.

This time around, the odds of repeating are overwhelmingly in their favor.
"Our focus doesn't change at all, even when we're not the favorites," Pinkerton head coach Brian O'Reilly said. "We simply strive for championships. That's our goal, otherwise it's not a successful year."
Quite simply, there isn't a more complete team, at present, than the one residing in Derry.
The Astros return almost everyone. Twelve of the team's 20 seniors are returning starters.
Bulldozer Kevin Davies and speedy Emmitt Smith are the focal points of Pinkerton's Wing-T offense. But there's also junior quarterback Chris St. Onge and sophomore Manny Latimore that round out the returning starting backfield.
Andrew Curran, exclusively a top-line defensive back in 2010, will reprise that role this season. But he's expected to earn touches on offense, too.
On a team stacked with superb athletes, Ryan Coombs could prove most dynamic. The 5-foot 11-inch, 178-pound senior kicks, punts, catches passes and patrols the defensive secondary.
"He's a big-game player. He can be a difference-maker. He's got some outstanding athletic ability that other kids do not have," O'Reilly said of Coombs. "He just turned 17 for his senior year. He really doesn't come off the field."
Linebackers Branden Rodgers, Davies and Matt Madden, last year the team's second-leading tackler as a freshman, were huge reasons the Astros excelled in red-zone defense. The linebacking corps added depth with the return of Matt St. Onge, sidelined in '10 with an ACL injury.
Understandably, the Astros were unanimously voted No. 1 in the preseason edition of the fourth-year statewide poll, a joint effort involving the
New Hampshire Union Leader
, WGAM-Radio and WMUR-TV.
Based on history alone, Pinkerton is the preseason pick.
Since O'Reilly's fabled Ryan Mihalko- and Joe Segreti-led 1985 team surprised everyone to win it all (the program's debut season in Division I) the Astros have always won championships in chunks.
The Astros went back-to-back in 1985-86, copped four straight crowns from 1991-94, and rattled off a three-peat from 2005-07.
But don't talk championship pep rally with O'Reilly just yet. Pinkerton's 34-year head coach knows a grid king isn't crowned in the preseason.
"We might be pegged as favorites. But we weren't pegged as favorites last year – and we won," he said. "Our focus is 'Don't allow newspaper clippings to influence hard work.'"
December, 16, 2010
12/16/10
1:30
PM ET
By
Marc Thaler
| ESPNBoston.com
Concord High caught a few teams by surprise during its postseason run to the Division I boys' hockey championship a year ago.

"We certainly got hot in the tournament," said Concord coach Duncan Walsh, recalling his team's run to the title as the No. 4 seed. "I don't think anyone thought Concord was going to win it."
The Crimson Tide's rink rivals won't be fooled this time around. The Tide is the preseason team to beat.
"You've got to start with Concord. They've got a lot of guys back," said Pinkerton Academy of Derry coach Casey Kesselring, whose Astros, as defending champs last season, were ousted in a wide open semifinal round that also featured Nashua's Bishop Guertin and Exeter. "They lost a key piece in (Division I Player of the Year) Kevin Marceau. But they have the Lacasse brothers back."
Pat Lacasse is Concord's top returning playmaker. Nick Lacasse leads a veteran defensive group. The twin brothers are among 16 of 20 returning players from the program's first title team since 1999.
"Goals are going to come harder than last year," Walsh said. "Last year, we had a dominant first line. There weren't many games they didn't get two or three goals. I don't think we'll get four or five goals (per game), but we might get two or three."
Concord's first line projects to be Pat Lacasse, the lone returning first-liner from last season, and Chris Acres and Pat Cannon. It's on the other end of the ice where the Tide has fewer question marks.
Nick Lacasse, Taylor Lebell and Dustin Walsh earned the bulk of ice time along the blue line during the 2009-10 campaign. Goaltender Brendan Garrett is also back from the surprise squad that ousted top-seeded BG, 4-3, in the semifinals and blanked No. 3 seed Exeter, 1-0, in the final.
"In my opinion, it's Concord, Hanover, Pinkerton and Bishop Guertin. Those are the usual suspects," Exeter coach Jim Tufts said. "But Concord is the defending champ. Their starting goalie is back, and those twins are really good."
November, 10, 2010
11/10/10
2:26
PM ET
By
Marc Thaler
| ESPNBoston.com
MacKenzie Anderson earned the respect of teammates long before she cracked the goal line in her team's Division IV football finale.

A back-up defensive tackle for Hanover High, Anderson carried the football on consecutive goal-line plays in a 42-7 home win over Merrimack Valley of Penacook on Oct. 29.
Calling Anderson's number was the coaching staff's way to recognize a player who didn't miss a practice as an upperclassman.
It was an important behind-the-scenes feat. She helped prepare Hanover's starters as a member of the scout team.
"One of the only seniors that hadn't scored a touchdown [this season] was Mackenzie. We just decided to give it a shot," said Hanover head coach Mike Ivanoski, who rewarded members of the offensive and defensive lines with goal-line carries in the final week's of the season. "The first time she got hit hard at the 1. We had to make a decision to do it again. We went again on second down and she powered it in."
Anderson's second effort was a microcosm for Hanover's season.
A perennial playoff team, Hanover (3-6) opened with five consecutive losses. Three setbacks were by seven or fewer points. But, the Marauders finished with three wins in four games.
Ivanoski said Anderson, the first female he coached in 16 seasons, never sought attention. She relished playing an important – but often anonymous – role in the trenches. The coach also said she recorded a crucial quarterback sack in Hanover's 24-21 Week 3 loss at Lebanon.
But Anderson's touchdown was a truly memorable moment – for herself, her teammates and Hanover's fans.
"Her work with the scout teams," Ivanoski said, "she just gained that respect."