Boston High School:

Windham
November, 7, 2013
11/07/13
9:45
PM ET
By
Roger Brown
| ESPNBoston.com
The regular season is in the rear-view mirror, and the high school football playoffs in New Hampshire begin this weekend with 12 conference championship games -- four in each of the three divisions. Each game is scheduled for Saturday at 1 p.m.

The conference champions will advance to next weekend's semifinals. Here's a look at this weekend's matchups and the teams to beat in each division:
DIVISION I:
East: Exeter (6-3) at Spaulding (6-3)
North: Central (7-2) at Concord (9-0)
South: Londonderry (4-5) at Pinkerton (7-2)
West: Keene (7-2) at Nashua South (8-1)
Analysis:
Concord is the only Division I team that navigated through the regular season without a loss, and is clearly the favorite in this division. The Crimson Tide has more offensive weapons than any other team in the division, and has put those weapons to good use. Concord scored at least 34 points in eight of its nine games, and held five of its opponents to seven points or less.
Manchester Central will be Concord's first hurdle. Concord beat Central 35-6 in Week 1, but Central has won seven in a row since its 0-2 start. Central running back Jesiah Wade has rushed for 2,074 yards this season, and gained 556 yards -- the single-game rushing record by a running back from New England -- against Merrimack earlier this year.
Keene, Nashua South and Pinkerton Academy also look like teams capable of winning this year's title. Keene has won six of its last seven games and handed Nashua South its only loss two weeks ago (42-28). Nashua South is led by University of New Hampshire-bound quarterback Trevor Knight, and Pinkerton also has a big-play threat in running back Manny Latimore.
It would be a surprise if Londonderry, Exeter or Spaulding advanced past the semifinals, although Exeter is averaging 38 points per game since moving Joey Jones to quarterback. The Blue Hawks have won the last two Division I titles.
DIVISION II:
East: Merrimack Valley (7-2) at Portsmouth (8-1)
North: Kennett (5-4) at Plymouth (8-1)
South: Trinity (7-2) at Windham (8-1)
West: Sanborn (5-4) at Monadnock (9-0)
Analysis:
There's a good chance Chuck Lenahan will end his coaching career with his 20th state championship. Lenahan, who has announced his will retire after this season, has a 353-70-1 record in 43 seasons as Plymouth's head coach. His Bobcats will be at home as long as they last in the postseason.
Plymouth's biggest threat may be Portsmouth, which used a late rally to post a 27-22 victory at Plymouth earlier this season. Portsmouth lost to Trinity in its opener, but enters the playoffs on an eight-game winning streak.
Monadnock is the only unbeaten team in Division II, but seven of its nine regular-season opponents finished under the .500-mark. Monadnock posted a 27-19 victory over Sanborn, the only playoff team it faced.
Saturday's Trinity-Windham winner may be the only other team capable of making a deep playoff run. Windham is a junior-laden team that made huge strides in the second half of the season. Windham's only loss came against Plymouth, but it was a 41-7 setback. Trinity may have more talent than anyone in the division, but will have to win a rematch with Windham to advance. Windham beat Trinity 52-20 two weeks ago.
DIVISION III:
East: Bishop Brady (4-4) at Epping-Newmarket (4-4)
North: Inter-Lakes/Moultonborough (4-4) at Gilford (6-2)
South: Bow (7-1) at Pelham (8-0)
West: Newport (6-2) at Stevens (6-2)
Analysis:
The two best teams in Division III may be on opposite sidelines Saturday, when Bow meets Pelham. The winner of that contest will be the clear-cut favorite to capture this year's title.
Bow's only loss was a 7-0 decision against Pelham in the opener for each team. Bow has won seven in a row since then, and posted three shutouts along the way. Pelham ended a 30-game losing streak last year, but was the only Division III team to finish the regular season unbeaten. The game will feature two of the best running backs in the division in Bow's Matt Ehrenberg and Pelham's Chris Medeiros.
Stevens may be the best of the rest. The Cardinals have a do-it-all running back in Donald Pellerin, who is also a threat as a receiver and kick returner.
The legitimate contenders for the Division III championship may end there since Newport and Giflord, the only other teams with at least six wins, were overmatched by the top teams during the regular season. Pelham beat Newport 56-6 and Bow defeated Giflord 42-7.
Roger Brown is a staff writer for the New Hampshire Union Leader and Sunday News, and publishes the New Hampshire Football Report. Follow him on Twitter: @603sportsmedia.
September, 13, 2013
9/13/13
11:34
AM ET
By
Roger Brown
| ESPNBoston.com
Keene football coach John Luopa won't be walking into the unknown this weekend. He's very much aware of what his team will be up against when it faces Exeter on Saturday night (7 p.m.) in Keene.

Exeter has won New Hampshire's last two Division I championships and is considered by many to be the team to beat again this season. The Blue Hawks have a roster of more than 100 players and have won their last 17 games against Division I competition.
"It's a daunting task playing Exeter," Luopa said. "They're hands down the best team in the state – and the best program. When you've won the last two Division I championships I think it's fair to say that.
"It's the same Exeter team. They've just changed the names and numbers."
Keene is coming off a 34-0 triumph over Nashua North. Exeter received three touchdowns from fullback Jay Inzenga in Saturday's 48-6 triumph over Dover.
"I thought we tackled well and we didn't turn it over, which is always a concern when you have all new backs," Exeter coach Bill Ball said. "Getting out of the gate with a win is huge. It gives you momentum heading into the next week.
"The road gets tougher. Keene is a lot like us – physical. It'll be a physical game."
Luopa said slowing down Exeter's running game and cashing in on scoring opportunities will be the keys for his team Saturday night.
"Offensively you have to find a way to get it in the end zone," he said. "In years past we've moved the ball well from the 20 to the 20. Inside the 20 is where they really buckle down.
"I think we match up well with teams that run the spread because defensively we can run with the spread teams. The big question entering this game is how will our defense hold up against a big, powerful team that runs the ball?
"It will be interesting to see if we do have the horses to give them a game."
DIVISION II
Trinity (Manchester) and Plymouth were the best teams in Division IV last season, and they may be the two best teams in a reconfigured Division II this year.
Plymouth, which beat Trinity 7-0 to win last year's Division IV title, rolled over Kingswood, 49-28, last weekend. The Bobcats will play at Windham on Saturday. Windham, which lost to Trinity in last year's Division IV semifinals, opened its season with a 28-7 triumph over Hanover.
"I saw their film (against Kingswood) and they flow to the ball real well," Windham coach Bill Raycraft said. "(Plymouth coach Chuck Lenahan) has 11 guys who make it look like they have 13 out there. Plymouth will be one of the top teams in the division."
Perhaps no team posted a more impressive victory last weekend than Trinity, which made a statement by beating Portsmouth, 58-37, Friday night. Portsmouth has won the last two Division III championships and was a preseason favorite to win this year's Division II title.
Trinity may get a stiffer test from Milford tonight. The Spartans returned their entire offensive backfield from last year's Division III playoff team, and showed plenty of offensive punch in Saturday's 48-23 victory over Sanborn (Kingston).
"Obviously it was nice to get that win, but we have a long way to go and a lot of work to do," Trinity coach Steve Burns said.
DIVISION III
Fall Mountain (Langdon) played a junior varsity schedule last season because of low participation in the program, but will have a chance to improve its Division III record to 2-0 when it travels to Raymond tonight (7 p.m.).
Fall Mountain is coming off a 40-8 victory over Newfound, and Raymond dropped a 53-35 decision to Bishop Brady (Concord) in its opener.
Tonight's game between Newport and Pelham is this weekend's only Division III matchup between teams that each won last weekend.
August, 14, 2013
8/14/13
5:46
PM ET
By
Roger Brown
| ESPNBoston.com
New Hampshire's high school football season will kick-off Wednesday, when teams are allowed to hold their first practice in preparation for the 2013 season.

Football in the Granite State has a drastic new look this year. The New Hampshire Interscholastic Athletic Association scrapped the six-division format it had used since 2008 in favor of three larger divisions that have four conferences in each division. The divisions are still based on enrollment and here's how the teams were divided:
Division I
East: Exeter, Winnacunnet, Dover, Spaulding and Timberlane.
West: Keene, Nashua North, Nashua South, Bishop Guertin and Alvirne.
North: Concord, Manchester West, Manchester Central, Manchester Memorial and Bedford.
South: Pinkerton, Salem, Londonderry, Goffstown and Merrimack.
Division II
North: Kennett, Hanover, Plymouth, Laconia and Lebanon.
South: Milford, John Stark, Windham, Souhegan and Trinity.
West: Monadnock, Con-Val, Hollis-Brookline, Sanborn and Kearsarge.
Central: Portsmouth, Pembroke, Merrimack Valley, Kingswood and St. Thomas.
Division III
South: Pelham, Campbell, Bow and Somersworth.
Lakes: Inter-Lakes/Moultonborough, Gilford, Winnisquam, Franklin and Newfound.
West; Raymond, Epping-Newmarket, Bishop Brady and Farmington/Nute.
East: Mascoma, Newport, Fall Mountain and Stevens.
"From the conversations I've had, more coaches like the new alignment than don't like it," Manchester Memorial coach Peter Colcord said. "I''m just not happy that we've gone down from tenB (regular season) games to nine. That's a lot of work, and you want to play as many games as possible.
"I also understand that you can't please everybody."
New Hampshire teams will no longer have room for a non-league game, so the Pinkerton-Brockton rivalry is among the casualties of the new alignment.
Eight teams will make the playoffs in each division (two from each conference), so the number of playoff teams (24) is the same as it was last year, when four teams qualified from each of the six divisions. The top two teams from each conference will meet in the quarterfinals. Teams will be reseeded for the semifinals using a point-rating system that will factor in each team's record and strength of its victories. A victory over a strong team is worth more that a victory over a lesser opponent.
"I like it," Nashua South coach Scott Knight said. "I'm not one of those guys who's afraid of change.
"The only thing I don't like is the two teams in one conference playing in the (quarterfinals). I don't see why you have to play a team twice in a 20-team division. I'd like to play different teams in the playoffs.
"After this year I'm sure they'll tweak it, but we're definitely headed in the right direction."
TEAMS TO WATCH
Here are 10 teams that should be in the hunt for a championship this season:
PINKERTON ACADEMY -- The Astros have the state's premier running back in senior Manny Latimore, who rushed for 1,477 yards last season.
NASHUA SOUTH -- South quarterback Trevor Knight, a three-year starter, has committed to the University of New Hampshire.
EXETER -- The Blue Hawks are seeking their third straight Division I title.
WINNACUNNET -- The Warriors won last year's Division II championship. They make the move to Division I this year.
CONCORD -- If there's a surprise team in Division I this season it will likely be the Crimson Tide.
PORTSMOUTH -- Clippers are also stepping up in class (to Division II) after winning the last two Division III championships.
TRINITY -- Quarterback Carmen Giampetruzzi is headed to Boston College … to play baseball.
PLYMOUTH -- Plymouth coach Chuck Lenahan has guided the Bobcats to 19 state titles.
BISHOP GUERTIN -- There's plenty of talent left over from a team that reach the Division II semifinals last fall.
BEDFORD -- The Bulldogs competed in Division III two years ago, moved to Division II last year and are in Division I this season.
MEET THE NEW BOSS
First-year head coaches this season: Mark Phillips (Alvirne), Dante Laurendi (Merrimack), Rob Pike (Salem), Jeff Hunt (Spaulding), Rich Bergskaug (Hollis-Brookline), Brian Pafford (Portsmouth), Mike Lochman (Souhegan), Greg Gush (Campbell), Vance Sullivan (Manchester West), Jeff Kaplan (Franklin) and Chris Marden (Gilford).
NIGHT VISION
Pinkerton Academy in Derry has added lights around its football field and, with one exception, will play its home games on Friday nights this season. Pinkerton's game against Londonderry will be played in Derry on a Saturday night, Sept. 28.
Last year, Pinkerton was the only Division I school without lights.
Roger Brown is a staff writer for the New Hampshire Union Leader and publishes the New Hampshire Football Report. Follow him on Twitter: @603SportsMedia.
November, 10, 2011
11/10/11
5:40
PM ET
By
Gary Hawkins
| ESPNBoston.com
Madison Memorial High School senior Matt McClintock recently won his third Class C cross country title while posting the fastest time in the state in any class. McClintock also won the mid-season Festival of Champions which featured over 600 runners from 60 schools in and out of state. Last spring, he won the 1,600 and 3,200 meter runs at the state track and field meet. He's competing this weekend in the New England meet in North Scituate, R.I. He recently answered questions about his season and running career.
Q: How did you get started running?

A: "I started running in 5th grade on the Madison Junior High XC team. I went to Athens Elementary so what would happen is Athens would practice on it's own and then we would just join the Madison team at meets. Fifth grade was the first year that I could compete in any "real" school sports, and I don't really know what drew me to it, but I decided to try it, and I guess my first race went well. I finished 13th. All my coaches were really happy with it and I guess I've been running ever since."
Q: Who have been your greatest influences?
A: "First and foremost would definitely be my coaches. Mrs. Moulton and Mr. Harper in junior high and Bob and Brandon Hagopian in high school. The person that really inspired me and drove me to get better was definitely coach Bob Hagopian. He's been with me since freshman year, through my wins and losses, and has always found a way to make me better."
Q: At what point did you feel you made a breakthrough in your high school career?
[+] Enlarge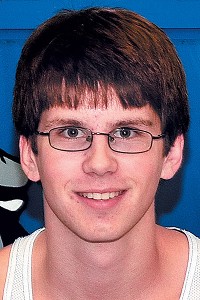 Gary Matt McClintock
A: "Without a doubt it was after I lost the conference championship last year. I got to cocky and that race showed me that I wasn't invincible, that I wasn't going to win just because my name was Matt McClintock, but because I wanted it more than the guy in front, beside, or behind me. That race made me
love
running, because I then had something to prove and something to work for. It re-instilled that love for competition in me. I will remember that race for the rest of my life, and I'm definitely a better runner because of it."
Q: What do you consider your greatest achievements in track and cross country?
A: "Wow, I guess in cross country it would be my three state championships. Since fifth grade my dream was to win a state championship in high school. To have three cross country titles and two titles on the track is just unbelievable to me. In track, my greatest achievement was definitely breaking the Madison High School records for 1,600 and 3,200 meters, probably more so the 3,200 because I was the first Madison kid in history to go under 10 minutes in that event."
Q: Which sport do you prefer?
A: "It really depends on the season. During cross country my favorite sport is cross country. During track it's track. I just love to run and race whether it's on the road, a track, or a trail."
Q: What goals did you set this season and did you reach them?
A: "My first goal for the season was to go undefeated in Maine and three-peat the Class C State Championship. I'm proud to say I met this goal. My next goal was to go under 15 minutes for the 5k I haven't met this goal yet as we've never really had a good day for a championship race, but Saturday at the New England Championships looks to be a good day, and it's a very fast course so we'll see what I can do there.
Q: What is your goal for this week's New England meet?
A: "My goal here is to win the title, and to go under 15 minutes for the 5K. As I said, before, it's a fast course, and there will be some incredibly strong competition to push me there."
Q: You won several races handily this season. Is it tough competing when you're not pushed?
A: "I guess that would depend on your definition of competing. A lot of people look at competing as winning. I prefer to look at it in the manner of Steve Prefontaine. If I'm going to win, I want to know that I've done my best. So yes, it's difficult to push myself to fast times, but I always just try to stay focused and not worry about the pain or where my competition is and just get to the finish line as fast as possible."
Q: What do you enjoy most about running?
A: "I love the people that we meet. The type of people you meet at cross country or track events is totally different then you will see in any other sport. At the state meet, I was getting encouraged to reach my sub 16 goal by the coaches and family and teammates of people that I was directly competing against. I'm confident to say that you will not find nicer and more supportive fans at any other high school sports competition."
Q: Do you have any running role models?
A: "I have several running idols, the most prominent would be Steve Prefontaine. I try to live up to the guts and determination that he always showed as a runner. His quote "To give anything less than your best is to sacrifice the gift" are the words I live by. Another two are Haile Gebrselassie, and Kenenisa Bekele. Both are Ethiopian runners. Gebrselassie is a two-time gold medalist and world record holder. Bekele is the two-time defending Olympic 10,000 meter champion and holds World Records now."
Q: Where will you attend college and why did you choose that particular school?
A: "I will be running for Lock Haven University of Pennsylvania next year. I felt very comfortable around the campus and really connected well with Coach Aaron Russell and the entire team at Lock Haven."
Q: What other sports or activities do you enjoy
?
A: "I enjoy all sports, but running is my one and only true passion."
Q: What is your training regimen in and out of the season?
A: "Sorry, but I don't like to discuss what my training is, at least not until after the outdoor track season."
Q: Where do you need to improve?
A: "I definitely need to improve on my kicking speed. In order to really be competitive in college I need to be able to win a race in the last 200 Meters if necessary. I feel that as my speed continues to develop in conjunction with my continued endurance training all of my events will improve drastically."
October, 13, 2011
10/13/11
8:39
PM ET
By
Marc Thaler
| ESPNBoston.com
The Little Green cross country machine didn't take long to hit high gear.

Both the boys' and girls' teams for Manchester Central High, fresh off last year's NHIAA championship campaigns, served notice in the season-opening race Oct. 11 that they're still the squads to beat.
Dylan Lafond led the boys and Elizabeth Conway paced the girls as Central swept the Manchester City Championship at Derryfield Park.
"This race was the first step (in the championship season)," Lafond told the
New Hampshire Union Leader
after posting the lone sub-17-minute time of 16 minutes, 55.6 seconds. "Our goal is to win states, and if we make New Englands, even better."
Central's boys secured the top three finishes on the 3.1-mile course. Sean Brown and Matt Becker finished second and third, respectively, with times of 17:06.5 and 17:11.2.
Those times helped the Little Green record 26 team points. Manchester Memorial High's Adam Vargas (17:18.1) finished fourth. The Crusaders placed second with 40 points, followed by Manchester West High (70) and Trinity High (74).
Central's girls were equally dominant. Elizabeth Conway had a lot to do with it.
Conway crossed the finish line in 18:54.7. Teammate Laurel Gagnon (20:03.8) finished second – exactly 1:09.1 after Conway. Megan Brockett clinched third with a time of 20:48.5.
Kaitlin George-Blay led the Crusaders. Her time of 21:09 was good for fourth place.
Gang Green scored 20 team points to distance itself from Memorial (56), Trinity (68) and West (102).
"It was scorching on those hills," Conway told the
Union Leader
. "Our team is looking pretty strong, though we do have a couple of girls fighting injuries."
The division championships take place Oct. 29. Central certainly seems posed to, yet again, dominate Division I.
April, 20, 2011
4/20/11
11:25
PM ET
By
Gary Hawkins
| ESPNBoston.com
High school players who have been rivals through the years will join one another next season as four schools consolidate into two.

The neighboring communities of Livermore Falls and Jay recently decided to consolidate into one school which will be known as Spruce Mountain High School.
The adjoining towns have played in a long-standing football rivalry that goes back 72 years. The Black and Orange of the Jay Tigers and the green and yellow of the Livermore Falls Andies will be replaced by the black and green of the Spruce Mountain Phoenix.
The schools, which competed for years in the Class C Mountain Valley Conference will move to Class B next season.
Georges Valley and Rockland high schools decided several months ago to merge into one school known as Oceanside. The Black and Orange of the Rockland Tigers and the green and white of the Georges Valley Buccaneers will soon become the dark blue, light blue and white of the Oceanside Mariners.
Students will attend their last three years of high school in Rockland while freshmen classes from both communities will combine at Georges Valley High in Thomaston. Although the schools are only five miles apart, their athletic rivalry generally ended in middle school. Georges Valley has competed in Class C in Western Maine while Rockland has largely competed in Class B in Eastern Maine. With the enrollment at Oceanside expected to be in the upper 600s, the schools will compete in Eastern Maine in the Class B division of the Kennebec Valley Athletic Conference.
January, 14, 2011
1/14/11
2:28
PM ET
By
Gary Hawkins
| ESPNBoston.com
Peter Webb of Stetson has been the State Basketball Commissioner in Maine for the past 21 years. The commission oversees the five officiating boards in the state and is responsible for assigning officials for tournament play. Webb, who officiating high school and college games for 30 years, took time out recently for a few questions.

Q: How has officiating changed since you began?
A: "To a great extent it hasn't changed. Statewide. The big change is an increase in ongoing communication throughout the state, on the administrative and training side. Results statewide are a more consistent application of the rules. Years ago, the biggest difference is the offense was favored, which is not the case today. Today every situation matters the same to both teams."
Q: Assess the state of high school officiating today.
A: "We believe high school officiating in Maine is in very good order. Schoolboy and schoolgirl basketball remains a major focal point from November to early March way beyond many other states. With the scrutiny there is out there, it speaks well of the time and effort that is put into basketball officiating in Maine."
Q: Are there enough officials?
A: "Yes, not an overabundance but an ample supply. Annually each of the five boards of officials sponsor an extensive course each fall for prospective officials. It's followed up by a written exam and a floor test."
Q: How is the training?
A: "Maine has a near 70 year relationship with IAABO, the International Association of Approved Basketball Officials. Videotapes and DVDs are used in addition to observations. Maine has always paid attention to training."
Q: Three man vs. two man — how much better with three?
A: "There's no question it's better with three. I observe about 150 or 160 games a year. And I do observe beyond Maine in another role I'm in. Eighty percent of the games I see need the service of a crew of three. The game changed from an officiating point of view drastically with the three-point arc. It requires a substantially different responsibility for the trail official. The other thing is there was a day when most of the defensive pressure didn't come about until two or three minutes left in the game. Today, typically with boys and girls there's pressure all game long. We've had crews of three completely in our tournaments for at least a dozen years. About 30 percent of the regular season games are crews of three. It isn't a great difference in cost."
Q: Are there any points of emphasis this year?
A: "There are five points of emphasis this year, arrived at by the national federation for state high schools. The points of emphasis for this year, both for the NCAA level and high school, include rules enforcement. Really it means don't bring your personal version of the rules to the game. The second point of emphasis is on sportsmanlike behavior of players and coaches. The third point is pretty much contact, especially on the perimeter. Officials have been encouraged to give that a lot of attention. The fourth point is closely guarded situations. The rule is six feet between the offensive and defensive player. The fifth one is referred to as the principle of verticality. Just because the defender is airborne, it doesn't make him wrong or the offensive player wrong. But they must be vertical. It also applies in rebound play, too."
Q: What's most difficult call or rule to enforce?
A: "The most difficult rule to enforce is traveling, no question. You have to watch the defender and a third person coming to set a screen while also watching the person with the ball. That's what makes traveling difficult. A block-charge is probably the easiest rule for a well trained official."
Q: Have fans or coaches changed in their approach to officials?
A: "Overall I don't think it's changed. I think schools have changed their approach to how they regulate them."
Q: How are officials chosen for the tournament?
A: "There's a long-time system in place. They have to have officiated a minimum of 50 regular-season Heal point games overall and 15 in that season to be eligible to be considered. They must also be fit and injury free. The commissioner has to have seen them officiate. Forms are sent to schools and coaches say who they would recommend. We usually have just about 100 for the three tournament sites. Coach recommendations and regional board recommendations are given consideration. I finalize it.
Q: What makes a good official?
A: "The quality official is someone who probably has a basketball background. From that point on, you truly have to have a passion for officiating. It's obvious you have to have a mastery for the rules and the mechanics. You also have to be high on the composure side. It's a rare official who gets to the varsity level in Maine prior to
five years. Without the commitment and passion you're not going to make it. Basketball is played in a big living room compared to other sports and the emotions are high. The people around the court, it's kind of like Sunday school, you have to forgive them when they complain. The good official gets every bit as much of an adrenaline flow as a ballplayer when he's doing things well."

BOYS BASKETBALL TOP 10
1. Cheverus (7-0) The defending Class A state champions continued to roll through Western Maine with a 51-35 win against a good Thornton club in Saco.

2. Camden Hills (9-0) Keegan Pieri, a 6-foot-6 guard, returned after a month-long suspension to help the Wndjammers win 74-48 at previously unbeaten Winslow.

3. Bangor (8-1) After an opening loss, the Rams have reeled off eight straight, including Tuesday's 49-35 win at Mt. Blue.

4. Hamden (7-2) The Broncos lost a 57-55 squeaker at Mt. Blue then bounced back with a 66-45 win against Messalonskee.

5. Edward Little (8-1) The two-time defending Eastern Maine champs downed Mt. Ararat 63-42 then nipped Brunswick 64-63.

6. Mt. Blue (7-2) The Cougars knocked off Hampden at home 57-55 but faltered a couple of nights later in losing to Bangor, 49-35.

7. Mountain Valley (9-0) The Falcons are going for their second straight unbeaten regular season. They recently faced their toughest test to date in a 52-45 win over Dirigo.

8. Thornton (5-2) After a 5-0 start the Trojans lost 50-48 to Deering then were beaten at home by Cheverus, 51-35.

9. Cape Elizabeth (6-1) After a loss to Yarmouth, the Capers bounced back with wins against Greely and Gray-New Gloucester.

10. Ellsworth (8-0) The Eagles remained unbeaten but face their toughest test of the season this week against unbeaten Mount Desert Island.

MILESTONES

Junior point guard D.J. Johnson of Islesboro scored his 1,000th point recently against Calvary Chapel.

Senior forward Maggie Sabine of Oak Hill topped the 1,000-career point mark with a 21-point performance against Rockland.

GIRLS' BASKETBALL TOP 10
1. McAuley (7-0) The Lions, who routed Scarborough and topped Bonny Eagle, 48-33, await a couple of late-season tests against in-town rival Deering.

2. Cheverus (7-1) The Stags' only blemish is a three-point loss to McAuley. They're coming off a 34-point win against Thornton.

3. Deering (7-0) The Rams had surprisingly close wins against Biddeford (48-37) and Thornton (53-46).

4. Morse (10-0) The Shipbuilders remained unbeaten with a big 59-47 victory against previously unbeaten Edward Little.

5. York (10-0) The defending Class B champions downed Greely 48-22 and have yet to be challenged.

6. Leavitt (10-0) The Hornets kept pace with York in Class B West with a 66-61 statement win against Nokomis.

7. Gorham (6-1) The Rams, whose only loss is to unbeaten Deering, cruised to a big victory against Kennebunk this week.

8. Windham (7-2) The Eagles' only losses tis seaosn are to McAuley and Cheverus. Next up is a key test against Gorham.

9. Edward Little (8-1) After losing to Morse in a battle of unbeatens, the Red Eddies bounced back with wins against Brunswick and Mt. Ararat.

10. Hampden (8-1) After losing a showdown against Edward Little, the Broncos rebounded with wins over Mt. Blue and Messalonskee.

BOYS' HOCKEY TOP 10
1. Lewiston
2. St. Dominic
3. Biddeford
4. Brewer
5. Falmouth
6. Houlton/Hodgdon
7. Waterville
8. Greely
9. Edward Little
10. Cheverus

WRESTLING TOP 10
1. Noble
2. Camden Hills
3. Massabesic
4. Belfast
5. Mountain Valley
6. Lisbon
7. Marshwood
8. Mt. Blue
9. Fryeburg
10. Dirigo
January, 1, 2011
1/01/11
2:27
PM ET
By
Marc Thaler
| ESPNBoston.com
You can't ring in the New Year without a countdown.

In the spirit of the time-honored Dec. 31 tradition – counting down the final 10 ticks of the calendar year – here are the top items this reporter contributed to ESPNBoston.com High Schools since its launch in August 2010:
10. The 6-0-3 sets record. New Hampshire extended its win streak in the annual Shrine Maple Sugar Bowl to a series-record 10 games.
The Granite State's recent high school graduates topped Vermont in the 57th all-star football game, played at Windsor (Vt.) High's MacLeay-Royce Field, in early August, 34-20. The previous record for longest win streak was a nine-gamer set by New Hampshire from 1989-97.
New Hampshire's 14-point win makes it sound like the game was somewhat competitive. Guess again.
Despite committing seven turnovers, including four in the first quarter, and amassing 165 yards on 18 penalties, New Hampshire never trailed. The 2010 team did, however, twice lead by 20 points and ultimately improved the state's all-time record in the series to 42-13-2.
November, 4, 2010
11/04/10
1:11
PM ET
By
Gary Hawkins
| ESPNBoston.com
One upset and another near-upset marked the opening round of the Class A football playoffs last week.

In the Southern Maine Activities Association (SMAA) quarterfinals, top-seeded Cheverus needed to rally for a pair of second-half touchdowns to defeat defending state champion Windham 34-27. The Stags trailed 27-14 before putting three touchdowns on the board, the first a 21 yard pass from Peter Gwilym to Louie DiStasio.
Evan Jendrasko evened the score with a 1-yard run and Gwilym completed the comeback with a scoring pass to Jack Bushey. Gwilym completed a 11 of 18 passes for 176 yards and four touchdowns.
In other SMAA quarterfinal games, fifth-seeded Scarborough knocked off No. 4 Biddeford 48-14 and third-seeded Deering downed No. 5 Thornton Academy 56-18.
In the Pine Tree Conference quarterfinals, No. 8 Brunswick upset No. 1 Lawrence for the second year in a row, beating the Bulldogs 14-13 on their home field. The visiting Dragons trailed 13-0 before rallying for a pair of scores, the second a 34-yard option pass from Keith Kitchens to Donald Benbow.
In other PTC games, second-seeded Bangor shut out No. 7 Edward Little 16-0, fourth-seeded Lewiston topped No. 5 Messalonskee 42-13 and No. 3 Mt. Blue edged No. 6 Cony 20-12. Cony quarterback Luke Duncklee rushed for two touchdowns, giving him 18 for the season. The senior rushed for 1,201 yards this season and also passed for 1,512 yards and eight touchdowns. Over the past two seasons, Duncklee has accounted for 50 touchdowns, rushing and passing, and 4,805 total yards.