Boston High School:

Xavier Peralta
May, 5, 2011
5/05/11
10:32
AM ET
The North-South game of the 33rd Annual Shriners Football Classic kicks off this June 17 at 7 p.m., and for the second year in a row the contest will be held at Gillette Stadium. Below are the rosters for both squads participating in the game:
NORTH
Ryan Adams, Northeast, DE
James Aloisio, Masconoment, OT
Eric Apgar, Acton-Boxborough, RB
Anthony Arcari, Tewksbury, RB
Manny Asprilla, Everett, WR
Derek Bent, Shawsheen, TE
Brian Bourque, Reading, DB
James Brao, Hamilton-Wenham, LB
Cal Carroll, Methuen, QB
Brendan Casey, Boston Latin, DT
Thomas Chub, Masconomet, OL
Mitchell Colley, Arlington, LB
Sean Connolly, Tewksbury, FS
Tyler Coppola, St. John's Prep, RB
Matt Costello, Everett, WR
Anthony Courtouis, Lowell, WR
Jeff Covitz, Reading, OL
Nate Cyr, St. John's Prep, OL
Ned Deane, Andover, LB
Ryan Delisle, St. John's Prep, TE
Jake Giovanucci, Dexter, DE
Mike Grassa, BB&N, DB
Will Guinee, Malden Catholic, OL
Mike Harper, Methuen, LB
Zach Hayes, Chelmsford, S
Justin Hood, Billerica, DE
Brian Hurley, Wilmington
Zach Ingalls, Westford, DB
George Kallas, Beverly, OT
Ben Koopman, Marblehead, C
Chris Malonis, Dracut, WR
Tyllor MacDonald, Lynn English, DB
Tom Meade, Malden Catholic, LB
Trae Musumarra, Central Catholic, LB
Zach Nardone, Bishop Fenwick, DT
Paul Nwokeji, Thayer Academy, OL
John O'Connell, Northeast, DL
Daniel Omorgie, Lynn Classical, DE
Xavier Peralta, Central Catholic, DB
Ony Ramos, Lawrence, DB
Peter Savarese, BB&N, RB
Jordan Shairs, Gloucester, RB
Matt Silva, Dracut, QB
Bradley Skeffington, Salem, DB
Zach Smerlas, Lincoln-Sudbury, DL
Brian Strachan, St. Sebastian's, WR
Dave Summiel, Shawsheen, DT
Chris Unis, Gloucester, DE
Trae Weathers, Revere, RB
Sean Whittaker, Methuen, OL
Peter Yasi, Swampscott, DE

SOUTH
Matt Allen, Pembroke, SE
Ryan Barrett, Holliston, TE
Rob Barrus, Weymouth, LB
Adam Boari, King Philip, OL
Blaise Branch, Cardinal Spellman, RB
Lance Burlingame, New Bedford, OL
Jack Carrier, Cohasset, SE
Dylan Colarusso, Weymouth, RB
Joe Colton, Xaverian, DB
Tom Condon, Whitman-Hanson, OL
David Conroy, Walpole, SE
Nate Crary, Dennis-Yarmouth, DL
Seth DeMello, Somerset, RB
Mike Devin, Bridgewater-Raynham, OL
Mike Driscoll, Rockland, FB
Connor Fraser, Abington, DL
Jake Golden, Hingham, OL
Mitchell Graziano, Silver Lake, DB
William Greene, Oliver Ames, DE
Ernest Guy, Foxborough, OL
Joseph Hak, East Bridgewater, OL
Matt Hallisey, Duxbury, SE
Brian Harrington, Rockland, DE
Jordan Henderson, Barnstable, WR
D.J. Jamieson, West Bridgewater, RB
Randall Jette, Martha's Vineyard, DB
Dan Johnson, North Attleboro, SE
Andrew Kestenbaum, Dartmouth, OL
Matt Lockwood, Seekonk, RB
Albert Louis-Jean, Brockton, SE
Denis Maguire, Duxbury, LB
Jamel Marshall, Mansfield, RB
Zach Martin, Mashpee, RB
Alec May, King Philip, TE
Sean Mayo, Holliston, QB
Paul McCarthy, North Attleboro, DB
Kyle McGuire, Mansfield, OL
Dave McSweeney, Medway, OL
Obum Obukwelu, BC High, OL
Trevon Offley, Brockton, RB
Jon Page, Bourne, RB
Tyler Park, Scituate, QB
Liam Porter, Natick, OL
Ethan Rayner, Holliston, OL
Nate Robitaille, Attleboro, DB
Andrew Siden, Natick, TE
Kevin Stanton, Cardinal Spellman, LB
Jeff Synan, Plymouth North, OL
Chris Tamasi, Xaverian, LB
Ryan Vaughn, Norwell, OL
November, 6, 2010
11/06/10
1:21
AM ET
By
Phil Perry
| ESPNBoston.com
LAWRENCE, Mass. -- Against Central Catholic, Cal Carroll found yet another way to impact a game. And this time, Methuen's dual-threat quarterback wasn't even on the field.

With eight and a half minutes left in the fourth quarter, Central Catholic scored on a two-yard touchdown run by quarterback Matt McDermott and trailed, 17-16. Conventional wisdom would have told Raiders coach Chuck Adamopoulos to tie the game with an extra point. But across the field, on the opposing sideline, Carroll loomed.

"I wanted to go for two because I thought our best chance to win the game was to win in regulation," Adamopoulos said. "I didn't want to have to defend Carroll in overtime."

The Raiders' two-point try failed and left them trying to catch up for the remainder of a wild fourth quarter that ended with Methuen taking its eighth straight win, 24-22.

"It's awesome," said Carroll. "Methuen hasn't been 8-0 in the [Merrimack Valley Conference] in a long time…To be on top feels great."

After Central Catholic's failed conversion, Carroll made the Raiders' comeback climb even tougher. He capped a 67-yard drive by hitting Bobby Cole on a 35-yard touchdown pass to make the score 24-16.

Down eight, Central Catholic had one last scoring drive left in them. The second half of the Raiders' two-headed quarterback attack, Ben Onett (5-11, 65 yards), found Xavier Peralta (4 rec., 86 yards) in the end zone for a 23-yard score with 1:55 left.

Facing a two-point deficit, Adamopoulos was forced to go for two points again. The second try was similarly unsuccessful as the snap sailed over the head of running back Santino Brancato, forcing Brancato (10 carries, 45 yards) to fall on the ball for a loss.

Cole recovered the ensuing Central Catholic onside kick attempt to seal the Methuen victory.

It was a dramatic end to a firework-filled fourth quarter dominated by Carroll. He finished the game with a touchdown and 123 yards rushing on 28 carries, and 6-15 passing for 101 yards and two touchdowns. Both his touchdown passes came in the fourth quarter, and came with the Rangers' leading receiver, Raudy Minaya, out of the game. Minaya left with a right knee injury suffered on a punt return late in the second quarter. He did not return.

Before Carroll's touchdown pass to Cole, he started the fourth quarter by rolling out to his right to find Corey Shepherd for a 42-yard score. Shepherd was one of four Rangers receivers to catch a pass.

"Down the stretch everyone's taking away our run," said Methuen coach Patrick Graham, who also watched his running back Ryan Savastano rush for 123 yards on 16 carries. "So we're going to have to throw and [Carroll] has done a good job."

Methuen went into the half with a 10-0 lead after a Carroll one-yard touchdown plunge and an Eric Lacroix 29-yard field goal, but Central Catholic got those points back in the third quarter thanks to Cam Walsh.

Walsh kicked a 30-yard field goal to bring the Raiders within a touchdown of Methuen. Just over three minutes later, on Central Catholic's next drive, Walsh (4 carries, 87 yards) took a handoff, burst through the line of scrimmage and sprinted 78 yards for the game-tying score.

Methuen answered with Shepherd's touchdown catch and Central Catholic was left to catch up from there after McDermott (5-10, 58 yards passing) scored from two yards out and the following two-point try failed.

"It's big," said Graham of the win. "There's a lot of Methuen kids [on Central Catholic]. They grew up with those kids. They grew up playing with them in Pop Warner and other sports. When you lose to someone you don't know, it doesn't hurt as bad as when you lose to someone you do know."

Other notes:

- Methuen called up sophomore junior varsity center Dicky Aziz to play in place of starter Matt Whittaker, who missed the game with an injury. He fit into the Rangers zone blocking scheme just fine, helping to pave the way for 268 yards rushing. He also was on point with his shotgun snaps, as the Rangers' offense almost exclusively uses the shotgun.

"[Aziz] did an excellent job," said Carroll. "His snaps were all on target, and most of all he did a great job double teaming with our guards. That's great to see we can trust him."

- Methuen was unsure if Minaya would miss future games because of his injury. He was on crutches on the sidelines for the entire second half.

- This was Methuen's third straight win over Central Catholic.

- Central Catholic continued to platoon quarterbacks as McDermott and Onett took the snaps on every other series.

- The national anthem was performed by six-year-old Olivia DiFiore, daughter of Raiders assistant coach Ernie DiFiore.


METHUEN 24, CENTRAL CATHOLIC 22

MET (8-1) 0 10 0 14 --- 24
CEN (6-3) 0 0 10 12 –-- 22

Second quarter
M – Lacroix 29 kick
M – Carroll 1 run (Lacroix kick)

Third quarter
C – Walsh 30 kick
C – Walsh 78 run (Walsh kick)

Fourth quarter
M – Carroll 42 pass to Shepard (Lacroix kick)
C – McDermott 2 run (run failed)
M – Carroll 35 pass to Cole (Lacroix kick)
C – Onett 23 pass to Peralta (run failed)
September, 24, 2010
9/24/10
11:42
PM ET
By
Neil Carroll
| ESPNBoston.com
DRACUT, Mass. -- It was a special victory for head coach Jason Houston of the Dracut Middies on Friday night.

Dracut not only beat league-rival No. 21 Central Catholic, 27-14, but the team also garnered its first win of the season, and in doing so -- earned Houston the first win of his career.

The Middies cruised in the victory, going up 27-0 until the Raiders tacked on 14 points to end the game.

"I wouldn't have it any other way," said Houston about his inaugural victory at the helm for the Middies. "It's Central Catholic -- a league opponent -- and this is the second time we've beat them in 22 years. It's nice to know we can come in and beat a team that has really had our number over the years."

Houston did a solid job coaching a young defense that is missing three linebackers due to injury. The defense set the tone on the first drive when junior A.J. Proia intercepted Central Catholic's Matt McDermott, and the Dracut offense capitalized and never looked back.

"It feels a lot better than I thought it would," Houston said. "This is a lot better than I really thought it would be. The guys gave me the game ball for my first career victory, and it doesn't get any better than to win your first game against a league opponent."

Dracut's Matt Silva was impressive managing the game. The quarterback completed 12 of 17 passes for 126 yards with one touchdown and an interception.

"The seniors couldn't start off 0-3," Silva said about the group's determination. "We're too good of a program…we had to get it done tonight and we were determined that we were going to win."

Silva's 27-yard touchdown strike was to his favorite target, Chris Malonis. Malonis finished the game with six catches for 59 yards and one touchdown.

"Silva always gives it his all," Malonis said . "He's the one who carries us every single game and this one goes to him and the line."

Keith Hamel and Kevin Bishop were especially efficient with the ball for Dracut. Hamel had two touchdowns of fewer than three yards and Bishop had a 1-yard score to begin the game.

As the team has done all-season, Central Catholic substituted quarterbacks each series. McDermott started the game for the Raiders, but Ben Onett rotated in.

McDermott hit Xavier Peralta over the middle in the fourth quarter to give Central Catholic its second touchdown. Running back Trae Musumarra scored the first touchdown for the Raiders on a 6-yard run.

DRACUT 27, CENTRAL CATHOLIC 14
D - 7 7 7 6 -- 27
CC - 0 0 0 14 -- 14

1st quarter:
D - Kevin Bishop 1 run (Matt Silva kick)

2nd quarter:
D - Keith Hamel 3 run (Silva kick)

3rd quater:
D - Keith Hamel 3 run (Silva kick)

4th quarter:
D - Chris Malonis 27 catch from Silva (kick failed)
C - Trae Musumarra 6 run (Cam Walsh kick)
C - Xavier Peralta 27 catch from Matt McDermott (Walsh kick)
September, 20, 2010
9/20/10
11:27
AM ET
Now that the dust has settled on Week 2 of the MIAA football schedule, here's what we learned from this weekend's action:
The Atlantic Coast League race is going to be a lot closer than we thought
No. 15 Falmouth and defending Super Bowl champ Marshfield were the figurative favorites in the ACL headed into the 2010 season, but the picture just got a whole lot more crowded.
After a surprise upset of Methuen in Week One, Plymouth North almost pulled off another shocker last Friday against No. 24 Duxbury. Matt Walsh – he of the heroic 77-yard winning touchdown in week one – hauled in a 5-yard pass from Cody Merritt with no time left on the clock, to make it 14-12 Duxbury. The ensuing two-point conversion pass was intercepted and returned 100 yards for the 16-12 final, but a point has been firmly made in year one of the Dwayne Follette era.
Meanwhile, Dennis-Yarmouth – fresh off a 41-38 upset of Barnstable – is averaging 42 points per game, led by junior dual-threat quarterback Matt Montalto. The Dolphins run the spread and like to throw the ball, but a closer look at their program shows they're not some pass-happy outfit. Led by the hulking 6-foot-5, 319-pound Nate Crary at left tackle, the Dolphins are physical at the point of attack, and maintain a nice balance on their zone read behind running backs like Joe Furness and Damion Johnson.
"If you ever needed a big play in any sport, he's the one who's going to do it," D-Y head coach Paul Funk said of Montalto, who also plays hockey and baseball at the school. "That's him, that's his makeup. I'd take that kid anywhere."
As for toughness?
"(I'd rate him) at the top," Funk said. "That's what makes him so great. When your quarterback's as tough as everybody else, everybody else tows the line."
Burlington can score in a hurry
Down 28-14 to Arlington in the fourth quarter, the Red Devils bounced back in a hurry, scoring a whopping 29 points over the final few minutes of the contest to take a 43-28 win going away. Freshman Marcus Odiah hauled in a 25-yard Greg Sheridan pass, then recovered a fumble moments later and scored from three yards out. He then ran in the two-point conversion for a 29-28 lead with 1:15 left.
Seconds later, Kyle Shields intercepted a pass, and Odiah ran it in from 40 yards out to make it 36-28. Anthony Cruz then put the clamps on the win with a 52-yard pick-six on an Arlington Hail Mary heave.
One thing is for certain as Middlesex League play begins next week: The Red Devils are a wild card.
Dan Light is a tough guy to wrap up
Last season, we saw glimpses of Dan Light's ability as a running quarterback for St. John's (Shrewsbury), when he took direct snaps lined up next to quarterback Griffin Murphy as the Pioneers' ball-carrier in Wildcat formations. And now that Light, a senior, has made the full transition from tight end to signal-caller, we're seeing that in full force.
With the No. 4 Pioneers' 37-8 defeat of Longmeadow yesterday, the 6-foot-4, 235-pound lefty has accumulated over 600 yards of offense and 10 touchdowns through two games. On the ground, he is averaging 11.1 yards a carry, and has hooked up with Cal-bound receiver Richard Rodgers for four touchdowns.
At times, Light has shown Tebow-esque abilities carrying the ball. But it's the vision he's developed over the last few weeks that has made him that much more difficult to stop.
"If I looked at him over the last three weeks, he has become a very smart quarterback," St. John's head coach John Andreoli said of Light. "Our offense is really designed around looking at the defense and taking advantage of what the defense gives you, and I see Danny taking more ownership of those calls.
"He's been able to deliver the ball on the long balls, but on the short balls, you know, you see his feet moving around in the pocket and he's very comfortable. And all of that, when you pull people out of the box and give him the ability to run the ball, he's a very dangerous player. That's really the point where we want to get."
Tewksbury's visit to Methuen on Oct. 29 will go a long way to deciding the MVC Small crown
With Lawrence's surprise upset of Lynn English and Tewksbury's surgical handling of Lincoln-Sudbury on opening weekend, the two teams' meeting in Tewksbury last Saturday had the potential for greatness. The Redmen, however, wanted none of that, going up 28-6 on Lawrence at the half en route to an easy 35-6 win.
Sean Connolly led the way for Tewskbury with 101 yards on the ground and 105 through the air, totaling two scores, but watch out for tailback Anthony Arcari. He may be one of the more underrated speedsters in the league.
"The whole team likes to play as a family," Arcari told ESPNBoston's Neil Carroll. "We talked about that all year and on that one drive the offensive line did their job, the quarterback did his job, we ran the ball well and it demonstrated all that Tewksbury can do."
Meanwhile over in Methuen, the two-man game of Cal Carroll and Raudy Minaya that works so well during basketball season has finally broken out again on the gridiron. Carroll (11 of 15, 146 yards) easily dispatched much-hyped Malden on Friday night with a strong second half, finishing with five scores through the air – including three to his good buddy – and another on the ground.
This was the Methuen that so many coaches had raved about during preseason.
"We have some of the toughest lineman around," Carroll told ESPNBoston correspondent Phil Perry. "Steve DiZazzo, Sean Whittaker, they do all the dirty work inside. They watch so much film and work so hard, my success is because of what they can do."
This week is a brutal one for the MVC Small's front runners, with Methuen traveling to Billerica, Dracut hosting Central Catholic and Tewksbury visiting Andover. But based on the early returns, we suggest circling October 29 on your calendars.
Not the Raiders of old
Central Catholic proved more than just the point that they could hang with St. John's Prep in this weekend's game. The Raiders offensive identity has been altered from years past to incorporate the passing game more.
Although head coach Chuck Adamopoulos said in the preseason he hadn't seen a definitive No. 1 quaterback emerge, it looks as though Central Catholic has some able bodies at the position. Transfer student Ben Onett was impressive and accurate in his Massachusetts debut against Marlborough a week ago.
But it was junior Matt McDermott who seemed to take hold of the Raiders' offense this week at St. John's Prep. Adamopoulos again split time between his quarterbacks on Saturday, but McDermott looked as though he might have a hand up on the competition. He was on the field for each of the Raiders' scoring drives and seems to have developed a good rapport with his top target, receiver Xavier Peralta.
It was also telling that McDermott was on the field for the Central Catholic's final drive in the fourth quarter with the game on the line. The Raiders' chance for a comeback was thwarted by an interception in the game's waning moments, but it bears watching how the quarterback situation in Lawrence develops in the coming weeks.
No. 1 Brockton and No. 2 Xaverian have been flawless so far, setting up Saturday's showdown to be one for … well, really, do we need to explain?
Saturday. 1 p.m. Clapboardtree Street, Westwood.
No. 1 versus No. 2.
Public vs. Private.
Need we say more?
HEAD OF THE CLASS, WEEK 2
Taking a look at the weekend's top performers:
Isaiah Jones, Mahar: Tallied 311 yards of total offense and five touchdowns during just the first half in a 46-14 win over Dean Tech. Jones had two rushing scores, two punt returns for a touchdown and an interception return. Mahar ran just 4 plays in first half and was up 46-8 at half.
Ryan Vultaggio, Groton-Dunstable: Vultaggio picked up 279 yards on the ground on just 12 carries to go along with four touchdowns in a 52-34 over West Boylston.
Nick LaSpada, Billerica: The junior quarterback was stellar once again, completing 15 of 23 pass attempts for 318 yards and one touchdown against Woburn. LaSpada also ran for three touchdowns.
Cal Carroll, Methuen: See Phil Perry's story.
Charlie Blackett, Lexington: The senior defensive tackle set up camp in Concord-Carlisle's backfield to the tune of five sacks and was in on a countless number of other plays.
Dan Light, St. John's (S): The quarterback was superb with 296 yards of offense and five touchdowns in a 37-8 win over Western Mass. power Longmeadow.
John Pieterse, Worcester Academy: In his third career start, Pieterse was 16 of 18 for 322 yards and five touchdowns in a 41-14 victory over Blair Academy.
August, 31, 2010
8/31/10
11:50
PM ET
LAWRENCE, Mass. -- In years prior, No. 22 Central Catholic found itself the victim of the critical turnover -- the fumble with a goal-to-go, a costly interception to swing momentum. That translated to a 5-6 record in both 2007 and '08.
In 2009, things just seemed to come around.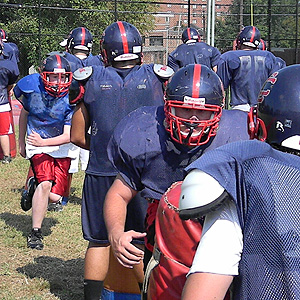 Scott Barboza/ESPNBoston.comCentral Catholic hopes to build on its turnaround season of 2009.
"I've found there's a very fine line between 5-6 and 8-3," Raiders head coach Chuck Adamopoulos said. "Last year, it was a group that just made plays. We had more than a couple times we made a play and came up with a big turnover at a big time in the game.
"In those years before, when we went 5-6, quite frankly, we weren't the team that was doing that."
A collection of tiny moments, small actions stitched together form the fabric of a season. And the Raiders were finally able to take hold of those last year. Such as when Cam Walsh's clutch field goal lifted the then 0-1 Raiders to a dramatic 15-14 win over St. John's Prep in Week 2. From there, Central Catholic ran off a string of six straight victories, putting them in contention for the Merrimack Valley Conference title.
Even after two straight losses (in a squeaker to Methuen and a drubbing administered by Billerica) to dash their MVC hopes, the Raiders rallied to snap a three-year skid against rival Andover on Thanksgiving morning.
It's brought a sense of optimism.
"I'd like for us to finish with a winning record, obviously, first of all," said senior running back and linebacker Trae Musumarra. "But I'd like to think that we can win it all. I'm feeling good about this season, real good. We're young, but I think we're going to make our mark."
If the Raiders are to do so, Musumarra will have to be a big contributor to the cause.
"He's explosive," Adamopoulos said, "he's a good player and we need him to have a big season for us to do well as a team."
It's a heavy weight to bear for the 6-foot, 190-pounder.
Musumarra, who has been clocked running a 4.5 in the 40, tallied six touchdowns on offense while collecting seven sacks playing as an outside linebacker last year. But there have been plenty of changes. While the Raiders will continue with their spread attack, Adamopoulos is going to a 4-3 instead of their customary 3-4 because of their losses at linebacker.
"I think we've had more learning to do this year because we're moving to a 4-3," Musumarra said. "Now, it's our job to pick up the leadership and make sure the younger players are getting it. With a lot of younger kids in there, there's a lot of learning to do."
Yet, for all the formations to remember and coverage schemes to study, Central Catholic's success will once again hinge on performance — making the big play in the biggest moments.
Just like Walsh's kick against Prep last year.
"Confidence is really what you need to kick the ball well," said the senior captain.
"It's more of a mind game."
The Raiders will have that covered.
CENTRAL CATHOLIC AT A GLANCE
2009 record:
8-3 ( Merrimack Valley)
Coach:
Chuck Adamopoulos (14th year, 90-50)
Players to watch:
Trae Musumarra, Sr., RB/LB, 6-0, 190 lbs.; Jaycob Morales, Sr., TE/LB, 6-0, 180 lbs.; Ryan Sullivan, Sr., WR/DB, 5-10, 150 lbs.; Cam Walsh, Sr., RB/DB/K, 5-10, 175 lbs.; Brendan Hopkinson, Sr., OL/DL, 6-1, 240 lbs.; Henry Rodriguez, Jr., WR/DB, 5-11, 175 lbs.
Strengths:
Depth at wide receiver and secondary, team speed.
Weaknesses:
Depth and experience at linebacker, experience on offensive and defensive lines.
Outlook:
The biggest transition the Raiders will face will be on defense with Adamopoulos' move from a 3-4 to a 4-3. The linebacker corps is also in flux, but will be anchored by strong-side linebacker Jaycob Morales. The secondary is the strength of the group with Zach Bardwell and Walsh holding down the corner spots. On offense, Adamopoulos' outlook is almost giddy with excitement. "This is probably about as talented a group of receivers we've had in a very long time." There are plenty of weapons between Xavier Peralta, Henry Rodriguez and Ryan Sullivan. The question is: Who will throw them the ball? Right now, it's a two-man race between Bardwell and junior Matt McDermott. The line is a little lacking in the experience department, but senior center Brendan Hopkinson provides stability. At the tackles, juniors Ryan Barry and Christian Nunez will give the Raiders capable bookends for the next couple years.