Boston High School:

X's and O's
March, 5, 2012
3/05/12
12:48
PM ET
By
Lucas Shapiro
| ESPNBoston.com
He leads the last remaining undefeated team in the state. He fills up the box score with lines resembling those of LeBron James or Rajon Rondo on a regular basis. He stands at 5-foot-7. Who could this be?

He is none other than Wareham's Darien Fernandez, arguably the MIAA's biggest surprise of the season.

Fernandez has had an unbelievably productive year for Wareham, a team that began the season unranked in many polls, and has been proving those who slept on him wrong for doing so. Wednesday night at Taunton High, the Vikings face Cardinal Spellman in a Division 3 South semifinal. When these two teams met back in December, Fernandez went off for 36 points in a Wareham victory -- could a repeat performance be on tap?

For those who have not seen him, here is a breakdown of his game:

This footage from Wareham's victory over Old Rochester Regional and is courtesy of Wareham assistant coach Colbey Santos. In this game, Fernandez had a near quadruple-double with 36 points, 11 assists, 10 rebounds, and eight steals.

Shot Making

Fernandez's best skill is his ability to shoot the ball. He is at his best off of the dribble, but also shows the ability to catch-and-shoot almost equally well. He has deep range on his shot and is definitely not afraid to pull the trigger.



As seen from the clips, Fernandez has the ability to make some ridiculous shots. This confidence allows Fernandez to make shots that a video game player would envy. His ability to change speeds also helps his off-the-dribble shooting. In the last two clips, Fernandez uses a quick crossover multiple times to get enough space to put it in the basket.

Fernandez's shooting is particularly interesting because he does not shoot with traditional form. Sometimes those kinds of players are the best shooters. Watch his free-throw form:



The way Fernandez flicks his wrist is a bit unconventional, but it is hard to complain with his results.

Nose For the Ball

Having the ability to steal and rebound the ball the way Fernandez does is an invaluable to a team. He helps his team gain extra possessions because of his nose for the ball. Statistics show that a team with the most possessions typically wins a game and this is most likely the reason why Wareham has been so successful.



All undersized guards should try to develop a nose for the ball like Fernandez. Being undersized is undoubtedly a disadvantage but if you have a motor and desire to get the ball like Fernandez, size will not matter.

On-point Passing

Fernandez does not only do a bulk of the scoring for his team, but he commands the offense and gets good look for his teammates. He is not flashy and makes the easy pass. That is the sign of a mature player.

Forcing the Issue

Fernandez may seem like a perfect player and this performace was nearly perfect, but there are definitely things he needs to work on. The main thing would be better decision making, which will come with more experience.



In these clips, Fernandez forces the issue a bit. Since he is the go-to player for Wareham, some of these mistakes or unreasonable shots were excusable. Think about it like Kobe Bryant for the Lakers. Kobe is allowed to take wild shots because he is their leader and main scoring option. The same goes for Fernandez.

Conclusion

Fernandez is an aggressive scoring guard with an excellent feel for the game. He uses his quickness to break down defenders and forces defenses to guard him from everywhere on the court with his unlimited range. Obviously, this one game was simply a sample of his whole season (and undoubtedly one of his best performances), but there's no denying that Fernandez is an up-and-comer that MIAA fans should keep their eye on.
February, 11, 2012
2/11/12
7:56
PM ET
By
Lucas Shapiro
| ESPNBoston.com
No. 6 Brighton beat No. 9 New Mission in convincing fashion last Wednesday thanks to their 1-2-1-1 diamond. Their press caused New Mission to rush their offense and force turnovers, which ultimately shifted the momentum of the game in Brighton's favor.

Brighton head coach Hugh Coleman made the executive decision to stay in the press for the majority of the game not to run up the score, but because he knew it would keep his team playing hard. He took advantage of the fact that he has numerous quick players on his team and made sure he was using them to their strengths.

Here is a breakdown of how it worked:

What is it?

Brighton's 1-2-1-1 press forces players to get trapped along the sidelines. It is a press that cuts off the middle and leaves the opposite side of the court's sidelines open, which is often times a tough and long pass for the guards. When it is passed to the opposite sidelines, however, there are always three Brighton defenders always back on defense.

Forcing Turnovers

The main goal of any type of pressure is usually to force turnovers. Brighton's press only directly forced three turnovers in this game.



Only one of those plays led to a Brighton basket. This may prompt one to ask, how was Brighton's press so effective?

Rushed Offense

The way that their press hurt New Mission was not so much the idea of forcing turnovers. Instead, it made New Mission rush things on offense.



As you can see from each clip, New Mission had a false perception of being on a fast break whenever they broke the press. In three out of the four clips (the first, second, and last clip), New Mission took a shot that they thought was a good shot because they were on a "fast break". If you look closely in these clips, the Brighton players back on defense outnumber the New Mission players on offense.

The confusion and bad decision making allowed for Brighton to get in transition on the other end. It also helped that Brighton's offense was running smoothly. The press served as an extra punch after any Brighton scored basket.

How To Break It

New Mission did not do a bad job of breaking the press. The main man to credit would be DaShawn Fennell. He did a great job of attacking at the right time. He was smart with the ball and took advantage of any openings he found.



The key to breaking this press (or any press) is patience and poise. Players have to take openings when they see them. For example, on the last clip, Brighton's players did not get back on defense. Leroy Hamilton saw this and instantly attacked the basket. The open three-pointer is intriguing, but not a good shot in transition, especially since Brighton usually has more people back on defense in the paint. Players must also attack it, draw double teams, and find the open players.

This takes toughness and intelligence, two of the attributes that separate the good basketball players from the not so good ones.
February, 9, 2012
2/09/12
12:08
AM ET
By
Lucas Shapiro
| ESPNBoston.com
February is that time of the season when you find out what teams are truly made out of. In Sunday's matchup between Brockton and Newton North, both teams showed why they could each be dangerous teams when March comes around.

Brockton won the contest, 71-65, in overtime. After digesting the game, here are some observations about both of these teams, who will both likely enter the Division 1 South Sectional as favorites.

Brockton's Defense

Defense is arguably Brockton's best asset. Jahleel Moise's jumping ability and Sayvonn Houston's size make it nearly impossible for players to drive in the lane. This was especially true at the start of their game against Newton North. Brockton's defense forced Newton North to be a jump shooting team and since the Tigers' shots were not falling, they took an early lead.



Defense pushes teams far in the playoffs. However, basketball is played on two ends of the floor. While Brockton's defense is superb, there offense leaves a lot to be desired.

Brockton's Offense



After watching this clip, one would think there is nothing wrong with Brockton's offense. It is not so much that they are a bad team offensively. Obviously, they were good offensively in this game because they won. It is more about how they are scoring.

They do a wonderful job of scoring in the paint, getting put backs, and burning defenders off of isolation plays. The only issue: that is the only way they score. There are never any plays run for a basket or jump shots made for that matter.

Newton North is not a big team or an athletic team, so Brockton can get away with this type of scoring. When they play a more athletic or bigger team, this type of offense simply will not work in March.

X-Factor: Jaylen Blakely

In March, it is critical to have players who can create off of the dribble. Jaylen Blakely is that type of player.



Blakely does a great job of getting looks for his big man and making big shots. That being said, Blakely's biggest weakness is his decision making.



Blakely turns the ball over at a high rate and takes bad shots often. If he can focus on playing under control, he has the capability of pushing Brockton far in the playoffs.

Newton North Offense

Newton North always has talented go-to options, which is why they are always a dangerous team in March. They might not have the Anthony Gurley or Greg Kelley on their roster this year, but the duo of Mike Thorpe and Luke Westman are not too shabby. They are two players who compliment each other well and play smart all of the time.



The Tigers rely on those two to do most of their scoring along with many of their sweet shooting role players. When their shots were not falling, Newton North struggled. The key for them will be for role players to knock down open shots when they get them.

X-Factor: Tommy Mobley

In the third quarter, one role player did exactly what Newton North needs in order for their offense to be effective. Freshman Tommy Mobley knocked down three outside shots. This was the point in the game where Newton North came back and made it a close game.



Mobley has an unusual yet highly effective shot. He might only be a freshman, but he does a good job of moving without the ball and knocking down tough shots. This type of role player is key, especially when fighting while down.

The only issue is that he is a freshman and makes the mistakes that all freshmen make. To rely on a young player is always a risky proposition for teams looking to make a deep run in March.

Conclusion

Brockton and Newton North are dangerous teams for very different reasons. The Boxers do a great job of beating teams with their size and athleticism. They are great on defense and make teams have to play their tough brand of basketball. The key for them will to force teams to turnover the ball and score in transition.

As for Newton North, they don't have the size or talent of past years but they have a team of players that play well together. In this game, they finally showed their main flaw: defense. They are not a bad defensive team, but when they play bigger or more athletic teams, they run into serious problems.

Neither team is perfect, but both have assets that can push them far in March.
January, 30, 2012
1/30/12
9:40
AM ET
By
Lucas Shapiro
| ESPNBoston.com
The MIAA has few players that play above the rim like New Mission's Isshiah Coleman. Jumping ability is one of those gifts that cannot be taught, which is why Coleman is such a fun player to watch. He is like the MIAA version of Ben Wallace. The 6-foot-4 junior forward can rebound, block shots, and throw down monster dunks.

Here is a breakdown of his game against Boston English last week:

(video courtesy of New Mission head coach Cory McCarthy)

Energy Plays

Coleman's biggest strength is rebounding and blocking shots. His jumping ability allows him to grab rebounds that are not even in his area. For opposing big men, he is tough to box out because of his ferocity on the boards.



As you can see from these clips, all that Coleman needs to do is jump up and the rebound is his. The same goes for his shot-blocking ability. Most players that go into the paint against Coleman should take caution.



This is the type of player that every team needs. He is an undersized big man who brings energy. Coleman has the raw tools to be a difference maker in arguably the two most important aspects of the game -- defense and rebounding.

Scoring

Rather than emphasizing what Coleman isn't (a skilled player), I would like to point out his strengths on the offensive end. He is not going to blow by anyone, or knock down three-pointers. He is strictly a threat near the basket. This is an underrated part of his game, too. In most games that I have seen Coleman has not been too assertive on offense, but he has shown glimpses of promise.



What is most impressive about all of these clips is Coleman's comfort in the post. Obviously nobody on Boston English is taller or bigger than him, but Coleman did not look robotic at all. He never hesitated. He just made his move and in all of these cases, his decisions ended up working out. The fourth and sixth clips are perfect examples of the confidence.

At this point Coleman has a tendency to only use his left hand, which is something that defenses at the next level will catch onto. He also needs to develop more of a repertoire in his post game because dunking on opponents will not be as easy either.

Timing and Defense

While Coleman might seem like a perfect energy forward, that is far from the case. In fact, calling him an energy player might be too complimentary. A lot of the times on defense, Coleman plays with his legs straight up and lackadaisically. He also suffers from bad decision-making and timing.



In the first and fourth clips, Coleman just makes bad fouls because he jumped when he should not have. In the sixth clip, Coleman simply jumped and let his man score. In the second, third, and fifth clips, Coleman lets his man go by him. He had the right idea of taking the charge, but that is a part of his game he needs to work on.

When Coleman is locked in, he can make a difference. But sometimes, this is not the case.

Ball Control

With great jumping ability comes great responsibility. Coleman tends to get a little wild with the ball in his hands. These three clips show Coleman turning the ball over.



Big men have to be extra careful with the ball in their hands. Since they do not get the ball as much as guards, they have to prove they won't turn it over. In the first two clips, Coleman turns it over by trying to do too much. In the last clip, Coleman does the same thing but in the form of a missed dunk. Had this game been a tight game and Coleman missed the dunk, New Mission would have been in deep trouble. The best option when near the rim is to lay it in to ensure an easy basket.

Conclusion

Isshiah Coleman has the talent and raw tools to be a star in the MIAA. On many nights, he has (and will) put up big numbers. However, if he wants to push New Mission to the next level, he will need to play harder and smarter.


January, 22, 2012
1/22/12
10:08
AM ET
By
Lucas Shapiro
| ESPNBoston.com
Alan Stein, the well-known strength and conditioning coach at national powerhouse DeMatha Catholic (Md.), posted on his
Stronger Team Blog
recently about how specialists are important to all basketball teams. In the blog Stein said, "A player that makes a team great is more valuable than a great player."
This quote brought one player in the New England area to my mind: Joe Bramanti.
After a great career at Andover High School -- which included an ESPNBoston All-State selection, last March -- Bramanti is in a post-graduate year at Brewster Academy, where he serves as the team's defensive specialist. Following the Bobcats' thrilling win over Tilton (N.H.) at the Hoophall Classic last weekend, Brewster head coach Jason Smith told ESPN Boston's Brendan Hall,
"We're not undefeated without Joe Bramanti."
We decided that it would be important to breakdown the value of Bramanti by using film, because sometimes players of his caliber do not stick out or get noticed like a big-time scorer or shot-blocker would.
Setting the Tone
Bramanti had a tall task going into the battle against the Tilton. He was forced to guard a player five inches taller than him by the name of Georges Niang, a 6-foot-7 Methuen native who is ranked in the ESPNU 100 and signed with Iowa State for next season. Bramanti, a 6-foot-2 shooting guard, set the tone early to make sure Niang knew that he would have to work for every basket on the night.
On this play (one of the first plays of the game), Bramanti is not too physical with Niang, but lets him try to get in his element instead. He banged him up a little before he gets the ball back the second time, which prompted Niang to push back. Bramanti dodges the push, and Niang ended up traveling with the ball. This set the tone for the rest of the game.
'Pest' Defense
Bramanti is what I like to call a "pest defender". He does everything in his power to make life difficult for whomever he's guarding. For those that are fervent pick-up basketball players, he is that player that does not look like much but gives you fits when the ball is in your team's hands. He just finds a way to be as annoying as possible on defense.
In the first clip Niang got away with a basket, but Bramanti did what he could to take the ball away. In the second clip Bramanti battles with Niang on the block to establish position. Once Niang finally got the ball, he got frustrated and took it strong to the hoop where Jakarr Sampson was waiting to take a charge.
The third and fourth clips are arguably Bramanti's most impressive defensive possessions. In the third clip, Bramanti gets on the floor to prevent Niang from getting an easy lay-up. In the fourth clip, he denies Niang from getting the ball, which forces Nerlens Noel to pass to Wayne Selden on the perimeter with limited time left on the shot clock.
The last three clips are of Bramanti preventing a potential fast break dunk (although Mitch McGary ends up goaltending on Selden), and Bramanti being a pest guarding Dominique Bull.
Bramanti did not guard Niang for the entire game, but there is something to say for him only scoring a few field goals while Bramanti was on the floor. After all, Niang usually puts up over 20 points per game and only scored nine in this contest.
Fearlessness
It is pretty clear that on the defensive end, Bramanti is fearless. He did not get to show it in this game, but we know that Bramanti is just as fearless on the other end of the floor.
There was one play where Bramanti put this fearlessness on display.
In this clip Bramanti scores a reverse lay-up on two of the best shot-blockers in New England in Noel and Goodluck Okonoboh. This is the perfect "read and react" play too. As Semaj Christon penetrates, Bramanti cuts under the hoop at the perfect angle. The fearlessness factor comes in when Bramanti scores on the two big men without any hesitation.
Conclusion
Joe Bramanti is not a star. He is the definition of a specialist. He's an average athlete and offensive talent, but he can guard anyone regardless of their size.
I'll make it simple: if Bramanti can shut down Georges Niang, he can do the same thing to a majority of Division 1 basketball players. He deserves to be considered a Division 1 player, too. All college basketball teams harp on defense, so why hasn't Bramanti gotten the looks he deserves?
January, 19, 2012
1/19/12
11:30
AM ET
By
Lucas Shapiro
| ESPNBoston.com
Few elite players in the nation have had to wait their turn for the spotlight like St. Mark's senior center Kaleb Tarczewski. The New Hampshire-bred 7-footer has played alongside the likes of the Murphy brothers (Erik and Alex), Nate Lubick, and Melsahn Basabe. Obviously, the Arizona-bound big man has not flown under the radar, as ESPNU currently ranks him as the No. 6 overall prospect in the class of 2012.

This past weekend at the HoopHall Classic, at Springfield College's Blake Arena, Tarczewski showed off a much-improved all-around game against Friends Central from the Philadelphia area. Friends Central features another one of the top prospects in 2012 by the name of Amile Jefferson.

Here are some video clips and observations about Tarczewski's improvement:

Passing

Scouts love Tarczewski because he represents something that the game of basketball is lacking at the moment. He is a true center. He does not try to take outside shots or put the ball on the floor. Tarczewski focuses on scoring near the basket and protecting it on defense.

At the same time, Tarczewski has developed his court vision and passing skills nicely.



Obviously, players with Tarczewski's size demand a lot of attention by the defense. Some will know how to handle it, and some will not. Tarczewski has mastered the art of drawing the defense and finding an open teammate. Out of all of these assists (or potential assists), the second-to-last clip is the most impressive. This one truly looked like Tarczewski was going to take it to the basket. In fact, if you look at his eyes, it is pretty unbelievable that he even saw Eli Lubick in the corner.

Having a big man with court vision is a valuable asset to any team, and this is a great sign for Tarczewski's development.

Post Moves

In the past, some of Tarczewski's critics said that his post moves looked a bit robotic and ineffective. That has certainly changed. Tarczewski looks a lot more comfortable with the ball in his hands and has developed great footwork in the post. Here are some of his nice moves from the game:



Each clip is self-explanatory: Tarczewski finds a way to get it done. He uses his big body and athleticism to his advantage. Even though he was the biggest player on the floor, his body control and touch around the rim for a 7-footer were impressive.

Defense

Tarczewski is not the defensive presence that you would think he is. At the same time, however, he is a smart defensive player. He rarely leaves his feet, because he knows that a player of his size should never really leave the floor. He only jumps if he knows he can block the shot.



In the first two clips, Tarczewski's presence alone makes Friends Central turn the ball over. They were afraid to take it in, which made them make bad passes to players on the perimeter. In the third clip, Amile Jefferson actually scores on Tarczewski. This was good defense because he stayed on his feet and forced Jefferson to make a difficult hook shot. When you play against elite players, the only thing you can do defensively is make them take tough shots and Tarczewski did just that. In the last two clips, Tarczewski uses patience to block two shots in the lane.

Unforced Turnovers

While a 22-point performance against one of the nation's top prospects sounds perfect, no player ever has a perfect game. Tarczewski did have a few possessions where he did not take care of the ball. It is important for basketball players to take care of the ball, because every possession counts. You never know when a game will come down to one possession. A dropped ball could be the sole thing separating a team from a win versus a loss.

Here are three possessions where Tarczewski turns the ball over without the defender even touching him:



It was not a big deal in this game, because St. Mark's held a solid lead for most of the game. It is important, however, to keep track of the little things like valuing the ball.

Conclusion

Let's keep in mind Tarczewski was playing against a team with one player standing at 6-foot-9, and the rest of the team was 6-foot-5 or shorter. We cannot deem Tarczewski the next great true center in the game of basketball from this one performance.

What impressed us was his improvement. Tarczewski's game has come a long way from where he was two years ago. If he keeps focusing on improving and keying in on the little things like taking care of the ball, Tarczewski will be in for a bright future in Tucson.
January, 16, 2012
1/16/12
3:46
PM ET
By
Lucas Shapiro
| ESPNBoston.com
Last week, New London point guard and Providence signee Kris Dunn set CCRI-Warwick's gymnasium on fire with 32 points, 26 rebounds, and four assists against defending RIIL state champ St. Raphael Academy, of Pawtucket. Friar fans were energized after his impressive performance.

After reviewing the film, it appears that the Providence faithful have even more to be excited about Dunn. Here are a few observations and clips of why Providence has a future star in Dunn:

Potential Triple Double

The assist is one of the most misleading statistics in basketball. In the game from last Saturday, Dunn's box score showed that he had four assists. The only thing the box score did not account for were the potential assists that his teammates did not finish.

Here are nine clips of nine potential assists:



Dunn cannot expect his teammates to finish all of his passes, but some of these were serious errors. Whether they were missed open layups, travels, or dropped passes, these were 18 potential points that New London could have had, and a triple-double for Dunn.

The great thing about Dunn was that he never got frustrated about this. He's a great leader in the respect that he does not tear apart his teammates after mistakes.

Hustle Points

It is not often that you see a point guard grab over 20 rebounds. Thanks to his length and jumping ability, Dunn was all over the floor grabbing rebounds and getting his hands dirty. In a way, Dunn almost looked like a football player going for interceptions out there. Although we never got to see Dunn on the football field for New London, it is likely that he had a few picks this year after seeing how good of a nose for the ball he had in this game.



The second and sixth clip from this video is by far the most impressive. Not only does Dunn show the desire to get the rebound, but he also showed great balance in making sure the ball stayed in New London's possession.

Scoring

Here is the part that everyone has been waiting for. How does Kris Dunn score the ball?

In this game, Dunn got half of his 32 points from the line (15-of-18). Dunn has a knack for cutting between two defenders and managing to get fouled while shooting. He knows how to use his length to his advantage. The way he cuts through defenders is like a running back cutting through a defense (there is no coincidence that this was my second football reference). He finds the smallest gaps and slithers through them.



As you can see from all five of these clips, Dunn is great at changing direction quickly, which makes preventing him from where he wants to go difficult.

Dunn did not have a great game shooting the ball. In fact, Dunn missed all three of the mid-range or outside shots that he took. Perhaps fatigue may have played a role, but at the next level he will need better strength and conditioning. That is not necessarily a knock on him. Dunn is aware that he needs to get stronger.

Here are his three misses:



Dunn does show good shooting form though. He shot 83 percent from the line on the night for a reason.

Here is a slow-motion video of Dunn's free-throw shooting form:



Dunn's shooting weakness is not necessarily about getting more shooting reps in the gym. It is about having the ability to run the point, play big minutes, and still be able to be a threat from outside as the game goes on and his legs get tired. As seen in the video above, he shows nearly perfect form. He is just a few years away from being a shooting threat.

Conclusion

Kris Dunn is one of the finest talents in New England. He is a point guard who shows a nice balance between being a scorer and a distributer. He is a lanky athlete who plays hard all game long. He is a threat to get a triple-double every single night.

Once Dunn's frame begins to fill out, he will be a serious asset for the Providence basketball program going forward.
January, 7, 2012
1/07/12
3:27
PM ET
By
Lucas Shapiro
| ESPNBoston.com
Steve Haladyna is a likely ESPN Boston All-State selection for two reasons: he is tough and he is smart. He scores nearly all of his points off of hustle plays and sheer toughness. And that is not a knock on Haladyna. He's still a talented player. Shoot, he even dropped 25 points last year on Anthony Davis, who is now projected to be a top-5 pick in the 2012 NBA Draft.

Here is a breakdown of how Haladyna gives opposing coaches fits:

Smarts

There was one play last week against Bishop Guertin that Haladyna showed his smarts off. On one possession, Prep coach Sean Connolly called for a Haladyna isolation. On this play, he took his defender off of the dribble and scored.



As you can see, Haladyna holds the ball at half court waiting for the defender to come to him. While at half court, Haladyna draws the defender so close that he sees an opportunity to spin off of him and take the ball to the hoop. En route to the hoop, Haladyna sees his first defender and pulls off a cross over. This draws the third and fourth defenders. Once he gets to the top of the paint, Haladyna chooses to pull up for a runner that goes in and he gets fouled while in the process. If you pause the video when Haladyna reaches the free throw line, you can see that he had many options too. He could have kept going in and drawn a foul or he could have kicked out to numerous open shooters. Undoubtedly, he chose the best option.

Haladyna is not often used in isolation situations, but this just shows how smart of a player he is. He does not have particularly great ball handling skills or speed, but he uses wits to get the job done.


Versatility

At the high school level, Haladyna can play all five positions. This is an asset that all high school coaches would kill for. On some plays, he can be a spot-up shooter. On others, he can drive to the basket like a small forward. Sometimes, he even makes plays for teammates by running the break.



In the first two clips, Haladyna shows off his great touch in the low post. He has a nice right-hand hook shot that is accurate and tough to block. In the third and fouth clips, Haladyna shows his ability to drive to run the floor and finish at the rim. This is arguably his biggest strength. In the fifth and sixth clips, Haladyna shows his ability to be a catch-and-shoot threat. As you can see from the video, Haladyna has excellent shot preparation, which increases his shooting percentage. In the last two clips, Haladyna leads the fast break and gets an open three-pointer for Mike Carbone both times. Few teams have a player who can rebound like Haladyna but also push the ball up the floor and get open looks. He can truly do it all.

Hustle

There is one thing for sure about Haladyna as well. He will almost always out-hustle his opponent. He has a nose for the ball and manages to get his hands on it. Here are a few clips showing Haladyna's toughness and hustle.



As you can see from the clips, Haladyna has a knack for making unlikely plays through sheer toughness.

Conclusion

Stephen Haladyna does not do one thing particularly well on the basketball court. Yet, he manages to get the job done night in and night out. He is a gamer and a leader. He always gives everything he has. St. John's Prep has a player that many teams would love to have on their team.

Once he sharpens up his ball-handling skills, the Tufts basketball program will be very happy with the player they landed.
December, 18, 2011
12/18/11
1:42
PM ET
By
Lucas Shapiro
| ESPNBoston.com
No. 2 Charlestown came into BC High yesterday with a high ranking to protect and completed their mission. It was not easy, however, as two of the Townies' top players -- juniors Tyrese Hoxter and Tyrik Jackson -- got into foul trouble early on, and had to sit during most of the third quarter.

After going over the film, I noticed something about Charlestown's team: Tyrese Hoxter is the key to their success. They have one of the most talented rosters in the MIAA, but Hoxter is the player that can help separate them from the rest with his aggressive and athletic play.

Here is a video breakdown of why Charlestown cannot afford to have Hoxter in foul trouble often:

Foul Trouble

Before I jump into the offensive side of the ball, I want to harp on why Hoxter got in foul trouble. Coach Edson Cardoso told our correspondent Corey Allen, "We are an aggressive team, but we have to play with a little more poise."

There is no doubt that Hoxter suffered from being overly aggressive on defense.



In the first clip, Hoxter is playing defense straight up and reaches a little bit. He was trying to prevent the pass to an open Jameilen Jones, but should have been closing out with his knees bent and hands up. His length would have stopped the pass anyways. In the second and third clip, Jones was simply reaching and the referee caught him. The last clip actually was not called as a foul, but it could have been. The ref let the little bump on Jameilen Jones happen, but this would have been a critical foul since it happened early on in the game.

Hoxter needs to play with a little more poise on defense because his team needs him in the game.

Momentum Shifter

Hoxter is what I like to call a "momentum shifter". He is the type of player who makes athletic plays that frustrate the defense and change the momentum of the game. He is like Devin Hester; he makes big plays that many people will have a hard time stopping.

In this game, Hoxter only had 12 points, but as you will see from the clips, many of his baskets were loud points.



In the first clip, Hoxter puts his athleticism on display by making an acrobatic lay up in transition. In the second clip, Hoxter makes an unlikely lay up with 0.1 seconds left (he did get it off in time). This put his team up 44-29. There's a big difference from being down 13 points at the half and 15 points.

The last play is just one of Hoxter's dazzling passes. This is not a strong point in his game, but this just shows his ability to get the job done.

Without Hoxter

In the third quarter, when Hoxter picked up his fourth foul, BC High went on a 12-3 run. Without him, it gave Rony Fernandez more time with the ball in his hands. This is not necessarily a bad thing, considering that Fernandez is one of the elite drive-and-kick distributors in the MIAA. Here are a few clips of him creating for his teammates.



As you can see in all three clips, Fernandez has a knack for getting his teammates wide-open looks from outside. He beats his man with his quick first step, draws the defense, and finds his open teammates.

The only problem with this is that without Hoxter and Jackson in the game, Charlestown becomes a different team. They become a team that shoots a lot of three-pointers. In this game, the strategy worked. With Omar Orriols becoming a legitimate threat from beyond the arc, this strategy will help Charlestown beat many teams. When shots do not fall, however, this strategy can become a problem.

When Hoxter is not in, Fernandez is forced to be the one who gets to the basket, which is not necessarily one of his strengths.



These two clips are an example of Fernandez having to drive and force shots when Hoxter is not in.

With Hoxter

When Hoxter is in, Fernandez can play to his strengths.



As you can see from these three clips, the backcourt duo of Fernandez and Hoxter will be very difficult for many MIAA teams to guard. Their drive-and-kick play works both ways. When Fernandez drives (as seen in the first two clips), this allows Hoxter to get room to drive to the hoop or to get an open lay up near the hoop. When Hoxter drives (as seen in the last clip), it allows Fernandez to knock down open shots.

Conclusion

Year after year, Charlestown has some of the most talented players in the city. This year is no different with their backcourt of Hoxter and Fernandez. They have the size of a college backcourt and good chemistry.

After seeing what Charlestown was like without Hoxter, I came to the conclusion that they need him if they want to be an elite team this year.
December, 15, 2011
12/15/11
4:12
PM ET
By
Lucas Shapiro
| ESPNBoston.com
NOTE: This is the first in a new feature to the ESPN Boston High Schools section, in which we break down the game of the state's premier athletes with the aid of game film. First up is Boston College High junior guard Jameilen Jones, courtesy of correspondent Lucas Shapiro.
Last year, few players in the entire state of Massachusetts were able to challenge St. John's Prep's Notre Dame-bound superstar Pat Connaughton. He dominated the competition unlike any player in recent years, but there was one player who showed out well against him.
The most interesting part about it: this player was just a sophomore.
I am referring to Jameilen Jones, now a junior captain for Boston College High, who scored 15 loud points on St John's Prep in the Comcast IAABO Board 27 Tournament championship game last February. Jones showed promise then, and has continued to make good on that promise. His latest such effort came in a 56-41 win over the Brockton Boxers in their season-opener at home last Tuesday night.
Jones is a 6-foot-3 wing with the potential to be one of the big stars in the MIAA this season. Using footage from Tuesday night's win, here is a video breakdown of his game's strengths and weaknesses:
Transition
As a wing player in the MIAA, there are few players with Jones' combination of size and speed. He is fast and powerful with the ball in his hands, but that is not what makes him special in transition.
Jones' best attribute by far is his body control. As you can see in the first two clips, Jones has a way of contorting his body right before he finishes at the rim. This makes it nearly impossible for defenders to block his shot.
He is also good at drawing the foul and getting to the line. Look at the defender in the last clip -- he twists his body at the last second, fearing that Jones will go over him. This allowed Jones to get two free shots.
Moving Without the Ball
In today's basketball climate, it is hard to find stars (specifically guards) that do not dominate the ball. Jones is one of those rare breeds who can be as effective without the ball as he is with it. I would even argue he is better without it.
In the first three clips, Jones puts his athleticism and coordination on display. Perhaps if he had a defender with better awareness, he would have been boxed out better on all three of these plays. He does, however, have a knack for making his defender have to always look for him. That's a trait of a true go-to player.
The fourth and fifth clips show Jones' ability to get open on the wing. In the fourth clip, had Muigai Unaka not lost the ball, Jones would have had an easy two points because of his backdoor cut. In the fifth clip, Charles Collins and Unaka must be given credit for making the extra pass to Jones who was wide open. The fact that Jones was open shows his basketball I.Q. The most forgotten man on inbounds plays is usually the inbounder. Jones simply pops out in the area where he is most comfortable shooting, and knocks down the open jumper.
Passing Ability
At this point in his high school career, Jones is not a point guard. There were points when he showed off some point-forward qualities though.
In the first two clips, Jones splits two defenders to set up two of his teammates with a shot at the rim. His ability to get both of these passes off at the right split second was impressive. What were even more impressive were his passing fundamentals.
On both passes, Jones passed the ball with two hands with both feet on the floor. This might sound like a basic, but you would not believe how many young players have a bad habit of doing one-handed passes or jump passes nowadays.
On the third clip, Jones feeds Standy Merizier in the mid-post area perfectly. Merizier, however, fumbles the ball. The ability to feed the post from the wing is a must-have skill for wing players and Jones.
How Jones Can Take the Next Step
[+] Enlarge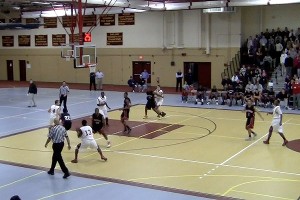 Lucas Shapiro for ESPNBoston.comJones gives defender an up-fake...
By no means did Jones have a perfect game against Brockton. In fact, he got off to a very cold start by shooting 2 for 9 from the field. At this point, Jones' main problem is shot selection. It is not because he is a selfish player. In fact, his role on the team is to take most of the shots. His issue appears to be something else.
[+] Enlarge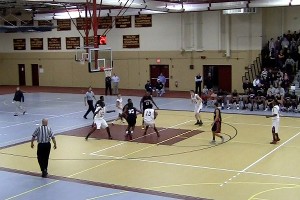 Lucas Shapiro for ESPNBoston.com...two defenders collapse on him in lane.
On this possession, Jones is on the left wing. His defender is closing out on him and Jones hits him with an up-fake. As you can tell already, his defender is giving him the middle.
Once Jones gets in the lane, two defenders collapse on him. The logical proceeding move would be to hit Jared Collins with a pass to knock down a mid-range jump shot (Collins might have the best mid-range shot of anyone on the team. While it might have been a tough pass, even giving the ball off to Standy Merizier on the left block would have been a good decision. Instead, Jones hucks up a runner with three guys draped all over him. Jones manages to get a lucky bounce.
Here are three other bad shots Jones took:
In the first clip, Jones took off from too far away from the hoop. In other players (not in this video), Jones seemed to be having trouble getting to the rim at the right angle. In the second clip, Jones takes a boneheaded three-pointer. Not only are there five Brockton players in the paint, leaving zero chance for a BC High rebound, but also there were also 27 seconds left on the shot clock. In the third clip, Jones takes a contested pull-up mid-range shot with 23 seconds left on the clock while teammate Charles Collins is wide open to his right in the middle of the lane.
Some of these shots were bad decisions and could have been open shots for teammates. Perhaps Jones' court vision is not at the same level of his passing ability yet. That is a skill that comes with maturity.
Conclusion
Jameilen Jones has many qualities of a star. He is big, athletic, and has a high basketball I.Q. He is unselfish and plays hard.
Eagles head coach Bill Loughnane could not have put it any better when he told reporters post-game, "He's very unselfish. If he has it, we want him to go. If he doesn't, he's willing to let a teammate go. That's one of his strengths."
Loughnane could not have broken down Jones' game any better.
Once Jones watches film of this game and many games in the future and realizes how he can get better shots or looks for his teammates, he will take the next step in becoming one of the special players in the MIAA.