Boston High School:

Yarmouth
September, 4, 2013
9/04/13
5:15
PM ET
By
Matt DiFilippo
| ESPNBoston.com
The football landscape has changed with the addition of a fourth class and reorganization everywhere. Here's a look at the top contenders in each class in 2013:
Class A East

Ask anyone outside of Lawrence Bulldog territory, and that person would probably tell you the two best teams in Maine high school football last year were Thornton and Cheverus. This year, under the new alignment, they have the chance to meet in the Class A state final.
Cheverus was undefeated last fall until losing to Thornton, 20-13, in the regional final. The Stags graduated Fitzpatrick Trophy-winning running back Donald Goodrich and quarterback Liam Fitzpatrick, but should keep rolling. The top returning runner is Cody O'Brien (76 carries, 400 yards, 5 TD), and he's backed by Joe Fitzpatrick and Will Hilton, and new quarterback Ethan Jordan. Kicker Patrick Mourmouras booted 48 extra points as a sophomore a year ago.
Offense will be a key for Portland, which scored a total of 13 points in four losses last fall. The Bulldogs may be able to solve that problem themselves, as they bring back Justin Zukowski (180 carries, 991 yards, 11 TD), Jayvon Pitts-Young (79 carries, 472 yards, 3 TD) and quarterback Ryan Ruhlin. Another one to watch is Ronald Hargrove, a transfer from Concord-Carlisle Regional in Massachusetts.
Bangor will be an interesting case this season. The Rams had the burden of high expectations every year – partly because of their history, and partly because of a school size that theoretically gave Bangor a much deeper pool of players than its opponents.
Those expectations were blasted away last year by a 30-point loss to Lawrence and a 34-point loss to Cony. Football is still a big deal in Bangor – the
Bangor Daily News
wrote a preview story on the Lawrence-Bangor preseason meeting, then covered the game (a 13-6 Lawrence win) as well – but how will the Rams fare against the bigger southern Maine schools?
In an interesting subplot, Xavier Lewis is back at Bangor. Lewis played for Bangor before helping Lawrence to the state final in football and the regional final in basketball during the past academic year.
Windham and Deering look to bounce back from graduation losses, while Edward Little, Lewiston, and Oxford Hills look to improve.
Class A West
Thornton went with a 1-2 punch last fall of Andrew Libby (151 carries, 1,008 yards) and Nick Kenney (164 carries, 940 yards). With Kenney graduated, Libby could easily get in the neighborhood of 25-30 carries per game, and none of Thornton's opponents are excited about that. On the down side, quarterback Eric Christense (973 yards passing, 402 rushing) has graduated, and the Golden Trojans didn't have shutdown defense even last year, when all but two of their opponents scored at least two touchdowns. Still, Libby and Cody Lynn are stalwarts on defense, and if Thornton averages 38.7 points per game again, a couple touchdowns the other way won't matter.
Scarborough didn't play Cheverus last year, but looked pretty good against every other team on its schedule save Thornton. The Red Storm lost 35-7 to Thornton in the regular season and 49-14 in the playoffs. Scarborough brings back Dan LeClair (69 carries, 353 yards, 5 TD) and running/receiving threat Charlie Raybine.
Bonny Eagle could make a leap from last year's 2-6 record. The Scots opponents had a combined record of 43-21, but they still never lost a game by more than 17 points. Now they've added running back Jon Woods as a transfer from Gorham, along with some experienced talent like Zach Dubiel and Joe Bissonette. You can make an argument that Bonny Eagle's season might have turned out much differently if the Scots hadn't been plagued by bad snaps and turnovers in an early-season loss to Thornton last year. This season might show what Bonny Eagle is capable of.
Sanford had one of the best backs in the state last season in Alex Shain (201 carries, 1,426 yards, 27 TD), but the Redskins still scored a total of 32 points in their four losses, including a 42-16 first-round playoff setback to Scarborough. If Josh Schroder (86 carries, 457 yards, 6 TD) and new quarterback Chase Eldredge can't find a way to score against the top teams, a defense led by linebacker Colby Perigo may spend too much time on the field.
March, 7, 2012
3/07/12
4:11
PM ET
By
Gary Hawkins
| ESPNBoston.com
Eight Gold Balls were awarded over the weekend to boys' and girls' state basketball champion in four classes.
Boys Class A

DEERING 59, HAMPDEN 50
: The Western Maine champs pulled away with a 17-2 run early in the second half to win their first state title since 2006. Jon Amabile led the Stags with 27 points while Thiwat Thiwat added 15 points and Labson Abwoch 10 points and a thunderous dunk in the second quarter. Hampden's Christian McCue scored a game-high 28 points. Deering finishes at 19-3 while Hampden closes at 20-2.
Boys Class B
YARMOUTH 65, GARDINER 53
: Josh Britten hit his first five shots en route to 29 points in leading the Clippers to their first state title since 1968. Chris Knaub added 14 points for Yarmouth (18-4) while Aaron Toman paced Gardiner (19-3) with 26 points. Yarmouth also won state soccer and football titles during the fall.
Boys Class C
DIRIGO 74, LEE 67:
After finishing runner-up in the state title game the past three seasons, the Cougars finally broke through with their first title in 29 years. The game was a rematch of last year and Dirigo pulled away by making all seven of its shots in the fourth quarter. Cody St. Germain led the Cougars (21-1) with 26 points and seven rebounds while Ben Holmes scored 18 points. Boubacar Diallo paced Lee (19-3) with 19 points and 13 rebounds while Jasil Elder added 16 points.
Boys Class D
JONESPORT-BEALS 83, FOREST HILLS 45:
The Royals had too much size and depth for the undermanned Tigers who carry just eight players. The winners forced 26 turnovers in all and pulled away to an early lead. Matt Alley led Jonesport-Beals (19-2) with 26 points, including the 1,000th of his career, while Garet Beal scored 16. Evan Worster paced Forest Hills (18-4) with 16 points. The title was the first for the Royals since 1993 and their 10th overall.
Boys Final Top 10
1. Deering
2. Hampden
3. Bonny Eagle
4. Mt. Blue
5. Cheverus
6. Edward Little
7. Yarmouth
8. Falmouth
9. Portland
10. Gardiner
Girls Class A
MCAULEY 54, CONY 41:
The Lions pulled away in the third quarter to successfully defend their title. McAuley's 6-foot-2 forwards, Olivia Smith and Alexa Coulombe, proved too much for the smaller Rams. Smith finished with a game-high 15 points while Allie Clement added 11. For Cony (21-1-), Melanie Guzman scored 14 points and Mia Diplock 10. McAuley finished at 22-0 in winning its fourth state championship.
Girls Class B
PRESQUE ISLE 49, LAKE REGION 47:
Chandler Guerrette's steal in the closing seconds sealed the win for the Wildcats. Guerrette finished with a team-high 11 points fro Presque Isle (22-0) while Karlee Bernier scored 10. Tianna-Jo Carter paced Lake Region (19-3) with 19 points while Abby Craffy scored 13. The Wildcats last won a state title in 2006 when they also beat Lake Region.
Girls Class C
CENTRAL 40, HALL-DALE 39:
The Red Devils rallied from 13 points down in the third quarter and caught the Bulldogs when Max McHugh hit a pair of free throws with 11.4 seconds left. Freshman Brianna Skolfield led the winners with 17 points and eight rebounds while Wendy Goldman paced Hall-Dale with 17 points. Hall-Dale, which won the title last year, finished at 18-4, while Central (19-3), located in East Corinth, last won a title in 1983.
Girls Class D
WASHBURN 60, RICHMOND 35: Freshman Mackenzie Worcester scored a game-high 24 points to lead the Beavers to their second straight state title. The game was a rematch of last year's game and followed the same pattern with Washburn pressuring Richmond and pulling away in the fourth quarter. Olivia Doody added 12 points for Washburn (21-1) while Jamie Plummer led Richmond (19-2) while 14 points and 20 rebounds.
Girls Final Top 10
1. McAuley
2. Cony
3. Scarborough
4. Marshwood
5. Presque Isle
6. Lake Region
7. Nokomis
8. Edward Little
9. Leavitt
10. Thornton
Mr., Miss Basketball Finalists
Finalists for Mr., and Miss Maine basketball were named last week. The three finalists for Mr. Basketball are Mt. Blue's Cam Sennick, Hampden's Christian McCue and Bonny Eagle's Cole Libby. Miss Basketball finalists are McAuley's Alexa Coulombe, Cony's Mia Diplock and Windham's Meghan Gribbin.
The winners will be announced at the Maine McDonald's High School Senior All-Star Awards Banquet on Friday evening at Husson University.
February, 10, 2012
2/10/12
2:15
PM ET
By
Gary Hawkins
| ESPNBoston.com
That Travis and Karen Magnusson would become high school basketball coaches, given their backgrounds as point guards and students of the game, seemed inevitable. So does the success that the husband and wife coaches are having this season at their respective schools.

Travis, who coaches the Dirigo High School boys team, came within a whisker of a perfect season before falling to Spruce Mountain, 39-34 Wednesday night. Still, his Cougars finished the regular season at 17-1 and enter the upcoming Western Maine Class C tournament as the top seed. Karen, who coaches the Cony High School girls team, finished at 18-0 Thursday and her Rams will enter the Eastern Maine Class A tournament as the top-seeded team.
There wasn't much talk between Karen and Travis about going unbeaten this season — both recognize winning a state title as a larger goal — but it's still hard to avoid.
"Honestly we try not to do it," Karen said. "But it's something that comes up with other people."
The couple rarely get to see one another's teams play since they usually play on the same night. Fans at both schools, however, recognize what's going on.
[+] Enlarge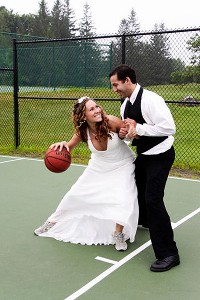 Courtesy of Karen Magnusson Travis and Karen Magnusson are having success coaching high school hoops in Maine.
"It's almost like we share our programs with each other," Karen said. "His fans ask how I'm doing and my fans ask how Trav's doing."
The Magnussons are both basketball junkies, a passion that began long before they met at the University of Maine at Farmington a few years ago. Karen Sirois starred at Cony in Augusta while Travis played for Georges Valley in Thomaston. Both played point guard at UMF and each of them totaled over 1,000 points and 500 assists in their careers.
Farmington women's coach Jamie Beaudoin and men's coach Dick Meader saw coaches in the two long before their playing careers ended.
"I knew from the first moment I watched her play that she was going to be a coach," Beaudoin said. "She was able to see things on the floor that many times an experienced coach wouldn't pick up on. She's just a student of the game."
Meader echoed those thoughts about Travis, who served as a varsity assistant at UMF the year after he graduated. Travis was hired as boys coach at Livermore Falls a year before Karen go the job at Cony so she helped him out and gave him an unbiased look at the players and the team.
"There was nobody I listened to more, especially with my team that first year," Travis said.
Travis turned the Livermore program around, reaching a tournament prelim game his first year in 2009 and the tournament itself the next two. He lost his job when Livermore and Jay high schools combined this year to form Spruce Mountain, but when the Dirigo job opened up he applied. The Cougars reached the state final last year and return many of those players.
The Magnussons talk basketball most of the time, often while breaking down film at home another or swapping drills.
"I get some of my plays and sets from him," Karen said. "I know his personnel, we definitely help each other out. Sometimes we sit up until 11:30 or 12 talking about it. We watch game film together. It's like having an assistant coach at home."
They also share a similar philosophy, borne from the way they played the game.
"We both like to run and gun, play pressure defense and give our players freedom to take shots." Travis said. "As I've gotten older I've realized the importance of quality shots."
The Magnussons are competitive by nature and haven't played a serious game of 1 on since Travis came away with a bloody nose when the got together on the court in college.
"He's competitive and I'm competitive so we never really have the fun 1-on-1," Karen said.
Well, they did have a little fun on the court on the day they were married, playing a friendly game, she in her wedding dress and he in his tuxedo.
They'll get a chance to watch the other's team play in about 10 days when their teams will be favored to win regional championships at the Augusta Civic Center.
November, 27, 2011
11/27/11
10:12
PM ET
By
Gary Hawkins
| ESPNBoston.com
State football championships in three classes were decided at Fitzpatrick Stadium on Saturday with two teams repeating titles.

Cheverus extended its win streak to 24 games with its win against Lawrence in the Class A game while Yarmouth also ran its win streak to 24 straight with a win against Bucksport for its second Class C title in a row. Wells went to the wire against Leavitt before capturing its first
Class B championship since 1997.
The victories complete a sweep for Western Maine teams for the second year in a row. Here's rundown of the games with video provided by DVM Sports, MBR.org and the Maine Sports Network.
Class A - Cheverus 49, Lawrence 7
With injured senior running back Spencer Cooke playing all but a few token minutes for Cheverus, it appeared the Stags might be challenged by a tough Lawrence defense. They weren't as Don Goodrich scored five touchdowns, including a 92-yard kickoff return, and the Stags rolled up 509 yards of offense.
Goodrich rushed for 143 yards on 17 carries while fellow running back Brent Green picked up 179 yards on 20 carries. Wide receiver Louie DiStasio caught four passes for 130 yards.
The Bulldogs, who finished at 11-1, were hurt by five turnovers, four of which the Stags turned into scores. A fumble and an interception led to a pair of first quarter touchdowns by Green and Goodrich. Goodrich added a score early in the first quarter to make it 21-0. The Bulldogs got on the scoreboard when Anthony Sementelli scored on a 52-yard run midway through the second quarter, but Goodrich returned the ensuing kickoff 92 yards to make it 28-7 at the half.
Cheverus put the game away with 21 points in the third quarter, highlighted by a 52-yard scoring run from Goodrich. The Stags' defense, which held opponents to 71 points in 12 games this season, limited Lawrence to 167 yards of total offense. The score was the most lopsided in a Class A title game since Cheverus beat Lewiston 65-13 in 1985.
Cooke, who sustained an injury late in the regular season and missed all of the Western Maine playoffs, carried the ball nine times for 18 yards, all in the second half. Cooke scored four touchdowns in last year's state championship game.
May, 19, 2011
5/19/11
3:31
PM ET
By
Gary Hawkins
| ESPNBoston.com
A Westbrook High School team that has won baseball games at every level appears primed to cap it off this spring with its first Class A state championship in 60 years.

Many of this year's group of seniors reached the Little League World Series six years ago followed by two appearances in the Babe Ruth World Series, first for 13-year-olds and three years ago reaching the championship game for 15-year-olds.
"They're definitely used to winning," coach Mike Rutherford said.
The Blue Blazes are 9-0 so far this season with seven shutouts. Senior pitchers Scott Heath and Sean Murphy are a combined 7-09 and have yet to allow a run while Matt Weimer, another senior, is 2-0.
Heath, a left-hander, who will play for the University of Maine next year, has pitched a pair of one-hitters so far this season. His fastball is in the high 80's and he features a good slider.
"He may be the toughest kid I've ever coached," said Rutherford, who coached at Portland High for 12 years and won a state title. "If things don't go his way it doesn't bother him."
Heath inherited some of that toughness from his father Mike, a high school football player and wrestler, as did his freshman brother Kyle who is the team's catcher.
Scott is also an accomplished hitter and he chose Maine because coaches assured him he would be able to hit as well as pitch "I believe he's a bettor pitcher/outfielder than he is a pitcher in Division I," Rutherford said.
Murphy, who has verbally committed to attend St. John's University, missed all but a few innings of last season with a shoulder injury "Not having him last year hurt us," said Rutherford, who team lost in the Western Maine semifinals.
Before he was hurt, the 6-foot-5 right-hander was throwing in the high 80's with a good slider, but is now in the mid 80's as he tries to regain his arm strength. St. John's coaches plan to take a second look at him later this season.
April, 20, 2011
4/20/11
11:25
PM ET
By
Gary Hawkins
| ESPNBoston.com
High school players who have been rivals through the years will join one another next season as four schools consolidate into two.

The neighboring communities of Livermore Falls and Jay recently decided to consolidate into one school which will be known as Spruce Mountain High School.
The adjoining towns have played in a long-standing football rivalry that goes back 72 years. The Black and Orange of the Jay Tigers and the green and yellow of the Livermore Falls Andies will be replaced by the black and green of the Spruce Mountain Phoenix.
The schools, which competed for years in the Class C Mountain Valley Conference will move to Class B next season.
Georges Valley and Rockland high schools decided several months ago to merge into one school known as Oceanside. The Black and Orange of the Rockland Tigers and the green and white of the Georges Valley Buccaneers will soon become the dark blue, light blue and white of the Oceanside Mariners.
Students will attend their last three years of high school in Rockland while freshmen classes from both communities will combine at Georges Valley High in Thomaston. Although the schools are only five miles apart, their athletic rivalry generally ended in middle school. Georges Valley has competed in Class C in Western Maine while Rockland has largely competed in Class B in Eastern Maine. With the enrollment at Oceanside expected to be in the upper 600s, the schools will compete in Eastern Maine in the Class B division of the Kennebec Valley Athletic Conference.
April, 6, 2011
4/06/11
10:17
PM ET
By
Gary Hawkins
| ESPNBoston.com
A snowstorm that dumped up to 12 inches of snow on many areas of the state last Friday set baseball teams back a week or 10 days, but indoor practices continue and many teams in southern Maine should be outside this weekend.

The season gets under way at the end of next week.
Here's a look at some of the top teams in all four classes:
CLASS A
Westbrook: The Blue Blazes return several players from the team that was upset by Biddeford in the Western Maine final last season. Many of the players on this year's team also played on a Little league World Series team five years ago. Among them is left-handed pitcher Scott Heath who will play at the University of Maine next season.
Sean Murphy, a 6-foot-5 right-hander, is also back and apparently over shoulder problems that limited his innings last season. He has verbally committed to play at St. John's next season.
Deering: The Rams return seven seniors from last year's playoff team, including center fielder Sam Balzano and pitcher Jamie Ross who was also the school's quarterback. The Rams, who last won a title in 2009, have won eight out of the last 12 state championships. Former University of Maine standout and minor leaguer Mark Sutton takes over as coach.
Bangor: The Rams went undefeated during the regular season last spring before being upset by Brewer in the East A semifinals. Despite key graduation losses they return a lot of pitching, led by lefties Joe Stanevicz (8-0, 2.21 ERA) and Curtis Worcester. Catcher Dylan Morris, who hit .475 last season, also returns. Bangor also features a number of players who played for the team that reached the Senior League World Series championship game last summer.
February, 24, 2011
2/24/11
2:26
PM ET
By
Gary Hawkins
| ESPNBoston.com
It's tournament basketball week in Maine and there's no more exciting time in high school sports. Schools in four classes are playing for regional titles at the Bangor Auditorium, the Augusta Civic Center, the Portland Expo and the Cumberland County Civic Center. State championships will be contested next week.
Here are some of the highlights so far:
Boys Class A

In Western Maine games, top seeded and unbeaten Cheverus struggled before getting past No. 8 Marshwood 52-40. Louis DiStasio led the Stags with 16 points. Second-seeded Bonny Eagle won its quarterfinal against Westbrook but No. 5 Portland upset No. 4 South Portland behind 19 points from Mike Herrick and No. 6 Deering knocked off No. 3 Thornton, 41-33. The seedings held in the quarterfinal round in Class A East with No. 1 Bangor, No. 2 Hampden, No. 3 Edward Little and No. 4 Mt. Blue all winning.
Kennebec Valley Athletic conference southern division player of the year Bo Leary led Edward Little past Mt. Ararat with 28 points and 13 rebounds. Northern KVAC player of the year Graham Safford led Hampden past Lewiston with 22 points. The semifinal matchup between Bangor and Mt. Blue featured a pair of coaches with over 1,000 combined career wins. Bangor's Roger Reed has 554 while Mt. Blue's Jim Bessey has 463.
December, 16, 2010
12/16/10
2:02
PM ET
By
Gary Hawkins
| ESPNBoston.com
Thirteen semifinalists have been selected for the James J. Fitzpatrick Trophy, symbolic of the state's top high school senior football player.

Ballots were mailed to media and members of the football community and will narrowed to three finalists which will be announced Dec. 19. In addition to football accomplishments, grades, character and extracurricular activities are also factors in the award.
The winner will be announced at the Fiztpatrick Trophy Banquet on Jan. 16 in Portland.
The finalists are:
Kyle Bishop, Waterville — The QB.safety averaged 6.8 yards per carry and passed for 902 yards. He also kicked 19 of 21 PATs and was in on 73 tackles. He carries a GPA of 3.47.
Max Cloutier, Leavitt — The center/defensive tackle made 95 tackles and was credited with 12 1/2 sacks. He added 49 PATs and kicked a field goal. He carries an 85 grade average.
Michael Cyr, Scarborough — The two way end caught 17 passes for 336 yards and eight TDs. On defense, he made 73 tackles and recovered three fumbles. He carries an 89.9 GPA.
Ethan Drigotas, Kennebunk — The receiver/defensive back caught 36 passes for 659 yards and averaged 5.5 yards a carry as a halfback and scored seven TDs. He carries a 92 GPA.
Luke Duncklee, Cony — The quarterback passed for 1,442 yards and rushed for another 1,147, accounting for 25 touchdowns in all. He is a top 10 member of his class.
Nicholas Gagne, Biddeford – The fullback/linebacker rushed for 973 yards and scored 15 TDs. On defense he made 40 tackles, 13 for sacks. He carries a 3.5 GPA.
Peter Gwilym, Cheverus — The QB/safety led the Stags to their first Class A title since 1986. He averaged 5.3 yards per carry and scored 13 TDs. He also passed for seven TDs. On defense he made 64 tackles and made four interceptions. H carries a 3.89 GPA.
Jonathan Haws, Hampden — The QB/safety is one of the most prolific players in school history. He carries a GPA of 94.
Cam Kaurbis, Mountain Valley — The QB/defensive back led the Falcons to the Class B state title, passing for 873 yards and seven touchdowns. On defense, he had 21 tackles and eight interceptions. He carries a 98.8 GPA.
Caleb Kenney, Portland — The FB/TE/LB made 44 tackles. He rushed for 328 yards and four TDs and caught 10 passes for 165 yards. He carries a 95 GPA.
Nicholas Proscia, Yarmouth — The FB.LB totaled 707 yards and nine touchdowns and played on all the special teams. He carries an 89.5 GPA and helped the Clippers to the Class B state title.
Jamie Ross, Deering — The quarterback threw for 1,511 yards and 17 touchdowns and rushed for an additional 912 yards and 19 TDs. He also punted and kicked 36 PATs and a field goal. He carries a 90 GPA.
Josh Woodward, Thornton — The WB/DB averaged 8.6 yards per carry and scored nine touchdowns. He also completed 52 percent of his passes for nine TDs. He carries a 3.3 GPA.
November, 17, 2010
11/17/10
3:02
PM ET
By
Gary Hawkins
| ESPNBoston.com
State football championships in Class A, B and C are on the line Saturday at Fitzpatrick Stadium in Portland.

Here is a rundown of the games:
Class A, Cheverus (11-0) vs. Bangor (10-1), 2:30 p.m.
Both teams squeaked by in regional finals last week. Cheverus downed Deering 35-34 when a last-second 36-yard field goal attempt by Deering's Jamie Ross missed by two feet. And Bangor won 28-25 against Lewiston when the Blue Devils gambled on fourth and one from their own 10-yard line with two and half minutes left. Bangor held and scored the game-winning touchdown to seal the win.
Cheverus is making its first appearance in a state game since it won in 1985. The Stags, however, have made a rapid climb in the past four years under Coach John Wolfgram who has won seven state titles at Gardiner and South Portland and is the state's winningest coach. They rely on the passing and running of quarterback Peter Gwilym who has accounted for 21 touchdowns. Running back Evan Jendrasko has rushed for 13 touchdowns. Equally important is the play of the Stags' special teams which has accounted for several scores.
Bangor has a history on state title appearances, having won five since the current format began in 1967 while also losing in the state game eight times. The Rams lost to Windham in the state final last year and to Bonny Eagle in 2004. They last won a championship in 2001. They led the East in points scored behind a balanced attack that features the passing and running of 6-foot-6 quarterback Joe Seccareccia and the running of Josiah Hartley. They've combined for 36 touchdowns. Included in that number are eight receiving scores by Nick Sherwood.
Class B, Leavitt (11-0) vs. Mountain Valley (11-0), 11 a.m.
Leavitt defeated Gardiner, 27-7, in the East regional game last week while Mountain Valley shut out Wells 18-0. The shutout was the seventh of the season for the Falcons who have allowed just 30 points in 11 games. Quarterback Cam Kaubris leads the offense along with running backs Josh Allen and Taylor Bradley who have combined for 29 touchdowns. The Falcons are looking for their fourth Class B title in seven, last winning in 2008.
Leavitt is the defending Class B state champion and is riding the state's longest winning streak at 23 games. The Hornets allowed 81 points during the regular season and outscored their three playoff opponents 110-23. Junior quarterback Jordan Hersom accounted for 26 touchdowns in the regular season and an additional five in the playoffs. Running back Jake Ouellette is a complement, having scored 15 touchdowns.
Class C, Stearns (11-0) vs. Yarmouth (11-0), 6 p.m.
Stearns defeated John Bapst in the regional final 26-7 while Yarmouth downed Lisbon 14-12 thanks to a late 65-yard scoring run from freshman quarterback Brady Neujahr.
Stearns, located in Millinocket, has the longest trip of any of the state finalists at 200 miles. It's doubtful the Minutemen will complain too much, though, since this is their first trip to the state championship game since winning in 1998. The team is both the northernmost as well as the smallest football playing school in the state. This season they carry a roster of just 29 players. Stearns also features one the toughest defenses in Class C, having allowed 49 points. Running back William Eurich leads the offense with 18 touchdowns.
Yarmouth is playing just its fourth year of varsity football, yet the Clippers excelled under coach Jim Hartman with an offense that led the state in the regular season with 391 points. Four players — Neujahr, Anders Overhaug, Nate Pingitore and Nick Proscia — have scored 10 or more touchdowns this season. Neujahr has passed for eight touchdowns and rushed for 10. A win by the Clippers would give them a unique double this fall since the soccer team won the state title last weekend. A win by the football team would complete unbeaten seasons for both.
FOOTBALL TOP 10
1. Cheverus
2. Bangor
3. Deering
4. Bonny Eagle
5. Lewiston
6. Mtn. Valley
7. Lawrence
8. Leavitt
9. Stearns
10. Yarmouth
MIKE LANDRY AWARD
Scarborough football coach Lance Johnson recently won the Mike Landry Award, given annually to the top coach in the Southern Maine Activities Association. Johnson led the Red Storm to a 7-1 regular-season record, its best ever, as well as its first playoff victory.
LOOKING FOR RARE DOUBLES
The Bangor and Yarmouth football teams will look to duplicate the success of their soccer teams in state championship games this weekend. No Maine high school has ever won a football and soccer championship in the same year. The Bangor soccer team defeated Portland 3-2 for the Class A title while Yarmouth won the Class B crown with a 5-0 win against Ellsworth.
Yarmouth can also complete an unbeaten season for both teams if it stops Stearns in Saturday's Class C football championship game.
SOCCER TITLES AWARDED
Soccer titles in four classes were decided earlier this month.
In boys Class A, Bangor downed Portland 3-2 to win its second title overall and first since 2006. In girls Class a, Scarborough won its first state title with a 3-0 win against Bangor. The Red Storm allowed only one goal all season.
In Class B, the Yarmouth boys completed a 17-0-1 season with a 5-0 victory against Eastern Maine champion Ellsworth. The Falmouth girls won their second title in three years and eighth overall with a 1-0 win over Caribou in a game decided on a penalty kick.
In Class C, the Fort Kent boys downed North Yarmouth Academy to win their first state championship. Sacopee Valley won the girls' title with a 2-1 overtime win against Fort Kent.
In Class D, the Richmond girls defeated Van Buren 1-0 for their seventh state title. Bangor Christian won the boys title with a 5-2 victory against Richmond.
DURGIN PLACES 2ND
Cheverus junior Emily Durgin finished second at last Saturday's New England cross country meet in Thetford, Vt. Durgin, who won the title last year, finished 12 seconds behind Linda Crevoiserat of Glastonbury, Conn.
Durgin placed second her freshman year behind Kennebunk's Abbey Leonardi, who skipped this year's meet to concentrate on the Foot Locker Regionals the Saturday after Thanksgiving. Last fall, both Durgin and Leonardi qualified for the Foot Locker Nationals in San Diego.
October, 7, 2010
10/07/10
12:13
AM ET
By
Gary Hawkins
| ESPNBoston.com
Two more teams were knocked form the ranks of the unbeaten in Week 5 of high school football. Thornton Academy of Saco had outscored its Class A opponents 201-13 coming into its game against Deering, but the Trojans were dominated by the Rams, 35-6.

Deering quarterback Jamie Ross did most of the damage, passing for 125 yards and three touchdowns while also rushing for 134 yards and two more scores. Deering sustained its only loss in Week 3, losing 34-12 to Bonny Eagle.
In a Class C battle of unbeatens, Yarmouth's Bryce Snyder kicked a 28-yard field goal with 19 seconds left to lift the Clippers to a 16-14 victory over Lisbon. Yarmouth, which has only had varsity football for five years, was led by Anders Overhaug who rushed for 169 yards on 14 carries.
There are only 12 unbeaten teams left in the state, five in Class A — Cheverus, Bonny Eagle, Lawrence, Lewiston and Bangor. That number will be reduced this week when Lawrence hosts Lewiston. Unbeaten teams in Class B include Gardiner, Leavitt, Cape Elizabeth and Mountain Valley while Stearns, Winthrop and Yarmouth are all 5-0 in Class C.
Top performances:
Rockland's Derek Miller scored eight touchdowns in a 66-6 rout of Dexter. Miller passed for one score, rushed for five, caught one TD pass and scored another on a punt return.
Cony's Luke Dunklee threw for 158 yards and two touchdowns and also rushed for 205 yards and two scores in a 28-21 win against Brunswick. Duncklee has rushed for 13 touchdowns and 743 yards and passed for three scores and 653 yards.
Messalonskee's Keenan Knox rushed for 176 yards and four scores in a 48-8 win over Brewer. Knox has rushed for 827 yards on the season.
Bonny Eagle's Matt Rollins passed for three touchdowns and rushed for two more as the unbeaten Scots downed Massabesic, 40-20.
Traip Academy's Tyler Nay rushed for 203 yards and four touchdowns as the surprising Rangers moved to 4-1 with a 34-25 victory over Livermore Falls.
John Bapst's Jordan Charpentier passed for four touchdowns in the Crusaders' 36-13 win over Foxcroft Academy.
Big games to watch for:
Oct. 15, Bangor at Lawrence. A potential battle of Class A unbeatens if Lawrence gets past Lewiston this week. The teams were in the same position last season when Bangor nipped Lawrence 28-21 on its way to a state title appearance.
Oct. 16, Bonny Eagle at Cheverus. Bonny Eagle has developed into a Class A power under oach Kevin Cooper, winning four state championships in the past six years. Cooper is assisted by his father Pete who led Lawrence to several state titles. Cheverus' program has been resurrected under John Wolfgram, the state's winningest coach. Wolfgram and Pete Cooper met a number of times when Wolfgram coached Gardiner to three state titles in the late '70s and '80s.
Oct. 22, Gardiner at Leavitt. Another potential battle of unbeaten teams in the Pine Tree Conference's Class B division. Both are led by outstanding juniors, Gardiner by running back Alonzo Connor and Leavitt by quarterback Jordan Hersom. Leavitt is defending Class B state champ while Gardiner won the title in 2007.
Oct. 29, Cape Elizabeth at Mountain Valley. These teams gained a measure of statewide immortality when the film "The Rivals" was produced in 2008 documenting the rivalry between wealthy Cape Elizabeth and Rumford, the mill town where Mountain Valley is located. It was recently shown on the Smithsonian Channel. So far this season, Mountain Valley has outscored opponents 212-12 while Cape holds a 152-27 advantage.
Gardiner's Connor sets school record
Gardiner High junior running back Alonzo Connor has packed nearly a season's worth of statistics into his first five games. The 6-foot-2, 185-pound tailback has already rushed for 1,022 yards and 17 touchdowns.
Two weeks ago against Mount Desert Island, Connor rushed for a school record 346 yards and scored five touchdowns. He also scored five times the previous week in a week against Waterville.
Against MDI, Connor pulled off one of the most memorable runs in school history. With Gardiner at the MDI 35 and a second left in the half, quarterback Spencer Allen threw a screen to Connor who headed down the left sideline. He ran into a pack of defenders near the 20-yard line and reversed fields, circling back 15 yards to pick up blocks. With all 11 defenders in pursuit, he weaved his way through traffic, took a hit near the goal line and scored. The run brought the Tigers in a 21-all tie and
changed the momentum of the game.
"That's the best play I've ever seen," Gardiner coach Jim Palmer said. "I've never seen anything like that."
Football Top 10
1. Bonny Eagle
2. Cheverus
3. Bangor
4. Lawrence
5. Lewiston
6. Mountain Valley
7. Deering
8. Leavitt
9. Scarborough
10. Cape Elizabeth
Leonardi's big day
Kennebunk High School junior Abbey Leonardi won the annual Festival of Champions cross country race in Belfast on Saturday.
The race attracted over 100 boys and girls teams and nearly 1,300 runners. Leonardi finished the 5K course in 17 minutes, 58 seconds while Madison junior Matt McClintock won the boys race in 16:06. Leonardi has long been considered one of New England's top distance runners. She won the New England high school cross country race her freshman year and last spring as a sophomore set state records in the 1,600 (4:51) and 3,200 (10:42) meter runs. She followed by winning the New England 3,200 in 10:26. She closed her sophomore year by placing fourth in the 3,200 in the New Balance Nationals, also in 10:26. The 5-foot-1, 16-year-old placed second last year in the Foot Locker Northeast Regionals and 22nd in the national race.
Scarborough won the boys' team title at the Festival while Cheverus captured the girls' title. In the latest girls' coaches poll, Cheverus is ranked first with Cape Elizabeth second. In the boys poll, it's Gorham followed by Falmouth.
Boys' soccer Top 10
1. Bangor
2. Scarborough
3. Yarmouth
4. Portland
5. Ellsworth
6. Brunswick
7. Cape Elizabeth
8. Gorham
9. Maranacook
10. Camden Hills
Girls' soccer Top 10
1. Brunswick
2. Scarborough
3. Yarmouth
4. Bangor
5. York
6. Cheverus
7. Hampden
8. Waterville
9. Thornton
10. St. Dominic