Boston High School:

Zach Grady
June, 10, 2012
6/10/12
11:58
PM ET
By
Brendan Hall
| ESPNBoston.com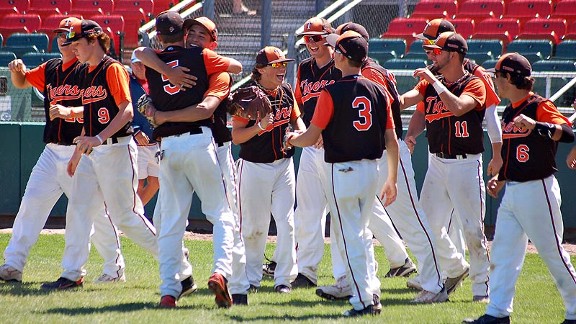 Brendan Hall/ESPNBoston.comTaunton made a philosophical change following a beating from Barnstable at the end of the regular season. The Tigers turned around and beat the Red Raiders to advance to the D1 South Final.
BROCKTON, Mass. – The first time Old Colony League rivals Taunton and Barnstable squared off, in late April, Barnstable hurler Willie Nastasi struck out a career-high 16 batters, and later ignited some controversy nationally with his 155-pitch count.
The second time the two battled, on the last weekend of the season and with the outright OCL title on the line, Barnstable wasted the Tigers, 14-2.
Meeting No. 3, in the semifinals of the Division 1 South tournament this afternoon at Campanelli Stadium was...well, to call it a charm wouldn't be just cliché. It'd be unfitting.
The UConn-bound Nastasi was brilliant again on the hill for the Red Raiders, fanning eight and scattering just two hits in 7.1 innings of work. But the Tigers deployed some of the same small-ball principles that won them two games in this tournament already, and got stellar defense behind starter Danny Pedro, to squeeze out a 3-0 win and advance to tomorrow's South final.
Eighth-seeded Taunton (18-5) will face No. 15 seed Xaverian (15-8) in tomorrow's final at Braintree High, at 4 p.m. Barnstable ended its season 16-5.
"This, it can't any better for the team," Taunton head coach Jeff Sylvia said. "We played with confidence. They know us, we know them. I think they woke us up the last time we played them [the 14-2 loss], and we've changed that philosophy since that game a little bit. The pitching was great, defense was great, and we got timely hitting today, which was huge."
Part of that philosophical change has been a more aggressive approach in the batter's box and the basepath. In the Tigers' first-round win over Braintree, for instance, Zach Grady took two bags on a bunt, beating the tag at third base with a head-first slide; he was brought home the next at bat with a Joe Walsh blast to center, making it 2-0 and shifting momentum in their favor.
This afternoon, Walsh was pivotal again. The Old Colony League Co-MVP took a Nastasi pitch off his back on the first pitch, to lead off the bottom of the fourth inning. On the very next pitch, Matt Maclean hit a shot to deep center, and Walsh sprinted all the way from first to home.
"I was pissed I didn't get to hit, that's the first time I've gotten hit all season," Walsh laughed. "But we had faith in our four-hitter [Maclean], and I knew he was going to come through."
Walsh gave the Tigers insurance in the eighth. First, Travis Ritchie slapped a slow roller into the infield grass, but beat out the potential 3-1 putout at first to score Grady. Two at bats later, Walsh planted a first-pitch slider into right field to score Ritchie, before getting thrown out at second on a 9-6, trying to take an extra base, for the second out of the inning but a 3-0 lead.
"I had struck out on it at home [last month, on that pitch]," Walsh said. "I knew I had that pitch. I knew whatever he was throwing me on that first pitch, I was ready to hit."
Said Sylvia, "Joey Walsh has been doing that for us all year. He's been an RBI machine. He's big. He was the right guy on at the right time."
Pedro Productive:
Sylvia said he was looking for six innings out of Pedro today. The junior righty ended up giving them seven, scattering five hits while walking one and fanning two.
Pedro's best inning might have been the second, when the Raiders loaded the bases up on a walk to Derek Estes. After Estes walked, Pedro jammed Dennis Beynor with a 1-1 fastball that trickled to shortstop Chris Roumbakis, who easily made the inning-ending 6-4 play.
Walsh said Pedro's fastball was moving today "better than I've ever seen it before."
"Danny Pedro pitched outstanding today," Sylvia said. "He kept the ball down, pitched ahead of hitters. We wanted six, he gave us seven, and then Matt Nunes came in and did the job...Getting out of that [second inning] gave us a lot of confidence."
Rumblin' Roumbakis:
When Roumbakis fumbled an Everett Walsh grounder to his left in the top of the fourth, allowing the No. 6 hitter to reach safely, it was his first error in three playoff games. And that might have been the only time in these playoffs he didn't field the ball cleanly; the senior shortstop, known for his fancy back-handed snags, has been phenomenal throughout the postseason.
"I think he got eaten up a bit with the top spin on the left hand, but we'll take it," Sylvia laughed. "He makes every other play."
Sylvia continued, "He's been my starting shortstop since his sophomore year, and he's done really well. Again, our strength is defense. We put it together today, and hopefully we can keep it going."
Nastasi goes out on top:
In two starts this year against Taunton, Nastasi has struck out 24 batters and allowed five hits in 15 innings. Mixing in his off-speed with his high-80's fastball cleanly, it was an effort that he won't soon hang his head.
"He did exactly what we needed him to do," Barnstable head coach Joe DeMartino said. "Our pitchers, especially Willie and Keegan [Dellacona], they go out and they give us a chance to win. We just didn't get it done today."
Dellacona came in to relieve Nastasi in the eighth, and DeMartino said afterwards, "I knew he could handle 30 or 40 pitches, and come back tomorrow if we made it."
June, 1, 2012
6/01/12
11:28
PM ET
By
Brendan Hall
| ESPNBoston.com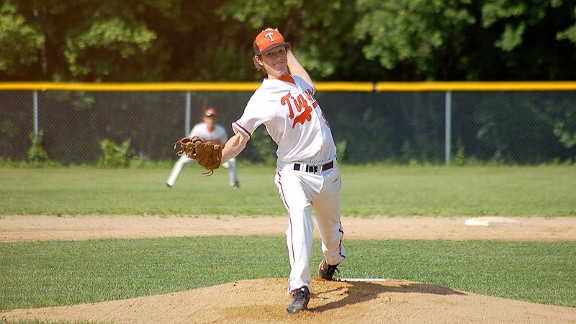 Brendan Hall/ESPNBoston.comTaunton lefty Connor Johnson pitched a shutout, but was quick to credit his defense, calling it "unbelievable, best defense in the state."
TAUNTON, Mass. -– It's a maneuver the Taunton Tigers have run all year long. And whenever senior second baseman Zach Grady gets on the basepaths, he gets the green light.
In the third inning of a scoreless game with Braintree and its Vanderbilt-bound flamethrower Pat Delano on the hill, Grady ran it without flaw. With no outs and Grady on first off of a single, leadoff hitter Travis Ritchie laid down a bunt that plopped into the infield, and just barely beat the throw to first. All the while, Grady –- considered the team's fastest baserunner -– was booking it to third, and as he slid in safely head-first to third, Ritchie took another bag.
In the next at bat, catcher Joe Walsh ripped a 3-1 fastball back up the middle, clearing the bases for a 2-0 lead. And while Braintree's 6-foot-7 ace was good for most of the afternoon, that sequence of events shifted momentum in favor of the Tigers (16-5), who went on to win 4-0 over the Wamps (12-7) in an MIAA Division 1 South first-round matchup at Taunton High.
"We've been running it all year," Grady said. "If I get on, Travis lays down a bunt, I just keep running and put my head down going to third. I see coach waving, and I just keep running."
The Tigers tacked on two more runs in the bottom of the seventh with some more small-ball tactics. First, outfielder Matt Nunes dunked a ball into right field, and quickly stole two bags to put himself 90 feet from the plate. All the while, third baseman Brad Alconada battled back from an 0-2 deficit to work a full count on Delano, and on the eighth pitch he slapped one at the Wamps' first baseman, who bobbled it off his chest and nearly fumbled it before making the unassisted play at first. The play scored Nunes, however, for a 3-0 advantage.
Grady cracked a first-pitch single off Delano in the next at bat, after which Braintree skipper Bill O'Connell went to the mound for a meeting. After the next batter, Ritchie, singled again, Delano was done for the day.
The new pitcher, Mike Crowley, didn't get off to a great start. His first pitch was a wild one, allowing Grady to score from third for the 4-0 advantage.
Delano, in his last start in a quality but injury-riddled career with the Wamps, finished with seven hits allowed, five strikeouts, no walks and two earned runs on 98 pitches.
Defense shines
: All afternoon long, the Tigers came up with web gem after web gem playing behind junior lefty Connor Johnson.
There was Nunes' diving catch on the run in right in the first inning. There was Walsh gunning out a Braintree runner trying to take second. There was Ritchie's rob of Delano's potential two-run shot, on the warning track in centerfield. There were the countless backhanded snags by senior Chris Roumbakis at shortstop.
The most important snag came in the top of the ninth, however. With no outs, the bases loaded, and the tying run at the plate, Matt Bickford lined one right to Grady, who promptly caught it and tapped second base for the unassisted double play. Steven Lee grounded out on the next at bat to end the game.
"That's been our strength all year, and we preach to pitchers: throw strikes, let your defense handle it," Taunton head coach Jeff Sylvia said. "We're gonna get hit, teams are going to get hits off of us, but most of the time we're gonna hopefully make a good defensive play, get out of an inning, make the routine play. That's what we preach."
Asked about the defense, Johnson was quick to compliment the players behind him -– "Unbelievable, best defense in the state," he declared.
Said Braintree head coach Bill O'Connell of the Taunton defense, "We did a lot of work on them, and everyone we spoke with explained about their defense as just outstanding. They made two huge diving catches that might have been extra base hits if they fell. They didn't, and that's how you win. You win with pitching and defense."
Johnson holds his own
: This afternoon's duel on the mound was between hurlers from almost the polar opposite ends of the spectrum. On one end was Delano, a big overpowering hurler who has his high-80's velocity back almost two years after undergoing Tommy John surgery from the world-renowned Dr. James Andrews.
At the other end was Johnson, a lefty who gave up almost 10 inches to Delano whose specialty is deceptive off-speed stuff. The players behind Johnson raved about his ability to battle, and certainly his stuff was on today. In eight innings, Johnson gave up five hits, walked one and fanned three, alternately jamming and reaching his batters with a sharp, snapping curve.
"It's come a long way, even this season," Johnson said of his curve.
Switching things up in BP
: Blame this season's Old Colony League champs for igniting a fire under the Tigers this past week.
Barnstable torched Taunton for 14 runs last weekend to win the league championship outright, and that spurred Tigers coach Jeff Sylvia to try a different approach to batting practice. With the spectre of Delano getting the nod for Braintree, Sylvia decided not to throw off the mound in batting practice the last few days, instead firing at batters from 20 to 25 feet away.
"I was trying to get it on the kids, just so they get their foot down and their hands through," Sylvia explained. "With guys who throw hard, you don't have to generate power with your swing. It's just more speed, the pitcher generates the power. And it worked, I thought we had good swings today."
Laying the wood
: The Old Colony League elected to make the move this season to join several other power conferences as leagues that play nine-inning, wood bat-only games. That experience has clearly conditioned the Tigers for a game like today – with wood-bat hits at a premium at the high school level, you tend to try and make the most out of your time on the basepath, if not at least play smarter.
"Absolutely, it's a different game with the wood bats," Sylvia said. "But we still kept the same mentality. We tried to squeeze, move guys over, sacrifice guys, and the bunt-and-run, that was all incorporated with the wood bat, so we tried to continue that."
April, 25, 2012
4/25/12
12:13
AM ET
By
Eric Adler
| ESPNBoston.com
HYANNIS, Mass. -– In the very first at-bat of his first career varsity start for Barnstable High, Willie Nastasi did something that most high school baseball players can only dream about.
He stepped to the plate, dug in, took a big swing and sent a two-run shot over the right field fence at Attleboro High, propelling the Red Raiders to a 10-3 victory over the Bombardiers.
It was a surprising smash from the freshman catcher, who had been called up from the JV just a few days earlier. And it was an impressive one, which not only caught the attention of his coaches, his teammates and the opposing players, but a Chicago White Sox scout who happened to be at the park that day.
Three years later, Nastasi is still raising eyebrows, only now he does it with a ball in his hands instead of a bat.
The star senior righty, who signed with UConn last November, has been the ace of the Barnstable staff since converting from catcher to pitcher his junior year. Last spring, he was named co-pitcher of the year in the Old Colony League, and this season he's off to a strong 3-0 start with 28 strikeouts in 21 innings.
[+] Enlarge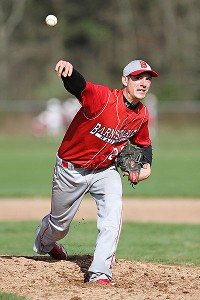 Eric Adler for ESPNBoston.comBarnstable righty and UConn commit Willie Nastasi is off to a strong start, fanning 16 batters in Tuesday's win over Taunton.
"Willie looked great behind the plate his freshman and sophomore years, but with his strength and his 6-foot-3 frame, he was destined to be a pitcher," said Barnstable coach Joe DeMartino. "After he put that one out against Attleboro, the White Sox scout came up to me and wanted to know all about him. I knew back then that Willie was going to eventually become a pitcher, but it goes to show just how much of a natural athlete he is."
He's also a cutthroat competitor.
By his own admission, Nastasi lives off his four-seam, two-seam and cut fastball, but he's also got a tricky circle change-up and sharp 12-6 curveball to boot. With a wide range of weaponry, he sees himself as the dealer and the house, and has the percentages on his side. All he has to do is use the cruel odds of the game to torment hitters.
"Every team I face I want to dominate," said Nastasi. "When I'm on the mound, I always have a good confident feeling. I know what I'm doing out there and I trust that my team has my back. I have the mindset that I'm the best on the field and I'm going to do whatever I can to win."
A pair of teams in the Atlantic Coast League can certainly attest to Nastasi's ironclad confidence.
In his season debut a few weeks ago, he took a no-hitter into the sixth inning against Falmouth and finished with four strikeouts in Barnstable's 8-4 win over the Clippers. He followed that with an 8 K, four-hit effort as the Red Raiders downed Dennis-Yarmouth, 5-3.
Nastasi's ability to throw good pitches, mix them up and hit his spots have been the keys to his success. But many times, he has batters beat long before the ball leaves his hand thanks to a deliberate delivery that's predicated on rhythm and tempo.
He begins his throwing motion holding the ball with both hands at his waist, then raises both arms high over his head (and a little behind it), kicks up his right leg, reaches back and fires away. It's almost as though he's pitching on a metronome.
"It's a little bit of funky, old-school motion yet he hides the ball real well," said DeMartino. "When the ball comes out of his hand, it sneaks up on you. He's throwing in the mid-80's, but the way he hides it, it looks like it's coming at you ever harder than that."
What's more, Nasasti's experience as a backstop has given him a distinct advantage on the bump. Said DeMartino, "He can read hitters, and he has a good feel of what pitches hitters are expecting and when to throw them. He's got a little more knowledge of the game than the average pitcher."
Nastasi's immense skill set was on display Tuesday when he struck out a career-high 16 batters in a complete-game, nine-inning victory to lead Barnstable (6-1) to a 3-1 victory over Taunton in the OCL opener for both teams.
Simply put, Nastasi was nasty.
He tied the Tigers in knots, allowing just three hits, three walks and one unearned run while throwing a career-high 155 pitches. It was even more amazing considering it had been 15 days since he pitched in a live game.
"This was one of Willie's more gutsy performances," said DeMartino. "He got behind in a lot of counts, but he battled back, and when he need a strike on a 3-2 count, he got it. We didn't have a hit after the fourth inning, so this was all Willie today. He obviously threw a lot of pitches, and had the game gone into extras we would have taken him out, but he put the team on his back and carried us."
Nastasi set the tone from the start, striking out the side in order in the first. He fanned four in the second inning after a batter reached on a passed ball, and he struck out the side in the fourth and the ninth.
"After that long layoff, I wondered how I was going to do, but as soon as I started throwing, my arm felt really good and loose, and I kind of knew it was going to be a good day," said Nastasi. "Nine innings is a lot to throw, but I knew I had it in me to finish the game. My arm felt great so I knew I could keep going."
His endurance aside, Nastasi also proved how well he fields his position. After Taunton capitalized on two Barnstable errors to plate a run in the fifth, the Tigers threatened for more with two runners on, but Nastasi knocked down a hard shot hit back to him and fired to first for the third out. In the seventh, he teamed up with first baseman D.J. Crook to record a rare 3-1 double play.
Barnstable got all the runs they would need in the third thanks to an RBI single by Dylan Morris, who stole second and scored on Mark Brodd's triple to deep center. The Red Raiders padded their lead in the eighth when Taunton botched a pick-off play.
Barnstable's 3-1 lead came in jeopardy in the ninth after Deitrich Wahl drew a two-out walk and Zach Grady reached on an error to bring the go-ahead run to the plate. But Nastasi showed tremendous poise and punched out Travis Ritchie to secure the win.
"My dad has been my main pitching coach all my life and he instilled in me that when you get on the mound, nothing else matters," said Nastasi. "I try to focus, relax, be nice and smooth with my mechanics and throw strikes. That's how you get people out."
Nastasi will bring that same approach with him when he suits up for UConn next year. He said his goals are to lead the Huskies to the College World Series, and they came awfully close last year, making it to the Super Regionals before falling to defending and eventual champion South Carolina.
Nastasi's other dream is to play in the Cape League. When he was in middle school, he was a bat boy for the Cotuit Kettleers, and his freshman and sophomore years, he was the team's bullpen catcher. His family has also hosted players for the past 13 years.
"Playing in the Cape League would be the Holy Grail, because Cape League baseball is as good as it gets," he said.
But for now, the main focus is leading the Red Raiders to the promised land.
"At the end of last year, all of the incoming seniors and myself talked about how we knew we were going to have a good team this year and how we're aiming for a state championship and nothing less," he said. "Every team talks about that, but we feel this is our best shot. We feel like we can do it."