Boston High School:

Zach Hayes
May, 5, 2011
5/05/11
10:32
AM ET
The North-South game of the 33rd Annual Shriners Football Classic kicks off this June 17 at 7 p.m., and for the second year in a row the contest will be held at Gillette Stadium. Below are the rosters for both squads participating in the game:
NORTH
Ryan Adams, Northeast, DE
James Aloisio, Masconoment, OT
Eric Apgar, Acton-Boxborough, RB
Anthony Arcari, Tewksbury, RB
Manny Asprilla, Everett, WR
Derek Bent, Shawsheen, TE
Brian Bourque, Reading, DB
James Brao, Hamilton-Wenham, LB
Cal Carroll, Methuen, QB
Brendan Casey, Boston Latin, DT
Thomas Chub, Masconomet, OL
Mitchell Colley, Arlington, LB
Sean Connolly, Tewksbury, FS
Tyler Coppola, St. John's Prep, RB
Matt Costello, Everett, WR
Anthony Courtouis, Lowell, WR
Jeff Covitz, Reading, OL
Nate Cyr, St. John's Prep, OL
Ned Deane, Andover, LB
Ryan Delisle, St. John's Prep, TE
Jake Giovanucci, Dexter, DE
Mike Grassa, BB&N, DB
Will Guinee, Malden Catholic, OL
Mike Harper, Methuen, LB
Zach Hayes, Chelmsford, S
Justin Hood, Billerica, DE
Brian Hurley, Wilmington
Zach Ingalls, Westford, DB
George Kallas, Beverly, OT
Ben Koopman, Marblehead, C
Chris Malonis, Dracut, WR
Tyllor MacDonald, Lynn English, DB
Tom Meade, Malden Catholic, LB
Trae Musumarra, Central Catholic, LB
Zach Nardone, Bishop Fenwick, DT
Paul Nwokeji, Thayer Academy, OL
John O'Connell, Northeast, DL
Daniel Omorgie, Lynn Classical, DE
Xavier Peralta, Central Catholic, DB
Ony Ramos, Lawrence, DB
Peter Savarese, BB&N, RB
Jordan Shairs, Gloucester, RB
Matt Silva, Dracut, QB
Bradley Skeffington, Salem, DB
Zach Smerlas, Lincoln-Sudbury, DL
Brian Strachan, St. Sebastian's, WR
Dave Summiel, Shawsheen, DT
Chris Unis, Gloucester, DE
Trae Weathers, Revere, RB
Sean Whittaker, Methuen, OL
Peter Yasi, Swampscott, DE

SOUTH
Matt Allen, Pembroke, SE
Ryan Barrett, Holliston, TE
Rob Barrus, Weymouth, LB
Adam Boari, King Philip, OL
Blaise Branch, Cardinal Spellman, RB
Lance Burlingame, New Bedford, OL
Jack Carrier, Cohasset, SE
Dylan Colarusso, Weymouth, RB
Joe Colton, Xaverian, DB
Tom Condon, Whitman-Hanson, OL
David Conroy, Walpole, SE
Nate Crary, Dennis-Yarmouth, DL
Seth DeMello, Somerset, RB
Mike Devin, Bridgewater-Raynham, OL
Mike Driscoll, Rockland, FB
Connor Fraser, Abington, DL
Jake Golden, Hingham, OL
Mitchell Graziano, Silver Lake, DB
William Greene, Oliver Ames, DE
Ernest Guy, Foxborough, OL
Joseph Hak, East Bridgewater, OL
Matt Hallisey, Duxbury, SE
Brian Harrington, Rockland, DE
Jordan Henderson, Barnstable, WR
D.J. Jamieson, West Bridgewater, RB
Randall Jette, Martha's Vineyard, DB
Dan Johnson, North Attleboro, SE
Andrew Kestenbaum, Dartmouth, OL
Matt Lockwood, Seekonk, RB
Albert Louis-Jean, Brockton, SE
Denis Maguire, Duxbury, LB
Jamel Marshall, Mansfield, RB
Zach Martin, Mashpee, RB
Alec May, King Philip, TE
Sean Mayo, Holliston, QB
Paul McCarthy, North Attleboro, DB
Kyle McGuire, Mansfield, OL
Dave McSweeney, Medway, OL
Obum Obukwelu, BC High, OL
Trevon Offley, Brockton, RB
Jon Page, Bourne, RB
Tyler Park, Scituate, QB
Liam Porter, Natick, OL
Ethan Rayner, Holliston, OL
Nate Robitaille, Attleboro, DB
Andrew Siden, Natick, TE
Kevin Stanton, Cardinal Spellman, LB
Jeff Synan, Plymouth North, OL
Chris Tamasi, Xaverian, LB
Ryan Vaughn, Norwell, OL
October, 11, 2010
10/11/10
2:14
PM ET
Another Monday, another wrap up of another stellar week of football. Here's a look back at the weekend that was, and what we've learned...
METHUEN'S OFFENSIVE LINE IS GOOD. LIKE, '97 BRONCOS GOOD.
"Best offensive line in the state," repeated Ryan Savastano to reporters, after marching his Methuen Rangers teammates to a 31-21 win over Chelmsford, to the tune of 223 yards on 32 carries.
Sometimes the o-line shoutouts can be a forced axiom grilled into a kid's head from the coaching staff --
mention the line, mention the line!
-- but in Methuen's case, these are far from canned quotes.
With quarterback Cal Carroll treading carefully with a hairline fracture on his left (non-throwing) thumb, the Rangers dialed up inside zone runs almost exclusively against their Merrimack Valley Large counterparts. The gameplan was methodical and pretty simplistic -- Savastano zone left, Savastano zone right, Carroll keeper, vertical pass, rinse and repeat -- and yet Chelmsford's vaunted defense, hailed by some as one of the state's best, struggled all night to put a helmet on the ball carrier on running plays.
Led by Steve DiZazzo and Dan Cormier on the left, and Sean Whittaker on the right, the senior-laden line has excelled in a zone-blocking scheme. With a linebacking corps as active at Chelmsford's, led by Zach Hayes and monster middleman Tim Joy, the Rangers often chipped off double-team blocks and accelerated downhill to drive the outside shoulder of a linebacker or defensive back away from the play. Sometimes, though, they simply pushed back the defensive linemen right into linebackers.
"I thought the o-line got some great push," Methuen head coach Pat Graham said. "It was probably tough for Tim (Joy), with the d-linemen getting knocked back into him a little bit, I'm sure it was tough for him to try and find the running back. Ryan's just a little guy, he's behind all those big guys, it's just tough to find him sometimes. But the big thing is our o-line got a great push up front."
Graham, one of the area's best coaching minds, has kept his quotes pretty vanilla and straightforward so far this season, to keep his players grounded and focused. But after a win as impressive as last Friday's, even Graham has to let out a sigh and a smile.
"Chelmsford's one of the best teams, year in and year out, in the state," he beamed. "It's a great feeling."
...ALL OF WHICH MAKES PLYMOUTH NORTH'S WEEK ONE WIN OVER THE RANGERS THAT MUCH MORE IMPRESSIVE
The Eagles, led by ice-in-his-veins running back Matt Walsh, are essentially a muffed two-point conversion attempt from being 4-1 and an ESPNBoston Top 25 team. In Week One, North held the Rangers to just one touchdown, and escaped with a 13-7 win thanks to a 70-yard Walsh touchdown run with four minutes and change to go.
Last Friday, it was Cody Merritt providing the spark, scoring three times (two rushing, one receiving) to lead the Eagles to an impressive 20-7 win over Bridgewater-Raynham.
Week by week, as the Rangers continue to pound away at the MVC's best and brightest, that is looking more and more intriguing.
JUST HOW GOOD IS ST. JOHN'S OF SHREWSBURY?
The No. 3 Pioneers lambasted cross-town rival Shrewsbury High, 52-7, their second straight week hanging half-a-hundred on the opposition. That brings their scoring margin through five games to 221-34, with a state-best average of 44.2 points per game.
A quick look inside the numbers:
Yards per game: 372.6
Yards allowed per game: 243
Points allowed per game: 6.8
Dan Light, Sr. QB: 48 carries, 426 yards, 8 TD; 44 of 77 passing, 935 yards, 15 TD, 3 INT
Richard Rodgers, Sr. WR/DE: 18 catches, 372 yards, 7 TD; 5 sacks
In Week Two, the Pioneers pasted Longmeadow, 37-8; the Lancers visited Catholic Memorial last Friday and beat them on a last-second field goal, 27-26. Two weeks ago, St. John's clobbered Fitchburg, 56-12, in the rain; last Friday, the Red Raiders almost beat Brockton, faltering in the fourth quarter.
We'll see just how good the Pioneers are this Saturday, when they travel to St. John's Prep to take on the No. 16 Eagles, and on October 30, when they host No. 1 Xaverian.
R-E-S-P-E-C-T
Akin to Aretha Franklin, or that old Adam Sandler album skit, Norton is just asking for a little of it these days.
"We didn't get shown much respect in our league and everyone thought Westwood was going to beat us," Lancers junior running back Zach Schweiger told correspondent Phil Perry on Friday. "Everyone thought their big running back [Sean Amaru] was going to do a whole bunch against us but we shut him down and executed on offense."
With a convincing 28-6 win over Westwood, the Lancers have certainly earned it, sitting at 5-0 and the prohibitive favorites to win the Tri-Valley League.
Norton stands a game ahead of Holliston, Medway and Westwood (all 4-1). Perhaps, more importantly, the Lancers now have recorded wins over Medway and Westwood with only an Oct. 22 date with the Panthers remaining on their slate.
ROUGH AND TUMBLE SOUTH SHORE
Speaking of potential Division IIIA playoff scenarios, it's anybody's guess which team will survive what has shaped up to be a very tough South Shore League.
Cohasset (5-0) remained unbeaten against another formerly unbeaten squad in an upstart East Bridgewater team Friday night behind Thomas Flibotte's 101 yards on 18 carries. Meanwhile, Rockland (28-0 win over Hull) and Abington (34-0 whitewashing of Carver) also improved to 5-0.
However, things at the top could sort themselves out pretty quickly as the Skippers host Rockland this weekend (Friday, 6 p.m.) and the Green Wave travels for a tough road game at Masphee (4-1, 1-1) Friday at 7 p.m.
All will be appointment viewing.
DOUBLE DRAGONS
The play of Duxbury quarterbacks Matt O'Keefe and Kane Haffey puts head coach Dave Maimaron in an enviable position every weekend.
Typically, O'Keefe and Haffey split time under center. They have combined for a .567 completion percentage and have both had success moving the ball down the field. On the season, O'Keefe has completed 31 of 48 pass attempts for 449 yards, seven touchdowns and one interception. Haffey has gone 37-of-72 for 490 yards, five touchdowns and one pick.
But Maimaron's depth at quarterback only helps when the injury bug comes calling.
When it became apparent Haffey wasn't going to be able to go in Friday's game at Quincy, there was no sweat calling upon O'Keefe to carry the load. The junior responded with a 242-passing yard performance and accounting for all of the Dragons' five touchdowns (four passing, one rushing).
HEAD OF THE CLASS
VALVOLINE PEAK PERFORMER OF THE WEEK: TYLER COPPOLA, SR. RB/DB, ST. JOHN'S PREP
What else is there to say after a performance as dynamic as Coppola's? Last Saturday against visiting Mount St. Joseph of Baltimore, the senior carried 19 times for 338 yards and five touchdowns, with all five of his scores coming on runs of 42 yards or more. Adding in return yardage, he finished the day with 473 all-purpose yards and a long ride home for the visiting Gaels. Yep, not a whole lot of hyperbole needed after this one, but with a day like that, credit is due to the Eagles' offensive line led by Nathan Cyr.
THE CLASSMATES
Brian Bourque, Sr. QB, Reading
- He totaled 183 yards of offense (135 passing) and four touchdowns as the Rockets cruised to a 42-0 beatdown of Wakefield.
Jonathan DiBiaso, Jr. QB, Everett
- The coach's son threw for six touchdown passes in the first half of a 42-7 win over Taunton, breaking two school records in the process -- passing touchdowns in a game and one half (himself, two weeks ago against Barnstable), and career touchdown passes (now at 34, breaking Matt Nuzzo's mark of 31 set earlier this millennium).
Chris Coady, Jr. RB/LB, BB&N
- Coady was omnipresent in the Knights' 33-28 win over Governor's Academy. He carried the ball 18 times for 86 yards and a score; caught three passes for 63 yards and a second score; made seven tackles on defense; and returned an interception to the house for a third and final score.
Dylan Colarusso, Sr. RB, Weymouth
- The hard-nosed Colarusso bulldozed his way to 220 rushing yards and two touchdowns as the Wildcats rolled to a 43-0 shutout of Dedham.
Alex Furtado, Sr. RB, Archbishop Williams
- Furtado led the Bishops with 236 yards and three touchdowns on 27 carries in a 32-22 win over Whittier Tech.
Matt O'Keefe, Jr. QB, Duxbury
- With injured quarterback Kane Haffey on the mend, O'Keefe stepped up and threw for 237 yards and five scores (four passing, one rushing) in the Green Dragons' 35-7 win over Quincy.
Trevon Offley, Sr. RB, Brockton
- The hard-running Offley ran for 217 yards and two scores in the Boxers' 27-20 win over regional rival Fitchburg.
Nate Robitaille, Sr. QB, Attleboro
- Another week, more heroics. This time, he carried the ball seven times for 132 yards and a score; and completed 10 of 26 passes for 178 yards and two scores, including the game-winner with time expired, as the Blue Bombardiers downed Foxborough, 26-24.
Ryan Savastano, Jr. RB, Methuen
- The diminutive Savastano carried the ball 32 times for 223 yards and two touchdowns in the Rangers' 31-21 win over Chelmsford.
Matt Silva, Sr. QB, Dracut
- In yet another shootout, this time a 45-35 win over Lowell and old coach Jeff Moore, Silva threw for 171 yards and two scores, and ran for 213 more and a third score.
Kenny Woods and Troy Salvatore, Sr. RB's, Walpole
- The two combined for 325 yards rushing and five touchdowns in the Rebels' 34-21 win over Braintree.
September, 17, 2010
9/17/10
12:51
AM ET
By
Brendan Hall
| ESPNBoston.com
CHELMSFORD, Mass. -- As a lifelong Chelmsford resident, Zach Hayes has seen many a loss by the local high school to nearby rival Acton-Boxborough, both in good years and bad. So when the handshakes had ceased and his Chelmsford teammates took a knee around head coach Bruce Rich, Hayes, like everyone else, merely exhaled. Two years, no loss.

"It feels great that we can finally get a win streak," he smiled. "Teams before us, Super Bowl teams, never did it. We're just trying to build off that and make a run with it this year."

Hayes, by virtue of a fumble recovery in the Colonials' end zone, started the scoring late in the second quarter. The Lions then added another score with another lucky bounce in the third to cushion it, got some mileage out of feature back Joe Gennaro (27 carries, 204 yards), and then Hayes sealed it late with an inteception. They went on to win, 13-0, and mark the first win streak by Chelmsford (2-0) in this annual series (the Lions also won 2009's contest, 28-21).

"Twelve years in a row losing? Yeah, I remember it," laughed junior linebacker Tim Joy (12 tackles), another Chelmsford lifer. "It feels really good, but you can't get over-confident now. It's like every other game to me -- 100 percent, relentless every single play."

After taking a downed punt at their own four midway through the second quarter, the Lions marched 95 yards in 15 plays, with quarterback A.J. Rotella (9 of 17, 100 yards, TD) keeping the drive alive with darting scrambles and light pop passes over the middle. On fourth and goal at the Colonials' one yard line, Rotella was stuffed on a sneak over center, met at the goal line by Matt Marcotte, Brendan Spangler and Collin Shaughnessy.

It took all of one play to reverse that fortune. On A-B's first play of the ensuing drive, Eric Apgar came off tackle right only to be met at the line of scrimmage by Brett Harrington. Hayes then popped the ball loose from Apgar's grip, and fell on it in the end zone for the game's first score.

Hayes followed through just as he does in the Lions' strip-and-rip drills in practice.

"Our coach Sal (Lupoli), he does the drill, and he's very intense with it," Hayes said. "He just teaches us to punch it and rip it."

Said Joy of the Hayes' fumble recovery, "I'd say he's probably the best defensive player in the MVC right now, and he's my best friend. So that feels good."

The Lions gave themselves some cushion in the third quarter when, on fourth and 10 at the Colonials' 13, Rotella rolled right and flicked a fade to the far right corner of the end zone. The pass was originally intended for Arron Witkus; but Witkus, falling out of bounds, smartly tipped it up instead, and Anthony Andre came down with it for the 13-0 lead.

A few more observations:

-- At halftime, the Colonials had mustered just 46 yards of offense. And really, they didn't get going until the fourth quarter, down two scores. A-B head coach Bill Maver deflected the blame unto himself -- "The whole game we had no life to us, we were flat from the beginning, but that's on me, that's my fault," he said -- but I'm going to give him the benefit of the doubt here and credit the Lions defense.

In eight quarters so far this season, the Lions have yet to give up a point. Head coach Bruce Rich said he installed a 3-4 scheme this season to match up better with the many spread teams he'll face the rest of the way, but that's not to discount his depth at linebacker. Juniors Ryan Decoste and Joy (who's already receiving great Division 1 interest) were very active tonight at the two middle backer positions, and provided tremendous run support.

"We really like our defense," Rich said. "We've got some youth over there, most of those kids are juniors, including (Corey) Everleigh. With Decoste, Tim Joy and on the other side Joey Christopher, they're just great athletes. They all play two or three sports. We installed a 3-4 defense this year, hope I'm not jinxing it but...we were able to apply it tonight against a Wing-T offense.

"The kids worked it well. So, we're putting most of our good athletes on that side of the ball, and they can run to the ball. Tonight, they did a great job."

-- That isn't to say the Colonials are running with flat tires, either. After years of wearing defenses out with the Wing-T, Maver has diversified his playbook a bit. A-B ran some spread packages tonight, and used it to put together a solid drive in the fourth that came up empty when Hayes jumped a route over the middle for the pick.

Wes Schroll (four catches, 48 yards) is their best vertical threat and go-to guy in hurry-up mode -- the 6-foot-3 senior kept the chains moving with great sideline routes. But Maver was most pleased with Schroll's pursuit of Gennaro on the Lions' game-ending drive; the 5-foot-8, 170-pound Gennaro burst up the middle on the first play following Hayes' pick, and was chased down by Schroll 52 yards later.

"That was impressive in my book. That means you want to play football," Maver said.

-- For all the talk about Billerica and Central Catholic, here's my case for Chelmsford as the team to beat in the MVC Large. Not only are they a sound, balanced defense, they have the capability to wear down teams in the second half with monster drives.

Speaking specifically to Gennaro, the Lions kept the chains moving tonight without having to rip off too many big plays, thanks to the run game. Gennaro follows his blockers well, and looked elusive against A-B. One particular play that comes to mind is his second carry of the third quarter, a nifty little 33-yard scamper: out of the I, Gennaro plunged up the middle, cut 45 degrees to the right sideline, reversed direction at the right sideline, and evaded several more tacklers with two quick cuts to the left before being wrapped up at midfield.

"I think he's one of the best running backs in the state," Hayes said of Gennaro. "Just how he plays, he's one of the toughest runners...(his big runs) just lights our team up. He did it alot last year, we get psyched for him and we just try to build off that."

Chelmsford 13, Acton-Boxborough 0

AB 0 0 0 0 --- 0
CH 0 7 6 0 --- 13

C - Zach Hayes 0 fumble recovery (Charlie Calenda kick)
C - Anthony Andre 13 pass from A.J. Rotella (kick failed)
September, 5, 2010
9/05/10
12:10
AM ET
By
Neil Carroll
| ESPNBoston.com
CHELMSFORD, Mass. -- Four years ago, Chelmsford defeated Marshfield, 23-20, in the Division 1A Super Bowl.
[+] Enlarge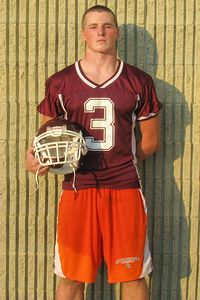 Neil Carroll/ESPNBoston.comTim Joy was named a team captain for No. 15 Chelmsford last week. Lions head coach Bruce Rich said Joy is his first-ever junior captain.
At that time, Tim Joy was playing linebacker for Chelmsford's Pop Warner team, but he knew that through hard work and dedication, his time with the Lions would come.
Last week, Joy was elected a captain for this year's squad, and is determined to get Chelmsford back to that point.
"Second place is never good enough for me," Joy said. "I just want my team and myself to the be the best it has ever been and that's my goal."
Chelmsford head coach Bruce Rich has been around the program for 50 years now and said that Joy is the first junior captain he could ever remember. Rich knows that Joy is an amazing tight end and linebacker, but also thinks he has a good leader for the next two years.
"His leadership is outstanding, he's years ahead of his time," Rich said of Joy. "I could see back in middle school that he had that work ethic and that Tim just saw what he needed to do."
When Chelmsford was making that playoff run in 2007, Joy – then in eighth grade – would come into the Chelmsford weight room before school almost every day to bulk up. He started as a freshman at inside linebacker and, now, as a junior, is one of the most feared players on the roster.
Joy now stands 6-foot-2, weighs 205 pounds and has a 4.7-second 40-yard dash time. Boston College already has shown interest in recruiting Joy to play at Chestnut Hill.
"He's a very mature young man, the kids look up to him, and as you can see – he's a man-child," Rich joked about Joy's size. "He's earned that respect."
The Lions are coming off of a 6-5 campaign last year and return starting running back Joe Gennaro, who rushed for over 1,300 yards last season.
Joy believes that with fellow co-captains Gennaro, Zach Hayes, and A.J. Rotella as the team's core, the team is poised to make a run in a loaded Merrimack Valley Conference.
"I think we're already motivated enough, but I'm just going to show them how much it matters to me," Joy said of his teammates. "I think everyone in [the locker room] shares the same desire to win a championship this year."
CHELMSFORD AT A GLANCE
2009 record:
6-5
Coach:
Bruce Rich (16th year, 106-46-2)
Players to watch:
Tim Joy, Jr., LB/TE, 6-2, 205 lbs.; Joe Gennaro, Sr., RB, 5-8, 170 lbs.; Zach Hayes, Sr., DB/FB, 5-10, 190 lbs.; A.J. Rotella, Sr., QB, 5-10, 170 lbs.; Arron Witkus, Sr., WR, 6-0, 175 lbs.; Anthony Andre, Sr., WR, 6-3, 175 lbs.; Kevin Stuczynski, Sr., DL/OL, 6-5, 240 lbs.; A.J. Jaquint, Sr., WR, 6-2, 185 lbs.; Eddie Sheridan, Sr., DB, 5-10, 165 lbs.
Strengths:
Skills positions, speed.
Weaknesses:
Physicality, depth.
Outlook:
Coach Rich will have to fill some big holes along the offensive line in order to compete with opposing defenses in the MVC. The Lions' offense will run mostly through Gennaro; whether they have him line up in the backfield or split him out wide, teams will have to watch his speed and quickness. On defense, Chelmsford switched from a 4-3 to a 3-4 scheme in the offseason. Joy will stop the run in the middle of the set and the secondary will look to beat teams that underestimate its quickness and balance.