Boston High School:

Zach Scafati
November, 20, 2012
11/20/12
1:20
PM ET
For the first time in site history, we're pleased to announce that ESPN Boston will honor the top boys' and girls' MIAA soccer player with its first-ever Mr. and Miss Soccer Awards this year.
The winners will be announced on Monday, Dec. 3, but we've whittled down our lists to a final five candidates today.
Without further ado:
MR. SOCCER FINALISTS:
Felix DeBona, Sr. F, Somerville
- The D1 North champions were led by DeBona's 29 goals, including the lone goal against St. John's Prep that clinched the sectional title. DeBona's scoring propelled the Highlanders to 15th in the NSCAA national rankings, a Greater Boston League title, and an undefeated regular season.
Dave MacKinnon, Sr. GK, Oliver Ames
- MacKinnon was named an All-American for his commanding play in net for the Davenport division champions. He gave up only four goals during the regular season with 13 shutouts and was named the Hockomock League MVP. In the playoffs, MacKinnon's save during the shootout helped the Tigers beat league rival Franklin in the opening round.
Nate Pomeroy, Sr. F, Groton-Dunstable
- Pomeroy, who is bound for Brown University next season, notched two goals in the D2 state finals to clinch back-to-back titles for the Crusaders. Pomeroy was named to the All-New England team and named Mid-Wach B MVP this season. He had eight goals in the 2012 postseason run.
Cody Savonen, Sr. F, Nauset
- Savonen led Nauset to the D1 South sectional quarterfinals and eclipsed the 20-goal mark for the season. He had a hat trick in a 3-0 win over Plymouth South that wrapped up the third Atlantic Coast League title of his career and scored the winner in the opening playoff game against Wellesley.
[+] Enlarge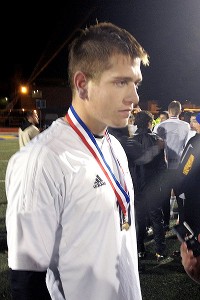 Courtesy of Josh PerryNeedham senior captain Mac Steeve led the Rockets to a Division I state title and is a finalist for our inaugural Mr. Soccer Award.
Mac Steeves, Sr. F, Needham
- The Rockets all-time leading scorer was named an All-American this season and led Needham to the Division 1 state title. Steeves also showed his ability to step up in big games. He scored both goals (and drew the penalty for the second) against Somerville in the state semifinals and scored the winning goal in the state finals against Amherst.
Honorable Mentions:
Osla DeBrito (New Bedford), Mike Lynch (Weymouth), Thayrone Miranda (Somerville), Brandon Miskin (Needham), Ryan Rose (Acton-Boxborough), Justin Rothemich (Sutton), Zach Scafati (Franklin), Stowe Simonton (Concord-Carlisle), Dave Stapleton (Oliver Ames), Brandon Vazquez (Amherst).
MISS SOCCER FINALISTS:
Lauren Berman, Sr. F, Canton
- With over 40 goals this season, Berman was the standout player for the Davenport division champions and a Hockomock League All-Star. Berman's accomplishments earned her All-American status and she will be playing in the ACC for the University of Maryland next season. She finished her career with over 130 goals.
Kristi Kirshe Sr. F, Franklin
- Kirshe eclipsed the 100-goal plateau for her career during the D1 playoffs. She scored in the state semifinal and scored both goals to lead the Panthers to the program's first-ever state title.She is an All-American as well as the state MVP. Compiling more than 30 goals this season, Kirshe helped a young Franklin team to an undefeated season.
Jen Narlee, Sr. M, Medfield
- Narlee is the leader of a very strong defensive unit for the D2 state champions. A physical presence in the center of the field, Narlee does many of the little things that do not get on the scoresheet. Many of the Warriors' opponents saw their attacks snuffed out by Narlee's positional play. That strong defense has helped Medfield win two of the past three state titles.
Andrea O'Brien, Sr. F, Concord-Carlisle
- O'Brien finished her career with over 100 goals and will take her talents to Boston College next year. An All-New England selection and submitted for All-American consideration, O'Brien helped lead the Patriots to a Dual County League title and to the second round of the tournament.
Kimberly Slade, Sr. F, Nashoba
- Slade is one of the brightest stars in the Central region. The senior forward was an All-New England selection and her playmaking ability helped lead the Chieftains to a sectional title and trip to the state championship game, where she scored the team's only goal.
Honorable Mentions:
Kendall Andrew (Oliver Ames), Mimi Borkan (Medfield), Jillian Cavanaugh (Belchertown), Taylor Cogliano (Franklin), Laura Courtney (Nashoba), Hayley Dowd (Peabody), Caitlin Harty (Beverly), Maddie Jolin (Bishop Feehan), Alexa Poulin (Central Catholic), Kayla Steeves (Needham).
November, 4, 2012
11/04/12
11:40
PM ET
By
Josh Perry
| ESPNBoston.com
EASTON, Mass. -- Sunday night's Division 1 South boys' soccer tournament first-round game between Hockomock League rivals Oliver Ames and Franklin was tight, defensive, and physical. Exactly what was expected when the match-up was first announced.
The Tigers eventually prevailed, but not until the game was sent into a shootout. Dave Stapleton fired home the final penalty to give Oliver Ames a 5-3 victory after a scoreless 100 minutes that featured non-stop action, no-holds-barred tackling, and very few scoring chances.
Hockomock League MVP Dave MacKinnon, Oliver Ames' imposing senior goalkeeper, was the hero for the Tigers after saving Tim Larowe's penalty kick. MacKinnon also made four saves including a brilliant diving effort to rob Panthers midfielder Joe Kalil moments before halftime.
Tigers head coach John Barata noted that his team struggled with penalty kicks after the season-ending draw with Brockton -- in which the teams held a shootout, which had no bearing on the result).
"We worked on them quite a bit the last couple of days and it paid off," Barata said. "It was a great game. I hate to see someone lose, but I'm glad it wasn't us."
There is plenty of respect between the Hockomock's two division winners and Franklin coach Fran Bositis spoke after the game about how his team should be proud of the way it competed against a talented opponent.
"It was a great game and that's the way they have been for the past few years. It's a tough way to lose, but someone had to, unfortunately it was us. I'm proud of the kids, they played great soccer."
It was the visiting Panthers, a team known more for its defensive strength, that created the best scoring opportunities during regulation. In fact, Franklin keeper Jesse D'Entermont was not forced into making a save until the first overtime period.
The best chance for Oliver Ames in the first half was a cross from Zachary Wyman that surprised D'Entermont and curled off the crossbar. Franklin created a great chance for star defender Zach Scafati off a corner kick minutes after halftime, but his stinging volley was saved by MacKinnon.
Oliver Ames adjusted its formation in the second half to try and get more possession. Forward Chris Goncalves was pulled back into midfield and central midfielder Lucas Araujo was pushed out wide on the left.
This change allowed Stapleton, the Tigers star midfielder, to play more advanced as the focal point of the attack and see more of the ball. Stapleton, who did not start because of a thigh injury, had a free kick two minutes from full time that slipped just wide of the post.
It was not until overtime that Oliver Ames finally put a shot on net as a Goncalves header had to be tipped over the bar. Stapleton also had a shot saved at the near post.
It was inevitable that these two teams would be forced into the coin flip of a penalty shootout. The last three meetings prior to Sunday night had all ended in a draw, including a 1-1 game earlier this season.
The Tigers practice paid off as they hit all of five of their penalties, including two off of D'Entermont's fingertips, and MacKinnon, the league MVP, made the one save needed to allow OA to advance to the sectional quarterfinals.
After hearing some of the other results from the day's action, Barata could only shake his head in awe of the depth contained in the Division 1 South sectional.
"The Division 1 South tournament is just unreal this year. I think anyone can win on any given day. If we come in on Tuesday and don't play our best game then we'll be saying we were knocked out too."
Oliver Ames will host Walpole, which stunned No. 3 seed New Bedford, on Tuesday night.
State tournament notes:
There were plenty of upsets among ranked teams on Sunday. Among the surprise results were: Walpole shocking No. 7 New Bedford, 1-0; Braintree defeating No. 13 BC High, 2-1; and Wachusett ending the season of No. 18 Marlborough by a score of 3-2. In a game that featured two ranked teams, No. 16 Nauset beat No. 19 Wellesley 2-1 to move into the quarterfinals.
One team that was able to survive despite a scare was No. 2 Needham, the top seed in Division 1 South, which scored twice in the second half to claim a 3-1 win over Brockton. The game was tight from start to finish, but the Rockets size was too much for the Boxers to handle and Nolan Brady scored the winner 11 minutes into the second half. It was a solid performance from the Boxers who made a late season surge and head coach Rick Robens felt his team was unlucky to end up against such a tough opponent, "We didn't match up that well on set plays and that was the difference in the game. We came together a little bit late, but we ran into the Needham buzzsaw."
On Monday, the West sectional will get underway with No. 3 Ludlow the main attraction as they take on Northampton, but also deserving mention is Division 2 Belchertown, which finished the regular season a perfect 18-0 and will take on Palmer in the first round.
Tuesday will feature several marquee matchups. No. 12 Dartmouth will play host to No. 16 Nauset, No. 4 Acton-Boxborough will travel to No. 6 St. John's Prep, and No. 2 Needham will host Marshfield.