Boston High School:

Zach Wells
March, 24, 2011
3/24/11
4:59
PM ET
First Team

F - Colin Blackwell, St. John's Prep
The senior center and captain led the Eagles with 45 points (24 G, 21A) while earning MVP honors from the Catholic Conference. Playing on Prep's top lines, in addition to power play and penalty kill units, the Harvard commit was a +42 this season for the Super Eight finalists.

F - Brendan Collier, Malden Catholic
Collier was perhaps the most versatile player in the state. The junior BU commit scored the game-winning goal in the Lancers' Super Eight championship, but the winger was also a mainstay of MC's penalty kill units, playing defense. The Charlestown native tallied 63 points (24 G, 39 A) during the regular season while guiding the Lancers to their first D1A title.

F - Mike Vecchione, Malden Catholic
The Lancers captain and UNH signee led their potent offense with 70 points (26G, 44A) during the regular season. The senior winger also broke the Catholic Conference's all-time single-season scoring record during MC's run in the Super Eight. The Saugus native is looking at playing in either the British Columbia Hockey League or the United State Hockey League next year.

D - Connor Evangelista, Malden Catholic
The junior blue liner was perhaps the most underrated element to the Lancers' Super Eight title run. Whether it was through an outlet pass springing the rush or on the penalty kill, the Wakefield native did it all. Evangelista was among the state's top-scoring defensemen and contributed 25 assists during the regular season for the D1A champion Lancers.

D - Marc Hetnik, Catholic Memorial
The Knights senior was like having a fourth forward out there, who also readily handled the opposing team's top players night after night. The Chestnut Hill native is considering BU, Holy Cross and Merrimack among his college choices and is likely to play in the British Columbia Hockey League next year.

G - Kyle Williams, Central Catholic
The junior netminder spearheaded the Raiders' run to the Super Eight. With Williams carrying a bulk of the load, Central Catholic surrendered just 43 goals this season while posting a goal differential of +45. He was also a driving force behind the Raiders' Super Eight run and turned in a strong performance in a near upset bid against Malden Catholic.
"Line Change" Second Team

F - Tim Driscoll, Hingham
After scoring the winning goal in the Harbormen's Super Eight championship in 2010, the Holy Cross commit captained Hingham to a D1A return in 2011. The senior winger led the Harbormen with 34 points (12 G, 22A) during the regular season and is exploring opportunities to play a prep postgraduate year of hockey before enrolling at Holy Cross.

F - Ryan Fitzgerald, Malden Catholic
The talented sophomore was the fulcrum the Lancers' prolific top line, centering Collier and Vecchione. The BC recruit was MC's second leading scorer during the regular season, netting 66 points (24 G, 42 A) for the Super Eight champions.

F - Tyler Piacentini, Weymouth
The senior captain was the sparkplug to the Wildcats' Super Eight run. While he was often the smallest player on the ice, Piacentini was typically the most visible, letting his play to the talking. With a 61-point regular season (31 G, 30 A), he finished fourth in the state in scoring to MC's dynamic first line.
D - Chris Joyce, Needham
The senior blue liner was the Rockets' third leading scorer and a stalwart on defense who seldom left the ice. Joyce tallied 24 points in the regular season (7 G, 17 A) while leading Needham to yet another Super Eight appearance.

D - Alex Pompeo, Hingham
The senior was among the state's leading point-getters among blue liners and finished second on the Harbormen in scoring to Driscoll. Pompeo was an integral part of the Harbormen's Super Eight title run in 2010 and their repeat appearance in 2011.

G - Donald Hesse, St. Mary's (Lynn)
The Spartans netminder was among the state's leaders in all goaltending statistical categories, including a measly goals against average of 1.90 during the regular season. Hesse spurred St. Mary's to its first Super Eight appearance this season. The Salem native is considering playing hockey at several postgraduate prep schools next season.
Best of the Rest
F Garrett Allen, Dartmouth
F Mike Cashman, BC High
F Liam Centrella, Andover
F Tom Coleman, Needham
F Ryan Connors, Marshfield
F Liam Coughlin, Catholic Memorial
F Joe Czarnota, Reading
F Ryan Dempsey, Marblehead
F Ryan Doherty, Tewksbury
F Terence Durkin, BC High
F Kevin Emmerling, St. John's (Shrewsbury)
F Tommy Evangelista, Central Catholic
F Riley Flanagan, Weymouth
F Dan Graham, Arlington Catholic
F Anthony Hardy, Bridgewater-Raynham
F Mitch Hamor, Beverly
F Alex Holland, Woburn
F Jack Jenkins, Billerica
F Sam Kurker, St. John's Prep
F Chris Leblanc, Winthrop
F Nick Leonard, Central Catholic
F Conal Lynch, Boston Latin
F Chris Maguire, Waltham
F Jim McGrath, Medfield
F Dan O'Hear, Catholic Memorial
F Ross Olsson, Billerica
F Cam Owens, Wilmington
F Drew Oxley, Saugus
F Kurt Roderigues, Saugus
F Nick Roberto, Malden Catholic
F Jason Salvaggio, Xaverian
F Joe Scarfo, Winthrop
F Casey Shea, Woburn
F Devin Smith, St. John's (Shrewsbury)
F Andrew Taylor, Oliver Ames
F Zach Wells, Barnstable
F Andrew White, BC High
F Garrett White, Malden Catholic
D Steven Bellew, Hingham
D Steven Bristol, Weymouth
D Sean Kavanagh, Springfield Cathedral
D Cam Kennedy, St. Mary's (Lynn)
D Jake Kulevich, Marblehead
D Ryley MacEachern, Austin Prep
D Eric Muise, Peabody
D Alex Taddeo, Franklin
G Joe Cerulo, Wakefield
G James Cox, Braintree
G Peter Cronin, BC High
G Zac Rondeau, Springfield Cathedral
G Kyle Jacobs, Pembroke
G Chris Treon, Westwood
All Rookie Team (Top 5 to Watch for Next Year)
Shane Eiserman, F, St. John's Prep
Tyler Sifferlen, F, Malden Catholic
Tom Besinger, F, BC High
Sean Cleary, G, Barnstable
Nolan Redler, F, Winchester
Coach of the Year
John Flaherty, BC High
It took just one season for Flaherty, who took over for legend Joe McCabe, to get the Eagles back to the Super Eight after missing the playoffs in the previous two seasons. The BC High graduate guided the Eagles to a 15-6-3 record that included an appearance in the Super Eight crossover round. Flaherty also works at the school as its Director of the Fund.
March, 12, 2011
3/12/11
1:17
AM ET


BOURNE, Mass. –- Even though Marshfield went into the first intermission down one goal, Rams head coach Dan Connolly wasn't discouraged.

And he didn't worry either when his team fell behind by two goals.

"I thought we played well and we carried the play," Connolly said. "They just capitalized on both their chances."

Then, as though a switch had been turned on, the Rams took off. After falling behind second seed Barnstable 2-0 midway through the second period of Friday night's Division 1 South semifinal at John Gallo Arena, No. 3 seed Marshfield rallied to score three goals in three and a half minutes and pull out a 3-2 comeback win over the Raiders.

"The attitude in the locker room after the first period, they were a little down," Connolly said. "But we told them they played well, there was nothing to be ashamed of. We just had to keep playing the way we were and they were going to go in eventually."

Barnstable (14-4-4) took a 1-0 lead with 9:04 remaining in the first when Zach Wells redirected a Will Toffey point shot.

The Raiders were also able to neutralize the Rams' team speed through the first period, playing a 1-2-2 defensive trap.

"They kind of played that trap on us and we knew if we skated to them and we manipulated one guy to come over, there would be another guy open," Rams junior forward Chris Perry said. "And that's what happened."

Toffey helped Barnstable to a 2-0 lead in the second, stripping a Marshfield defender with a persistent forecheck and then walking into the slot and letting off a wrist shot at the 8:56 mark.

The Rams (17-3-5) began their comeback 11 seconds later, straight off the ensuing faceoff. Joe Admirand raced up the left wing boards and slid a cross-ice pass to Jon Fraser, who buried the one-timer.

Ty Martina tied the game with 2:30 to play in the second, unleashing a slap shot from the right wing circle that appeared to be deflected by a Raider defenseman's stick. Ryan Connors and Jimmy Connors had the assists on the play.

Perry then tallied the game-winner before the period was out. With 25 seconds remaining, Perry put back the rebound off of Ryan Connors' shot from the off wing. Connors' blast ricocheted off the post, but back in the direction of Perry, who then finished top shelf.

"It was a great play by my linemate Ryan Connors," Perry said. "He was flying around everywhere. It came off the back post right to me. I was lucky."

The Rams defense held through some tense final minutes of the third period, with Kyle Moran making seven saves.

Freshman Sean Cleary also turned in a strong performance in net for the Raiders with 23 saves.

Marshfield will face top-seeded Springfield Cathedral at Gallo on Sunday for the sectional championship. The puck drops at 4:45 p.m.

"They're deep, they're big and they're fast," Connolly said of Cathedral. "Hopefully, it's a good one."

PANTHERS RETURN


Top-seeded Springfield Cathedral's been in this territory recently.

Two years ago, the Panthers lost a Super Eight play-in game and then rebounded, tearing through the Division 1 South tournament en route to the state championship.

Cathedral has followed through on that trajectory this season, advancing to the D-1 South final with a 5-0 win over No. 13 seed Duxbury during the early game at Gallo.

The Panthers (14-10-1) jumped on the board four minutes into the first with Frank Crinella one-timing Mickey Foley's feed through the slot. Dante Christofori also picked up an assist on the play.

Christofori tallied his second point of the game, finding the back of the net 1:19 into the second period, providing Cathedral with a 2-0 lead. The Panthers ran their lead to 3-0 three minutes later with Matt Peloquin cashing in after camping out on the high slot with Griffin Foley providing the feed.

"Me and Frank have been connected all year long and Dante came on our line two weeks ago," Mickey Foley said. "He's really fit the spot. We had an empty spot and he's really stepped up to the plate. He's getting open and giving good passes. We've connected really well."

Cathedral carried play through the second and Duxbury was held without a shot for the first 13 minutes despite having two power play opportunities sandwiched together midway through the period. The Panthers outshot the Dragons, 9-1, in the period.

Duxbury (9-8-8) was unable to cash in on four power play chances.

"We went into the third talking about staying out of the box," Panthers head coach Brian Foley said. "We gave up two man-up opportunities, but we practice those situations a lot and it was nice to see the execution on the power play and the penalty kill."

Stephen Metayer had the Panthers to a 4-0 lead in the third, exhibiting some quick hands, picking up a loose puck in the slot and letting off a wrist shot. Sean Kavanagh rounded out scoring with a power play goal with 6:15 remaining.
January, 23, 2011
1/23/11
12:43
AM ET
By
Brian Fabry
| ESPNBoston.com
HYANNIS, Mass. -- Barnstable's Scott Nickerson can be his team's worst critic, but even the fifth-year head coach had to admit there was not much to complain about.
Senior captain Zach Wells scored two goals, including the game-winner, as the Red Raiders upended No. 20 Bridgewater-Raynham, 4-1, in a battle of Old Colony League unbeatens.
Wells potted the game-winner 6:03 into the third period, 25 seconds into the second power play opportunity of the period. The man-advantage set off three unanswered goals in the final stanza with the senior captain adding an empty-netter with 1:05 remaining to give him 10 tallies on the season and pairs of goals in each of the last three contests.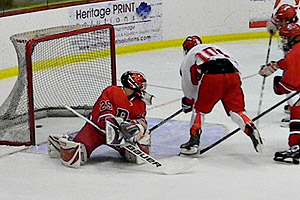 Brian Fabry for ESPN BostonBarnstable's Max Willman (10) slides the tying goal past Bridgewater-Raynham goaltender Peter Drowne in the Red Raiders' 3-2 win Saturday in Hyannis.
"Bridgewater's the only team really [in the league] that this is the biggest game for us all year until the state tournament", said Wells. "They've always been a good team, we usually don't beat them so it's a great win for us."
The victory over the Trojans (5-3-1; 1-1) is the first for the Red Raiders in the last three seasons and puts Barnstable (6-1-3; 2-0) directly in the driver's seat for the Old Colony League title.
"The first period they out shot us, but after the first period we were a better team out there", said Nickerson. "You know I'm negative a lot but that's a big show for us, I'm happy and we had a lot of guys really play well for us."
Bridgewater-Raynham carried the play for most of the first period holding a 9-5 shot advantage as freshman Connor Sullivan gave the Trojans the 1-0 lead only 1:28 into the first period. Corbette McLucas' blast from the point bounced to senior Matt White, who tried to punch home the rebound, but Sullivan finished the frenzy with the easy wrister just to the right of the crease.
Max Willman led a 14-shot effort in the second period with his seventh goal of the season on a highlight-reel toe-drag across the crease for the period's lone goal as the teams skated to a 1-1 tie after the first two stanzas.
Nickerson lit up in his office talking about the equalizer scored at 7:23 of the second period.
"Beautiful, just beautiful but there is a kid, although he's small, he's got a head on him, and he can make that play and we don't have many guys who can make that play," said Nickerson. "If he was even 5-10, he'd be all world, but he's only about 5-5, 125 pounds."
Added Wells: "He has some really good hands and what was a huge goal for us and we really needed something to get back in."
After Wells' game-winner, Will Toffey scored at 8:01, less then two minutes after the senior captain's tally, for the insurance goal and Wells followed with the empty-netter. Wells' power-play strike was all goaltender Sean Cleary needed as the freshman netminder was solid the rest of the way with 21 saves for the Red Raiders.
"The guys that are supposed to score scored tonight, Willman and Wells, Toffey and exactly what happened is what we've been looking for," said Nickerson. "Figure a 3-1, 3-2 game, figure Wells is going to get one, our defense is going to get one, and then someone else."
The power-play goal was only the second of the entire season for Barnstable as they out shot the Trojans 29-22 overall. But the small improvements can add up in the end for Nickerson's Red Raiders.
"We're getting better and better, more aggressive, handling the puck a little bit better," said Nickerson. "This game helps us confidence-wise as they are starting to believe they are pretty good - not getting cocky over it - but our guys are really starting to believe."
BRIDGEWATER-RAYNHAM (5-3-1; 1-1) - 1 - 0 - 0 - - 1
BARNSTABLE (6-1-3; 2-0) - 0 - 1 - 3 - - 4
FIRST - BR - Connor Sullivan (Matt White, Corbett McLucas), 1:28.
SECOND - BA - Max Willman (Ricky Panton, L.J. Fellows), 7:23.
THIRD - BA - Zach Wells (Willman ), 6:03; BA - Will Toffey (Kyle Fontaine), 8:01; BA - Wells, 13:57 (en)
SAVES: BR - Peter Drowne (25); BA - Sean Cleary (21).
January, 12, 2011
1/12/11
11:19
PM ET
By
Mike Scandura
| ESPNBoston.com
What do traffic jams on Route 95 during the rush hour and Division I boys' hockey have in common?
Right. Congestion.

Entering the second week in January, you could put a postage stamp over the top four teams after the previous weekend's results – which, among other things, featured one of the more remarkable comebacks in the storied history of Mount St. Charles.
Mount (6-0-1) and Moses Brown (6-1-1) are tied for first place with 13 points each although the Mounties have one game in hand. Hendricken (5-1-1) and La Salle (5-1-1) are in a dead heat for second.
For the longest time last Saturday when Moses Brown played the Mount, it appeared the Quakers would exit Thayer Arena in sole possession of first place. Moses Brown led, 6-3, with just under five minutes left in regulation. That's when the Mounties staged their improbable rally. Trevor Plante's goal with 4:52 left sliced Mount's deficit to 6-4 and then Mike Magerman scored twice – his second goal coming with all of 8.3 seconds left on the clock to forge a 6-6 tie.
Since neither team scored in overtime, each was awarded one point in the standings.
Ironically, the six goals coughed up by the Mounties were the most they've allowed in a regular-season game in longer than coach Bill Belisle would care to remember. Even more ironic was the fact that the other game on the Thayer Arena card, between La Salle and Hendricken, also ended in a tie – 3-3, after the Hawks rallied from a three-goal deficit.
PASSAGES
Words are impossible to find when describing the tragedy that occurred on January 6 when former Harvard star, multiple-All State hockey pick and NHL player Tom Cavanagh was found dead in the Providence Place Mall garage.
Cavanagh, 28, went right from Toll Gate High to Harvard and later signed with the San Jose Sharks.
In both his junior and senior years, he led the state in scoring and was voted First Team All-State honors. Cavanagh played on the 2004 Titans team that broke Mount St. Charles' national-record 26 consecutive state championships.
FUTURE FRIAR
Johnston's Noel Acciari will be playing his college hockey at Providence College.
Acciari began his interscholastic career at Hendricken and earned 2009 First Team All-State honors. He then transferred to the Kent School where he was elected a co-captain and was voted Most Valuable Player in the Avon Old Farms Christmas Tournament.

DON'T OVERLOOK MOUNT GIRLS
While the Mount St. Charles boys' hockey team invariably tends to overshadow the girls' team, there's no overlooking the fact that the Mount girls are one of the premier female teams in the state.
What's noteworthy about the 2010-11 team – which was 6-0-0 through January 9 – is its depth. Mount coach Steve Shea lost five players through graduation, including All-Staters Katie Loiselle and goalie Kayla DiLorenzo. But he returned the rest of the team and welcomed a handful of freshmen.
Shea's current team is led by the first line of senior wings Erin Rouleau and Samantha Smith plus sophomore center Danielle Allain.
BIG-TIME VICTORY
Barrington's St. Andrew's School over the years has developed a reputation as one of the top basketball prep schools in the nation. But the team out-did itself by upsetting nationally-ranked/traditional power DeMatha Catholic High, 49-46, in the Cancer Research Classic in Wheeling, West Va.
DeMatha came into the game ranked seventh in the nation with a 12-0 record. But Michael Carter-Williams tipped in a missed shot with 18 seconds left in regulation for a 47-46 lead and clinched the victory by sinking two free throws shortly thereafter.
Carter-Williams finished with 26 points, 6 rebounds and 6 steals while Cedric Kuakumensah pulled down 10 rebounds and blocked 6 shots.
DOUBLE DRIBBLES
Gunnar Bjornson scored 25 points, burying four 3-point shots in the process, as Tiverton beat Portsmouth, 69-47, in the finals of the East Bay Christmas Tournament.
Bridget Hollenbeck and Kelsey Cahill scored 13 points apiece as Cumberland beat Mount St. Charles, 48-35, in the Smithfield Boosters Holiday Tournament championship game.
PLAYERS TO WATCH
Smithfield and Westerly invariably aren't confused with Rhode Island's traditional boys' basketball powers like Hendricken, La Salle, St. Raphael and Central. But the Sentinels and Bulldogs may bear watching this season if for no other reason than a pair of front-court players.
Smithfield's Kyle Morvan is a 6-4, 220-pound center who in the early going was averaging 23.2 points in Division I. He also was voted to the Keene (N.H.) Holiday Tournament All-Tournament Team. Morvan earned Second Team All-State honors last season and, obviously, is on track perhaps to do even better.
Westerly's Zach Wells is a 6-4, 190-pound power forward who through his first eight games was averaging 16.7 points against Division II competition.
ONE FOR THE BOOKS
Chariho senior Innocent Jacobs smashed a 22-year-old Rhode Island state record in the boys' indoor long jump by leaping 23-feet, ½-inch in a recent dual meet.
The previous record was 22-11 set by Hope's Dennis Soares.
Jacobs also displayed his versatility in the meet by clearing 6-10 in the high jump.

Mike Scandura has been covering high school sports, college basketball, football and hockey, plus minor league baseball in Rhode Island since the early 1970s. A native of Oswego, N.Y. he's a member of the Words Unlimited Hall of Fame which is the statewide organization of sportswriters, sportscasters and sports publicists.