Boston High School:

Zach Zaniboni
June, 19, 2011
6/19/11
12:08
AM ET
By
Lucas Shapiro
| ESPNBoston.com



LYNN, Mass -- In a year where the Dallas Mavericks, UConn Huskies, and Boston Bruins have all won championships, the Plymouth North Blue Eagles discontinued the underdog trend in a solid 3-1 victory over the Hudson Hawks.

When Hudson's Ryan Bowen hit Plymouth North's Zach Zaniboni on the very first pitch of the game, it became very apparent where this game was going.

"We had to jump on them early and be aggressive. That was our approach to this game," said second basemen Jamie Dougherty. "But if we laid around and kept them in it, things wouldn't have gone good."

And to say Dougherty was aggressive would be an incredible understatement. After a pitch had hit his teammate, Dougherty took a sacrifice bunt, which helped Plymouth North score their first run of the game. He also made an incredible diving catch at the bottom of the sixth inning that shut Hudson's hopes of winning the game down. All of this was done with an injured elbow after being hit by a pitch in the previous game.

"[My elbow] did hurt but I was trying not to worry about it," said Jamie Dougherty. "My good friend [Matt] Walsh kept telling me to take it one out at a time."

"He shouldn't even have played," said coach Dwayne Follette. "He's got a nasty elbow. He shows the character of this program and this team. You wouldn't even believe it if you had looked at his elbow."

Plymouth North's other two runs came in the third and fourth inning. Dougherty scored a run on a bocked pitch in the third and pinch-runner Tom Faucett scored on a Doug Maccaferri single in the fourth. Alex Rozak pitched an incredible game, letting up only three hits in six innings. But he wasn't quick to accept praise after the game. Instead, he gave credit to the relentless Plymouth North fans.

Said Rozak, "We have the best fans in the state. They are always here supporting us. It's always a big boost when you have people behind you."

From chants to body paint, the Plymouth North fans were simply a reflection of how the Blue Eagles' program operates. Heart, grit, and toughness is what they are all about. When things were not looking good, there was always someone there to step up, whether it was Cody Holmes cleaning up for Rozak or Dougherty's heroic catch to help close out the game. Their numbers also speak for themselves.

"We have two [state championships] in the last four years. We got 13 seniors going on to college, six to play baseball, and one in the armed services. These guys are unbelievable."



June, 16, 2011
6/16/11
1:53
AM ET
By
Andy Smith
| ESPNBoston.com
BRAINTREE, Mass. -- When they look back on the season, their record will include only two losses, but for the North Andover baseball team, the second came at the worst possible time.

After winning 23 games in a row to establish state-wide dominance in Division 2, the Knights ran into Plymouth North Wednesday and lost 15-4. With the win, the Eagles return to the Division 2 State Final for the third time in four years, and will try to capture their first title since 2008.

The Plymouth North (21-3) bats got to Mike Weisman early and often, putting up four runs on four hits in the second inning after leaving the bases loaded in the first. Meanwhile the defense for North Andover (23-2) did not make life easy for Weisman, committing three fielding errors in the inning.

The Eagle hitters attacked Wiseman early in counts, often swinging at the first pitches of their at-bats. Plymouth North catcher Matt Walsh, who went four-for-five with four singles, said the team noticed a pattern in the pitching that helped them attack at the plate.

"Right away, the first three batters of the game, we noticed he started with a fastball to each hitter," he said. "We left the bases loaded in the first inning but we knew we were going to get to him because of the first pitch fastball."

They got to Wiseman again in the fourth inning for five more runs. Zach Zaniboni lead off the inning with a single to right-center and was brought home by Walsh two batters later. Dom Nicolosi, the North Andover third baseman, misplayed two ground balls in the inning, which kept the Plymouth North inning alive. Altogether, the team committed six errors in the game.

"We couldn't field a ground ball today," said North Andover coach Todd Dulin. "First game of the year (the other NA loss) we couldn't field a ground ball and today we couldn't field a ground ball, so that's kind of the story."

Weisman was pulled later in the fourth after giving up nine runs and nine hits. After pitching three times in one week, including pitching Wednesday on two days rest, the hard-throwing lefty just could not stop the Plymouth North lineup.

Plymouth North will play the winner of the Hudson vs. Palmer game, which was postponed to Thursday night due to lightning, Saturday at Frasier Field in Lynn for the Division 2 State Championship.

"This was the game we had to get, us with our No. 2 pitcher (Jake Stearns) against Weisman," said Plymouth North coach Dwayne Follette. "Now we give ourselves a chance for another state title, which is all we want."

Stearns threw six-plus innings and never ran into any trouble until his last inning. A back-to-back Weisman walk and Alec Jillson single in the fourth inning was the only blemish in the box score for Stearns until the sixth. There, he gave up a double to Cam Couillard and triple to Wiseman to open the inning. He was relieved in favor of Tom Faucett after he failed to record an out in the inning.

The 15 runs was a vast difference from the two runs the Eagles could muster against Somerset the night before. Walsh knows his team's performance against North Andover is more indicative of what type of team Plymouth North is.

"We know we're a hitting team," he said. "It happens to every team once in a while. You get out-pitched once in a while, but we still find a way to win and that's all that matters. We knew we'd come back to the bats tonight."
June, 14, 2011
6/14/11
11:59
PM ET
By
Andy Smith
| ESPNBoston.com


QUINCY, Mass. -- Alex Rozak could not have picked a better time to pitch his best game of the season for Plymouth North.

The right-hander allowed three hits and recorded 12 strikeouts over seven innings to lead Plymouth North to its third Division 2 South Championship in four seasons, with a 2-0 victory over No. 2 seed Somerset Tuesday night at Adams Field.

"Rozak was nasty," North head coach Dwayne Follette said. "He's had games like that and then tired at the end, but he just finished tonight. It was great."

Rozak felt staying out of any trouble with the Somerset hitters helped him keep his composure and stay on the mound until the final out.

"When I was running into trouble, that's when I started to get unfocused, but it all came back to me today," he said. "I wasn't tired though, I felt strong the whole game."

The Blue Raiders (17-6) never had a runner get beyond second base and only had multiple runners on base once in the game. The three times a batter had a full count against Rozak resulted in either a strikeout or an inning-ending double play.

"I was hitting my locations today, every pitch was working," he said. "I have three pitches and earlier in the year, only two of them would work, but today all three of them were."

It was not as though the North (20-3) bats lit up the scoreboard though. Aside from two innings with costly Somerset errors, Colin Smith pitched a gem of a game for the Raiders.

Zach Zaniboni led off the game with a single and advanced to second with a stolen base. Two batters later, he was driven in by Matt Walsh, who dropped a single into center. Adam Ledoux lifted his head up too soon while fielding ball, which allowed it to roll behind him and Zaniboni to score easily.

In the third, Zaniboni again lead off the inning. He hit a fly ball to center, looking like the first out of the inning. Three Somerset fielders converged, each wanting to catch the ball. It hit off the second baseman's glove and hit the ground. He advanced on a Smith throwing error when his pickoff attempt got past the first baseman. He eventually scored on a Walsh sacrifice fly to center.

He finished the game with nine strikeouts while allowing five hits and one walk over seven innings. He struck out Plymouth North's cleanup hitter, Mike Cahill, three times.

"(Smith) was awesome," said Follette. "He had five of our guys screwed into the ground. He had strikeouts against five of our batters. He came as advertised with a great change-up and breaking ball away."

The Eagles will face North Andover Wednesday in the state semi-finals in a rematch of the 2009 semi-finals, in which Plymouth North came away with a 9-0 victory.

"They won 23 in a row so we know we have our work cut out for us, but we're just happy to be there and we're going to give them a game," declared Follette.

With Rozak throwing a complete game, it kept as many pitching arms as possible available for North to use if needed against the tough North Andover lineup.

"We know we have two pitchers behind me that will get the job done and we'll hit the ball well since we've been doing that all year," said Rozak.
May, 12, 2011
5/12/11
8:57
PM ET
SOUTH YARMOUTH, Mass. -- Alex Rozak came in to close the deal in the bottom of the seventh with two outs, on just two days rest -- and at that, six-plus innings of extended relief -- and immediately ran into trouble. But with two men on, the junior righty caught the Dennis-Yarmouth batter looking on a third strike, opening a joyous emptying of the dugout and a pat on the back from his head coach.

With Rozak's save and a strong 6-2/3 innings from lefty Jake Stearns, the Eagles clinched at least a share of the Atlantic Coast League title once again by holding off upstart host Dennis-Yarmouth, 4-3, at Wilson Field.

North (13-1, 9-1) can clinch the ACL outright at home Monday against Sandwich, while D-Y fell to 8-5 and 5-4 in the league.

"I never should have pitched him [today], but you know, that's for the league title," Eagles head coach Dwayne Follette said of Rozak, who struck out eight batters in 6-2/3 innings of relief in a 14-5 win over Marshfield Monday. "That's a good win."

Pinch-runner Ryan Moskos came on for Dave Murphy in the top of the sixth inning, and scored from first base with two outs to plate the winning run for the Eagles. Doug Maccaferri flied out deep to right field, sending the speedy soccer star from first on a tag-up. Moskos slid head-first into third, but the throw from the rightfielder was overthrown, sending him home standing up.

Matt Walsh tried to give the Eagles an insurance run in the seventh, blasting one to the left field wall for a stand-up double before getting tagged out at home to end the inning. Stearns fanned the first two batters of the final stanza swinging, but walked the next one, prompting Follette to call in Rozak on short rest for the save.

Stearns finished the day striking out eight, allowing five hits and walking two, to pick up the win.

"I knew once we got that run, we get ahead and we've got Alex and our ace," Walsh said. "Big chance for us to get the ACL right there, so I knew my double would help us get it done."

The Eagles plated three runs in the top of the first, the first run coming when Zach Zaniboni raced home after Walsh's grounder wasn't fielded safely. Walsh and Mike Cahill then came home on a John Myette single to make it 3-0.

But the Dolphins responded two innings later to knot it at three. Brendan Sullivan reached on an error by the second baseman, allowing his brother Cody to reach home safely for the 3-3 score.

After the rally, D-Y managed just two hits over the final four innings.

"They're the best team in Division 2, and we've played them two games in a row toe-to-toe," D-Y head coach Paul Funk said. "I think we just made more mistakes. We made a couple of mistakes that we've got to clean up on. But I'll tell you, we gutted it out. The pitcher we had going [Justin Thomson], he gutted it out for us."
October, 30, 2010
10/30/10
10:55
PM ET
BUZZARDS BAY, Mass. -- Bandaged brow and all, Matt Walsh stood unfazed as he greeted reporters following his Plymouth North Eagles' game with Barnstable. This was a typical night for the 5-foot-11, 210-pound senior, after all -- which is to say, based on recent performances, an unstoppable one.

Whether it was carrying the ball or lead blocking, Walsh punished the Red Raider defenders all night to the tune of 111 yards and two scores on 26 carries, giving the Eagles all the cushion they needed as they pounced on Barnstable, 33-18, last night at Massachusetts Maritime Academy's Clean Harbors Stadium.

"They were loading up on us in the box," said Walsh, who recently committed to Franklin Pierce College for baseball. "They were keying on our power game, and we still powered through them. It was a really nice job by the offensive line."

As for his own game?

"I just want to get the running backs in the end zone," he said, referring to his lead blocks. "I'll do whatever I can for the team."

All night, the Raiders struggled to keep the Eagles off the field, and dominated the clock with their Power-I set in the first half. North was 8 of 13 on third downs, and converted all four of its fourth down tries, thanks to well-executed kick-out and trap blocks from linemen Jeff Synan, Mike Cahill and Justin Maskell that sprung Walsh free. Walsh did the rest, pushing the pile on his own strength at the end of runs and even trucking a few guys.

It's the same method that has delivered North impressive wins over Bridgewater-Raynham, Marshfield and Falmouth in successive weeks following the loss last month to Aquinas Institute of Rochester, N.Y.

"They're a real physical team," Barnstable head coach Doug Crook said. "We knew they were going to come and pound us. Matt Walsh is a load. My defense is laden with sophomores and I'm proud of them, but this is a good tune-up for next weekend (against Bridgewater-Raynham)."

As for that last point, some might consider this a warm-up for both teams' league slate ahead of them. Friday the Raiders look to clinch the Old Colony League crown when they head to B-R, a program known for its suffocating offensive line play and power running have since the days of Doug Bessette and Marc Colombo in the late-90's. The Eagles head to South Yarmouth in two weeks to take on Dennis-Yarmouth -- which runs a more read-option oriented version of Barnstable's spread attack -- for what could potentially be all the marbles in the Atlantic Coast League.

"D-Y is pretty much like Barnstable, so it was good to get a feel for that tonight," Walsh said. "Hopefully it helps us out alot."

The Eagles dominated the clock with their power running game in the first half, putting together two monster scoring drives and moving the ball steadily behind Walsh, Zach Zaniboni and keepers from quarterback Cody Merritt. North marched 63 yards in 12 plays on its opening drive of the game, with Walsh plunging in from four yards out for the initial 7-0 lead.

They pushed the lead to 13-0 late in the second quarter after putting together another drive from good field position, marching 54 yards in 10 plays and punching it in with a one-yard Merritt keeper. Barnstable, after a dismal start, came out blazing in the third quarter, with junior quarterback D.J. Crook (273 yards passing, three touchdowns) hooking up with Jordan Henderson (12 catches, 204 yards, three touchdowns) for a 46-yard pass on fourth down, then punching it in five plays later with an eight-yard comeback to Henderson.

Each Crook touchdown pass to Henderson was responded immediately with more Plymouth pounding between the tackles and scores. Meanwhile, the defense showed its mettle in keeping the quick Barnstable strikes to a dull roar, picking off Crook twice in crucial situations.

So, the North defense did bend. Henderson burned the Eagles' secondary for catches of 48, 46, 33 and 23, all off short passes to the flats; running back Dennis Reddy (nine carries, 79 yards) kept them honest with draws up the middle that went for big gains.

But they did not break.

"(We had to stop) the big play. They can score so fast, they can do everything," North head coach Dwayne Follette said. "They have a great deep passing game, and we didn't give up any big plays as far as deep strikes. We couldn't figure out the crossing route on that empty set they run, but we adjusted and we played well. I was very happy with our defense. They've very dangerous, they average alot more than 18 points (per game)."

PLYMOUTH NORTH 33, BARNSTABLE 18

PLN 7 6 14 6 --- 33
BAR 0 0 12 6 --- 18

First Quarter
P - Matt Walsh 4 run (Vinny Tavernelli kick) 3:49

Second Quarter
P - Cody Merritt 1 run (pass failed) 2:21

Third Quarter
B - Jordan Henderson 8 pass from D.J. Crook (kick failed) 8:35
P - Walsh 6 run (Tavernelli kick) 5:31
B - Henderson 9 pass from Crook (pass failed) 4:22
P - Zach Zaniboni 48 run (Tavernelli kick) 3:26

Fourth Quarter
B - Henderson 3 pass from Crook (pass failed) 4:00
P - Merritt 30 run (kick failed) 2:11
October, 23, 2010
10/23/10
12:29
AM ET
By
Brian Fabry
| ESPNBoston.com
PLYMOUTH, Mass. -– Plymouth North head coach Dwayne Follette tried to downplay the significance and the motivation behind the win, but senior running back Matt Walsh took it personal.
Under a full moon and a chilly October night with temperatures in the 30s, the No. 22 Blue Eagles shocked No. 7 Falmouth, 28-7, in front of a standing-room only, homecoming crowd and sent the previously unbeaten Clippers' packing in a defining Atlantic Coast League battle.
Forced to play their home games at rival Plymouth South's field a few miles away due to construction, the defense didn't seem to care as they held Falmouth to 11 yards on only 13 plays from scrimmage in the first half alone.
Walsh finished with 102 of the 174 rushing yards for the Eagles on 16 carries and was referring to last season's 41-0 rout at the hands of Falmouth when he said the seniors wanted to "punch them in the mouth" with a victory. With the win, Plymouth North (5-2, 2-0) remains unbeaten in league play and with a 15-0 win last week over the defending league champion Marshfield, this victory puts the Eagles' at the head of the pack with three winnable league games left on the schedule.
"Every time I got the ball there were holes everywhere, it wasn't just one hole at a time," Walsh said. "[Assistant] Coach [Carl] Freyemuth told us this was a big game and we were hyped up beating Marshfield and we knew coming in we needed at least two turnovers and I think we got more then that."
[+] Enlarge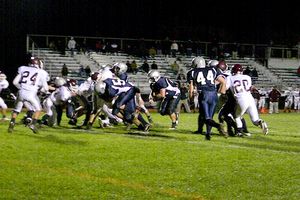 Brian Fabry for ESPNBostonMatt Walsh rumbles in for the first of his two touchdown runs in Plymouth North's 28-7 upset win over Falmouth on Friday.
The Plymouth North defense caused six turnovers overall converting the first three Clippers' miscues into touchdowns in the first two quarters of play.
Plymouth North (5-2, 2-0) was staked to a 14-0 lead in the first 8:43 of play as the Eagles cashed in two forced fumbles for touchdown on Falmouth's first two series. The two turnovers set up Plymouth North with great field position, with the first opportunity coming at the Clippers' 24-yard line after a Mike Cahill fumble recovery.
After two Walsh rushes got Plymouth North to the 11-yard line, quarterback Cody Merritt scored on an 11-yard keeper right up the middle of the Falmouth defense. Falmouth's Jonah Olsen burst off the right end untouched and blocked Vinny Tavernelli's extra point attempt to hold the score at 6-0.
But the momentum never changed as on the very next series, the Clippers' second fumble was on the ground on only the second play from scrimmage. This set up the Eagles' with even better field position inside the red zone at the Falmouth 14-yard line.
Last week's offensive star Zach Zaniboni was credited with the recovery and four plays later, Matty Walsh scored the first of his two rushing touchdowns from two yards out and then Merritt converted the two-point conversion on a swing pass to Walsh for the 14-0 lead.
"We haven't been getting many turnovers and we got a lot of turnovers tonight and we turned them into scores, so it was great we executed," Eagles head coach Dwayne Follette said. "The defense played awesome again but our offense played real well tonight, got some big plays, and turned the short fields into scores and that was the difference."
After the two teams exchanged three-and-outs, Merritt turned around to the defensive side of the ball and picked off the Clippers' Dillon Mansfield at the start of the second quarter to set up the third Eagles' score.
The Eagles methodically ate up over nine-plus minutes of the second half on a 12-play drive – not including a spinning 27-yard run from Zaniboni that was negated on a holding call - that culminated on a fourth-and-one plunge from Walsh with only 50 seconds left before the half. As the teams dispersed for halftime, Plymouth North was firmly in control, 21-0.
"We had a good week of practice and everyone was on key," Walsh added. "We played hard the whole game we didn't give up and we gave it all we could".
The nightmare continued for Falmouth (5-1, 1-1) as they coughed up the ball on their next two possessions of the second half and lost two-sport star Nelson Baptiste to an undisclosed injury before the second stanza started.
Plymouth North smelled blood in the water as Zaniboni had his second fumble recovery and the fifth Falmouth turnover turned into a picture-perfect hook and ladder between Merritt and Liam Cosgrove with the final pitch going to Bobby Savoia for the 32-yard touchdown.
Before Falmouth knew the second half whistle was fired off, the Eagles offense posted 28 unanswered points with 9:08 remaining in the third quarter.
Olsen took it upon himself to ruin a second consecutive Atlantic Coast League shutout for the Eagles with a 40-yard scamper on a sweep to the right as he outran four would be tacklers with 9:03 remaining in regulation.
Said Follette: "We have three league games left and every week you play for controlling your own destiny. We talked (last season's loss) up, but this was a big enough game that we didn't need the extra motivation, but [Falmouth head coach] Steve [Femino] is a great guy, he addressed our team [post-game], he's a class act but we won –- we played the better game".
Falmouth goes back over the Sagamore Bridge to lick their wounds in anticipation of next week's battle with Marshfield, which will essentially knock one of the two ACL powerhouses out of contention for this year's Division 2A Super Bowl playoffs. Plymouth North goes on the road to face non league foe, Barnstable, in a tune up for the remainder of the league schedule.
The rest of the schedule includes road games against Sandwich and the always dangerous Dennis-Yarmouth before the season-ending tilt with in-town rival Plymouth South at the annual Thanksgiving Day battle.
FALMOUTH (5-1) 0 0 0 7 -- 7
PLYMOUTH NORTH (5-2) 14 7 7 0 -- 28
PN – Cody Merritt 11 run (kick blocked)
PN – Matty Walsh 2 run (Walsh from Merritt)
PN – Walsh 1 run (Vinny Tavernelli kick)
PN – Bobby Savoia 32 pass from Merritt (Tavernelli kick)
FA – Jonah Olsen 40 run (Tyrone Reine kick)
October, 18, 2010
10/18/10
3:06
PM ET
So another new No. 1? Yep, we think so.
Here's What We Learned this weekend:
THE BEST DEFENSE AGAINST EVERETT? SAY "NITE NITE"
Everett running back/linebacker Vondell Langston, like the rest of his charismatic teammates, couldn't help but get a little giddy after the Tide's jaw-dropping fourth-quarter shutdown of the state's No. 1 team, Xaverian. So when asked about the message written across each strip of eye-blackener on his cheeks -- "NITE" was written across each one, so that it read "NITE NITE" going across -- the 6-foot, 200-pound junior was happy to explain.
"This was to put all the hype away, that we ain't even listening to it," he said.
But after a drubbing as impressive as this one -- the Tide held the Hawks' vaunted rushing attack to just 83 yards total -- Everett is undoubtedly the hype. And they'll get their first big test as No. 1 this Friday night when they travel to Viola Stadium to take on the Eagles of Boston College High, themselves coming off a 49-0 smattering of New Jersey power Hudson Catholic.
Not only did the Tide show deceivingly consistent balance between the run and pass, with Langston and quarterback Jonathan DiBiaso showing poise at both aspects of the game, but they're continuing to prove over and over just how tough it is to slow them through the air. Bottle up the lightning-quick, Boston College-bound Manny Asprilla, and deep ball threat Matt Costello will go off for career numbers, carving precise sideline routes. Bottle up Costello, as Joe Colton did exceptionally in Saturday's contest, and Asprilla will torch you.
Asprilla had a hand in all of the 22 fourth-quarter points by the Tide, first making a leaping catch over the middle to set up Langston's go-ahead plunge; then hauling in a 22-yard touchdown slant on fourth and 10; and finally returning an interception Ed Reed-style, 48 yards to paydirt with a bevy of shimmy and shake.
"It seems like, from week to week, teams have been following whoever had the big week last week," Costello said. "If Manny [Asprilla] has a big game, they're spotting him, or whoever it is. And we have so many players who can catch the ball and make plays that somebody's going to get open."
Added head coach John DiBiaso on having so many targets, including Kenny Kalaj and Jakarrie Washington, "It makes a big difference. I have a lot of confidence to throw to Manny, Matt, any of our receivers. You look at the defense, see what they're giving you and then you try to take what they're giving you."
DiBiaso later joked to the group of reporters that he can't wait for the new rankings to come out Monday morning and find somebody else at No. 1.
"I like us better when we have a chip on our shoulder," DiBiaso laughed.
And just for kicks...ESPNBoston.com high school editor Brendan Hall was the only Boston writer to pick Everett to win the game. According to highschoolsportspage.com, which tracks all of the Boston writers' weekly picks, Hall was
27 for 28 on week six picks
, good enough to blow away the rest of the field with a 96 percent clip.
And while we're at it, Scott Barboza also picked the field with a solid B-plus [89 percent, but didn't pick Everett (Wah, wah, wah)] while picking 28 contests, which again begs the question: When is everybody else going to step up their game?
ISL ISN'T QUITE SO TOP-HEAVY -- LEAST, NOT YET
"There's two ways to play our team," Lawrence Academy head coach Mike Taylor told ESPNBoston correspondent Corey Allen following the Spartans' 20-7 win over Governor's Academy. "Either you lay down and die, or fight. These guys did a heck of a job fighting."
Right now, several schools are willing to tango with the four-headed monster from Groton. Had Dan Giovacchini not stopped Elijah Morrissey on fourth down late in the game, we might be talking a whole other story. The Mark Gerry-coached Governors dressed just 27 players against the 4-0 Spartans, who have four players committed to BCS schools and a line that averages nearly 300 pounds across, and came away with a moral victory that should give them momentum the rest of the way.
Meanwhile, BB&N showed no glaring signs of weakness in its 40-20 win over Milton Academy. With elite quarterback Charlie Story out for the Mustangs, BB&N found itself defending some trickeration (see: Wildcat) to start the game. But once things settled down, junior running back/linebacker Chris Coady (23 carries, 241 yards, three touchdowns) showed why he is quickly becoming one of the state's most sought-after 2012 recruits.
Coady, a re-classified junior who visited Duke this past weekend, currently holds lacrosse scholarships from Syracuse, Brown and Harvard (he was a defenseman on St. John's Prep's Division 1 state champion squad last spring). And that lacrosse agility has translated well on the gridiron for the 6-foot-3, 220-pounder.
"He's unbelievable. The kid's a tremendous football player," head coach John Papas told ESPNBoston's Brendan Hall. "To make this transition on both sides of the ball, from quarterback and free safety to running back and linebacker, he's truly been amazing. You saw him, I mean he's strong as a horse, and he's getting better every week. That's the scary part about it."
Meanwhile, Rivers is off to one of the best starts in school history thanks to its tandem of Roxbury cousins and Division 1 prospects Ben Patrick and Taariq Allen. Patrick, who has interest from a number of FCS schools, has nine touchdowns and 837 rushing yards on 86 carries through the first four games. Meanwhile his cousin -- who de-committed from UConn last month and still holds offers from Wisconsin and Nebraska -- has been a threat through the air (23 catches, 332 yards) and ground (24 carries, 233 yards). A win this Saturday against Milton Academy would clinch the first winning football season since 1982.
It should also be noted that St. George's -- the team which caused quite a stir two weeks ago when it decided to forfeit rather than play Lawrence -- notched its first win of the season last Saturday, a 20-8 decision over reportedly-smaller St. Mark's.
THIRTY AND COUNTING FOR AUBURN
The last time the two-time defending Division 2 Super Bowl champs lost to an opponent, period, was Sept. 19, 2008, to Winthrop. The last time they lost within the Central Mass region? You have to go back to November of 2007, when the Rockets dropped a close one to David Prouty, 14-7, a week after getting smoked 42-7 by rival Northbridge.
Jeremy Lavallee (513 rushing yards) has been the stalwart of the Rockets' offense, while Worcester South transfer Atta Oweso carried last weekend's 26-0 shutout of Quabbin with two scores himself. Meanwhile, the defense is allowing just 6.3 points per game, including impressive decisions over Shrewsbury (6-2) and Northbridge (21-7).
Any talk about the Rockets on track to matching Acton-Boxborough's state record of 52 games has to be silly at this point -- it would still take a full two seasons to get within distance. But with just one team with a winning record left on its regular season slate (Thanksgiving, versus Oxford), an undefeated three-peat certainly isn't out of the question.
ROCK 'EM, SOCK 'EM SOUTH SHORE
What a buzzsaw the top of the South Shore League has turned out to be.
None who were in attendance will soon forget Rockland's hard-fought 9-8 win over Cohasset on Friday. But what is the Bulldogs' reward for knocking off the reigning co-league champions? A matchup with another of the South Shore's unbeatens, Abington.
"We feel good about this one, we can celebrate a little," Bulldogs fullback Mike Driscoll told Scott Barboza Friday night. "But we're going to put this one behind us pretty quick and it's all about Abington on Monday."
The Green Wave is also 6-0 overall with a 3-0 South Shore record and is coming off an impressive 22-6 win over another quality league foe, Mashpee.
"We're just going one week at a time," Driscoll added. "We can't look past anybody."
RAIDERS STORM THE VINEYARD
Somerset head coach Nick Freitas let out a sigh and said, "It always feels good after a win."
Talking via telephone Monday morning, there was a feeling Freitas might have had his feet up on the desk while saying so.
That's because his Raiders have made it look easy at 6-0. Their average margin of victory has been about 22 points per game, led by the dynamic running duo of Seth DeMello and Jaron Spear.
On Friday night, the midpoint Eastern Athletic Conference championship game took place on Martha's Vineyard with a battle of unbeatens. Somerset left the island leaving no question who is the best team in EAC, after a 40-0 blanking of the Vineyarders. Quarterback Adam Ledoux and DeMello each registered three rushing touchdowns. DeMello, the bruising running back, finished with 24 carries for 228 yards in addition to 42 receiving yards.
Barring any hiccups in their remaining league games at Coyle-Cassidy (Nov. 5) and versus Bishop Feehan (Nov. 12), the Raiders should be playing beyond Thanksgiving.
HEAD OF THE CLASS
VALVOLINE PEAK PERFORMER OF THE WEEK: SETH DeMELLO, SR. RB, SOMERSET
It's easy to overhype Somerset's win 40-0 win over Martha's Vineyard as the be-all, end-all in the Eastern Athletic Conference this season. However, you cannot undersell DeMello's performance against the Vineyarders. The hard-nosed runner registered 24 carries for 228 yards and three touchdowns. DeMello also created balance in the Raiders' attack with 42 receiving yards.
THE CLASSMATES
Manny Asprilla, Sr. WR/CB, Everett
– What didn't the BC-bound speedster do? Asprilla's five catches for 80 yards and one touchdown don't tell the true story of what he contributed to Everett's win over Xaverian. His 47-yard interception return for a touchdown was an athletic display.
Chris Coady, Jr. RB/LB , BB&N
– Coady put in another impressive performance with 241 rushing yards on 23 carries with three touchdowns in a 40-20 win over Milton Academy. He also registered seven tackles on defense.
Mike Driscoll, Sr. FB, Rockland
– Driscoll's touchdown and 117 tough-gained yards were the driving force behind the Bulldogs' win over Cohasset.
Kemani Jones, Sr. RB, Milton
— Jones ran roughshod over Dedham, led by his 325 yards on 16 carries with touchdown runs of 24, 17 and 82 yards, respectively.
Mike Mercadante, Sr. RB, Minnechaug
-- The 5-foot-11, 220-pound senior had a career night for the Falcons last Friday's 50-38 shootout win over Holyoke. He carried the ball 26 times for 256 yards and six touchdowns, and caught three passes for 32 yards and a seventh touchdown.
Paul McCarthy, Sr. QB, North Attleborough
- It was a highly efficient performance for Big Red's signal-caller, going 7 of 8 for 173 passing yards and four touchdowns in a win over Canton. McCarthy also had a rushing touchdown of 55 yards.
Trae Musumarra, Sr. RB/LB, Central Catholic
– Musumarra took over in a 40-32 win over Lowell, running for 162 yards and six touchdowns, three of which came in the first quarter.
Ben Patrick, Sr. RB, Rivers
- Patrick continued to tear things up with 25 carries for 227 yards and three touchdowns in a win over Brooks. Through four games, Patrick has 837 rushing yards and is averaging 9.7 yards a carry, while Allen has accumulated 565 yards of offense through the ground and air.
Richard Rodgers, Sr. WR/DE, St. John's (Shrewsbury)
– Maybe someday we'll them the "Richard Rodgers Player of the Week Awards". Sound good? Thought so. Another 7-catch, 92-yard performance and chipped in two sacks against St. John's Prep.
Zach Zaniboni, Jr. RB, Plymouth North
– Eighty one rushing yards don't exactly jump off the page, but consider that Zaniboni did so on just six carries while breaking off a 50-yard touchdown that was all the Eagles would need in a 15-0 league win over Marshfield. That should pretty much do it.
October, 15, 2010
10/15/10
10:58
PM ET
By
Brian Fabry
| ESPNBoston.com


MARSHFIELD, Mass. – There is a new sheriff in the Atlantic Coast League – for now.

No. 23 Plymouth North opened up its league schedule and defeated the reigning ACL and Division 2A Super Bowl Champion Marshfield, 15-0, in front of the Rams' homecoming crowd at James G. Anderson Field. The Eagles (4-2; 1-0) huge road win sets up a barnburner between idle No. 7 Falmouth for bragging rights and the top spot between the two league unbeatens.

After the Blue Eagles were bottled up on their first two series, Zach Zaniboni broke off a 50-yard touchdown scamper from midfield to get Plymouth North on the board with the eventual game-winning touchdown.

"I just saw a huge hole off the right side and was able to take it home", said the senior tailback. "It's huge to beat them on their home field as well – big win"

Cody Merritt, last week's star in their non league win over Bridgewater-Raynham, called his own number on the next series capping off a quick five-play drive with an 11-yard keeper on a sweep to the left. Merritt faked the pitch to Bobby Savoia and followed the lead block of Matt Walsh into the end zone untouched.

While holding the snap for the extra point, Merritt pulled up and rolled left to find Liam Cosgrove right before being buried out of bounds for the two-point conversion and the 15-0 lead with 2:33 left in the second quarter.

The Eagles defense surely did their part limiting Marshfield to 23 total yards of offense in the entire first half for the first shutout of the season for Plymouth North. In fact, the win is the first in 22 seasons at Marshfield for the Plymouth North program and Dwayne Follette downplayed the win knowing the tough road in front of his team.

"It was all about our defense, we had a great game plan, the kids played really hard, and did a great job because shutting out a Marshfield team is pretty special," Follette said. "Next week we have an undefeated Falmouth team so we have to put this one to bed real quick".

Marshfield (2-4) was able to get into Eagles territory on all four second half possessions but were shut down three times on fourth-down conversions. The first series of the second half was led by the passing of Marc Pomella, who was 4-of-7 on the drive but the Rams came up short at the Eagles' 11-yard line on a fourth-and-eighth attempt that lost yardage.

Plymouth North finished with 201 yards rushing on the ground led by Zaniboni's 81 yards on only six carries and Merritt finished with 79 on 11 carries.

"Zaniboni had a great game, played well on both sides of the ball, and was easily the MVP of the game, but this is only one league game – we have four more left and that starts with Falmouth", Follette added.

PLYMOUTH NORTH 0 – 15 – 0 – 0 -- 15
MARSHFIELD 0 – 0 – 0 – 0 -- 0

2nd quarter
PN – Zach Zaniboni 50 run (Vinny Tavernelli kick)
PN – Cody Merritt 11 run (Liam Cosgrove pass from Merritt)
September, 25, 2010
9/25/10
1:53
AM ET
PLYMOUTH, Mass. – Silver Lake came rolling into Plymouth with wins against Coyle-Cassidy and New Bedford to start the season. In those wins, the Lakers had put on offensive shows, led by quarterback Mitch Graziano and his cache of weapons.
In Friday night's tilt with Plymouth North, the Lakers offense did nothing to resemble the robust machinery they displayed in the first two games.
Instead, the Eagles dominated the Lakers' attack.
[+] Enlarge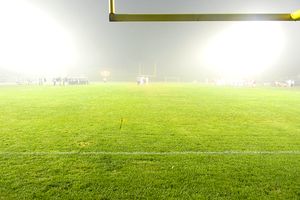 Scott Barboza/ESPNBoston.comA thick fog settled over Plymouth South High on Friday night, when Plymouth North beat Silver Lake, 23-6.
Silver Lake didn't earn a first down until six minutes remained. The Lakers' offensive numbers weren't pretty either. Through the first half, Silver Lake had more than double the penalty yardage (35 yards) as it did combined offensive yards (14).
The sum was a 23-6 Plymouth North victory in a dense fog.
"The whole defense was phenomenal," Eagles head coach Dwayne Follette said. "I thought it was a great team effort against a quality opponent."
Follette credited defensive assistants Carl Freyermuth and Joe DeSisto for drawing up an effective defensive scheme.
There were plenty of kudos to hand out across the defense. Senior linebacker Adam Cuomo drew the task of covering Lakers 6-foot-4, 215-pound tight end Gavin Doherty in man coverage, with no help over the top. Doherty, usually a frequent target of Graziano's passes, was held without a catch.
But it all started up front for the Eagles (2-1).
Defensive lineman John Dee contributed a sack of Graziano on the Lakers' first offensive drive on third down, forcing a three-and-out and setting the tone for the rest of the game. Defensive end Mike Cahill also added a sack in the second half.
"The difference was what they did up front," Lakers head coach Dana Battista said. "They dominated the offensive line and they were more physical than we were."
Plymouth North divvied up the offense in its backfield. Junior running back Bobby Savoia contributed what quarterback Cody Merritt called "a break-out game" with seven carries for 89 yards and two touchdowns.
"Bobby [Savoia] stepped up huge," Merritt said. "He just keeps getting better and better as the weeks have gone on and he really came through tonight."
Merritt led the Eagles' rushing attack with 15 carries for 98 yards. Zach Zaniboni tallied 46 yards on the ground on five carries, including a 3-yard touchdown run in the first quarter that accounted for Plymouth North's 7-0 halftime lead.
The Eagles easily could have been 3-0 now — had it not been for a fumble on a two-point conversion play during last week's 16-12 loss to Duxbury. But the effort in a rather convincing win over Silver Lake (2-1) wasn't lost on their coach — at least for a little while.
"I thought our offensive execution was good overall," Follette said, "and we really played well defensively. But we have a very tough schedule and, like last week, we'll have to put this one behind us, too. There are no let-downs."