Boston High School:

Zack Cote
January, 16, 2014
Jan 16
3:25
AM ET
LAWRENCE, Mass. – Central Catholic senior forward Lloyd Hayes emerged from the room, hobbled but no worse for the wear. With a large ice pack strapped around his right shoulder, the Raiders' veteran has been in these kinds of spots before.
No. 5 Central played a nearly flawless game through a period-and-a-half, only to watch a three-goal lead evaporate midway through the third period against No. 8 Springfield Cathedral.
That's when Mr. Reliable came through again.
Not even a bad wing could prevent Hayes from netting the game-winning goal with less than two minutes to play, before adding a second with an empty-netter, while leading the Raiders to 5-3 win in a duel of Super 8 hopefuls at Valley Forum.
"How he carries himself is a true testament to how we came back and it's fitting that he got that goal," Central head coach Mike Jankowski said of Hayes. "We could have created a little distance early on, but we couldn't finish. But that's a great team we let come back. They made some plays, capitalized on the power play and got us on our heels a little bit."
[+] Enlarge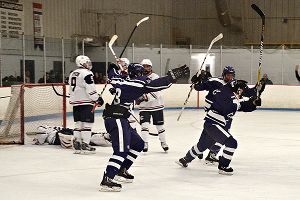 Scott Barboza/ESPNBoston.comCathedral erased a 3-goal deficit behind the first career hat trick from freshman winger Riley Prattson before Central Catholic pulled away for a 5-3 win.
In a matchup of two of the state's best top lines, Cathedral freshman Riley Prattson shone brightest.
Playing alongside the state's top two scorers entering action – in Division 1 commits Peter Crinella and D.J. Petruzzelli – Prattson almost single-handedly pulled the Panthers out of a 3-0 hole, scoring three straight goals for his first career hat trick.
Cathedral (8-2-1) controlled early play, however, Central (8-1-1) took a 2-0 lead to the room at the first intermission. Eric Robbins buried Richie Greenberg's feed for Central's first goal at 5:26, before Alex Lester was the beneficiary of some precision passing from David Sheehan and Corey Webber with 2:05 remaining.
The Raiders extended the lead to three in the second period, when Christian Thompson snuck down the wing and put one short-side with assists from Cam Smith and Zack Cote at 2:29.
It was at that time Panthers head coach Brian Foley made a goaltending change, lifting starter John Liquori for freshman Keith Petruzzelli.
"You're just trying to change the momentum," Foley said. "It's not that John was to blame for any of the goals, but I think Keith came in and did a good job."
The move seemed to lift Cathedral, as the Panthers struck for their first of two power-play goals on the evening with 8:27 remaining in the second.
The onslaught from Prattson continued into the third period. He scored his second at 5:46 with an assist from Crinella, before striking again on the man-advantage with 7:23 to play. Crinella picked up his second point of the game with the assist.
"We had Zack [Prattson] there originally," Foley said of his top line, "but we then put Riley there because we wanted Zack's size on the second line. The three of those guys, Peter, D.J. and Riley, every night someone else is scoring the goals. And then, Johnny Leonard, Cam Peritz and Zack are scoring goals. Then, our third line recently started scoring goals."
But even when it appeared Cathedral had momentum squarely on its side, Central came with the counterpunch – that being Hayes.
"We're the type of team that we just keep at it and keep pushing," Hayes added.
Hayes did just that, intercepting a Panthers' clearing attempt out of their own end and pushing it past Keith Petruzzelli with 1:54 to play. He then added the empty-netter with 38 seconds remaining.
Cracking the code:
Both teams can play an aggressive style at times, and with a Cathedral forward frequently hanging high on the Raiders' blue line, pressure was constantly being applied on Central's defensive corps.
Of course, with a returning All-State goaltender in Colin Soucy (30 saves) returning, that pressure has been somewhat alleviated this season, but Central did well to shut out Cathedral's second and third lines in a deep and talented forward crop.
"We lost [Nick] Gorski and [Derek] Vaillancourt from last year, but we had a lot of kids that worked hard in the offseason and we're working well together," Soucy said of Central blue-liners. "Our shots on goal against is actually down from last year, surprisingly. I thought I was going to see more shots, but everyone's doing their job."
Yet, even if the opposition is able to circumnavigate the Raiders' defense, there's also the matter of beating the netminder.
"Colin's a good goalie and I thought he played great," Foley said. "We weren't scoring on the first shot, so we needed to create second and third chances, but he did a good job all game of controlling the puck and not giving us those chances. But the kids kept working hard and they were rewarded with a couple power play goals."
The road ahead:
While neither coach was looking too far down the road, it wouldn't be a surprise at all to see the two teams meet at some point in the Super 8 tournament.
In a moment of candor, following his team's dramatic win, Jankowski assessed where his group is at, both in the season and in the greater picture of building Central's program to that of a statewide power.
"We've enjoyed playing that darkhorse, it's been our baby," he said. "But now I think it's finally time where we've had these guys like Lloyd [Hayes], [Zack] Cote, [Alex] Lester, [Conrad Jepson] and Colin [Soucy], and now it's time that they're main guys. They've proven that they deserve the attention and the limelight and the accolades that comes with being a top team."
December, 2, 2013
12/02/13
11:31
PM ET
With Monday marking the beginning of MIAA hockey practices across the state, it's as good a time as any to take an initial stab at projecting this year's Super 8 tournament field. So here goes nothing, kicking off the #RoadToTheGarden:

(By the way, look for our full preseason boys' and girls' Top 25 polls, along with All-State teams, starting next Monday.)

1. Austin Prep

Last year's record: 16-2-6

Last year's final ranking: 3

Key returners: F Bobo Carpenter, D Andrew Cross, G Elijah Harris, D J.J. Layton, F Eric MacAdams.

Why they're here: Feeling was that the Cougars were about a year away from contending heading into last season and, low and behold, AP was just a goal or two away from capturing last year's Super 8 title at the Garden. A young and talented nucleus returns largely intact this season, so the expectation is even higher. The goal will be to interrupt Malden Catholic's designs on a four-peat.

2. Malden Catholic

Last year's record: 16-6-3

Last year's final ranking: 1

Key returners: F Matt Filipe, F Austin Goldstein, D John McLean, F Ara Nazarian, D Nick Rolli, F Tyler Sifferlen, F Jake Witkowski.

Why they're here: As a three-time defending champion, it's again the Lancers' derby to lose. There are questions entering this season, as they'll again be breaking in a new goaltender and Casey Fitzgerald moved on to the United State National Team Development Program. However, with returning ESPN Boston Mr. Hockey award winner Ara Nazarian (a UNH commit) returning, anything's possible with this group.

3. Springfield Cathedral

Last year's record: 16-3-4

Last year's final ranking: 7

Key returners: F Peter Crinella, G John Liquori, F Johnny Leonard, F D.J. Petruzzelli.

Why they're here: The Panthers might have the best forward depth of any returning squad, but there are some serious voids to be filled on the blue line, with All-Staters Matt Foley and Jack Williams lost to graduation. However, for whatever Cathedral might lack in experience on defense, three-year starting netminder John Liquori should mask.

4. Central Catholic

Last year's record: 15-7-3

Last year's final ranking: 6

Key returners: F Zack Cote, F Lloyd Hayes, D Alex Lester, G Colin Soucy.

Why they're here: Arguably, there was no bigger breakout star in last year's Super 8 tournament than Colin Soucy. The then-junior goaltender backboned the Raiders in a hard-fought, three-game series against St. John's Prep, nearly earning the upset against the top-seeded Eagles. Head coach Mike Jankowski's teams are always defensively responsible and well-organized through the neutral zone, thus they are perennial staple to the tournament.

5. BC High

Last year's record: 15-5-3

Last year's final ranking: 5

Key returners: F Steve DeForge, F Pat Kramer, F Tim Larocque, F Jake Lemanski, D Ryan Shea, D Sam Topham.

Why they're here: Of course, there's the question of how will take Peter Cronin's place in between the pipes, but the Eagles are deep on returning talent. Sophomore defenseman Ryan Shea has generated a good amount of Division 1 college interest in just one year at Morrissey Blvd. Meanwhile, junior Pat Kramer was among the Eagles' top scorers last year. If the transition in net is smooth, they're likely the second Catholic Conference team in.

6. Winchester

Last year's record: 16-6-3

Last year's final ranking: 11

Key returners: F Brendan Greene, G James Offner, F Nolan Redler.

Why they're here: The Sachems were a couple bounces and a shootout away from a Division 1 state title appearance last season, going down in a narrow defeat to eventual champion and Middlesex League rival Burlington. This year, Winchester could assume the poll position in the state's premiere public school division. The aforementioned Red Devils and last year's Super 8 entrant, Reading, both graduated significant portions of last year's roster, so the time is now for the Sachems to make their run.

7. Archbishop Williams

Last year's record: 13-6-4

Last year's final ranking: 15

Key returners: D Matt Clifford, F Ryan Dunn, F Mike Jessman, F Nick Menzel, F Mike Sorrenti

Why they're here: After an albeit brief appearance at last year's Super 8 tournament – getting trounced by MC in a play-in game – the Bishops should remain a top team in the Catholic Central, which is often a two-bid league at the Super 8 table, with 13 seniors on the roster. They could be the team to push AP in league play, and if everything holds true, they'll be in the picture come tournament time.

8. St. John's (Shrewsbury)

Last year's record: 7-11-4

Last year's final ranking: N/A

Key returners: D Bryan Nelson, G Mario Pizzeri.

Why they're here: Hey, what would a preseason picks segment be without a dark horse? Last year was a bumpy season at best for the Pioneers, but after a one-year absence from the Super 8 (and tournament play for that matter), St. John's could be dangerous behind first-year head coach Mike Mead. The Pioneers are built from the net out, with Mario Pizzeri in goal – a holdover and standout in St. John's Super 8 appearance two years ago.
August, 8, 2012
8/08/12
5:04
PM ET
The dog days of summer are upon us, but local rinks are still hopping through August with plenty of great tournaments going on in and around the Boston area.
So we thought we'd take the opportunity to catch up with some of the happenings of local skaters during the offseason, along with a smattering of other notes collected in our notebook during the last month or so.
CLEARING THE CREASE
Bailey MacBurnie
burst onto the MIAA hockey scene last season, helping lead St. Mary's of Lynn to a second seed in the Super 8 tournament. All the while, the Beverly native backstopped the Spartans with a measly 1.66 GAA, placing him among the state leaders.
During the summer, MacBurnie has skated with the New England Thrashers. He and his Thrasher teammates had a solid showing in the recent Chowder Cup College Open championship, finishing fourth in a field of 56 teams while facing teams that largely were comprised of older players.
We caught up with the sophomore netminder to talk about his offseason, how practicing yoga has helped his game and his upcoming season at Brewster Academy:
Q: What kinds of things do you do in the offseason away from the rink to keep you sharp for the upcoming season?
A: "I've started doing yoga, it's my first year doing it. I go to classes at Merrimack College. And then I do on-ice work with Brian Daccord, who's my goalie coach."
Q: How do think yoga might help your game?
A: "I've found that it's already made me more flexible. It definitely helps out and gets you in shape."
Q: What other elements of your game have you wanted to work on this offseason?
A: "Puck handling, definitely. I want to be more confident playing the puck and quicker with making decisions with the puck. And skating, you can always be a better skater."
Q: Your team had a great showing at the Chowder Cup recently. How did that team come together?
A : "I played with a lot of guys I knew, like [Central Catholic's]
Mike Kelleher
,
Lloyd Hayes
,
Zack Cote
,
Jake Donahue
and [former St. Mary's teammate]
Jarrod Fitzpatrick
. We had a good tournament. First, we played the Nordiques, beat them 3-1, then we played Mass Attack and beat them, 7-2, and then Team One, 4-2. We played some Canadian teams in the playoffs. We did well though, especially because we were playing a lot of teams that had older players. We thought we should've went further, but we were playing against teams that he players that were mostly 92s and 93s [birth dates] and we were mostly 95s."
HERE AND THERE
On the rise: A bumper crop of New England prospects were scooped up earlier this summer during the NHL Draft and the region's best have continued to crop up during the summertime months. Four players with New England roots were chosen for the U.S. Hockey National Junior Evaluation Camp. Three of those players had their names called in the most recent draft, including goaltender Jon Gillies (South Portland, Maine),defenseman Matt Grzelcyk (Charlestown) and forward Jimmy Vesey (North Reading). Former St. John's Prep star and 2011 ESPN Boston Mr. Hockey Colin Blackwell (North Reading) also made the final cut for tournament play. Former Phillips Exeter standout and recent Tampa Bay Lightning draft choice Brian Hart was among those participating in camp practices at Lake Placid last week.
One to watch: Junior Robby Devaney helped Reading on a late-season Super 8 push last season, while leading the Rockets in scoring during the regular season. While catching Devaney play in both the Bay State Games and the Chowder Cup this summer, he looks like an early candidate for most improved player honorifics – if there were such an award. In the small sample size, he showed good speed, but also exhibited attention to detail, playing solid neutral zone defense in the summertime – something that's usually missing from offseason tournaments. Of course, we all know how well those Rockets are coached defensively.
Comings and goings: One of the more telling aspects of summertime tournaments is often found just looking at team rosters. Players are often listed with their corresponding schools next to their name, and that can often signify changes in locales. One of the more prominent changes listed was that of former Billerica standout Ross Olsson. The Northeastern commit played at Williston Northampton last year, but will move to the USHL, joining the Lincoln Stars, the team that drafted him in May's entry draft.
March, 2, 2012
3/02/12
6:25
PM ET
There are less than 48 hours remaining before the puck drops on the real Super 8 on Sunday at Merrimack College.

So we're taking this opportunity to break down the final eight:

1. Malden Catholic (15-1-4)
Marquee wins: Pretty much all of them, minus the Lancers' one loss to New Jersey powerhouse Delbarton.

Players to watch: F Brendan Collier (22-34-56); F Ryan Fitzgerald (26-14-40); F Mike Iovanna (14-23-37); F Tyler Sifferlen (9-14-23); F Ara Nazarian (10-16-26); D Casey Fitzgerald (1-15-16); D Colin MacGillivray (2-8-10); Brendan White (2-16-18).

The skinny: As in the last couple of years, this year's Super 8 is viewed as the Lancers' tournament to lose. Again, they have the best line in the state with Collier, Ryan Fitzgerald and Iovanna saddling into Mike Vecchione's former spot. But MC's true strength is depth. Sifferlen and Nazarian would occupy a spot on mostly any team's top line. Super frosh and BC commit Casey Fitzgerald has filled Conor Evangelista's role dutifully as a puck-moving defenseman.

X-factor: Goaltending. Connor Maloney watched last year's Super 8 from the BC High bench behind Peter Cronin. Now, it's his time to shine.

2. St. Mary's of Lynn (18-1-3)
Marquee wins: Malden Catholic (Kasabuski Tournament tie); Hingham (5-1); Cathedral (3-2).

Players to watch: F Bobby Mullins (9-20-29); F Jarrod Fitzpatrick (14-7-21); F Cam O'Neill (14-15-29); F Brendan Mageary (13-11-24); F Tim Aylward (10-10-20); D Nikko Markham (6-12-18); D Bryan Wilkins (1-7-8); G Bailey MacBurnie (1.30 GAA, 94.1 save %).

The skinny: So what were the Spartans to do without perennial league all-star Donald Hesse as their backbone? Well, Mark Lee found a more-than-legitimate starter in MacBurnie, a sophomore, who's played well along with a defensive corps led by Markham. Fitzpatrick has been another revelation in his first season with the Spartans. St. Mary's has greater scoring depth than in year's past. And they're young, as freshman Eric MacAdams (4-14-18) has impressed seeing top-line action.

X-factor: How do the Spartans react in a tight game. In last year's Super 8 play-in stab, and the Div. 1 tournaments of year's past, one-goal games have come back to haunt them. If they can sweat out a couple of close decisions in this tournament, they might find themselves at the Garden.

3. St. John's Prep (13-5-2)
Marquee wins: BC High (3-1); Hingham (2-1); Central Catholic (4-0).

Players to watch: F Sam Kurker (26-26-52); F Brian Pinho (14-20-34); F Tyler Bird (9-5-14), F Andrew Brandano (8-6-14); D Nick Pandalena (6-10-16); D Brent Murray (0-4-4); G David Letarte (2.02 GAA, 91.5 save %).

The skinny: We still haven't gotten over last year's championship game; it was simply amazing hockey. There's no Colin Blackwell, but Kurker (BU commit) has really blossomed this season and has taken this team on his back the way his former linemate did last year. Pinho and Bird, along with Kurker, are a formidable first line to skate against, and are strong in all three zones. Pandalena is a mountain of a defenseman, but beyond him, the Eagles blue line was green entering the season. Murray has elevated his play to comprise a formidable top pairing.

X-factor: Letarte. I believe we said this last year as well. When the senior is on his game, he can be airtight.

4. Hingham (16-4-2)
Marquee wins: Marshfield (6-2); Catholic Memorial (3-2); St. John's of Shrewsbury (4-0).

Players to watch: F James Gordon (21-17-38); F Matt Brazel (11-20-31); F Matt Hughes (13-11-24); F Ryan Linehan (8-12-20); F Patrick Mannion (6-12-18); F Sam D'Antuono (6-19-25); D Nolan Driscoll (2-7-9); G John Grenier (1.88 GAA, 90.1 save %).

The skinny: If this team had a motto, it would be "lacking experience, but not young." During the Harbormen's most recent Super 8 runs, a good portion of this year's roster watched from way down the bench, or up in the gallery. But this team has collectively raised its game and is benefitted by great coaching. Gordon's 20-goal season has been a pleasant surprise and Brazel is one worth watching for the next two years. The real revelation has been Grenier between the pipes. The Xaverian transfer is among the statewide leaders in goals against average.

X-factor: Grenier. He doesn't fit the current mold of a big, butterfly goaltender. Instead, he relies on aggressively challenging the shooter and cutting down angles. We'll see how it matches up with the precision passing games of MC and St. John's (S) in pool play games.

5. BC High (10-5-5)
Marquee wins: St. John's (twice); Prep (5-3); Cathedral (3-0).

Players to watch: F Matt Sullivan (9-15-24); F Tom Besinger (10-15-25); F Bartley Regan (7-6-13); F Steve DeForge (6-13-19); D Brian Furey (3-6-9); D Sam Topham (1-9-10); G Peter Cronin (2.00 GAA; 91.5 save %).

The skinny: Cronin lead this team to the crossover round last year, falling just short of an upset of MC. He was the revelation of last year's tournament and, as usual, the Eagles will look to their goaltender to continue his strong play. Besinger might be the shiftiest forward in the tournament not named Kevin Emmerling. He's not big, but he sure can skate. Furey has done a nice job leading a young Eagles blue-line corps this season. 'Moe' Regan has produced some dirty goals and has thrived in his role as a power forward, coming off his EMass D1 Super Bowl win.

X-factor: Sullivan. The Eagles' soft-spoken leader is a lead-by-example type, but thrives in big-game atmospheres. Wouldn't be surprised at all if he's a player we're talking about months after the tournament.

6. Springfield Cathedral (10-6-6)
Marquee wins: BC High (4-3); Needham (1-0); CM (3-1).

Players to watch: F Frank Crinella (13-15-28); F Thomas Quinlan (11-5-16); F Peter Crinella (5-8-13); F Brendan Ashe (7-7-14); D Matt Foley (0-12-12); G John Liquori (2.40 GAA, 88.9 save %).

The skinny: The Panthers cracked the top six this year after getting bounced in a play-in game last year. This is a team that isn't very flashy, but is consistently tough to play against, playing a brand of hockey that can be frustrating to opponents. Sophomore John Liquori has been steady, taking over for old stalwart Zac Rondeau. Liquori is the benefactor of a sound defensive squad that likes to play the body and takes care of its defensive assignments with diligence.

X-factor: Frank Crinella is perhaps the most talented player in the state who receives the least amount of deserved credit. This tournament could be a statement for him.

7. Central Catholic (13-3-5)
Marquee wins: Burlington (6-4, play-in game).

Players to watch: F Ryan Daigle (8-15-23); F Mike Kelleher (10-7-17); F Lloyd Hayes (15-8-23); F Alex Lester (7-9-16); F Zack Cote (10-4-14); D Jake Donahue (3-4-7); G Kyle Williams (2.13 GAA, 91.1 save %).

The skinny: Stop me if you're heard this one before, but the Raiders again used a spirited second-half push after a slow start to get back into the top tournament. If they continue the fast and physical brand of hockey they played against Burlington, the Raiders will provide a tough test. Kelleher's natural hat trick is a big boost to Central's chances going forward; if he gets going, he's one of the most potent pure scorers in the state.

X-factor: Williams. Shocking, right? As the goaltender goes, so goes the Raiders. And it's no coincidence that Central played its best while last year's ESPN Boston All-State netminder was at his finest.

8. St. John's of Shrewsbury (15-4-3)
Marquee wins: Needham (5-4, play-in game).

Players to watch: F Kevin Emmerling (25-28-53); F Vin D'Amato (23-14-37); F Jay Duquette (11-22-33); F Hunter Burdick (6-9-15); D Nick Rutigliano (1-10-11).

The skinny: Akin to Central Catholic, the Pioneers took perhaps their biggest win of the season on Monday. In that shootout with Needham, they showed why they can go toe-to-toe with any team across the state with the top line of Emmerling, D'Amato and Duquette running and gunning …

X-factor: … but then there's the defense. The Pioneers are going to need to tighten up in their own end. If they allow their three future opponents to enter the zone as they allowed the Rockets to run in the third period, there could be some lop-sided scores.
February, 16, 2012
2/16/12
12:28
AM ET
By
Tom Layman
| ESPNBoston.com
NORTH BILLERICA, Mass. — Central Catholic has been relying on its balance all season, and that strength was on display in the a 4-3 victory over Chelmsford last night at the Chelmsford Forum.

Ryan Daigle scored a goal and had an assist, and the Raiders had four different goal scorers to push past the Lions for the season sweep of the series.

"They are hard working and they have tremendous character," Raiders head coach Mike Jankowski said. "We played the other night and we had nine goals with seven different goal scorers. We've played all three goalies and it's been fantastic. We've been in some tough spots and it's been tremendous."

The Raiders needed the balance, and they needed the early scoring to hold off a pesky Lions bunch to grab this victory. Daigle assisted on Zack Cote's goal to get things going in the first period, and the senior forward scored on the power play in the second period on a pinpoint shot from the left point for the 2-0 lead at 3:26.

Mike Hovnanian and Alex Lester scored a pair of unassisted goals to sandwich in between a tally by Matt Winter to take a 4-1 lead after the second period.

The Raiders nearly squandered the three-goal lead in the third period, but got enough saves from Kyle Williams — including some nice glove work on David DeDonato on the doorstep — to move their record to 11-2-4.

GLOVE SAVES, AND A BEAUTY
Williams made the big glove save in the third period, but it was the Lions' netminder who made two of the better saves around.

Lloyd Hayes had a beat on the top right corner when he was flying in on a break, but Derek Noble snared the puck from going into the net with a lightning quick reflex keep the score a 1-0.

Christian Smith nearly picked the same corner with 14.7 seconds left in the period, but Noble again got the glove up and in position to snatch it out of the air. The Raiders outshot the Lions 13-5 in the period and could have had a stranglehold on the game.

"He held them in early and then in the second period we got a little bit of space there," Jankowski said.

BIG FINISH FOR RAIDERS
Jankowski wasn't quite sure if his team would be in the Super Eight conversation when the season began, but the Raiders are a few wins away from making a clear case for being part of the top eight teams in the playoffs.

The Raiders have two league games against Andover and Acton-Boxborough, but the biggest game of the year might come Monday against Catholic Memorial. Jankowski has preached staying focused on each game to his team, but he obviously knew the question was coming and the challenge that lies ahead.

"I'm over there just saying one game at a time, but you look at it and you circle it," Jankowski said. "That for us is the ultimate goal to some day be in the same breath and the same situation going down the stretch playing a team like that and a coach like that. They have everyone's admiration around here, so for us I'd be lying if I said we aren't looking forward to it. It's really going to be a contest to see where we really stack up."