Boston High School:

Zak Orcutt
March, 21, 2013
3/21/13
1:26
PM ET
By
Brendan Hall
| ESPNBoston.com
Mashpee High Athletic Director Matt Triveri announced that two former football stars, running back/linebacker Jordan Keli'inui and quarterback/safety Zak Orcutt, will be walking-on at UMass.

The story was first reported yesterday by the Cape Cod Times.

Keli'inui and Orcutt were captains on Mashpee's historic 2011 squad, which blew out Cardinal Spellman in the Division 4 Super Bowl at Gillette Stadium for its first such title in school history. Keli'inui did a post-graduate season at Williston-Northampton School this past fall, and is expected to join in this coming fall. Orcutt, who is already enrolled at UMass, will join the team for spring practices.

The two will join defensive lineman Kevin Byrne, a redshirt senior, among the Mashpee natives on the squad.

Also of note is the building pipeline of Cape Cod & Islands region players to UMass. The Minutmen signed Nantucket tight end Terrel Correia to its 2013 recruiting class on Feb. 6, and also has confirmed walk-ons in Barnstable linebacker Andrew Ellis and Dennis-Yarmouth two-way lineman Joe Tyo. Nantucket defensive back DuVaughn Beckford will also be walking-on to UMass after two years at Assumption College, while former Martha's Vineyard star Randall Jette will be a redshirt-sophomore in the fall.
December, 3, 2011
12/03/11
11:53
PM ET
By
Roger Brown
| ESPNBoston.com


FOXBOROUGH, Mass. -– No Jordan Keli'inui. No problem.

The Mashpee High School football team was without Keli'inui, the team's leading rusher, for Saturday's Division 4 Super Bowl against Cardinal Spellman, but had the best running back in the game anyway.

Junior Jarod Taylor rushed for a career-high 306 yards and three touchdowns on 26 carries, as Mashpee rolled to a 34-8 triumph in the program's first Super Bowl appearance.

"I was trying to fill his shoes today," Taylor said. "It was a great feeling to help out. I did it for everyone in Mashpee."

Keli'inui missed the contest because of a sprained ankle he suffered in Tuesday's playoff victory over Millis/Hopedale. He has rushed for 1,170 yards this season.

Mashpee coach Matt Triveri said he didn't know Keli'inui wouldn't be able to play on offense until about five minutes before the opening kickoff. Keli'inui did play on defense.

"He was about 60 percent," Triveri said. "He played fine on defense, but he just couldn't go on offense.

"Taylor is a guy who is gonna be one of the better backs in the state next year. He might be there right now. To have two backs like that, we're lucky and blessed. No doubt about it."

Taylor entered the game with 1,070 yards rushing this season. Before Saturday, his career high for yards rushing in a game was the 183 yards he gained in an 31-7 victory over Norwell earlier this season.

Two of Taylor's three touchdowns came in the third quarter, when the Falcons put 22 points on the scoreboard to take complete control. He gained 209 yards on nine carries in the quarter.

"We knew [Taylor} was capable of this," Triveri said. "As a staff we joke that we're doing a terrible job by not giving him enough carries because he's averaging over 9 yards per carry. We knew he had it in him. It was just a matter of getting him the football and the offensive line coming to play."

It was the third time Spellman has surrendered more than eight points in a game this season.

Mashpee, which completed its season with a 13-0 record, led 6-0 at halftime and 28-0 entering the fourth.

Spellman, which lost to Holliston 21-7 in last year's Division 3A Super Bowl, finished its season with a 12-1 record.

"Their offense is very, very good, and their defense is exceptional," Cardinal Spellman coach Ron St. George said. "They're extremely fast, extremely physical and extremely instinctive. They just proved that they were the better team.

"That Taylor kid is gonna be tearing it up next year. He's as talented as the senior (Keli'inui)."

The only scoring in the first two quarters came on the half's final play. Quarterback Zak Orcutt shifted to wide receiver and pulled in a 4-yard touchdown pass from backup quarterback Cody Bingham-Hendricks as time expired.

Mashpee's lead swelled to 14-0 when Taylor scored on a 58-yard run on the first play from scrimmage in the third quarter. Orcutt added the two-point conversion.

The Falcons added another touchdown when Orcutt connected with Kyle Murray for a 14-yard touchdown pass with 4:26 left in the third.

Taylor scored on a 54-yard run with 2:52 left in the third, and then capped his night by scoring on a 10-yard run with 5:35 to play.

"All we wanted to do was get this win for our school, our community and our kids," Triveri said.

Shouldering the load: Spellman running back Pat Hinkley was questionable because of a separated shoulder he suffered in Tuesday's victory over Shawsheen Valley, but did play. Hinkley gained 44 yards on 10 carries and scored his team's only touchdown on an 18-yard run with 38 seconds to play.

Hinkley was not used on defense, where he usually lines up at linebacker.

"I gotta give the kid a lot of credit," St. George said. "His shoulder totally popped out. They had to go to the hospital Tuesday night and put it back in. For him to come back and be ready to play was a great display of courage on his behalf."

Numbers game: Cardinal Spellman entered the Super Bowl averaging 28.2 points per game, but was outgained 438-104. The Falcons gained 18 yards (all rushing) in the first half, and finished the game with 79 yards on the ground."

"What can I say," St. George said. "It was a tough way to end our season."

MASHPEE 35, CARDINAL SPELLMAN 7
Cardinal Spellman (12-1 ) 0 0 0 8 – 8
Mashpee (13-0) 0 6 22 6 – 34

2nd Quarter
Mas – Zak Orcutt 4 pass from Cody Bingham-Hendricks (rush failed), 0:00.

3rd Quarter
Mas – Jarod Taylor 58 run (Orcutt rush), 9:40.
Mas – Kyle Murray 14 pass from Orcutt (Orcutt rush), 4:25
Mas – Taylor 54 run (rush failed), 2:52.

4th Quarter
Mas – Taylor 10 run (pass failed), 5:35.
CS – Pat Hinkley 18 run (Ricky Donovan pass from Tim Burke), :38.
December, 3, 2011
12/03/11
11:41
PM ET
By
Matt Stout
| ESPNBoston.com
FOXBOROUGH, Mass. -- When the papers are dropped on the doorsteps in Mashpee Sunday morning, the headlines will extol Jarod Taylor's game.
His electric running and school-record 306-yard performance will be written in bold, italics and capital letters in the record books. In 20 years, the legend of his performance will grow to include sub-zero temperatures and a broken leg.
He deserves every bit of it after carrying the Falcons to their first Super Bowl title.
And all who were there will know who truly orchestrated Mashpee's dream season.
Often buried in the box scores but never in importance, senior quarterback Zak Orcutt provided the spark and guidance the Falcons needed to dominate Cardinal Spellman, 34-8, and capture the Eastern Mass. Division 4 championship Saturday at Gillette Stadium.
"He runs the show," coach Matt Triveri said of Orcutt, who finished with 41 yards rushing, 34 yards passing and a touchdown reception. "He's an undervalued guy. If he threw the ball 30 times a game, he could throw for 250 yards a game, he's that sort of kid. He is the barometer both ways, offensively and defensively, one of the better safeties around. He's the guy who stirs the drink for us."
With 1,100-yard rusher Jordan Keli'inui unavailable to carry the ball with an ankle injury, Taylor (three touchdowns) shouldered the load for the run-heavy Falcons (13-0), who rumbled to 438 total yards of offense.
But it was Orcutt who put his neck on the line — literally — to spark them in a first-half defensive battle.
[+] Enlarge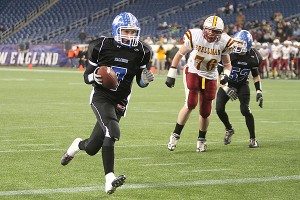 Eric Adler for ESPNBoston.com Jarod Taylor will grab the headlines for Mashpee, but it was quarterback Zak Orcutt who revved the offense to the tune of 438 yards from scrimmage.
After the teams traded fruitless drives like trading cards in the first quarter, Orcutt helped orchestrate a nearly 7 ½-minute drive, putting the Falcons into the red zone with a 14-yard pass to Larry Green. But when Mashpee came up empty, leaving them two yards out on fourth down, Orcutt ran a bootleg to the right, charging toward the right pylon with the defense closing in.
Leaping at the last second, he was hit by two defenders, spinning him in the air and out of play. As he came down — the ball over the goal line but out of bounds — he slammed into the ground head first, snapping his neck awkwardly from the impact.
Orcutt immediately shot up, only to see the referee waving off the play.
"I probably should have just lowered my head and tried to get that extra yard, but instincts took over and I jumped," said Orcutt, who thought he had gotten the touchdown initially — and after he saw the replay. "But you can't get all the calls."
He didn't have to wait long for another chance. After Mashpee forced a three-and-out and returned a punt to the 20, it was Orcutt who hauled in the Falcons' first score, pulling in a floating pass from second-string quarterback Cody Bingham-Hendricks right in front of a Spellman defender as time expired in the half.
"Zak Orcutt's probably one of the better athletes in all of Eastern Mass.," Triveri said. "He's going to go get that football nine of 10 times. With 3 seconds left, we had one play, and that was the play we wanted to run."
It jolted the Falcons into the second half, where on the first play of the third, Taylor shed a handful of tackles en route to a 58-yard score.
Mashpee never looked back.
"Zak, he tried to keep us together," Taylor said. "I like to say Zac Orcutt is an inspiration to everyone."
Orcutt even added a tip-toe interception along the sideline with four minutes left in the third to all but end Spellman's hopes. But that's par for the course for the safety, who also had two picks in the Falcons' semifinal victory.
"We wouldn't be here without him," Triveri said, pointing to 17 tackles Orcutt made in a crucial 16-6 win over East Bridgewater on Veterans Day. "He's the reason we're here. The one and only reason, if you had to choose one guy."
November, 30, 2011
11/30/11
5:07
PM ET
By
Rich Maclone
| ESPNBoston.com
TAUNTON, Mass. -- With seconds remaining on the clock, the Mashpee Falcons offense did something that the club's defense did not do all night, it showed mercy on Millis/Hopedale.

As time wound down on a decisive 30-14 win Tuesday night that propelled the Falcons to their first-ever MIAA Super Bowl appearance, senior quarterback Zak Orcutt took a knee with his team just a yard away from its' sixth touchdown of the night.

During the 39 minutes that led up to the kneel down, Mashpee was anything but hospitable. While the Falcons' running back tandem of 1,000-yard rusher – Jordan Keli'inui and Jared Taylor – gets much of the acclaim for the team's 12-0 campaign, the defense has flown under the radar as one of the top units in Southeastern Massachusetts all season long.

In the D4 semifinal against Millis, the defensive unit had its finest day. Led by senior defensive tackle Graham Kilpatrick (2 sacks), the Falcons spent nearly as much time in the Mohawks' backfield as Millis' 1,500-yard runner Jimmy Perkins. Mashpee took Perkins out of the game, limiting him to just 13 yards on 12 rushes for the night. He added a 1-yard scoring run in the fourth quarter when the outcome was already settled.

Orcutt and the Mashpee defensive backfield were just as dominant as their brethren up front. Orcutt, who head coach Matt Triveri believes is one of the best safeties in the state, intercepted two Bay Tangney passes in the first half. Tangney had a night he'd rather forget altogether as he was harassed all evening by the Mashpee front, suffering six sacks and even more wallops. He went 6-for-16 throwing the ball, for 71 yards, with a touchdown and two interceptions.

The Mashpee defense set the tone early. After forcing a three-and-out, the Mashpee offense marched down the field in just five plays and capped an 81-yard drive with a 32-yard scamper by Keli'inui (11 carries, 84 yards). A 2-point run by the senior gave Mashpee an 8-0 lead just 3:03 into the game.

Taylor (7 carries, 66 yards, 2 TDs) tacked on a second touchdown for Mashpee with 55 seconds to play in the quarter, an amazing spinning surge that saw him break through a number of arm tackles before finishing off a 34-yard run to the house. Orcutt found fullback Kyle Murray on a bootleg pass for the conversion to put the Falcons ahead by 16.

Millis threatened to make a game of it late in the second quarter. Recovering a Mashpee fumble just inside midfield, Tangney went up top and hit George Palcopolous on a 34-yard heave to put the Mohawks on the board. The conversion pass failed, though, and it was 16-6 with 2:20 left in the first half.

Mashpee iced the game going into the intermission. Orcutt orchestrated a beautiful two-minute drill, which was aided by a pass interference penalty against Millis which moved the ball to the Hawks' 15. Two plays later the quarterback faked a handoff to Keli'inui and then found the running back wide-open on a wheel route in the left corner of the end zone. A 2-point pass to Johnny Williams made it 24-6 with 31 ticks left in the half.

Mashpee got the ball to open the second half and put it out of reach with a methodical 11-play, 58-yard drive that was capped by Taylor hopping in from 2-yards out.

Follow Rich Maclone on Twitter at @Capenews_Rich